April 20, 2022 | Posted in Release Day Blitz, Review | By Two Book Pushers
It's not every day that you see a dead body at the beach. Or the woman of your dreams sitting next to that dead body.
Price Crow first saw Sabrina Proctor in the middle of a hurricane.
She'd been sitting next to her dead best friend, who'd passed away on the beach, with no way to get her back home, thanks to the world's worst luck, and one hell of a storm.
So Price does what any decent person would do: he carries Sabrina's dead best friend to their beach house and doesn't leave her side until he's forced to.
He had every intention of bridging that gap, of checking up on her and making sure she was okay, but life is funny and has a way of making a mockery of the best-laid plans.
Despite one hell of a connection, under the worst of circumstances, they go their separate ways. At least, he tries to. But he can't stop thinking about her, and it becomes apparent, very fast, that he has a decision to make.
Choose Sabrina, or live out the rest of his life making everyone else around him happy except for himself.
Rattle Some Cages is the third book in the Battle Crow's MC series by Lani Lynn Vale. I'm really enjoying this series so far and  I loved Price and Sabrina. The first time Price sees Sabrina, he knows she's something special and he wants to see her again. He never thought she'd show up at the beach during a hurricane with her best friend who passes away holding her hand. He's quick to jump in and help and doesn't want to let her out of his sight. But after the week is over, he can't be with her if it means upsetting his sister. But he's going to keep an eye on her just in case. And it's a good thing he did! Her ex is a total sleezebag and after weeks of being apart, he just can't stay away anymore. Sabrina isn't sure why Price stayed away, but she's happy he's back now. She needs him. Wants him. It's just easy to be with him. She feels safe and wanted for the first time in her life. I love the heat and humor between Price and Sabrina! And I do love his brothers! Looking forward to more in the series!
April 20, 2022 | Posted in Blog Tour, Review | By Two Book Pushers
FLIRT by Adriana Locke
Release Date: April 8th
Genre/Tropes: Contemporary Romance/Office Romance/Fake Dating/Friend to Lovers
AVAILABLE NOW!!! FREE IN KU!!!
Amazon: https://amzn.to/3L1Nefm
Amazon Universal: https://geni.us/FLIRT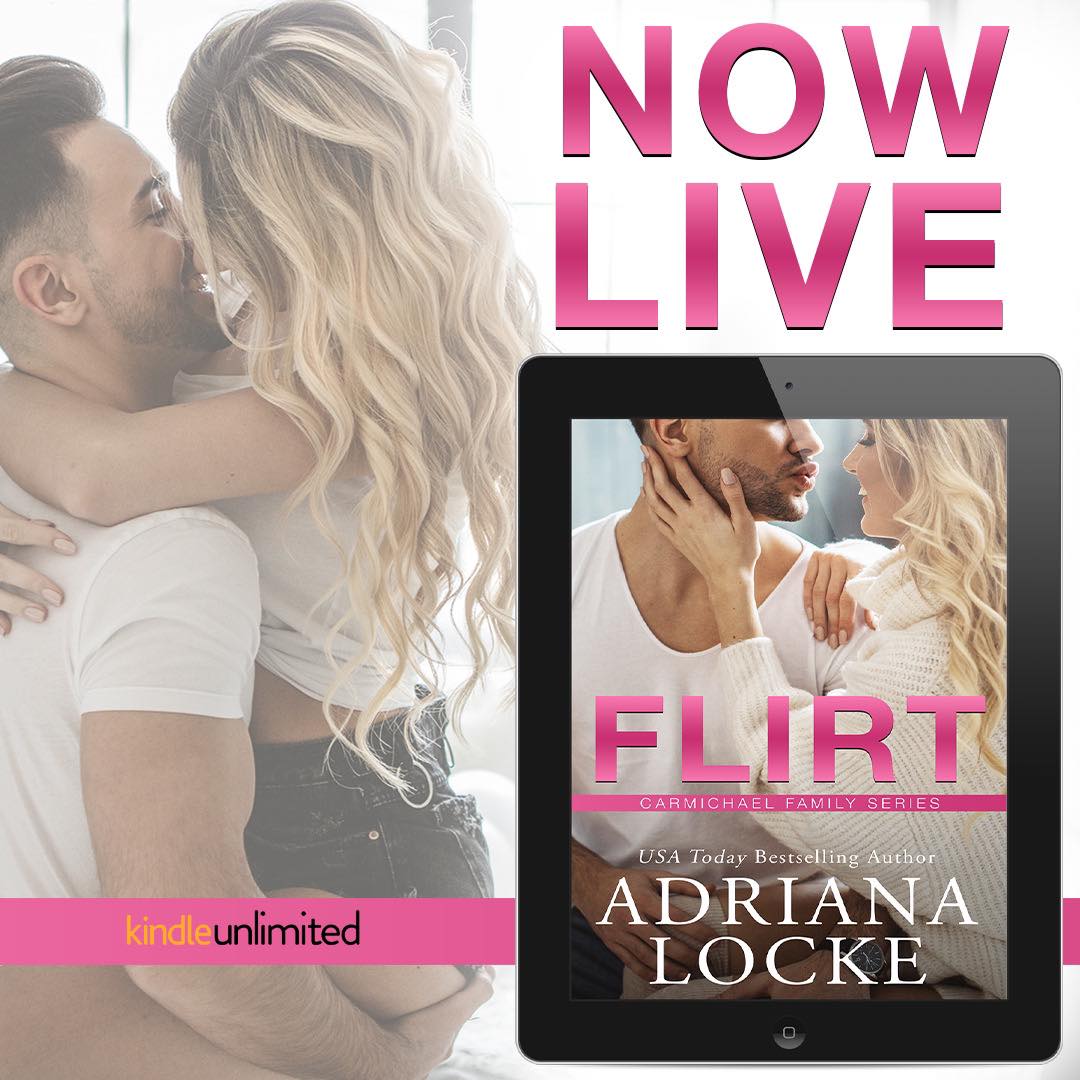 Add to Goodreads:
https://www.goodreads.com/book/show/59775481-flirt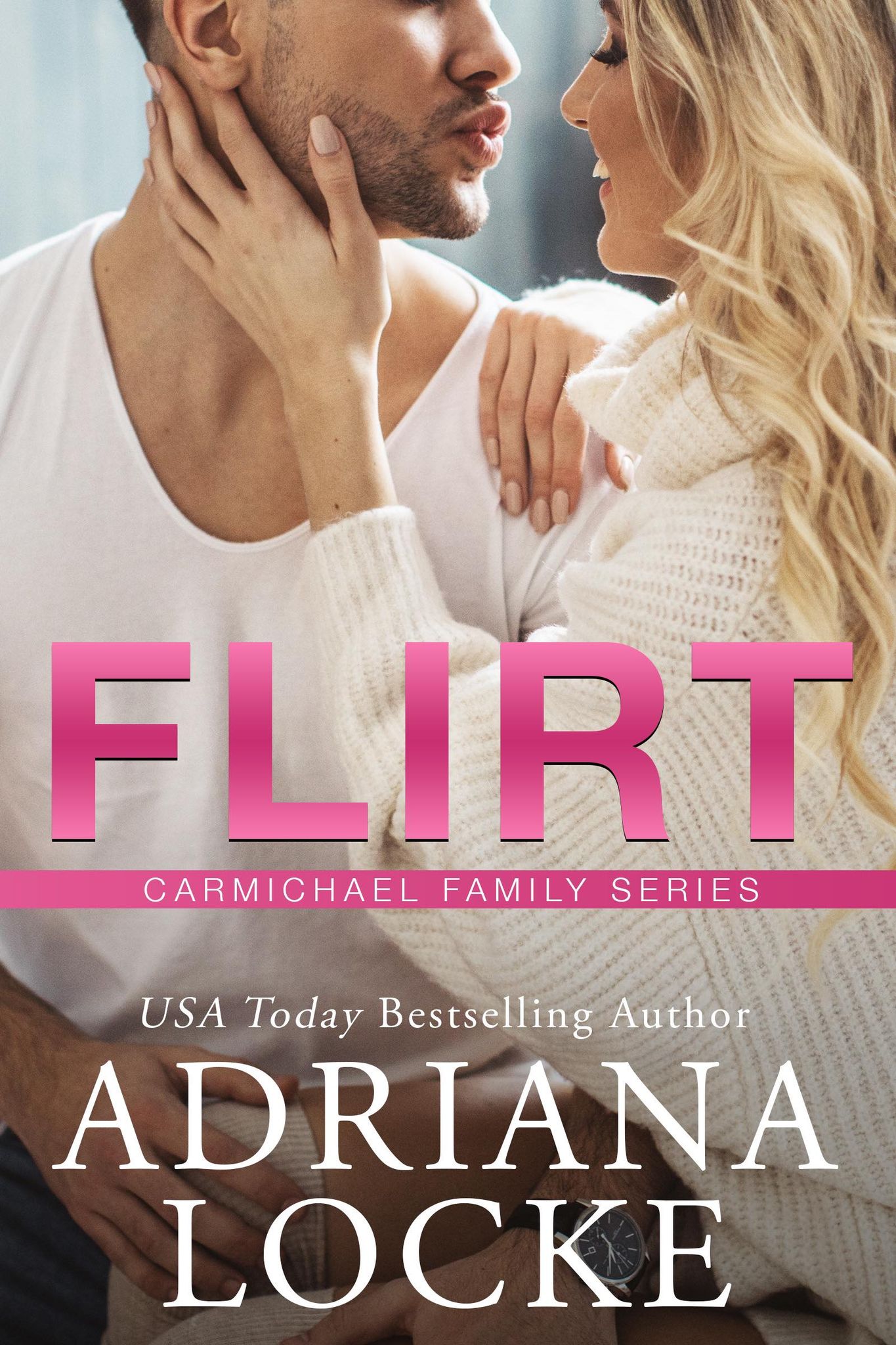 Blurb:
WANTED: A SITUATION-SHIP
I'm a single female that's tired of relationships ruining my life. However, there are times when a date would be helpful. If you're a single man, preferably mid-twenties to late-thirties, and are in a similar situation, we might be a match.
Candidate must be handsome, charming, and willing to pretend to have feelings for me (on a sliding scale, as the event requires). Ability to discuss a wide variety of topics is a plus. Must have your own transportation and a (legal) job.
This will be a symbiotic agreement. In exchange for your time, I will give you mine. Need someone to flirt with you at a football party? Go, team! Want a woman to make you look good in front of your boss? Let me find my heels. Would you love for someone to be obsessed with you in front of your ex? I'm applying my red lipstick now.
If interested, please email me. Time is of the essence.
Flirt is the first book in the Carmichael Family series by Adriana Locke. I love when one of my favorite authors starts a new series and the start of this one is AMAZING. If you read Sweet, the sixth book in the Landry Family series then you got a small glimpse into how this family works. Antics, love, and lots of laughs.
Brooke needs a date to her grandmother's birthday party. If she shows up single, she will never hear the end of it from her mother. She wouldn't even go if it wasn't for her grandmother, Honey. So, she writes out an ad for a fake date and that is when the crazy ride begins. She really didn't expect so many responses. But what truly shocked her was when Moss Carmichael volunteers for the job. The man is a flirt. A friend. Does she think he is hot? Fuck yes. Has she ever thought of him as more than a friend? Hell yeah. Does she want a relationship ever again? Hell no. Would she ever risk their amazing friendship? Hell no again. She needs a date. He needs a date for an event. It's a win-win really.
Moss loves flirting with Brooke. She is his happy place but they can never be more. No way in hell he was going to let her take a stranger home to her wacky family. He was the only man for the job. Though a few of his brothers would say they were. Ha! This will be easy even if he is hard every time he is around the woman. Has he wanted to kiss her in the last two years they have worked together? Of course. Does she scare him? Fuck yes. He knows her and she needs this. A date. So why not fake date until then? It's always fun to mess with his family so it's on.
I absolutely love these two! I do believe Moss is tied with Lincoln for my favorite Locke man. I love a shameless flirt who makes me laugh, swoon, and get hot and bothered. And Brooke is a tough cookie who knows what she wants. Together, I love their banter, sexiness, and flirt game. It's not all about good times though. It's an emotional ride and I am here for it and can't wait for the rest of the boys to find their loves.
"When I'm around you," he says softly, his eyes never leaving mine, "I think maybe my heart can be fixed someday."
She's my worst nightmare and my wettest dream.
Flirt is the first book in the Carmichael Family series by the queen of small town-family romance, Adriana Locke. I will dare say that Flirt is my favorite book of Adriana's. I got absolutely giddy when I heard the Carmichaels were getting their own series after meeting them in Sweet. I didn't expect to fall for Moss so hard and so fast though! But I don't feel bad about it for a second! He's dreamy, sweet, sexy, funny and hot! He had me swooning all over the place. The things he says when he's not even trying? Oh my! Swoon-a-licious! Brooke is strong, independent and talented. Her family leaves a lot to be desired, but the Carmichaels are like family.  Just like Moss. They have been working together for two years and each has secretly lusted after the other. But they are great friends who know a lot about each other. Who are comfortable with each other and genuinely enjoy each other's company. So when Brooke needs a fake date to a family function, Moss volunteers. It's no hardship spending more time with Brooke. After one scorching kiss, the rules of the game change. He's all in. She fights it for a while, but it's futile. They have friendship, passion, fun, sexiness and love. They both have pain and loss in their lives that needs to be buried before they can move on together. It's heartbreaking and heartwarming. Overall, I loved every second of it. If I had time, I would definitely read it again! Hmm…maybe I'll listen to it if it comes to audio. Flirt is a fantastic start to a new series and I am here for it. I don't think any of his brothers will top Moss, but I can't wait to see them try!
"You are basically my hero."
"I think I would be a heroine."
He laughs. "I don't know. You have a lot of big-dick energy."
"You're damn right I do."
"Thank you," he whispers into my ear.
"For what?"
"For sharing you with me."
About the Author:
USA Today and Washington Post bestselling author Adriana Locke lives and breathes books. After years of slightly obsessive relationships with the flawed bad boys created by other authors, Adriana has created her own.
She resides in the Midwest with her husband, sons, and two dogs. She spends a large amount of time playing with her kids, drinking coffee, and cooking. You can find her outside if the weather's nice and there's always a piece of candy in her pocket.
Connect w/Adriana:
Website: https://adrianalocke.com
Facebook: https://www.facebook.com/authoradrianalocke
Facebook Group: https://www.facebook.com/groups/booksbyadrianalocke
Twitter: https://twitter.com/authoralocke
Instagram: https://www.instagram.com/authoradrianalocke
Goodreads: https://www.goodreads.com/author/show/8379774.Adriana_Locke
Amazon: https://amzn.to/3ivy7xd
Bookbub: https://www.bookbub.com/authors/adriana-locke
Newsletter Signup: http://bit.ly/NewsletterAddy
April 19, 2022 | Posted in Release Day Blitz, Review | By Two Book Pushers
My best friend's older brother excels at many things—being a bossy grump, a jerk, and…this hopeless virgin's fake fiancé?
I need a guy who understands that this is all pretend, and who better than a man who can't stand me—and vice versa? Besides, Derrick is the kind of cocky, confident, successful dude bro my gram will adore.
We'll convince my ailing grandmother I'm not going to die alone, Derrick will honor that favor he owes me, and we'll part ways as enemies with NO benefits.
It's a rock-solid plan…until it isn't.
Turns out I may have made a slight miscalculation.
Now Derrick is charming my family, sweeping me off my feet, and making me want crazy things.
Suddenly, I think I might actually want him to be my first and maybe…my only?
Yeah, I'm screwed.
So bleeping screwed.
Amazon US: https://amzn.to/353c3rr
Amazon UK: https://amzn.to/3tT2xBw
Nook: https://bit.ly/3GMIVTy
Kobo: https://bit.ly/3AjgYjx
Googleplay: https://bit.ly/3tKqQBD
Apple Books: https://apple.co/3ItOzKN
Screwed in the second book in the Virgin Diaries series by Lili Valente. Each book can be read as standalone but I recommend reading the series or at least the novella. If you read Scored then you have met Harlow and Derrick, well…this is their story!
Harlow has been on the hunt for a man who doesn't want love but a man who is could give her a good time. A man to punch her V-Card and be a nice guy about it. Then, she can move on with her life and find love down the line. She was not about to be like the other women in her family. She refuses. But, that is not what she needs at the moment. What she needs is a fake boyfriend for her family reunion. All her gram wants before she leaves on her next adventure is to know that Harlow has found the love of her life and is happy. Harlow wants to give her that peace and if Derrick aka Satan is the only man to help give her that, then so be it.
Derrick and Harlow's relationship is complicated. The tension along with the attraction is there but they aren't doing anything about it except ignoring it with all their willpower. But now, they will be in the same place, in the same suite for a week faking to be in love. Harlow is afraid to put herself out there again after being rejected years ago. Derrick is afraid it's too late to put himself out there. They have some explaining to do for sure. Can they get their heads out of their asses and finally get it together?
These two!! Their banter is their foreplay. It can be sweet. It can be funny. It can be flirty. It can be anything. This story is so much fun!! One week of ups and downs, a crazy family, and surprises in the bedroom. I loved Derrick and Harlow. I also loved Gram! I can't wait for what is up next in the Virgin Diaries.
Screwed is the second book in the V-Card Diaries series by Lili Valente. I loved this enemies-to-lovers, fake fiancé romance! Derrick and Harlow have mad chemistry. Some if it is left over hostility from years ago, but most of it is smoking hot attraction. Harlow needs a fake fiancé to meet her grandma and her family. Derrick happily agrees. Their hatred has thawed since they kissed and now spending the night in the same room is going to push them over the edge. Harlow is ready to get rid of her V-card and Derrick is just the man for the job. Derrick can't believe his luck. He's had feelings for her for a long time and now's his chance to show her how good they can be together. As long as she doesn't run. Will Harlow realize her feelings before it's too late? Oh man, I love Derrick and Harlow! Their chemistry, their banter, their heat. It's all off the charts! Another fantastic story from Lili Valente!
April 19, 2022 | Posted in Release Day Blitz, Review | By Two Book Pushers
Code Name: Revenge (Jameson Force Security, Book 9)

Sawyer Bennett
Release Date: April 19, 2022
Synopsis:
When Kynan McGrath approached me about joining Jameson Force Security, I jumped at the chance. Just call me Dozer Burney, one half of the genius duo who keeps the team at the forefront of security technology. The move from NASA to Jameson also put me back on the east coast, closer to those who mean the most to me.
Jessica Anderson has been my best friend since college. A single mom who found herself mixed up with a dangerous man years ago, she's been living a safe, quiet life in Miami after helping police put him behind bars. We both knew her safety, and that of her daughter, was reliant on him staying locked up. So when I see an alert that he's escaped from his maximum security prison, I know where he's heading to exact his revenge.
Now it's a race against time to get to Jessica before he does.
Protecting her with my life is easy, because there's one thing I've never admitted to anyone, not even myself—I have been in love with Jessica Anderson since the day I met her. And if we both make it out alive, I'll make sure she knows it every day for the rest of our lives.
Download Code Name: Revenge (Jameson Force Security, Book #9):
Get the audio (narrated by Sean Crisden and Adenrele Ojo)
Audible | Amazon | Apple
** Digital files will be delivered via BookFunnel for reading within the BookFunnel app only **
Code Name: Revenge is the ninth book in the Jameson Force Security by Sawyer Bennett. You can read each book in the series as standalone but I recommend reading the series. Each book has a unique love story and I have fallen for each one. Dozer is one of the newest employees of Jameson.
Dozer was happy for all of the couples at Jameson. Love is in the air while he is single AF and totally okay with that. He loves someone but they just don't know it. He doesn't want to ruin the friendship they have built over the years. They are so close that he is The Godfather of her daughter, Thea. They are in Miami and he loves to visit them but when he lands there this time it is to save their lives. He won't let anything happen to Jess. She is his family along with Thea and Claire, Jess's mom. She might know he loves her but not in the way she thinks…
Jess can't believe this is happening. Ivan has escaped prison and is after her. Thank God for Dozer showing up when he did and now they are at Jameson laying low. She wants this to be over with. The only silver lining is that she gets to spend time with Dozer. Their friendship means the world to her. Her feelings are complicated when it comes to the man. He is her strength and she knows he would do anything for her and Thea and that is what scares her. Ivan is a dangerous man and Dozer wants this to end now. Will he put himself in danger to save her? Will her complicated feelings become uncomplicated?
Aw! These two have a beautiful and complicated kind of love. I loved it! I could feel their connection from start to finish. I totally fell for Thea as well. She is stinkin' adorable! I can't wait for the next book. Bring on the K-9 unit.
"I've got a million different things I want to do to you to make you scream."
"I could kiss you right now."
Bebe looks at me, a warning expression in place.
I blow her a kiss instead.
"Of course I am," she teases and twirls again. "But what about the dress?"
Code Name: Revenge is the ninth book in the Jameson Force Security series by Sawyer Bennett. I've been waiting for Dozer's story for a while and it didn't disappoint. He's half of the technology team at Jameson, smart, talented and no interest in being a field agent. But that doesn't mean he's not equipped. He's a perfect shot, agile, strong and capable. And when his oldest friend, Jessica is in trouble, he drops everything to help her. Especially since he's been in love with her for years. Now they have to spend time together and their true feelings come to the surface. Turns out it's not a one-sided love. Dozer jumps in to help protect Jessica and her daughter even though it's dangerous. He has his team to protect him and he's going to protect Jessica with his life if need be. I loved Dozer and Jessica! I love a friends to lovers romance and this one was great! Suspense, humor, sexiness, friendship and love. I love the new guy and can't wait for his story!
About the Author:
New York Times, USA Today, and Wall Street Journal Bestselling author Sawyer Bennett uses real life experience to create relatable stories that appeal to a wide array of readers. From contemporary romance, fantasy romance, and both women's and general fiction, Sawyer writes something for just about everyone.
A former trial lawyer from North Carolina, when she is not bringing fiction to life, Sawyer is a chauffeur, stylist, chef, maid, and personal assistant to her very adorable daughter, as well as full-time servant to her wonderfully naughty dogs.
If you'd like to receive a notification when Sawyer releases a new book, sign up for her newsletter (sawyerbennett.com/signup).
Connect with Sawyer:
✦ Facebook: http://bit.ly/Sawyer_FB
✦ Reader group: http://bit.ly/Sawyer_NEP
✦ TikTok: https://bit.ly/Sawyer_TOK
✦ Instagram: http://bit.ly/Sawyer_IG
✦ Goodreads: http://bit.ly/Sawyer_GR
✦ BookBub: http://bit.ly/Sawyer_BB
✦ Newsletter: http://sawyerbennett.com/signup
April 19, 2022 | Posted in Blog Tour, Excerpt | By Two Book Pushers
Three powerful families. Three arranged marriages. And one beautiful stranger with a secret who changes everything.
Devil's Angel, an all-new steamy new adult standalone romance from bestselling author Julie Capulet is available now!
Cassidy They say family is something you're born with. Mine abandoned me long ago. They say true love is a myth. Mine showed up as a gorgeous devil who almost killed me. I fought back. Our bodies and our hearts knew, even if our realities would never allow it.
Knox I'm one of five heirs to the Ramsey fortune and estate, a hundred acres of tropical paradise on the island of Kauai. I'm also the chosen one—a detail that's about to ruin my life. My marriage will be arranged, to secure the alliance between families.
But when a chance encounter with a mysterious stranger literally slays me, she changes everything.
This is more than obsessive lust. It's the kind of star-crossed love worth dying for. And it's a risk I'm willing to take. Because settling for a future without her is no longer an option.
DEVIL'S ANGEL is a steamy standalone new adult arranged marriage romance set in paradise. It contains scorching hot love scenes and is intended for readers 18+
Grab your copy today or read FREE in Kindle Unlimited! Amazon: https://amzn.to/3tzTHYT Amazon Worldwide: http://mybook.to/DevilsAngel
Add Devil's Angel to Goodreads: https://bit.ly/3wAg6XV
Excerpt
I walk the six blocks to Perfection Catering to start work.
They're already loading up the vans parked out in front, so I show my ID to the driver and get into the van, where Maggie has saved a seat for me.
"I can't believe we're going to Seven Mile Beach," she gushes.
"What's Seven Mile Beach?"
"Are you kidding me? It's only the most expensive residence in the United States. We're working for the Fitzpatricks today. It's Vivi Fitzpatrick's twentieth birthday party."
"Vivi Fitzpatrick." Doesn't ring a bell. "Should I know who that is?"
Maggie rolls her eyes, like she can't believe anyone could be so obtuse. "What am I going to do with you? The Fitzpatricks are celebrities. They own the most exclusive high-end hotels in Waikiki. Their resorts are where the tourists with serious money stay." Maggie keeps up with all the latest social media gossip.
I, it has to be said, don't.
"Here, I'll show you their photos." Maggie knows I don't really have the time or the data to scroll the internet non-stop. She fills me in on all the gaps in my celebrity education.
"This is Malachi." She zooms in. "Isn't he absolutely gorgeous?"
I guess he is, in an internet-worthy sort of a way. He has black hair and white teeth. He's surrounded by beautiful women in bikinis smiling vapidly for the camera.
"Perri, Tatum and Vivi Fitzpatrick's follower numbers on Instagram are ranked one, two and three in the world." Maggie scrolls further. "Here's a photo of the three of them."
I point to the sister in the middle as she zooms in. "Is that Tatum?" I recognize her face.
"Yes. And this one's Perri. And that's Vivi on the right."
Vivi isn't smiling. Perri is wearing a lot of make-up. She has a weird sheen to her, like she could be made of plastic.
I don't get a chance to ask Maggie more questions because we're driving up to a massive gate. We come to a stop and several security guards climb aboard. The van is searched and we all have to be checked with metal detectors to make sure we're not armed. Which seems a little over the top but I guess these celebrities can't be too careful.
We finally pass the inspection and our fleet of vans gets waved through. A palm-tree lined entrance winds along a grassy slope overlooking a golden sand beach and the turquoise water.
Maggie and I are both wide-eyed as we drive into the compound. The house looks like a five-star plantation-style hotel with modern additions. There's a gigantic lanai and a glittering infinite pool surrounded by palm trees. The entire place gleams with money.
We're led inside, and put to work alongside the army of staff that are already setting up the outdoor area with the tables, decorations, an outdoor up-market tiki bar and a giant buffet.
The day goes quickly, and the limousines start pulling up just after six o'clock. Maggie and I are given trays with flutes of champagne and told to stand near the entrance so we can serve the new arrivals. From here, Maggie fills me in on who's who.
"I love this job," Maggie gushes. Then her eyes go wide. "Holy shit, that's Jagger King!" He's stepping out of a white stretch limousine. He has straw-colored blond hair that catches the early evening sun. The rolled-up sleeves of his shirt show off his gold chains, his suntan and his tattoos. "God, he's so beautiful."
"Is he a movie star too? He looks like one."
"No, he works for his family," Maggie explains. "All the Kings do. They own banks, skyscrapers and basically half the real estate and businesses in Honolulu. If the Fitzpatricks are the Hollywood of Hawaii, the Kings could be described as the Wall Street."
"He doesn't look like a banker."
"That's because he has so much money, he can look however he wants." Two other people get out of the limo. "There's Stone," Maggie whispers excitedly.
Stone is tall and lankier than his brother. He's wearing sunglasses and black clothes.
"And there's Aurora." Maggie is totally starstruck.
Aurora has dark red hair and a sexy, femme fatale look. She's wearing a red dress, if it could even be called a dress. It's more like a shred of ripped fabric that's covering only the most necessary areas.
The Kings are coming up the steps. Maggie and I watch them as they help themselves to champagne. Up close, they're even more striking. Their clothes and their obvious, glittering wealth give them a power that's hard to describe. Jagger is the most physically stunning, but all three of them have a magnetic, sparked presence, like if you touched them they might give you an electric shock.
As Jagger takes a champagne flute from my tray, his gaze lands briefly on my face. His gold hair catches the light almost theatrically but his irises are a very dark brown. As our eyes meet, something about him seems almost weirdly … familiar. But why would it? I most definitely have never met Jagger King. Maybe I've seen a photo of him somewhere before. He winks at me before sauntering off into the growing crowd.
Maggie exhales a shaky breath. "Did you see that? He looked right at you!"
There's some commotion as more people make their entrance behind us, from the interior of the house.
"It's Perri and Vivi," Maggie exclaims with hushed awe. "Vivi is the one in purple."
Both women are dark-haired and exotic-looking. They're wearing the most to-die-for outfits I've ever seen.
"Oh, look, here comes Echo Ramsey."
A valet opens the door of the next car and a young woman steps out. "Who's Echo Ramsey?" I whisper back.
Maggie gives me a look. "You seriously must be living under a rock, Cassidy. You've never heard of Echo Ramsey?"
"Uh … no."
"The Ramseys live on Kauai," Maggie explains patiently. "All three families are interconnected. There are a lot of marriages between the families and they own businesses together. The Ramseys are more reclusive than the others."
"Why?"
"They just prefer to stay out of the limelight. Their house is like a castle. It's surrounded by acres of land and high, guarded walls. I've heard it's like an absolute fortress, but inside there's this beautiful haven, with all kinds of orchards and botanical gardens. The Ramseys live like they're still on the frontier. They ride horses. They grow crops and they live almost entirely off the land."
"Wow." I imagine what that must be like. To catch your own fish or pick fruit off your very own trees.
"My friend's cousin went to a party there once. She said they all look like supermodels."
"Echo Ramsey sure looks like one."
Echo is willowy thin with dark, glossy long hair that's beautifully cut. She's almost ethereal-looking, like she could be half fairy or a nymph who just wandered in from a magical woodland. There's a quiet gravity to her. It's the groundedness of someone who belongs and who walks around every day feeling the effortless security of that. You can tell she's loved. You can tell it holds her up and shapes the way she looks at the world. I have a radar for that kind of thing because it's so absent in my own life.
"Blaise Ramsey is stunning too," Maggie says. "They all are. I've seen the occasional photo of Remington, in the city. He's the oldest. He's on the board of some of the businesses the families co-own. He's huge and built like a fighter. So are Knox and Wolf. They train in MMA, I've heard. But they hate publicity. There are a lot of cousins and extended family too, like a clan, but it's the five siblings that get talked about most."
And now I'm curious. "What about the other two? Knox. And Wolf." They have unusual names.
"Apparently Wolf is crazy and, like, armed. He's some kind of weapons expert or something. I don't know much about Knox. My friend's cousin said he was the most gorgeous of all of them. He's seriously hot and he spends most of his time swimming and hunting. He's sort of wild and outdoorsy, like a tropical island version of a hot mountain man. He's hardly ever seen. I've never seen a picture of him. But according to my friend, all the Ramsey men are absolutely lethal—I mean, I don't know why you'd describe someone you just met as lethal, but that's what she said."
"Wow," I say again. It all sounds so wildly romantic. Keeping to yourselves. Swearing loyalty to your clan.
Growing up like I have, I've always coveted the idea of a haven. What would that be like, to belong to a place that's guarded and beautiful and filled with people who know you and who care about you enough to keep you safe?
I wish I could find out.
About Julie Capulet
Julie Capulet writes contemporary romance starring sexy, obsessed alphas and the sweet & sassy women who bring them to their knees. Her stories are inspired by true love and she's married to her own real life hero. When she's not writing, she's reading, walking on the beach, drinking wine and watching rom-coms.
Connect with Julie Amazon: https://amzn.to/3qzHIIX Goodreads: https://bit.ly/3wxBEoj Facebook: https://bit.ly/380gkxx Instagram: https://bit.ly/3wFKT61 Website: https://www.juliecapulet.com/
April 15, 2022 | Posted in Release Day Blitz, Review | By Two Book Pushers
(A Brother's Best Friend Romance)
Series: Manhattan Nights #7
Genre: Contemporary Romance
Release Date: April 15, 2022
BLURB
Weddings are supposed to be fun-glamorous…aren't they?
Because the second my best friend Drew tapped me to Best Man at his own NYC nuptials, I realized that I was in for one hell of a ride.
Especially when it becomes clear that his younger, can't-stay-out-of-trouble sister Sabrina will be the Maid of Honor and I will have to keep my usually-busy hands off of her.
Mostly, because she's my best friend's little sister. But more because she deserves better than a guy like me—a family screw-up with more secrets than good intentions.
I am sure of one thing, though: I owe Drew for saving me from a lifetime of mistakes.
It just didn't occur to me that Drew might have his own mistakes, too. Dangerous ones that push me closer to that sharp-tongued Sabrina…
And closer to a ticking time bomb I never saw coming.
PURCHASE LINKS
The Debt is the seventh book in the Manhattan Nights series by Natalie Wrye. You can technically read each book as standalone since they are different couples but there is a storyline that connects them. One man really…Chris Jackson. So I recommend starting from the beginning and if you have already then you know this couple. Lachlan is Drew's best friend, and Sabrina is Drew's sister.
It's almost the big day for Drew and Nancy! So of course his best man and her Maid of Honor would be in the same place at the same time. New York City for five days of wedding preparations and parties. Lachlan and Sabrina haven't seen each other in six months, since the night they kissed. He went back to London and she went back to Connecticut. And since then their lives have changed so much. Lachlan has been miserable. Sabrina has been shunned. And now they have been thrown together in a twisted game. One they didn't ask to play. They don't know who to trust. They don't know who is out to get them…
What they do know is they still have that spark between them. They are fighting it. He doesn't think he deserves her, that he will only hurt her in the end. She doesn't want to want him but her heart always has. Seven years is a long time to crush on your brother's best friend. It was easier when he was across the pond but now? It's torture. For both of them. One thing is for sure though…they need to solve this mystery before it is too late. And will they also find a way to find each other in the dark?
Natalie never disappoints with her twists and turns. Sometimes I don't even know which way is up. Lol. This one has more angst with the couple. They both have their own set of issues they need to work through. It's not easy. It's not all roses and butterflies. There are some bumps and bruises along the way. (No, there is no abuse!) I am hoping that I spotted the next couple! They are going to be a fun pair if I am correct. It was also cool to catch up with Drew and his groomsmen. They are so funny.
On instinct, I pick my seltzer up off the bar.
And before my lungs have time to inflate, I see a vision. A memory. A past ripped from a dream.
A walking fantasy wrapped all in silk.
The most stunning sight of the entire night walks in, smiling demurely. Sabrina.
"I'm not the one who's in trouble here," he offers.
"In ways you don't even know, sweetheart."
"…I've never been the hero in anyone's story, Sabrina. And I'm not going to be the hero of yours."
ALSO AVAILABLE
Start the series for just 99c
All books are $2.99 or less for a limited time
AUTHOR BIO
Natalie Wrye is a reader, writer and tequila lover best known for writing seductive big city romance and characters whose HEA's you'll love rooting for.
A notebook hoarder whose books have been featured on USA Today's HEA and PopSugar, when she's not watching Netflix re-runs or yelling at college basketball games on TV, she's usually crafting sexy suspenseful stories about hard-bodied, take-charge heroes and the strong-willed women who crave them.
She loves it when people get weird with her on IG, NatalieWrye.com or NatalieWrites@NatalieWrye.com.
AUTHOR LINKS
April 1, 2022 | Posted in Blog Tour, Review | By Two Book Pushers
"In this un-put-downable romance, Madden-Mills skillfully balances the emotional with the physical to produce a love story that's equal parts scorching and sweet." —Publishers Weekly
Beauty and the Baller, an all-new emotional and steamy opposites attract, fake relationship standalone romance from Wall Street Journal bestselling author Ilsa Madden-Mills is available now!
An NFL quarterback turned small-town coach gets sacked by a Texas beauty queen in this swoony, passionate romance from Wall Street Journal bestselling author Ilsa Madden-Mills.
Gorgeous, talented, and brilliant, NFL quarterback Ronan Smith has the world in his hands. But after losing his career and his fiancée in a car accident, he falls into a pit of grief and bad choices. When a mysterious girl shows up to his party, he feels drawn to her and makes her his…for one night.
Former beauty queen Nova Morgan is on a mission. Scantily clad as a princess from a galaxy far, far away, she sneaks into a high-profile party to capture the attention of her favorite quarterback. But her hopes crash after an awful one-night stand.
Fast-forward two years. Broke and desperate, Nova returns home to Blue Belle, Texas, where, by a cosmic twist of fate, her broody neighbor is none other than Ronan, the shiny new football coach everyone adores. But he has no idea who she is.
The booster club keeps shoving women at Ronan to keep him in town. His solution? He proposes fake dating to Nova. But things heat up for real under these Friday-night lights when he realizes she's the one who slipped away.
Has this jaded beauty found her forever baller, or will his past keep them apart?
Fall in love today FREE in Kindle Unlimited! Amazon: https://amzn.to/3CRMSE1 Amazon Worldwide: http://mybook.to/BeautyBaller Amazon Paperback: https://amzn.to/3CRmo5r
Add Beauty and the Baller to Goodreads→ https://bit.ly/3uhUb4F
Beauty and the Baller is Ilsa Madden-Mills' latest epic romance. I have read most of Ilsa's novels and this one is one of my favorites! The story. The characters. The fun. I was so close to finishing it in one day! I was seriously addicted.
Ronan lost everything a year ago. His career. His fiancée. He was in a black hole then he saw her. His Princess Leia. He had to save her and then he had to have her. It was the first time he saw the light in a year then she was gone when he woke up. That night changed him. She changed him and he didn't even know her name or even remember most of her features. He wasn't exactly sober but he was now. Two years later, he was in Blue Belle, Texas as a HS football coach who has been set on a pedestal he didn't ask to be on…
Nova was home. Broke and taking care of her teenage sister, and she was in no mood for a party. Her neighbor, apparently the high school football coach was celebrating a win and his birthday. She didn't care. She also didn't care if she looked a hot mess. Then she sees him. Her one-night stand from two years ago. The one she both couldn't forget and wanted to forget and apparently, he did. He didn't even recognize her. The arrogant jerk. Fate was a total bitch.
Ronan and Nova's twist of fate is epic, y'all. She knew it would be a bad idea to fake date him. He didn't want entanglements. This wasn't his home, it was a stepping stone and everyone knew it. It was why the whole town was trying to find him a woman to tie him down. Well, it wouldn't be her even though she knew Ronan tying her down would be the best night of sex. Ever. Nope. She couldn't go there until…
I can't really get into the story anymore than that but I can say I absolutely loved this couple! The meet-cute. The banter. The connection. The heat. The passion for the game. The emotions. It was everything I expected and more. If you follow my reviews then you know I don't read blurbs so all I knew was it had to do with a beauty and a football player. I am obsessed with the cover. I love Nova, she is a true badass. I love Ronan, he is an alpha with a romantic side. These two are fire! I also fell for the side characters too, Tuck is hilarious and the rest are too.
"It's a lesson all Southern women learn early." She shrugs an elegant shoulder. "We don't care if we get caught."
"Come over to the dark side, Princess."
"I love kissing you. Each time is different," I murmur as our breaths mingle.
Beauty and the Baller is Ilsa Madden-Mills' newest epic, second chance, fake relationship romance and I loved every second of it. It has heart, heat, humor, fun, sexiness, Star Wars, football, southern charm and a cast of relatable and loveable characters. Ronan is floored when his dream, a gorgeous blonde in a Princess Leia costume, crashes a football party. What's a hero to do? Like Han Solo, save the Princess. Ronan might have been grief stricken and a little drunk, but his princess left a mark on his heart and soul. Nova jumps at the chance to get closer to The Ronan Smith. Dress up and pretend to know things about Star Wars? Check. Dance with sexy footballer? Check. Go back to his room and have the best night of your life? Check. It didn't end the way Nova wanted, but she moved on, tried to forget about the hurt. Now she's back in her hometown in Texas after her mother's passing and the new football coach lives next door. To say she was shocked to find Ronan was the coach is a sever understatement. He's still s gorgeous, but she has to ignore that. She hates him. He's a jerkface. And apparently all the women in Blue Belle want him. Except her. Right? She needs to find a job, figure out how to raise her teenage sister. Ronan doesn't remember her, but when he does it is on. He still feels a connection to the sexy blonde who ultimately saved him. What he needs it a fake girlfriend so all the crazy single women in town back off. He needs to keep things easy and light. He doesn't expect to want to spend time with Nova. Want to know things about her. Her Secrets. What she wants out of life. He definitely did not expect to fall for her. But this town and the high school coaching job is just a stepping stone. Right? This can't be his forever. Ronan doesn't know what hit him until he almost loses it all. Will he be able to fight for his new life? Learn to live in the moment? Trust in fate? Wow! I have read a lot of books by Ilsa and this is by far one of my top two favorites. It has everything I love in a romance. A second chance, humor, sexiness, a fun, smart sexy hero with sexy hair, an independent, smart heroine. Secondary characters that could have their own stories and of course love. I laughed, cried, had to fan myself and wish there were going to be more Ronan and Nova. I honestly couldn't love this story more! P.S. I love her clothes and shoes and his undying love for Star Wars!
About Ilsa Madden-Mills Wall Street Journal, New York Times and USA Today best-selling author Ilsa Madden-Mills is best known for her angsty new adult romances and romantic comedies.
Eight of her eleven novels have placed in the Amazon Top 10 Best-seller List: Dirty English #1; Fake Fiancée and I Dare You #2; I Bet You, Filthy English, and Very Bad Things #6; Boyfriend Bargain #8; The Last Guy, her collaboration with Tia Louise, #4.
A former high school English teacher, she adores all things Pride and Prejudice, and of course, Mr. Darcy is her ultimate hero.
She's addicted to frothy coffee beverages, cheesy magnets, and any book featuring unicorns and sword-wielding females. Feel free to stalk her online.
Connect with Ilsa Amazon: http://amzn.to/2nY2pxT Instagram: http://bit.ly/35xfNfo Stay up to day with Ilsa by joining her mailing list: http://bit.ly/2ZWaTYh Goodreads: http://bit.ly/2EESfM9 Bookbub: http://bit.ly/2GaR6cn Book+Main: http://bit.ly/2s4j9ci Website: https://www.ilsamaddenmills.com Join her Unicorn Girls Group on FB, the best way to keep up: http://bit.ly/37B6Nay Sign up for phone alert for book releases (max of 4) Text ROMANCE to 21000 *Text message rates apply*