June 28, 2022 | Posted in New Release, Review | By Two Book Pushers
Last night I made out with a gorgeous, funny, quirky older woman. Today I learned she's the new executive chef at my restaurant. AKA my new boss.
Yep, that's the hot mess I'm in at the moment.
But the chemistry between Natalie and me is even hotter.
The problem? She's a single mom focused on helping her little girl adjust to life in the big city. Dating right now—especially a co-worker—is asking for trouble.
So, what's my next move? Seduce the hell out of the woman, of course.
I may still technically be hanging onto my V Card, but I know how to drive a woman wild in bed.
Even more importantly, I know I'm the kind of man Nat's looking for. I love hard, keep my promises, and I'll put her and her daughter first.
And then I learn the real reason she's been holding me at a distance…
Most men would be scared away. Me?
I'm even more determined to prove I can make this wounded woman's dreams come true.
Seduced is the third book in the V Card Diaries series by Lili Valente. You can read each book as standalone but I recommend reading the series since they are all so much fun. I have been waiting for Cameron's story and the wait was totally worth it.
It all started with chocolate covered crickets…
Cameron knew the woman across the table was different. She was beautiful, witty, and mysterious. And she didn't want to be his friend. That was clear when she kissed him. It was perfect. She was perfect. They make plans for a first date. Cameron is walking on the air the next morning on his way to work then he sees her. In the kitchen of Crave as the new owner and executive chef. And her number one rule… Zero-fraternization between employees. I guess it was time to up his seduction game. Except, this is no game, he knows she is the one he has been waiting for. But, what will happen when she finds out about his V status?
Natalie wasn't looking for romance. She was new to New York, a single mom, and the new owner of Crave. She didn't have time for a man especially one ten years younger. He definitely couldn't be ready for the whole package. He was a hot chef in his twenties in NY. He probably just wanted in her pants and now as her new boss, he would just walk away. Except, he doesn't. He is a surprise she didn't expect and that makes him trouble.
I ♥️ Cam and Natalie!! And of course Crissy, that kid is adorable. This story is not only sexy AF but sweet and funny too! It's also full of heat, friendships, and dinosaurs. I knew Cam was a sweetheart but I absolutely love his sexy side too. Hot damn. Natalie is a badass in and out of the kitchen. She is also a kickass mom and I loved meeting her and all of her side. And, Crissy, this kid is the best. So much fun and brave. I can't wait to see them again in Sparked!
"Only when it comes to food."
"I think you broke my vagina, and all my clothes are still on," I say, fumbling for the buttons behind my neck.
"Somebody help! Mommy's being attacked by a vampire!"
Seduced is the third book in the V Card Diaries series by Lili Valente. I am loving this series so much! Lili is giving us such fun characters with so much heart and they are making me swoon and laugh out loud. Oh Cameron, I knew I was going to freaking love you! You might be young, but you have your life together. You know what you want to do with your life, you know how to treat a woman and you know how to be a great friend. And you are sexy and fun and smart. Natalie is a business owner, chef and mother. She wasn't expecting to meet a young, charming man who she connected with. And then when he turns out to work for her, she can't go there. But really, she can and she does! I love that she is older and he's the virgin. And just because he is, doesn't mean he doesn't know how to please her. I loved watching their love grow and how mature they are. I loved the way Cam is with Crissy, her daughter (swoon). I just loved everything about it. It made me laugh, cry, get hot and bothered and just smile. Everything I want from a romance!
AUTHOR BIO
Author of over forty novels, USA Today Bestseller Lili Valente writes everything from steamy suspense to laugh-out-loud romantic comedies. A die-hard romantic, she can't resist a story where love wins big. Because love should always win. She lives in the Northeast with her two big-hearted boy children and a dog named Pippa Jane.
Lili also writes naughty serials as Everly Stone. Learn more at www.lilivalente.com.
AUTHOR LINKS
June 28, 2022 | Posted in Blog Tour, Review | By Two Book Pushers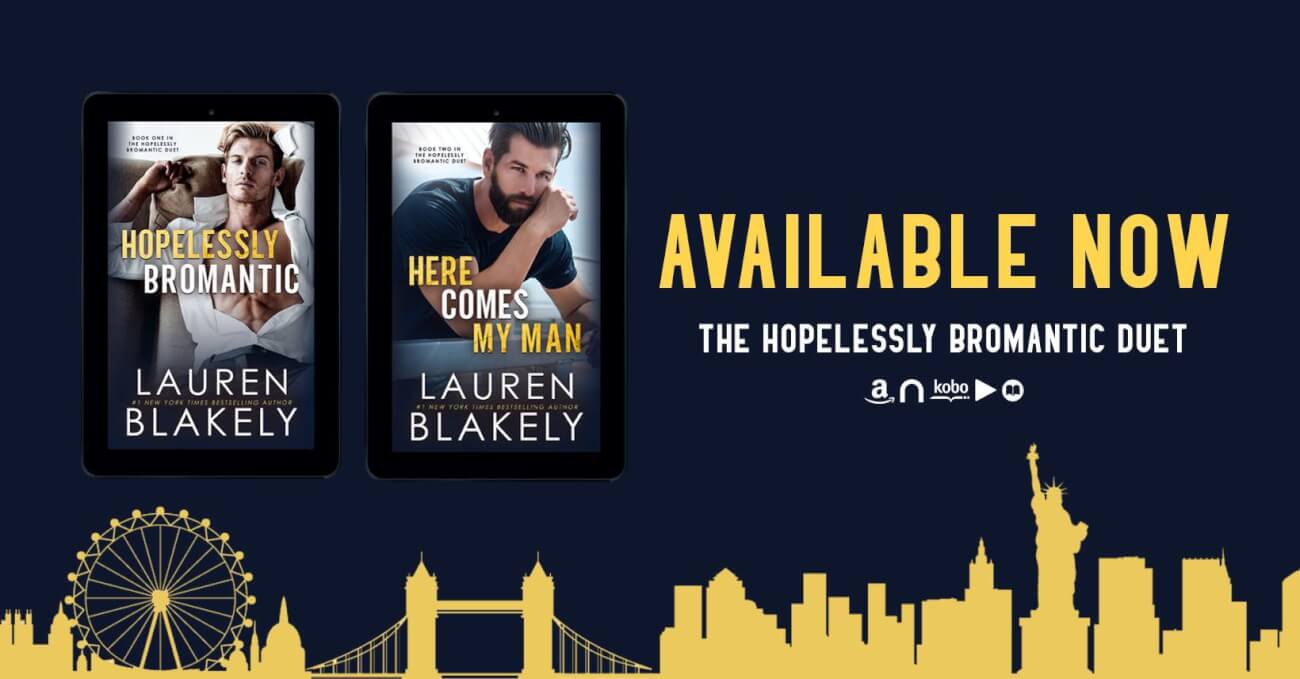 HERE COMES MY MAN
(The Hopelessly Bromantic Duet book 2) by Lauren Blakely
Release date: June 28th
From #1 NYT Bestseller Lauren Blakely comes a red-hot, enemies-to-lovers, fake boyfriend, second chance romance! HERE COMES MY MAN, the conclusion to the Hopelessly Bromantic Duet, is NOW LIVE!
AVAILABLE NOW!!
✦Amazon ➜ http://blkly.pub/AmazonMyMan
✦ Apple ➜ http://blkly.pub/AppleMyMan
✦ Google ➜ http://blkly.pub/GoogleMyMan
✦ Nook ➜ http://blkly.pub/NookMyMan
✦ Kobo ➜ http://blkly.pub/KoboMyMan
✦Audible ➜ http://blkly.pub/AudibleMyMan
Teddy Hamilton and Shane East narrate in duet with a full cast!
START THE DUET TODAY WITH HOPELESSLY BROMANTIC!!
https://laurenblakely.com/hopelesslybromantic/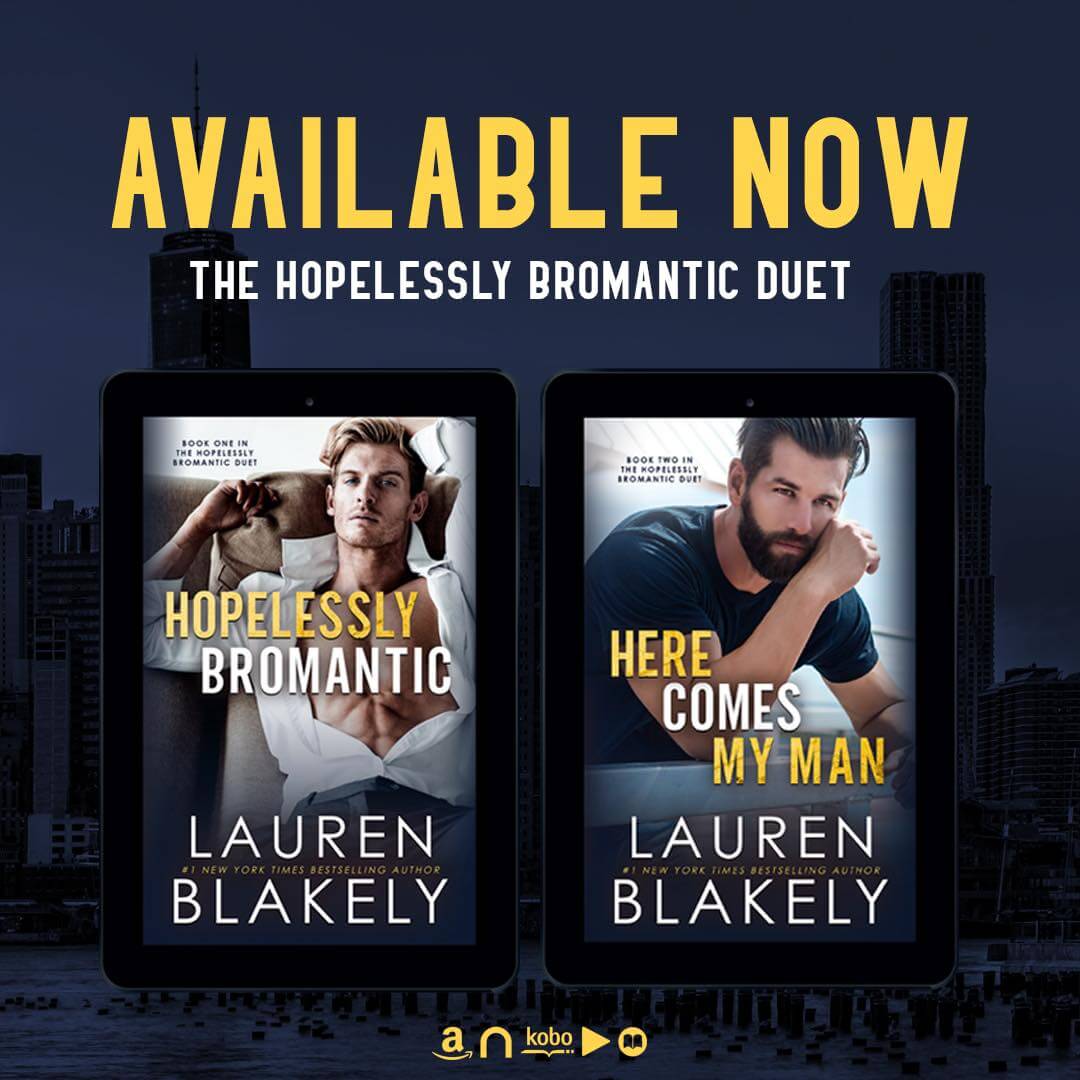 Add to Goodreads:
https://www.goodreads.com/book/show/59580810-here-comes-my-man
Blurb:
A red-hot, enemies-to-lovers, fake boyfriend, second chance romance, and the conclusion to the Hopelessly Bromantic Duet!
Let me just say this — fake dating the cocky movie star was not my idea. Especially since he's my former roomie and, gulp, my secret ex.
But my agent tells me I have no choice since I'm ridiculously overdue with turning in the next big blockbuster love story to my publisher.
Not to mention, ahem, writing it.
Falling for the smooth-talking English hottie once upon a time — fine, twice — were huge mistakes that I shouldn't repeat, but pretending to like the guy who broke my heart is my only chance at saving my job.
That is, as long as no one finds out that every date we go on, every smile we flash each other for the cameras, and every hot, desperate kiss on the streets of Manhattan is absolutely fake.
Except…it's not. At least for me.
And he can never know…
Contents Include: Snarky banter, sexy dates, hate s-e-x, seduction by a wordsmith, and two strong, stubborn, clever men determined to resist each other at all costs.
Here Comes My Man is the conclusion in the Hopelessly Bromantic duet by Lauren Blakely. My heart was broken at the end of Hopelessly Bromantic but now we get more of them!! And I am always here for more Blakely Men.
TJ hasn't been able to write a word over the last ten months. He fears he is broken. A man who writes romance needs some inspiration and his own heartbreak isn't doing it. Jude has landed himself in the tabloids and with award season he needs to clean-up his image. Their agents have come up with a plan… Fake date! Show the world how much they are in love with each other. The writer and the actor. Easy, right? Except their agents don't know about their pasts. Nobody really does. Their love was a secret…both times around. Will a third time be the charm?
Hate is a strong word. And you know what people say about the line between love and hate. TJ and Jude have gone a loooong ten months since they saw each other again. Ten months of built-up tension. Unknowns and regrets. They don't know where they stand but they have to stand together to get through until the fake breakup. Fake dates and appearances or are they? There is a fine line, will they cross it?
Of course they do and it is fire!! It is also full of emotions. I just absolutely love these two. They have been through so much. So many obstacles and years between them. This is not only a second chance but a third. It's a unique story and I loved every word. I am so happy Lauren went with a duet for their epic love story.
"TJ Hardman, you and I know how to sell a kiss. Let's fucking do this."
"Maybe I'll write a long, endless kiss," I say.
"Then you should do more fieldwork," he says, inviting me for seconds.
"Abra-cock-dabra," he says.
Here Comes My Man is the conclusion to TJ and Jude's epic love story. You need to read Hopelessly Bromantic first! It started out as a sexy, brief affair with an off the charts connection and ended in heartbreak. Now it's ten months later and Jude needs help with his image and TJ needs help finishing his book. The answer? Fake boyfriend of course. Jude and TJ are not exactly thrilled about having to see each other again and pretend to be in love. Hardy anyone knows they were involved years ago and no matter what they tell themselves, their chemistry still sizzles. They may still be mad at each other but their bodies still remember the heat. The connection. Once they finally have the conversation about what really happened. They know they need to let go of the past so they can have a real future together. Oh my Lord. This book. These men. I couldn't love them anymore if I tried! They are just so swoony and sexy and funny and smart and handsome. Just everything. I love their sexy banter and their innuendos. I love their friends and family and I hope this isn't the last we see of TJ and Jude!
About Lauren Blakely:
A #1 New York Times Bestselling, #1 Wall Street Journal Bestselling, and #1 Audible
Bestselling author, Lauren Blakely is known for her contemporary romance style that's
sexy, sweet, and witty. She also writes USA Today bestselling LGBTQ romance.
With fourteen New York Times bestsellers, her titles have appeared on the New York
Times, USA Today, and Wall Street Journal Bestseller Lists more than 100 times, with
more than 60 titles on the USA Today Bestsellers list alone. She's sold more than 4.5 million books. A Brown University graduate, Lauren likes dogs, cake and show tunes and is the vegetarian at your dinner party.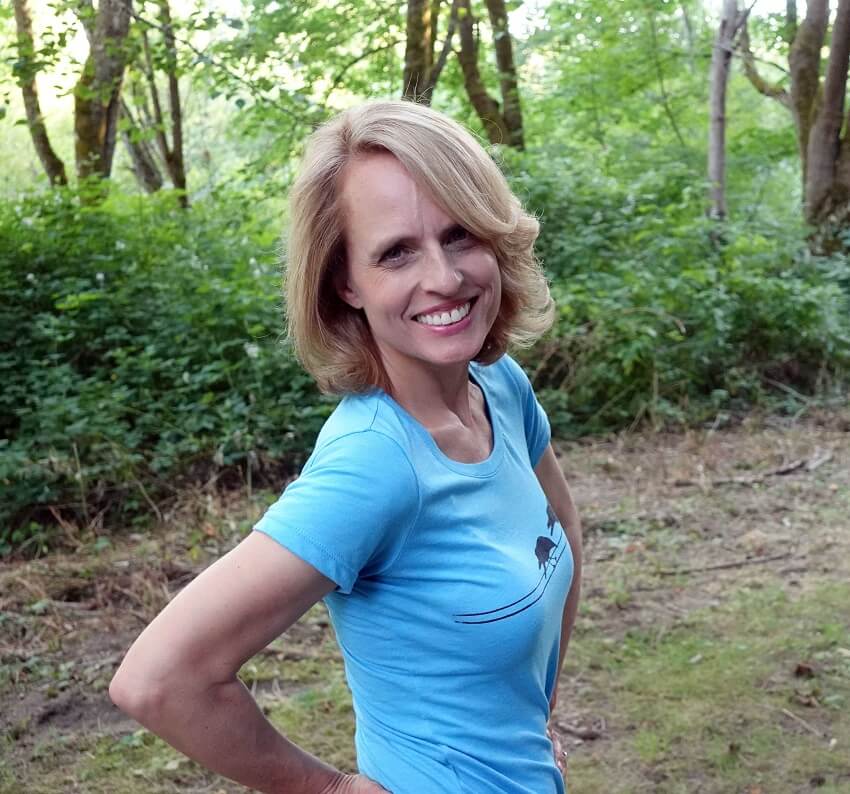 Connect w/Lauren:
Website: laurenblakely.com
NL Signup: http://laurenblakely.com/newsletter
Facebook: http://www.facebook.com/LaurenBlakelyBooks
Instagram: http://instagram.com/laurenblakelybooks
Twitter: http://twitter.com/LaurenBlakely3
June 23, 2022 | Posted in New Release, Review | By Two Book Pushers
HOOPS Shorts, a collection of novellas featuring two passionate and heartfelt sports romances in the award-winning HOOPS series from Wall Street Journal bestselling author Kennedy Ryan are now available exclusively on Amazon and #FREE in Kindle Unlimited!
Grab your copy today, exclusively on Amazon!
Amazon: https://amzn.to/3PYUk7E
Amazon Worldwide: https://mybook.to/hoopsshorts
Audiobook (Narrated by Mari, Jacob Morgan, Andi Arndt, Connor Crais): https://adbl.co/3Qbx7PH
Listen to an audio sample here:  https://youtu.be/18OQMMwLBDY
Paperback: https://geni.us/HOOPSShortsPB
Full-Court Press (formerly appeared in HOOPS Holiday)
Avery + Deck's Story
Single dad MacKenzie Decker was a question Avery never got to ask, much less answer.
They met when she was a young reporter fueled by ambition, and the ink on Deck's first NBA contract was barely dry. Years later, they've climbed so high and lost so much, but one thing hasn't changed. The attraction that simmered between them in a locker room before is still there. With success like theirs, everything has been possible . . . except them.
But that was then.
The only question is…what about now?
Fast Break  (formerly appeared in Team Player Anthology 2)
Quinn + Ean's Story
Quinn
I was a world-class runner once.
My dreams had wings spun from wind and speed.
Every time out of the blocks was a glorious flight.
But then I crashed and burned.
When I lost my leg, I thought it was the finish line
Little did I know, life was just beginning
Now they call me "America's Titanium Sweetheart."
(What can I say? It tested well. LOL)
The life I thought was over is moving so fast.
I have my own gym, a fitness app, a clothing line, and an endless trail of endorsements.
One thing there's never time for? Love.
One thing I don't have time for? Games.
Come real, or don't come at all. In a field full of players, I'm looking for a real one.
Otherwise, I won't stop.
Ean
I had hoops dreams. I wanted to be like Mike, jump like Magic and soar like Dr. J.
But a college injury grounded me. What I thought was game over, actually opened up a whole new world.
Fast forward to now. I'm coaching some of the NBA's best.
They call me The Machine because I'm obsessed with stats and data, and my near-photographic memory means I remember every play.
I see the court clearly. But I never saw her coming. Quinn Barrow stops me in my tracks.
Pursuing my first championship, there's been no time for love.
I'm more than willing to chase her, but will she slow down long enough to be caught?
Full-Court Press is a sports novella by Kennedy Ryan. Kennedy is one of my favorite authors! She's extremely talented and everything she writes sings to my soul. This is a novella, but it feels like a full length novel. It's full of heart, lust, angst, humor and love. Decker is a professional basketball player and Avery is a sports reporter. Decker wants her the first time he meets her, but she needed to protect her career first. When they see each other years later Decker isn't going to take no for an answer. Avery can run but she can't hide! Avery and Decker story is sexy, fun and I loved it! Decker is one of my favorite heroes of Kennedy's! AND…we get extras from Long Shot and Block Shot!
Fast Break is a sexy, fun novella in the Hoops world by the fabulous Kennedy Ryan. Fast Break is Quinn and Ean's story. Quinn is Banner's best friend and Ean is the coach of The Waves. Ean is a smart, dedicated coach. He loves his job, numbers and statistics. He's looking for someone to share his life with and he can't stop thinking about Quinn, a woman who's an inspiration to all women, people and athletes. When he gets a chance to actually meet her, he can't stop himself. He's nervous and awkward, but he's not giving up until she says yes. He wants more than one night with her. He wants it all. Quinn has been though so much in her life. Losing her leg, overcoming depression, learning to walk and live again. She can't trust men. She never knows what they want from her. When Ean keeps showing up and putting himself out there, she can't help but want more. She's afraid, but she's strong. She's a fighter. And Ean is so sexy! He's tall, broad, strong and those glasses. Yes, please! This story is fantastic. Yes, it's a sexy romance, but it's so much more. Quinn's story is emotional and inspiring. I really want to get her app! Ean pursues her, but it's not pushy. He just knows he has to have her. Their story might be short, but it packs the punch of a full length sexy romance novel. And we get to see my man, DECKER, so that was a major bonus!
June 21, 2022 | Posted in New Release, Review | By Two Book Pushers
Title: LAST ON THE LIST
Author: Amy Daws
Genre: Romantic Comedy
Release Date: June 16, 2022
Cover Designer: Amy Daws
Cover Photographer: Wander Aguiar
Cover Model: Tanner Hueter
Only a bad nanny knows what it's like to kiss the boss.
CEO millionaire, Max Fletcher is a single dad in desperate need of a nanny.
Cozy Barlow is in the middle of her self-appointed "gap year" and doing everything she can to detach from her past.
But when her sister begs her to interview for the nanny position of a high maintenance client, she doesn't have a good enough reason to say no.
And when Max locks eyes on the twenty-something in a tie-dye sweatsuit who pitches the idea of daydreaming all summer—he prepares to give this bad nanny the boot.
One problem: Max's little girl thinks this plus-sized in body and spirit nanny might be her new bestie, so she hires her on the spot.
Now Max is stuck with this bizarre woman who hates everything he represents—corporate greed, money, status, power.
But one stormy night when the power goes out, he discovers Cozy doesn't hate him. In fact, he's the leading role in her fantasies. 
Fantasies, he would very much like to make a reality.

Read or Listen Now: https://geni.us/LastOnTheList
Add to your TBR: https://bit.ly/LOTL_Goodreads
Last on the List by Amy Daws was the perfect nanny, single-dad, age gap romance! I've loved Max for a long, long time and I've been waiting patiently for his story. He's sexy and grumpy and he finally found his match in Cozy. She's taking time to just be after working herself sick. She wants to do less and being a nanny is the perfect job for her. Everly instantly loves Cozy so Max hires her. He does not love her willy-nilly attitude, but since his daughter loves her he's just going to have to deal. The more he sees and learns about Cassandra (he prefers to call her that) the more he's attracted to her. She just ticks all his boxes with her feistiness, her generous curves and her smarts. I loved learning more about Max and what he thinks about love and his business. He's also a boss mofo and kinky and he had me laughing out loud! Cozy is freaking hilarious and I loved how she embraced her plus-sized self. She is comfortable in her own skin and that is very refreshing. Everly stole my heart with her insight and matter-of-fact attitude. Together, the three of them were so much fun! Add in seeing the characters we love from the series and just being with this group of friends again made me so happy. I'm also very, very intrigued by Max's brothers and I hope we are getting a spin-off series with them. Oh, please! Overall, I loved every minute of it and didn't want it to end. I had the pleasure of listening to the audio and Teddy and Erin just killed this one! I love the way they laugh and cry and throw themselves into these characters. They brought Max and Cozy to life!
STALKER LINKS:
Website/Newsletter: http://www.amydawsauthor.com
Facebook: www.facebook.com/amydawsauthor
Facebook Fan Group: https://www.facebook.com/groups/AmyDawsLondonLovers/
Instagram: http://www.instagram.com/amydawsauthor
Tik Tok: https://www.tiktok.com/@amydawsauthor
Twitter: https://twitter.com/amydawsauthor
Bookbub: https://www.bookbub.com/authors/amy-daws
Pinterest: http://www.pinterest.com/amydawsauthor/
Amazon Author Page: http://www.amazon.com/author/amydaws
Goodreads: https://www.goodreads.com/amydawsauthor
June 21, 2022 | Posted in Blog Tour, Review | By Two Book Pushers
Interview with Catherine Bybee
For anyone wondering the plot of your newest release, you give a great sneak peek with the title—When it Falls Apart. What is "falling apart" in this novel?
All the threads that hold my heroine, Brooke, together are crumbling down around her. When it Falls Apart begins with Brooke's romantic relationship crashing and burning. At the same time, in a different state, her father is circling the drain in the ICU. And for the cherry on the top of her "falling apart life", Brooke has found herself demoted at work. In short, everything in Brooke's life is dissolving around her.
Like all of your books, When it Falls Apart has a beautiful romance, however, there is a rawness about Brooke's story. How was writing this novel different from your others?
If you read my notes both in the front and the back of this novel, you'll soon realize that the story was very personal to me. Rawness comes from experience. The relationship Brooke has with her father is hauntingly familiar to me and my dad. The emotions that the heroine experienced when taking care of him were easy for me to grasp onto and write about. Sadly, the love story with Luca was completely made up and I didn't have the support of a strong Italian family to help deal with the struggles, but I digress. 
Relationships with a parent who wasn't there for you growing up are messy. When that parent ages and needs their child, sometimes that help comes with a bucketload of resentment, even if the child wishes they could stop those ugly feelings from creeping up on them. And THAT is the rawness you speak of.
Books, TV shows, and movies oftentimes glamorize what it means to care for a loved one. However, in When it Falls Apart you don't sugar-coat anything about caregiving and the toll it takes on a person. How do you think readers who have been in similar situations will be affected by this story?
Justified. Validated. Accepted.
It's a hard job taking care of an elderly family member. And if there aren't other siblings to help, or won't help, it's made even more difficult. It's difficult, gritty, dirty work that only has a bad ending…eventually. What I do hope my readers take away is that they're not alone. That the struggle is very real and that if they don't find balance (which is almost impossible at times) they will burn out completely and not be fit to help at all. I hope my readers are empowered to set boundaries and balance, so they come out on the other side of caring for an elderly loved one whole themselves.
Brooke gets virtually no support from her significant other, which has her reevaluating their relationship. She realizes she has settled and has to make some hard decisions. Do you think this happens too many times to women in real life?
100% Yes! There is a song by Taylor Swift with a line that says, and I'm paraphrasing here, I can be what you want for the weekend. But often that weekend ends up being a relationship that women hold on to or are convinced they can't live without. Often it takes a huge shake-up to remove yourself from that situation. But once you're away from the day to day dysfunctional relationship, the easier it is to see the dysfunction.
After her breakup and move, Brooke is not looking for a relationship. In fact, she tells her best friend: "I haven't wiped off my smeared mascara from Marshall yet, the last thing I want is to jump into anything else." Her crying over a man lasts all about two minutes when she meets Luca. Tell us about him.
Hmmm, Luca… he is the kind of man who doesn't want a place on Brooke's dance card…he wants to rip it up.
Luca is wired to help the people in his life. Brooke becomes a part of his inner circle simply by moving into the family building where he sees her every day.
Now, if Luca had flat out asked Brooke on a date, she would have run the other way…so no, he doesn't go about it that way. He simply shows up and does not leave. Not when things get tough, or messy…or when his own past peeks its head in. Luca is a man who is right there at Brooke's side without question or censor on why she does the things she does. His support and validation of her feelings is the part she was missing. Add in the hunky Italian single father and "Mamma Mia!"
At first, Luca is not thrilled that Brooke is renting a room in his family's building. What changes his mind about her?
Her strength and vulnerability. I know that sounds contradicting, but some of the strongest women I know have a big vulnerable spot in their life that if you know them well enough, you see. The biggest smiles often hide the deepest pain. Luca sees her struggle and dedication to helping her elderly father and since family is first on Luca's list, she passes his unconscious test.
Luca's family, the D'Angelo's, are incredibly close and share everything from ownership of the family restaurant to helping care for Luca's daughter Franny. How is this different from Brooke's relationship with her family?
Brooke doesn't have that family. She has a father who abandoned her as a little girl that she carved out a relationship as an adult, and now she's charged with caring for. Even her previous romantic relationship didn't support her unconditionally the way the D'Angelo's do for each other. She's rather dumbfounded when they start treating her like family. It's a wonderful thing to watch happen.
San Diego's Little Italy plays a huge part in the story. The community, language, and food are in full display. Tell us about your own experiences in your adopted city.
I love Little Italy, the food, the pace… the people. There are many places in San Diego that are overrun with the college scene, San Diego is a college town. But Little Italy is more family friendly. Very touristy, but there isn't a day you don't see locals hanging out. I go to the farmer's market often. Pick up authentic Italian ingredients for my own home cooking. I try new restaurants and take all my friends there when they are visiting from out of town. Not to mention it was the closest thing to the "real Italy" that I could go during the travel restrictions. So why not write about it and tell the world of this small island within San Diego that shouldn't be missed?
There are two more siblings in the D'Angelo family. Where will you be taking readers next with the series?
Chloe is a yogi. Think Bali!
And Giovanni loves wine… think Tuscany, Italy.
I cannot wait to show you what I have in store for these two!
***
Excerpt
"Oh my God, Carmen. He was standing at his car first thing this morning. Like 'hop in, bella, let's get stuff done today.' Who does that?" 
Brooke had picked up the phone as soon as Luca was off in search of a dump guy. 
"We're talking about the single, hot, Italian dad, right?" 
Brooke rolled her eyes. "Yes. Luca." 
"Oy, oy, oy." 
"Stop it. I need advice. And I need it before he gets back." 
Carmen stopped teasing. "You don't need advice. You need to relax. He sounds like one of the good ones. Let it happen." 
"Let it happen," she mocked. "I don't 'let' things happen. It happens to me and it's never good." 
"You didn't used to be such a pessimist." 
"Once upon a time the glass was half full. Not these days." 
"Okay, Debbie Downer. You want my advice . . . here it is. Keep doing whatever it is you're doing." 
"I'm not doing anything. Zero effort." 
"Really?" Carmen didn't sound convinced. "Makeup . . . a nice dress?" 
Brooke hesitated. "Maybe . . . a little last night, but that was it." 
Carmen chuckled. 
"Carmen!"
"Sorry. Okay . . . any red flags?" 
Brooke thought about that. "He loved his ex-wife." 
"That's a red flag?" 
"I guess not." 
"Is he good to his mom?" 
Brooke looked back on the dinner the night before. "To the whole family. He takes being the oldest brother quite seriously." 
"And his daughter?" 
All Brooke could do was smile. "Great dad. We should all be so lucky." 
"He's Italian, does he smoke?" 
"No." 
"A lot of Italians smoke," Carmen pointed out. 
"In Italy. The San Diego variety are less in that wheelhouse." 
"That's good." Carmen sighed. "I don't know what to tell you, Brooke. How does he kiss?" 
"He hasn't kissed me," Brooke nearly yelled. 
"Now then . . . we have a problem." 
"There hasn't been . . . I don't even know if—" 
"Stop right there. He did not drive your sorry ass all the way to Upland to do grunt work all day if he wasn't interested in kissing you, bellllaaa. More than that, you want him to." 
Brooke closed her eyes, and even in her own head she couldn't convince herself that Carmen was wrong. 
"Let it happen. You deserve some happiness, Brooke." 
The van with the air conditioning repair guy pulled into the driveway. 
"I gotta go." 
"I want a kissing update the next time we talk," Carmen teased. 
"Love you," Brooke said with a laugh.
"Back at ya, boo." 
She hung up. 
Her best friend was such a dork.
***
Title: When It Falls Apart
Author: Catherine Bybee
Release Date: June 21, 2022
Publisher: Montlake 
Summary
Brooke Turner has always had a complicated relationship with her father. But when his health takes a turn for the worse, she drops everything to care for him. He's her dad, after all, and he needs her. What Brooke doesn't anticipate is the unraveling of her long-term relationship and a cross-country move to San Diego's Little Italy.
Luca D'Angelo is the oldest of three children and a single father to a young daughter. When his mother rents the top floor of their house to Brooke, he's angry. Who is this beautiful stranger with no ties to the neighborhood? Can she be trusted in such close proximity to his family?
As Luca learns of Brooke's difficult journey with her ailing father, his heart softens. And Brooke, who witnesses Luca's struggle as a single parent, develops feelings for him, too. But when it all falls apart, will love heal their wounded hearts?
Links:
When it Falls Apart is a new book in a new series by Catherine Bybee. I love it when my favorite authors write new series'. It gives me new characters to fall in love with, and I feel hard and fast for Luca, Brooke and Franny! I also love a good Italian family in my romance stories and the D'Angelos are top-notch! Brooke gives up her life to help her ailing father. She moves to a different state, needs to find a place to live and a place for her father so he can get the care he needs. They have a strained relationship, so it's tough for her to keep trying, but she does. When she randomly ends up in an Italian restaurant in San Diego, it just feels like the place she was meant to be. She meets the family who runs it and just feels like she's home. When she's offered the top floor apartment, the chef, Luca, isn't thrilled there's a stranger in his house. But the more he sees her and watches her struggle, the more he wants to care and protect her. Brooke has never had anyone truly want to help her. It's hard to accept Luca's help, but once she does and she gets to know him, she realizes she's happy. Her life might actually be falling into place. She might actually be falling in love. I loved watching Brooke and Luca fall for each other. They each fought it, but it was just meant to be. Luca's daughter Franny is freaking hilarious and I loved the relationship she had with her dad, Brooke and her family. The D'Angelos are family goals and they remind me a lot of my family! This story made me miss Italy and made me want a huge bowl of pasta! Overall, I loved the journey Brooke and Luca went on to find each other. The past leads you to where you are meant to be. It's a feel good, fun and sexy story and I'm looking forward to more in the series!
About the Author
New York Times, Wall Street Journal, and USA Today bestselling author Catherine Bybee has written twenty-eight books that have collectively sold more than five million copies and have been translated into more than eighteen languages. Raised in Washington State, Bybee moved to Southern California in the hope of becoming a movie star. After growing bored with waiting tables, she returned to school and became a registered nurse, spending most of her career in urban emergency rooms. She now writes full-time and has penned the Not Quite Series, the Weekday Brides Series, the Most Likely To Series, and the First Wives Series.
Social Media Links
Website: http://www.catherinebybee.com 
Facebook: https://www.facebook.com/AuthorCatherineBybee 
Twitter: https://twitter.com/catherinebybee 
Tik Tok: https://www.tiktok.com/@catherinebybee1 
Goodreads: https://www.goodreads.com/author/show/2905789.Catherine_Bybee  
Rafflecopter Giveaway
http://www.rafflecopter.com/rafl/display/07c2363f277 
June 14, 2022 | Posted in Release Day Blitz, Review | By Two Book Pushers
Alone in the world, Tae Holmes and her mother April pretty much raised each other, but as Tae starts asking questions about the father she's never met, April, for the first time in her life, goes silent. To make matters worse, Tae is dangerously close to broke and just manages to avoid financial meltdown when she lands a shiny new contract with an adventure company for athletes with disabilities and wounded warriors.
Her first big fundraiser event falls flat, but what starts out as a terrible, horrible, no-good night turns into something else entirely when Tae finds herself face-to-face with Riggs Copeland. She hasn't seen the former Marine since their brief fling in high school, and while still intensely drawn to him, she likes her past burned and buried, thank you very much. Hence their friendship pact.
But when April oddly refuses to help Tae track down her father, it's Riggs who unexpectedly comes to her aid. On a hunt to unlock the past, the two of them find themselves on a wild ride and learn a shocking truth, while also reluctantly bonding in a way neither had seen coming. Now Tae must decide whether she's going to choose love … or walk away from her own happiness.
The Friendship Pact is the second book in the Sunrise Cove series by Jill Shalvis. This story is about learning from your mistakes, growing and finally making decisions about where you want your life to go. Tae and her mom, April have been a team for a long time. Just the two of them against the world. Sometimes Tae was more of the mom in the relationship, but it works for them. Until Tae finds out her mom might have been lying to her since she was a child. She also runs into Riggs, and old friend from high school and they still have chemistry and sparks. Riggs is going through his own issues, leaving the military, coming home temporarily to help his brother. Tae and Riggs can't seem to stay away from each other, the pull is just too much. But they both have things going on and don't realize having someone at your side will ease the burden. Just when everything seems to be settling, the past comes back and shakes up everyone's lives. Riggs has a big decision to make. Tae has to decide to let her anger go. Will they admit their feelings before it's too late? I just loved these characters! Not only do we get Tae and Riggs' story, we also get to see April grow up and take charge of her own life. We get to know Riggs' brother, Jake and his girlfriend and I loved the interaction between Riggs and Jake. Such brotherly love and anger. All of these characters came from tough backgrounds, but they became better people and worked for what they want. I loved Tae and Riggs' second chance at love and the fun, witty banter between them. Overall, I laughed, teared up and wanted to smack a few of them! Looking forward to more from the series.
June 14, 2022 | Posted in Release Day Blitz, Review | By Two Book Pushers
The Ruthless Groom by Monica Murphy is now live!
I didn't plan to marry a reclusive heiress. Lucky for me, I find myself attracted to my beautiful new bride. Our arranged marriage connects two powerful companies. That we're compatible between the sheets is a bonus, but I didn't bargain on her ex showing up at the wedding reception uninvited.
That pushed me right over the edge.
I protect what's mine, and Charlotte is now mine, whether she likes it or not. Our honeymoon is a disaster in paradise. I'm angry. She's resentful. All those swirling emotions explode in the most physical ways.
But even as I'm drawn closer to my new wife, there's still a threat looming out there. Seamus McTiernan is determined to destroy what we've created.
I won't let anything tear us apart.
He has no idea who he's dealing with. I will end him.
Watch me.
Download today on Amazon, Apple Books, Barnes & Noble, Google Play, Kobo!
Amazon: https://amzn.to/3KVUEAs
Apple Books: https://apple.co/3KXWAJy
Nook: https://bit.ly/389aOJu
Kobo: https://bit.ly/3M0QtV5
Google Play: https://bit.ly/38dIrcY
Goodreads: https://bit.ly/39ahtmQ
The Ruthless Groom is the second book in the Arranged Marriage series by Monica Murphy. You can not read as standalone, you need to read the books in order. It's Perry and Charlotte's wedding day…
Who they didn't expect to show up was Charlotte's ex. Perry wants to trust his new bride more than anything but why would Seamus be at their wedding? He doesn't want to believe that she has set him up. That he was there to take her away. This marriage may be just a business arrangement to bring two families together but he will not let Seamus take what it is his. Her. A woman who he finds intriguing, beautiful, sexy AF, and addictive. He believes she is all of those things but can he truly trust a Lancaster?
Perry and Charlotte's relationship is complicated. Very complicated. Charlotte needs to prove to her new husband that she can be trusted. That she is his and only his. Five days. Five days on their honeymoon should show them some clarity or will it just make it more complicated? Feelings were not supposed to be involved in their marriage. All business was the plan. Either way, Perry will end any man who gets in the way. He will end them. Will he get the chance?
Holy hotness!! Damn… So fucking good! I am loving this series. Perry's alpha side is delicious and swoony. Charlotte is so sweet and surprising. Together they are straight fire but is it enough? No. Trust… that's what it is all about and I can't wait for the next book.
He's not treating me like a delicate doll, and oh God, I like it.
"Good." I kiss her shoulder. "You needed to be ruined."
"Don't ever forget who you belong to. You're a Constantine now."
Meet Monica
Monica Murphy is a New York Times, USA Today, and international bestselling romance author. Her books have been translated in almost a dozen languages and have sold over two million copies worldwide. Both a traditionally published and independently published author, she writes young adult, new adult and contemporary romance.
A native Californian, she lives on fourteen acres in the middle of nowhere with her husband, son, their goofy dog, and three cats. When she's not writing, she's thinking about writing. Or reading. Or binge watching something.
Connect with Monica
Website: http://monicamurphyauthor.com
Goodreads: http://bit.ly/MonicaMurphyGR
Amazon: http://amzn.to/1YUl0Vm
Facebook: http://bit.ly/MonicaMurphyFB
Facebook Group: https://www.facebook.com/groups/monicamurphyreadergroup/
Instagram: http://bit.ly/MonicaMurphyIG
Twitter: http://bit.ly/MonicaMurphyTW
Bookbub: http://bit.ly/2ZAthV1
Pinterest: https://www.pinterest.com/msmonicamurphy/
Verve Romance: https://ververomance.com/app/monicamurphy
Tik Tok: https://www.tiktok.com/@monicamurphyauthor
June 14, 2022 | Posted in Release Day Blitz, Review | By Two Book Pushers
Brielle Davis wakes up with no memory of the last three years and turns to her brother's best friend, Spencer Cross to help her remember.
Help Me Remember by Corinne Michaels is now live!
New York Times bestselling author Corinne Michaels brings you a new small-town, brother's best friend romance.
In one second, my life disappeared.
My past. My memories. My future.
The only certainty I have from the last three years is that my older brother is dead, and I am the only eye witness.
In order to protect the case, the lawyers demand that no one give me any information about my life . . . I must remember on my own. My only help comes from my brother's best friend and world-renowned investigative reporter, Spencer Cross.
He has no idea how many nights I've spent dreaming of his name—and his body—next to mine.
Now we're a team and our goal is to recover my memories and retrace my past. But each day we spend together, he's looking at me as more than his friend's little sister and I find it harder to want my old life back. Instead I'm wishing for a new one—with him. His kiss feels like home. His arms make me feel safe, and I never want this to end.
As my memories return, forcing me to face my future, everything falls apart… especially when I find an engagement ring hidden in my apartment. I have no idea who gave it to me, or what it means about my past.
I may have asked Spencer to help me remember, but now I wish I could forget.
Download today on Amazon, Apple Books, Audible, Barnes & Noble, Google Play, Kobo!
Amazon: https://geni.us/HMR_Zon
Apple Books: https://geni.us/HMR_Apple
Nook: https://geni.us/HMR_Nook
Kobo: https://geni.us/HMR_Kobo
Google Play: https://geni.us/HMR_GP
Audible: https://geni.us/HMR_Audio
Narrated by Andi Arndt & Zachary Webber
Special Edition Paperback: https://geni.us/HMR_SE
Original Paperback: https://geni.us/HMR_PB
Add to Goodreads: https://geni.us/HMR_GR
Help Me Remember is the first novel in Corinne Michaels's all new series, Rose Canyon. If you follow my reviews, you know I am not a fan of reading the blurbs before I read the book. I love not knowing anything about the story before diving in. It's my thrill in life. Ha. I don't want to spoil anything about this addictive, badass, and emotional story so I will make this fast. And if you do follow my reviews, you know that's not likely going to happen.
Brielle wakes up in a hospital not knowing why she is there. She is confused, frustrated, and panicked. And that is before she finds out why her brother isn't with her. He was killed and she is the only one who knows what happened except she doesn't remember the last three years of her life. Her family and friends are forbidden to tell her anything about the gap she is missing or it can jeopardize the case, she is determined to get the years back. She is even more determined to find her brother's killer so she asks the man she trusts most to help her. Spencer Cross, the man she has crushed since she was thirteen. Her brother's best friend. A man who is one of the best investigative reporters in the world. If anyone could help her remember, it's him. They need to start from the beginning…
But maybe she wants more than what she had during the years she lost. She feels safe in Spencer's arms. His kisses are everything she ever wished for. She never thought he would look at her like he does now. Why now? Things get even more complicated when she finds an engagement ring and nobody knows who proposed to her.
Wow!! This book is one of my favorite Corinne books. Ever. It's full of family, love, suspense, friendships, heartbreak, and emotions that pulled me in every direction. And cameos!! The cameos!! ♥️♥️ I can't wait for the rest of the series.
P.S. Make sure to read the bonus content!
"You're the same girl you've always been. You're funny, kind, loving, and smart. You are brave, and while we all know you're scared, you will find your way back."
I want to drown in this kiss and never come up for air.
"See you on the flip side, Cross."
"Yeah, the losing side," I toss back.
Meet Corinne
Corinne Michaels is a New York Times, USA Today, and Wall Street Journal bestselling author of romance novels. Her stories are chock full of emotion, humor, and unrelenting love, and she enjoys putting her characters through intense heartbreak before finding a way to heal them through their struggles.
Corinne is a former Navy wife and happily married to the man of her dreams. She began her writing career after spending months away from her husband while he was deployed–reading and writing were her escapes from the loneliness. Corinne now lives in Virginia with her husband and is the emotional, witty, sarcastic, and fun-loving mom of two beautiful children.
Connect with Corinne
Website: http://corinnemichaels.com
Goodreads: https://bit.ly/2N1H2Gb
Amazon: http://amzn.to/1NVZmhv
Facebook: https://bit.ly/1iwLh6y
Facebook Group: https://www.facebook.com/groups/corinnemichaelsbooks/
Instagram: https://bit.ly/2L1Vzo6
Twitter: https://bit.ly/2Jcp29z
TikTok: www.tiktok.com/@corinnemichaelsauthor
Bookbub: https://bit.ly/2yc6rss
Pinterest: https://bit.ly/2m7MkEL
Verve: https://ververomance.com/app/corinnemichaels
CMBOOKS TO 77948
June 9, 2022 | Posted in New Release, Review | By Two Book Pushers
Confessions of the Heart: The Complete Collection by A.L. Jackson is now live!
From NYT and USA Today bestselling author A.L. Jackson comes three unforgettable full-length steamy, suspenseful, small-town romance novels…
More of You
Jace knew that he could never be the man that Faith deserved and left her with a broken heart. But ten years later, he's become a different man and he will do anything to get her back.
All of Me
Ian is callous, arrogant, ruthless. As one of the most powerful attorneys in Charleston, he won't let anyone get in his way, until Grace steps through his door. Even with the threat of losing everything, he can't stop himself from having her again.
Pieces of Us Maxon had not other choice but to let Izzy go. When she left town, he thought he'd never see her again. but now she's back, and thirteen years and thousands of miles couldn't dull the flames. Now he wants her just as badly as he did all those years ago and he's willing to do whatever it takes to win her back.
Fall for all the brooding bad boys of Broadshire Rim and the women that they can't live without…
Download today or read for FREE with Kindle Unlimited
Amazon: https://amzn.to/3a5bDn5
Amazon Worldwide: mybook.to/CoftheHeart
Audible: https://geni.us/COHBoxSetAudioOP
Narrated by: Andi Arndt, Joe Arden and Jacob Morgan
Over 33 hours of audio for one credit!
Add to Goodreads: https://bit.ly/3PvkJcT
♥️ MORE OF YOU
More of You is the first book in A.L Jackson's new series, Confessions of the Heart. Between this story being a second chance romance and A.L's poetic way of writing, I knew I was going to fall in love. And I did. Extremely hard. I don't want to spoil anything so I will make this quick.
Jace walked away from Faith ten years ago. It tore them both up inside but Jace thought it was for the best. She deserved a better life than he could give her. He always knew she was too good for him. He saw the way the rest of the town looked at him. Never her. She looked at him with love and hope. But he knew she would be better off without him so he walked away.
Ten years later and he was back. The chemistry is still there. The intensity of their past was still alive. They had to fight against it. He was there for one reason and one reason only. To do what was right. Will it break them even more or will it save them?
I absolutely loved this story! It was emotional, suspenseful, and cute. It's full of light, darkness, and all the shadows in between. If life of adulting didn't get in the way, I would had finished it in one day. The writing is just as beautiful as the story. A.L never fails to give me all the feels.
Quotes:
"Help?" Her tone was sharp.
"That was what he said."
"Oh, I'm sure he'd gladly help get you right out of your panties."
"The only repayment I need is that one day I might see a real smile on your face."
"I could look at a million other women. A thousand sunsets. Every exotic beach. And you would still be the most beautiful thing I've ever seen."
♥️ ALL OF ME
All of Me is the second novel in the Confessions of the Heart series by one of my favorite authors, A.L Jackson. It can be read as a standalone but I do recommend reading More of You since it's brilliant, sexy, and sweet. It is also where you are first introduced to Ian, Jace's cocky brother. Well, now it's his turn to fall to his knees.
Ian is one of the most powerful attorneys in Charleston. He did whatever he needed to do to climb the ladder. To make it all the way to the very top. To run the firm. To be in control. He was ruthless in the courtroom and more so on the outside of one. Nothing got in his way. He vowed to himself when he was seventeen that no one would hold him back or push him down. He was only loyal to very few. His brother and his family, and to his best friend Mack. Nobody else mattered. Clients were just clients. Women were just for pleasure. He knew he was selfish and arrogant. Especially, when he wanted something. And right now, it was this woman. She had legs for days and he wanted them wrapped around his waist. Only she had other plans, like running away.
Grace was in this room for only one reason. This man was not it. He was just like all the other men in the room. An arrogant prick who only wanted one thing. Well, he can want all he wants but she isn't giving in. She didn't get what she wanted from this night so she was gone. What she didn't expect was that she would see Ian again and he was exactly what she needed. An attorney she somehow came to trust. One that wasn't afraid to go toe to toe with the devil himself. Because he thought he was the devil himself.
Ian and Grace's relationship is off-limits. He can not sleep with a client. The problem? He already did. And he wanted another taste. Something he never wanted. One taste was usually enough. He never even craved that one taste with others, it was just a means to an end. But, with her? It was everything. She was changing him. But, they had to keep it professional. Even though, the sexual tension was felt by everyone around them. This was the biggest case of his career. It could bring him to the top. He couldn't let her get in the way.
I loved this book! So fucking hard. I can't get into all the hows and whys without ruining the story but I will say it gave me all the feels. It has it all. Suspense. Heat. Love. Anger. Hope. Loss. Humor. I will even go as far as saying that it's my favorite A.L book! It
Overall…read the book! You will not regret it. It's full of everything I look for in a book.
Quotes:
"I'll just keep enjoying the hunt."
"You goin' huntin', Uncle Ian? My daddy told my mama you nofin' but a dog."
"You make me feel like I'm standing at the edge of something brilliant. Something significant," I confessed in a twined rasp of words.
His beauty so intense it was almost a tragedy.
♥️ PIECES OF YOU
Pieces of Us is the third book in the Confessions of the Heart series by the ever-poetic and talented, A.L Jackson. It can be read as a standalone but I highly recommend reading the previous books because they are fantastic! I don't want to spoil anything so I will make this fast.
Izzy fell in love with the boy next door when she was four. She didn't even know what love fully meant but she knew she wanted to marry him. Protect him. Be his everything. At seventeen, he broke her and she ran. And now at thirty, she was back in the town she said she would never come back to. Too many memories. Good and bad. Now, she just needed to avoid those feelings she always had for him. She couldn't go down that road again even if he was everything and more.
Mack is shocked to see her. Hit with a wave of wanting. He thought about her every day for the last thirteen years. He still knew he wasn't good enough for her but she was just as tempting now as she was then. His best friend. His only love. He knows he hurt her badly but was this fate? Her being back. It was like he could breathe again.
I absolutely loved, loved, loved this book! It's such a beautiful story full of all the emotions. I cried probably a dozen times. A.L's writing is also so poetic and this one just might be my favorite of hers. I felt their connection. Their bond. I loved the characters. I was invested in them. I loved the way Mack didn't hide his feelings. He put himself out there even if he was in danger of being shot by her daddy. And I loved Izzy's strength.
Overall…it was epic!! I loved every minute of their story. It's inspiring, sweet, sassy, sexy, and one emotional ride.
S. Make sure to sign up for bonus scene!
Quotes:
"And how do you stop being afraid of the one thing that can destroy you?"
"I don't know. Maybe you slay it."
"Little Bird, Little Bird, stuck in a tree."
She giggled, her heart feeling light. "Dragon, dragon, come and rescue me."
Flames flickered beneath the bare caress. The man my fire, my cold body begging to come alive under his scorching touch.
Meet A.L. Jackson
A.L. Jackson is the New York Times & USA Today Bestselling author of contemporary romance. She writes emotional, sexy, heart-filled stories about boys who usually like to be a little bit bad.
If she's not writing, you can find her hanging out by the pool with her family, sipping cocktails with her friends, or of course with her nose buried in a book.
Connect with A.L. Jackson
Website: www.aljacksonauthor.com
Goodreads: https://www.goodreads.com/author/show/5784542.A_L_Jackson
Amazon: https://www.amazon.com/A-L-Jackson/e/B007RK7ZOU/
Facebook: www.facebook.com/aljacksonauthor
Facebook Group: www.facebook.com/groups/aljacksonreaderhangout
Instagram: www.instagram.com/aljacksonauthor
Twitter: www.twitter.com/aljacksonauthor
TikTok: https://www.tiktok.com/@aljacksonauthor
Bookbub: https://www.bookbub.com/profile/a-l-jackson
Pinterest: https://www.pinterest.com/aljacksonauthor
Verve: https://ververomance.com/app/aljackson
Text "ALJACKSON" to 33222
June 3, 2022 | Posted in Blog Tour, Excerpt, Review | By Two Book Pushers
They tried to take everything from me.
But where they failed, I will succeed.
Unless he becomes my weakness.
Vengeance of a Mafia Queen, an all -new dark enemies-to-lovers mafia romance full of suspense from USA Today and Wall Street Journal bestselling author Siobhan Davis, is available now!
Losing my innocence at thirteen, in the most brutal way, changed me. My kidnapper stole my childhood and tried to break me. The knowledge my father orchestrated the entire situation hardened my heart, and instead of grieving his death, I celebrated it.
One down. Many more to go.
My burning need for revenge has only grown over the years, keeping me focused on my goals and enabling my rise to power.
Made men are weak. A pretty face and the promise of a good time easily distracts them.
Now, I'm in charge. 
Men bow before me.
Except for him—the brother of my abductor. Massimo fights me every step of the way, but I'm not about to let the explosive chemistry between us deter me from my chosen path. His family is my enemy. He is my enemy, even if he doesn't know it yet.
I won't stop until all those who wronged me are punished. 
By the time they realize I'm coming, it will be too late. 
They tried to take everything from me.
But where they failed, I will succeed.
Unless he becomes my weakness.
Grab your copy today or read FREE in Kindle Unlimited!
Amazon: https://amzn.to/3wS0Vba
Amazon Worldwide: http://mybook.to/vengeancemafiaqueen
Add to Goodreads: https://bit.ly/3rvU59D
Vengeance of a Mafia Queen is Siobhan Davis's newest addictive story. It's a standalone set in the Mazzone Mafia world. You do not have to read the Mazzone Mafia series to read this book but if you did then you will be seeing some of those badass characters. And if you didn't, you will want to read it afterwards. I don't want to spoil the story so I will try to make this short.
Catarina is out for vengeance. She was only thirteen when she was kidnapped and tortured in the most brutal of ways. She wasn't that little girl anymore, she was a fucking queen who was going to bring every man and woman involved to their knees, begging for their lives. Who she didn't expect was him. Massimo Greco, a man who tortures her in other ways. The chemistry is explosive, addictive, and she knows she needs to fight it. To fight him. He is the the enemy. His family is the enemy and they all must be taken out…
Massimo didn't expect her. A woman who he never forget. She is a complete mystery to him but at the same time, he knew her. She was a fighter. Men were terrified of her but her bite only turned him on. It fueled him. She might try to fight it, fight them but he wasn't backing down. He wants her. Only her. His queen. But will she let him in?
Wow!!! These characters kept me on the edge of my couch with their heat, banter, and explosiveness all around. I might just be in love with both of them! *swoon* I have read most of Siobhan's books (all but her sci-fi books, which I hope to read one day) and have loved them all. Each story is unique, addictive, and full of suspense, twists and turns. I am sure I drop my jaw at least once with every book. I can't wait for the Accardi Twins duet!
P.S. Make sure to read the Bonus Content! 🔥
Vengeance is a never-ending fire that refuses to extinguish.
"Stop eye fucking me. We're trying to have a serious discussion."
"I can't help it. You're fucking beautiful. It's only natural to stare."
"This is going to be fast, hard, and dirty."
Excerpt
Lust blazes in his eyes. "I will wait for you to come to me."  "You'll be waiting," I blurt, irritated when amusement skates across his face. I hate how he can obviously tell it's a lie. He can see I'm floundering. That his want is not one-sided.  "I have a hand, and my blue balls can be patient." A teasing smile spreads across his mouth, and I'm ensnared. Massimo is truly beautiful, and I only hope I'm strong enough to resist. I already suspect I'm not. "To a point," he whispers against my ear, sending warm shivers coursing along my flesh. I squirm on his lap, failing to ignore the hard, thick length pulsing underneath me.  Massimo groans, and his eyes darken with undeniable desire. "You were put on this earth to test me. I'm sure of it."  I can't smother my smile in time.  "One kiss," he says, his eyes dropping to my mouth as his tongue darts out and he wets his lips. "Would you deny your husband a kiss on his wedding night?"  "I have kissed you today."  He shakes his head as his fingers sweep back and forth across my mouth, making it harder and harder to resist temptation. "I have kissed you. You have gone along with it because it was expected."  He's as delusional as me if he truly believes that. I drive my hands into his hair without even thinking about it. "Will everything be a negotiation between us?"  His brows climb to his hairline and a devilish grin widens his lush mouth. "Do we know any other way to be?"  "One kiss. Just one kiss." The words feel like lies as I spout them.  "That is all I am asking." He closes his eyes, moaning softly as my fingers explore the thick strands of his black hair. "That feels so incredibly good."  I brush my mouth against his, and his eyes pop wide. His hands flatten against my back, pushing me in closer to his tempting body. I can indulge in one kiss. It is my wedding night after all, and my husband is one of the sexiest men alive. It's not wrong to take this one thing for myself, right? "Just one kiss," I remind him as our breaths comingle.  "Only one."  Closing my eyes, I lower my mouth to his and descend into sheer bliss. He lets me control it, at first, and I'm surprised at the potent need driving me to take everything as I prod at the seam of his lips with my tongue. He opens instantly, letting my tongue plunge inside his mouth. I reposition myself on his lap, straddling his hips, so I can properly kiss him, and it's that moment when all bets are off.  Copyright Siobhan Davis © 2022