June 28, 2022 | Posted in New Release, Review | By Two Book Pushers
Last night I made out with a gorgeous, funny, quirky older woman. Today I learned she's the new executive chef at my restaurant. AKA my new boss.
Yep, that's the hot mess I'm in at the moment.
But the chemistry between Natalie and me is even hotter.
The problem? She's a single mom focused on helping her little girl adjust to life in the big city. Dating right now—especially a co-worker—is asking for trouble.
So, what's my next move? Seduce the hell out of the woman, of course.
I may still technically be hanging onto my V Card, but I know how to drive a woman wild in bed.
Even more importantly, I know I'm the kind of man Nat's looking for. I love hard, keep my promises, and I'll put her and her daughter first.
And then I learn the real reason she's been holding me at a distance…
Most men would be scared away. Me?
I'm even more determined to prove I can make this wounded woman's dreams come true.
Seduced is the third book in the V Card Diaries series by Lili Valente. You can read each book as standalone but I recommend reading the series since they are all so much fun. I have been waiting for Cameron's story and the wait was totally worth it.
It all started with chocolate covered crickets…
Cameron knew the woman across the table was different. She was beautiful, witty, and mysterious. And she didn't want to be his friend. That was clear when she kissed him. It was perfect. She was perfect. They make plans for a first date. Cameron is walking on the air the next morning on his way to work then he sees her. In the kitchen of Crave as the new owner and executive chef. And her number one rule… Zero-fraternization between employees. I guess it was time to up his seduction game. Except, this is no game, he knows she is the one he has been waiting for. But, what will happen when she finds out about his V status?
Natalie wasn't looking for romance. She was new to New York, a single mom, and the new owner of Crave. She didn't have time for a man especially one ten years younger. He definitely couldn't be ready for the whole package. He was a hot chef in his twenties in NY. He probably just wanted in her pants and now as her new boss, he would just walk away. Except, he doesn't. He is a surprise she didn't expect and that makes him trouble.
I ♥️ Cam and Natalie!! And of course Crissy, that kid is adorable. This story is not only sexy AF but sweet and funny too! It's also full of heat, friendships, and dinosaurs. I knew Cam was a sweetheart but I absolutely love his sexy side too. Hot damn. Natalie is a badass in and out of the kitchen. She is also a kickass mom and I loved meeting her and all of her side. And, Crissy, this kid is the best. So much fun and brave. I can't wait to see them again in Sparked!
"Only when it comes to food."
"I think you broke my vagina, and all my clothes are still on," I say, fumbling for the buttons behind my neck.
"Somebody help! Mommy's being attacked by a vampire!"
Seduced is the third book in the V Card Diaries series by Lili Valente. I am loving this series so much! Lili is giving us such fun characters with so much heart and they are making me swoon and laugh out loud. Oh Cameron, I knew I was going to freaking love you! You might be young, but you have your life together. You know what you want to do with your life, you know how to treat a woman and you know how to be a great friend. And you are sexy and fun and smart. Natalie is a business owner, chef and mother. She wasn't expecting to meet a young, charming man who she connected with. And then when he turns out to work for her, she can't go there. But really, she can and she does! I love that she is older and he's the virgin. And just because he is, doesn't mean he doesn't know how to please her. I loved watching their love grow and how mature they are. I loved the way Cam is with Crissy, her daughter (swoon). I just loved everything about it. It made me laugh, cry, get hot and bothered and just smile. Everything I want from a romance!
AUTHOR BIO
Author of over forty novels, USA Today Bestseller Lili Valente writes everything from steamy suspense to laugh-out-loud romantic comedies. A die-hard romantic, she can't resist a story where love wins big. Because love should always win. She lives in the Northeast with her two big-hearted boy children and a dog named Pippa Jane.
Lili also writes naughty serials as Everly Stone. Learn more at www.lilivalente.com.
AUTHOR LINKS
June 28, 2022 | Posted in Blog Tour, Review | By Two Book Pushers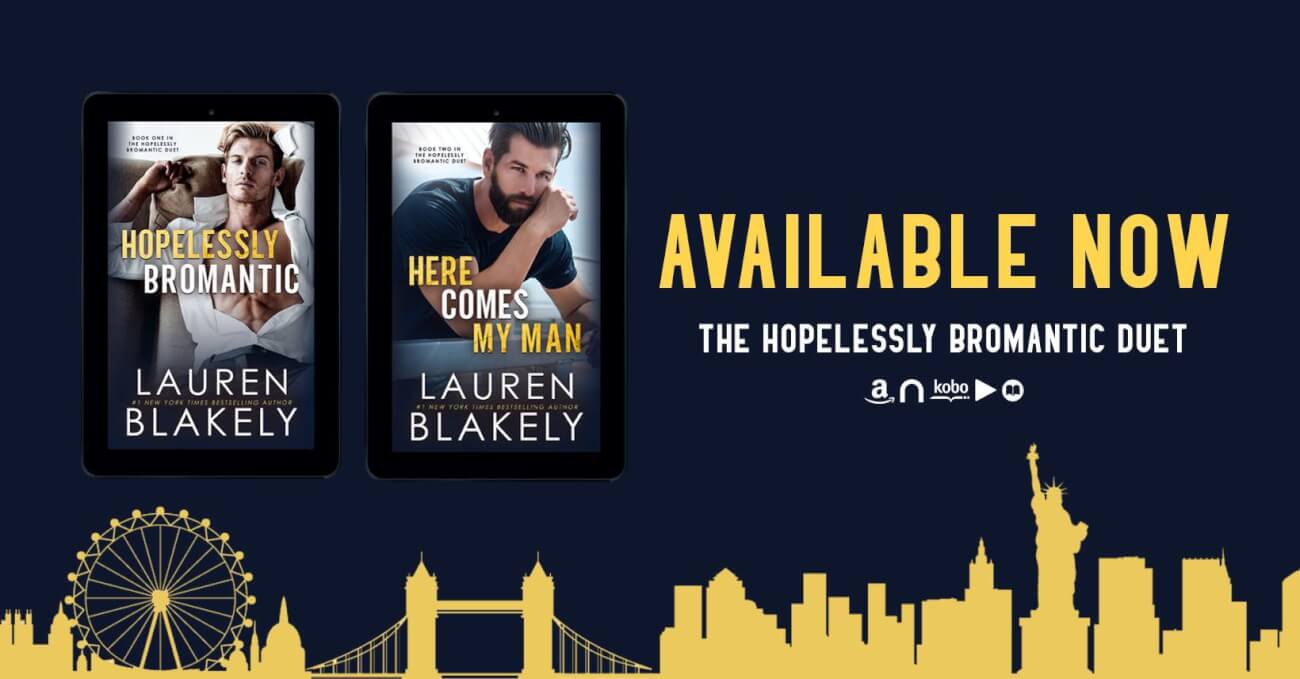 HERE COMES MY MAN
(The Hopelessly Bromantic Duet book 2) by Lauren Blakely
Release date: June 28th
From #1 NYT Bestseller Lauren Blakely comes a red-hot, enemies-to-lovers, fake boyfriend, second chance romance! HERE COMES MY MAN, the conclusion to the Hopelessly Bromantic Duet, is NOW LIVE!
AVAILABLE NOW!!
✦Amazon ➜ http://blkly.pub/AmazonMyMan
✦ Apple ➜ http://blkly.pub/AppleMyMan
✦ Google ➜ http://blkly.pub/GoogleMyMan
✦ Nook ➜ http://blkly.pub/NookMyMan
✦ Kobo ➜ http://blkly.pub/KoboMyMan
✦Audible ➜ http://blkly.pub/AudibleMyMan
Teddy Hamilton and Shane East narrate in duet with a full cast!
START THE DUET TODAY WITH HOPELESSLY BROMANTIC!!
https://laurenblakely.com/hopelesslybromantic/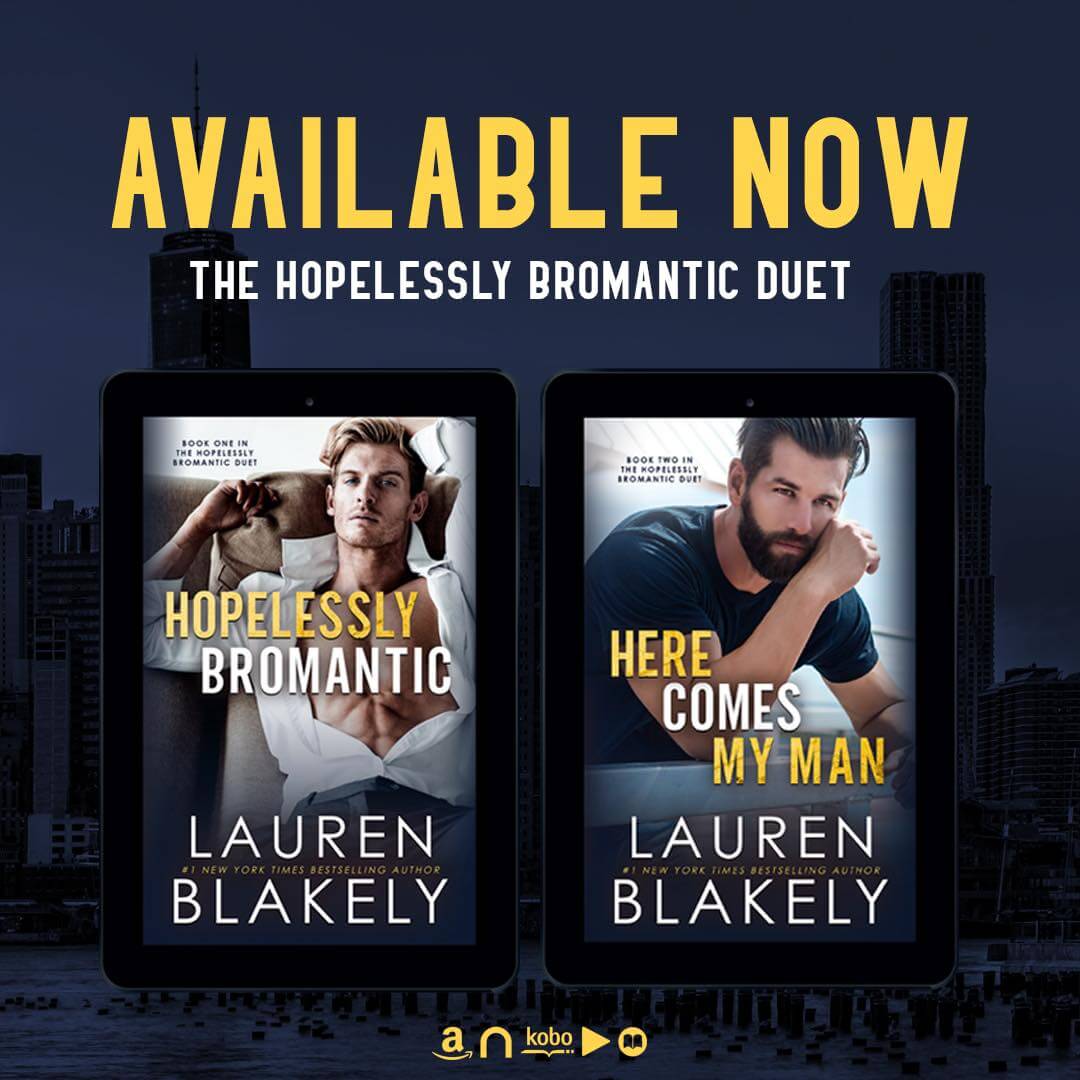 Add to Goodreads:
https://www.goodreads.com/book/show/59580810-here-comes-my-man
Blurb:
A red-hot, enemies-to-lovers, fake boyfriend, second chance romance, and the conclusion to the Hopelessly Bromantic Duet!
Let me just say this — fake dating the cocky movie star was not my idea. Especially since he's my former roomie and, gulp, my secret ex.
But my agent tells me I have no choice since I'm ridiculously overdue with turning in the next big blockbuster love story to my publisher.
Not to mention, ahem, writing it.
Falling for the smooth-talking English hottie once upon a time — fine, twice — were huge mistakes that I shouldn't repeat, but pretending to like the guy who broke my heart is my only chance at saving my job.
That is, as long as no one finds out that every date we go on, every smile we flash each other for the cameras, and every hot, desperate kiss on the streets of Manhattan is absolutely fake.
Except…it's not. At least for me.
And he can never know…
Contents Include: Snarky banter, sexy dates, hate s-e-x, seduction by a wordsmith, and two strong, stubborn, clever men determined to resist each other at all costs.
Here Comes My Man is the conclusion in the Hopelessly Bromantic duet by Lauren Blakely. My heart was broken at the end of Hopelessly Bromantic but now we get more of them!! And I am always here for more Blakely Men.
TJ hasn't been able to write a word over the last ten months. He fears he is broken. A man who writes romance needs some inspiration and his own heartbreak isn't doing it. Jude has landed himself in the tabloids and with award season he needs to clean-up his image. Their agents have come up with a plan… Fake date! Show the world how much they are in love with each other. The writer and the actor. Easy, right? Except their agents don't know about their pasts. Nobody really does. Their love was a secret…both times around. Will a third time be the charm?
Hate is a strong word. And you know what people say about the line between love and hate. TJ and Jude have gone a loooong ten months since they saw each other again. Ten months of built-up tension. Unknowns and regrets. They don't know where they stand but they have to stand together to get through until the fake breakup. Fake dates and appearances or are they? There is a fine line, will they cross it?
Of course they do and it is fire!! It is also full of emotions. I just absolutely love these two. They have been through so much. So many obstacles and years between them. This is not only a second chance but a third. It's a unique story and I loved every word. I am so happy Lauren went with a duet for their epic love story.
"TJ Hardman, you and I know how to sell a kiss. Let's fucking do this."
"Maybe I'll write a long, endless kiss," I say.
"Then you should do more fieldwork," he says, inviting me for seconds.
"Abra-cock-dabra," he says.
Here Comes My Man is the conclusion to TJ and Jude's epic love story. You need to read Hopelessly Bromantic first! It started out as a sexy, brief affair with an off the charts connection and ended in heartbreak. Now it's ten months later and Jude needs help with his image and TJ needs help finishing his book. The answer? Fake boyfriend of course. Jude and TJ are not exactly thrilled about having to see each other again and pretend to be in love. Hardy anyone knows they were involved years ago and no matter what they tell themselves, their chemistry still sizzles. They may still be mad at each other but their bodies still remember the heat. The connection. Once they finally have the conversation about what really happened. They know they need to let go of the past so they can have a real future together. Oh my Lord. This book. These men. I couldn't love them anymore if I tried! They are just so swoony and sexy and funny and smart and handsome. Just everything. I love their sexy banter and their innuendos. I love their friends and family and I hope this isn't the last we see of TJ and Jude!
About Lauren Blakely:
A #1 New York Times Bestselling, #1 Wall Street Journal Bestselling, and #1 Audible
Bestselling author, Lauren Blakely is known for her contemporary romance style that's
sexy, sweet, and witty. She also writes USA Today bestselling LGBTQ romance.
With fourteen New York Times bestsellers, her titles have appeared on the New York
Times, USA Today, and Wall Street Journal Bestseller Lists more than 100 times, with
more than 60 titles on the USA Today Bestsellers list alone. She's sold more than 4.5 million books. A Brown University graduate, Lauren likes dogs, cake and show tunes and is the vegetarian at your dinner party.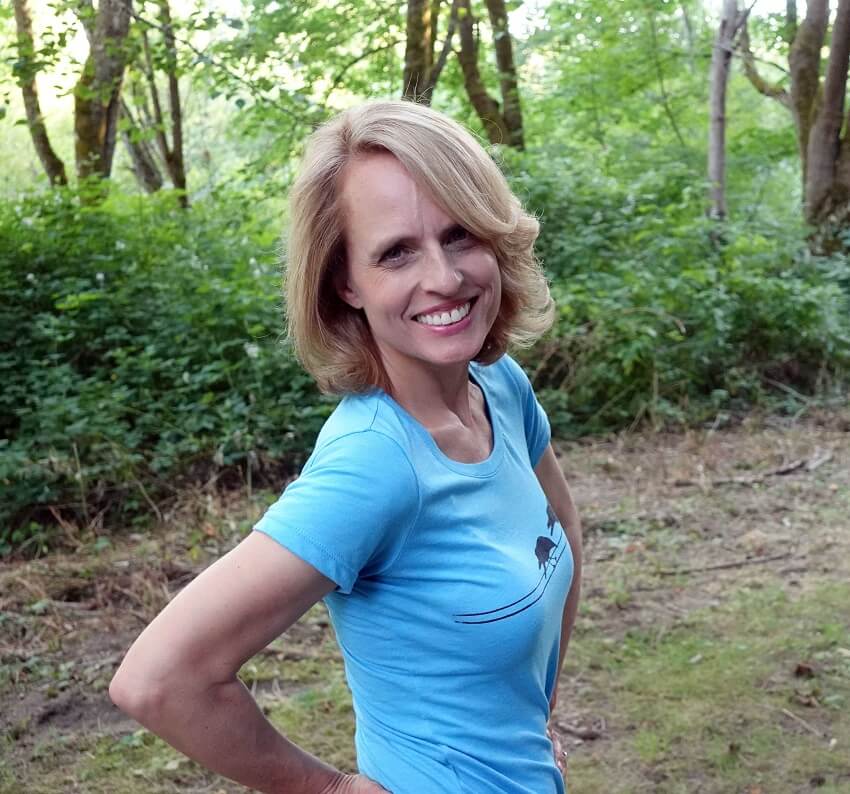 Connect w/Lauren:
Website: laurenblakely.com
NL Signup: http://laurenblakely.com/newsletter
Facebook: http://www.facebook.com/LaurenBlakelyBooks
Instagram: http://instagram.com/laurenblakelybooks
Twitter: http://twitter.com/LaurenBlakely3