August 31, 2022 | Posted in Release Day Blitz, Review | By Two Book Pushers
The Forever Love Duet, a captivating, angst-filled and emotional new adult romance collection featuring When Forever Changes and No Feelings Involved from USA Today & Wall Street Journal bestselling author Siobhan Davis is available now!
An emotional, angsty, new adult romance duet from USA Today & WSJ bestselling author Siobhan Davis. Over 700 pages of binge-worthy romance. Each book focuses on a new couple and ends with an HEA.
WHEN FOREVER CHANGES (Forever Love Book 1)
Looking back, I should have seen the signs. Perhaps I did, but I subconsciously chose to ignore them.
From the time I was ten, when I first met Dylan, I knew he was my forever guy.
Dylan was more than just my best friend, my childhood sweetheart, my lover. He was my soul mate. We were carved from the same whole—destined to be together forever.
Until he changed.
And I believed I was no longer good enough.
Until he shattered me so completely, it felt like I ceased to exist.
And I'd never experienced such heart-crushing pain.
Until he leveled me a second time, and I truly wanted to die.
But I had to stay strong because I wasn't alone in this cruel twist of fate.
I can't help wondering if I had seen the signs earlier, if I'd pushed him, would it have been enough to save us?
Or had fate already decided to alter our forever?
For readers who enjoy friends-to-lovers, brother's best friend, second chance, angsty new adult college romance. Some scenes may be triggering – please read the note at the start of the book.
NO FEELINGS INVOLVED (Forever Love Book 2)
Ryan James doesn't believe in love.
It's a truth he learned early in life.
He broke his golden rule one time, but Myndi trampled all over his heart, cementing his belief that love is a lie and not worth the effort.
Now he's returned to his cynical views and promiscuous lifestyle, racking up more notches on his bedpost than he can count.
Until Summer Petersen comes crashing into his world, threatening to knock down his walls with her tempting body and sunny, sweet personality.
Summer is determined to lose her V-card before she starts freshman year of college, and the hot, older guy with the cute dimples, dazzling smile, and rippling biceps is just the man for the job. Ryan doesn't take much persuading, and he rocks her world, giving her a night to remember.
When they walk away, there's an agreement it was a one-time thing. Ryan doesn't do feelings, and Summer doesn't want to be tied down at eighteen.
But when she moves into her brother Austin's apartment, she's shocked to discover her new roomie is the guy who recently popped her cherry.
Ryan can't believe he slept with Austin's baby sister, and if he finds out, he'll literally kill him. Keeping their hook up a secret is nonnegotiable. Keeping his thoughts, and his hands, off Summer, less so. Because the longer he's around her, the more he finds himself catching feelings for the gorgeous brunette.
Summer doesn't want to care for her older brother's best friend, but Ryan makes her feel things she's never felt before, and she's slowly falling under his spell.
Embarking on an illicit affair behind Austin's back has train wreck written all over it, but provided they keep their feelings in check, they can end this before he ever finds out.
It's not like either of them is in love.
Right?
For readers who enjoy brother's best friend/best friends' little sister, age gap, second chance, forbidden, angsty new adult romance.
Grab your copy today! Read FREE in Kindle Unlimited Amazon: https://amzn.to/3csBR4u Amazon Worldwide: https://mybook.to/foreverloveSD
Add to Goodreads: https://bit.ly/3wCBtY6
♥️ WHEN FOREVER CHANGES When Forever Changes is Siobhan Davis' next angsty and emotional read. I have read almost all of Siobhan's books and have loved them all but this one is my new favorite!! I wrote so many notes while reading but I won't be using any of them. I do not want to spoil the story. The synopsis is perfection. Gabby found her forever when she was only ten years old. Their lives were planned out. Their love epic. He was her everything and she was his. Then things changed. He changed. She didn't know what was happening to the boy she fell in love with. He was crushing her. Over and over. She didn't know what to do with this. Everything was changing so rapidly. Will their love survive or will the fairytale end? She knew deep down love was still there but was it enough? Ok. That's all I can really say and I know it wasn't much. I will say that it was one of the most emotional reads I have read this year. I cried so hard. I also felt angry. I wanted to throw my iPad. I wanted to slap some characters. I wanted to hug some too. I was all of the place with this one and I loved it. My heart was in it from the very beginning until the very end. Overall…it was an emotional rollercoaster that gave me every last feel. I laughed. I swooned. I cried. I flushed. I cringed. It was everything I never expected. I knew Siobhan would get me angst but damn…the emotional toll was not what I totally expected. P.S Enjoy my tears, Siobhan. Quotes: "You deserve the world, Dimples, and I intend to give it to you." "Oh, honey, don't waste your time trying to figure out the inner workings of the male brain. You'll just give yourself a headache." "It's amazing what one can accomplish with the right motivation," I joke. ♥️ NO FEELINGS INVOLVED No Feelings Involved is Siobhan's next standalone novel. If you read When Forever Changes then you might remember Gabby's brother, Ryan. This is his story!! I liked him in her book and totally fell for him in his. I actually didn't even read the synopsis but when I saw his name in the book I was so excited. I always read the synopsis before I write my review so no spoilers this one explains a lot so I will make this quick. No promises though. Summer doesn't want to start college as a virgin. She doesn't want to lose it to some frat boy who doesn't know what he is doing on a drunken night out. She also doesn't want to be tied down so she is on the hunt for an older experienced man who will make her first time a night to remember then walk away. She found just the man. Ryan. Just Ryan. He checked off all her boxes. Hot, older, sweet, and wants just one night. And oh what a night it was… Ryan didn't see her coming. His new roommate. His best friend and business partner's little sister. Summer. He was fucked. It's been a month since he was with her. He hasn't even been with anyone since then. He never thought he would see her again. And now, she was living in the room next to his? Yep. Fucked. Fucked because he wants her again. And again. Too bad she was off-limits. Summer wants to have the college experience. Frat parties. One night stands. Even stressful exams. She always wants Ryan James. Can she have it both ways? Can they have an exclusive friends with benefits deal until it feels too much? Ryan doesn't believe in love and she isn't ready for it. It's a win-win, right? I loved this book! Siobhan always brings the drama! The perfect amount of it. It's not too much to drive me crazy. It's just enough to keep the pages turning. I loved the characters too. Summer is blunt, sassy, beautiful, and sweet. Ryan is swoony, funny, and a little broken. Overall…I couldn't put it down! It gave me all the feels. In Siobhan fashion…the twists. It was also great catching up with previous characters. Quotes: "I have a pretty spectacular ass," Summer says, wiggling her butt and winking. "I'd stare at my butt too, if it was possible." "Is this your girlfriend?" Myndi asks, her tone hopeful as she pins Summer with an eager smile. "She's mine," Billy cuts in, strolling into the room like he owns it. "The ball's in your court, Ryan. But plan your move carefully, because the next move is your last one." ***I voluntarily reviewed a complimentary copy of this book
About Siobhan
Siobhan Davis is a USA Today, Wall Street Journal and Amazon Top 10 bestselling romance author. Siobhan writes emotionally intense stories with swoon-worthy romance, complex characters, and tons of unexpected plot twists and turns that will have you flipping the pages beyond bedtime! She has sold over 1.5 million books and her titles are translated into several languages.
Prior to becoming a full-time writer, Siobhan forged a successful corporate career in human resource management.
She lives in the Garden County of Ireland with her husband and two sons.
Connect with Siobhan Subscribe to romance newsletter:http://smarturl.it/KennedyBoysList Amazon Author Page:http://smarturl.it/SiobhanDavisAmazon Website:http://smarturl.it/SiobhanDavisWebsite Goodreads:http://smarturl.it/SiobhanGoodreads Facebook page:http://smarturl.it/SiobhanDavisFacebook Facebook group: https://smarturl.it/SiobhanSquad Instagram: https://smarturl.it/SiobhanInstagram TikTok:https://www.tiktok.com/@siobhandavisauthor BookBub:http://smarturl.it/SiobhanDavisBookbub
August 30, 2022 | Posted in Release Day Blitz, Review | By Two Book Pushers
Seven years ago, Sam and I were best friends and the goofiest computer nerds in New Jersey and, possibly, the world.
We also made a pact to meet up and get busy if one or both of us were still virgins by our twenty-fourth birthdays.
I assumed that was a silly pinky swear we'd both forgotten about until Sam shows up at my twenty-fourth birthday party, ready and willing to make good on our bargain.
Boy is he ready…
Gone is the lanky kid with glasses who made me snort-laugh when we played video games. In his place is a sex god with massive biceps, designer clothes, and a smolder that transforms women to quivering puddles of lust.
I'm out of my league with this new Sam.
But I'm also every bit as drawn to him as I used to be.
So, when he dares me to give him a chance to prove he's still the same trusted kindred spirit I remember, I agree.
What do I have to lose, aside from my V Card?
Oh, right. My heart…
Amazon US: https://amzn.to/3tELnqu
Amazon UK: https://amzn.to/3QuFqGn
Nook: https://bit.ly/3OiLEr1
Googleplay: https://bit.ly/3tHx98h
Kobo: https://bit.ly/3HuKxCl
Apple Books: https://apple.co/3zIg7L9
Sparked is the fourth and final book in the V-Card Diaries by the fabulous Lili Valente. I'm loving this series and have been waiting for Jess's story! The brilliant game designer finally gets her second chance with her childhood best friend. Jess hasn't seen or heard from Sam since high school graduation and now he shows up at her twenty-fourth birthday party with a job offer and to collect on their pact to sleep with each other if they are both virgins when they are twenty-four. Sam never forgot about Jess. She's his person and it was time he finally came home for her. She's still as beautiful as he remembers, and sassy and spunky and smart. He just needs to convince her to take a job and spend time with him. Except he's keeping a few secrets. He's not about to go down without a fight. He just needs to convince Jess he's worth it. I love Jess and Sam! I love that he grew up to be extremely handsome, but he doesn't even realize it. And Jess is so funny and cute. Together they are a match made in heaven. I loved seeing Evie and Harlow again. I will miss these characters!
August 30, 2022 | Posted in Release Day Blitz, Review | By Two Book Pushers
August 29, 2022 | Posted in Release Day Blitz, Review | By Two Book Pushers
Sinful Mafia Prince by Ella Frank & Brooke Blaine is now live!
"They took something that belonged to me—and nothing will stop me from getting him back."
The Fiores have made their move. In a last-ditch effort to save their crumbling empire, they've managed to take back their heir, landing a blow to the Rossettis—in particular, Dom. But failure is not an option for Dom, and soon he finds himself at a crossroads: Follow his father's orders and leave Luca to the wolves, or defy the boss and get back what he lost. The question is, will Luca choose to trust Dom to keep him safe even after all he's put him through, or will he put his future in the hands of his long-lost family instead? As the war between enemies reaches its breaking point, both Dom and Luca face the most difficult decision of their lives. Do they fight for their families or do they fight for each other? Sinful Mafia Prince is the second and final book in USA Today Bestselling authors Brooke Blaine and Ella Frank's M/M Mafia romance duet. It should only be read after Forbidden Mafia Prince.
Download today or read for FREE with Kindle Unlimited
Amazon: https://amzn.to/39QpiP5
Amazon Worldwide: https://mybook.to/SinfulMafiaP
Add to Goodreads: https://bit.ly/3tXwShT
Begin Forbidden Mafia Prince, book 1 in the Malvagio duet!
mybook.to/ForbiddenMafiaPrince
Meet Brooke
Brooke Blaine is a USA Today Bestselling Author best known for writing romantic comedy and M/M romance. Her novels lead with humor and heart, but Brooke never shies away from throwing in something extra naughty that will scandalize her conservative Southern family for life (bless their hearts).
She's a choc-o-holic, lives for eighties bands (which means she thinks guyliner is totally underrated), believes it's always wine o'clock, and lives with the coolest cat on the planet—her Ragdoll/Maine Coon mix, Jackson Agador Spartacus.
Connect with Brooke
Website: http://www.brookeblaine.com/
Amazon: http://amzn.to/1i2g15S
Facebook: www.facebook.com/BrookeBlaine.Writer
Facebook Group: https://www.facebook.com/groups/TheBrellas
Instagram: www.instagram.com/brookeblaine1
TikTok: https://www.tiktok.com/@brookeblaine
Bookbub: https://www.bookbub.com/authors/brooke-blaine
Pinterest: https://www.pinterest.com/brookeblaine11
Verve: https://ververomance.com/app/brookeblaine
Meet Ella
Ella Frank is the USA Today Bestselling Author of the Temptation series, including Try, Take, and Trust and is the co-author of the fan-favorite Preslocke series. Her Prime Time series has been praised as "highly entertaining!" and "sexy as hell!"
A life-long fan of the romance genre, Ella writes contemporary and erotic fiction.
Some of her favorite authors include Tiffany Reisz, Kresley Cole, Riley Hart, J.R. Ward, Erika Wilde, Gena Showalter, and Carly Philips.
Connect with Ella
Website: www.ellafrank.com
Amazon: https://amzn.to/3GXTNig
Facebook: https://www.facebook.com/ella.frank.31/
Facebook Group: https://www.facebook.com/groups/TheBrellas
Instagram: https://www.instagram.com/ellafrank1/
Bookbub: https://www.bookbub.com/authors/ella-frank
Pinterest: https://www.pinterest.com/ellafrank
Newsletter signup: https://ellafrank.com/newsletter/
August 26, 2022 | Posted in Blog Tour, Review | By Two Book Pushers
August 23, 2022 | Posted in Release Day Blitz, Review | By Two Book Pushers
Strange and Unusual
Battle Crows MC, Book 
Lani Lynn Vale
Release Date: August 23, 2022
About the Book
The moment he divorced his ex-wife, Jeremiah decided two things.
One, he would never, ever get into that kind of situation again—i.e., marriage.
Two, he would spend more time doing what he loved—baking, riding motorcycles, spending time with the Battle Crows MC, and getting some quiet time for just himself. Pretty much doing the things he enjoyed, that his ex-wife could no longer ruin.
And, months after his divorce was final, he's held strong.
He hasn't gotten entangled with a woman. He's opened his own bakery. And he's never been closer to his club.
It has to be why he allowed them to have a massive club party at his place, which became the cause of Gracelynn Barry entering his life.
If he'd known Gracie was going to be his employee, he definitely wouldn't have slept with her.
Yet, there he is, in the middle of an interview, finding out not only was the woman he slept with the most viable applicant for a job he very much needed filled, but that she'd recently broken up with the man he loathed. The second reason he'd divorced his ex-wife. Erich. His ex-stepson.
To say life is simple for Jeremiah would be a joke of epic proportions.
It's time for him to buckle up.
Purchase Links
✦ Amazon: https://amzn.to/3J42iJq 
✦ Apple: https://apple.co/3POOm8C 
✦ Nook: https://bit.ly/3czliU7 
✦ Kobo: https://bit.ly/3RX07vC 
✦ Audio: https://amzn.to/3wlSntC 
Add to your TBR: https://bit.ly/3BBrCSG 
Strange and Unusual is the sixth book in the Battle Crow MCs series by Lani Lynn Vale. I'm really enjoying this series and I've been waiting for Jeremiah's story. Lani didn't disappoint with the humor, sexiness and emotions. Jeremiah and Gracelynn realize they have a lot in common when they first meet. After spending some time together they like each other more and more. And in a twist of fate, she's interviewing to be his new baker at his bakery. Jeremiah is still dealing with his ex-wife and he isn't interested in getting involved with another woman ever again. Until Gracie. There's just something about her sassy mouth, curves and how much fun they have in the kitchen. She doesn't take his crap or let him get away with being a jerky boss. Jeremiah and Gracie share a past enemy and things get very complicated and very scary. I was shocked! I know Lani likes to throw us curve balls, but whoa! We get to see more of Bram and Dory and I can't wait to see what their full story is going to be. I love seeing all our favorite club guys and their women!a
August 23, 2022 | Posted in Blog Tour, Review | By Two Book Pushers
THE RECKLESS UNION (Wedded Bliss Book 3) by Monica Murphy
Release Date: August 16th
Genre/Tropes: Arranged Marriage/Fake Relationship/Dark Romance/Contemporary Romance/Billionaire Romance/Enemies-to-Lovers
AVAILABLE NOW!!!
Amazon: https://amzn.to/3EGwfxb
Amazon INTL: https://bit.ly/3MJRXDt
Apple Books: https://apple.co/36vkD3m
Barnes & Noble: https://bit.ly/38v8Nr8
Kobo: https://bit.ly/3vET7ZY
Google Play: https://bit.ly/37EiMKc
Start the trilogy with #1, The Reluctant Bride FOR FREE today!
https://monicamurphyauthor.com/the-reluctant-bride
The Ruthless Groom #2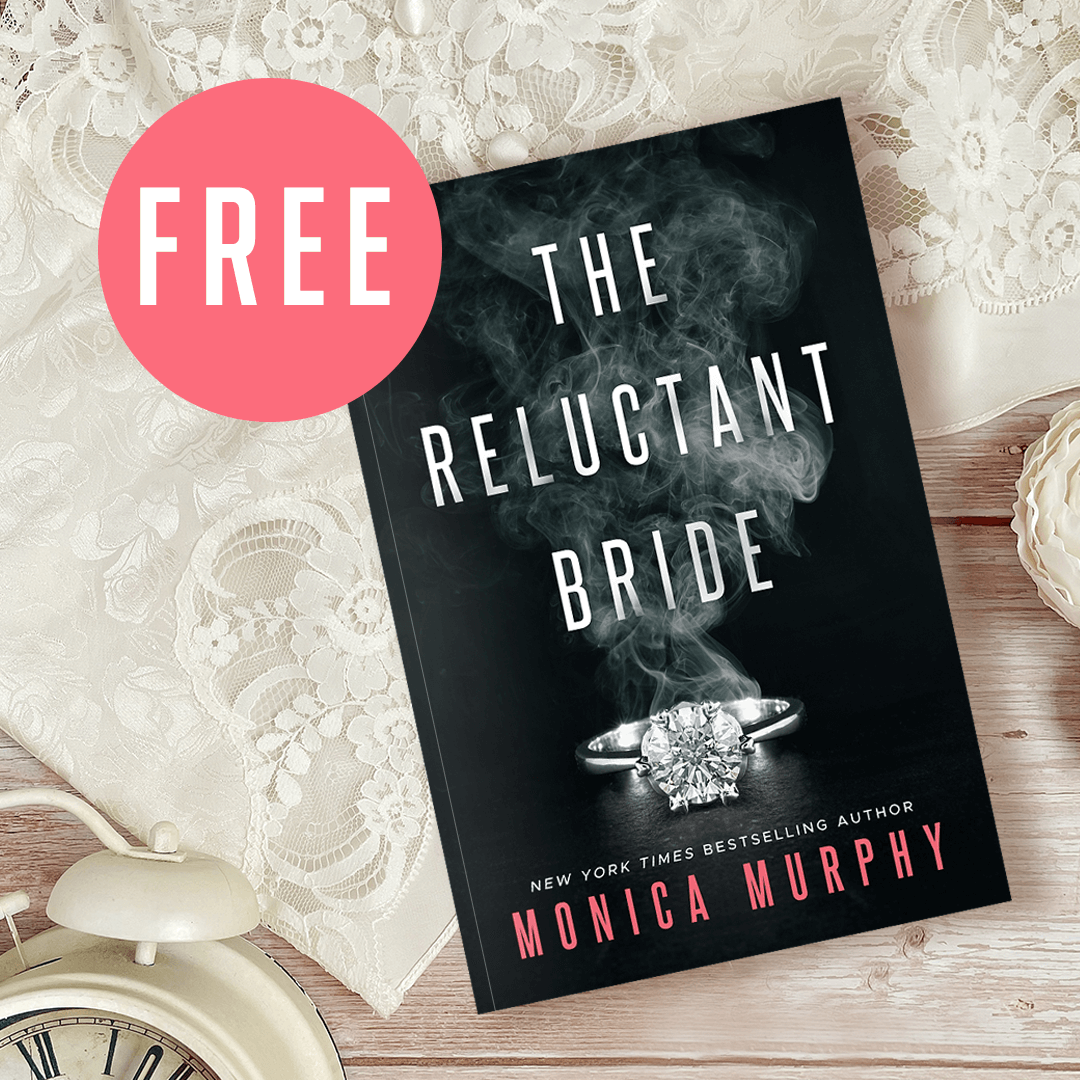 Add to Goodreads:
https://www.goodreads.com/book/show/61124722-the-reckless-union
Blurb:
Our marriage may look like a fairytale, but outside forces threaten to tear us apart. Don't they realize that nothing will keep me apart from Charlotte? Not my family. Not hers either.
What started out as a relationship in name only has evolved into something much more. Something deeper. And when Charlotte is taken from me, I launch into action, determined to rescue her.
She's mine. Nothing is going to stop me from being with her.
Not a damn thing.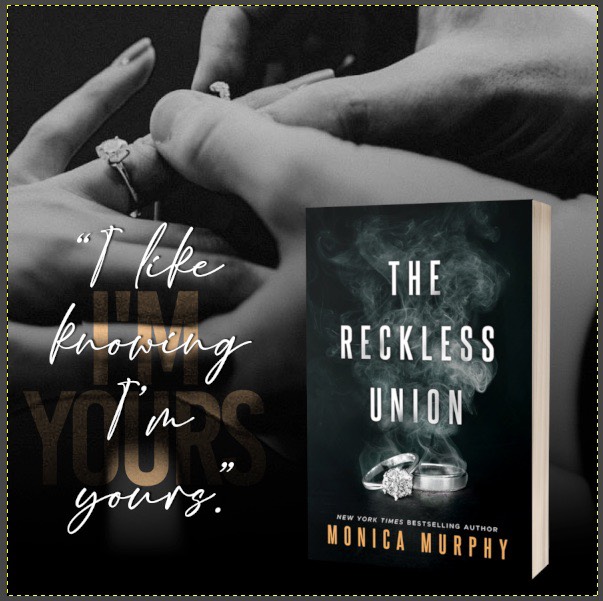 About the Author:
Monica Murphy is the New York Times and USA Today bestselling author of the One Week Girlfriend series, the Billionaire Bachelors and The Rules series. Her books have been translated in almost a dozen languages and has sold over one million copies worldwide. She is both a traditionally published author and an independently published author. She writes new adult, young adult and contemporary romance. She is also USA Today bestselling romance author Karen Erickson.
She is a wife and a mother of three who lives with her family in central California on fourteen acres in the middle of nowhere, along with their one dog and too many cats. A self-confessed workaholic, when she's not writing, she's reading or hanging out with her husband and kids. She's a firm believer in happy endings, though she will admit to putting her characters through many angst-filled moments before they finally get that hard won HEA.
Connect with Monica:
Website: http://monicamurphyauthor.com
Facebook: https://www.facebook.com/MonicaMurphyauthor/
Goodreads: https://www.goodreads.com/author/show/5934418.Monica_Murphy
Amazon: http://amzn.to/1YUl0Vm
Bookbub: https://www.bookbub.com/authors/monica-murphy
Instagram: https://www.instagram.com/monicamurphyauthor/
Newsletter: http://bit.ly/IW5U0y
August 22, 2022 | Posted in Cover Reveal | By Two Book Pushers
August 19, 2022 | Posted in Blog Tour, Review | By Two Book Pushers
I'll wait forever if I have to.
Pen Pal, an all-new riveting dark story full of twists and turns from international bestselling author J.T. Geissinger is live now!
The first letter arrived the day my husband was buried. It was postmarked from the state penitentiary, and contained a single sentence:
I'll wait forever if I have to.
It was signed by Dante, a man I didn't know.
Out of simple curiosity, I wrote back to ask him what exactly he was waiting for. His reply?
You.
I told the mystery man he had the wrong girl. He said he didn't. I said we'd never met, but he said I was wrong.
We went back and forth, exchanging letters every week that grew increasingly more intimate. Then one day, the letters stopped.
When I found out why, it was already too late.
Dante was at my doorstep. And nothing on earth could have prepared me for what happened next.
Download your copy today! Read FREE in Kindle Unlimited Amazon: https://amzn.to/3AMEiqs Amazon Worldwide: https://mybook.to/PenPal
Add to Goodreads: https://bit.ly/3ziTI6x
About J.T. Geissinger
J.T. Geissinger is a #1 internationally bestselling author of twenty-seven novels. Ranging from funny, feisty rom coms to intense, edgy suspense, her books have sold over five million copies and been translated into more than a dozen languages.
She is a three-time nominee in both contemporary and paranormal romance for the RITA® Award, the highest distinction in romance fiction from the Romance Writers of America®. She is also a recipient of the Prism Award for Best First Book and the Golden Quill Award for Best Paranormal/Urban Fantasy.
She's a Southern California native currently living in Nevada with her husband and rescue kitty, Zoe.
Connect with J.T. Geissinger Facebook: http://bit.ly/37Iv1zU Instagram: http://bit.ly/35v6fBu Pinterest: http://bit.ly/2upzIQI GoodReads: http://bit.ly/2NaBT2c BookBub: http://bit.ly/2oAkodD Reader Group: http://bit.ly/2Oj7iMg Mailing list: http://bit.ly/39KRQol Website: http://www.jtgeissinger.com
August 18, 2022 | Posted in Excerpt | By Two Book Pushers