August 18, 2022 | Posted in Excerpt | By Two Book Pushers
Genre: Standalone Contemporary Romance
Release Date: August 22, 2022
BLURB
From
New York Times
bestselling author Penelope Ward, comes a new standalone novel.
The day I showed up to Dax Moody's sprawling home, I had no idea what was coming.
As a traveling massage therapist, I was used to entering the houses of strangers.
But this assignment was different from any before it.
From the outside, I'd correctly assumed the owner was rich. What I didn't realize was that he would be younger than I'd imagined, single, stunningly gorgeous, and mysterious.
Despite the fact that Dax had booked a massage, it never actually happened, since our first appointment was unexpectedly cut short by a comedy of errors.
Certain I'd never see him again after that day, I'd done nothing but think about the captivating man.
To my surprise, he called a second time. That appointment, we talked a lot, developing a stronger connection. But once again, there was no actual massage.
The man I now affectionately called "Moody" kept calling me to come back.
It took three times before I finally gave him the massage he'd ordered. Let's just say it was challenging to keep things professional. I was extremely attracted to Dax, and by that time, I was falling hard.
Eventually, I'd find out why he'd been so aloof, the reason why he and I could never be together.
Our story was supposed to end there, but it didn't.
Instead, I was left perpetually longing for a forbidden man.
**No Amazon e-book preorder. 
Will go live on/around release day
EXCERPT
Copyright © 2022 Penelope Ward
"What do you do exactly?"
"I…stand beside you and rub my hands into your skin and work to get some of the knots out of your muscles."
He shook his head. "No. I meant, what do you do? Is this your full-time gig?"
Is that an insult? "Yes. I went to school for massage after college, and I make a good living. Being a massage therapist is not something you do on the side. It's a great, fulfilling career in and of itself," I said defensively.
"I didn't mean to imply it wasn't." He fidgeted with his watch, which looked like it cost more than my car.
I blew out a breath. "I do have other aspirations, but this pays the bills and allows me to put some money away, too. I'm currently saving for a trip to Europe."
"I see." He stared out the window, almost looking as though he wanted to escape.
What's with this guy? "Look…I can leave if you're not comfortable."
"No." He walked over to a cabinet and took out a bottle of some kind of liquor. "I just need something to take the edge off." He poured himself a glass of amber-colored liquid.
I stared at his big, masculine hands. "Well, this is a first."
"A first what?" he asked.
"The first time a client has ever had to relax before a relaxing massage." When I laughed, I accidentally snorted.
His eyes narrowed. "What the hell was that?"
"Sorry. I didn't mean to snort. That happens sometimes when I'm nervous. It just comes out."
"Why are you nervous?"
"Maybe your attitude is rubbing off on me."
He chugged the alcohol and slammed the glass down. "I'm sorry. I don't know how to relax. It's my nature. Even when I'm supposed to be freaking relaxing…the thought of relaxing stresses me out."
I nodded. "That's actually a real thing. It's called relaxation-induced anxiety."
He chuckled. "Thanks for the diagnosis."
"I used to be like you. I'd get panic attacks from the quiet when I tried to meditate."
He licked the side of his mouth. "I suppose that defeats the purpose."
"Exactly. And sitting still, like in the hair salon or dentist's chair, used to make me panicky when I was younger."
"Younger? You're pretty young. How long have you been doing this massage thing?" he asked.
"What made you get into it?"
"I wanted to make people feel good. And it doesn't bore me. I never have to be in one place."
"Does it pay well? How much of the fee do you get to keep?"
My eyes narrowed. "You ask a lot of questions."
"Well, maybe I need to get comfortable with you before I let you put your hands all over me."
For some reason that comment rubbed me the wrong way. Let me put my hands on him? As if it was a privilege? (As if he could read my mind and sense my attraction? Ugh.)
I raised my voice. "I thought you told the company someone recommended me. Why are you so apprehensive?"
"Okay." He sighed, scrubbing his hand over his face. "Let's get this over with. What do I do?"
Jesus. He's wound tight. "Take off your shirt and lie down on the table. You can leave your pants on or take them off."
He let out a guttural laugh. "Take my pants off?"
"Yes. That's actually customary. But it's always the client's choice. I can leave the room, if you wish, while you undress. There's a towel to cover yourself. But you can totally leave your pants on, too."
"I will be leaving my pants on, thanks."
"Okay. Just make sure you take the stick out of your ass one way or the other."
He glared at me but finally cracked a slight smile. I'd take it.
I laughed. "In all seriousness, just breathe. That's all you need to worry about." I took a deep breath in, willing myself to take my own advice.
Dax slowly pulled his shirt over his head, once again granting me a view of his rippled muscles. There wasn't an inch of anything soft on his body. I turned away suddenly when I caught my eyes lingering a little too long.
He then lay down stomach-first on the table and within seconds, I heard the pitter-patter of paws and the clanking of a metal collar coming from down the hall.
A large English sheepdog pushed through the door and entered the room, barking profusely at the sight of me. Then he jumped up on the table and landed on Dax's back.
"Damn it, Winston!" Dax yelled.
I didn't even know a dog that big could jump so high. The dog shot me the evil eye. This house is just full of welcoming people.
"Hello," I said awkwardly.
He growled. It seemed Doggy was just as extra as his owner.
"Get off me, you fluffernutter!" Dax groaned.
The dog kept growling at me while I covered my mouth to keep from laughing. "Why is he so angry?" I asked, trying to stifle my amusement.
"He's protective to a fault. He was napping upstairs when you arrived. I hoped he'd stay sleeping. I hadn't planned on him coming down, although I should've."
Dax sat up and somehow got the beast of a dog off him. He hopped down off the table. "I'll be right back," he said, guiding Winston out of the room and down the hall. The sound of the collar disappeared into the distance.
Left alone for a moment, I exhaled and wandered over to a shelf that displayed various things, including a large, white seashell that seemed completely out of place, given the room's otherwise masculine vibe. It was beautiful. Remembering what my mother had told me when I was little, I lifted the shell and placed it against my ear in an attempt to hear "the ocean." Met with the ambient noise that resonated from within, I closed my eyes and smiled.
"Please don't touch that," Dax called from behind me.
Shaken by his abrupt tone, I jerked, and the shell slipped from my fingers and crashed to the ground.
He let out a jarring shriek.
My hands shook. "I'm so sorry… I…" I bent to clean up the pieces, but he bolted to stop me.
"Don't touch anything!" His tone was grating.
"Why? It's my fault," I insisted.
"Please just get up," he commanded in an even harsher tone.
Burning with embarrassment, I stared down at the mess. That's when I realized something had fallen out of the shell.
AUTHOR BIO
Penelope
Ward is a New York Times, USA Today and #1 Wall Street Journal bestselling
author of contemporary romance.
She grew up
in Boston with five older brothers and spent most of her twenties as a
television news anchor. Penelope resides in Rhode Island with her husband, son,
and beautiful daughter with autism.
With over two
million books sold, she is a 21-time New York Times bestseller and the author
of over thirty books. Her novels have been translated into over a dozen
languages and can be found in bookstores around the world.
AUTHOR LINKS
OTHER BOOKS BY PENELOPE WARD
August 18, 2022 | Posted in Excerpt | By Two Book Pushers

Never Look Back
An Enemies-to-Lovers, Close-Proximity, Second-Chance Romance from A.L. Jackson
Coming August 29th
Tension bound the room, and few words had been said, everyone's attention rapt on the duel going down. 
Jarek tried to keep his expression neutral, the pompous prick with his slicked back black hair and his careless confidence that had been given to him through his name rather than earned. 
Like he was confident I would let him reach out and take what was mine. 
Not ever again.
Even with the pungent arrogance, I saw the tick of his jaw, the flinch of his eyes, the sheen of sweat that hinted at the edges of his brow and glimmered beneath the dull lights from the chandelier that hung from above. 
He glanced at his dwindling chips. 
"Your father-in-law would be proud. If only he could see you now." I couldn't help but taunt it as I rocked back in my chair. I did my best to ignore the presence that hovered over him from behind. 
A presence that fanned out and teased me like a sinful, decadent dream. A dream that had once been so beautiful it'd coerced me into believing there just might be something better in this life than depravity and greed. 
I glanced up in time to catch the worry that riddled those fire-agate eyes. The golden green with flecks of red that were begging for something she didn't deserve to be given.
Mercy. 
I tore my attention from the lure of hers and watched as redness clawed at Jarek's throat before he started to push in the chips to meet the bet. 
Aster gripped him by the shoulder. "Jarek, don't do this." 
I had to wonder exactly what he had riding on the line. Why he was there. Why I could feel the chinks in his armor coming apart.
Flinging off her hand, he cut her a hard glare. 
"Don't," he warned. 
The word was coated with his humiliation. With desperation. 
Ah. 
There was the chink.
Weakness wept through the powerful persona.
Reluctantly, Aster withdrew her hand, and her delicate throat trembled as she swallowed. She lifted that stoic chin that I'd caressed more times than I could count. 
Okay, fine.
That was a goddamn lie because I remembered every fucking touch. Every glance. Every broken promise she had made. 
Jarek met my stare as he pushed nearly the rest of his chips into the pot, raising me by a thousand.
I raised him another ten. 
How far are you going to go, asshole? Whatever you have, it's mine.
A soft sound of pain wheezed from Aster's chest. A heave of distressed air. 
My gaze followed to where the black dress she wore dipped low between her tits. My heart fisted when I saw what she wore around her neck. It was a star-shaped necklace, dangling down to kiss her cleavage.
I nearly cracked. Lost the control I was holding onto.
It had to be a joke. 
A taunt. 
A fucking cruel, sick twisted one, the girl coming down here and parading it like a slap to my face.
It made my teeth clench and the fury I was barely constraining flashfire through my veins.
I tore my attention from her when Jarek spat, "Fuck," under his breath.
He still clutched his cards, refusing to give up the fight. 
Haille laughed, the sadistic fucker enjoying this far too much. He looked at Jarek. How the hell he knew him, I didn't have a clue, but I didn't believe in a coincidence quite this big. He pulled his cigar from his mouth and jabbed it Jarek's direction. "It seems you're in a small predicament, Mr. Urso. Are you already going to walk? And here I thought you were going to bring something interesting to the table." 
Jarek all but growled, and Aster's gaze darted between the three of us. Nerves flew from her soft, caramel flesh. That face carved of perfect lines and smooth skin tightened in dread.
He'd brought something interesting to the table, all right. 
"Just cut your losses, Jarek." She begged it quietly, but I heard the strength behind it. 
Jarek roughed his hand down his pompous face, and he turned to look at the necklace around Aster's neck as if it could be a solution to his issues. 
Aster gasped, and her hand came up to protect it. Tears sprang to her eyes. She took a small step back. "No," she wheezed, like it would physically pain her to remove it. 
I wanted to jump to my feet. 
Take hold of her and demand answers.
Demand to know why. 
Why had she done it if she could stand there and look like there was a piece of her that was broken. 
Anger and confusion had me in a stranglehold.
Old grief I'd buried deep that was clawing to the surface. 
"Give it to me," Jarek grated. 
"No." My voice cut through the dense air. 
A roll of thunder. 
The tolling of a challenge. 
Aster froze. Her stare landed on me. 
It was pain. 
A plea. 
Desperation. 
It only made the sickness thrum harder. 
I looked to Jarek.
"The girl." 
The stake came out without thought to repercussions. 
Without rationale. 
No sense. 
Just revenge. 
I wanted what never should have been his.
A gasp rocked from her, and she stumbled back farther. 
Jarek's eyes sharpened to blades, and there was no question he wanted to reach over the table and choke the life from me. 
My fingers itched. 
I hoped he tried. 
I gave nothing. No smile. No sneer. Just the quiet hatred that emanated from within. The fact I intended to take everything from him.
I'd known one day I would. I just hadn't anticipated the opportunity would present itself so soon.
He blinked then jutted his chin at the dealer for the exotic chip.
The one that signified he would hazard my proposition.
It wasn't rare. A bid made for a beach home. A family heirloom. Something that couldn't be replaced. Here, fortunes were won and lost. 
"What are you doing? I am not for sale." Aster's voice was aghast. Horrified and filled with disgust.
"He's bluffing, Aster." Jarek tossed in the chip.
It was the first time I let myself fully look at her. To sit back and take her in like she was mine to take. Sickened terror ridged her gorgeous face because I was pretty sure she knew this wasn't close to a bluff. 
I couldn't do anything but crack a grin. "It seems you are tonight." 
Then I laid down my cards. 
A straight flush.
Pre-Order on Amazon: https://geni.us/NLBAmznB
Pre-Order on Audible: https://geni.us/NLBAudioB
Add to Goodreads: https://geni.us/NLBGoodreadsB 
Want a Signed Paperback or Never Look Back Release Box? PRE-ORDER HERE: https://geni.us/ALJacksonShop
Can't wait for the release? Be sure to vote for NEVER LOOK BACK as one of your most anticipated August reads on Goodreads!
Vote Here: https://geni.us/NLBMostAnticipatedB
"My heart in my throat for most of the book and she just did NOT disappoint! At all!"
— The Masque Reader
Pre-order a Never Look Back Release Box – includes a signed paperback, premium merchandise, and goodies! This box is packed with the cutest merch and I CAN'T WAIT for you to see what's inside!!! It is all SO PERFECT!
Quantities are limited and boxes sell out fast, so reserve yours now!
NEVER LOOK BACK RELEASE BOX PRE-ORDER: https://geni.us/ALJacksonShop
GIVEAWAY
Signed Falling Stars Alternate Cover Set & Huge Goodies!
Pre-Order on Amazon: https://geni.us/NLBAmznB
Pre-Order on Audible: https://geni.us/NLBAudioB
Add to Goodreads: https://geni.us/NLBGoodreadsB 
Want a Signed Paperback or Never Look Back Release Box? PRE-ORDER HERE: https://geni.us/ALJacksonShop
A.L. Jackson is the New York Times & USA Today Bestselling author of contemporary romance. She writes emotional, sexy, heart-filled stories about boys who usually like to be a little bit bad.
Her bestselling series include THE REGRET SERIES, CLOSER TO YOU, BLEEDING STARS, FIGHT FOR ME, CONFESSIONS OF THE HEART, FALLING STARS, and REDEMPTION HILLS novels. Watch out for her upcoming stand-alone, NEVER LOOK BACK, releasing August 29th!
If she's not writing, you can find her hanging out by the pool with her family, sipping cocktails with her friends, or of course with her nose buried in a book.
Be sure not to miss new releases and sales from A.L. Jackson – Sign up to receive her newsletter https://geni.us/ALJacksonBookClubB  or text "aljackson" to 33222 to receive short but sweet updates on all the important news.
Connect with A.L.
Newsletter: https://geni.us/ALJacksonBookClubB
Facebook: https://geni.us/ALJacksonFBB 
Reader Group: https://geni.us/AmysAngelsB 
Amazon: https://geni.us/ALJacksonAmznB 
Bookbub: https://geni.us/ALJacksonBookBubB 
Twitter: @aljacksonauthor 
Instagram: @aljacksonauthor
TikTok: @aljacksonauthor
August 18, 2022 | Posted in Blog Tour, Review | By Two Book Pushers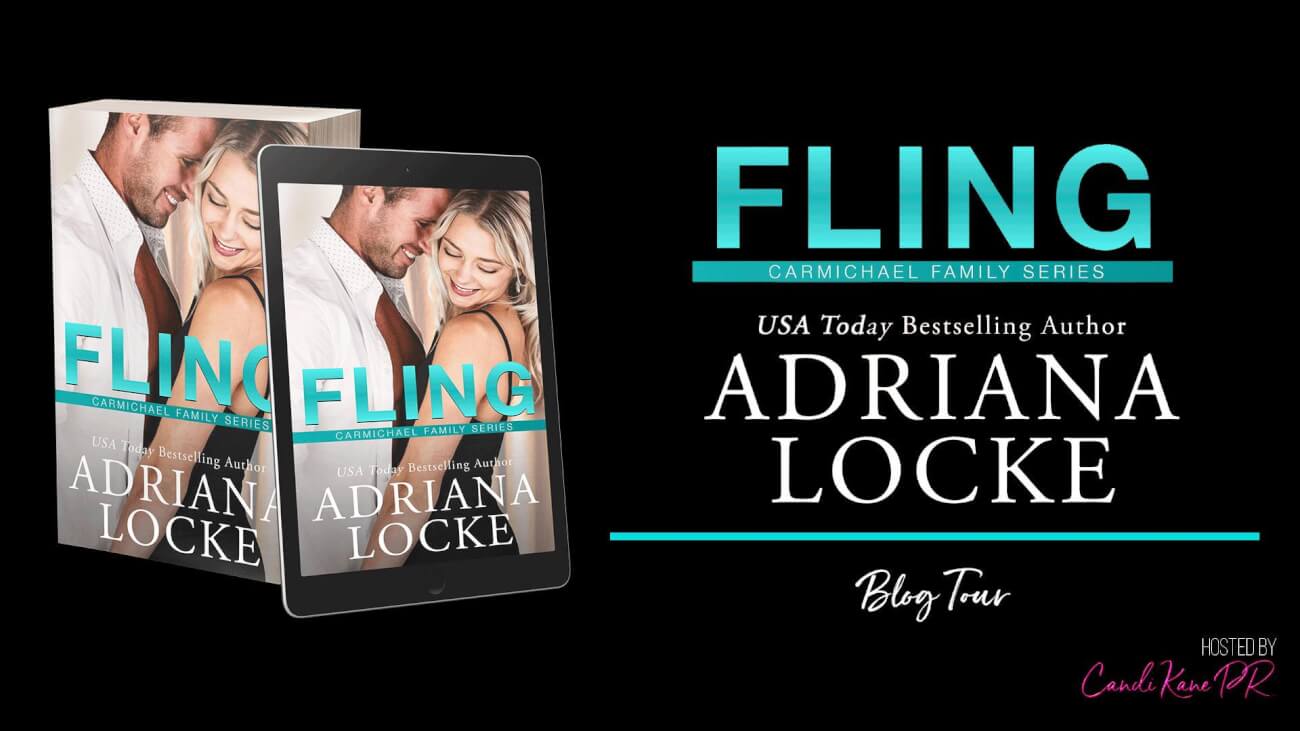 FLING by Adriana Locke
Release Date: August 15th
Genre/Tropes: Contemporary Romance
Grab your suitcase and prepare for the time of your life in this swoony tale that's as hot as the tropical destination itself. Fans of runaway brides, close-proximity, one-bed, and friends-to-lovers tropes will fall hopelessly in love with this fling-to-forever romance.
AVAILABLE NOW! FREE IN KU!!!
Amazon US: https://amzn.to/3881pl1
Amazon Universal: https://geni.us/FlingLocke
Fling is the second book in the Carmichael Family series by Adriana Locke. Oh man am I loving these Carmichael brothers something fierce! This is Maddox and Ashley's story. I didn't think anyone could top Moss, but I was so wrong. I can't pick a favorite! Seriously, Maddox with that smile and his on-point flirt game? Yes, please! He's so sexy and funny and just the right amount of dirty! And he's not a player. He wants something and he goes after it. Ashley just called off her wedding, but she still wants to go on the honeymoon since it's already paid for. She just needs a date. Her friends decide to take matters into their own hands and find the perfect man for her. Turns out it's Maddox, her childhood friend. Since she's been back in town, their relationship seems to have shifted. He's flirting more, she's reacting in a new way. The attraction is just simmering beneath the surface. What happens when they are sharing a bed and have no distractions? Everything! They have fun, they laugh, they shop. They roll around in the sheets and let down their guards. But what happens when they get back home? Will they extend the fling? Oh man! This book is just fantastic. I couldn't love Maddox anymore if I tried. He and Ashley are just perfect for each other. They like each other, they have a lot in common. Now it's more. Maddox had me swooning and fanning myself. Ashley is fun and realizing who she is and what she wants. I love getting to know his brothers more and the motherly advice they both get? Perfection! I didn't want it to end and I can't wait to see what happens next!
Fling is the second book in the Carmichael Family series by Adriana Locke. You can read each book in the series as standalone but I highly recommend reading them all. Adriana is the queen of writing fun family series. #FamilyGoals. 
Ashley cancelled her wedding a month ago and moved back to Kismet Bay. What wasn't cancelled or refundable was her honeymoon so it looked like she was headed to the Bahamas for four days and three nights. Her friends can't go, so instead they talk her into having a contest on her social media. The catch? Her friends pick the guy and she won't know who he is until she's leaving on a jet plane…
No way Maddox was going to let her do this alone or with some asshole. Ashley has always been his dream girl and if this was his only chance, he was going to take it. For years, they flirted. For years, there was something more but they never crossed that line. It was too risky. It still was. He was fling material while she was marriage material. An agreement is made. What will happen when they land back home? 
Omfg! These two are 🔥 and swoony. Their flirt game is on-point. So much fun!! I can't even with these two with their banter. Loved it. Hard. Then there are the brothers. I laughed till I cried. Each brother is so different and I love them all for different reasons and I had my fave picked with Flirt and I am just falling harder and harder. I can't with his ridiculous and I am here for it. My blog partner knew it was him before I even started the series. Lol. Anyway, I ♥️ Maddox for his protectiveness, smirk, flirt, and the way he knows his best friend, Ash. I can't wait for Fluke! 
Quotes: 
I stand and walk around his desk. The closer I get, the more of his cologne I breathe in. 
He looks at me over his shoulder. "Wanna sit?" 
On your face. Yes … maybe.
"You're beautiful," he whispers against my ear. "Sexy as hell, but so damn beautiful."
"Jess, why are you being so nice tonight?" 
"Why wouldn't I be?" I glance at Banks. 
He looks terrified.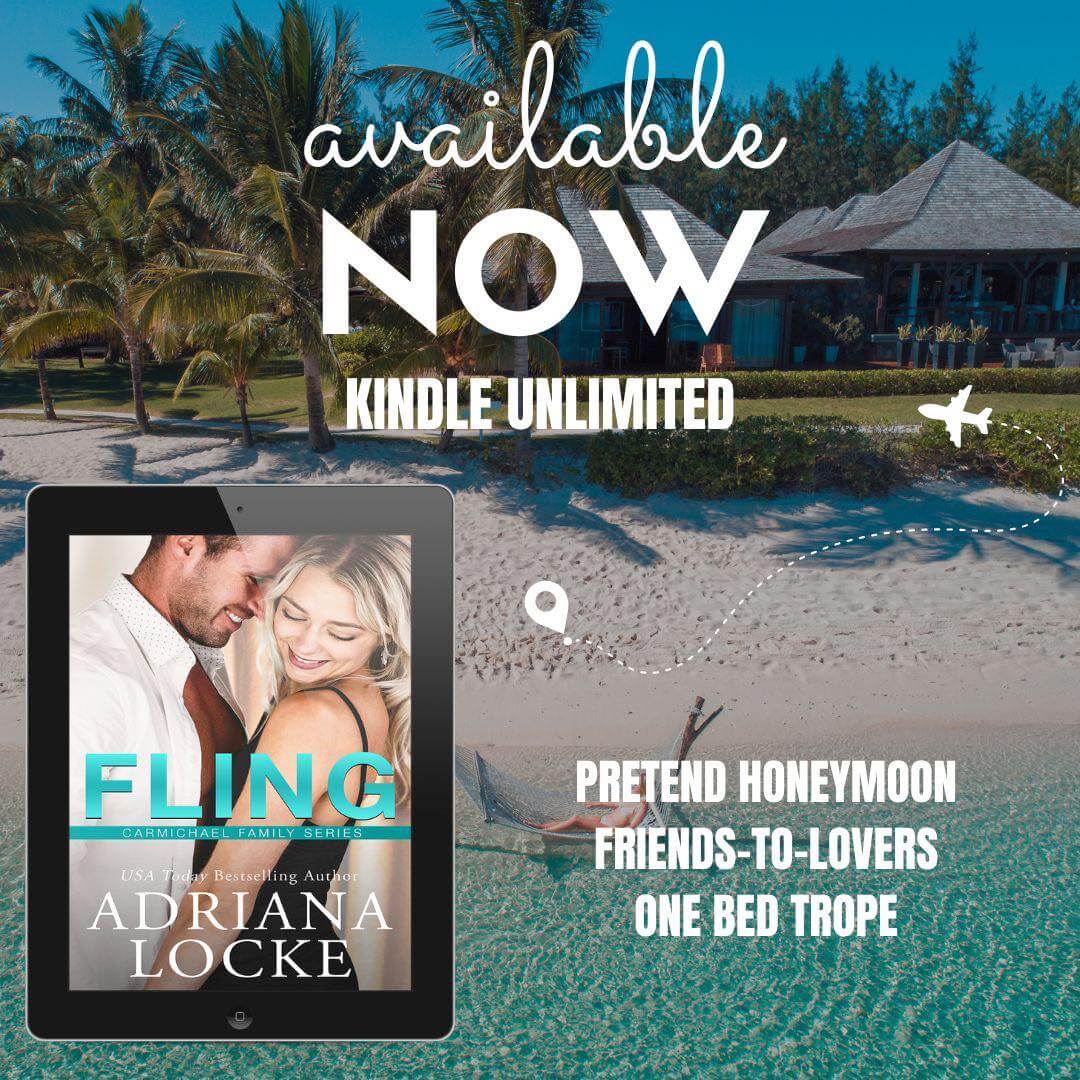 Add to Goodreads:
Blurb:
CONTEST: WIN A DATE TO MY HONEYMOON
I realize that a social media post isn't the usual way to secure a date to your honeymoon—for obvious reasons—but here we are.
My wedding was canceled. What's not canceled is the nonrefundable, ten-thousand-dollar all-inclusive vacation at a luxury resort, and I'm not about to let it go to waste.
I'm packed and ready to hit the beach. ButI can't deny that it might be more interesting to honeymoon with someone.
Since my track record of picking dates isn't exactly golden, I've done something that I hope I don't regret. In a moment of weakness—mixed with panic and fueled by margaritas—I agreed to let my friends choose someone to go with me.
It'll be a blind date / postnuptial vacation—without the nuptials. A few fun days in paradise with no expectations. No obligations.
Before you say, "pick me for a free vacay!" a few things to consider …
The perfect candidate will be single. He won't talk too much on the plane. And he'll be able to leave town quickly.
He will also be okay with sharing a bed. It's a honeymoon suite, after all.
If you want to be considered, email Rebecca and Sara your application at the address below. (Get creative. There's a free vacation on the line.)
Wheels up next week!
Godspeed, honeymooners.
Grab your suitcase and prepare for the time of your life in this swoony tale that's as hot as the tropical destination itself. Fans of runaway brides, close-proximity, one-bed, and friends-to-lovers tropes will fall hopelessly in love with this fling-to-forever romance.
About the Author:
USA Today and Washington Post bestselling author Adriana Locke lives and breathes books. After years of slightly obsessive relationships with the flawed bad boys created by other authors, Adriana has created her own.
She resides in the Midwest with her husband, sons, and two dogs. She spends a large amount of time playing with her kids, drinking coffee, and cooking. You can find her outside if the weather's nice and there's always a piece of candy in her pocket.
Connect w/Adriana:
Website: https://adrianalocke.com
Facebook: https://www.facebook.com/authoradrianalocke
Facebook Group: https://www.facebook.com/groups/booksbyadrianalocke
Twitter: https://twitter.com/authoralocke
Instagram: https://www.instagram.com/authoradrianalocke
Goodreads: https://www.goodreads.com/author/show/8379774.Adriana_Locke
Amazon: https://amzn.to/3ivy7xd
Bookbub: https://www.bookbub.com/authors/adriana-locke
Newsletter Signup: http://bit.ly/NewsletterAddy