August 23, 2022 | Posted in Release Day Blitz, Review | By Two Book Pushers
Strange and Unusual
Battle Crows MC, Book 
Lani Lynn Vale
Release Date: August 23, 2022
About the Book
The moment he divorced his ex-wife, Jeremiah decided two things.
One, he would never, ever get into that kind of situation again—i.e., marriage.
Two, he would spend more time doing what he loved—baking, riding motorcycles, spending time with the Battle Crows MC, and getting some quiet time for just himself. Pretty much doing the things he enjoyed, that his ex-wife could no longer ruin.
And, months after his divorce was final, he's held strong.
He hasn't gotten entangled with a woman. He's opened his own bakery. And he's never been closer to his club.
It has to be why he allowed them to have a massive club party at his place, which became the cause of Gracelynn Barry entering his life.
If he'd known Gracie was going to be his employee, he definitely wouldn't have slept with her.
Yet, there he is, in the middle of an interview, finding out not only was the woman he slept with the most viable applicant for a job he very much needed filled, but that she'd recently broken up with the man he loathed. The second reason he'd divorced his ex-wife. Erich. His ex-stepson.
To say life is simple for Jeremiah would be a joke of epic proportions.
It's time for him to buckle up.
Purchase Links
✦ Amazon: https://amzn.to/3J42iJq 
✦ Apple: https://apple.co/3POOm8C 
✦ Nook: https://bit.ly/3czliU7 
✦ Kobo: https://bit.ly/3RX07vC 
✦ Audio: https://amzn.to/3wlSntC 
Add to your TBR: https://bit.ly/3BBrCSG 
Strange and Unusual is the sixth book in the Battle Crow MCs series by Lani Lynn Vale. I'm really enjoying this series and I've been waiting for Jeremiah's story. Lani didn't disappoint with the humor, sexiness and emotions. Jeremiah and Gracelynn realize they have a lot in common when they first meet. After spending some time together they like each other more and more. And in a twist of fate, she's interviewing to be his new baker at his bakery. Jeremiah is still dealing with his ex-wife and he isn't interested in getting involved with another woman ever again. Until Gracie. There's just something about her sassy mouth, curves and how much fun they have in the kitchen. She doesn't take his crap or let him get away with being a jerky boss. Jeremiah and Gracie share a past enemy and things get very complicated and very scary. I was shocked! I know Lani likes to throw us curve balls, but whoa! We get to see more of Bram and Dory and I can't wait to see what their full story is going to be. I love seeing all our favorite club guys and their women!a
August 23, 2022 | Posted in Blog Tour, Review | By Two Book Pushers
THE RECKLESS UNION (Wedded Bliss Book 3) by Monica Murphy
Release Date: August 16th
Genre/Tropes: Arranged Marriage/Fake Relationship/Dark Romance/Contemporary Romance/Billionaire Romance/Enemies-to-Lovers
AVAILABLE NOW!!!
Amazon: https://amzn.to/3EGwfxb
Amazon INTL: https://bit.ly/3MJRXDt
Apple Books: https://apple.co/36vkD3m
Barnes & Noble: https://bit.ly/38v8Nr8
Kobo: https://bit.ly/3vET7ZY
Google Play: https://bit.ly/37EiMKc
The Reckless Union is the third and final book in the Wedded Bliss series by Monica Murphy. You can NOT read this as standalone. This is the conclusion to Perry and Charlotte's story.
Their future hangs on the balance when Charlotte is taken from Perry. It's not their first obstacle in their marriage. A marriage that started out as a business arrangement. A marriage neither of them wanted. It's different now, it's more and Perry will not let anyone hurt what's his and his wife, is his. And he is hers. Perry will stop at nothing to get Charlotte back in his arms but will it be too late?
I really can't get into the story anymore than that. I can say that I loved it. I read it in one sitting and I so wish I could dive into the other books from other authors who wrote supporting characters's stories. One day…
"I won't get tired of you." I nuzzle the side of her head, my mouth at her ear. "Who else tolerates the Chevelle like you do?"
"Tell me no one else makes you feel like this," he demands.
Start the trilogy with #1, The Reluctant Bride FOR FREE today!
https://monicamurphyauthor.com/the-reluctant-bride
The Ruthless Groom #2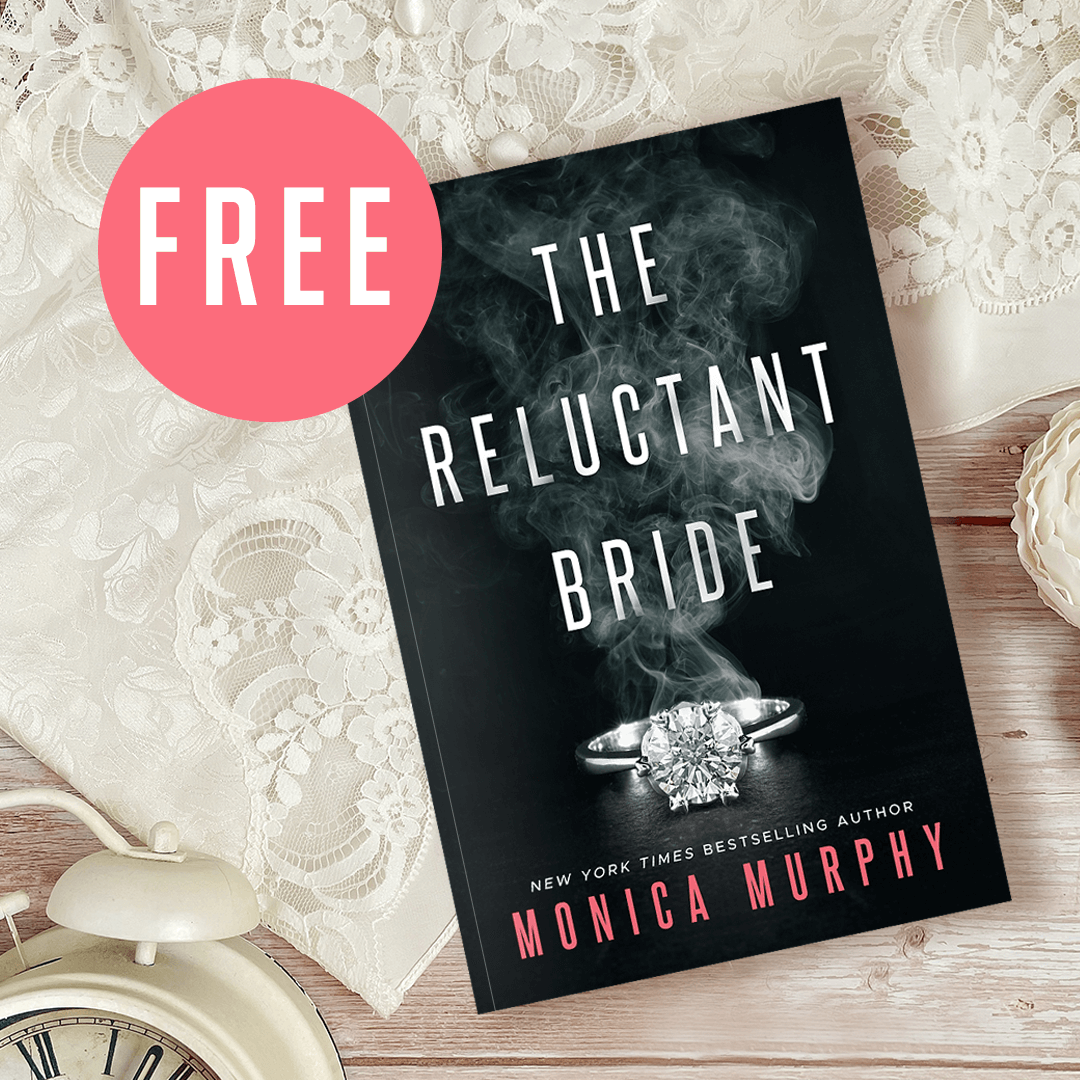 Add to Goodreads:
https://www.goodreads.com/book/show/61124722-the-reckless-union
Blurb:
Our marriage may look like a fairytale, but outside forces threaten to tear us apart. Don't they realize that nothing will keep me apart from Charlotte? Not my family. Not hers either.
What started out as a relationship in name only has evolved into something much more. Something deeper. And when Charlotte is taken from me, I launch into action, determined to rescue her.
She's mine. Nothing is going to stop me from being with her.
Not a damn thing.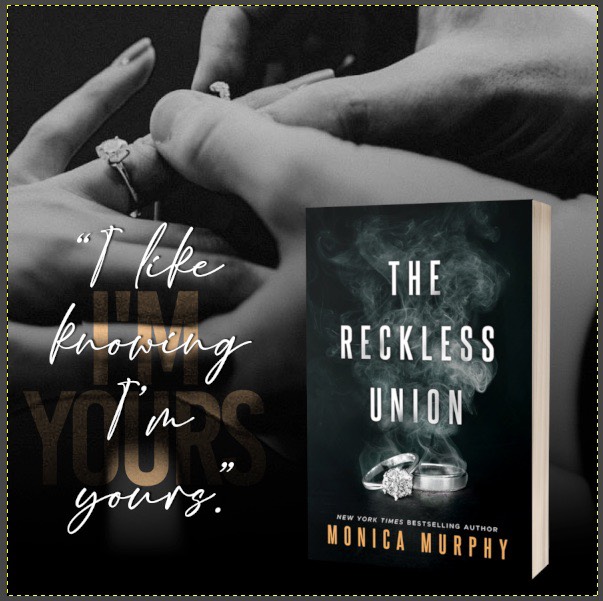 About the Author:
Monica Murphy is the New York Times and USA Today bestselling author of the One Week Girlfriend series, the Billionaire Bachelors and The Rules series. Her books have been translated in almost a dozen languages and has sold over one million copies worldwide. She is both a traditionally published author and an independently published author. She writes new adult, young adult and contemporary romance. She is also USA Today bestselling romance author Karen Erickson.
She is a wife and a mother of three who lives with her family in central California on fourteen acres in the middle of nowhere, along with their one dog and too many cats. A self-confessed workaholic, when she's not writing, she's reading or hanging out with her husband and kids. She's a firm believer in happy endings, though she will admit to putting her characters through many angst-filled moments before they finally get that hard won HEA.
Connect with Monica:
Website: http://monicamurphyauthor.com
Facebook: https://www.facebook.com/MonicaMurphyauthor/
Goodreads: https://www.goodreads.com/author/show/5934418.Monica_Murphy
Amazon: http://amzn.to/1YUl0Vm
Bookbub: https://www.bookbub.com/authors/monica-murphy
Instagram: https://www.instagram.com/monicamurphyauthor/
Newsletter: http://bit.ly/IW5U0y