November 8, 2022 | Posted in Release Day Blitz, Review | By Two Book Pushers

THE GOOD GUY CHALLENGE by Lauren Blakely
Release Date: November 8th
THE GOOD GUY CHALLENGE, the second standalone book in The Dating Games Series, from #1 NYT bestselling author Lauren Blakely is NOW LIVE and FREE in KU!!
Make sure to grab this all-new, fake dating, MF sports romance TODAY!!
NOW AVAILABLE! FREE IN KU!
✦ Amazon ➜ https://blkly.pub/AmazonGoodGuy
✦ Audible ➜ https://blkly.pub/AudioGoodGuy
(Narrated by Stella Hunter and Jason Clarke)
The Good Guy Challenge is the second book in the The Dating Games series by Lauren Blakely. You can read each book as standalone but I recommend reading the series since in Lauren fashion, there are always connections between characters. This is Ellie (Veronica's bestie) and Gabe's (Drew's teammate) story and it was full of surprises! 
Ellie Snow was making moves. Moving from New York to Venice Beach. Moving from actress to writer/producer. She was a boss lady and an independent woman. She was nervous and excited for her new life. She had a week before she got crazy busy with her show, The Dating Games. Her plan was to chill and hang out with old and new friends. What she didn't see coming was a challenge. To date a good guy and she just so happened to see her teenage dream the night before. He was the good guy on the block in their hometown. He was also hot as sin. A tatted football player with a big heart. A good guy. What she didn't expect was another side to him…
A filthy side. An alpha side. An adventurous side. And less than a week to explore them. That was the deal. 
These two are 🔥🔥! Holy fucking hotness, Batman!! I can't even. Lauren brought in the kink with this one and I am here for it. It's the prefect amount of fun, sweet, and sinful. It's one of my favorite Lauren books! The characters. The connection. The confessions. The heat. The love. The friendships. Everything! 
I ♥️ Gigi! I ♥️Myrtle too!! 
"Gabe, I want you to kiss me like you'll die if you don't." 
Hello, five-alarm fire! This man can go from zero to sixty in the dirty department. I'm determined to keep up. 
This woman is going to push all my buttons tonight. When Ellie role-plays, she fucking plays. She is all in. And I have to hold my own. 
The Good Guy Challenge is the second book in The Dating Games series by Lauren Blakely. I had no idea when I met Gabe in Two A Day that he was going to give us all the flirty, dirty business but I am here for it! What's better than playing a game you love, hanging out with your buddies and just being a genuinely nice guy? Running into an old friend who's all grown up and gorgeous. Now that she's not too young for him, it's ok for him to take a second look. And a third and fourth. Ellie can't believe her luck is about to change. No more bad boys for her. When she runs into an old crush, who's a good guy, she needs to accept the challenge. She doesn't expect Gabe to be a dirty talking bad boy in the bedroom, but whoa. Please and thank you! The more time they spend together, the more real it gets. Is this just a fun challenge or is it something more? Oh damn! These two almost lit my kindle on fire! Their banter was fun, their sexiness off the charts. I'm still fanning myself! Gabe is so sweet and dirty and fun and one of those book boyfriends you wish were real! Ellie is sweet, sassy and ready for anything Gabe wants. Their history gives them the extra connection and makes it all that much more! I'm loving this series and can't wait for what Lauren has next!
Blurb:
Fake real dating the one who got away? Sign me up…
There's just something about bad boys. Tattoos and leather jackets, am I right?
Trouble is, my last boyfriend was a teensy bit too bad and now he's in prison. Yikes.
When my friends challenge me to take a dip in the good guy side of the dating pool, I see their dating bet and I raise it, looking up the guy I crushed on growing up.
With a winning grin and heart of gold, Gabe Clements is now the star receiver for a pro football team.
Except, the supposed good guy turns out to be nothing like I imagined. He's better. He's growly, possessive, smoldering.
And he's determined too. At the end of the night, he asks me to be his fake real girlfriend for the rest of the week.
Sounds like my kind of dating challenge since he's a good guy by day, and a very dirty man after dark.
I'll cure my bad boy blues in no time.
Well, as long as I don't fall for Gabe's big heart too.
The Good Guy Challenge is a standalone romance in The Dating Games series! You'll also enjoy The Virgin Next Door!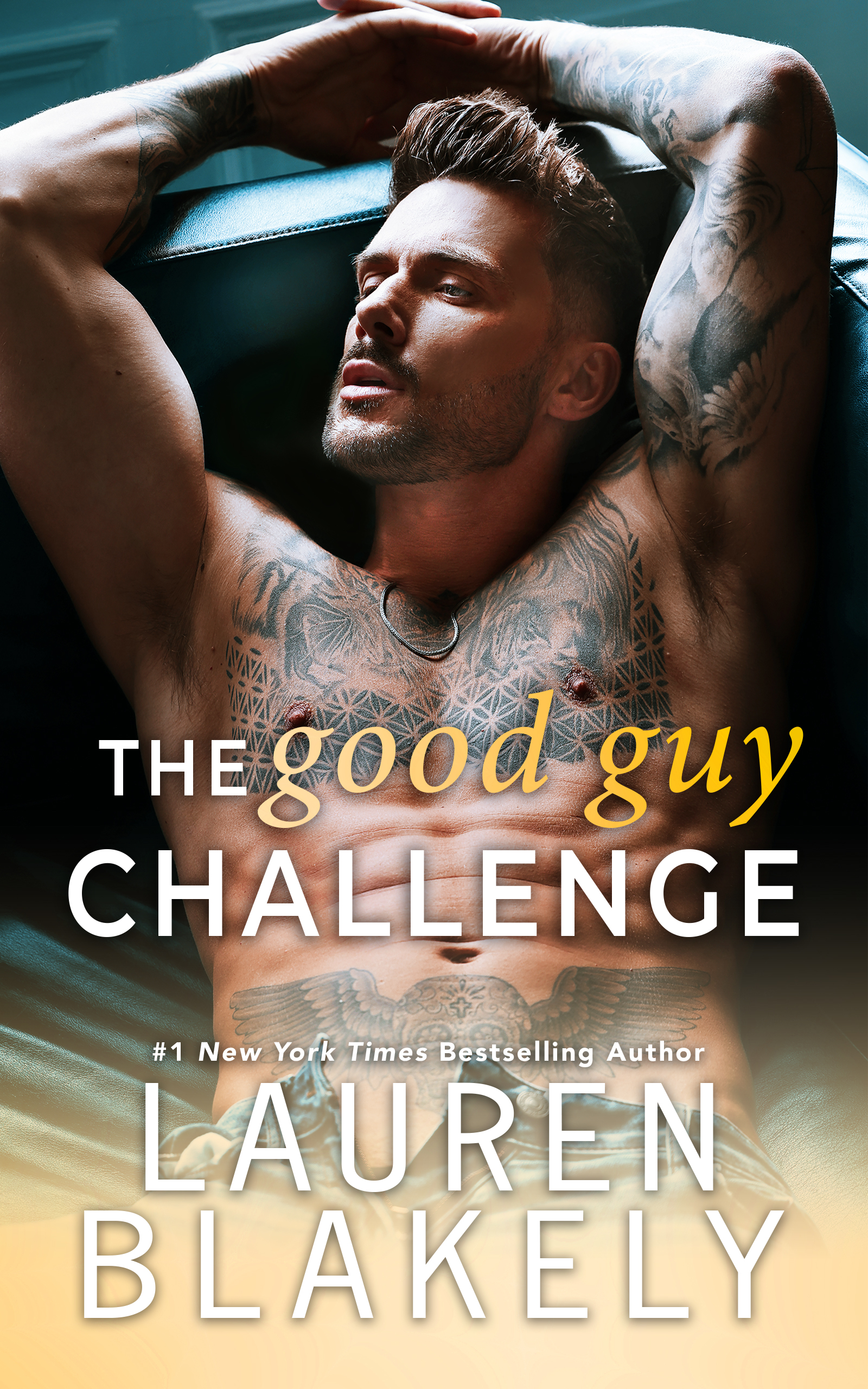 About Lauren Blakely:
A #1 New York Times Bestselling, #1 Wall Street Journal Bestselling, and #1 Audible
Bestselling author, Lauren Blakely is known for her contemporary romance style that's
sexy, sweet, and witty. She also writes USA Today bestselling LGBTQ romance.
With fourteen New York Times bestsellers, her titles have appeared on the New York
Times, USA Today, and Wall Street Journal Bestseller Lists more than 100 times, with
more than 60 titles on the USA Today Bestsellers list alone. She's sold more than 5 million books. A Brown University graduate, Lauren likes dogs, cake and show tunes and is the vegetarian at your dinner party.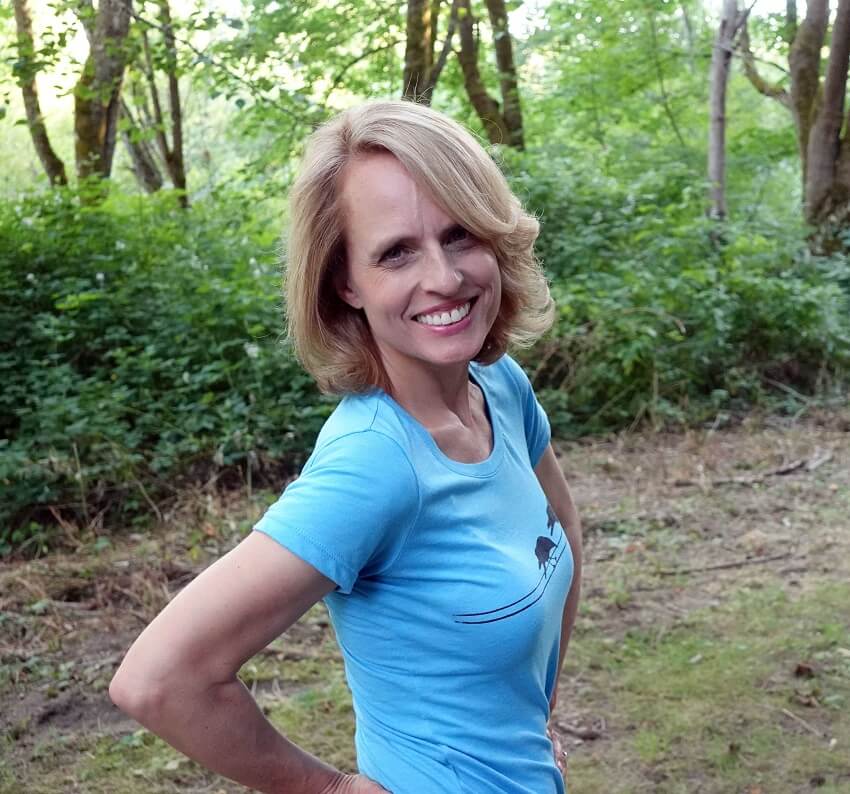 Connect w/Lauren:
Website: laurenblakely.com
NL Signup: http://laurenblakely.com/newsletter
Facebook: http://www.facebook.com/LaurenBlakelyBooks
Instagram: http://instagram.com/laurenblakelybooks
Twitter: http://twitter.com/LaurenBlakely3
Tik Tok: https://www.tiktok.com/@laurenblakelybooks
November 8, 2022 | Posted in Release Day Blitz, Review | By Two Book Pushers
When the Stage Dive crew decides to help, they do it in a big way.
Just What I Needed, a brand-new nanny meets rock star producer romance from New York Times bestselling author Kylie Scott is now available!
From New York Times and USA Today bestselling author Kylie Scott comes a new story in her Stage Dive series…
Nanny and housekeeper Jude has been going through a dry patch. Getting ready to dip her toes back into the dating pool is a little nerve racking. And the offers of assistance from her boss, David Ferris, and his band are not helping. Right up until music producer Dean Jennings arrives to work on the band's latest album.
But Dean is more than a little wary of dating anyone with anything to do with the Stage Dive crew after losing Lena to lead singer Jimmy Ferris all those years ago. Can Jude a) Convince the crew to stay out of her business and b) Woo the man of her dreams?
**Every 1001 Dark Nights novella is a standalone story. For new readers, it's an introduction to an author's world. And for fans, it's a bonus book in the author's series. We hope you'll enjoy each one as much as we do.**
Grab your copy today exclusively on Amazon!
Amazon: https://amzn.to/3zml2jf Amazon Worldwide: https://mybook.to/justwhatineeded
Add to Goodreads: https://bit.ly/3zJ3380
Just What I Needed is a novella in the Stage Dive series by Kylie Scott. I have read but not all of the series so I can say you can absolutely read this as a standalone. I can also say that it will make you want to read more in the series. 
The first time she saw him he was half-naked in her kitchen. She had no complaints except how awkward she felt in his presence. She was a hot mess with one-word answers till her friends came in to build her confidence and get the ball rolling on what could be the start of something new and exciting. Love. 
Dean and Jude's story is

so much fun! It's also flirty, sexy, and beautiful. 
There's something romantic and soulful about a man who is a musician.
"Can't believe you think we wouldn't work in bed, though. Not going to lie, Jude. That hurts." 
"So prove me wrong, Dean. Prove me wrong."
About Kylie Scott
Kylie is a New York Times and USA Today, best-selling author. She was voted Australian Romance Writer of the year in 2013, 2014 & 2018 by the Australian Romance Witer's Association and her books have been translated into eleven different languages. She is a long-time fan of romance, rock music, and B-grade horror films. Based in Queensland, Australia, with her two children and husband, she reads, writes, and never dithers around on the internet.
Connect with Kylie
Amazon: https://amzn.to/2XujcZh
Bookbub: http://bit.ly/2GngiQq
Facebook: http://bit.ly/2OiXx3I Twitter: http://bit.ly/391pjJM Instagram: http://bit.ly/2EUrx11
Goodreads: http://bit.ly/2Imusk3
Pinterest: http://bit.ly/2S7cc32
Book+Main Bites: http://bit.ly/2ETz5RQ
Stay up to date with Kylie by joining her mailing list: http://bit.ly/2TOOivT
Website: https://kyliescott.com/
For More information about 1001 Dark Nights Visit
Facebook: https://bit.ly/37fl0uT Instagram: https://bit.ly/2Y7uBQp Website: https://bit.ly/2AIIr3A
Stay up to date on all 1001 Dark Nights releases, join their mailing list today!
November 8, 2022 | Posted in Release Day Blitz, Review | By Two Book Pushers
Can this tormented prince accept love, or will he push his princess away forever?
Princess and the Player, an all-new neighbors-to-lovers romance featuring an NFL football player and a masquerade ball from Wall Street Journal bestselling author Ilsa Madden-Mills, is now available!
A masquerade ball brings together an NFL player and a penniless princess in this smart and sexy romance from Wall Street Journal bestselling author Ilsa Madden-Mills. Levelheaded Francesca Lane never thought she'd miss her own wedding. But when her fiancé betrays her, she puts on her wedding dress and ditches the altar for a masquerade ball—at an exclusive lifestyle club. There, she meets unknown-to-her NFL star Tuck Avery, dressed as a prince and hiding behind a mask—he's there to celebrate his birthday. For one night, Francesca and Tuck indulge in a wickedly incognito affair. No names. No strings. And the masks don't come off. Unfortunately, Francesca realizes quickly that her masked prince is the wealthy jock who lives in the penthouse of her apartment building. His hobbies include parties and supermodels—or so the tabloids say. Getting tangled up with a shallow jerk is the last thing Francesca needs right now, so she vows to keep Tuck from recognizing her (not that she's his type anyway). But fate has a teeny-tiny trick up her sleeve…a plus sign on a pregnancy test. Can this tormented prince accept love, or will he push his princess away forever?
Fall in love today! Amazon: https://amzn.to/3KWVJJ6 Amazon Worldwide: http://mybook.to/PrincessPlayer Amazon Paperback: https://amzn.to/3jXSR2s
Add to Goodreads: https://bit.ly/392Sim1
The Princess and the Player is the second book in the Strangers in Love series by the fabulous Ilsa Madden Mills. I knew when we met Tuck I was going to love him. His story is everything I wanted it to be and more! He's funny, sexy, a pro baller, but he's also hurting and has a past that's constantly haunting him. When he meets a beautiful stranger at a masquerade party at a sex club, it seems like the perfect night. No names, no faces and just one night. But fate had other ideas. Turns out she lives in his building and doesn't seem to want anything to do with him. Francesca never thought her one-night stand would turn out to be her rich and famous neighbor, but here we are. Now not only does she see him everywhere, she's keeping a very big secret from him. She's pregnant. What are the odds. The connection between Tuck and Francesca is too strong for either of them to ignore. For once Tuck wants to actually get to know a woman. There's just something about her that calls to him. Calms him. Makes him want to be a better man. But what happens when he finds out about the baby? Will that be the end of them or the beginning of their story? Oh man! I loved Tuck and Francesca! Their romance isn't all fun and games. They both have pasts and have a hard time accepting love. But they are destined to be together. I loved watching them fall and grow and finally give in. Overall, I laughed, cried, got hot and bothered and just loved it!
Princess and The Player is the second book in the Strangers in Love series by Ilsa Madden-Mills. I loved Tuck in Beauty and The Baller so I was so excited when Ilsa announced that he was getting his own book! It is a total standalone by the way, but I recommend reading Ronan's story since it's awesome too! 
It's Tuck's birthday. It was supposed to be Francesca's wedding day. Fate brought them to a…sex club that night. She calls him a perv and that was it, their start. Their night ended with a bang. A few of them. A one-night no-strings attached night. No names. Makes stayed on. No kissing. It was a night neither of them forgot but it was always supposed to be that one night. And when she realizes who he really is…she doesn't want more. He is an arrogant playboy who dates model after model and plays football for a living and happens to live in her building. She doesn't want him to recognize her especially after she finds out her illness is not a bug trying to kill her from the inside but a baby. She doesn't know what to do, should he feel like she trapped him? Would he be angry? Would he abandon her and their baby? She is confused and more so when she actually starts to get to know him. Maybe the prince could love the princess and live happily ever after… but wait will happen when he finds out about the heir? 
I loved this couple! They are a hot mess and that makes them even more real. From start to finish I was addicted to them. I also loved her little family of misfits and their billionaire. And of course Jasper. That man also has my heart. ♥️
"So do you ever think about that night?" I don't have to ask which night. 
"No, never." Big. Fat. Lie.
"Yeah, me neither. It really sucked. Worst ever." 
"Life sure does want you to see him," he murmurs. 
I grimace. Fate is a tenacious bitch. 
And sometimes when she doesn't get what she wants, she tries again and again.
"You undo me, Princess . . ."
About Ilsa Madden-Mills
Wall Street Journal, New York Times and USA Today best-selling author Ilsa Madden-Mills is best known for her angsty new adult romances and romantic comedies.
Eight of her eleven novels have placed in the Amazon Top 10 Best-seller List: Dirty English #1; Fake Fiancée and I Dare You #2; I Bet You, Filthy English, and Very Bad Things #6; Boyfriend Bargain #8; The Last Guy, her collaboration with Tia Louise, #4.
A former high school English teacher, she adores all things Pride and Prejudice, and of course, Mr. Darcy is her ultimate hero.
She's addicted to frothy coffee beverages, cheesy magnets, and any book featuring unicorns and sword-wielding females. Feel free to stalk her online.
Connect with Ilsa
Amazon: http://amzn.to/2nY2pxT
Instagram: http://bit.ly/35xfNfo
Stay up to day with Ilsa by joining her mailing list: http://bit.ly/2ZWaTYh
Goodreads: http://bit.ly/2EESfM9
Bookbub: http://bit.ly/2GaR6cn
Book+Main: http://bit.ly/2s4j9ci
Website: https://www.ilsamaddenmills.com
Join her Unicorn Girls Group on FB, the best way to keep up: http://bit.ly/37B6Nay
Sign up for phone alert for book releases (max of 4) Text ROMANCE to 21000