January 30, 2019

Both Now Available in Audio!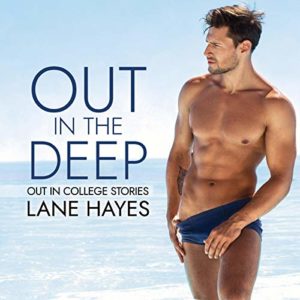 Title: Out in the Deep, Out in College #1
Author: Lane Hayes
Publisher: Lane Hayes
Narrated by: Michael Pauley
Release Date: January 17th, 2019
Heat Level: 4 – Lots of Sex
Pairing: Male/Male
Length: 4 hrs and 34 mins
Genre: Romance, New Adult, Bisexual, College romance, Water Polo, Coming out
Add to Goodreads
Listen to an Excerpt & Purchase at Audible
Synopsis
Derek Vaughn is a little too serious. He's a type A control personality with a penchant for order and a love of water polo. But he's determined to enjoy his last year of college. The real world with a serious job and big expectations can wait for a few months. He's going soak up every minute on campus with his friends and teammates before he moves on. The only possible kink in his plan is the new guy on the team… also known as his nemesis.
Gabe Chadwick has big Olympic dreams. His transfer between Southern California universities has nothing to do with scholastics. The degree is his backup plan. He's not there to party or make friends. And he certainly isn't going to announce his sexuality. But he can't deny there's something special about the uptight team captain. However, when an unwitting friendship and mutual attraction collide, both will have to decide if this is the real thing or if they're about to lose it all in the deep.
I read Out in the Deep and then listened to the audio and I just love the way Michael Pauley brings these characters to life. Derek and Gabe are water polo college rivals until Gabe transfers. Now they are teammates. And they have to get along and work together. Derek doesn't like Gabe. Always found him too confident and obnoxious. Having him around gives him anxiety and he needs to focus and graduate. Gabe has watched Derek compete over the years and always had a little thing for him. When Derek gets drunk one night, things heat up between them. Hate turns into something seriously hot and unexpected. Derek always knew he might be attracted to men too, but there is something about Gabe that makes him lose his mind. Can they have a real relationship while being teammates and trying to achieve their dreams? I loved watching these two fall in love! It was sexy as sin, sweet and fun. It was all new for Derek and he was so darn cute asking questions and willing to try anything. Gabe took good care of him, let him relax and just feel. The writing is great, the story well developed and the characters wonderful!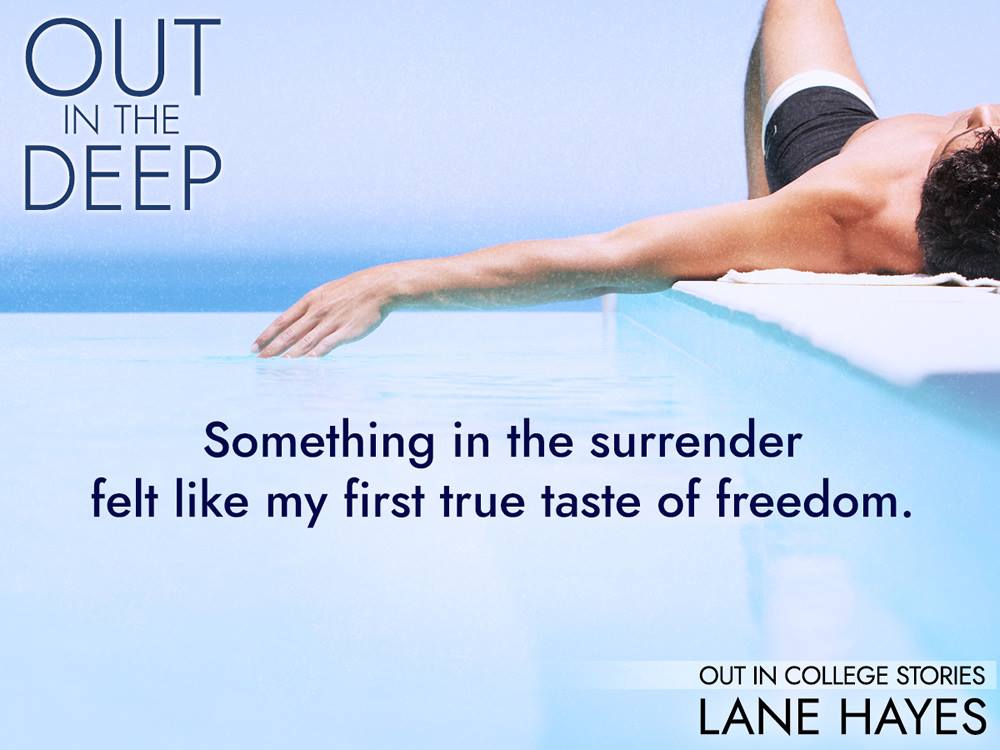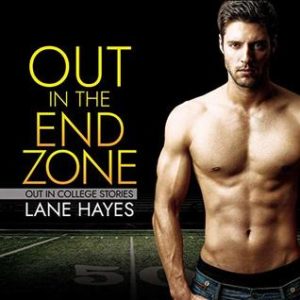 Title: Out in the End Zone, Out in College #2
Author: Lane Hayes
Publisher: Lane Hayes
Narrated by: Michael Pauley
Release Date: January 23rd, 2019
Heat Level: 4 – Lots of Sex
Pairing: Male/Male
Length: 4 hrs and 58 mins
Genre: Romance, New Adult, Bisexual, College romance, Football, Coming out
Add to Goodreads
Listen to an Excerpt & Purchase at Audible
Synopsis
Evan di Angelo is an upbeat, good-natured goofball who loves his friends and family… and football. A traumatic accident may have ended his hopes of playing professionally, but he's made the most of his four years on the field at a small Southern California college. He's learned the hard way to embrace change, take chances and try things outside of his comfort zone…like agreeing to play fake boyfriends for someone else's senior project.
Mitch Peterson knows that being his authentic self is the path to true happiness. He's grown from a shy, quiet kid from a broken home to an out and proud budding internet sensation bound for grad school. An awesome senior project is the key. It's unlikely anyone will believe the hunky, straight athlete is Mitch's new lover, but it's worth a shot. However, as their tentative friendship blossoms into unexpected attraction, the lines between reality and fiction blur for both men. Evan is forced to face old demons and decide if he has the courage to take the next step and come out in the end zone.
Out in the End Zone is the second book in the Out in College series by the fabulous Lane Hayes. I'm a newish fan of Lane's and I'm so happy I discovered her. I've been looking forward to this story since the end of Out in the Deep!
As always, Michael Pauley was fantastic! I love how he uses his voice to show emotion. He brings these characters to life!
Evan is Derek's roommate. He's handsome, a little silly, funny, tells it like it is and better at relationships than he thinks. And he's Italian and I always have a soft spot for my fellow Italians. Mitch is Derek's friend and they don't really know each other too well until one night at a party. There has always been something about Mitch that calls to Evan. Mitch is pretty and fun and out. Evan is bi and not quite forthcoming about his status. But he knows love is love and he's comfortable with who he is. This story takes place at the same time as Derek and Gabe's and I loved how the same thing was going on with Evan and Derek. Mitch needs help with his senior project and Evan is the perfect person. Who would believe the straight, sexy football player is gay? But as Evan and Mitch pretend for the cameras their attraction becomes real. Mitch doesn't want to force Evan to do something he's not comfortable with, Evan needs to do it on his own. They both have painful pasts when it comes to love and trust. Can they put the past behind them and try to move forward together? I loved  this story! Evan is just so perfect. He's adorkable, sexy, and actually romantic. I love how open he is with his feelings and how he shows Mitch that he wants him.  Mitch is hilarious! I love how free he is. He knows who he is and he doesn't care what people think. Evan and tall and dark and Mitch is smaller and light. They are opposites who fit perfectly together! Overall, I laughed, teared up, swooned, got hot and bothered and laughed some more. I loved the ending and I can't wait for more on this series!

Meet the Author

Lane Hayes is grateful to finally be doing what she loves best. Writing full-time! It's no secret Lane loves a good romance novel. An avid reader from an early age, she has always been drawn to well-told love story with beautifully written characters. These days she prefers the leading roles to both be men. Lane discovered the M/M genre a few years ago and was instantly hooked. Her debut novel was a 2013 Rainbow Award finalist and subsequent books have received Honorable Mentions, and won First Prize in the 2016 and 2017 Rainbow Awards. She loves red wine, chocolate and travel (in no particular order). Lane lives in Southern California with her amazing husband in a newly empty nest.
Meet the Narrator
Michael has well over 50 audio book titles currently available for purchase on Audible.com. He is versed in multiple styles and genres including fiction (novels and short stories) ranging from romance to science fiction to crime dramas to thrillers; business strategy books; health and wellness books; and even an occasional children's book.
Fans of Michael's narration are welcome to follow him on social media including Facebook, Twitter, Instagram, YouTube, and SoundCloud.
If you are interested in working with Michael to produce your next audio book, you can contact him directly at voice@michaelpauley.info
Giveaway