July 5, 2022 | Posted in Release Day Blitz, Review | By Two Book Pushers
Make it or break it… Or maybe just break them?
The Anti-Fan and the Idol, an all-new steamy and emotional enemies-to-lovers novella set in the My Summer In Seoul world from New York Times best selling author Rachel Van Dyken 1,001 Dark Nights, is available now!
Make it or break it…
Or maybe just break them?
Ai-Ri has been training under YK Management in Korea for two years without any results. She doesn't fit the typical mold for a successful K-POP idol image, literally down to her blood type. She has six more months before college entrance exams which means she only has six months to make it as an idol before her dreams are crushed.
Things take a turn when two of the most famous male idols break away from their group and decide to form their own co-ed group, a rarity.
And wonder of all wonders, they need one more girl.
It would be the perfect opportunity, except she hates them.
They are arrogant, entitled, rich little snobs who want the world to worship the ground they walk on. To make matters worse, the only reason they came to her was because they are desperate, which means she needs to prove herself even more.
Tempers and personalities collide when she's forced to either accept the position or give up on her dream.
But what happens when you suddenly go from anti-fan and enemy number one to stuck in a love triangle between two boys you were born to hate but are somehow falling in love with? And will the group survive the heartbreak that follows when she finally makes her choice?
**Every 1001 Dark Nights novella is a standalone story. For new readers, it's an introduction to an author's world. And for fans, it's a bonus book in the author's series. We hope you'll enjoy each one as much as we do.**
Grab your copy today, exclusively on Amazon! Amazon: https://amzn.to/3spKkKH Amazon Worldwide: http://mybook.to/antifanidol Amazon Paperback: https://amzn.to/3NIWqqj Audible: https://adbl.co/3a7PRz4
Add to Goodreads: https://bit.ly/3LzFZvE
The Anti-Fan and the Idol: A My Summer In Seoul Novella from Rachel Van Dyken is a fun, emotional and quick story in the K-POP world. After reading My Summer in Seoul I knew I wanted this book! Ah-Ri is running out of time to get her big break. Too bad it comes from Ryan and Haneul, jerks from her past. They have a short time to make it big. The first co-ed band. Failure is not an option so they have to put aside their differences and work together. Dance together. Sing together. Touch on accident, touch on purpose. Turns out they don't hate each other after all, but  it's risky and they can't afford to get caught. While they are practicing and getting ready, they all learn things about themselves. They laugh, they heal, they grow. And when it's their time, they shine. Together. Wow! This short story packs a full novel punch. I was sucked in from the first page and didn't want it to end. I hope we get to see these characters again!
The Anti-Fan and The Idol is a novella spin-off to Rachel's My Summer in Seoul standalone. I am not a big fan of K-POP but these books are amazing and a glimpse into the world phenomenon. These are all-new characters!! This is their last chance. Haneul and Ryan are best friends and bandmates and they need this to work. A co-ed K-pop group. They only needed one more girl to accept the challenge and their last chance was a girl who wasn't a fan. It doesn't help that they have bullied Ah-Ri. She never backs down and that is why they want her. She is different. She is no quitter and they only have a limited time till the Showcase. It's all or nothing at this point and when she accepts… it's on. What they didn't expect was to like her. To really like her and that was dangerous in their industry. I can't really get into the story anymore than that but I can say that I laughed, swooned, and cried. The book is short but it's an emotional one. It definitely packs a punch and I hope RVD writes more in this world. Quotes: "Anyone ever tell you how sexy you look when you curse?" he asks. My breath hitches. The lights suddenly go off in the dance studio. "Power outage?" I say. "Good timing," he replies. "You were a bad idea from the start." "And you were bad from the very beginning." I lift my chin. "What could you possibly want?" she asks. "A small spoon," I answer. "Like I said, NO ramyeon!"
About Rachel Van Dyken
Rachel Van Dyken is the New York Times, Wall Street Journal, and USA Today Bestselling author of regency and contemporary romances. When she's not writing you can find her drinking coffee at Starbucks and plotting her next book while watching The Bachelor.
She keeps her home in Idaho with her husband, adorable son, and two snoring boxers! She loves to hear from readers!
Connect with Rachel Facebook: https://www.facebook.com/RachelVanDyken Website: http://rachelvandykenauthor.com Newsletter: http://bit.ly/RVDNewsletter Instagram: https://www.instagram.com/rachvd Twitter: https://twitter.com/RachVD Amazon: http://amzn.to/2cNVwL9 Goodreads: http://bit.ly/RVDGR Rachel's Rockin' Readers: http://bit.ly/RachelsRockinReaders
For More information about 1,001 Dark Nights, visit Facebook: https://bit.ly/3ONzTtZ Instagram: https://bit.ly/3rTZdo3 Website: https://bit.ly/2AIIr3A Stay up to date on all 1001 Dark Nights releases, join their mailing list today! https://bit.ly/2zgxaHu
July 5, 2022 | Posted in Release Day Blitz, Review | By Two Book Pushers
Gage: A Pittsburgh Titans Novel

Sawyer Bennett
Release Date: July 5, 2022
Synopsis:
Veteran player Gage Heyward retired from the league following a successful career. Now the Titans need him, but does he have what it takes to get back on the ice and pull this team together?
After achieving the goals I set for myself, I walked away from my professional hockey career. It was a tough decision, but the right one at the time. When the Titans organization approached me about joining the team they were rebuilding following a devastating plane crash, I felt a passion for the game and a competitive spirit I hadn't felt in years. The opportunity to make a huge difference to a lot of people spoke to me, and I accepted their offer and headed to Pittsburgh without a second thought.
Jenna Holland is also new to town, having moved from Phoenix to Pittsburgh to take a job with the Titans. Her past has left her with scars—both physical and emotional—and she's slow to trust others. But the more I learn about Jenna, the more I want to know. The more I need to know. Because the beautiful blonde with honey gold eyes and a wall around her heart has me enamored.
My game on the ice is the best it's ever been, but it's my game off the ice I'm focused on these days. Because while Jenna may not be willing to take a chance, I know the potential is there for something big. Something life changing. Now I just need to convince her to take the shot.
Download Gage: A Pittsburgh Titans Novel
Amazon | Nook | Apple | Kobo | Google | Print
Buy the digital and signed paperback direct from Sawyer Bennett: https://bit.ly/STORE_Gage
** Digital files must be read within the BookFunnel app **
Gage is the third book in the Pittsburgh Titans series by the fabulous Sawyer Bennett. Gage is the definition of swoon. He's mature, caring, funny, sexy and honest. It's refreshing to read a hero who isn't playing games, cares about what people think of him and admits that he wants a woman. Jenna is new to town and friends with Baden and Sophie. As soon as Gage sees her he can't look away. Yes, he sees the scars, but he sees the beautiful woman with the mesmerizing eyes. There's something about her and he just knows she's meant to be in his life. He says friends, but he means more. He just has to get her to see it. Jenna has been living in the shadows for a long time. She's self conscious of her scars and doesn't trust people to see beyond them. Until Gage. She's not sure what he sees when he looks at her, but after getting to know him more, she trusts his honesty. She's also wildly attracted to him and he makes her want to find herself again. I loved this story! The journey Jenna goes on to let go of her past and move forward was inspiring and brave. How she learns to trust Gage and believe what he says to her. And Gage, sweet mama! That man. The things he says and does. How he talks about his family and friends. He's loyal and smart and sexy and …everything! He's older and wiser and knows what he wants and goes after it. I couldn't love this story more!
Gage is the third book in the Pittsburgh Titans series by Sawyer Bennett. Each book can be read as standalone but I recommend reading the series since each couple is unique and tied into the series.
Gage is back! He is out of retirement to help build the Titans back up after losing most of the team in a tragic plane crash. He is one of the oldest players but in the best shape of his life. He only plans of being in Pittsburgh for the season to lift the team's spirit and hopefully get to the playoffs. What he didn't expect was her… Jenna Holland. A new woman in a town and in the office. A beauty like no other. He just needs to show her that he means business. He wants her, scars and all.
Jenna was nervous and excited about moving to a new city and starting a new job. She is ready to be out of her comfort zone, one inch at a time. She only has two people in town, Baden and Sophie but on moving day she meets him… Gage Heyward. A hockey player who makes her skin tingle. But she doesn't believe the flirting he is giving off. Doesn't believe a man like him would want a woman like her but when he shoots his shot, she is confused and excited at the same time. Will he make his shot?
Awe!! I love these two. Gage is so swoony with his respect and patience. Love and admiration. Jenna is stronger than she believes and one hell of a badass. I knew this was going to be an emotional ride knowing some of Jenna's story and Gage is perfect for her. He totally filled her bucket and she filled his.
Quotes:
"Sometimes… you can lurk in the dark for so long, it's hard to leave the security it becomes."
The man is dangerous, for with a few words, he makes me want him fiercely in all ways.
Just know that when you're comfortable enough to share the pieces of you that you hate, I want you to know that I won't hate them.
About the Author:
New York Times, USA Today, and Wall Street Journal Bestselling author Sawyer Bennett uses real life experience to create relatable stories that appeal to a wide array of readers. From contemporary romance, fantasy romance, and both women's and general fiction, Sawyer writes something for just about everyone.
A former trial lawyer from North Carolina, when she is not bringing fiction to life, Sawyer is a chauffeur, stylist, chef, maid, and personal assistant to her very adorable daughter, as well as full-time servant to her wonderfully naughty dogs.
If you'd like to receive a notification when Sawyer releases a new book, sign up for her newsletter (sawyerbennett.com/signup).
Connect with Sawyer:
Facebook | Reader Group | TikTok | Instagram
Goodreads | BookBub | Join Sawyer's Newsletter
July 1, 2022 | Posted in New Release, Review | By Two Book Pushers

The Callahan Family Box Set by Carrie Aarons is live!
A family engulfed in scandal, one small town, and the baseball dynasty that ties them all together. Grab these five small town, sports romances and a brand new Opening Day extended epilogue in this box set from bestselling author Carrie Aarons.
The Callahan Family Box Set includes five standalones:
Warning Track
Stealing Home
Check Swing
Control Artist
Tagging Up
PLUS: A brand new, never-before-released Opening Day extended epilogue featuring a chapter from one half of each couple! 15k of new content from your favorite family dynasty!
More about the books inside:
WARNING TRACK
Colleen Callahan is exactly where she's always dreamt of being.
Hayes Swindell would prefer hell over the place he ended up.
Fate has other plans, though. If their forbidden chemistry is found out, it could mean the end of both of their careers. Except hurtling so close to the danger zone has never felt more right.
Should they head for disaster together, risking it all, or course-correct and save themselves the ultimate price of heartbreak and scandal?
STEALING HOME
Walker Callahan has loved from afar for as long as he can remember.
Hannah Giraldi never wants to fall in love again.
Can Walker risk his own future and show her how to trust again? Or will the feelings he's kept hidden for years throw him out of the game before he can even attempt to play?
Is there a way to heal all of the broken parts, or will Hannah go down swinging while attempting one more shot at a happily ever after?
CHECK SWING
Sinclair Callahan is a trust fund baby.
Francesca Kade is an independent goal-getter.
Can he shoulder the responsibility he's always shrugged off? Or will he balk at the real-life complications and strike out completely?
Will she ever be able to trust that he'll put both her and his responsibilities before his vices? Or will their differences cost them the game?
CONTROL ARTIST
Dahlia Akana has no idea where she's going in life.
Garrett Chester has always known exactly what he wants.
When secrets, lies, and a humiliating public scandal rock their world, will she be able to stay with him? Fight for him? Or will her age-old tactic of fleeing erase any shot at a happily ever after?
Can he put the rumors to rest, piece together a career in shambles, and be the hero she needs?
TAGGING UP
All Anna Callahan wants is her independence.
Clark Nyle swore a long time ago he'd never be committed to anyone.
But, when their secret is finally discovered, it sends the already skittish bad boy running for the hills. And although she claimed to want freedom with no strings, Anna can't help but feel the sharp pull to be with him forever.
When they're found out, he's forced to choose between his demons and the disapproval of his closest friends … or her.
Download today or read for FREE with Kindle Unlimited!
http://mybook.to/Callahan_family
Goodreads: https://bit.ly/3wnYfBT
Meet Carrie Aarons
Author of romance novels such as Fool Me Twice and Love at First Fight, Carrie Aarons writes books that are just as swoon-worthy as they are sarcastic. A former journalist, she prefers the love stories of her imagination, and the athleisure dress code, much better.
When she isn't writing, Carrie is busy binging reality TV, having a love/hate relationship with cardio, and trying not to burn dinner. She lives in the suburbs of New Jersey with her husband, two children and ninety-pound rescue pup.
 
Connect with Carrie
Website | www.authorcarrieaarons.com
Goodreads | https://goodreads.com/carrieaarons
Amazon | https://amzn.to/3do0EDf
Facebook | https://facebook.com/carrieaarons
Facebook Group | https://bit.ly/2DDt1xX
Instagram | https://instagram.com/authorcarriea
Twitter | https://twitter.com/authorcarriea
Bookbub | https://bookbub.com/profile/carrie-aarons
TikTok | https://bit.ly/3fzcrkI
Newsletter | https://bit.ly/authorCAnewsletter
June 28, 2022 | Posted in New Release, Review | By Two Book Pushers
Last night I made out with a gorgeous, funny, quirky older woman. Today I learned she's the new executive chef at my restaurant. AKA my new boss.
Yep, that's the hot mess I'm in at the moment.
But the chemistry between Natalie and me is even hotter.
The problem? She's a single mom focused on helping her little girl adjust to life in the big city. Dating right now—especially a co-worker—is asking for trouble.
So, what's my next move? Seduce the hell out of the woman, of course.
I may still technically be hanging onto my V Card, but I know how to drive a woman wild in bed.
Even more importantly, I know I'm the kind of man Nat's looking for. I love hard, keep my promises, and I'll put her and her daughter first.
And then I learn the real reason she's been holding me at a distance…
Most men would be scared away. Me?
I'm even more determined to prove I can make this wounded woman's dreams come true.
AUTHOR BIO
Author of over forty novels, USA Today Bestseller Lili Valente writes everything from steamy suspense to laugh-out-loud romantic comedies. A die-hard romantic, she can't resist a story where love wins big. Because love should always win. She lives in the Northeast with her two big-hearted boy children and a dog named Pippa Jane.
Lili also writes naughty serials as Everly Stone. Learn more at www.lilivalente.com.
AUTHOR LINKS
June 28, 2022 | Posted in Blog Tour, Review | By Two Book Pushers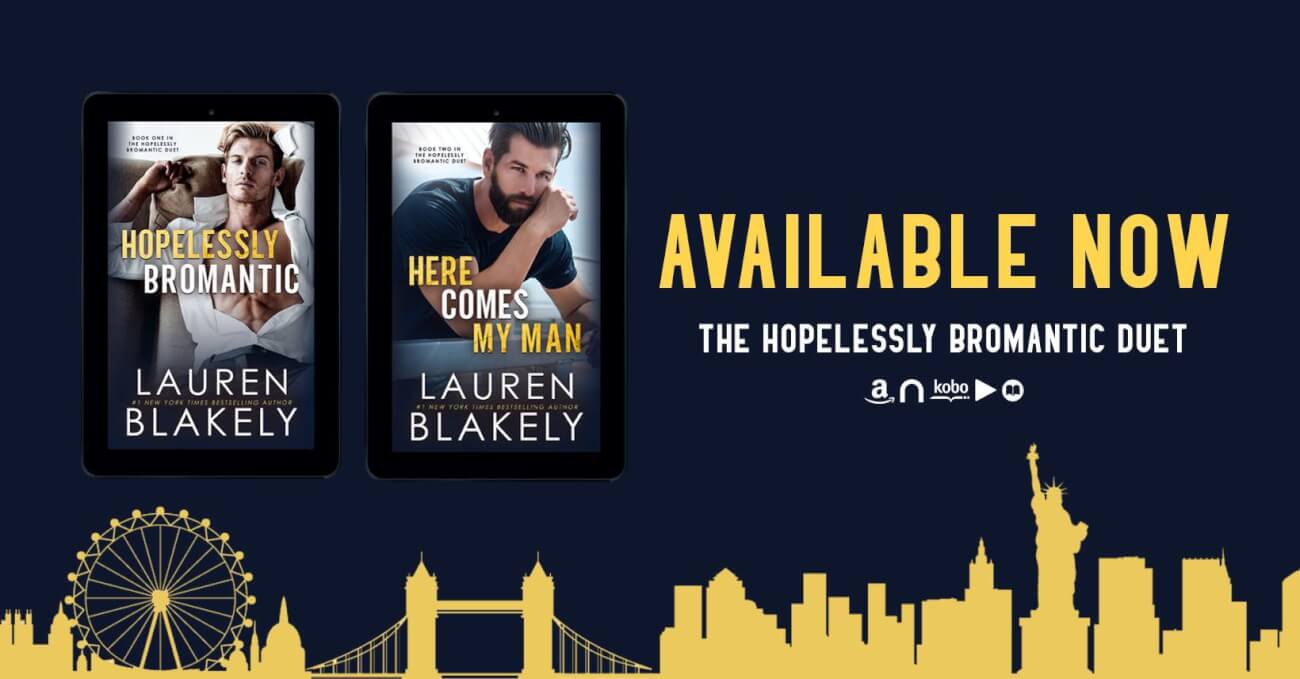 HERE COMES MY MAN
(The Hopelessly Bromantic Duet book 2) by Lauren Blakely
Release date: June 28th
From #1 NYT Bestseller Lauren Blakely comes a red-hot, enemies-to-lovers, fake boyfriend, second chance romance! HERE COMES MY MAN, the conclusion to the Hopelessly Bromantic Duet, is NOW LIVE!
AVAILABLE NOW!!
✦Amazon ➜ http://blkly.pub/AmazonMyMan
✦ Apple ➜ http://blkly.pub/AppleMyMan
✦ Google ➜ http://blkly.pub/GoogleMyMan
✦ Nook ➜ http://blkly.pub/NookMyMan
✦ Kobo ➜ http://blkly.pub/KoboMyMan
✦Audible ➜ http://blkly.pub/AudibleMyMan
Teddy Hamilton and Shane East narrate in duet with a full cast!
START THE DUET TODAY WITH HOPELESSLY BROMANTIC!!
https://laurenblakely.com/hopelesslybromantic/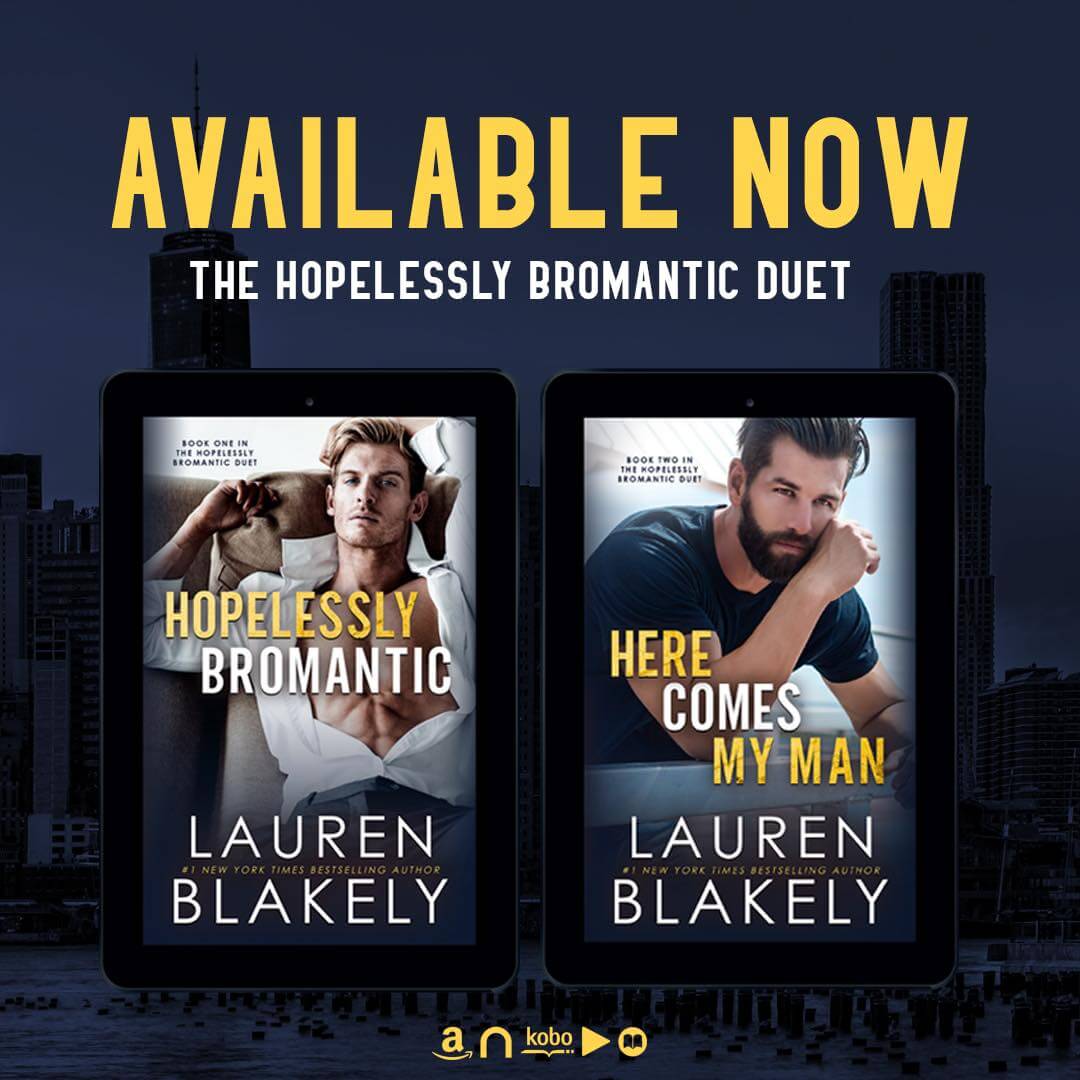 Add to Goodreads:
https://www.goodreads.com/book/show/59580810-here-comes-my-man
Blurb:
A red-hot, enemies-to-lovers, fake boyfriend, second chance romance, and the conclusion to the Hopelessly Bromantic Duet!
Let me just say this — fake dating the cocky movie star was not my idea. Especially since he's my former roomie and, gulp, my secret ex.
But my agent tells me I have no choice since I'm ridiculously overdue with turning in the next big blockbuster love story to my publisher.
Not to mention, ahem, writing it.
Falling for the smooth-talking English hottie once upon a time — fine, twice — were huge mistakes that I shouldn't repeat, but pretending to like the guy who broke my heart is my only chance at saving my job.
That is, as long as no one finds out that every date we go on, every smile we flash each other for the cameras, and every hot, desperate kiss on the streets of Manhattan is absolutely fake.
Except…it's not. At least for me.
And he can never know…
Contents Include: Snarky banter, sexy dates, hate s-e-x, seduction by a wordsmith, and two strong, stubborn, clever men determined to resist each other at all costs.
About Lauren Blakely:
A #1 New York Times Bestselling, #1 Wall Street Journal Bestselling, and #1 Audible
Bestselling author, Lauren Blakely is known for her contemporary romance style that's
sexy, sweet, and witty. She also writes USA Today bestselling LGBTQ romance.
With fourteen New York Times bestsellers, her titles have appeared on the New York
Times, USA Today, and Wall Street Journal Bestseller Lists more than 100 times, with
more than 60 titles on the USA Today Bestsellers list alone. She's sold more than 4.5 million books. A Brown University graduate, Lauren likes dogs, cake and show tunes and is the vegetarian at your dinner party.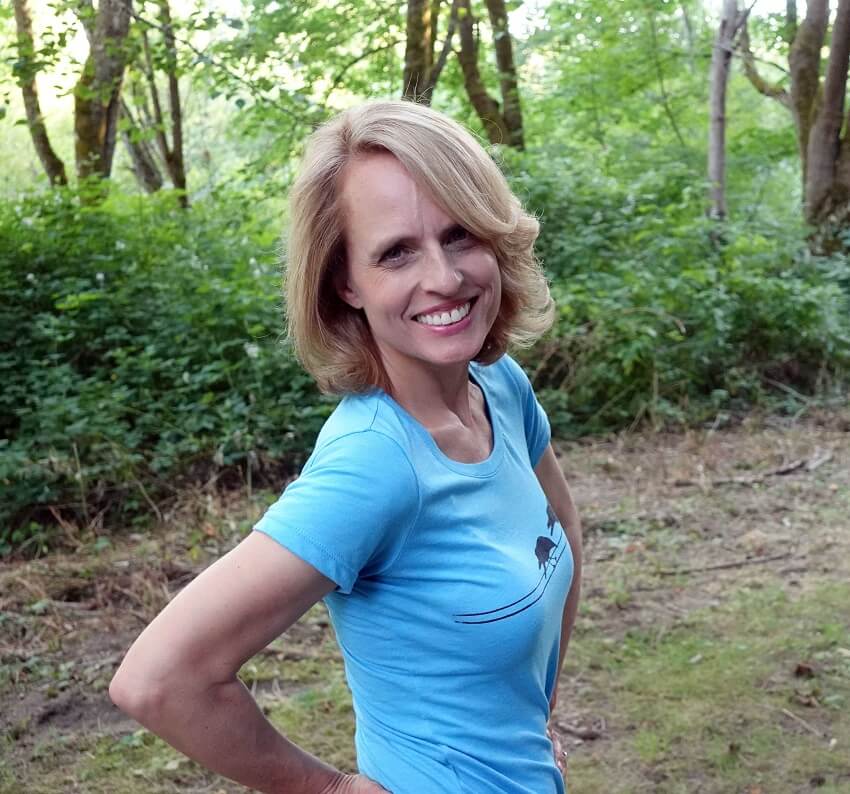 Connect w/Lauren:
Website: laurenblakely.com
NL Signup: http://laurenblakely.com/newsletter
Facebook: http://www.facebook.com/LaurenBlakelyBooks
Instagram: http://instagram.com/laurenblakelybooks
Twitter: http://twitter.com/LaurenBlakely3
June 23, 2022 | Posted in New Release, Review | By Two Book Pushers
HOOPS Shorts, a collection of novellas featuring two passionate and heartfelt sports romances in the award-winning HOOPS series from Wall Street Journal bestselling author Kennedy Ryan are now available exclusively on Amazon and #FREE in Kindle Unlimited!
Grab your copy today, exclusively on Amazon!
Amazon: https://amzn.to/3PYUk7E
Amazon Worldwide: https://mybook.to/hoopsshorts
Audiobook (Narrated by Mari, Jacob Morgan, Andi Arndt, Connor Crais): https://adbl.co/3Qbx7PH
Listen to an audio sample here:  https://youtu.be/18OQMMwLBDY
Paperback: https://geni.us/HOOPSShortsPB
Full-Court Press (formerly appeared in HOOPS Holiday)
Avery + Deck's Story
Single dad MacKenzie Decker was a question Avery never got to ask, much less answer.
They met when she was a young reporter fueled by ambition, and the ink on Deck's first NBA contract was barely dry. Years later, they've climbed so high and lost so much, but one thing hasn't changed. The attraction that simmered between them in a locker room before is still there. With success like theirs, everything has been possible . . . except them.
But that was then.
The only question is…what about now?
Fast Break  (formerly appeared in Team Player Anthology 2)
Quinn + Ean's Story
Quinn
I was a world-class runner once.
My dreams had wings spun from wind and speed.
Every time out of the blocks was a glorious flight.
But then I crashed and burned.
When I lost my leg, I thought it was the finish line
Little did I know, life was just beginning
Now they call me "America's Titanium Sweetheart."
(What can I say? It tested well. LOL)
The life I thought was over is moving so fast.
I have my own gym, a fitness app, a clothing line, and an endless trail of endorsements.
One thing there's never time for? Love.
One thing I don't have time for? Games.
Come real, or don't come at all. In a field full of players, I'm looking for a real one.
Otherwise, I won't stop.
Ean
I had hoops dreams. I wanted to be like Mike, jump like Magic and soar like Dr. J.
But a college injury grounded me. What I thought was game over, actually opened up a whole new world.
Fast forward to now. I'm coaching some of the NBA's best.
They call me The Machine because I'm obsessed with stats and data, and my near-photographic memory means I remember every play.
I see the court clearly. But I never saw her coming. Quinn Barrow stops me in my tracks.
Pursuing my first championship, there's been no time for love.
I'm more than willing to chase her, but will she slow down long enough to be caught?
Full-Court Press is a sports novella by Kennedy Ryan. Kennedy is one of my favorite authors! She's extremely talented and everything she writes sings to my soul. This is a novella, but it feels like a full length novel. It's full of heart, lust, angst, humor and love. Decker is a professional basketball player and Avery is a sports reporter. Decker wants her the first time he meets her, but she needed to protect her career first. When they see each other years later Decker isn't going to take no for an answer. Avery can run but she can't hide! Avery and Decker story is sexy, fun and I loved it! Decker is one of my favorite heroes of Kennedy's! AND…we get extras from Long Shot and Block Shot!
Fast Break is a sexy, fun novella in the Hoops world by the fabulous Kennedy Ryan. Fast Break is Quinn and Ean's story. Quinn is Banner's best friend and Ean is the coach of The Waves. Ean is a smart, dedicated coach. He loves his job, numbers and statistics. He's looking for someone to share his life with and he can't stop thinking about Quinn, a woman who's an inspiration to all women, people and athletes. When he gets a chance to actually meet her, he can't stop himself. He's nervous and awkward, but he's not giving up until she says yes. He wants more than one night with her. He wants it all. Quinn has been though so much in her life. Losing her leg, overcoming depression, learning to walk and live again. She can't trust men. She never knows what they want from her. When Ean keeps showing up and putting himself out there, she can't help but want more. She's afraid, but she's strong. She's a fighter. And Ean is so sexy! He's tall, broad, strong and those glasses. Yes, please! This story is fantastic. Yes, it's a sexy romance, but it's so much more. Quinn's story is emotional and inspiring. I really want to get her app! Ean pursues her, but it's not pushy. He just knows he has to have her. Their story might be short, but it packs the punch of a full length sexy romance novel. And we get to see my man, DECKER, so that was a major bonus!
June 21, 2022 | Posted in New Release, Review | By Two Book Pushers
Title: LAST ON THE LIST
Author: Amy Daws
Genre: Romantic Comedy
Release Date: June 16, 2022
Cover Designer: Amy Daws
Cover Photographer: Wander Aguiar
Cover Model: Tanner Hueter
Only a bad nanny knows what it's like to kiss the boss.
CEO millionaire, Max Fletcher is a single dad in desperate need of a nanny.
Cozy Barlow is in the middle of her self-appointed "gap year" and doing everything she can to detach from her past.
But when her sister begs her to interview for the nanny position of a high maintenance client, she doesn't have a good enough reason to say no.
And when Max locks eyes on the twenty-something in a tie-dye sweatsuit who pitches the idea of daydreaming all summer—he prepares to give this bad nanny the boot.
One problem: Max's little girl thinks this plus-sized in body and spirit nanny might be her new bestie, so she hires her on the spot.
Now Max is stuck with this bizarre woman who hates everything he represents—corporate greed, money, status, power.
But one stormy night when the power goes out, he discovers Cozy doesn't hate him. In fact, he's the leading role in her fantasies. 
Fantasies, he would very much like to make a reality.

Read or Listen Now: https://geni.us/LastOnTheList
Add to your TBR: https://bit.ly/LOTL_Goodreads
Last on the List by Amy Daws was the perfect nanny, single-dad, age gap romance! I've loved Max for a long, long time and I've been waiting patiently for his story. He's sexy and grumpy and he finally found his match in Cozy. She's taking time to just be after working herself sick. She wants to do less and being a nanny is the perfect job for her. Everly instantly loves Cozy so Max hires her. He does not love her willy-nilly attitude, but since his daughter loves her he's just going to have to deal. The more he sees and learns about Cassandra (he prefers to call her that) the more he's attracted to her. She just ticks all his boxes with her feistiness, her generous curves and her smarts. I loved learning more about Max and what he thinks about love and his business. He's also a boss mofo and kinky and he had me laughing out loud! Cozy is freaking hilarious and I loved how she embraced her plus-sized self. She is comfortable in her own skin and that is very refreshing. Everly stole my heart with her insight and matter-of-fact attitude. Together, the three of them were so much fun! Add in seeing the characters we love from the series and just being with this group of friends again made me so happy. I'm also very, very intrigued by Max's brothers and I hope we are getting a spin-off series with them. Oh, please! Overall, I loved every minute of it and didn't want it to end. I had the pleasure of listening to the audio and Teddy and Erin just killed this one! I love the way they laugh and cry and throw themselves into these characters. They brought Max and Cozy to life!
STALKER LINKS:
Website/Newsletter: http://www.amydawsauthor.com
Facebook: www.facebook.com/amydawsauthor
Facebook Fan Group: https://www.facebook.com/groups/AmyDawsLondonLovers/
Instagram: http://www.instagram.com/amydawsauthor
Tik Tok: https://www.tiktok.com/@amydawsauthor
Twitter: https://twitter.com/amydawsauthor
Bookbub: https://www.bookbub.com/authors/amy-daws
Pinterest: http://www.pinterest.com/amydawsauthor/
Amazon Author Page: http://www.amazon.com/author/amydaws
Goodreads: https://www.goodreads.com/amydawsauthor
June 21, 2022 | Posted in Blog Tour, Review | By Two Book Pushers
Interview with Catherine Bybee
For anyone wondering the plot of your newest release, you give a great sneak peek with the title—When it Falls Apart. What is "falling apart" in this novel?
All the threads that hold my heroine, Brooke, together are crumbling down around her. When it Falls Apart begins with Brooke's romantic relationship crashing and burning. At the same time, in a different state, her father is circling the drain in the ICU. And for the cherry on the top of her "falling apart life", Brooke has found herself demoted at work. In short, everything in Brooke's life is dissolving around her.
Like all of your books, When it Falls Apart has a beautiful romance, however, there is a rawness about Brooke's story. How was writing this novel different from your others?
If you read my notes both in the front and the back of this novel, you'll soon realize that the story was very personal to me. Rawness comes from experience. The relationship Brooke has with her father is hauntingly familiar to me and my dad. The emotions that the heroine experienced when taking care of him were easy for me to grasp onto and write about. Sadly, the love story with Luca was completely made up and I didn't have the support of a strong Italian family to help deal with the struggles, but I digress. 
Relationships with a parent who wasn't there for you growing up are messy. When that parent ages and needs their child, sometimes that help comes with a bucketload of resentment, even if the child wishes they could stop those ugly feelings from creeping up on them. And THAT is the rawness you speak of.
Books, TV shows, and movies oftentimes glamorize what it means to care for a loved one. However, in When it Falls Apart you don't sugar-coat anything about caregiving and the toll it takes on a person. How do you think readers who have been in similar situations will be affected by this story?
Justified. Validated. Accepted.
It's a hard job taking care of an elderly family member. And if there aren't other siblings to help, or won't help, it's made even more difficult. It's difficult, gritty, dirty work that only has a bad ending…eventually. What I do hope my readers take away is that they're not alone. That the struggle is very real and that if they don't find balance (which is almost impossible at times) they will burn out completely and not be fit to help at all. I hope my readers are empowered to set boundaries and balance, so they come out on the other side of caring for an elderly loved one whole themselves.
Brooke gets virtually no support from her significant other, which has her reevaluating their relationship. She realizes she has settled and has to make some hard decisions. Do you think this happens too many times to women in real life?
100% Yes! There is a song by Taylor Swift with a line that says, and I'm paraphrasing here, I can be what you want for the weekend. But often that weekend ends up being a relationship that women hold on to or are convinced they can't live without. Often it takes a huge shake-up to remove yourself from that situation. But once you're away from the day to day dysfunctional relationship, the easier it is to see the dysfunction.
After her breakup and move, Brooke is not looking for a relationship. In fact, she tells her best friend: "I haven't wiped off my smeared mascara from Marshall yet, the last thing I want is to jump into anything else." Her crying over a man lasts all about two minutes when she meets Luca. Tell us about him.
Hmmm, Luca… he is the kind of man who doesn't want a place on Brooke's dance card…he wants to rip it up.
Luca is wired to help the people in his life. Brooke becomes a part of his inner circle simply by moving into the family building where he sees her every day.
Now, if Luca had flat out asked Brooke on a date, she would have run the other way…so no, he doesn't go about it that way. He simply shows up and does not leave. Not when things get tough, or messy…or when his own past peeks its head in. Luca is a man who is right there at Brooke's side without question or censor on why she does the things she does. His support and validation of her feelings is the part she was missing. Add in the hunky Italian single father and "Mamma Mia!"
At first, Luca is not thrilled that Brooke is renting a room in his family's building. What changes his mind about her?
Her strength and vulnerability. I know that sounds contradicting, but some of the strongest women I know have a big vulnerable spot in their life that if you know them well enough, you see. The biggest smiles often hide the deepest pain. Luca sees her struggle and dedication to helping her elderly father and since family is first on Luca's list, she passes his unconscious test.
Luca's family, the D'Angelo's, are incredibly close and share everything from ownership of the family restaurant to helping care for Luca's daughter Franny. How is this different from Brooke's relationship with her family?
Brooke doesn't have that family. She has a father who abandoned her as a little girl that she carved out a relationship as an adult, and now she's charged with caring for. Even her previous romantic relationship didn't support her unconditionally the way the D'Angelo's do for each other. She's rather dumbfounded when they start treating her like family. It's a wonderful thing to watch happen.
San Diego's Little Italy plays a huge part in the story. The community, language, and food are in full display. Tell us about your own experiences in your adopted city.
I love Little Italy, the food, the pace… the people. There are many places in San Diego that are overrun with the college scene, San Diego is a college town. But Little Italy is more family friendly. Very touristy, but there isn't a day you don't see locals hanging out. I go to the farmer's market often. Pick up authentic Italian ingredients for my own home cooking. I try new restaurants and take all my friends there when they are visiting from out of town. Not to mention it was the closest thing to the "real Italy" that I could go during the travel restrictions. So why not write about it and tell the world of this small island within San Diego that shouldn't be missed?
There are two more siblings in the D'Angelo family. Where will you be taking readers next with the series?
Chloe is a yogi. Think Bali!
And Giovanni loves wine… think Tuscany, Italy.
I cannot wait to show you what I have in store for these two!
***
Excerpt
"Oh my God, Carmen. He was standing at his car first thing this morning. Like 'hop in, bella, let's get stuff done today.' Who does that?" 
Brooke had picked up the phone as soon as Luca was off in search of a dump guy. 
"We're talking about the single, hot, Italian dad, right?" 
Brooke rolled her eyes. "Yes. Luca." 
"Oy, oy, oy." 
"Stop it. I need advice. And I need it before he gets back." 
Carmen stopped teasing. "You don't need advice. You need to relax. He sounds like one of the good ones. Let it happen." 
"Let it happen," she mocked. "I don't 'let' things happen. It happens to me and it's never good." 
"You didn't used to be such a pessimist." 
"Once upon a time the glass was half full. Not these days." 
"Okay, Debbie Downer. You want my advice . . . here it is. Keep doing whatever it is you're doing." 
"I'm not doing anything. Zero effort." 
"Really?" Carmen didn't sound convinced. "Makeup . . . a nice dress?" 
Brooke hesitated. "Maybe . . . a little last night, but that was it." 
Carmen chuckled. 
"Carmen!"
"Sorry. Okay . . . any red flags?" 
Brooke thought about that. "He loved his ex-wife." 
"That's a red flag?" 
"I guess not." 
"Is he good to his mom?" 
Brooke looked back on the dinner the night before. "To the whole family. He takes being the oldest brother quite seriously." 
"And his daughter?" 
All Brooke could do was smile. "Great dad. We should all be so lucky." 
"He's Italian, does he smoke?" 
"No." 
"A lot of Italians smoke," Carmen pointed out. 
"In Italy. The San Diego variety are less in that wheelhouse." 
"That's good." Carmen sighed. "I don't know what to tell you, Brooke. How does he kiss?" 
"He hasn't kissed me," Brooke nearly yelled. 
"Now then . . . we have a problem." 
"There hasn't been . . . I don't even know if—" 
"Stop right there. He did not drive your sorry ass all the way to Upland to do grunt work all day if he wasn't interested in kissing you, bellllaaa. More than that, you want him to." 
Brooke closed her eyes, and even in her own head she couldn't convince herself that Carmen was wrong. 
"Let it happen. You deserve some happiness, Brooke." 
The van with the air conditioning repair guy pulled into the driveway. 
"I gotta go." 
"I want a kissing update the next time we talk," Carmen teased. 
"Love you," Brooke said with a laugh.
"Back at ya, boo." 
She hung up. 
Her best friend was such a dork.
***
Title: When It Falls Apart
Author: Catherine Bybee
Release Date: June 21, 2022
Publisher: Montlake 
Summary
Brooke Turner has always had a complicated relationship with her father. But when his health takes a turn for the worse, she drops everything to care for him. He's her dad, after all, and he needs her. What Brooke doesn't anticipate is the unraveling of her long-term relationship and a cross-country move to San Diego's Little Italy.
Luca D'Angelo is the oldest of three children and a single father to a young daughter. When his mother rents the top floor of their house to Brooke, he's angry. Who is this beautiful stranger with no ties to the neighborhood? Can she be trusted in such close proximity to his family?
As Luca learns of Brooke's difficult journey with her ailing father, his heart softens. And Brooke, who witnesses Luca's struggle as a single parent, develops feelings for him, too. But when it all falls apart, will love heal their wounded hearts?
Links:
When it Falls Apart is a new book in a new series by Catherine Bybee. I love it when my favorite authors write new series'. It gives me new characters to fall in love with, and I feel hard and fast for Luca, Brooke and Franny! I also love a good Italian family in my romance stories and the D'Angelos are top-notch! Brooke gives up her life to help her ailing father. She moves to a different state, needs to find a place to live and a place for her father so he can get the care he needs. They have a strained relationship, so it's tough for her to keep trying, but she does. When she randomly ends up in an Italian restaurant in San Diego, it just feels like the place she was meant to be. She meets the family who runs it and just feels like she's home. When she's offered the top floor apartment, the chef, Luca, isn't thrilled there's a stranger in his house. But the more he sees her and watches her struggle, the more he wants to care and protect her. Brooke has never had anyone truly want to help her. It's hard to accept Luca's help, but once she does and she gets to know him, she realizes she's happy. Her life might actually be falling into place. She might actually be falling in love. I loved watching Brooke and Luca fall for each other. They each fought it, but it was just meant to be. Luca's daughter Franny is freaking hilarious and I loved the relationship she had with her dad, Brooke and her family. The D'Angelos are family goals and they remind me a lot of my family! This story made me miss Italy and made me want a huge bowl of pasta! Overall, I loved the journey Brooke and Luca went on to find each other. The past leads you to where you are meant to be. It's a feel good, fun and sexy story and I'm looking forward to more in the series!
About the Author
New York Times, Wall Street Journal, and USA Today bestselling author Catherine Bybee has written twenty-eight books that have collectively sold more than five million copies and have been translated into more than eighteen languages. Raised in Washington State, Bybee moved to Southern California in the hope of becoming a movie star. After growing bored with waiting tables, she returned to school and became a registered nurse, spending most of her career in urban emergency rooms. She now writes full-time and has penned the Not Quite Series, the Weekday Brides Series, the Most Likely To Series, and the First Wives Series.
Social Media Links
Website: http://www.catherinebybee.com 
Facebook: https://www.facebook.com/AuthorCatherineBybee 
Twitter: https://twitter.com/catherinebybee 
Tik Tok: https://www.tiktok.com/@catherinebybee1 
Goodreads: https://www.goodreads.com/author/show/2905789.Catherine_Bybee  
Rafflecopter Giveaway
http://www.rafflecopter.com/rafl/display/07c2363f277 
June 14, 2022 | Posted in Release Day Blitz, Review | By Two Book Pushers
Alone in the world, Tae Holmes and her mother April pretty much raised each other, but as Tae starts asking questions about the father she's never met, April, for the first time in her life, goes silent. To make matters worse, Tae is dangerously close to broke and just manages to avoid financial meltdown when she lands a shiny new contract with an adventure company for athletes with disabilities and wounded warriors.
Her first big fundraiser event falls flat, but what starts out as a terrible, horrible, no-good night turns into something else entirely when Tae finds herself face-to-face with Riggs Copeland. She hasn't seen the former Marine since their brief fling in high school, and while still intensely drawn to him, she likes her past burned and buried, thank you very much. Hence their friendship pact.
But when April oddly refuses to help Tae track down her father, it's Riggs who unexpectedly comes to her aid. On a hunt to unlock the past, the two of them find themselves on a wild ride and learn a shocking truth, while also reluctantly bonding in a way neither had seen coming. Now Tae must decide whether she's going to choose love … or walk away from her own happiness.
June 14, 2022 | Posted in Release Day Blitz, Review | By Two Book Pushers
The Ruthless Groom by Monica Murphy is now live!
I didn't plan to marry a reclusive heiress. Lucky for me, I find myself attracted to my beautiful new bride. Our arranged marriage connects two powerful companies. That we're compatible between the sheets is a bonus, but I didn't bargain on her ex showing up at the wedding reception uninvited.
That pushed me right over the edge.
I protect what's mine, and Charlotte is now mine, whether she likes it or not. Our honeymoon is a disaster in paradise. I'm angry. She's resentful. All those swirling emotions explode in the most physical ways.
But even as I'm drawn closer to my new wife, there's still a threat looming out there. Seamus McTiernan is determined to destroy what we've created.
I won't let anything tear us apart.
He has no idea who he's dealing with. I will end him.
Watch me.
Download today on Amazon, Apple Books, Barnes & Noble, Google Play, Kobo!
Amazon: https://amzn.to/3KVUEAs
Apple Books: https://apple.co/3KXWAJy
Nook: https://bit.ly/389aOJu
Kobo: https://bit.ly/3M0QtV5
Google Play: https://bit.ly/38dIrcY
Goodreads: https://bit.ly/39ahtmQ
Meet Monica
Monica Murphy is a New York Times, USA Today, and international bestselling romance author. Her books have been translated in almost a dozen languages and have sold over two million copies worldwide. Both a traditionally published and independently published author, she writes young adult, new adult and contemporary romance.
A native Californian, she lives on fourteen acres in the middle of nowhere with her husband, son, their goofy dog, and three cats. When she's not writing, she's thinking about writing. Or reading. Or binge watching something.
Connect with Monica
Website: http://monicamurphyauthor.com
Goodreads: http://bit.ly/MonicaMurphyGR
Amazon: http://amzn.to/1YUl0Vm
Facebook: http://bit.ly/MonicaMurphyFB
Facebook Group: https://www.facebook.com/groups/monicamurphyreadergroup/
Instagram: http://bit.ly/MonicaMurphyIG
Twitter: http://bit.ly/MonicaMurphyTW
Bookbub: http://bit.ly/2ZAthV1
Pinterest: https://www.pinterest.com/msmonicamurphy/
Verve Romance: https://ververomance.com/app/monicamurphy
Tik Tok: https://www.tiktok.com/@monicamurphyauthor