July 17, 2019 By Two Book Pushers
A Greek family. An Indian family. A summer wedding on the Aegean coast…
Moti on the Water, an all-new summer must read from

New York Times

bestselling author Leylah Attar is coming August 13th and we have the amazing cover!
Meet Moti Ferreira—spectacularly jinxed from the day she's born.
Saddled with an eccentric mother, she stumbles upon the one man who holds the key to her freedom—the best man at her cousin's upcoming wedding.
All Moti has to do is overcome her fear of water, board a yacht to the Greek Isles, seduce the dreamy Nikos Manolas, and survive two weeks at sea with her oddball family.
The only obstacle Moti doesn't see coming is Alexandros Veronis, the onboard chef and star witness to her awkward mishaps. He transforms onions into chocolate and aroma into nostalgia. Day by day, his alchemy works its magic on Moti. But she's not the only one falling under his spell. Everyone has a secret, growing round and ripe at Chef Alex's table. When the masks fall off, they spill out one by one, and everything blows up in their faces.
Now Moti's truth is exposed, and worse, she's hooked on more than Alex's midnight snacks. But this time, screwing up could be the best thing she's ever done…
Pre-order your copy today!
AppleBooks: https://apple.co/2xLI17F
Nook: http://bit.ly/2JATMor
Kobo: http://bit.ly/2JyLnSo
Add to GoodReads: http://bit.ly/2NXaRx4
Sign up here to be notified as soon as Moti on the Water is LIVE on Amazon: http://bit.ly/32rVPCD
Cover designed by Hang Le
About Leylah
Leylah Attar is a New York Times, USA Today, and Wall Street Journal Best Selling author of contemporary romance and women's fiction. She is the recipient of the 2017 Indie Reader Discovery Award for fiction. Her books, which include Mists of The Serengeti, The Paper Swan, 53 Letters for My Lover (#1) and From His Lips (a 53 Letters novella #1.5), have been published in nine languages.
Connect with Leylah
Facebook: http://bit.ly/32rDHIZ
Instagram: http://bit.ly/2JxKuJQ
Twitter: http://bit.ly/2xOGmP2
Pinterest: http://bit.ly/2NRLkVJ
Amazon: https://amzn.to/2JOv56W
Stay up to date with Leylah by joining her mailing list: http://bit.ly/32rVPCD
July 16, 2019 By Two Book Pushers
"I LOVED both Cosy and Griffin! This story was ABSOLUTE PERFECTION!"- Kendall Ryan, New York Times bestselling author
Making Up an all-new laugh-out-loud romantic comedy from New York Times bestselling author Helena Hunting is available now!
Cosy Felton is great at her job—she knows just how to handle the awkwardness that comes with working at an adult toy store. So when the hottest guy she's ever seen walks into the shop looking completely overwhelmed, she's more than happy to turn on the charm and help him purchase all of the items on his list.
Griffin Mills is using his business trip in Las Vegas as a chance to escape the broken pieces of his life in New York City. The last thing he wants is to be put in charge of buying gag gifts for his friend's bachelor party. Despite being totally out of his element, and mortified by the whole experience, Griffin is pleasantly surprised when he finds himself attracted to the sales girl that helped him.
As skeptical as Cosy may be of Griffin's motivations, there's something about him that intrigues her. But sometimes what happens in Vegas doesn't always stay in Vegas and when real life gets in the way, all bets are off. Filled with hilariously awkward situations and enough sexual chemistry to power Sin City, Making Up is the next standalone in the Shacking Up world.
Download your copy today!
Amazon: https://amzn.to/2M1fTpo
AppleBooks:https://apple.co/2Xay1UJ
Amazon Worldwide: http://mybook.to/MakingUp
Nook: http://bit.ly/2IPLTvV
Kobo: http://bit.ly/2ZIrFcH
Google Play: http://bit.ly/2GFTD0b
Amazon Print: https://amzn.to/2xNImqw
Add to GoodReads: http://bit.ly/MakingUpHH
Making Up is the fourth book in the Shacking Up series by the talented and hilarious Helena Hunting. I love this series and I never doubt that Helena is going to give me exactly what I need. This is Griffin's story. He's Lexington and Bancroft's brother and you know we've been waiting for him to get his happily ever after! He's in Vegas on business and has to buy the gag gifts for his friend's bachelor party. That's where he meets Cosy. At the sex toy shop. He's embarrassed out of his mind and she's young, fresh, confident and gorgeous. Cosy never trusts men who come into the shop. You never know if they're freaks or not, but this man is so gorgeous, she's temporarily dumbstruck. She uses her assets to sell him more than what he needs and watches him walk away. Only to show up weeks later and ask her out. Awkward! He's so freaking cute with the way he stammers. He's thirty-three he should be able to ask a woman out! Cosy takes pity on him and his handsome face and goes out this him. They are opposites but they just get each other. He's rich and fancy. She's a struggling student. But their attraction is off the charts. He's only in town for a while, so they decide to see each other while he's there. Things are fun and sexy, and easy. And then those pesky feelings start to happen. And then the past comes back to get them? Can Cosy and Griffin survive and fight for each other? I loved this story! This series is one of my favorites and Helena always cracks me up, makes me swoon and leaves me wanting more! I loved it all! The shwarma in her shirt? OMG! The crazy awkwardness. Griffin's lack of game. Poor thing! Total perfection!
"You know that guy?"
"What guy?"
"The one who looks like a mobster mated with a superhero?"
"That's exactly what I thought the first time I saw him."
About Helena
New York Times and USA Today bestselling author of PUCKED, Helena Hunting lives on the outskirts of Toronto with her incredibly tolerant family and two moderately intolerant cats. She's writes contemporary romance ranging from new adult angst to romantic sports comedy.

Connect with Helena
Instagram: http://instagram.com/helenahunting Twitter: https://twitter.com/HelenaHunting
Facebook: http://on.fb.me/Zt1xm5
Facebook Fan group: https://www.facebook.com/groups/385795934890523/
Website: http://www.helenahunting.com/

Never miss an update! Subscribe to Helena's mailing list:
http://bit.ly/2MlRKq6
July 15, 2019 By Two Book Pushers
Sweet Retribution, the stunning conclusion to the Rydeville High Elite Series from

USA Today

bestselling author Siobhan Davis is coming October 1st and we have the steamy cover!
The third and final instalment in the Rydeville High Elite series.
Pre-order your copy today: https://amzn.to/32tcaXN
Start the series today with Cruel Intentions!
Amazon: https://amzn.to/2ZaIMmu
Amazon Worldwide: http://mybook.to/CruelIntentions
Add to GoodReads: https://smarturl.it/CruelIntentionsGR
Pre-order Twisted Betrayal releasing on August 20th!
Amazon: https://amzn.to/2llbYIY
Amazon Worldwide: http://mybook.to/TwistedBetraySD
Add to GoodReads: http://bit.ly/2GccsZB
Join the Rydeville High Elite Spoiler Group: http://bit.ly/2WKtbwp
About Siobhan
USA Today bestselling author Siobhan Davis writes emotionally intense young adult and new adult romantic fiction with swoon-worthy romance, complex characters, and tons of unexpected plot twists and turns that will have you flipping the pages beyond bedtime! She is the author of the international bestselling Kennedy Boys, Saven, and True Calling series'.
Siobhan's family will tell you she's a little bit obsessive when it comes to reading and writing, and they aren't wrong. She can rarely be found without her trusty Kindle, a paperback book, or her laptop somewhere close at hand.
Prior to becoming a full-time writer, Siobhan forged a successful corporate career in human resource management.
She resides in the Garden County of Ireland with her husband and two sons.
Connect with Siobhan
Subscribe to romance newsletter: http://smarturl.it/KennedyBoysList
Amazon Author Page: http://smarturl.it/SiobhanDavisAmazon
Author website: http://smarturl.it/SiobhanDavisWebsite
Goodreads profile: http://smarturl.it/SiobhanGoodreads
Facebook page: http://smarturl.it/SiobhanDavisFacebook
Twitter profile: http://smarturl.it/SiobhanDavisTwitter
Author Blog: http://smarturl.it/SiobhanDavisBlog
BookBub Author Page: http://smarturl.it/SiobhanDavisBookbub
July 15, 2019 By Two Book Pushers
July 14, 2019 By Two Book Pushers
FALLEN SAINT
Volume Two
Monica James
Just as this nightmare began, I once again find myself bound, destination unknown. However, this time, my kidnapper is the man who shattered my world beyond repair.
Aleksei Popov—Russia's number one mobster, and the man I was sold to.
His intentions for me are clear—submit, obey him, and call him master—but I won't surrender. I'm not like the other girls. Whether that's a blessing or curse, I've yet to decide. The problem is, my disobedience intrigues my captor all the more.
When we arrive in Russia, the rules change.
Saint, the man who was once a sinner, is my only salvation. What was forbidden now gives me hope that there is light in the darkness. He will risk everything to set me free.
But behind these opulent walls, things aren't what they seem, and when the fine line between pleasure and pain begins to blur, only one thing matters—saving my soul.
I will lie.
Cheat.
Steal.
I was once an angel, but now…I'm a fallen saint, ready to inflict my own pain and burn this hellhole to the ground.
Release date: July 14th 2019
Series: All The Pretty Things Trilogy, Volume Two
Genre: Dark Romance
Cover Designer: Sommer Stein— Perfect Pear Creative Covers
FALLEN SAINT IS NOW LIVE!
Grab your copy NOW!
Kindle: https://amzn.to/30Gl3vt
Nook: https://tinyurl.com/y6t4czko
Kobo: https://tinyurl.com/y25y4p48
iBooks: https://tinyurl.com/y567ojrp
Goodreads: https://tinyurl.com/y4slyrkc
BookBub: https://tinyurl.com/yxvw58r2
BAD SAINT Play List: https://tinyurl.com/yxsufle5
UK
Kindle: https://tinyurl.com/y28rubpa
Australia
Kindle: https://tinyurl.com/y3u49byn
Canada
Kindle: https://tinyurl.com/y5zqmmqq
***
It's been thirty-four days since Willow was kidnapped on her honeymoon. She was won by the devil and the devil wants his prize. He has no idea what he has gotten himself into. She isn't a broken down and submissive woman. She spoke her truth and wouldn't go down without a fight.
That's really all I can say without spoiling anything. I will say that I loved it. If I wasn't out camping with my family I would have read it in one sitting. I had to know what was going to happen next.
Overall…It's dark, twisted, full of mindfucks with a twist of sweetness. It's not a love story with hearts and flowers. I can't wait for Forever Saint!!!
Quotes:
"And you challenge me. I like it because I can't wait to see you break."
"Teach me to be like you. Teach me how to fight."
"Touch me again. I dare you," I challenge, primes on gouging out his eyeballs.
MARK YOUR CALENDERS!
FOREVER MY SAINT, Volume Three is coming September 26th 2019!
Pre-Order Now:
Kindle: https://tinyurl.com/y68tw49y
Nook: https://tinyurl.com/yyfyt9jf
UK
Kindle: https://tinyurl.com/y2l93rp2
Australia
Kindle: https://tinyurl.com/y2jd7c5v
Canada
Kindle: https://tinyurl.com/y4ts89du
Bio
Monica James spent her youth devouring the works of Anne Rice, William Shakespeare, and Emily Dickinson.
When she is not writing, Monica is busy running her own business, but she always finds a balance between the two. She enjoys writing honest, heartfelt, and turbulent stories, hoping to leave an imprint on her readers. She draws her inspiration from life.
She is a bestselling author in the U.S.A., Australia, Canada, France, Germany, Israel, and the U.K.
Monica James resides in Melbourne, Australia, with her wonderful family, and menagerie of animals. She is slightly obsessed with cats, chucks, and lip gloss, and secretly wishes she was a ninja on the weekends.
Stalk Me!
Facebook: https://www.facebook.com/authormonicajames
Twitter: https://twitter.com/monicajames81
Goodreads: https://www.goodreads.com/MonicaJames
Instagram: https://www.instagram.com/authormonicajames
Website: http://monicajamesbooks.blogspot.com.au
Pinterest: http://www.pinterest.com/monicajames81
BookBub: http://bit.ly/2E3eCIw
Amazon: https://amzn.to/2EWZSyS
Reader Group: http://bit.ly/2nUaRyi
July 13, 2019 By Two Book Pushers

Title: Out in the Field
Series: Out in College #4
Author: Lane Hayes
Publisher: Lane Hayes
Release Date: July 11
Heat Level: 4 – Lots of Sex
Pairing: Male/Male
Length: 51K
Genre: Romance, New Adult, College, Coming Out, Baseball, New Adult, Humor, Opposites
Synopsis
Max Maldonado loves baseball. He knows playing first base at a private college probably won't get him to the big leagues, but he doesn't mind. He loves the game and his teammates. If he has to stay in the closet until he graduates, that's okay. Baseball comes first. Relationships are complicated anyway. And after his recent messy breakup, Max prefers to keep things simple.
Phoenix Bell is a fabulous theater geek. He's excited about his recent transfer to a new school with an elite liberal arts program. Life has been on hold for a while, but this opportunity feels like the fresh start he was hoping for when he moved to California. And the chance reunion with the hot closeted jock is an unexpected surprise. The two men have nothing in common and their timing couldn't be worse. However, when their unconventional alliance blossoms into friendship and perhaps something more, it may be time to make some hard decisions. And perhaps risk it all…out in the field.
Excerpt
We were quiet for a moment. We shared his drink in silence as occasional bits of conversation and laughter from the party drifted our way. We were far enough from the action that the excess noise didn't penetrate our cocoon. Just a couple of strangers in the dark again, minus the club music and lights and unrealistic hopes from the first time. I didn't know about Phoenix, but this felt cathartic somehow. Like a fresh start.
"What else is going on? You look sad. It's not me, is it?" I asked with a comedic expression.
He chuckled. "No. This is nice. I just—I tend to get a little blue on the night of the final performance. The anticlimactic feeling sucks, but it's the nature of the beast. The cycle of slowly learning lines and getting to know your castmates is followed by long rehearsals where everything starts to gel. The excitement builds before the shows and everyone gets better and better and then…<em>boom</em>! It's over. All that momentum and all the joy that comes from being part of something special disappears overnight. I'm gonna wake up in the morning back at square one."
"That's depressing."
"Thus the vodka." Phoenix raised his cup and took a sip. He set it between us before flashing a lopsided smile my way. "It's just part of the process. I've been doing some version of this for years. You'd think I'd be better at transitioning from high to low."
"Hmm. It's kinda the same in baseball. When we start in January, most of the guys are out of shape and out of sync. We have to get used to a new crew and figure out how to work together. By the time our season ends in May, we're a well-oiled machine. I'm not always sad when it's over. Sometimes I really need the break. But by June, I miss it. The best thing to do is to stay in the game as much as possible. Play, watch, read stats. There's probably a theater equivalent."
"Sure. It's called 'get a new part.' I'm already memorizing the script for the spring production at the Arts Center. They're doing <em>Chicago</em>. God, I love that show. So many juicy roles. 'And all that jazz,' " he sang that last line, then took another drink and handed his cup to me for no particular reason.
I widened my legs and propped my elbows on my knees. His gaze dipped briefly to my crotch before he licked his lips and glanced away.
"Who do you want to be?" I asked. "I mean…in the play."
"In a perfect world, I'd be Roxie. But…I have a dick, so I'll have to audition for Billy and pretend not to be crushed when they give me the role of prison guard or mafia henchman number two."
"Why can't you be Billy?" I asked before draining the vodka cocktail.
"I don't have the right look. You'd actually be a perfect Billy. Have you ever thought about acting?"
"Me?" I pointed at my chest incredulously. "Fuck, no."
"Why so adamant? It's fun."
"Theater stuff just isn't my thing. I play baseball."
"You can't do both?"
"Nope. Not me. And I'm not interested anyway."
He sighed dramatically. "Well…you were a good fantasy while you lasted."
"What's that supposed to mean?" I asked with a faux scowl.
"Just what you think it means. I know close to nothing about you except that you're a decent kisser and—"
"Decent?" Now the scowl was real.
"Okay, better than decent. You were amazing. A real-life Prince Charming. But we can be friends now and—"
"I don't want to be your friend," I intercepted.
"Why not?"
" 'Cause I like you."
"That makes no sense."
"Yeah, it does. I—" I hesitated for half a second before crashing my mouth over his.
And damn, kissing Phoenix was better than I remembered. I caressed his jaw tenderly before tilting my head to deepen the connection. I didn't want to overwhelm him, but damn, it took everything I had not to put my hands all over him. I licked the corner of his mouth and groaned. He tasted sweet—like cherries or something. That had to be his lip gloss, I mused before driving my tongue inside.
Phoenix didn't seem to mind. He moaned when I cupped his neck and tilted my head slightly to soften the connection. I flicked my tongue at the corner of his mouth before biting his bottom lip and pulling away. The kiss was sweet but much too short. And yeah, I was incredibly impressed with my restraint, but I couldn't afford to start something we'd both regret later. Phoenix wasn't a stranger anymore. He was a fellow student who knew my biggest secret. I should have been more concerned with resetting boundaries and moving on. But it didn't feel that simple.
Out in the Field is the fourth book in the Out in College series by the fabulous and talented Lane Hayes. I'm a huge fan of Lane's and this series! We've known Max for a while, and honestly, I wasn't sure I was going to love him. But I do! So much! He's so much more than a closeted jock. He comes from a good home with loving family. Baseball is his life, but he's lonely. He's living a lie and he thinks if he just hides until college is over he'll be ok. But he's not ok. He's lonely and sad and doesn't like hiding who he is. When he sees Phoenix again, he can't stop thinking he was the one who got away. They had a brief encounter in a bar months ago, but he remembers everything about him. And now he's here in all his glory. Phoenix loves the theater. He's out and proud and is confident in his own skin. Max loves that about him. He wants to spend more time with him. Phoenix has been with the jock who's hiding in the closet and he can't do that again. His heart can't take it. So, when they decide to just try. Keep it easy and light they both end up falling. Hard. And I fell right along with them. Max was scared to be who he is. Phoenix isn't afraid of anything. Together, they are the perfect pair. They show each other it's ok to let go. Be free. Love. Max learns about Shakespeare and Phoenix googles everything about baseball! I loved this story. It's more emotional than I expected and I love when Lane surprises me that way! Overall, I laughed, got hot and bothered, teared up and smiled at the end!
"What do you want?"
"Everything."
"Everything?"
"Yeah, I still do. But if you just want to be friends, that's okay. For now."
"Are you fucking with me?"
"No. I'm trying to be a gentleman."
"Well, don't. I like it better when you're nasty."
"How nasty?"
"Very. Bring it, baby. I'm up for anything."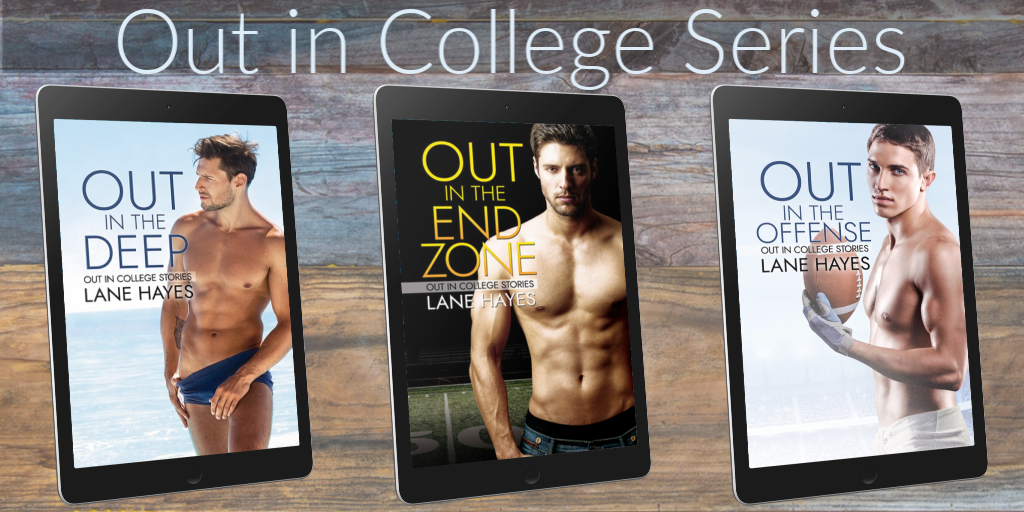 Meet the Author

Lane Hayes is grateful to finally be doing what she loves best. Writing full-time! It's no secret Lane loves a good romance novel. An avid reader from an early age, she has always been drawn to well-told love story with beautifully written characters. These days she prefers the leading roles to both be men. Lane discovered the M/M genre a few years ago and was instantly hooked. Her debut novel was a 2013 Rainbow Award finalist and subsequent books have received Honorable Mentions, and were First Place winners in the 2016 and 2017 Rainbow Awards. She loves red wine, chocolate and travel (in no particular order). Lane lives in Southern California with her amazing husband in a newly empty nest.
Giveaway
July 12, 2019 By Two Book Pushers
July 11, 2019 By Two Book Pushers
He can't stand her, and best believe, the feeling is mutual.
Her life is the complete opposite of what he desires.
So, why can't they keep their hands off each other?
Forrest Nash is a smug know-it-all. With his brains, ridiculous good looks and penchant for disobeying the laws of both the police and the dark web, Fawn Hill's resident genius is cockier than any man Penelope Briggs has ever encountered. It doesn't help that their six-year age difference makes him completely ineligible in her eyes. Add in the fact that he doesn't want marriage or babies, and that should eliminate him from the dating pool forever. But it doesn't mean she can't sleep with him. Once. Or twice. Or ten times. Against all logic, though, Forrest seems to be sneaking into her heart at the same time he's sneaking into her bed.
Penelope Briggs is one bossy, obnoxious woman. With three young children, a calendar full of school drop-offs and sports, and enough emotional baggage to fill an airplane, this widow is definitely not what Forrest Nash is looking for. And yet, he can't get enough of the maddening bombshell. But as their hook-ups become a constant, so does his involvement in Penelope's life. The things he swore he never wanted, love and kids, seem to be the only things on his mind. And when an attack from his part of the cyber world threatens her safety, he'll have to admit his feelings for the woman he'd do anything to protect.
What started as a convenient friends-with-benefits situation is quickly growing wings. Even if both parties are trying hard to ignore the flutter.
Author of romance novels such as The Tenth Girl and Privileged, Carrie Aarons writes books that are just as swoon-worthy as they are sarcastic. A former journalist, she prefers the love stories of her imagination, and the athleisure dress code, much better.
When she isn't writing, Carrie is busy binging reality TV, having a love/hate relationship with cardio, and trying not to burn dinner. She lives in the suburbs of New Jersey with her husband, daughter and Lab/Great Dane rescue.
One-click Flutter: https://amzn.to/2XDvqTI
Add Flutter to your Goodreads TBR: bit.ly/2F01CoO
Flutter is the third book in the Nash Brothers series by the ever-talented, Carrie Aarons. You can read it as a standalone but I highly recommend reading the series. I have fallen for each brother for different reasons. Their personalities are all different from one another but they are all protective and love with their whole hearts. If you read the previous books you have read about  Penelope, Forrest, and their epic banter. Oh…I was excited for this one. And it starts out with a bang.
Forrest and Penelope can't be in the same room without pissing the other off. But as of late, they also can't keep their hands off each other in private. She doesn't know if she wants to slap him or rip his clothes off when he walks into the room with his Cody swagger. Especially when he wears his glasses. He is definitely geeky hot! She is a single widow of three. He doesn't want a wife, kids, and a picket fence. She is too busy too date but he gives he exactly what she needs to relax. Orgasms! Lots and lots of orgasms so why not have a no-strings attached relationship? Nobody would expect it. He is six years her junior. Their banter is full of hate. What could go wrong?
Everything! And I loved it all. Forrest is an introvert. He doesn't have a filter. She doesn't either and they are both dirty birds. But for real. I love watching Forrest open up when he is around Penelope. His family underestimated him and the town as well. He isn't just a cocky asshole who only cares for himself. He is a twenty-something with heart. He even shocks himself when it comes to Penelope and her kids. I loved that. And I love Penelope for being a strong woman who is raising her kids, working her ass off, and doing the best she can. Together, their passion is explosive. Their banter is flirty, fun, and sarcastic.
Overall…it's my favorite of the series! There was just something about this couple that got me. It was more emotional then I thought it would be. I fell hard. That's for sure. The writing is amazing along with the story and characters. I can't wait for the next book. It's taunting me on my iPad but I can't get to it just yet.
P.S. It was nice to see the name Marion is a book. That was my Grandma's name.
Quotes:
"In your dreams, Little Nash." I throw out the insulting nickname and walk off without a backward glance.
"You're right. I do dream about it, P. A lot."
"Penelope, come on. Don't overreact. It wasn't personal."
"Nothing is to you, Forrest," she fires back.
"Oh, I'll work you out good. You haven't been to the gym of Forrest in weeks, and I have a lot of new moves to show you."
"God, you're cheesy. But show me the moves." I tingle everywhere with anticipation.
Visit Carrie's website: authorcarrieaarons.com
Sign up for Carrie's Newsletter: bit.ly/2LzzxXA
Check out Carrie's books on Amazon: amzn.to/2Pn3XkR
Like Carrie's Facebook page: facebook.com/carrieaarons
Join Carrie's Reader Group: bit.ly/2DDt1xX
Follow Carrie on Instagram: instagram.com/authorcarriea
Follow Carrie on Twitter: twitter.com/authorcarriea
Follow Carrie on BookBub: bookbub.com/profile/carrie-aarons
Follow Carrie on Goodreads: goodreads.com/carrieaarons
July 10, 2019 By Two Book Pushers
ALL GROWN UP IS LIVE!
A Standalone Contemporary Romance
#1 New York Times Bestselling Author Vi Keeland
SYNOPSIS
When I first encountered Ford Donovan, I had no idea who he was…well, other than the obvious. Young, gorgeous, successful, smart. Did I mention young? If I did, it bears repeating. Ford Donovan was too young for me.
Let's back up to how it all started. My best friend decided I needed to start dating again. So, without my knowledge, she set up a profile for me on a popular dating site—one that invited men ages twenty-one to twenty-seven to apply for a date. Those nicknamed Cunnilingus King were told they'd go straight to the top for consideration. The profile wasn't supposed to go live. Another point that bears repeating—it wasn't supposed to.
Nevertheless, that's how I met Ford, and we started messaging. He made me laugh; yet I was adamant that because of his age, we could only be friends. But after weeks of wearing me down, I finally agreed to one date only—my first after twenty years of being with my high school sweetheart. I knew it couldn't last, but I was curious about him.
Though, you know what they say…curiosity kills the cat.
My legs wobbled walking into the restaurant.
Ford was seated at the bar. When he turned around, he took my breath away.
His sexy smile nearly melted my panties.
But…he looked so familiar.
As I got closer I realized why.
He was the son of the neighbor at our family's summer home.
The boy next door.
Only now…he was all man.
I hadn't seen him in years.
I left the restaurant and planned to put the entire crazy thing behind me.
Which I did. Until summer came.
And guess who decided to use his family's summer home this year?
Amazon ➜ http://bit.ly/31Pelo2
Apple ➜ http://smarturl.it/f07b66
B&N ➜ https://fave.co/2xq1R8m
Kobo ➜ https://fave.co/2KTDJnv
Google Play ➜ https://fave.co/2Lu5Hpd
Audio ➜ http://hyperurl.co/jr8w50
Amazon paperback ➜ https://fave.co/2RFvfAO
Add to Goodreads ➜ http://smarturl.it/nqw8dp
Sign up for Vi's mailing list and/or Text alerts and be the first one notified when it goes live! https://www.subscribepage.com/i6h3o5
All Grown Up is Vi Keeland's new standalone romance. I'm a huge fan of Vi and her books always give me all the feels. I especially loved this one because the age gap and the woman being the older of the two! Dare I say that Ford is one of my favorite Keeland men? Valentina is pushing forty and divorced with a grown son. Her best friend thinks she needs to start dating again so she sets her up on an online dating site. She connects with Donovan and they hit it off. There is already chemistry and sparks and they decide to meet. Uh oh. Turns out Donovan is actually Ford, the son of their neighbors at the Montauk summer home. What are the chances. Ford is only twenty-five, but he's not immature. He had to grow up fast and learn things no teenager should have to know. Ford my be younger than Val, but he's responsible, runs a business, takes care of his sister and isn't going to let Val get away. Val is very attracted to Ford and can't get past his age. Her own insecurities are just too strong, even though she's doing what she loves, taking care of herself and happier now than she has been in years. Ford doesn't care about the age difference. He knows he wants to be with Val and he chases after her. Hard. Then he finally finds the key to getting her. Promise her just the summer. When it's over, they're over. Val loves this idea. Ford is the first man she's been attracted to in years and she wants him. It doesn't take long for Val to realizes she doesn't care how old Ford it. She's falling for him and he's perfect for her. What happens when the summer is over? Will they admit their feelings or let each other go? I loved watching Ford and Val learn, grow and fall for each other. They both had their own obstacles to overcome before they could allow themselves to find happiness. Together! I love Ford. So much. He is sweet, sexy, handsome, romantic and he didn't give up on Val. She's older and wiser. She won't make the same mistakes she did when she was younger. She's strong, independent and knows what she wants. Ford. Her sexy, younger neighbor! Overall, I laughed, cried, got hot and bothered and swooned!
"We're not on a date."
"Right. Not a date."
"It's not."
He winked as he laced his fingers through mine.
"Absolutely. And I'm not going to start at your ass in those tight jeans when I open the restaurant door for you to walk through first, either."
"You're an ass."
"Maybe. But I'm an ass with the hottest date in the room."
All Grown Up is Vi Keeland's newest sexy, witty, and fun standalone novel. God, I love her stories and this one might just be my favorite! I fell hard for this one. If you follow my reviews then you know I rarely read the synopsis and once again that was the case. I read them before writing my reviews so I don't spoil anything. This one explains a lot so I will try to make this quick.
Ford had no idea that the woman he had been lusting over online was Mrs. Davis. The same Mrs. Davis who lived next door to his family at their summer home. The summer home he had watched her son in. But damn, he didn't care. He wanted her. After-all, she wasn't a Mrs. anymore. Except, she couldn't do it. She didn't see him as the man he was. She saw him as the boy. He was determined to show her that he was anything but. And when after years of being absent form his summer home, he was back and she was right next door. For the whole summer.
I can't get more into than that. I will say Ford is a determined man. He is also a shameless flirt. I loved his filthy mouth with a passion. It makes me want to read it all over again! He is more than just a pretty face and a rock hard body. He is sweet, witty, and just wants her to see what he sees when he looks at her. A beautiful woman inside and out. One full of spirit, sexiness, and wit, and smarts.
Overall…It. Is. Everything! I love that she is older than him. I love that he doesn't care. I love that he shows her that he doesn't care and that she shouldn't either. I loved them together. I fell hard for both of them. I swooned hard. I got hot and bothered just from his dirty mouth. And I even cried. He is the total package and she is too even if she doesn't think so!
Quotes:
"The back door squeaks."
"You want WD-40, not actual oil then."
"Oh yeah. Okay. Thanks."
"I have some lube that can take care of you." She glanced sideways at me, unsure if I was being a wiseass or not. I managed to keep a straight face and turned back to the fridge.
"What the hell?" She smiled as if she hadn't just broken girl code.
"You can thank me later, after he gives you all the orgasms I know a man with that body is capable of."
"I'd be happy to help you work on being inappropriate"
I laughed. "I bet you would."
Prefer texts? Text the word BOOKS to 77948 to receive an alert when We Shouldn't goes live. (You will only release new release alerts!)
About the Author:
Vi Keeland is a #1 New York Times, #1 Wall Street Journal, and USA Today Bestselling author. With millions of books sold, her titles have appeared in over a hundred Bestseller lists and are currently translated in twenty-five languages. She resides in New York with her husband and their three children where she is living out her own happily ever after with the boy she met at age six.
Facebook Fan Group:
https://www.facebook.com/groups/ViKeelandFanGroup/
Facebook
https://www.facebook.com/vi.keeland
https://www.facebook.com/pages/Author-Vi-Keeland/435952616513958
Website
Twitter
@vikeeland
Instagram
@Vi_Keeland
http://instagram.com/Vi_Keeland/
Goodreads
http://www.goodreads.com/author/show/6887119.Vi_Keeland
Vi's Standalone Novels
We Shouldn't
Amazon ➜ https://fave.co/2YETfX8
iBooks ➜ https://fave.co/2HvEbW9
B&N ➜ https://fave.co/2VQhmoS
Google Play ➜ https://fave.co/2HuxL9u
Kobo ➜ https://fave.co/2YLHw9n
The Naked Truth
Amazon: https://fave.co/2HwdQHA
iBooks: https://fave.co/2YLATE1
B&N: https://fave.co/2HFZXFl
Kobo: https://fave.co/2YHQ6G1
Google Play: https://fave.co/2HN6q1d
Sex, Not Love
Amazon: https://fave.co/2HGCa8p
iBooks: https://fave.co/2YE5qU7
Kobo: https://fave.co/2HviYvr
Beautiful Mistake
Amazon: https://fave.co/2YIh9kn
iBooks: https://fave.co/2HuDY5s
Kobo: https://fave.co/2HudqkL
Egomaniac
Amazon: https://fave.co/2VZ6qWc
iBooks: https://fave.co/2VU25TQ
Kobo: https://fave.co/2HM4wOJ
Bossman
Amazon: https://fave.co/2YHKwU5
iBooks: https://fave.co/2HsXSh6
Kobo: https://fave.co/2VUkEqY
The Baller
Amazon: https://fave.co/2HtjFoZ
iBooks: https://fave.co/2HLo9WU
Kobo: https://fave.co/2YHNPKZ
Throb
Amazon: https://fave.co/2HHz0Bq
iBooks: https://fave.co/2YzCQTM
Kobo: https://fave.co/2Hu6xzT
Beat
Amazon: https://fave.co/2VQJM1S
iBooks: https://fave.co/2YGst0p
Kobo: https://fave.co/2VTdROh
Worth the Fight
Amazon: https://fave.co/2HuEHDI
iBooks: https://fave.co/2VQ9nYV
Kobo: https://fave.co/2YKybP9
Worth the Chance
Amazon: https://fave.co/2HvOwBl
iBooks: https://fave.co/2VTYTI4
Kobo: https://fave.co/2VU6dDy
Worth Forgiving
Amazon: https://fave.co/2HLrd5m
iBooks: https://fave.co/2YIfsU3
Kobo: https://fave.co/2VVj5sY
Worth It All (Complete Fighter Series)
Amazon: https://fave.co/2YHAxOw
Belong to You
Amazon: https://fave.co/2HwaNiB
iBooks: https://fave.co/2YJkaBk
Kobo: https://fave.co/2HGGBQC
Made for You
Amazon: https://fave.co/2HulnX4
iBooks: https://fave.co/2HuaCnR
Kobo: https://fave.co/2HM29LJ
Left Behind (A Young Adult Novel)
By:Vi Keeland & Dylan Scott
Amazon: https://fave.co/2VU2gyI
Co-written Novels
Rebel Heir
Amazon: https://fave.co/2Hu5XSJ
iBooks: https://fave.co/2HKPybr
Kobo: https://fave.co/2HE71T2
Rebel Heart
Amazon: https://fave.co/2HGiFwE
iBooks: https://fave.co/2YEQJ38
Kobo: https://fave.co/2YLIpyN
Hate Notes
Amazon: https://fave.co/2YLGslT
Cocky Bastard
Amazon: https://fave.co/2VU35ri
iTunes: https://fave.co/2VU0uxy
Kobo: https://fave.co/2VTHgIn
Stuck-Up Suit
Amazon: https://fave.co/2VQ1BhE
iBooks: https://fave.co/2YHIbbA
Kobo: https://fave.co/2HIWnKQ
Playboy Pilot
Amazon: https://fave.co/2HM0g1H
iBooks: https://fave.co/2HFy5kO
Kobo: https://fave.co/2HuZrLC
Mister Moneybags
Amazon: https://fave.co/2YFhJzy
iBooks: https://fave.co/2VU0pKg
British Bedmate
Amazon: https://fave.co/2VTEsej
iBooks: https://fave.co/2HIGdku
Kobo: https://fave.co/2HvRBRV
July 9, 2019 By Two Book Pushers
Dax (Arizona Vengeance, Book #4)
Sawyer Bennett
Release Date: July 9, 2019
Synopsis:

The Arizona Vengeance is killing it on the ice. But one player can't seem to keep his eye on the puck—all thanks to the woman he just married to save her life.
My name is Dax Monahan and hockey is my passion. And if you want to succeed in this sport you have to bust your ass 24/7. I've never had a hard time focusing on my career, but when my past comes knocking, no amount of training can prepare me for what lies on the other side of the door.
Regan Miles was always like a sister to me. When a shared tragedy brings us face to face after several years, I'm shocked to see just how much she's changed. Gone is the shy, awkward little girl that always used to chase me and her brother around. Instead, I'm faced with a gorgeous woman who makes it damn hard to concentrate on anything but her.
Turns out, she's in trouble, and the only way out is to get married.
I surprise myself when I tell her to marry me. Order her, actually. And most shocking of all, she doesn't even hesitate before saying yes.
So it's settled. We're getting hitched and she's moving to Arizona with me. All platonic, of course.
The catch?
I never knew I'd fall so hard for my best friend's little sister.
Download Dax:
Amazon | B&N | iBooks | Google Play | Kobo | Paperback | Audible
Dax is the fourth book in the Arizona Vengeance series by talented Sawyer Bennett. It can be read as standalone but I do recommend reading the series since it's one of my favorites. If you read Erik then you might remember Dax seeing Regan in New York. This is their story and it's an emotional one. The synopsis kicks ass so I will try my best to make this short.
Dax goes to New York for a funeral and comes back to Arizona as a married man. It was for love in a way. Regan, has always been family to him and now she needed one more than ever. Hers was gone. Lance was gone. So Regan agrees to marry Dax to save her life. Only Dax isn't the same person Regan grew up with. And Regan isn't the same either. They were not kids anymore. They were a man and a woman with an attraction between them. One they never saw coming.
Regan didn't like the idea of getting married for a piece of paper. She always thought it would be for true love. That kind of love that could tear you apart if it ended. That kind of love that movies were made about. Passionate. Forever kind of love. But this marriage was not built on that. It was a need. That was until the kiss after the "I Do's" because it was a damn good kiss. Maybe, just maybe this marriage can be more if they let it.
Can Dax see her as more than a sister to his best friend? Does he want to settle down or still be a player on and off the ice? Can he see a future with Regan? Can Regan let her insecurities go to find love? Can she see a future with her husband?
I absolutely loved this one. I believe it's my favorite out of the series! I was invested in the characters from the very beginning until the very end. I read it in one sitting. I didn't want to put the book down. I loved them. Dax is so sweet, sexy, and protective. He is also confused about what to do and I loved him even more for it. Regan is one strong ass character. She has been through a lot in twenty-two years. She is independent, smart, beautiful inside and out, and sexier than she believes. Together, I fell.
Now, I wait for Tacker! Come on, November!
Quotes:
"You're going to be one of those bossy, demanding wives, aren't you?"
It's hard, swift, and meant to claim.
"Jesus, Regan… you're learning things awfully damn fast."
About the Author:

Since the release of her debut contemporary romance novel, Off Sides, in January 2013, Sawyer Bennett has released multiple books, many of which have appeared on the New York Times, USA Today and Wall Street Journal bestseller lists.
A reformed trial lawyer from North Carolina, Sawyer uses real life experience to create relatable, sexy stories that appeal to a wide array of readers. From new adult to erotic contemporary romance, Sawyer writes something for just about everyone.
Sawyer likes her Bloody Marys strong, her martinis dirty, and her heroes a combination of the two. When not bringing fictional romance to life, Sawyer is a chauffeur, stylist, chef, maid, and personal assistant to a very active daughter, as well as full-time servant to her adorably naughty dogs. She believes in the good of others, and that a bad day can be cured with a great work-out, cake, or even better, both.
Sawyer also writes general and women's fiction under the pen name S. Bennett and sweet romance under the name Juliette Poe.
Connect with Sawyer:
Facebook | Twitter | Instagram | Goodreads | Book + Main Bites | BookBub | Amazon | Newsletter | Master Blogger List