February 25, 2020 By Two Book Pushers
A shattered family, broken hearts, and healing love.
Finding Him, an all-new standalone in the Covet duet by New York Times bestselling author Rachel Van Dyken is LIVE!
Coming out of a coma was one hell of a wake-up call. While I was in the dark, my estranged twin brother, Bridge, had replaced me in the company I owned and swept up my fiancée in the takeover. With my ruthless reputation, can I blame them for falling in love? I have to look long and hard at where I've been and where I'm headed. Alone time? The universe has other plans.
Our family's secluded Vermont cabin comes with a gorgeous—if at first unwelcoming—surprise. She's renter Keaton Westbrook, a social media superstar struggling with her own private grief. As a winter storm bears down, we've found something to keep us warm—an intimacy neither of us expected and both of us need.
After we say goodbye, what happens then? Keaton and I are longing to reconcile with our painful pasts. I can't bear to do it without her. Is it too much to ask of fate to give us a second chance at life and love?
Download your copy today or read FREE in Kindle Unlimited!
Amazon: https://amzn.to/2PkcdQs
Amazon Worldwide: mybook.to/FindingHimRVD
Add to Goodreads: http://bit.ly/36BuTSB
About Rachel:
Rachel Van Dyken is the New York Times, Wall Street Journal, and USA Today Bestselling author of regency and contemporary romances. When she's not writing you can find her drinking coffee at Starbucks and plotting her next book while watching The Bachelor.
She keeps her home in Idaho with her husband, adorable son, and two snoring boxers! She loves to hear from readers!
Connect with Rachel:
Facebook: https://www.facebook.com/RachelVanDyken
Website: http://rachelvandykenauthor.com
Newsletter: http://bit.ly/RVDNewsletter
Instagram: https://www.instagram.com/rachvd
Twitter: https://twitter.com/RachVD
Amazon: http://amzn.to/2cNVwL9
Goodreads: http://bit.ly/RVDGR
Rachel's Rockin' Readers: http://bit.ly/RachelsRockinReaders
February 25, 2020 By Two Book Pushers

We are so excited to celebrate the release of UNFORGIVEN by Jay Crownover with you today! UNFORGIVEN is part of the Loveless, Texas series and you can grab your copy now. Join Jay's Group for details about all of her titles.

UNFORGIVEN by Jay Crownover
Loveless, Texas #2 | Available Now
————
Grab your copy of UNFORGIVEN today!
About UNFORGIVEN:
From the New York Times bestselling author of the Marked Men series comes an irresistible and suspenseful romance between a tough Texas Ranger and his first love–a woman in danger who insists she doesn't need his protection.
Hill Gamble is a model lawman: cool and collected, with a confident swagger to boot. Too bad all that Texas charm hasn't gotten him anywhere in his personal life, especially since the only girl he ever loved has always been off-limits. But then Hill is assigned to investigate her father's mysterious death, and he's forced back to the town–and the woman–he left behind.
When Hill left Loveless, he broke Kody Lawton's already battered heart. And now that he's working on her father's case, avoiding him is impossible. She can handle Hill and her unwanted feelings–until he puts his life on the line to protect her. Suddenly, Kody realizes that Hill could be taken away from her…for good.
"Crownover delivers the goods."-Lori Wilde, New York Times bestselling author
"Crownover writes cowboys that make you want to pack your bags in search of a small-town ranch!" -Melissa Foster, New York Times bestselling author
Includes the bonus novella Cowboy to the Rescue by A.J. Pine!
Add UNFORGIVEN to your Goodreads TBR here!
Unforgiven is the second book in the Loveless, TX series by the talented Jay Crownover. This series is not full of hearts and flowers. It's emotional and deals with serious issues, but centers around the Lawton's who are loyal and love each other fiercely because of what they've had to overcome together. As soon as I met Kody, I knew her story was going to be good. When she was young, she had an instant crush on her brother's best friend. But his younger brother seemed more her match since he was a little broken too. Hill Gamble has always loved Kody Lawton. But when she fell in love with his brother, he couldn't stay in town and watch them together. Even after Aaron died, Hill felt guilty having feelings for Kody that he stopped talking to her. Now he's back in town investigating her father's death. Kody can't stand to be in the room with Hill without throwing out barbs. She's rude and snarky, but he never walks away. She's always the one who can't handle what she's feeling. She feel guilty wanting Hill after losing Aaron, but it takes him saving her life to realize that she can't live without Hill anymore. Will she be able to admit her feelings before she loses the only man for her? Will Hill finally tell Kody she's the only woman he's ever loved? This story was so intense! The tension between Kody and Hill was so palpable  and I loved it! I could feel the way he loved her when he spoke and when he protected her. She was a little slow to finally realize it, but once she did, it was on! This was a story about forgiving yourself and letting go of the past so you can be happy and move on. I love the ending and can't wait to see what happens next!
"Being away from you hurts. It always hurt, but now it's impossible to ignore. My heart aches."
"I never expected you to be so good with words. Also never expected you to be a no-underwear kinda guy, but I'm pleasantly surprised by both. I love all the new things I'm learning about you, Hill."
Excerpt:
As I stood in the doorway, I took in the bar. It had a decent-size crowd considering it was a Tuesday night. The mix of patrons was as eclectic as the decor. It was all very Kody. The building was an old barn, so the interior had a lot of western elements, including old whiskey barrels for tables. But there were also brightly colored artwork and neon signs brightening up the space. Instead of the big lighting fixture in the middle of the bar being made out of antlers or wrought iron, it was an intricate mix of colorful glass beads. The whole thing was very country and western meets boho chic. The people filling up the seats were mostly Loveless residents. They included the guys gathered near the bar dressed in leather, covered in tattoos, and rocking club colors. The Sons of Sorrow motorcycle club had moved into the hill country on the outskirts of Loveless years after I'd left town. Now their flashy bikes and intimidating presence were as commonplace as pickup trucks and horse trailers. It made sense they liked Kody's bar since it was between town and their clubhouse, but I didn't have to like it.
I really didn't like the way the large, dark-haired man leaning across the bar looked at Kody. I knew from Case that Palmer "Shot" Caldwell was the current president of the Texas branch of the club. I'd taken it upon myself to learn more about the man when he ended up in the middle of the last case that brought me home. Shot was a former marine, a decorated sniper, the son of the founder of the club, and someone Kody was inexplicably close to. Everything about her relationship with the biker set my teeth on edge and had me wanting to make a claim I had no right to stake.
As I stepped forward, the heavy wooden door shut with a bang behind me and drew the eyes of the people sitting closest to me. I saw a couple of looks of recognition, and some people purposely looking away. I nodded and touched the tip of my finger to the brim of my hat in a fairly polite greeting. These people weren't my friends. No one in this town had tried to help my brother when he needed it the most, and I would never forget that. Unlike the Lawton kids, I'd left Loveless in the rearview mirror and planned on never looking back. All of my worst memories were here. So was the one person I wanted more than anything but knew I could never have.
Under the dim bar lights, I met Kody's gaze across the room. She looked pale. Her wild mane of multicolored blond hair was messier than usual, and she appeared to be swaying slightly every time she let go of her hold on the bar. Her eyes narrowed, and at first, I thought she was giving me a dirty look, but the next instant her entire body lurched and she toppled over, listing to the side and disappearing behind the wide, long bar.
My heart stopped for a split second and I had to bite my tongue to stop from screaming her name. I found myself in dangerous, deadly situations due to my job, but I couldn't recall a single instance when I had been as terrified as I was in that moment Kody went down.
I heard the biker shout her name and was vaguely aware of him kicking back his bar stool as he jumped to his feet. I was moving before I had time to weigh whether it was a good idea. Kody didn't like it when I was in her space. She'd told me she hated me and ordered me to leave her alone on more than one occasion, but none of that stopped me from reaching the bar in record time. It didn't slow me down when I planted a hand near the biker's empty drink and vaulted over the top of the bar.
I landed on the floor in front of Kody, ignoring the shouts and commotion coming from all directions. I waved off the bartender hovering uncertainly behind Kody and quietly asked, "Are you okay, Kody?"
The answer was obvious when, instead of biting my head off, her big, bright-green eyes flooded with tears and her shoulders started to shake with silent sobs. Having people burst into tears as I was talking to them, was a pretty common occurrence considering my line of work. I'd developed a natural immunity to tears of all kinds. But not to Kody's. Hearing her breath catch and watching her eyelashes get spiky and damp as she struggled to hold the tears back made my heart twist painfully in my chest.
Grab your copy of UNFORGIVEN today!
———————
About JAY CROWNOVER:
Jay Crownover is the international and multiple New York Times and USA Today bestselling author of the Marked Men Series, The Saints of Denver Series, The Point Series, Breaking Point Series, and the Getaway Series. Her books can be found translated in many different languages all around the world. She is a tattooed, crazy haired Colorado native who lives at the base of the Rockies with her awesome dogs. This is where she can frequently be found enjoying a cold beer and Taco Tuesdays. Jay is a self-declared music snob and outspoken book lover who is always looking for her next adventure, between the pages and on the road.
Connect with her:
Website | Facebook | Instagram | Goodreads | Reader Group
February 25, 2020 By Two Book Pushers
Crazy Heifer is the second book in the Valentine Boys series by Lani Lynn Vale. I'm loving these Valentine boys so much! Callum can't stand by while someone calls a woman fat. That just is not ok. Especially when the woman is Desi, a sexy, curvy woman who he can't help but want. Her ex is a royal jerk and Callum isn't going to let him get away with that behavior. Desi just wants to be free of her ex. He didn't deserve her and now he just won't go away. She's determined to show him she's moved on and is better now that she's free of him. She's signed up to run a Spartan race and finds herself being watched by the sexy Callum Valentine. He isn't looking at her in a bad way though. He's looking at her with lust in his eyes. What could he possible see in her? Callum likes his women to have meat on their bones and he vows to help and support Desi if she wants to run this race. It's a pleasure to watch her in her workout gear. The closer they become, the more he realizes she's it for him. And the more time she spends with his brothers, the more she sees that Callum is the man for her. I loved everything about this story! The way Callum loved Desi for her curves and her inner beauty, even though she was gorgeous on the outside too. The way Desi wanted to be healthy and not just skinny. The way Callum's brothers and nephews fell in love with Desi and her cooking! The family, the loyalty and the love just gave me all the feels! I wanted to spend time in their kitchen with them and I really want cake now.
February 25, 2020 By Two Book Pushers
♦ ♦ ♦
"There was a boy once. A boy who wasn't strong enough to save me when I was taken."
"There was a girl once. A girl called Tess Snow who sat with me in the dark waiting to be sold."
"There was an owner once. An owner who bought me, entrapped me, and made me his unwilling goddess."
Eleanor Grace is a naïve dreamer. Trusting and young, she believes her book-loving boyfriend can save her when her freedom is snatched and sold. Squirreled away to an island at midnight, delivered to a man even darkness won't touch, she's bound by a contract.
Five men.
Five fantasies.
Five pieces of her soul.
Sullivan Sinclair is the giver of fantasies. Any wish, any desire—he is the master at quenching even the filthiest appetites. His private paradise and perfectly trained goddesses are there for one purpose: to ensure every guest is extremely well satisfied.
He bought her.
He trapped her.
She belongs to him.
♦ ♦ ♦
♦ ♦ ♦
Read the First Chapter HERE!
♦ ♦ ♦
"You're saying you're a loss?"
"I'm saying I'll cause you untold problems if you keep me here." I narrowed my eyes. "I'm not afraid of you."
He stepped toward me quickly, crowding me, bringing naked, masculine flesh and scorching body heat.
I backpedalled, losing ground, hating myself the second I tripped.
He laughed coldly. "Not afraid? I think you're fucking petrified."
Digging my toes into the sand, I cocked my chin. "I meant what I said, Sully Sinclair. Keep me trapped against my consent and I will make you pay. I'll find some way to curse—"
"Curse me?" His arm shot up, his hand sinking into my hair. In a single heartbeat, we went from apart to linked. His fingers curled tight around the strands, tugging my scalp, sending more chills scattering. "You've already cursed me. You cursed me the second you arrived."
I tried to pull away, but his hold turned aggressive.
"Let me go."
His eyes flashed navy in the darkness as his tongue ran over his bottom lip. "Let you go? I should, shouldn't I?" His stare landed on my mouth, and lust became a sapphire fire in his gaze. "Too bad I'm not going to."
♦ ♦ ♦
Enter the Release Day Giveaway HERE!
♦ ♦ ♦
Pepper Winters is a New York Times, Wall Street Journal, and USA Today International Bestseller. With a catalogue of over twenty titles, she's hit the bestselling lists over thirty times.
She loves romance, star-crossed lovers, and the forbidden taboo. She strives to write a story that makes the reader crave what they shouldn't, and delivers tales with complex plots and unforgettable characters.
After chasing her dreams to become a full-time writer, Pepper has earned recognition with awards for best Dark Romance, best BDSM Series, and best Hero. She's an #1 iBooks bestseller, along with #1 in Erotic Romance, Romantic Suspense, Contemporary, and Erotica Thriller. She's also honoured to wear the IndieReader Badge for being a Top 10 Indie Bestseller.
After releasing two books with Grand Central, Hachette (Ruin & Rule and Sin & Suffer) Pepper is a Hybrid Author of both Traditional and Self-published work.
Represented by Trident Media, her books have garnered foreign interest and are currently being translated into numerous languages, including already released titles in Italian, French, Hebrew, German, and Turkish. Audio Books for her entire back-list will be available soon.
♦ ♦ ♦
February 25, 2020 By Two Book Pushers
Sanctum (Sacred Series #1) by K. Michelle
Cover by: Books and Moods
Dark Romance Suspense
Don't forget to add to your TBR: https://bit.ly/37eRvZc
Be notified when Sanctum is live: https://bit.ly/2v8vrl4
PRE-ORDER:https://amzn.to/2HQXd8H
From author K. Michelle comes a thrilling NEW dark series.
A hate fuelled romance between Cohen and Dessa…
Do I scare you, Little One?
Do I make your knees shake and hands tremble? Does your heart race and your lips quiver around me? I'm your worst nightmare, lurking in the black oblivion that surrounds you. Always watching. Always waiting. They call me Priest, and I'll make you repent for your sins. But I won't be able to protect you from mine.
Do I scare you, Cohen?
Does my mere presence heighten your pulse and warm the blood in your veins? Do I stir the deepest parts of you? The parts you buried deep inside long ago? Admit it, Cohen, I'm a thrill, scattered within the deepest layers of your mind. Always tempting. Always enticing. You found me in the woods. You were a danger, and I was naïve. But now I want the wolf that hunts me. Call it a truce. Call it a surrender. He needs justice. I need answers.
It's us against them.
Cohen may have claimed me, but Sanctum wants to own me. They plan on collecting.
But so am I.
About the Author:
I go by Karlee. I was born and raised in Michigan, but now live in Southern California. I'm horrible at "About Me's," so bear with me. 😉
When I moved to California, I worked at a gym and met the most beautiful soul, Trini.
Our friendship was instant–we just clicked. Trini had Stage 4 Colon Cancer and was taken from us way too soon. No matter how much you think you're prepared for something like this, when it finally happens, it feels catastrophic and devastating. Trini inspired my very first book, Sooner Than You Think. The idea came to me shortly after she passed, and the idea of writing a book was daunting. Self-doubt set in, and I never even tried.
Fast forward to May of 2019. After twenty-seven years of never really knowing what my purpose is, what I should do, or what I was meant for, I sat on my bed after putting my son to sleep and felt lost. My eyes kept looking at my computer until I grabbed it, opened Word, and thought, "let's just see what happens." Well, in less than a year this is now my third book, and let me tell you, I love doing this. This is it. I've found my passion and I love connecting with you readers. I've met the most amazing people throughout this journey, and I've never been so glad I pushed fear away and took the leap. I will always keep writing. Even if.
STAY CONNECTED
www.amazon.com/author/kmichelle
www.bookbub.com/profile/k-michelle
https://www.instagram.com/kmichelleauthor
www.facebook.com/kmichellebooks
Join her FB Group K's Book-Babes: https://bit.ly/2RaubGG
February 24, 2020 By Two Book Pushers
JUST ONE YEAR IS LIVE!
From New York Times bestselling author Penelope Ward, comes a new standalone novel.
SYNOPSIS
The beginning of my sophomore year in college was off to a rough start.
On the first day of orientation, I had an altercation with an infuriating British dude in a campus bathroom.
(The ladies' room was out of order. So, I used the men's room. Don't judge.)
I got home later that night and realized that the foreign student we were expecting to rent a room in my parents' house was allergic to our cat.
So, the spare room went to someone else: Caleb—the British guy from the men's room.
And so it began…my love-hate story with Caleb Yates. Or was it hate-love in that order?
The guy knew how to push every one of my buttons.
Sometimes I'd email him to express my aggravation and disdain.
He'd actually rewrite my own words and send them back to me.
That was the type of infuriating person Caleb was.
So frustrating.
And…
Sometimes incredibly funny and endearingly sweet.
And hot.
He eventually grew on me, and Caleb soon became one of my best friends that year.
Too bad he was headed back to England soon, so nothing could happen between us—for so many reasons.
I definitely couldn't fall in love with him, especially since all we had was just one year.
PURCHASE LINKS:
Amazonè https://amzn.to/3c2DGzZ
Apple Booksè https://fave.co/2S0THyq
Nook è https://fave.co/2GZ1NkV
Kobo è https://fave.co/3bbK33s
Google Play è https://fave.co/2ONqJjN
Paperback è https://fave.co/2QgEaIN
AUDIO è https://www.audible.com/pd/B0848WMLJP/?source_code=AUDFPWS0223189MWT-BK-ACX0-180955&ref=acx_bty_BK_ACX0_180955_rh_us
Goodreads è https://fave.co/35S2B5Q
BIO:
Penelope Ward is a New York Times, USA Today and #1 Wall Street Journal bestselling author of contemporary romance.
She grew up in Boston with five older brothers and spent most of her twenties as a television news anchor. Penelope resides in Rhode Island with her husband, son, and beautiful daughter with autism.
With over two million books sold, she is a 21-time New York Times bestseller and the author of over twenty novels. Her books have been translated into over a dozen languages and can be found in bookstores around the world.
SOCIAL MEDIA LINKS:
Facebook
https://www.facebook.com/penelopewardauthor
Facebook Private Fan Group:
https://www.facebook.com/groups/PenelopesPeeps/
Instagram
@penelopewardauthor
http://instagram.com/PenelopeWardAuthor/
Twitter
https://twitter.com/PenelopeAuthor
February 24, 2020 By Two Book Pushers

🔥🔥 COVER REVEAL 🔥🔥
From USA Today bestselling author, Jeana E. Mann, comes a tale of corruption and intrigue. This is a dark romantic suspense about how one lie changed the lives of 2 people.
Find out the truth in Lies We Tell coming March 16th!
Cover created by Jena Brignola at Bibliophile Productions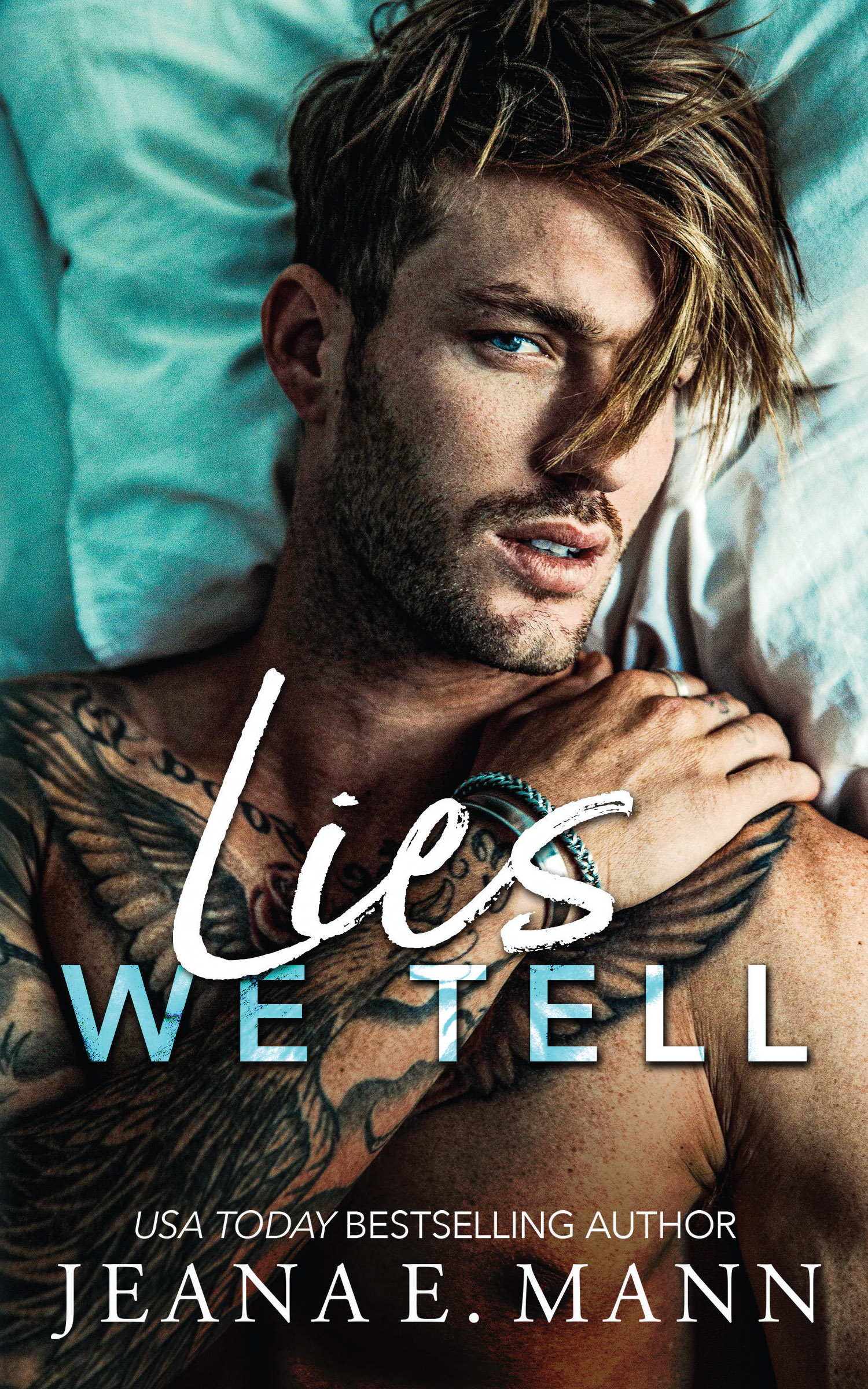 One lie. One crazy, dark, dirty lie turned my world upside down. It dug its claws into my life, altered my future, and clouded my past.
I thought I was over him. The one who lied. I thought I'd moved on with a successful career, a fat bank account, and a sexy boyfriend.
All that changes when Owen Henry walks back into my life. He's out on parole, standing on my front porch, looking sexier than ever. I want to hate him for what he's done, but all I can do is think about how great his lips felt on mine the last time we kissed.
I'm so screwed.
*This book was released in 2017 as Monster Love and contains new content.
PREORDER TODAY! This is one you don't want to miss!
AMAZON: https://amzn.to/2HQMoUc
APPLE: https://apple.co/38HKP6q
NOOK: http://bit.ly/2GByNj2
KOBO: http://bit.ly/2RCxQgv
Add to GR: http://bit.ly/LiesWeTell-GR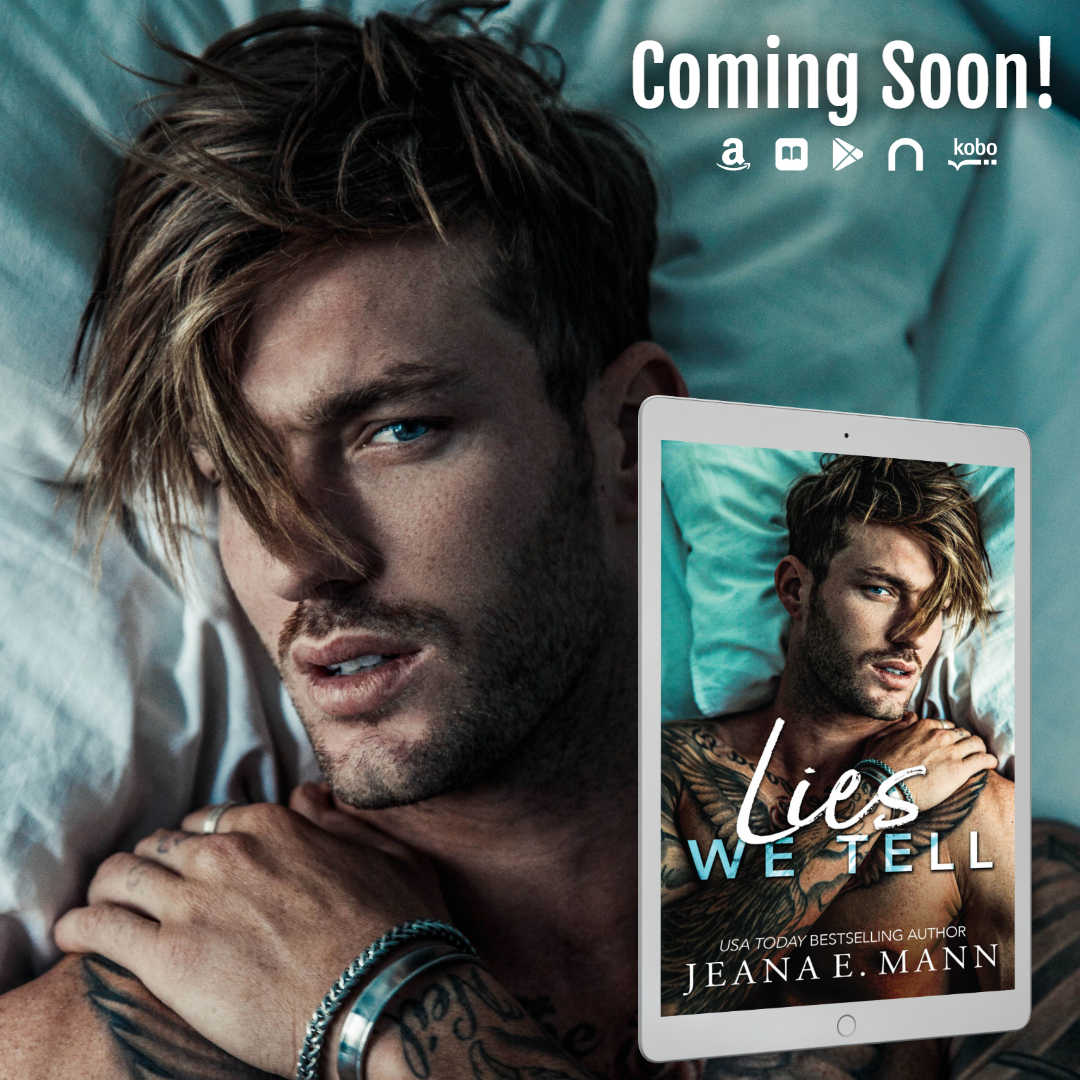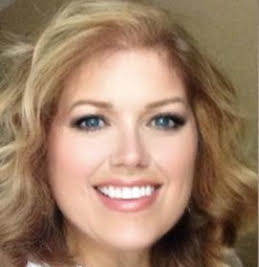 Jeana is a USA Today and Publishers Weekly Bestselling Author from Indiana. She gave up a career in the corporate world to write about sexy billionaires and alpha bad boys. With over twenty books and several awards beneath her belt, she's never regretted her choice to live out her dream. She's a free spirit, a wanderer at heart, and loves animals with a passion. When she's not tripping over random objects, you'll find her walking in the sunshine with her rambunctious dogs and dreaming about true love.
You can follow Jeana here:
Website:http://jeanaemann.net
Facebook:https://www.facebook.com/JeanaEMann
Twitter:https://www.twitter.com/JeanaEMann
Goodreads:https://www.goodreads.com/JeanaEMann
Amazon:https://www.amazon.com/Jeana-E.-Mann/e/B00HI4KQB4/ref
Bookbub: https://www.bookbub.com/authors/jeana-e-mann
Instagram: https://www.instagram.com/jeana.e.mann/
Text Alerts: Text the word "Jeana" without quotations to 21000
February 24, 2020 By Two Book Pushers

🔥🔥 COVER REVEAL 🔥🔥
Check out the HOT cover for RUIN, book 3 in the Kingdoms of Sin series by Willow Aster! Ruin is coming on March 19th! This is Ava's story.
Cover designed by: Hang Le: https://www.facebook.com/designsbyhangle
Photographer: Wander Aguiar Photography: https://www.facebook.com/WANDER.AGUIAR.PHOTOGRAPHY/
Model: Andrew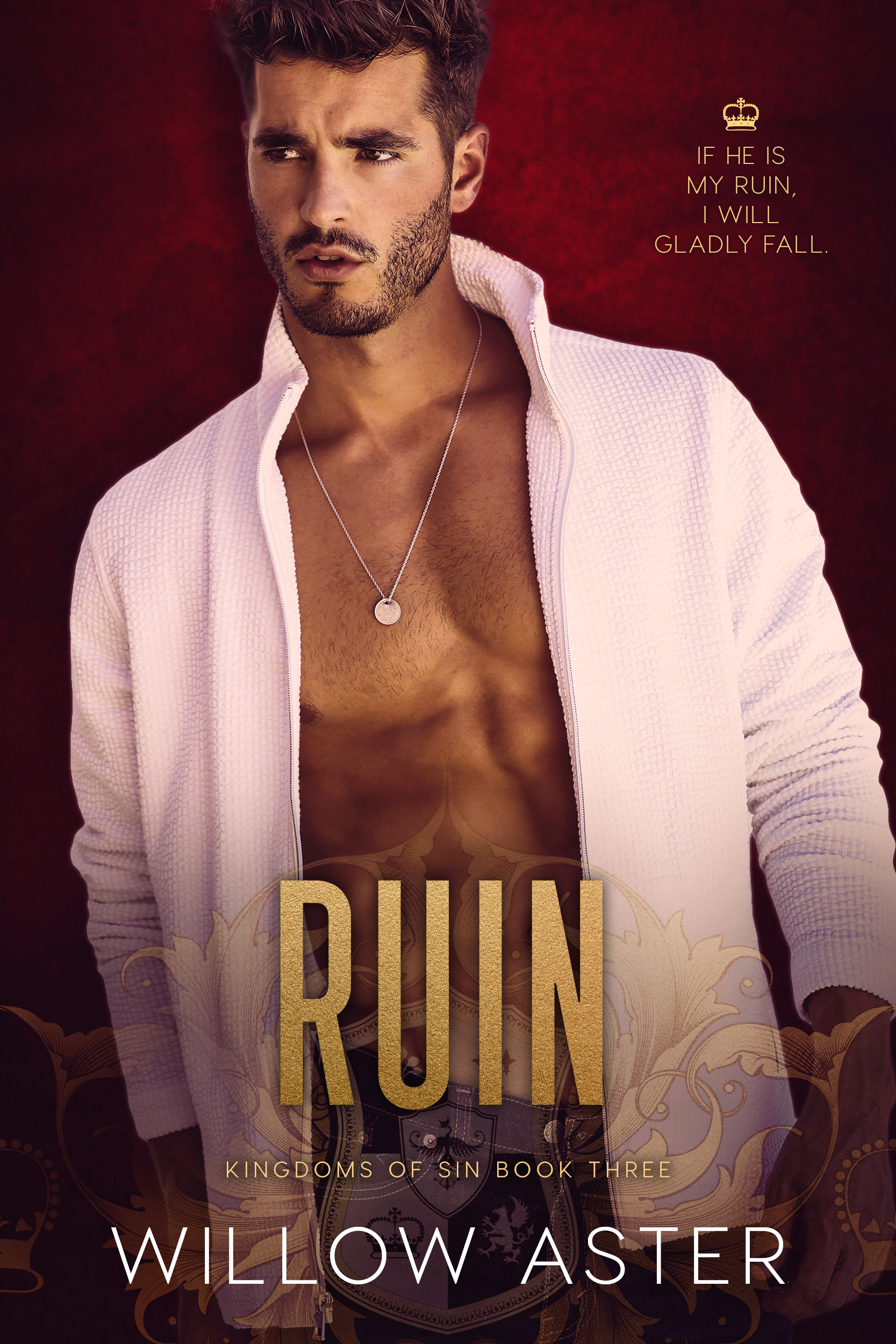 I never wanted to be a royal.
I could leave that to my older brother and sister and be happy.
I'd rather see the world, experience life with unjaded eyes, and meet people who liked me based on something other than their expectations.
Gentry Barrington saw exactly who I was the first time we met, the real me.
My title wasn't part of the equation.
It was our connection that made the impression…
And maybe our kiss that stopped time, it was so good.
He had no idea how young I was.
I had no idea how old he was.
But sometimes appearances did matter, and there were rules that must be followed…
Or else the forbidden became too alluring to ignore.
Goodreads: http://bit.ly/Ruin-Goodreads

Catch up on the Kingdom of Sins series today!
Book 1 – Downfall (Luka & Mara)
Amazon US: http://bit.ly/Downfall-US
Amazon UK: http://bit.ly/Downfall-UK
Amazon CA: http://bit.ly/Downfall-CA
Amazon AU: http://bit.ly/Downfall-AU
Book 2 – Exposed (Elias & Mara)
Amazon US: http://bit.ly/Exposed-US
Amazon UK: http://bit.ly/Exposed-UK
Amazon CA: https://amzn.to/2SM6rd9
Amazon AU: http://bit.ly/Exposed-AU
Enjoy the first sneak peek into the book!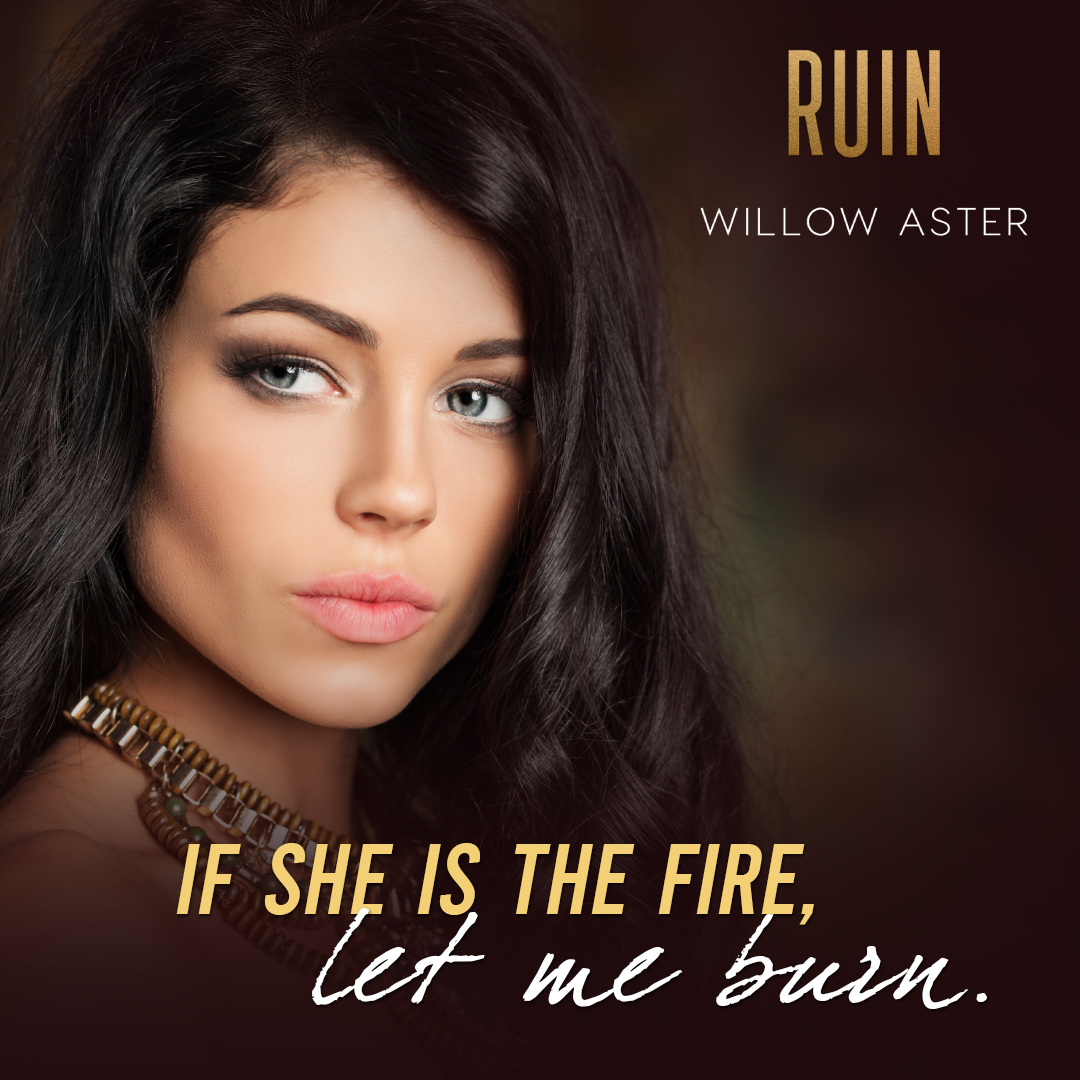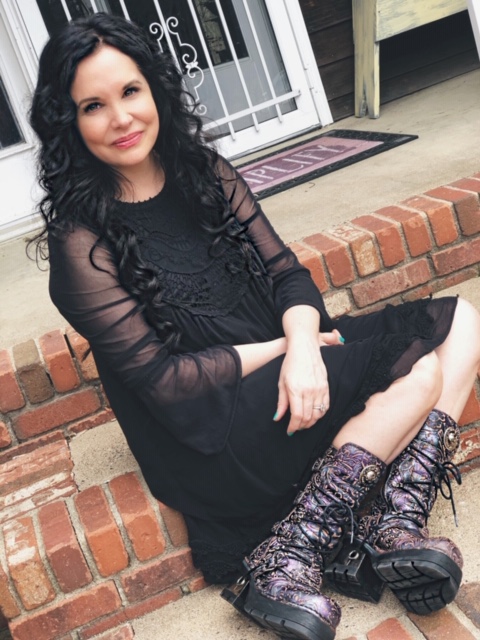 Willow Aster is a USA Today Bestselling author and host of Living in the Pages podcast. She lives in St. Paul, MN with her husband, kids, and rescue dog.
Website: www.willowaster.com
Facebook Author Page: https://www.facebook.com/willowasterauthor/
Twitter: https://twitter.com/WillowAster
Instagram: https://www.instagram.com/willowaster1/
Listen to her Living in the Pages podcast:
iTunes: https://bit.ly/2DzM9ZU
Android: http://bit.ly/2Uj5JkZ
Google Play: http://bit.ly/2SJE7bI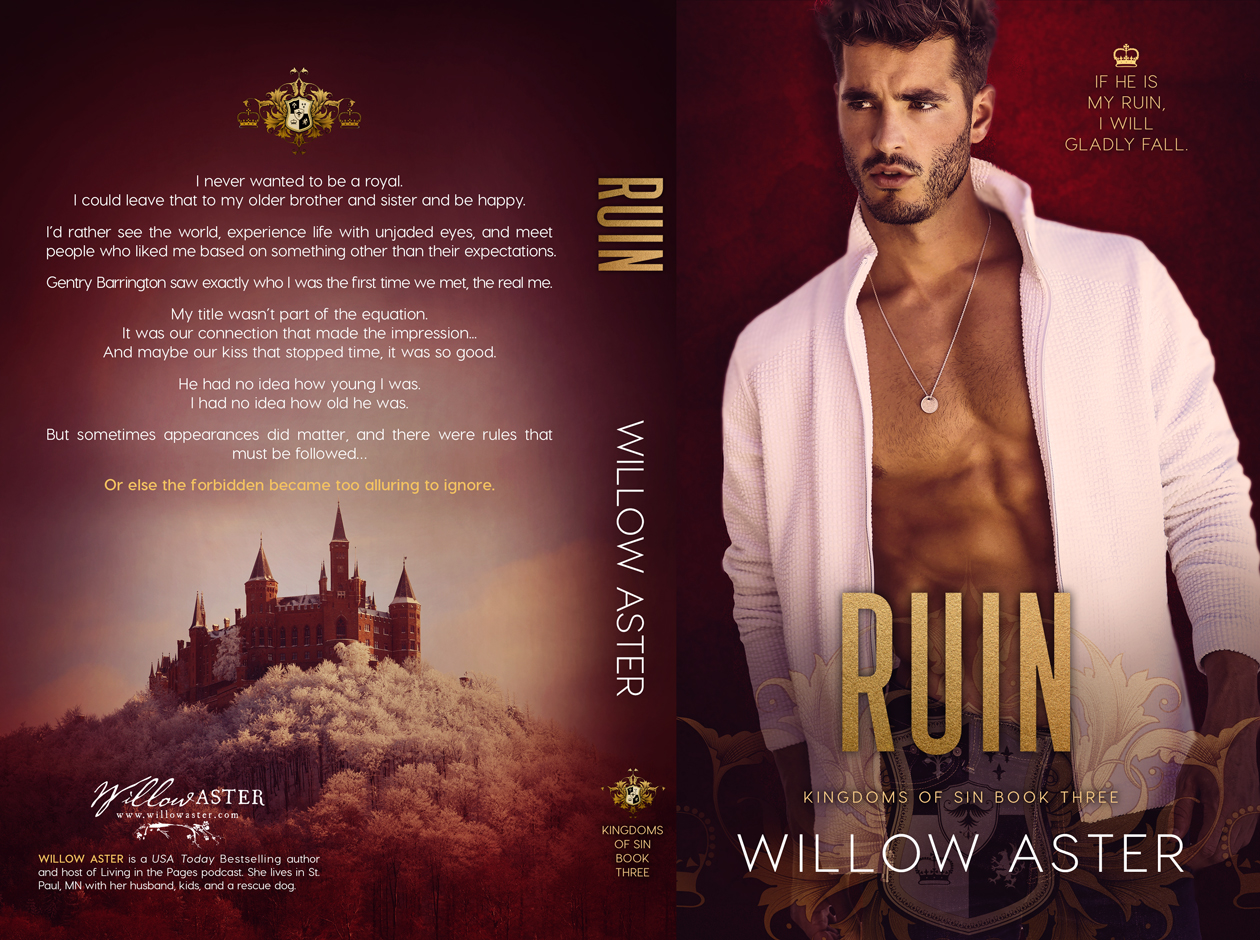 February 24, 2020 By Two Book Pushers
Title: The Other Guy: A Textdoor Neighbor Romance
Author: Jennifer Van Wyk
Genre: Contemporary Romance, Small Town Romance
Release Date: March 26
Cover Design: Kate at Y'all That Graphic
Pre-Order Today! Releasing March 26th!
Read for FREE with KindleUnlimited
From the Ground Up is Jennifer's first published novel, with the hopes of many more to come. Jennifer makes her home in rural Iowa with her high school sweetheart, three beautiful and amazing kids, one crazy Jack Russell terrier. This is where her love for all things reading, baking, and cooking happen. Jennifer's family enjoys camping, boating, and spending time outside as much as possible. When she's not writing or editing/proofreading manuscripts for the many talented authors she's come to love, she's sipping coffee or iced tea with her kindle in her lap or binging on Netflix.
Facebook | Website | Twitter | BookBub | Instagram | Amazon | Goodreads | Reader Group
Sign up for Jennifer's Newsletter
Enter to win a $20 Amazon Gift Card!
February 21, 2020 By Two Book Pushers