January 18, 2019 By Two Book Pushers
Title: HANDLE WITH CARE
Release Date: August 27th, 2019
Hero: Lincoln Moorehead
Need a refresher as to who the heck Lincoln is inside The Shacking Up World?
Lincoln is Armstrong Moorehead's older brother. You don't get to meet him directly in any of the previous books, but he's mentioned in Hooking Up.
You may remember Armstrong as the douchey ex-fiance/husband of Amalie Whitfield's in Shacking Up and her very short term husband in Hooking Up. Their marriage last all of 12 hours since Armstrong go caught cheating on Amalie during their wedding reception. Super classy right? Imagine what it would be like to be his brother.
Blurb/Summary: To be Announced–Myself and my team at SMP are working on this, so once we have it ready to go we'll share it with you! I have an excerpt for you to share with the cover in the meantime.
PREORDER LINKS
US → https://amzn.to/2VXuRQ8
CA → https://amzn.to/2Av1f3k
UK → https://amzn.to/2CTeblc
AU → TBA
iBooks → http://bit.ly/HandleWC
NOOK → http://bit.ly/2SBpy6Q
Kobo → http://bit.ly/2SM77wp
Google Play → TBA
Mass Market Paperback Preorder
Amazon PB → https://amzn.to/2UIonUw
B&N → http://bit.ly/BNHandleWC
Chapters → http://bit.ly/ChHandleWC
Indie Bound → http://bit.ly/IBHandleWC
BAM → http://bit.ly/BAMHandleWC
Add it to Goodreads → http://bit.ly/GRHandleWChh
EXCERPT
NOTE: This is an unedited excerpt. Content is subject to change, excuse any typos and my terrible use of commas.
NOTE: This is an unedited excerpt and is subject to change.
I'm startled out of my thoughts when my brother jumps up and shouts a bunch of profane nonsense, hands flailing like he's trying to swim on land, or approximate the chicken dance while on an LSD trip.
"You can't do this! It's absolute bullshit!" Armstrong yells.
I look around the table, trying to piece together what I missed.
"I'm sorry, Armstrong. I know this is a shock, but we feel it's in the company's best interest to put Lincoln at the helm during this transitional stage," G-mom says firmly.
At the helm? I look to G-mom who's busy not looking at me.
Armstrong jabs at finger at himself. "But I'm the one who's put in all the time here! I deserve to run the company! Lincoln doesn't know the first thing about Moorehead. All he knows how to do is dig wells and forage for food in the wilderness. How are those valuable assets here?" He turns his attention to our mother. "Did you know about this? How can you let this happen? Look at him. How can that be the face of our company? He looks like he crawled out of a gutter and mugged a twenty-year-old college kid on a bender. How is this better for our bottom line?"
My mother clasps her hands in front of her. "I'm sorry, Armstrong, but this decision wasn't mine to make. I know this is hard for you, but your grandmother and fath—"
Armstrong stomps his foot, exactly as a toddler would. "The company is mine! Lincoln can't have it!"
I raise a hand, half to quiet my brother and also to find out what the freaking deal is. "Whoa, let's back this bus up. Can someone explain what's going on?"
"You've been appointed as the CEO of Moorehead Media, according to the will," Christophe—no R, because that would make it far too pedestrian a name—my father's lawyer says.
I'm working on trying to remain calm as I address my grandmother. "You didn't say anything about me being CEO. You said you needed my help."
"Running the company, yes," she says through a practiced, stiff smile.
It's her warning face, but seriously, when she said she needed my help for a few months I figured it meant I'd be keeping Armstrong in line while she sorted out who was going to take over the company, which I realize now was a stupid assumption.
"I didn't think that meant CEO. How am I going to run a company with this dickhead on staff?" I motion to my brother.
"The name calling is unnecessary," G-mom replies.
"Lincoln's not even part of this family! He hasn't attended one event in the past five years except for Dad's funeral. He didn't bother coming to my wedding and now he's going to run the company? How is that fair?"
I snort. "Your wedding was an expensive joke."
He crosses his arms over his chest. "I was set up. Amalie had cold feet and made me out to look like the bad guy."
The woman beside him shoots him disgusted look.
Armstrong clears his throat and tugs at his collar. "My wedding is not the real issue. The point is that you've never involved yourself in any part of this family and now you think you can come in and take over. I will not stand by and let this happen!" He keeps jabbing his finger at me, as if he's engaged in a finger sword fight.
I lean back in my chair and lace my fingers behind my neck. Armstrong has always been reactive. And self-absorbed. For a while it seemed like he finally had it together—back when he was engaged. But ever since that fiasco of a wedding he seems to have come completely unglued. Again. But worse this time. "Someone needs a timeout."
January 17, 2019 By Two Book Pushers
Temptation never tasted so good…
What do you get when you mix a long-simmering attraction, a dangerous secret, and a swoony hero who will sweep you off your feet? BIRTHDAY SUIT—a delicious standalone forbidden romance from #1 NYT bestseller Lauren Blakely that you're guaranteed to love! Get your copy of BIRTHDAY SUIT now!
✮✮✮BIRTHDAY SUIT is here! Grab your copy today! ✮✮✮
There is no rule in the Man Code as unbreakable as this: no matter how beautiful, smart, clever, and witty she is, do not—under any circumstances—fall in love with your best friend's woman.
Yeah. So there's that. Look, it's not like I didn't know I screwed up by falling for her.

Also, for the record, unrequited love sucks big time.
And, I might have cut myself some slack by now, given everything that went down in the last few years, but Lulu just walked back into my life in a big way.

***
There are three things I've never been able to resist—my friends, my family, and chocolate.
Leo Hennessy? He was nowhere on that list. He's been a true friend—a friend who walked through hell and back with me.
Now, I'm stepping into my new future. I didn't expect it to include a riddle-filled, race-against-the-clock scavenger hunt across New York City.
With Leo.
Suddenly, I'm looking at this man with new eyes…
But my life spun out because of a man once before, and I can't risk my fresh start, no matter what the temptation. And Leo is most definitely a temptation of the sexiest, sweetest, and most dangerous variety.
More irresistibly delicious than chocolate…
ORDER YOUR COPIES HERE!
Birthday Suit is Lauren Blakely's newest romcom, but with a side of emotion and chocolate. Three of my favorite things: Lauren Blakely, romance and chocolate. Yes, please! Birthday Suit is a friends to lovers, best friend's girl romance. Only Lauren can combine so much goodness in one place. Leo fell for Lulu when he met her, but then she became his best friend's woman. He never acted on or spoke about his feelings, just went on with his life. Mostly. Now, Lulu's back in his life and a lot has changed over the last few years. Once he sees her all the feelings come rushing back. But he's a gentleman and a professional and when they start to work together, they rekindle their friendship. When a New York City wide scavenger hunt sends him, Lulu and a few coworkers out into the city, he falls for her all over again. But things are different now. Could they possibly have a chance? Lulu has finally gotten her life back on track. Her business is thriving, she's also working for Leo's company and having so much fun reconnecting with her old friend. Solving riddles and running around Manhattan is the most fun she's had a in a long time. She's finally let go of her past, the guilt and the pain. Leo is back in her life and she forgot how much she missed having him around. But, now that there's no one else around, she's seeing a new side of Leo. Was he always this handsome? This sexy? This thoughtful? Wow. What happens when her feelings of friendship quickly move into so much more. She wants Leo. Covered in chocolate. In his birthday suit. Uh oh! She doesn't want to find herself in the same position she was in years ago with her career. Can she find the happy balance between her love of her work and this new found love of her friend, Leo? This story! Wow. It's full of happiness, emotion, pain, joy, sexiness, humor, riddles, friendship and chocolate. Oh, the chocolate! Lulu is adorable, fun, a little wacky and funny! Leo is sexy, thoughtful, handsome and just a really nice guy! I loved watching Leo and Lulu find themselves in each other. Enjoy being friends again. Eating delicious chocolate. Solving puzzles and falling in love!
~LEO~
Let's get one thing out of the way real fast. Regret is a waste of time. I don't believe in it—never have, never will. I try to live my life without that useless emotion.
You know those articles where the journalist asks old people what they would have done differently, and they list all sorts of stuff—be a better friend, call your mom, tell the woman you love her? You don't want to be that person.
There's a simple way to avoid it.
Do the good shit now.
Say yes to that crazy job offer, ask out the girl who's out of your league, climb the mountain and kiss the sky.
You'll thank yourself later.
But the flip side of that kind of life is this: you need some rules. A few basic guidelines to follow to navigate the potholes.
Over the years I've assembled my top picks. Some from experience, some from listening to others.
Allow me to share my hard-won wisdom.
If you have to sniff the food in your fridge to decide if you can eat it, just toss it. You'll be glad you did tomorrow.

You can tell everything you need to know about a person by how he or she treats the waiter.

Turn down that last tequila shot. Trust me on this one.

If your woman sends you to the store to pick up something, get that something, not another version you think is better. Her version is always the right one.

You can't put your foot in your mouth if it's closed.

No dude ever gets in trouble while cleaning the kitchen.

Don't live to work; work to live.

If you tell the truth, you don't have to remember anything.

Don't get a tattoo that's longer than your dick.

Men should never wear black jeans.
That's my list and I'm sticking to it. Those mantras have served me well. They've made me the man I am today—successful, wise, and satisfied.
There's one more though. An addendum, if you will. The postscript you need to achieve a life well-lived. This ought to be so damn easy that no one makes this mistake.
Gather close.
Write it down.
Follow this one to the motherfucking letter.
No matter what, don't fall in love with your best friend's girl.
Too bad that ship sailed long ago for me.
---
✦Performed by Andi Arndt and Sebastion York, with a Full Cast including Joe Arden, RC Bray, Jason Clarke, Shane East, Dion Graham, January LaVoy, Erin, Mallon, Robin Miles, Savannah Peachwood, and Julia Whelan✦
✦ Audio ➜https://blkly.pub/BirthdaySuitAudible
---
"A cast of TWELVE narrators work together to deliver an unforgettable performance!"
—Yvette at Nose Stuck In a Book
"The best audiobook of 2019! Blakely has set the bar with this audio production."
—Joc, The Audio Flow Bookin Around Town
"This touching tale kept me invested from start to finish. It made me feel many things, sad, happy, hopeful and… hungry. I also enjoyed the colorful support characters and hope I'll be getting to know some of them better in a future book."
~ Rosa Sharon, iScream Books Blog
"Once again I am left dazzled by Ms. Blakely's words. Birthday Suit is a top notch romance loaded with sweetness, sexiness and heartwarming feels!! Nobody does romance quite like she does, her witty words and uniquely crafted characters are incomparable!"
~ Misty at Reds Romance Reviews
Let's celebrate the release of BIRTHDAY SUIT
with the cupcake of the month club from Wicked Good Cupcakes and a Subscription to Audible all wrapped up in a Michael Kors Handbag ($500 value)!
About Lauren Blakely:
A #1 New York Times Bestselling and #1 Wall Street Journal Bestselling author, Lauren Blakely is known for her contemporary romance style that's sweet, sexy and witty. Her heroines are strong and smart and her heroes have hearts of gold and fantastic funny bones. She lives in California with her family, including her smoking hot and hilarious husband and her two brilliant and kind children. She has plotted entire novels while walking her dogs — she might have four dogs, or maybe five. If she's lucky, she'll soon have six dogs. With fourteen New York Times bestsellers, her titles have appeared on the New York Times, USA Today, and Wall Street Journal Bestseller Lists more than 100 times, and she's sold more than 3 million books. In January she'll release BIRTHDAY SUIT, in March BEST LAID PLANS and in April THE FEEL-GOOD FACTOR. To receive an email when Lauren releases a new book, sign up for her newsletter! laurenblakely.com/newsletter
January 16, 2019 By Two Book Pushers
Read a short sneak peek from chapter two below or grab the full, first two chapters here: https://dl.bookfunnel.com/qi0wfckd79
Figures.
It was the gorgeous guy I'd seen in the elevator. And here I thought we'd had a little spark.
Bennett Fox grinned like he'd already been named my boss and ex-tended his hand. "Welcome to Foster Burnett."
Ugh. He wasn't just good looking; he knew it, too.
"That would be Foster, Burnett and Wren, as of a few weeks ago, right?" I iced my subtle reminder that this was now our place of employment with a smile, suddenly thankful my parents had made me wear braces until I was nearly sixteen.
"Of course." My new nemesis smiled just as brightly. Apparently his parents had sprung for orthodontic care, too.
Bennett Fox was also tall. I once read an article that said the aver-age height of a man in the US was five-foot-nine-and-a-half inches; less than fifteen percent of men stood taller than six feet. Yet the average height of more than sixty-eight percent of Fortune 500 CEOs was over six feet. Subconsciously, we related size to power in more ways than just brawn.
Andrew was six foot two. I'd guess this guy was about the same.
Bennett pulled out the guest chair next to him. "Please, have a seat."
Tall and with gentlemanly manners. I disliked him already.
During the ensuing twenty-minute pep talk given by Jonas Stern—in which he attempted to convince us we weren't vying for the same position, but instead forging the way as leaders of the now-largest ad agency in the United States—I stole glances at Bennett Fox.
Shoes: definitely expensive. Conservative, oxford in style, but with a modern edge of topstitching. Ferragamo would be my guess. Big feet, too.
Suit: dark navy, tailored to fit his tall, broad frame. The kind of under-stated luxury that said he had money, but didn't need to flaunt it to impress you.
He had one long leg casually crossed over the other knee, as if we were discussing the weather rather than being told everything we'd worked twelve hours a day, six days a week for was suddenly at risk of being in vain.
At one point, Jonas had said something we both agreed with, and we looked at each other, nodding. Given the opportunity for a closer inspection, my eyes roamed his handsome face. Strong jaw, daringly straight, perfect nose—the type of bone structure passed down from generation to generation that was better and more useful than any monetary inheritance. But his eyes were the showstopper: a deep, penetrating green that popped from his smooth, tanned skin. Those were currently staring right at me.
I looked away, returning my attention to Jonas. "So what happens at the end of the ninety-day integration period? Will there be two Creative Directors of West Coast Market-ing?"
Jonas looked back and forth between us and sighed. "No. But no one is going to lose his or her job. I was just about to tell Bennett the news. Rob Gatts announced he'll be retiring in a few months. So there will be a position opening up for a creative director to replace him."
I had no idea what that meant. But apparently Bennett did.
"So one of us gets shipped off to Dallas to replace Rob in the south-west region?" he asked.
Jonas's face told me Bennett wouldn't be happy about the prospect of heading to Texas. "Yes."
All three of us let that sink in for a moment. The possibility of having to relocate to Texas shifted my mind back into gear, though.
"Who will make the decision?" I asked. "Because obviously you've been working with Bennett…"
Jonas shook his head and waved off what I was beginning to ques-tion. "Decisions like this—where two senior management positions are being merged into one of-fice—the board will oversee and make the final determination of who gets first pick."
Bennett was just as confused as me. "The board members don't work with us on a daily basis."
"No, they don't. So they've come up with a method of making their decision."
"Which is?"
"It'll be based on three major client pitches. You'll both come up with campaigns on your own and present them. The clients will pick which they like best."
Bennett looked rattled for the first time. His perfect composure and self-assuredness took a hit as he leaned forward and raked long fingers through his hair.
"You've got to be kidding me. More than ten years, and my job here comes down to a few pitches? I've landed half-a-billion dollars of ad accounts for this compa-ny."
"I'm sorry, Bennett. I really am. But one of the conditions of the Wren merger was that due consideration be given to the Wren employees in positions that might be elimi-nated because of duplicity. The deal almost didn't go through because Mrs. Wren was so insistent that she not sell her husband's company, only to have the new organization strip away all of Wren's hard-working employees."
That made me smile. Mr. Wren was taking care of his employees even after he was gone.
"I'm up for the challenge." I looked at Bennett, who was clearly pissed off. "May the best woman win."
He scowled. "You mean man."
★★★★★
We hope you enjoyed this sneak peek of We Shouldn't!
WANT MORE? You can grab the full first two chapters here: https://dl.bookfunnel.com/qi0wfckd79
SYNOPSIS:
Bennett Fox walked into my life on one hell of a crappy Monday morning.
I was late for the first day at my new job—a job I'd now have to compete for even though I'd already worked eight years to earn it, because of an unexpected merger.
While I lugged my belongings up to my new office, a meter maid wrote me a parking summons.
She'd ticketed a long line of cars—except for the Audi parked in front of me, which happened to be the same make and model as mine.
Annoyed, I decided to regift my ticket to the car that had evaded a fine. Chances were, the owner would pay it and be none the wiser.
Except, I accidentally broke the windshield wiper while slipping the ticket onto the car's window.
Seriously, my day couldn't get any worse.
Things started to perk up when I ran into a gorgeous man in the elevator. We had one of those brief moments that only happened in movies.
You know the deal…your body lights up, fireworks go off, and the air around you crackles with electricity.
His heated stare left me flush when I stepped off the elevator.
Maybe things here wouldn't be so bad after all.
Or so I thought.
Until I walked into my new boss's office and met my competition.
The gorgeous man from the elevator was now my nemesis. His heat-ed stare wasn't because of any mutual attraction. It was because he'd saw me vandalize his car. And now he couldn't wait to annihilate his rival.
There's a fine line between love and hate—and we shouldn't cross it.
We shouldn't—but straddling that line could be so much fun.
Pre-orders available now:
Audio pre-order ➜ https://amzn.to/2SRwvAJ
iBooks Pre-order ➜ http://smarturl.it/hmp0xb
Amazon paperback ➜ https://amzn.to/2CywECn
B&N ➜ http://smarturl.it/5zqpdu
Google Play ➜ http://smarturl.it/f6prjg
Add to Goodreads ➜ http://smarturl.it/f0wur9
Please note: There will not be an Amazon ebook pre-order, but it will be available on Amazon on release day.
Sign up for Vi's mailing list now and be the first one notified when it goes live!
➜ https://www.subscribepage.com/i6h3o5
Do you like texts better than email? Receive text notices of Vi's new releases by texting the word BOOKS to 77948 You will ONLY receive a text when a new book goes live – no other messages at all!
ABOUT THE AU-THOR:
Vi Keeland
Vi Keeland is a #1 New York Times, #1 Wall Street Journal, and USA Today Bestselling author. With millions of books sold, her titles have appeared in over a hun-dred Bestseller lists and are currently translated in two dozen languages. She resides in New York with her husband and their three children where she is living out her own happily ever after with the boy she met at age six.
Sign up for Penelope & Vi's mailing list now and be the first one notified when it goes live! ➜ https://www.subscribepage.com/Vi&Penelope
Do you like texts better than email? Receive text notices of Vi's new releases by texting the word BOOKS to 77948. You will ONLY receive a text when a new book goes live – no other messages at all!
Find Vi here:
Facebook Fan Group: https://www.facebook.com/groups/ViKeelandFanGroup/
Facebook: https://www.facebook.com/vi.keeland
https://www.facebook.com/pages/Author-Vi-Keeland/435952616513958
Website: http://www.vikeeland.com
Twitter: @vikeeland – https://twitter.com/ViKeeland
Instagram: @Vi_Keeland – http://instagram.com/Vi_Keeland/
BookBub: https://www.bookbub.com/authors/vi-keeland
Goodreads: http://www.goodreads.com/author/show/6887119.Vi_Keeland
Vi's Other Standalone Novels
Sex, Not Love
Amazon ➜ http://amzn.to/2D9QO8L
iBooks ➜ http://smarturl.it/vlfabb
B&N ➜ http://smarturl.it/hivkor
Kobo ➜ http://smarturl.it/9bxfwx
Google Play ➜ http://smarturl.it/19muiq
Audio ➜ http://smarturl.it/qbf0bs
Beautiful Mistake
Amazon eBook http://amzn.to/2tYg9fJ
iBooks http://smarturl.it/20x53a
Kobo http://smarturl.it/1btxsz
Egomaniac
Amazon: http://amzn.to/2jlxivn
iBooks: http://apple.co/2fIsmvC
B&N: http://smarturl.it/t4ohsv
Kobo: http://smarturl.it/azmhq9
Bossman
Amazon: http://amzn.to/2a8G1gW
iBooks: http://apple.co/25x2jyX
Kobo: http://bit.ly/29lW19I
The Baller
Amazon ➜http://amzn.to/1KnuPnj
iBooks  ➜  http://bit.ly/iBooksBaller
B&N ➜  http:// bit.ly/BarnesBaller
Kobo ➜  http:// bit.ly/KoboBaller
Google Play ➜ http:// bit.ly/GoogleBaller
Stuck-Up Suit (co-written with Penelope Ward)
Amazon:  http://amzn.to/1Q1SxXx
iBooks: http://apple.co/1Qbwy57
B&N: http:// bit.ly/1UC8wDC
Kobo: http:// bit.ly/1RJdUif
Cocky Bastard (co-written with Penelope Ward)
Amazon ➜ http://amzn.to/1JaGofy
iTunes ➜ http://apple.co/1PffE2J
Kobo ➜ http://bit.ly/1UxCSUO
B&N ➜ http://bit.ly/1EjxNpY
Life on Stage series (2 standalone books)
Beat
Amazon US: http://amzn.to/1R0S35o
Amazon UK:  http://amzn.to/1fczMX5
iBooks: http://apple.co/1DnI6f6
Kobo:  http://bit.ly/1aqrmbS
Throb
Amazon US:http://amzn.to/1C8CRAt
Amazon UK: http://amzn.to/1CsRg9d
Barnes & Noble: http://bit.ly/1zk882K
iBooks: http://bit.ly/1x5c3P8
Kobo:  http://bit.ly/1slglLN
MMA Fighter series (3 standalone books)
Worth the Fight (MMA Fighter Series, Book One)
Amazon: http://amzn.to/1kVdKGc
Barnes & Noble: http://bit.ly/1alpVES
Kobo: http://bit.ly/1dbzZ8R
Smashwords – http://bit.ly/1is0zNX
iBooks: http://bit.ly/1co2ZpF
Worth The Chance (MMA Fighter Series, Book Two)
Amazon US: http://amzn.to/1kVdYx4
iBooks:  http://bit.ly/1gHMCZg
Kobo:  http://bit.ly/1fqQcnj
Smashwords: http://bit.ly/NU2rCR
Worth Forgiving (MMA Fighter Series, Book Three)
Amazon US: http://amzn.to/1ybSRBf
B & N: http://bit.ly/1ljdVzb
iBooks:  http://bit.ly/XBTLFX
Kobo:  http://bit.ly/1kWP4ka
The Cole Series (2 book serial)
Belong to You (Cole Series, Book One)
Amazon US: http://amzn.to/1aI8V2Z
Amazon UK: http://amzn.to/1KRsCVy
Barnes & Noble: http://www.barnesandnoble.com/w/belong-to-you-vi-keeland/1114962845
IBooks: https://itunes.apple.com/us/book/belong-to-you/id639401754
Kobo: http://store.kobobooks.com/en-US/ebook/belong-to-you
Made for You (Cole Series, Book Two)
Amazon US: http://amzn.to/1O5EQbQ
Amazon UK: http://amzn.to/1KRsdCx
Barnes & Noble: http://www.barnesandnoble.com/w/made-for-you-vi-keeland/1115883225
iBooks: https://itunes.apple.com/us/book/made-for-you/id84550637
Kobo: http://store.kobobooks.com/en-US/ebook/belong-to-you
Standalone novels
Left Behind (A Young Adult Novel)
Amazon US: http://amzn.to/1N5PDFY
Amazon UK: http://amzn.to/1Rmi3xp
First Thing I See
Amazon US: http://amzn.to/1FzszbJ
Amazon UK: http://amzn.to/1RmihEP
Barnes & Noble: http://bit.ly/1JWFo21
January 15, 2019 By Two Book Pushers
Today we have the release blitz of Love and Pancakes by Lacey Black! Check out this fantastic contemporary romance and be sure to grab your copy on January 15th!

Title: Love and Pancakes
Author: Lacey Black
Genre: Contemporary Romance
About Love and Pancakes:
Marissa Grayson's dream went up in smoke. A devastating fire has ripped apart her family's bed and breakfast, leaving her off-kilter and scrambling to repair the damage. What she doesn't need, or have time for, is Rhenn Burleski. Sexy, confident, and dangerous to her heart. A man who clearly knows his way around the female body and will leave the moment the sheets start to cool. Yet that doesn't stop her from making a deal with the devil himself.
Work hard, play harder. That's Rhenn's life motto. An electrician by day, Rhenn turns it up at night, always with a different lady friend in tow. He makes sure they know the score: he's not looking for anything more than one night of fun. However, he knows the second he meets the shy daughter of the bed and breakfast's owner that his life is never going to be the same. As hard as he tries, he just can't resist one taste.
What happens when their time is up and Rhenn must leave, returning to his old life? Will they be able to walk away, hearts unscathed, or will their time together prove to be nothing more than a fading memory?
Get Your Copy Today:
Love and Pancakes is Lacey Black's new novel and the first book in the new series, Rockland Falls. This series is a spinoff of one of my favorite series', Summer Sisters. Lacey knows how to deliver the goods with her sexy heroes, sassy leading ladies, laughs, fun and family. We know and love the Summer sisters and their families and we've met Rhenn before. He's Nick's best friend and I fell in love with him in My Kinda Forever. We learned that Orval (Grandpa) has a sister, Mary Ann Grayson. She has two daughters (Marissa and Harper) and two sons (Samuel and Jensen). This is Marissa and Rhenn's story! There's been a fire at the Grayson Bed and Breakfast that Marissa and her mom run. Rhenn was hired to do the electrical work on the house so he's in Rockland Falls for a while, planning on enjoying the sun, the water and maybe a woman or two. Until he meets Marissa. Rhenn has never had a reaction like this to any woman before. It must be a fluke because she's nothing like his usual type. She's little, brunette, and there isn't anything fake about her, inside or out. The sparks fly from the first look and he can't stop thinking about her. But getting involved with the sexy woman isn't a good idea. He's leaving soon. They have to work together. She's kinda like family. Doesn't stop him from fantasizing about her though. Marissa can't believe how hot the electrician is. Who has a right to look that damn good? Rhenn. She thinks she catches him staring and flirting, but that can't be right. She's nothing special and he's gorgeous. But Rhenn is staring and he can't keep his eyes off her. He doesn't see any other women except Marissa. No one even holds a candle to her. Why doesn't she see what he sees? She's beautiful, funny, smart and sexy. And he wants her. Period. To say he's shocked when she propositions him is the understatement of the century. Yes, please. When, where and how? Will Rhenn be able to walk away when his time is up? Will Marissa be the woman who changes his mind about love? I loved this story! I laughed, cried, got hot and bothered and laughed some more. I loved meeting this new family and really loved seeing Nick, Meghan and a few other Summers as well! Rhenn was everything I thought he would be and so much more. If you've read Lacey before you will already want to read this. If you are new to her, get this book! Start this new series. Fall in love with these characters. Lacey will always give you want you need!
That's why I must initiate my Rhenn Burleski force field, keeping him and his sexy eyes and masculine scent and tree trunk thighs and broad shoulders and…
Where was I going with this?
"First time I saw boobs and got a boner," Nick adds, pulling his wife into his embrace and holding her close.
"Where did you get Penthouse?" Meghan asks, glancing over to Rhenn as if he's instantly the guilty party.
"Don't look at me like that. Your husband found it and showed it to me."
"Bullshit, asshole! I only found it because you told me to snoop in my dad's office."
"I told you to look for spare change to buy candy. Not porn," Rhenn blasts, giving his friend a pointed look.
"I'm completely turned on right now," I deadpan, watching her devour her PB and J sandwich.
"Of course you are. You're breathing," she teases, shoulder bumping me as I polish off my lunch.
"It's you. You have this reaction on me," I confess, though I assume she already knows. It's definitely no secret.

Exclusive Excerpt:
"Our first time together isn't going to be on the floor or on the table."
"I'm not opposed to the counter," I whisper, apparently loud enough for him to hear.
Rhenn chuckles. "I promise you, our first time is going to be better than this," he adds, nodding toward the floor, and believe it or not, I'm disappointed by this development. "Right now, my friends are probably getting ready for our day of sailing. We're going to head back to my boat, you're going to throw on a swimsuit, and I'm going to enjoy the fuck out of watching you prance around my boat. And tonight? I'm going to love sliding into that shitty-ass fold out bed, and do you know why?"
"Why?" My mouth is Sahara dry.
"Because you're going to be beside me."
"And because you'll get sex?" I tease with a smile.
He shakes his head. "No, no sex tonight. Not with Nick and Meghan on board. When I finally have my way with you, there'll be no one else around to hear your moans, Angel. No one else will know how many times I've made you come. No one but me."
Then he kisses me again with a hunger that feels as if it won't ever be quenched. Like he might die if he doesn't have another taste. I know right then and there, I'm in trouble. I'm completely over my head with this man, which is why I must keep my heart completely out of the equation. In fact, I'm leaving it here at the house. No way am I taking it with me, allowing it to catch one glimpse of the man who kisses me like I'm the very air he breathes.
"And at the end of the two weeks, we walk away." I say the words aloud, as confirmation to him, but to me, as well. Saying them makes it true, right?
"At the end of my time here, you probably won't hear from me again." Even though those are the words I expected to hear, actually listening to him say them causes a little hitch in my heartbeat. See? That's why my heart is going to be locked in the cabinet at home and not allowed anywhere near my time with Rhenn.
"Just promise me one thing," I say, pushing aside the heavy feeling in my chest and digging deep for the girl who's engaging in a no-strings relationship.
"Anything."
"Promise me you won't fall in love with me." I mean it as a joke, as a reminder of what this really is, but I don't anticipate the catch in my breath and the slight pang of sadness when his eyes twinkle with laughter.
"No worries there, Angel. Love isn't my thing."
About Lacey:
Lacey Black is a Midwestern girl with a passion for reading, writing, and shopping. She carries her e-reader with her everywhere she goes so she never misses an opportunity to read a few pages. Always looking for a happily ever after, Lacey is passionate about contemporary romance novels and enjoys it further when you mix in a little suspense. She resides in a small town in Illinois with her husband, two children, and a chocolate lab. Lacey loves watching NASCAR races, shooting guns, and should only consume one mixed drink because she's a lightweight.
Lacey's debut novel, Trust Me, was released in August 2014 and has been an Amazon Bestseller twice for Free e-books, as well as #1 for Contemporary Romance. All of the Rivers Edge books have been bestsellers in the Romance and Contemporary Romance categories.
Connect with Lacey:
Enter Lacey's Giveaway:
January 15, 2019 By Two Book Pushers
January 15, 2019 By Two Book Pushers
"We've got to go over something first," he said, smirking at my efforts to budge his arm.
​"What?" I asked, annoyed.
​"We're going to be a couple in the public's eyes. Which means we're going to have to do certain things that couples do."
​I blinked at him. "Couples don't do that in public. At least not the normal ones."
​He gave a grunt of disbelief. "I'm not talking about sex."
​"Then what are you talking about?" My voice was rising the more flustered I became. The lack of apparel, the warm water, the way Chase's brown eyes seemed to melt when he looked at me a certain way . . . I was struggling to keep my composure.
​"Kissing." He shrugged as though it were obvious. "We've had ten years to get rusty. We don't want to look like a couple of fumbling amateurs when we kiss in public for the first time."
​My mouth fell open a little as I tried to determine if he was serious. "Kissing is like riding a bike. We don't need to practice to get it right."
The corners of Chase's eyes creased. "It's more like riding a unicycle. Once you figure it out, with enough consistency, no problem. But if you go a decade without climbing on that unicycle, you're starting right back at square one."
I had to bite the inside of my cheek to keep from laughing. "You're comparing kissing to a unicycle. You're just as romantic as I remember."
Chase treaded closer until my legs were brushing against his with each kick. "Come on. One kiss. Practice makes perfect." His arms drew in, entombing me in his presence. One brow carved into his forehead. "That is, unless you're scared to kiss me in private, half-naked in a swimming pool, because you still harbor some kind of feelings for me . . ."
I shoved his chest as a snap reaction, realizing too late that I should not touch him when he was this close, when I was this conflicted. "Fame has really gone to your head."
His shoulders rose above the water before dipping below again. "So? Prove me wrong."
"Fine." The word materialized on its own. "But if you even try slipping me tongue, my knee is winding up in your groin."
He wet his lips, fighting a smile. "When have I ever complained about any part of you nestling down there?"
My hands balled at my sides as I attempted to approach this whole thing like a science experiment. Objectively. Neutrally. Emotionlessly. "Just kiss me and get it over with."
His smile quirked. "Once you're finished whispering sweet nothings into my ear."
When I tried to push him away, his hands circled my wrists. Chase's eyes found mine, the color of his irises nearly indistinguishable from his pupils. My chest moved quickly when he swam closer, his head angling as his lips aligned with mine.
He hadn't even kissed me and I'd lost all sense of direction. Up was as good as down in my present state. His breath fanned across my lips as he waited, perfectly at ease having me trapped in the corner of his pool, our mouths a sliver of air apart.
His grip on my wrists relaxed right before his mouth finally connected with mine. My body froze the instant he kissed me, but it didn't last long, seeming to melt one piece at a time.
I didn't realize I was sinking until Chase's arm cinched around me, pulling my shoulders back above the water, his mouth not missing a beat. The last piece of me to unthaw was my lips, but the moment they did, they matched his urgency. My arms wound behind his neck as I drew closer, our bodies tangling beneath the water as he kissed me in a way I hadn't been kissed in years; in the kind of way that made a girl feel delicate and invincible at the same time.
Chase treaded water, holding us both above the surface, the planes of his chest rising to meet mine with our uneven breaths. Before I knew it, our tongues were tying together, though it wasn't him who'd broken that rule first. His chest rumbled against mine as my mouth and hands grew more feverish, no longer under the constraint of my better judgment.
​Kissing Chase was exactly as I remembered, yet totally different. The scrape of his calloused fingers against my skin felt the same, yet there was a newfound strength to it. His full lips moved with mine in a dance we'd mastered years ago, but there was a resolve I'd never tasted so deeply before. The way he held me was exactly the same, though the contours of his body had changed.
​When my chest was hammering from breathlessness, Chase broke the kiss, managing to evade my ensuing advances. His eyes remained closed for a minute, droplets of water winding down his face from where my hands had been.
​When his eyes finally opened, the look in them made my head dizzy, even as I reminded myself this had been a practice kiss. Nothing more.
"How was that?" he asked.
I had to look away in order to make my answer seem convincing. My shoulder lifted out of the water as I shaped my most detached expression. "You were right. Like riding a unicycle."
"No, you were right." Chase's hand drifted up my back, his rough fingertips somehow soft against my skin. "Kissing you is like riding a bicycle."
January 15, 2019 By Two Book Pushers

DARE ME AGAIN by Shelly Alexander is available TODAY. Check out an excerpt below and pick up your copy now!

About DARE ME AGAIN
Love is a risk worth taking in this sizzling romance about secrets and second chances…
Scarlett Devereaux's life on the Gulf Coast went from riches to rags so scandalously fast that she barely had time to kiss her Jimmy Choos goodbye. Now, with a new alias (Lily Barns), a new budget (tighter than a pair of Spanx), and a new job on the vacation island of Angel Fire Falls, she's daring to reinvent herself.
Single dad Trace Remington is devoted first and foremost to raising his young son, who has Asperger's. With flying his floatplane and salvaging his family's island resort too, he has time for little else. His brothers think he needs a break from his all-work-no-play lifestyle, so they goad him into action. In response to their dare, Trace asks a sexy tourist for her number, only to discover afterward that she's the resort's brilliant new hospitality manager.
The sparks of flirtation soon ignite into a flame too hot to ignore. But Lily and Trace both have pasts that threaten to tear them apart. Now, they'll need to admit their secrets to each other…or risk ending their relationship before it really begins.
Read DARE ME AGAIN for free with Kindle Unlimited:
https://amzn.to/2QNe0f5
Add DARE ME AGAIN to Goodreads: http://bit.ly/2Vilom2
Read an Excerpt from DARE ME AGAIN
Rebel let out a heavy sigh and straightened. She'd wondered how long it would take for shit to get real. Maybe there was a hashtag for that she could use. "Go ahead. Just say it."
He gave her a look that said he had no idea what she was talking about. "Say what?"
She crossed her arms. "Whatever's on your mind. Whatever makes you feel better, because there isn't just an elephant in the room. There's an entire herd of elephants, and judging from the sound of your grinding teeth, they're about to stampede." She cocked a hip and waited. Waited for the very thing she'd tried to avoid years ago. His disapproval. His disappointment.
Regret washed through her. Breaking up with him through a note had been cruel. But at the time, it was her only option. If she'd told him the truth about her circumstances, if she'd told him about the horrible secret she was keeping for her dying mother, she was pretty sure he would've given up his scholarship and come home to go to community college on the mainland just to be her support system.
That would've been the only thing worse than him hating her for leaving him without an explanation.
So it was time to face what she'd done, even if it meant hearing harsh words from the only man she'd ever loved.
Instead, he stewed in silence. She wasn't sure which was more awful.
His jaw hardened, and his eyes turned icy.
Yeah, the silence was much more awful.
"Go on." She couldn't stop her foot from tapping nervously against
the cement. "I'm a big girl. I can take it. I've been through much worse than a few scathing words from an ex-boyfriend."
Rem moved to her side.
Elliott studied her, finally drawing in a deep breath. "It's ancient history. Forget about it. I know I have."
Oh.
Her foot tapping stopped.
"Let's focus on the camp," he said. "That's all I care about. Then you and I can go back to our lives."
She swallowed down the sting in her throat.
She thought he'd ask why, want answers, or just plain tell her off.
She'd been terribly wrong.
More than answers, more than having his say, what he obviously needed was for them to go their separate ways. Again.
Something sharp pricked at her heart. Breaking up had been the last thing she'd wanted, but what would a homeless teenager with no prospects have to offer a Wharton grad who was going to have a world of opportunities at his feet? Especially if the truth about what her mother had done ever came to light. So she'd broken up with him and told him to move on without her.
She just hadn't realized how much it would hurt if she got what she'd asked for, even after all these years.
The first book in Shelly Alexander's Angel Fire Falls series is on sale for .99c now – find out more about it below and grab your copy today!
About DARE ME ONCE
Love is a risk worth taking in this sizzling romance about secrets and second chances…
Scarlett Devereaux's life on the Gulf Coast went from riches to rags so scandalously fast that she barely had time to kiss her Jimmy Choos goodbye. Now, with a new alias (Lily Barns), a new budget (tighter than a pair of Spanx), and a new job on the vacation island of Angel Fire Falls, she's daring to reinvent herself.
Single dad Trace Remington is devoted first and foremost to raising his young son, who has Asperger's. With flying his floatplane and salvaging his family's island resort too, he has time for little else. His brothers think he needs a break from his all-work-no-play lifestyle, so they goad him into action. In response to their dare, Trace asks a sexy tourist for her number, only to discover afterward that she's the resort's brilliant new hospitality manager.
The sparks of flirtation soon ignite into a flame too hot to ignore. But Lily and Trace both have pasts that threaten to tear them apart. Now, they'll need to admit their secrets to each other…or risk ending their relationship before it really begins.
Grab DARE ME ONCE for .99c or read for free with Kindle Unlimited: https://amzn.to/2Vm6XNY
About Shelly Alexander
Shelly Alexander is an Amazon Bestseller in multiple categories and a 2014 Golden Heart® finalist. Shelly grew up traveling the world, earned a bachelor's degree in marketing, and worked in the business world for twenty-five years. With four older brothers, Shelly and her sister watched every Star Trek episode ever made, joined the softball team instead of ballet class, and played with G.I. Joes while the Barbie Corvette stayed tucked in the closet. When she had three sons of her own, she decided to escape her male-dominated world by reading romance novels and has been hooked ever since. Now, she spends her days writing contemporary romances that are sometimes sweet, sometimes sizzling, and always sassy. She enjoys the arid climate of the beautiful Southwest where she lives with her husband and two toy poodles named Mozart and the Marvelous Mrs. Maisel.
Website | Facebook | Instagram | Amazon | Goodreads | Bookbub
January 15, 2019 By Two Book Pushers
IT'S LIVE, Dare me Again by Bestselling Author Shelly Alexander
It's time to dare all RomCom Book Lovers.
Dare Me Again is LIVE and waiting for you to 1-Click.
Available on KindleUnlimited
Universal Link – hyperurl.co/3101m7
Amazon US – https://amzn.to/2QNe0f5
Amazon UK – https://amzn.to/2LBxvFH
Amazon AU – http://bit.ly/DareMeAgainAU
Amazon CA- http://bit.ly/DareMeAgainCA
Making dreams come true is a red-hot challenge for two stubborn hearts risking it all on a second chance…
Hot-wired and restless, financial wizard Elliott Remington doesn't turn down a dare. This time it's to coordinate a service-dog boot camp for veterans at his family's resort. Success means a one-way ticket to the West Coast to pursue his dream career. But it comes with a hitch: teaming up with his ex, who vanished on him ten years ago with nothing more than a kiss-off note.
As fiery as her hair and as stubborn as her name, Rebel Tate did what she had to do—for Elliott's sake and her own. A dog whisperer with a keen sense of survival, she's lived a tough life. Here she is, back in Angel Fire Falls, doing what she loves, next to a man she's never forgotten. While the flame between them still smolders, neither is ready to get burned.
For Elliott, trusting Rebel is a gamble. For Rebel, sharing the secrets that sent her running is a risk. Now, while finishing a job that could define both their futures, two hearts are about to collide—and a second chance at true romance could be the greatest dare of all.
Click 'I WANT TO READ' on Goodreads
https://shellyalexander.net/dare-me-again
Have you met Trace Remington? He's just 1-Click away
Dare Me Once
FREE with KindleUnlimited
Amazon – https://amzn.to/2NiuZVY
Amazon UK – https://amzn.to/2IKobgt
Amazon CA – http://bit.ly/DareMeOnceCA
Amazon AU – http://bit.ly/DareMeOnceAU
WELCOME BOOK BLOGGERS
Would you like to be one of Shelly Alexander's Prestige Bloggers?
Sign up HERE
https://goo.gl/forms/Zi0kz0PejQQbGC1p1
Shelly Alexander's first published novel was a 2014 Golden Heart® finalist. She is an Amazon #1 bestselling author in numerous categories, including contemporary romance, contemporary women's fiction, and romantic comedy. Shelly grew up traveling the world, earned a bachelor's degree in marketing, and worked in business for twenty-five years. With four older brothers and three sons of her own, she decided to escape her male-dominated world by reading romance novels…and has been hooked ever since. Now, Shelly spends her days writing novels that are sometimes sweet, sometimes sizzling, and always sassy. She lives in the beautiful Southwest with her husband and toy poodle named Mozart. Visit her at www.shellyalexander.net
Connect with Shelly
Website http://shellyalexander.net/
Amazon Author Page https://amzn.to/2ugQVc5
Amazon UK Author Page https://amzn.to/2NaY1pH
Facebook https://www.facebook.com/ShellyAlexanderAuthor/
Twitter https://twitter.com/ShellyCAlexande
Goodreads http://bit.ly/ShellyAlexanderGR
BookBub http://bit.ly/BookBubSA
AllAuthor http://shellyalexander.allauthor.com/
Email shelly@shellyalexander.net
Thank you for touring with Jo&Isalovebooks Promotions
https://www.facebook.com/JoandIsalovebooksPromotions/
January 14, 2019 By Two Book Pushers
The camping trip from hell may be the first stop on the road to happily-ever-after.
Navy SEAL Renzo Bianchi has a soft spot for Canaan Finley, and not only because the man makes a mean smoothie. He's the first guy to get Renzo's motor revving in a long time. But when he agrees to Canaan's insane charade—one all-access fake boyfriend, coming right up—he never expects more than a fling.
Creating a hot Italian SEAL boyfriend to save face seemed like a good idea…until his friends called Canaan's bluff. Now he's setting off into the woods with the very man who inspired his deception, and Canaan is not the outdoorsy type. The sparks are already flying when a flash flood separates them from their group, leaving Renzo and Canaan very much trapped…very much alone in the wilderness.
Working together to come up with a plan for survival is sexier than either of them expects. But back in the real world, being a couple is bringing its own set of hazards…
Amazon: https://amzn.to/2D70yii
Rough Terrain is the seventh book in the Out of Uniform series and I believe it's the last! I'm a huge fan of Annabeth's and I have read this entire series and really do love them all. I'm sad that this is the end, but knowing Annabeth, we'll see them again somewhere! Renzo is a SEAL and he's Italian (total bonus!). He's into fitness and he takes his job very seriously. He's a by the book kinda guy and he has a few hang ups about relationships and sex. Canaan works at the smoothie place on base and has always had a thing for Renzo. He's fun and flirty, but he's working to put himself through nursing school. He used to play drums in a band, but left that life behind to take care of his grandparents. He can't help but flirt with Renzo and after a fun and exciting date he has a proposition for him. Be his fake boyfriend for a camping weekend with his old bandmates. They have obstacles to overcome. They both have separate dreams to fulfill. Can they find a way to get everything they want including each other? I loved this story! I loved watching them get to know each other. It was sexy, funny and so sweet! Renzo's seriousness balances out Canaan's freeness and that makes them the perfect couple. I'm sad that the series is over, but these SEALs and their men will forever be in my heart!
Annabeth Albert grew up sneaking romance novels under the bed covers. Now, she devours all subgenres of romance out in the open—no flashlights required! When she's not adding to her keeper shelf, she's a multi-published Pacific Northwest romance writer.  The #OutOfUniform series joins her critically acclaimed and fan-favorite LGBTQ  romance #Gaymers, #PortlandHeat and #PerfectHarmony series.
To find out what she's working on next and other fun extras, check out her website: www.annabethalbert.com or connect with Annabeth on Twitter, Facebook, Instagram, and Spotify! Also, be sure to sign up for her newsletter for free ficlets, bonus reads, and contests. The fan group, Annabeth's Angels, on Facebook is also a great place for bonus content and exclusive contests.
Emotionally complex, sexy, and funny stories are her favorites both to read and to write. Annabeth loves finding happy endings for a variety of pairings and is a passionate gay rights supporter.  In between searching out dark heroes to redeem, she works a rewarding day job and wrangles two active children.
Connect with Annabeth: Twitter | Facebook  | Facebook Group | Newsletter | Instagram | Website
January 12, 2019 By Two Book Pushers

Title: Out in the Offense
Series: Out in College #3
Author: Lane Hayes
Publisher: Lane Hayes
Release Date: January 10, 2019
Heat Level: 4 – Lots of Sex
Pairing: Male/Male
Length: 54k
Genre: Romance, New Adult, Bisexual, College romance, Football, Coming out
Synopsis
Christian Rafferty is a talented quarterback with a big secret. He's determined to make the most of his final season on the football field, and if possible, avoid any confrontations with his conservative parents about his future. It shouldn't be difficult; he's become adept at keeping his public and private lives separate. However, when a math class threatens to derail his plans to graduate on time, he realizes he may need outside help.
Rory Kirkland has a reputation for being a tough guy. He's a former wrestler and recent college graduate who needs a real job. Until he finds one, tutoring is a decent temporary gig. Luckily, his brain is his biggest asset. Rory is a genius. He credits his sport for helping him deal with angst and rumors about his sexuality when he was younger, but he doesn't care what others think anymore. He likes his new status as an out and proud bi man; and he recognizes something of himself in Christian. But Rory didn't count on falling for him. When an unlikely friendship collides with intense attraction, both men begin to realize that coming out on offense just might be the surest path to love.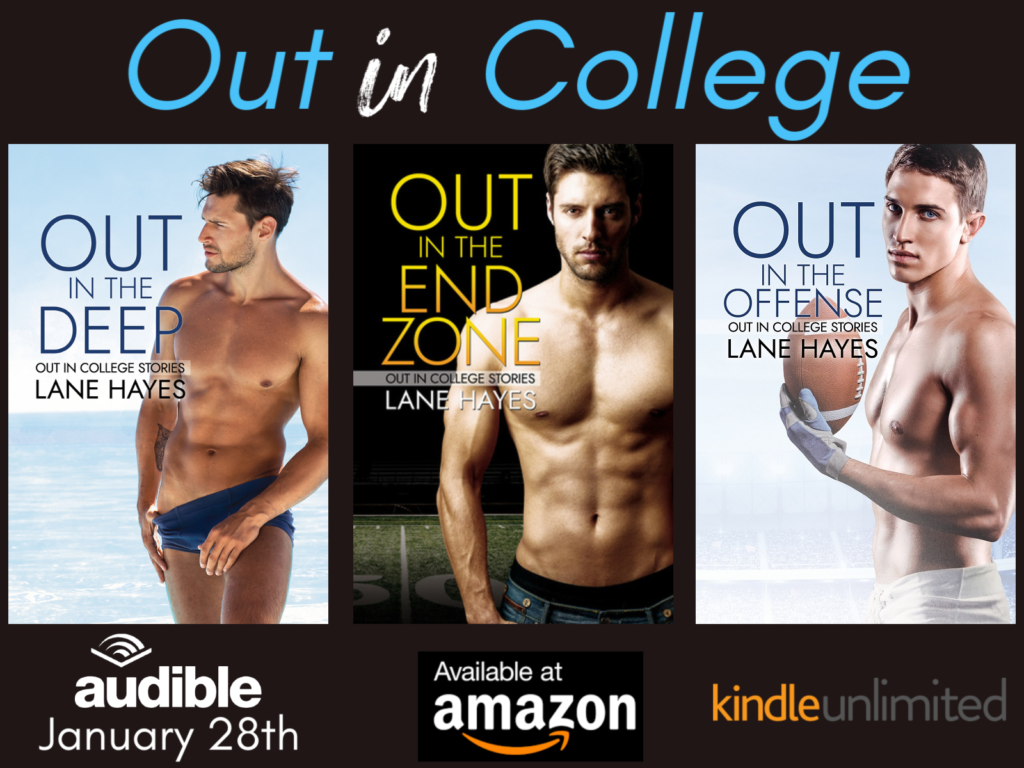 Excerpt
"Can I do anything to help?" I asked, setting my backpack on one of the two barstools at the narrow counter space.
"Nope. As soon as the veggies are sautéed, we'll be ready to eat. Want something to drink?"
"Yes, please. Water is fine. Where's Buttons?"
Rory pulled a water bottle from the small fridge behind him and handed it over, then pointed at a basket next to the sofa.
"She's hiding behind that basket. She'll make an appearance if she decides you're worthy. In the meantime, there's bread in that basket on the counter next to your bag. Help yourself. I'll bring dinner out."
I thanked him, then twisted the cap from the water bottle and took a generous sip before rounding the corner in search of the bread. I was ravenous. I bit into the baguette with gusto before turning to check out my surroundings.
Rory's apartment was tiny. Probably half the size of mine and much older. But unlike the rough exterior, it was…pleasant. Surprisingly so. A short wall delineated the narrow kitchen from the main living area. There was just enough room for a sofa, an ottoman, a TV console, and a smallish television. Two barstools were tucked under the small peninsula by the cut-out in the kitchen wall. The palette was basic "dude"…dark leather against stark white walls, though a large red throw rug anchored the room and provided a nice splash of color. It was simple—but tidy and very clean.
"Your place is cool," I commented when he entered the room, carrying two plates and a large bowl.
"Thanks. Let's sit on the sofa. We have more room to eat there," he said decisively as he set his burden on the coffee table. "Help yourself. I'll get some forks, napkins, and extra veggies."
I obeyed and quickly got to work, scooping chicken fettucine Alfredo onto both plates. Rory joined me a minute later, handing over the silverware before taking a seat next to me. I shot a bashful sideways glance at him as I reached for a napkin.
"Do you eat like this every night?"
"It's really nothing special. I make sauces in bulk and freeze them. Then it's just a matter of adding protein and veggies. By the way, this Alfredo is a healthy version. If you want to drown it in parmesan, feel free. I won't be offended. Cheers." He tapped his water bottle against mine and winked.
"Cheers. And thanks again. This is incredible and very unexpected." I smiled as I twisted the pasta around my fork.
"You're welcome. You sounded anxious, but you said we're cool. Are we?"
"Of course."
Rory tilted his head and shot me a challenging look. "Then kiss me."
"Um…now?"
"Yeah, now. The other night could have been a fluke. Instead of wondering, let's get it over with. One kiss should be enough to tell. C'mere," he commanded, leaning sideways.
I set my fork down and met him halfway until our noses brushed. Then I waited for him to make the next move. He stayed stubbornly still. When I couldn't stand the growing tension, I pressed my lips to his. And wow…amazing.
Rory was a great kisser. He had the simple art of give-and-take down to a science. He molded his mouth to mine and gently pushed his tongue inside. The connection was sweet but bold. It was more about discovery than possession. I hummed as I snaked my arm around his neck, pulling him closer. He sucked my tongue, then bit my bottom lip playfully before pulling back.
"Definitely not a fluke," he said with a devilish grin.
Out in the Offense is the third book in the Out in College series by the talented Lane Hayes. Dare I say this is my favorite of the series? It's just so hard to pick, I love all these guys so much! We met both Christian and Rory in Out in the End Zone and I had no idea then how much I would love them together. Rory is an unexpected gem. He's fresh, unique, sexy, smart…just everything! He is definitely my favorite of all the men in the series! His insight into life was priceless. He just knows who is he, what he wants and how to get there. He doesn't judge, let things he can't control upset him or let life get him down. He is who he is and I just loved that! Christian isn't quite there yet. He's not out and he's still trying to make everyone is his life happy except for him. He knows what he wants, but he's afraid to go after it. Failing statistics brings Rory into his life and it changes everything. Rory changes everything. He shows him how to solve complicated math word problems, how to relax and be himself. How to open up and take advice. He showed him who he wants to be and that he will be by his side no matter what. They have obstacles and difficult conversations about life and love. But they complement each other so well! I loved watching them grow together. Learn about each other. Lust for each other. This is one of those books I loved so much I wish I had time to read it again right now! Overall, I laughed, cried, swooned,  got hot and bothered and just smiled a lot! I can't wait for the next one!
"And to quote Taylor Swift, we're never getting back together."
"That's very gay," Rory deadpanned.
I chuckled and raised my hand. "Guilty. I'm very gay."
Rory's smile widened. He looked like a pirate – sexy as fuck and up to no good.
Rory shot a slow-growing grin at me. "I'm very smart."
"I like that about you. Your brain turns me on almost as much as your hot bod."
"My boy like rules," Rory said with a grin.
I lifted an eyebrow in amusement. "Your boy?"
"Yeah. You're mine. Don't argue."

Meet the Author

Lane Hayes is grateful to finally be doing what she loves best. Writing full-time! It's no secret Lane loves a good romance novel. An avid reader from an early age, she has always been drawn to well-told love story with beautifully written characters. These days she prefers the leading roles to both be men. Lane discovered the M/M genre a few years ago and was instantly hooked. Her debut novel was a 2013 Rainbow Award finalist and subsequent books have received Honorable Mentions, and won First Prize in the 2016 and 2017 Rainbow Awards. She loves red wine, chocolate and travel (in no particular order). Lane lives in Southern California with her amazing husband in a newly empty nest.
Giveaway