April 20, 2022 | Posted in:Blog Tour, Review
FLIRT by Adriana Locke
Release Date: April 8th
Genre/Tropes: Contemporary Romance/Office Romance/Fake Dating/Friend to Lovers
AVAILABLE NOW!!! FREE IN KU!!!
Amazon: https://amzn.to/3L1Nefm
Amazon Universal: https://geni.us/FLIRT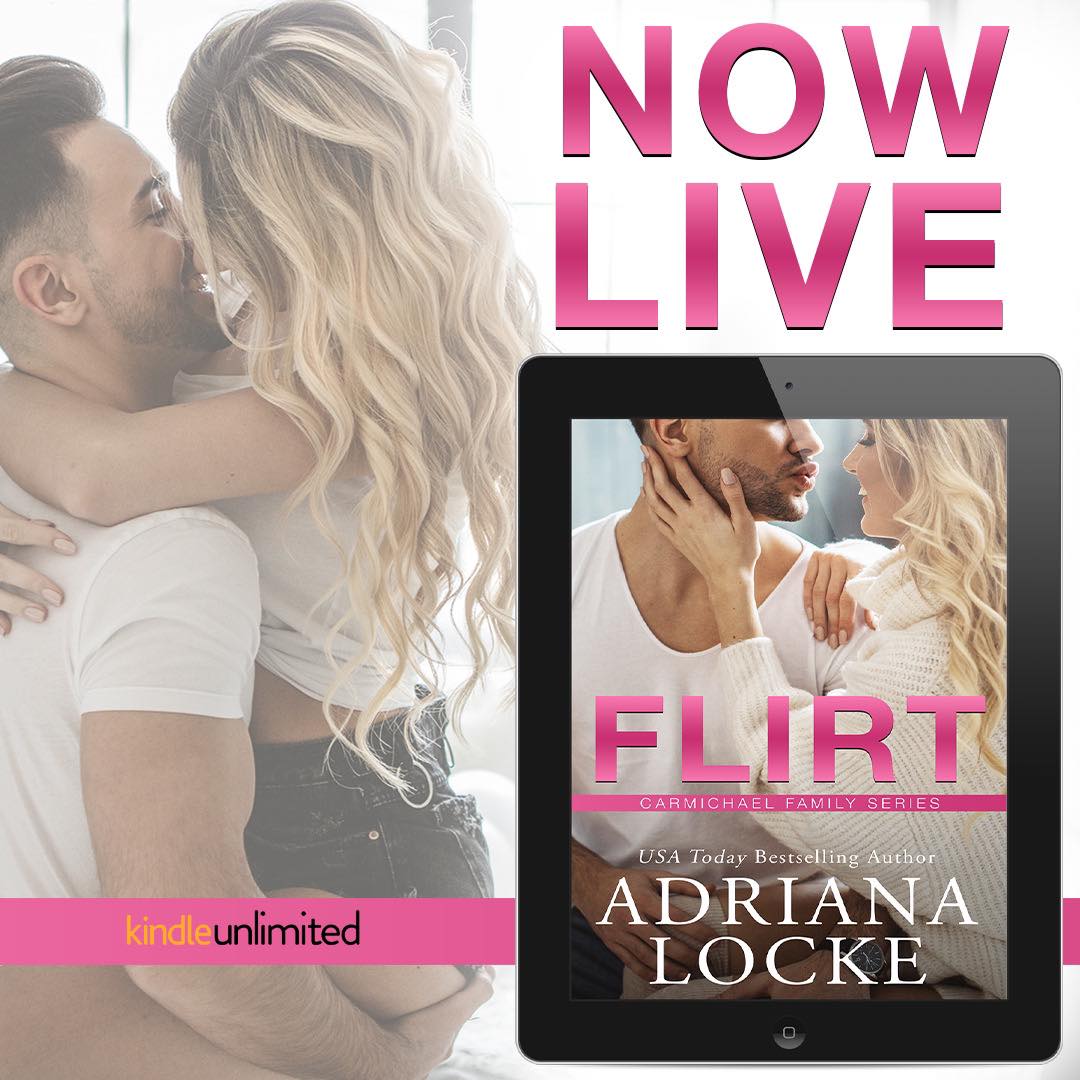 Add to Goodreads:
https://www.goodreads.com/book/show/59775481-flirt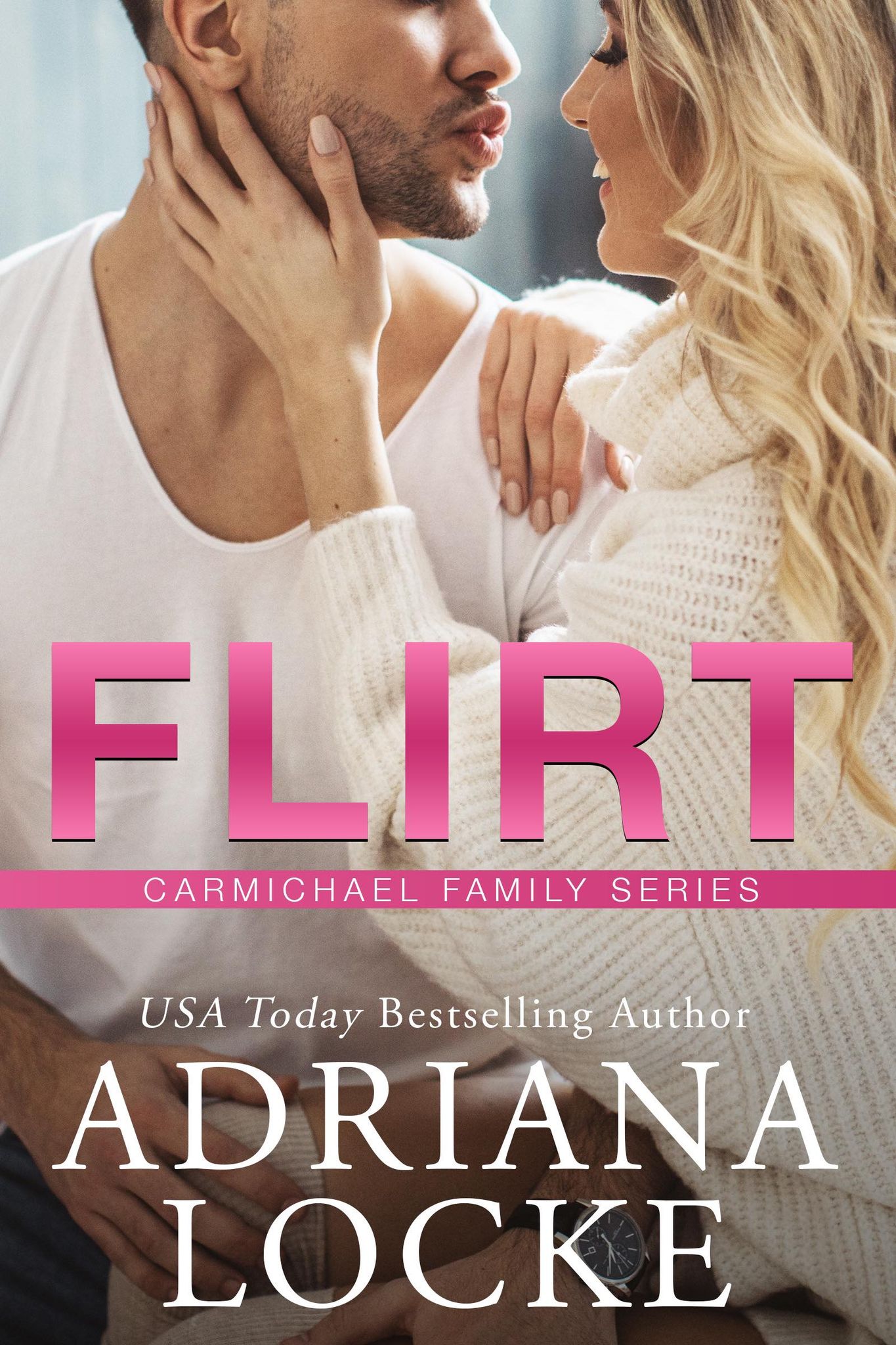 Blurb:
WANTED: A SITUATION-SHIP
I'm a single female that's tired of relationships ruining my life. However, there are times when a date would be helpful. If you're a single man, preferably mid-twenties to late-thirties, and are in a similar situation, we might be a match.
Candidate must be handsome, charming, and willing to pretend to have feelings for me (on a sliding scale, as the event requires). Ability to discuss a wide variety of topics is a plus. Must have your own transportation and a (legal) job.
This will be a symbiotic agreement. In exchange for your time, I will give you mine. Need someone to flirt with you at a football party? Go, team! Want a woman to make you look good in front of your boss? Let me find my heels. Would you love for someone to be obsessed with you in front of your ex? I'm applying my red lipstick now.
If interested, please email me. Time is of the essence.
Flirt is the first book in the Carmichael Family series by Adriana Locke. I love when one of my favorite authors starts a new series and the start of this one is AMAZING. If you read Sweet, the sixth book in the Landry Family series then you got a small glimpse into how this family works. Antics, love, and lots of laughs.
Brooke needs a date to her grandmother's birthday party. If she shows up single, she will never hear the end of it from her mother. She wouldn't even go if it wasn't for her grandmother, Honey. So, she writes out an ad for a fake date and that is when the crazy ride begins. She really didn't expect so many responses. But what truly shocked her was when Moss Carmichael volunteers for the job. The man is a flirt. A friend. Does she think he is hot? Fuck yes. Has she ever thought of him as more than a friend? Hell yeah. Does she want a relationship ever again? Hell no. Would she ever risk their amazing friendship? Hell no again. She needs a date. He needs a date for an event. It's a win-win really.
Moss loves flirting with Brooke. She is his happy place but they can never be more. No way in hell he was going to let her take a stranger home to her wacky family. He was the only man for the job. Though a few of his brothers would say they were. Ha! This will be easy even if he is hard every time he is around the woman. Has he wanted to kiss her in the last two years they have worked together? Of course. Does she scare him? Fuck yes. He knows her and she needs this. A date. So why not fake date until then? It's always fun to mess with his family so it's on.
I absolutely love these two! I do believe Moss is tied with Lincoln for my favorite Locke man. I love a shameless flirt who makes me laugh, swoon, and get hot and bothered. And Brooke is a tough cookie who knows what she wants. Together, I love their banter, sexiness, and flirt game. It's not all about good times though. It's an emotional ride and I am here for it and can't wait for the rest of the boys to find their loves.
"When I'm around you," he says softly, his eyes never leaving mine, "I think maybe my heart can be fixed someday."
She's my worst nightmare and my wettest dream.
Flirt is the first book in the Carmichael Family series by the queen of small town-family romance, Adriana Locke. I will dare say that Flirt is my favorite book of Adriana's. I got absolutely giddy when I heard the Carmichaels were getting their own series after meeting them in Sweet. I didn't expect to fall for Moss so hard and so fast though! But I don't feel bad about it for a second! He's dreamy, sweet, sexy, funny and hot! He had me swooning all over the place. The things he says when he's not even trying? Oh my! Swoon-a-licious! Brooke is strong, independent and talented. Her family leaves a lot to be desired, but the Carmichaels are like family.  Just like Moss. They have been working together for two years and each has secretly lusted after the other. But they are great friends who know a lot about each other. Who are comfortable with each other and genuinely enjoy each other's company. So when Brooke needs a fake date to a family function, Moss volunteers. It's no hardship spending more time with Brooke. After one scorching kiss, the rules of the game change. He's all in. She fights it for a while, but it's futile. They have friendship, passion, fun, sexiness and love. They both have pain and loss in their lives that needs to be buried before they can move on together. It's heartbreaking and heartwarming. Overall, I loved every second of it. If I had time, I would definitely read it again! Hmm…maybe I'll listen to it if it comes to audio. Flirt is a fantastic start to a new series and I am here for it. I don't think any of his brothers will top Moss, but I can't wait to see them try!
"You are basically my hero."
"I think I would be a heroine."
He laughs. "I don't know. You have a lot of big-dick energy."
"You're damn right I do."
"Thank you," he whispers into my ear.
"For what?"
"For sharing you with me."
About the Author:
USA Today and Washington Post bestselling author Adriana Locke lives and breathes books. After years of slightly obsessive relationships with the flawed bad boys created by other authors, Adriana has created her own.
She resides in the Midwest with her husband, sons, and two dogs. She spends a large amount of time playing with her kids, drinking coffee, and cooking. You can find her outside if the weather's nice and there's always a piece of candy in her pocket.
Connect w/Adriana:
Website: https://adrianalocke.com
Facebook: https://www.facebook.com/authoradrianalocke
Facebook Group: https://www.facebook.com/groups/booksbyadrianalocke
Twitter: https://twitter.com/authoralocke
Instagram: https://www.instagram.com/authoradrianalocke
Goodreads: https://www.goodreads.com/author/show/8379774.Adriana_Locke
Amazon: https://amzn.to/3ivy7xd
Bookbub: https://www.bookbub.com/authors/adriana-locke
Newsletter Signup: http://bit.ly/NewsletterAddy