April 14, 2023 | Posted in:Blog Tour, Review
FLUKE BY ADRIANA LOCKE
Release Date: April 10th
Genre/Tropes: Fake ex-husband / Small Town Romance / Friends to Lovers / One Bed / He Falls First
Fluke, an all-new small-town romance, by USA Today bestselling author Adriana Locke is NOW LIVE!
Grab this fake ex-husband, small-town romance TODAY!
Add to Goodreads
https://www.goodreads.com/book/show/61946841-fluke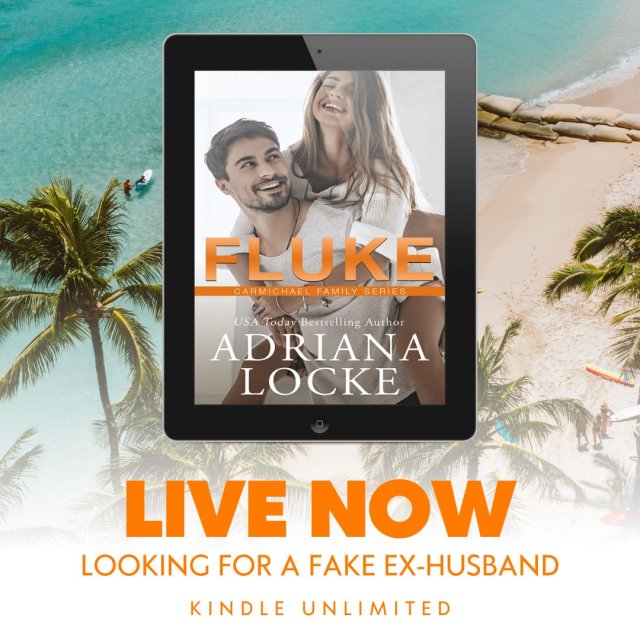 Blurb:
SEEKING AN EX-HUSBAND
I need a fake ex-husband.
Let me explain …
I may have let it slip to my new co-workers that I have an ex-husband. Now they're fascinated with the details, specifically with him.
Why wouldn't they be? He's gorgeous, has exceptional skills in the bedroom, and is determined to win me back.
But there's a problem. He doesn't exist.
The bigger problem? I have to produce him to save my job.
This is where you come in.
I'm seeking someone to play a smitten ex-husband for two weeks. You'll need to remember our love story—details matter when it comes to romance! Please be prepared to travel in-state at a moment's notice. We may be in close proximity and sharing a bed may be required.
One more thing—kisses are required for optics as necessary.
If this sounds interesting or, at the very least, entertaining, let me know.
Signed,
Your Future Ex-Wife
Buckle up for a steamy adventure between friends-turned-lovers in this new "fresh twist on a favorite trope!" take on fake dating, close proximity, and romance in the workplace from USA Today Bestselling author Adriana Locke.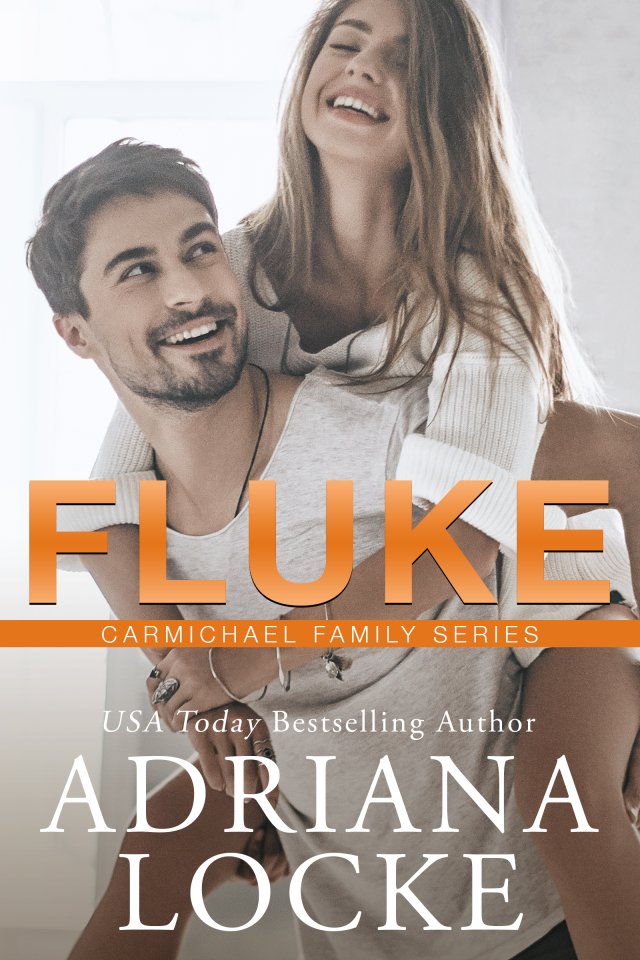 Fluke is the third book in the Carmichael Family series by Adriana Locke. Good Lord, Jess Carmichael is…everything. Like, literally the most perfect book boyfriend in the world. He's smart, handsome, funny, loves his job and his family. He's loyal and hilarious. And he's never hidden his feelings for Pippa. He's been open and honest for fifteen years about what he wants. When he finally gets his chance to prove that he's serious, he doesn't waste a single second. He's going to prove to her that he's worth the risk. That she deserves to be loved and be happy. He's not going to give up on the only woman he's ever wanted. He has to work hard to win her over, but he's no quitter. He knows what he wants and he is going to get it. I mean, his parents didn't raise no fool, well, they kinda did, but not Jess! Haha! I couldn't love Jess or this book more. I always have my favorite Adriana hero and it's usually the stoic, grumpy brother. But Jess just did it for me. Checked all my boxes and if I had time I would read it again immediately!
Fluke is the third book in the Carmichael Family series by Adriana Locke. You can read each book as standalone but I HIGHLY recommend reading the series since it is f*cking hilarious, sexy, and just so much fun. 
Pippa needs an ex-husband. Jess wants a chance. A chance to show Pippa that he isn't playing around. They have been tip-toeing around each other long enough, and he is ready to take his shot. Again. And again. And again… She might think he is just being nice but there is nothing nice about the thoughts that have gone through his head for over a decade…
He wants her. Now, he just needs her to believe it. He wants to show her what it's like to have someone by her side. To have a crazy family on your side. A family you can't get rid of even if you tried. Lol. 
I don't want to spoil anything about this funny AF, beautiful, emotional, and spicy story so I can't get more into the story. I can say that I LOVED it!! The characters. The story. The love, laughter, heat, and understanding. *swoon* I have loved all these books but this one is my favorite! With that being said, I have a feeling that I will be saying that again with Flaunt. Oh, Sparkles… I can't even. I just love that crazy f@cker. 
"What the hell was that?" Kerissa asks. I stare at the door and grin. That was trouble if I don't watch it.  
Sexy, dirty, six-foot-three trouble all wrapped up in a sinful package.
"I want you to remember something," he says. 
"I wish I had siblings like yours." 
"You want Banks? I'll let you have him."
About the Author:
USA Today Bestselling author, Adriana Locke, writes contemporary romances about the two things she knows best—big families and small towns. Her stories are about ordinary people finding extraordinary love with the perfect combination of heart, heat, and humor.
She loves connecting with readers, fall weather, football, reading alpha heroes, everything pumpkin, and pretending to garden.
Hailing from a tiny town in the Midwest, Adriana spends her free time with her high school sweetheart (who she married over twenty-five years ago) and their four sons (who truly are her best work). Her kitchen may be a perpetual disaster, and if all else fails, there is always pizza.
Learn more at adrianalocke.com.
Connect w/Adriana:
Website: https://adrianalocke.com
Facebook: https://www.facebook.com/authoradrianalocke
Facebook Group: https://www.facebook.com/groups/booksbyadrianalocke
Twitter: https://twitter.com/authoralocke
Instagram: https://www.instagram.com/authoradrianalocke
Goodreads: https://www.goodreads.com/author/show/8379774.Adriana_Locke
Amazon: https://amzn.to/3ivy7xd
Bookbub: https://www.bookbub.com/authors/adriana-locke
Newsletter Signup: http://bit.ly/NewsletterAddy