May 13, 2022 | Posted in Blog Tour | By Two Book Pushers
Charming, hilarious, and emotional, Starry-Eyed Love is Helena Hunting at her very best!
Starry-Eyed Love, an all-new hilarious and heartwarming workplace romance from New York Times bestselling author Helena Hunting is now available!
Having just broken up with her boyfriend, London Spark is not in the mood to be hit on. Especially not when she's out celebrating her single status with her sisters. So when a very attractive man pays for their drinks and then slips her his number, she passes it right back to him with a 'thanks, but no thanks'. As the business administrator for their family's event hotel, the Spark House, London has more important things to worry about, like bringing in new clientele.
As luck would have it, a multi-million-dollar company calls a few months later asking for a meeting to discuss a potential partnership, and London is eager to prove to her sisters, and herself, that she can land this deal. Just when she thinks she has nailed her presentation, the company's CEO, Jackson Holt, walks in and inserts himself into the meeting. Not only that, but he also happens to be the same guy she turned down at the bar a few months ago.
As they begin to spend more time together, their working relationship blossoms into something more. It isn't until their professional entanglements are finally over, that London and Jackson are finally ready to take the next step in their relationship. But between Jackson's secretive past and London's struggle with her sisters, London must question where she really stands – not just with Jackson, but with the Spark House, too.
Fall in love today! Amazon: https://amzn.to/3zZKhGQ Amazon Worldwide: http://mybook.to/Starry-Eye Apple Books: https://apple.co/38PiJLO Nook: https://bit.ly/3yPhWln Kobo: https://bit.ly/3E0cnEC Google Play: https://bit.ly/2WTQBkA Amazon Paperback: https://amzn.to/3tk9cCt Barnes and Noble Paperback: https://bit.ly/3yh3upD Audiobook: https://amzn.to/3MSLAOc
Add to Goodreads: https://bit.ly/3zOpO84
Starry-Eyed Love is the second book in the Spark House series by Helena Hunting. I love Helena and her books and Jackson Holt is one of my favorite heroes of hers. (And let's be serious, that's saying a lot!) The first time London meets Jackson is in a bar when he hits on her. She declines his number since she just got out of relationship. The second time she meets him, she's giving a presentation to his company and realizes he's the billionaire CEO. Yikes! All of a sudden he wants to be involved in business at a level he never has been before. Jackson never thought he'd see the gorgeous blonde again, but he can't believe his luck. Now he's working with her and helping her make business connections. He believes in her family business and wants her to succeed. Only now he can't date her until his involvement is over. It's two months of hell. But fun and exciting. He introduces her to people, spends time chatting with her, texting her and finding reasons to be in Colorado. London is having a hard time balancing the business at Spark House and doing what she loves, her Etsy store creations. And spending time with Jackson is getting to be one of her favorite things. She can't get a read on him all the time, but when he finally admits he wants to date her as soon as the auction they are working on together is over, he's not kidding. At the end of the night he asks her out and gives her the best kiss of her life. Their chemistry was off the charts before, now it's just fire! They can deal with the long distance, but when his past comes up London isn't sure she can trust him. Will Jackson be able to convince her to give him another chance? Oh boy! I really loved London and Jackson. London is so talented and funny and smart. She's doing things that don't come naturally to her for her sisters and the business but she loves them that much. Jackson is sexy and fun and swoony! He treats her as an equal and says the most meaningful and sweet things to her. Overall, I laughed, cried, cheered and smiled a lot! I enjoyed it more than the first book! I loved seeing Linc and Griffin again too! Looking forward to Harley's story.
About Helena Hunting
New York Times and USA Today bestselling author of PUCKED, Helena Hunting lives on the outskirts of Toronto with her incredibly tolerant family and two moderately intolerant cats. She writes contemporary romance ranging from new adult angst to romantic sports comedy.
Connect with Helena Instagram: http://bit.ly/2kN5wdZ Twitter: http://bit.ly/2mloUim Facebook: http://on.fb.me/Zt1xm5 Facebook Fan group: http://bit.ly/2kN5yCD Website: http://www.helenahunting.com/
Never miss an update! Subscribe to Helena's mailing list: http://bit.ly/2MlRKq6
May 3, 2022 | Posted in Blog Tour, Review | By Two Book Pushers
An Irish mobster with a brutal grudge. An Italian mafia princess with a dark secret.
Brutal Vows, an all-new steamy and powerful dark enemies-to-lovers mafia standalone romance from international bestselling author J.T. Gessinger is available now!
An Irish mobster with a brutal grudge. An Italian mafia princess with a dark secret.
Two enemy empires joined in sacred marriage vows.
Let the hating games begin.
Grab your copy today or read FREE in Kindle Unlimited! Amazon: https://amzn.to/3ARfCgi Amazon Worldwide: http://mybook.to/BrutalVows
Add to Goodreads: https://bit.ly/3KZ6zPb4
Brutal Vows is the fourth and last novel in the Queens & Monsters series by J.T. Geissinger. I have read many books by J.T but sadly when Ruthless Creatures released my schedule was too packed to add to my review list. I am so mad at myself for not just going for it! I usually don't read a series out of order but when I saw Brutal Vows and my schedule was wide-open I was like I HAVE to read it, I don't care if I didn't read the others. I did read the Beautifully Cruel duet so I there was that. Anyway…you can read it as standalone! I don't want to spoil anything about this badass story and it's characters so I will make the rest short. Lol.
Rey hates the Irishman on the spot. Spider knew she was a viper from the very beginning. And he knew then…he wanted her except he isn't the one he was there for. He was there for Lili, a sweet girl he would never love. He never expected her aunt. He heard stories about the Black Widow but those don't even do her justice. She had a forked tongue and a body made for sin. He had to stay away from her, she was not part of the contract. Plus, he didn't want to be killed with her lethal stare…
I absolutely f*cking loved this book! It is so addicting and full of twists, darkness, wit, and romance. I love mafia, arranged marriage, and enemies-to-lovers tropes and in this book you get ALL three! And characters who will make you hot and bothered, swoon, laugh with their wicked chemistry and banter. I really hope that one day we will see these characters again.
P.S. I have a lady crush on Rey. And of course a huge crush on Spider.
"You should also keep in mind that vipers are venomous…and they eat spiders for lunch."
"Fuck, it's hot when you threaten to kill me."
This is the strike of the match that lit the raging forest fire. This is dark, intense, and dangerous. This is need, not want…and I don't like it at all.
Excerpt
2
Spider
I get only a glimpse of the woman in the window before the curtains fall back into place and she disappears, but the image of her is seared onto my retinas.
Dark hair, red lips, olive skin.
A black, low-cut dress.
Acres of cleavage.
And eyes that glittered silver in the afternoon sun like the flash of coins at the bottom of a wishing well.
She can't be Liliana, the lass I'm here to meet. I've seen pictures of her. She has a sweet, innocent face. A shy, lovely smile.
The woman in the window looks like she'd only smile if she were slitting your throat.
Mindful of the armed guards, I say in Gaelic to Kieran, "I thought the lass's mother died?"
Standing beside me, he follows my gaze and looks up at the blank window.
"Aye. Why?"
"Who else lives here?"
He shrugs. "Dunno. From the size of the bloody place, probably a thousand people."
She's not a servant, that much I know. There wasn't a hint of servitude in those flashing eyes.
She looked more like a warlord about to lead an army of soldiers into battle.
"This way," says the guard nearest to me. He nods toward an arched opening in the brick wall that leads from the circular driveway into an interior courtyard.
Dismissing the thought of the mystery woman, I button my suit jacket and follow behind the guard as he leads Kieran and me away from the car. The other guard walks behind us. We're led through the lushly landscaped courtyard to a set of enormous carved oak doors, flanked on either side by towering marble columns.
The main house looms over us, three sprawling stories of beige limestone with elaborate balustrades and scrolled iron balconies, topped by a line of Roman centurion statues gazing down at us from a ledge on the red-tiled roof.
Inside the main foyer, the décor becomes even more ostentatious.
Naked cherubs frolic with hairy satyrs and woodland nymphs in colorful frescoes on the walls. Instead of one drop-crystal chandelier overhead, there are three. The floor is black marble, the carved mahogany furniture is edged in gilt, and my eyes are starting to water from the kaleidoscope glare of stained-glass windows.
Under his breath, Kieran says, "Jesus, Mary, and Joseph. Looks like Liberace hurled his lunch all over the bloody place."
He's right. It's fucking awful.
I have to force myself not to turn around and walk out.
"Ah, Mr. Quinn!"
I turn to my right. A man approaches with his hands spread open in greeting.
He's fit, of average height, and somewhere around forty. His dark hair is slicked back with pomade. Wearing a navy blue pinstripe suit I can tell is custom made, a powder blue tie with a diamond tie pin, a chunky diamond watch, and a gold pinky ring on each hand, he oozes wealth, privilege, and power.
His cologne reaches me before he does.
His smile is blinding.
I hate him on sight.
"Mr. Caruso, I presume."
He grabs one of my hands in both of his and pumps it up and down like he's a political candidate campaigning for my vote.
"It's a pleasure to finally meet you. Welcome to my home."
"Thank you. It's a pleasure to meet you as well."
He hasn't stopped grinning or shaking my hand.
Ten more seconds of this shite, and I'll break those Chiclet teeth of his.
"This is my associate, Mr. Byrne." I extract my hand from Caruso's death grip and gesture to Kieran, who inclines his head respectfully.
"Sir."
"Mr. Byrne, welcome. And please, both of you, call me Gianni. I prefer if we're all on a first name basis, don't you?"
I'd rather blind myself with acid, you wanker.
Kieran politely offers his name. I offer nothing. There's an awkward pause while Caruso waits, but he gets the hint and suggests we retire to his study to speak in private.
After what feels like a death march through miles of echoing corridors, we arrive at the study. It's probably larger than the law library at Notre Dame. We sit across from Caruso in a pair of leather chairs so uncomfortable, they had to be designed by sadists.
I haven't been here ten minutes, and I'm already regretting the fuck out of this.
Until she walks in the door.
Dark hair, red lips, olive skin.
A black, low-cut dress.
Acres of cleavage.
Not only cleavage, but long legs and an hourglass figure that would make any man stupid with lust.
If he wasn't too busy being turned to stone by the ice in her eyes, that is. I've never seen an attractive serial killer, but I bet this is exactly what she'd look like.
About J.T. Geissinger
J.T. Geissinger is a #1 internationally bestselling author of twenty-seven novels. Ranging from funny, feisty rom coms to intense, edgy suspense, her books have sold over five million copies and been translated into more than a dozen languages.
She is a three-time nominee in both contemporary and paranormal romance for the RITA® Award, the highest distinction in romance fiction from the Romance Writers of America®. She is also a recipient of the Prism Award for Best First Book and the Golden Quill Award for Best Paranormal/Urban Fantasy.
She's a Southern California native currently living in Nevada with her husband and rescue kitty, Zoe.
Connect with J.T. Geissinger Facebook: http://bit.ly/37Iv1zU Instagram: http://bit.ly/35v6fBu Pinterest: http://bit.ly/2upzIQI GoodReads: http://bit.ly/2NaBT2c BookBub: http://bit.ly/2oAkodD Reader Group: http://bit.ly/2Oj7iMg Mailing list: http://bit.ly/39KRQol Website: http://www.jtgeissinger.com
April 20, 2022 | Posted in Blog Tour, Review | By Two Book Pushers
FLIRT by Adriana Locke
Release Date: April 8th
Genre/Tropes: Contemporary Romance/Office Romance/Fake Dating/Friend to Lovers
AVAILABLE NOW!!! FREE IN KU!!!
Amazon: https://amzn.to/3L1Nefm
Amazon Universal: https://geni.us/FLIRT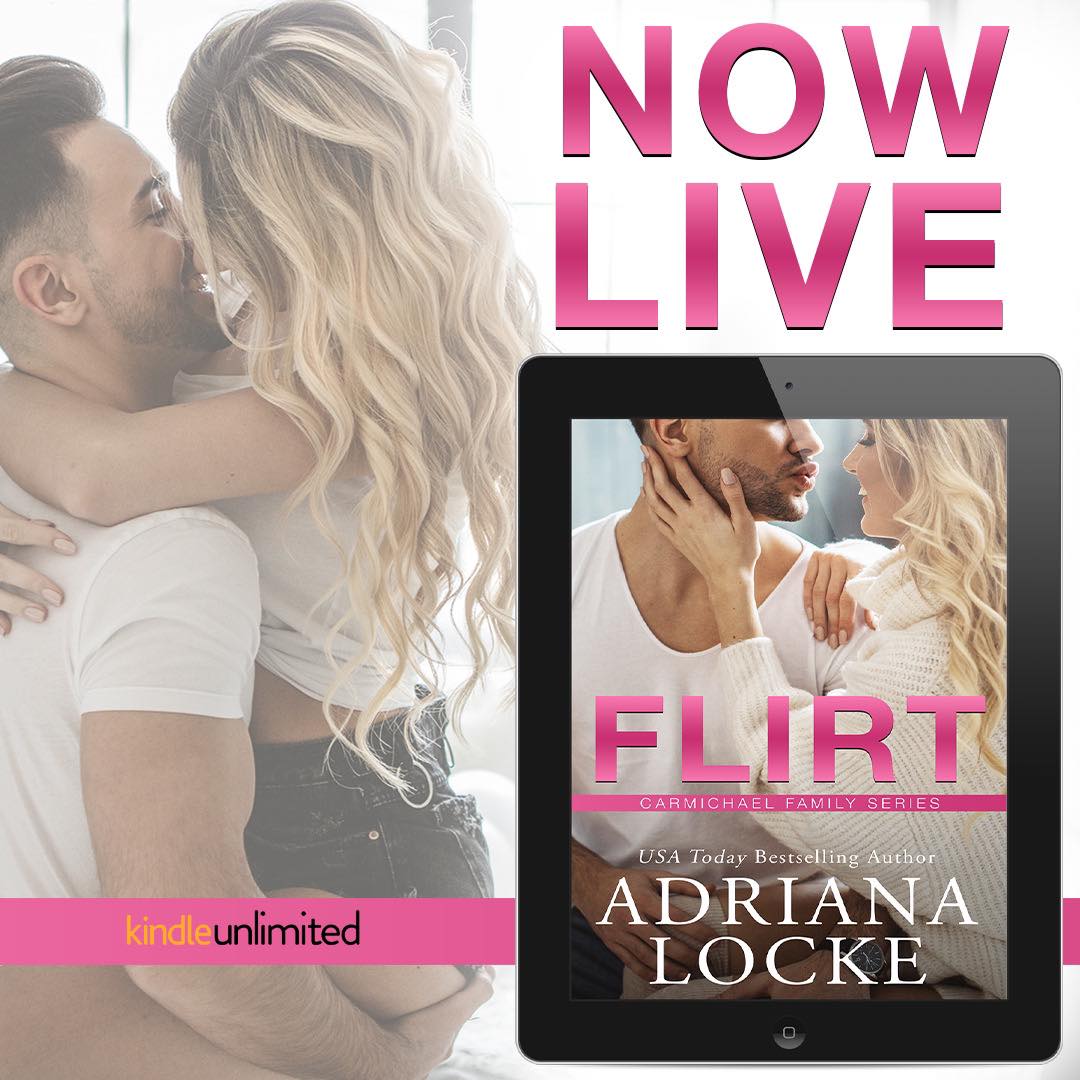 Add to Goodreads:
https://www.goodreads.com/book/show/59775481-flirt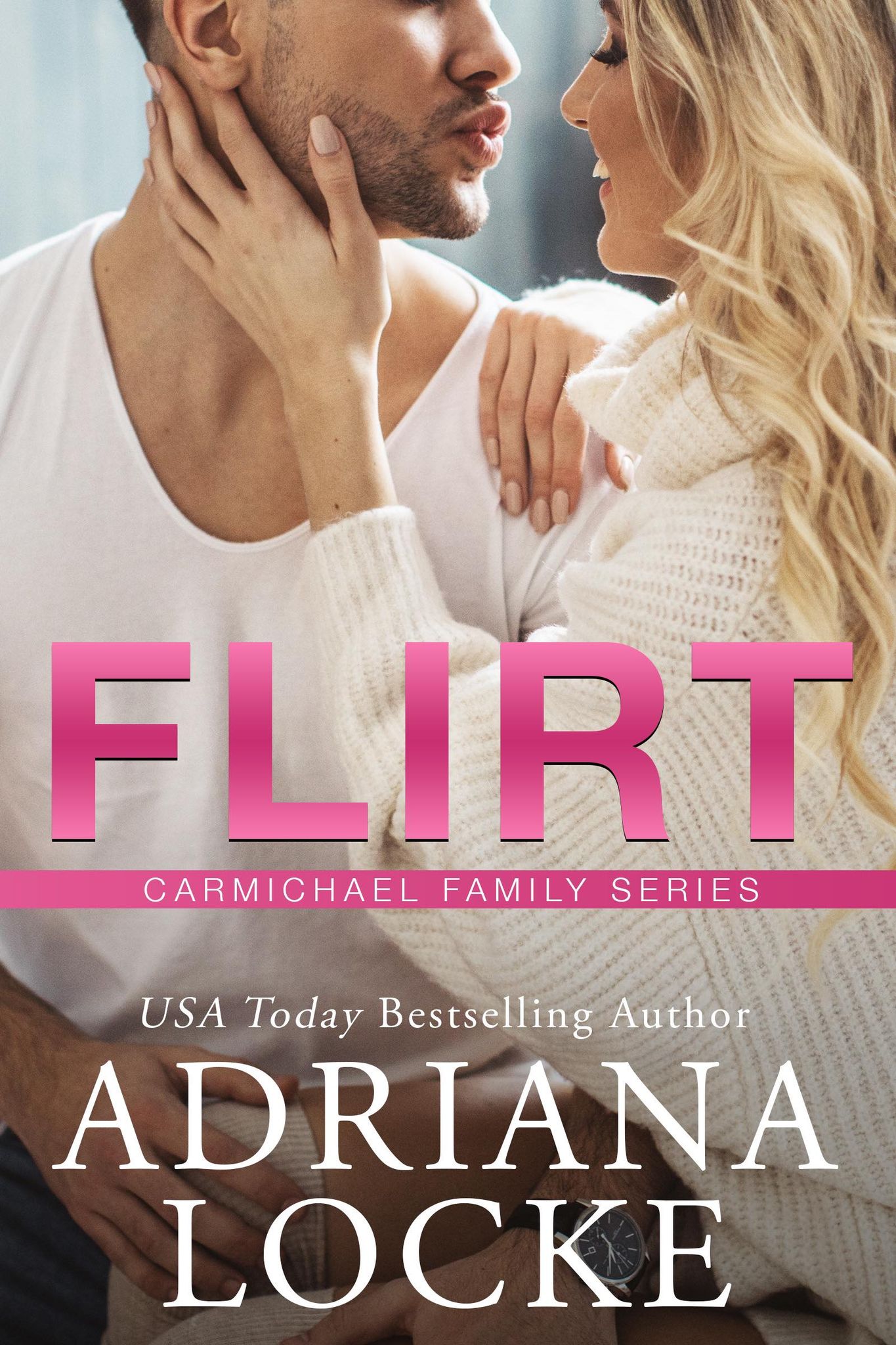 Blurb:
WANTED: A SITUATION-SHIP
I'm a single female that's tired of relationships ruining my life. However, there are times when a date would be helpful. If you're a single man, preferably mid-twenties to late-thirties, and are in a similar situation, we might be a match.
Candidate must be handsome, charming, and willing to pretend to have feelings for me (on a sliding scale, as the event requires). Ability to discuss a wide variety of topics is a plus. Must have your own transportation and a (legal) job.
This will be a symbiotic agreement. In exchange for your time, I will give you mine. Need someone to flirt with you at a football party? Go, team! Want a woman to make you look good in front of your boss? Let me find my heels. Would you love for someone to be obsessed with you in front of your ex? I'm applying my red lipstick now.
If interested, please email me. Time is of the essence.
Flirt is the first book in the Carmichael Family series by Adriana Locke. I love when one of my favorite authors starts a new series and the start of this one is AMAZING. If you read Sweet, the sixth book in the Landry Family series then you got a small glimpse into how this family works. Antics, love, and lots of laughs.
Brooke needs a date to her grandmother's birthday party. If she shows up single, she will never hear the end of it from her mother. She wouldn't even go if it wasn't for her grandmother, Honey. So, she writes out an ad for a fake date and that is when the crazy ride begins. She really didn't expect so many responses. But what truly shocked her was when Moss Carmichael volunteers for the job. The man is a flirt. A friend. Does she think he is hot? Fuck yes. Has she ever thought of him as more than a friend? Hell yeah. Does she want a relationship ever again? Hell no. Would she ever risk their amazing friendship? Hell no again. She needs a date. He needs a date for an event. It's a win-win really.
Moss loves flirting with Brooke. She is his happy place but they can never be more. No way in hell he was going to let her take a stranger home to her wacky family. He was the only man for the job. Though a few of his brothers would say they were. Ha! This will be easy even if he is hard every time he is around the woman. Has he wanted to kiss her in the last two years they have worked together? Of course. Does she scare him? Fuck yes. He knows her and she needs this. A date. So why not fake date until then? It's always fun to mess with his family so it's on.
I absolutely love these two! I do believe Moss is tied with Lincoln for my favorite Locke man. I love a shameless flirt who makes me laugh, swoon, and get hot and bothered. And Brooke is a tough cookie who knows what she wants. Together, I love their banter, sexiness, and flirt game. It's not all about good times though. It's an emotional ride and I am here for it and can't wait for the rest of the boys to find their loves.
"When I'm around you," he says softly, his eyes never leaving mine, "I think maybe my heart can be fixed someday."
She's my worst nightmare and my wettest dream.
Flirt is the first book in the Carmichael Family series by the queen of small town-family romance, Adriana Locke. I will dare say that Flirt is my favorite book of Adriana's. I got absolutely giddy when I heard the Carmichaels were getting their own series after meeting them in Sweet. I didn't expect to fall for Moss so hard and so fast though! But I don't feel bad about it for a second! He's dreamy, sweet, sexy, funny and hot! He had me swooning all over the place. The things he says when he's not even trying? Oh my! Swoon-a-licious! Brooke is strong, independent and talented. Her family leaves a lot to be desired, but the Carmichaels are like family.  Just like Moss. They have been working together for two years and each has secretly lusted after the other. But they are great friends who know a lot about each other. Who are comfortable with each other and genuinely enjoy each other's company. So when Brooke needs a fake date to a family function, Moss volunteers. It's no hardship spending more time with Brooke. After one scorching kiss, the rules of the game change. He's all in. She fights it for a while, but it's futile. They have friendship, passion, fun, sexiness and love. They both have pain and loss in their lives that needs to be buried before they can move on together. It's heartbreaking and heartwarming. Overall, I loved every second of it. If I had time, I would definitely read it again! Hmm…maybe I'll listen to it if it comes to audio. Flirt is a fantastic start to a new series and I am here for it. I don't think any of his brothers will top Moss, but I can't wait to see them try!
"You are basically my hero."
"I think I would be a heroine."
He laughs. "I don't know. You have a lot of big-dick energy."
"You're damn right I do."
"Thank you," he whispers into my ear.
"For what?"
"For sharing you with me."
About the Author:
USA Today and Washington Post bestselling author Adriana Locke lives and breathes books. After years of slightly obsessive relationships with the flawed bad boys created by other authors, Adriana has created her own.
She resides in the Midwest with her husband, sons, and two dogs. She spends a large amount of time playing with her kids, drinking coffee, and cooking. You can find her outside if the weather's nice and there's always a piece of candy in her pocket.
Connect w/Adriana:
Website: https://adrianalocke.com
Facebook: https://www.facebook.com/authoradrianalocke
Facebook Group: https://www.facebook.com/groups/booksbyadrianalocke
Twitter: https://twitter.com/authoralocke
Instagram: https://www.instagram.com/authoradrianalocke
Goodreads: https://www.goodreads.com/author/show/8379774.Adriana_Locke
Amazon: https://amzn.to/3ivy7xd
Bookbub: https://www.bookbub.com/authors/adriana-locke
Newsletter Signup: http://bit.ly/NewsletterAddy
April 19, 2022 | Posted in Blog Tour, Excerpt | By Two Book Pushers
Three powerful families. Three arranged marriages. And one beautiful stranger with a secret who changes everything.
Devil's Angel, an all-new steamy new adult standalone romance from bestselling author Julie Capulet is available now!
Cassidy They say family is something you're born with. Mine abandoned me long ago. They say true love is a myth. Mine showed up as a gorgeous devil who almost killed me. I fought back. Our bodies and our hearts knew, even if our realities would never allow it.
Knox I'm one of five heirs to the Ramsey fortune and estate, a hundred acres of tropical paradise on the island of Kauai. I'm also the chosen one—a detail that's about to ruin my life. My marriage will be arranged, to secure the alliance between families.
But when a chance encounter with a mysterious stranger literally slays me, she changes everything.
This is more than obsessive lust. It's the kind of star-crossed love worth dying for. And it's a risk I'm willing to take. Because settling for a future without her is no longer an option.
DEVIL'S ANGEL is a steamy standalone new adult arranged marriage romance set in paradise. It contains scorching hot love scenes and is intended for readers 18+
Grab your copy today or read FREE in Kindle Unlimited! Amazon: https://amzn.to/3tzTHYT Amazon Worldwide: http://mybook.to/DevilsAngel
Add Devil's Angel to Goodreads: https://bit.ly/3wAg6XV
Excerpt
I walk the six blocks to Perfection Catering to start work.
They're already loading up the vans parked out in front, so I show my ID to the driver and get into the van, where Maggie has saved a seat for me.
"I can't believe we're going to Seven Mile Beach," she gushes.
"What's Seven Mile Beach?"
"Are you kidding me? It's only the most expensive residence in the United States. We're working for the Fitzpatricks today. It's Vivi Fitzpatrick's twentieth birthday party."
"Vivi Fitzpatrick." Doesn't ring a bell. "Should I know who that is?"
Maggie rolls her eyes, like she can't believe anyone could be so obtuse. "What am I going to do with you? The Fitzpatricks are celebrities. They own the most exclusive high-end hotels in Waikiki. Their resorts are where the tourists with serious money stay." Maggie keeps up with all the latest social media gossip.
I, it has to be said, don't.
"Here, I'll show you their photos." Maggie knows I don't really have the time or the data to scroll the internet non-stop. She fills me in on all the gaps in my celebrity education.
"This is Malachi." She zooms in. "Isn't he absolutely gorgeous?"
I guess he is, in an internet-worthy sort of a way. He has black hair and white teeth. He's surrounded by beautiful women in bikinis smiling vapidly for the camera.
"Perri, Tatum and Vivi Fitzpatrick's follower numbers on Instagram are ranked one, two and three in the world." Maggie scrolls further. "Here's a photo of the three of them."
I point to the sister in the middle as she zooms in. "Is that Tatum?" I recognize her face.
"Yes. And this one's Perri. And that's Vivi on the right."
Vivi isn't smiling. Perri is wearing a lot of make-up. She has a weird sheen to her, like she could be made of plastic.
I don't get a chance to ask Maggie more questions because we're driving up to a massive gate. We come to a stop and several security guards climb aboard. The van is searched and we all have to be checked with metal detectors to make sure we're not armed. Which seems a little over the top but I guess these celebrities can't be too careful.
We finally pass the inspection and our fleet of vans gets waved through. A palm-tree lined entrance winds along a grassy slope overlooking a golden sand beach and the turquoise water.
Maggie and I are both wide-eyed as we drive into the compound. The house looks like a five-star plantation-style hotel with modern additions. There's a gigantic lanai and a glittering infinite pool surrounded by palm trees. The entire place gleams with money.
We're led inside, and put to work alongside the army of staff that are already setting up the outdoor area with the tables, decorations, an outdoor up-market tiki bar and a giant buffet.
The day goes quickly, and the limousines start pulling up just after six o'clock. Maggie and I are given trays with flutes of champagne and told to stand near the entrance so we can serve the new arrivals. From here, Maggie fills me in on who's who.
"I love this job," Maggie gushes. Then her eyes go wide. "Holy shit, that's Jagger King!" He's stepping out of a white stretch limousine. He has straw-colored blond hair that catches the early evening sun. The rolled-up sleeves of his shirt show off his gold chains, his suntan and his tattoos. "God, he's so beautiful."
"Is he a movie star too? He looks like one."
"No, he works for his family," Maggie explains. "All the Kings do. They own banks, skyscrapers and basically half the real estate and businesses in Honolulu. If the Fitzpatricks are the Hollywood of Hawaii, the Kings could be described as the Wall Street."
"He doesn't look like a banker."
"That's because he has so much money, he can look however he wants." Two other people get out of the limo. "There's Stone," Maggie whispers excitedly.
Stone is tall and lankier than his brother. He's wearing sunglasses and black clothes.
"And there's Aurora." Maggie is totally starstruck.
Aurora has dark red hair and a sexy, femme fatale look. She's wearing a red dress, if it could even be called a dress. It's more like a shred of ripped fabric that's covering only the most necessary areas.
The Kings are coming up the steps. Maggie and I watch them as they help themselves to champagne. Up close, they're even more striking. Their clothes and their obvious, glittering wealth give them a power that's hard to describe. Jagger is the most physically stunning, but all three of them have a magnetic, sparked presence, like if you touched them they might give you an electric shock.
As Jagger takes a champagne flute from my tray, his gaze lands briefly on my face. His gold hair catches the light almost theatrically but his irises are a very dark brown. As our eyes meet, something about him seems almost weirdly … familiar. But why would it? I most definitely have never met Jagger King. Maybe I've seen a photo of him somewhere before. He winks at me before sauntering off into the growing crowd.
Maggie exhales a shaky breath. "Did you see that? He looked right at you!"
There's some commotion as more people make their entrance behind us, from the interior of the house.
"It's Perri and Vivi," Maggie exclaims with hushed awe. "Vivi is the one in purple."
Both women are dark-haired and exotic-looking. They're wearing the most to-die-for outfits I've ever seen.
"Oh, look, here comes Echo Ramsey."
A valet opens the door of the next car and a young woman steps out. "Who's Echo Ramsey?" I whisper back.
Maggie gives me a look. "You seriously must be living under a rock, Cassidy. You've never heard of Echo Ramsey?"
"Uh … no."
"The Ramseys live on Kauai," Maggie explains patiently. "All three families are interconnected. There are a lot of marriages between the families and they own businesses together. The Ramseys are more reclusive than the others."
"Why?"
"They just prefer to stay out of the limelight. Their house is like a castle. It's surrounded by acres of land and high, guarded walls. I've heard it's like an absolute fortress, but inside there's this beautiful haven, with all kinds of orchards and botanical gardens. The Ramseys live like they're still on the frontier. They ride horses. They grow crops and they live almost entirely off the land."
"Wow." I imagine what that must be like. To catch your own fish or pick fruit off your very own trees.
"My friend's cousin went to a party there once. She said they all look like supermodels."
"Echo Ramsey sure looks like one."
Echo is willowy thin with dark, glossy long hair that's beautifully cut. She's almost ethereal-looking, like she could be half fairy or a nymph who just wandered in from a magical woodland. There's a quiet gravity to her. It's the groundedness of someone who belongs and who walks around every day feeling the effortless security of that. You can tell she's loved. You can tell it holds her up and shapes the way she looks at the world. I have a radar for that kind of thing because it's so absent in my own life.
"Blaise Ramsey is stunning too," Maggie says. "They all are. I've seen the occasional photo of Remington, in the city. He's the oldest. He's on the board of some of the businesses the families co-own. He's huge and built like a fighter. So are Knox and Wolf. They train in MMA, I've heard. But they hate publicity. There are a lot of cousins and extended family too, like a clan, but it's the five siblings that get talked about most."
And now I'm curious. "What about the other two? Knox. And Wolf." They have unusual names.
"Apparently Wolf is crazy and, like, armed. He's some kind of weapons expert or something. I don't know much about Knox. My friend's cousin said he was the most gorgeous of all of them. He's seriously hot and he spends most of his time swimming and hunting. He's sort of wild and outdoorsy, like a tropical island version of a hot mountain man. He's hardly ever seen. I've never seen a picture of him. But according to my friend, all the Ramsey men are absolutely lethal—I mean, I don't know why you'd describe someone you just met as lethal, but that's what she said."
"Wow," I say again. It all sounds so wildly romantic. Keeping to yourselves. Swearing loyalty to your clan.
Growing up like I have, I've always coveted the idea of a haven. What would that be like, to belong to a place that's guarded and beautiful and filled with people who know you and who care about you enough to keep you safe?
I wish I could find out.
About Julie Capulet
Julie Capulet writes contemporary romance starring sexy, obsessed alphas and the sweet & sassy women who bring them to their knees. Her stories are inspired by true love and she's married to her own real life hero. When she's not writing, she's reading, walking on the beach, drinking wine and watching rom-coms.
Connect with Julie Amazon: https://amzn.to/3qzHIIX Goodreads: https://bit.ly/3wxBEoj Facebook: https://bit.ly/380gkxx Instagram: https://bit.ly/3wFKT61 Website: https://www.juliecapulet.com/
April 1, 2022 | Posted in Blog Tour, Review | By Two Book Pushers
"In this un-put-downable romance, Madden-Mills skillfully balances the emotional with the physical to produce a love story that's equal parts scorching and sweet." —Publishers Weekly
Beauty and the Baller, an all-new emotional and steamy opposites attract, fake relationship standalone romance from Wall Street Journal bestselling author Ilsa Madden-Mills is available now!
An NFL quarterback turned small-town coach gets sacked by a Texas beauty queen in this swoony, passionate romance from Wall Street Journal bestselling author Ilsa Madden-Mills.
Gorgeous, talented, and brilliant, NFL quarterback Ronan Smith has the world in his hands. But after losing his career and his fiancée in a car accident, he falls into a pit of grief and bad choices. When a mysterious girl shows up to his party, he feels drawn to her and makes her his…for one night.
Former beauty queen Nova Morgan is on a mission. Scantily clad as a princess from a galaxy far, far away, she sneaks into a high-profile party to capture the attention of her favorite quarterback. But her hopes crash after an awful one-night stand.
Fast-forward two years. Broke and desperate, Nova returns home to Blue Belle, Texas, where, by a cosmic twist of fate, her broody neighbor is none other than Ronan, the shiny new football coach everyone adores. But he has no idea who she is.
The booster club keeps shoving women at Ronan to keep him in town. His solution? He proposes fake dating to Nova. But things heat up for real under these Friday-night lights when he realizes she's the one who slipped away.
Has this jaded beauty found her forever baller, or will his past keep them apart?
Fall in love today FREE in Kindle Unlimited! Amazon: https://amzn.to/3CRMSE1 Amazon Worldwide: http://mybook.to/BeautyBaller Amazon Paperback: https://amzn.to/3CRmo5r
Add Beauty and the Baller to Goodreads→ https://bit.ly/3uhUb4F
Beauty and the Baller is Ilsa Madden-Mills' latest epic romance. I have read most of Ilsa's novels and this one is one of my favorites! The story. The characters. The fun. I was so close to finishing it in one day! I was seriously addicted.
Ronan lost everything a year ago. His career. His fiancée. He was in a black hole then he saw her. His Princess Leia. He had to save her and then he had to have her. It was the first time he saw the light in a year then she was gone when he woke up. That night changed him. She changed him and he didn't even know her name or even remember most of her features. He wasn't exactly sober but he was now. Two years later, he was in Blue Belle, Texas as a HS football coach who has been set on a pedestal he didn't ask to be on…
Nova was home. Broke and taking care of her teenage sister, and she was in no mood for a party. Her neighbor, apparently the high school football coach was celebrating a win and his birthday. She didn't care. She also didn't care if she looked a hot mess. Then she sees him. Her one-night stand from two years ago. The one she both couldn't forget and wanted to forget and apparently, he did. He didn't even recognize her. The arrogant jerk. Fate was a total bitch.
Ronan and Nova's twist of fate is epic, y'all. She knew it would be a bad idea to fake date him. He didn't want entanglements. This wasn't his home, it was a stepping stone and everyone knew it. It was why the whole town was trying to find him a woman to tie him down. Well, it wouldn't be her even though she knew Ronan tying her down would be the best night of sex. Ever. Nope. She couldn't go there until…
I can't really get into the story anymore than that but I can say I absolutely loved this couple! The meet-cute. The banter. The connection. The heat. The passion for the game. The emotions. It was everything I expected and more. If you follow my reviews then you know I don't read blurbs so all I knew was it had to do with a beauty and a football player. I am obsessed with the cover. I love Nova, she is a true badass. I love Ronan, he is an alpha with a romantic side. These two are fire! I also fell for the side characters too, Tuck is hilarious and the rest are too.
"It's a lesson all Southern women learn early." She shrugs an elegant shoulder. "We don't care if we get caught."
"Come over to the dark side, Princess."
"I love kissing you. Each time is different," I murmur as our breaths mingle.
Beauty and the Baller is Ilsa Madden-Mills' newest epic, second chance, fake relationship romance and I loved every second of it. It has heart, heat, humor, fun, sexiness, Star Wars, football, southern charm and a cast of relatable and loveable characters. Ronan is floored when his dream, a gorgeous blonde in a Princess Leia costume, crashes a football party. What's a hero to do? Like Han Solo, save the Princess. Ronan might have been grief stricken and a little drunk, but his princess left a mark on his heart and soul. Nova jumps at the chance to get closer to The Ronan Smith. Dress up and pretend to know things about Star Wars? Check. Dance with sexy footballer? Check. Go back to his room and have the best night of your life? Check. It didn't end the way Nova wanted, but she moved on, tried to forget about the hurt. Now she's back in her hometown in Texas after her mother's passing and the new football coach lives next door. To say she was shocked to find Ronan was the coach is a sever understatement. He's still s gorgeous, but she has to ignore that. She hates him. He's a jerkface. And apparently all the women in Blue Belle want him. Except her. Right? She needs to find a job, figure out how to raise her teenage sister. Ronan doesn't remember her, but when he does it is on. He still feels a connection to the sexy blonde who ultimately saved him. What he needs it a fake girlfriend so all the crazy single women in town back off. He needs to keep things easy and light. He doesn't expect to want to spend time with Nova. Want to know things about her. Her Secrets. What she wants out of life. He definitely did not expect to fall for her. But this town and the high school coaching job is just a stepping stone. Right? This can't be his forever. Ronan doesn't know what hit him until he almost loses it all. Will he be able to fight for his new life? Learn to live in the moment? Trust in fate? Wow! I have read a lot of books by Ilsa and this is by far one of my top two favorites. It has everything I love in a romance. A second chance, humor, sexiness, a fun, smart sexy hero with sexy hair, an independent, smart heroine. Secondary characters that could have their own stories and of course love. I laughed, cried, had to fan myself and wish there were going to be more Ronan and Nova. I honestly couldn't love this story more! P.S. I love her clothes and shoes and his undying love for Star Wars!
About Ilsa Madden-Mills Wall Street Journal, New York Times and USA Today best-selling author Ilsa Madden-Mills is best known for her angsty new adult romances and romantic comedies.
Eight of her eleven novels have placed in the Amazon Top 10 Best-seller List: Dirty English #1; Fake Fiancée and I Dare You #2; I Bet You, Filthy English, and Very Bad Things #6; Boyfriend Bargain #8; The Last Guy, her collaboration with Tia Louise, #4.
A former high school English teacher, she adores all things Pride and Prejudice, and of course, Mr. Darcy is her ultimate hero.
She's addicted to frothy coffee beverages, cheesy magnets, and any book featuring unicorns and sword-wielding females. Feel free to stalk her online.
Connect with Ilsa Amazon: http://amzn.to/2nY2pxT Instagram: http://bit.ly/35xfNfo Stay up to day with Ilsa by joining her mailing list: http://bit.ly/2ZWaTYh Goodreads: http://bit.ly/2EESfM9 Bookbub: http://bit.ly/2GaR6cn Book+Main: http://bit.ly/2s4j9ci Website: https://www.ilsamaddenmills.com Join her Unicorn Girls Group on FB, the best way to keep up: http://bit.ly/37B6Nay Sign up for phone alert for book releases (max of 4) Text ROMANCE to 21000 *Text message rates apply*
March 18, 2022 | Posted in Blog Tour, Review | By Two Book Pushers
Love on the Lake, a beautiful small town standalone romance filled with laughter and tears from New York Times bestselling author Helena Hunting, is live now!
Teagan Firestone has always been the dutiful daughter, especially since her mom died. But as her father finally begins to move on, it's her turn to do the same. Her destination: Pearl Lake, a close-knit community with an entrepreneurial spirit and secrets of its own.
One of them is Aaron Saunders, who dropped out of college to work construction for Pearl Lake's upper class. He's a mystery and has a playboy reputation—that is, until he meets Teagan. Neither of them is looking for love, but in a town this small, it's hard not to let your heart get involved.
As their romance heats up, Aaron's elusive past comes to light and Teagan is there for him, bringing them even closer together. But when Teagan is forced to face her own demons, her inability to accept the support of friends and family threatens the life she's worked so hard to build.
Can Aaron love her, even when she can't love herself?
Fall in love today exclusively on Amazon or read FREE on Kindle Unlimited! Amazon: https://amzn.to/3sv3Rbd Amazon Worldwide: http://mybook.to/LoveonLake Audio CD: https://amzn.to/3g870sK Paperback: https://amzn.to/3sn7Lmo
Add Love on the Lake to Goodreads: https://bit.ly/3iU4rfi
Love on the Lake is the second book in the Lakeside series by Helena Hunting. I love Helena and her books and I'm really loving this series. This is Teagan and Aaron's story. Teagan is Van's sister and she's trying to find out what she wants to do with her life. What will make her happy. What she's good at. Turns out, she's good at a lot of things so she takes on multiple jobs to see where her heart is happy. Her first day in Pearl Lake, she sees Aaron again and he's a total jerk to her. Then she sees how nice and flirty he is with everyone but her. She's not deterred, everyone likes her so she's going to find out what his problem is. Aaron has a reputation as a playboy, but that's not really who he is and that lifestyle is over. He's just working and trying to be. Until Teagan shows up. He knows she's different and could complicate his life so he's a total donkey to her (when he admits his donkey behavior was one of my favorite scenes!). When she finally calls him on his behavior he admits he's attracted to her and wants her. One kiss sparks more and more. He can do this, he can try to have a relationship. He even wants to tell her something no one else in his life knows. Everything seems to be perfect until he notices changes in Teagan. She's sleeping less, eating less and something just isn't right. When he calls her on it, it doesn't go over well. Teagan knows she's working too hard and not sleeping enough but she's making it work. Until she's not. Teagan has choices to make. Things to do to heal herself. Aaron is going to be by her side for whatever she needs. It's not going to be easy. It won't happen overnight. But it will happen. I wasn't prepared for the emotional roller coaster, but I loved it! Her anxiety gave me anxiety, but it was worth it. What she was going through isn't unique and I loved the way it was handled. And Aaron, that poor man! He's dealing with so much and Teagan just helps him and makes his life better. And of course, I love that he works with his shirt off and his hat on backward, that's always a plus! Overall, I laughed, cried, was emotionally invested and looking forward to more in the series!
Excerpt
She crooks a finger, beckoning me closer. But there's only six inches separating us. If I take a step forward, my boots will touch her toes. So I bend instead, until my ear is next to her lips, like I'm waiting for her to tell me a secret.
For a moment I consider the fact that I've been up and down the stairs to the loft at least a dozen times. The only air circulation in here is from a portable fan, so I've been sweating and shirtless for several hours. I might not smell all that fresh.
But that thought disappears when her fingertips drag along my collarbone and I feel the warmth of her breath at the edge of my jaw.
"Aaron."
Her palm wraps around the back of my neck. So soft. So warm.
I swallow and grind out, "I'm listening."
Her thumb finds that spot between my ear and my jaw, and she presses, gently at first and then more firmly. Her lips brush the shell of my ear, and she whispers, "Look at me."
I feel like a marionette, and she's pulling all my strings. I turn my head toward her, and her lips brush across my cheek, sending a hot shiver down my spine, lighting me up like a pinball machine.
Teagan Firestone is a dangerous woman. Sweet, beautiful, broken, and yet . . . bold and resilient. She's a lethal combination, and it's all compounded when those soft lips meet mine.
I don't even know what's happening. Well, I know. I'm kissing her. Or she's kissing me. She definitely started it.
It's like an explosion. Like an entire warehouse of firecrackers igniting at the same time. I groan into her mouth and wrap an arm around her waist, pulling her flush against me.
Our tongues tangle, and her other hand grips my biceps, sliding up and over my shoulder. She knocks my hat off my head, and it drops to the floor behind me. And then both of her hands are in my hair, sliding through the damp strands, gripping at the crown, angling my head farther to the side. Deepening the kiss.
Dragging it out.
About Helena Hunting
New York Times and USA Today bestselling author of PUCKED, Helena Hunting lives on the outskirts of Toronto with her incredibly tolerant family and two moderately intolerant cats. She writes contemporary romance ranging from new adult angst to romantic sports comedy.
Connect with Helena Instagram: http://bit.ly/2kN5wdZ Twitter: http://bit.ly/2mloUim Facebook: http://on.fb.me/Zt1xm5 Facebook Fan group: http://bit.ly/2kN5yCD Website: http://www.helenahunting.com/ Never miss an update! Subscribe to Helena's mailing list: http://bit.ly/2MlRKq6
March 10, 2022 | Posted in Blog Tour, Review | By Two Book Pushers
TASTE, an all-new sexy, stranded enemies-to lovers rom com from USA Today and #1 Amazon bestselling author Melanie Harlow is live now!
The last person on earth I want to be stranded with is Gianni Lupo.
But thanks to the blizzard of the century, I'm trapped in a roadside motel room with that cocky bastard for two straight days.
With one small bed.
Some women might thank Mother Nature for delivering a polar vortex that maroons them with six feet of solid muscle, those deep blue eyes, that sexy grin–but not me. I've known Gianni Lupo all my life, and he's never brought me anything but bad luck and trouble.
So when the tension between us explodes with enough fiery heat to melt my icy defenses, I should have known what the disastrous end result would be–
A big fat plus sign.
After the snow melts, I'm left with more than just memories of the night we spent keeping each other warm. And he might be a rising star on the culinary scene, but he's got no idea how to handle this bun in the oven.
He says he wants to do the right thing, but I'm not about to spend the rest of my life feeling like someone settled for me.
But just when I think I've got Gianni Lupo all figured out, he gives me a taste of the man he could be, of the family we could become, of the way he could love me if I let him.
I'm terrified of falling for him.
But one taste might be all it takes.
Grab your copy exclusively on Amazon or read FREE on Kindle Unlimited today! Amazon: https://amzn.to/3JIXsRM Amazon Worldwide: http://mybook.to/TasteMH Paperback: https://harlow.pub/Taste-pb Audio: Coming Soon
Taste is the seventh book in the Cloverleigh Farms series and the second next-generation book by Melanie Harlow. You can read as standalone but I do recommend reading the series since it's full of fun, swoon, family, friends, and sexiness. I knew this story was going to be so much from the glimpse of these two in Ignite. 
Gianni was a pain in Ellie's ass and has been since they were five. He had many skills but at the top of the list were cooking and pushing Ellie's buttons. He has perfected both. They were now working together at Abelard Vineyards, him as a chef and her as the sommelier. It's only for six months but to her it is six months too long but to him it's fun and a way to get under her skin. Another way of doing just that was to invite himself to a dinner party for a client who wanted Ellie for a wine pairing at their home. There was a storm coming and there was no way he wanted her to drive alone. 
Ellie didn't wanted him there. He could never be a shadow in the black ground and this was her time to shine but he was right, a blizzard would suck to drive in. Later being snowed in. What she didn't expect was seeing another side of him. A side she maybe didn't want to see, she wanted to hate him but a blizzard bang was too tempting in a room with him. A bang is one thing but feelings was another and when later when a plus sign shows up, it is a whole new ballgame. Gianni isn't the type of man to stay in one place and she doesn't want his dreams to die so what now? 
These two are fire!! Ellie is a true badass. Gianni is a shameless flirt and I am here for it. Together, they know exactly how to push the other's buttons and it is so much fun. It's not only that though. I cried! They bring out sides to one another in that room and at-home. I can't wait for the next book. I am loving the next generation just as much if not more than the first. 
P.S. Make sure to sign up for the bonus scene! 
"Sex can ruin a friendship, you know."
"Then it's a good thing we're not friends."
"What's the matter, Gianni? Too hot to handle?"
"We'll never be boring."
Excerpt
I sat at the foot of the bed and dialed Winnie's number. She picked up immediately.
"Ellie?"
"Hey."
"Thank God! You guys okay?"
"We're fine." I watched Gianni unwrap a candy bar and lean back against the headboard. "We found a motel with a vacancy."
"You mean you're staying in a motel room together?" she asked, loud enough for Gianni to overhear.
"Yeah. And there's only one bed."
She laughed. "How's that going?"
"Fine."
"You guys are getting along?"
Gianni made a lewd gesture involving his fist, his tongue, and his inner cheek. I gave him the finger. "As well you'd expect."
"I can't wait to hear about it."
"We're going to try to get out of here as soon as we can in the morning. I'll let you know when we're on the road."
"Sounds good." She laughed again. "Sleep tight."
"Oh. We will." I eyed the length of the bed. "We have no choice."
After ending the call, I opened the Truth or Drink app on my phone and picked up my wine. "Ready to play?"
"Hit me."
I scrolled through the options. "Do you want to play normal mode, party mode, or dirty mode?
Gianni looked at me like I was crazy. "Duh."
I sighed and reached for my wine. "Okay, fine. I feel like I'm going to regret this, but dirty it is."
"Can I take my pants off?"
"No. What's your age range for a one night-stand?"
"Hmm." Gianni thought for a moment.
"Please say at least eighteen."
"No teenagers. I'll say twenty to forty-five."
"Forty-five? Really?"
He shrugged. "I think mature women are hot. But I can't go near fifty because that's my mom's age and then it would be weird."
"Right."
"So what about you? Same question."
"I'd have to say . . . thirty to forty."
He looked offended. "Why thirty? You're only twenty-three."
And so was he, which was why I'd said it. "I know, but I think older men are just better in bed." (I'd actually never been with anyone over twenty-eight.)
"In what way?"
"Just . . . more patient. More knowledgeable. More generous. Guys in their twenties think they're all that just because they have younger bodies, especially if they're—you know—well-endowed. But it's not just the size of the boat. It's definitely the motion of the ocean."
He harrumphed. "You've been in the wrong boats."
Add Taste to Goodreads: https://bit.ly/3sWbzNO
About Melanie Harlow
USA Today bestselling author Melanie Harlow likes her martinis dry, her heels high, and her history with the naughty bits left in. When she's not writing or reading, she gets her kicks from TV series like Ted Lasso, Schitt's Creek, and Fleabag. She occasionally runs three miles, but only so she can have more gin and steak.
Melanie is the author of the BELLAMY CREEK series, the CLOVERLEIGH FARMS series, the ONE & ONLY series, AFTER WE FALL series, the HAPPY CRAZY LOVE series, and the FRENCHED series. She lifts her glass to romance readers and writers from her home near Detroit, MI, where she lives with her husband, two daughters, and pet rabbit.
Connect with Melanie
Facebook: http://bit.ly/2RPwr51 Amazon: http://amzn.to/1NPkYKs Bookbub: http://bit.ly/36kL7yB Instagram: http://bit.ly/2NW3UtA Pinterest: http://bit.ly/2sVOz55 Facebook Reader Group: https://bit.ly/3mYzBBo Stay up to date with new releases and sign up for Melanie's mailing list: http://bit.ly/2P7MATT Website: www.melanieharlow.com
March 4, 2022 | Posted in Blog Tour, Review | By Two Book Pushers
Title: The Assignment
Author: Penelope Ward
Genre: Standalone Contemporary Romance
Release Date: February 28, 2022
BLURB
From New York Times bestselling author Penelope Ward, comes a new standalone novel.
Reasons why I should not be drawn to Troy Serrano.
Number one: He's obnoxious.
Number two: He and I were enemies over a decade ago in high school.
Number three: He's my friend's ex-boyfriend.
I could go on and on, really.
When my boss gives me an unwanted assignment and tells me it involves spending time with the grandson of one of our residents—the grandson turns out to be Troy. He's now as successful as he is undeniably handsome.
Lucky me. Four hours a week of having to deal with his insufferable personality and unsolicited advice.
The only consolation is getting to stare at his annoyingly gorgeous face in between our many arguments.
Eventually, though, we slowly warm to each other and our outings become something I actually look forward to.
What's happening to me?
Apparently, I misunderstood the assignment, because it certainly didn't include thinking about Troy when I close my eyes at night, imagining what it would be like with him—just once. All the while hating myself for fantasizing about a guy who's all wrong for me. A guy whose car I keyed back in the day. (Long story, but he deserved it.)
That's all this is—a fantasy.
Well, until that one night at the bar.
The night Troy and I run into each other, and all of our pent-up frustration comes barreling out.
Still, I refuse to accept that it means anything.
There's no way the guy I'm supposed to hate is also the one I can't live without.
The Assignment by Penelope Ward is a fun, sexy, emotional ride and I loved every second of it. Aspyn and Troy hated each other in high school. He cheated on her friend and she took joy in getting back at him. Now, years later they are forced to spend time together. Aspyn works at the retirement home where Troy's grandfather lives and she needs to make sure Troy plays by the rules. She didn't expect to actually start to like him. Troy isn't happy about Aspyn having to follow him around, but he loves teasing her. And then he starts to like her and can't stop thinking about her. She still hates him and it becomes important to him that he changes her mind. They both have a past that keeps getting in the way of their future. Could they actually be falling for each other? Can they recognize their fears before their love story has a changes to really start? Oh boy! I couldn't love Troy more! Yes, he's a tad cocky, but he's so funny and really genuine and doesn't lie to Aspyn. He's also stupid hot, thoughtful and endearing. Aspyn is living with her own guilt and demons, but she's strong, independent and fun when she starts to loosen up. This story is one of my favorites from Penelope! Overall, I laughed out loud, swooned and even cried!
The Assignment is Penelope Ward's newest addictive standalone. I always know when I open one of her books, I won't want to put it down. That was one-hundred percent true with Aspyn and Troy's love story. I was hooked from beginning to end.
Aspyn loved her job as the activities director at Horizons, a care home for seniors. She enjoyed fields trips, singalongs, and art classes. What wasn't in her job description was babysitting the visitors while they took their family out but that was exactly what she was assigned to do in a rare case. She enjoyed her time with Mr. Serrano, she really did but apparently his grandson had an issue with bringing his grandfather back on time or even signing him out. She should had known this assignment was going to be trouble and when she saw him, she knew she in deep. Troy Serrano. Her nemesis from high school. A boy too handsome for his own good. A boy who broke her best friend's heart. A boy she tried to poison with a donut their senior year. She was so screwed… because now, he was a man who was too hot for his own good, and too cocky as well.
Troy didn't expect to see her. The girl who hated him in high school. The girl who keyed his car. She was certainly not a girl anymore. She was a woman who wore Goofy scrubs who made his heart beat faster. She was hot and cold with him during their outings but he lived for her laugh. He wanted to prove to her he wasn't the same guy from high school. He could be trusted. He wanted her sure but that was more important. She was different. He was only in town for a few months so why not become friends then move on? Nothing to lose, right?
Damn, this book is so fucking good! I do love a good enemies-to-lovers story and this one was more than I expected. I, not only fell in love with Aspyn and Troy but also the supporting characters. They are not just in the background. They are important to the story and made it even better. I laughed so hard, teared up a few times, and definitely swooned and got hot and bothered.
P.S. I feel for Aspyn. We are the same eating lifestyle. Blah…lol.
Quotes:
"I'm old, but I'm not blind, kid. You like staring at her ass more than I like McDonald's ice cream and Sinatra."
"I can take whatever you've got, Serrano," she said, her eyes glinting.
"Will you ride me? I ain't too proud to beg."
Penelope
Ward is a New York Times, USA Today and #1 Wall Street Journal bestselling
author of contemporary romance.
She grew up
in Boston with five older brothers and spent most of her twenties as a
television news anchor. Penelope resides in Rhode Island with her husband, son,
and beautiful daughter with autism.
With over two
million books sold, she is a 21-time New York Times bestseller and the author
of over twenty novels. Her books have been translated into over a dozen
languages and can be found in bookstores around the world.
AUTHOR LINKS
OTHER BOOKS BY PENELOPE WARD
AMAZON US / UK / CA / AU
B&N / KOBO / APPLE BOOKS
GOOGLE PLAY / AUDIOBOOK
March 4, 2022 | Posted in Blog Tour, Excerpt, Review | By Two Book Pushers
Thick as Thieves, an all-new must-read mm romantic comedy from USA Today bestselling author Lucy Lennox is available now!
Julian: I've been in love with my best friend since forever. Okay, fine. Like, kindergarten. It started out platonic, obviously, but then became… nope. Still platonic. The problem is that Parker Ellis has been straight since forever. And that makes it difficult to convince him the two of us are meant to be together. And now there's no point. All is lost. He's gone and gotten engaged to his high-school sweetheart which means I have to grin and bear it while pretending to be the happy, supportive best man while he prepares to commit his life to a woman I can't even fault. She's great. We've all been friends forever. I know he'll be happy with Erin, just not… just not as happy as he could be with me.
Parker: I'll admit. Sometimes I press the easy button. Like when Julian Thick had offered me half his sandwich back in grade school after noticing I didn't have any food. Or when I'd needed a date to homecoming in tenth grade and Erin told me she was it. Or when I'd used the one thing that came easy to me, skiing, to get my college tuition paid for. Or when Erin had showed back up in my life six months ago and told it was time to marry and start a family… But for the first time in my life I'm facing something that's not at all easy. It's my wedding weekend and I've just been left at the altar. Not only that, but when my best friend whisks me away to drown my sorrows in a snowy cabin in Aster Valley, I accidentally discover Julian's been keeping secrets. Big secrets. The kind of secrets that lead to hot experimental kisses in front of a blazing fire, tenative physical exploration in a way I'd never imagined before, and the kind of intimate, true confessions I'd never even dreamed of between me and the one person who's always been my true home. But after twenty-plus years of thinking of Jules as my friend without benefits, is it truly possible to change who we are to each other? There's no easy button this time, but I'm willing to do the work. I only wonder if Julian is ready to trust I really mean it.
Fall in love today! Amazon: https://amzn.to/3CsFZs5 Amazon Worldwide: http://mybook.to/ThickasThiev
Add Thick as Thieves to Goodreads: https://bit.ly/3CAv13H
Thick as Thieves is the fourth book in the Aster Valley series by Lucy Lennox. I can't even express how much I love this series and every one is my new favorite. They just keep getting better and better. We have known Julian for a while and oh man, I knew his story was going to be good. He's been in love with his best friend, who is straight, for most of his life. He's been his person and he's about to lose him. Parker wasn't ready for what happened, but it was for the best. Now he can see what he's been missing for years. Julian is not only his best friend, who he loves, he's also the love of his life. But he's been straight (ish) his whole life. Now he just has to convince Julian that he wants to be with him in every way. Julian can't believe Parker loves him and wants to be with him. He thinks it's too big a decision to make on the fly, but he knows Parker and he trusts him. Is it possible for Julian to get everything he's ever wanted? I love these two so much! They are so funny and serious and silly. The best of friends who become lovers. It was emotional and sexy and so much fun! I was literally laughing out loud for most of the book. I loved seeing all my favorites from Aster Valley and meeting new people. Oh, and the surprise character? I yelled when I heard his name! I can't wait for his story too!
Excerpt
PROLOGUE
Julian
It wasn't the first time Parker had snuck into my house in the middle of the night, but it was the worst.
He was already crying, and his clothes were covered in dirt. I'd left the bathroom light on by accident, and when the sound of the window woke me up, there was enough light for me to make out the smudges on his sweatshirt and debris in his hair.
Parker Ellis was awkward at the age of fourteen—tall and scrawny, all elbows and knees—but he was my awkward.
"C'mere," I croaked, opening the covers so he could get warm. I was still half-asleep. Normally, I would have been annoyed at getting my bed dirty, but I could tell how upset he was.
As soon as he dove beneath the covers, I dropped the comforter and pulled him in close. He smelled like the cold night air and the dry leaves he'd probably had to wade through to get to my window. "What happened? What'd they do?"
Parker's parents were assholes. They'd been assholes the entire time I'd known him, but it hadn't been until the last two years of elementary school that he'd started sneaking over to my house when things got really bad.
In the beginning, it had been loud parties lasting late into the night. But then his dad had gotten a job with lots of travel. There was less partying, but there was also more neglect. Parker's mom had gone out with friends instead of having people over. She'd forget to get groceries or feed him dinner.
Once my parents had figured out what was happening, they'd given him an open invitation to come to our house for meals anytime. They also knew he spent the night often, but since they had a "no sleepovers on school nights" policy, they simply looked the other way when he snuck in on a weeknight.
This had been going on for years, but lately, it had gotten worse. Now that we were in middle school, his parents felt like Parker was old enough to be left home alone overnight, sometimes for weeks at a time. His mom had gotten jealous of his dad's travel and had insisted on joining him on his trips, leaving Parker on his own in a big empty house with no food and no one to help him with his homework or take him to and from after-school activities.
Watching Parker's parents treat him like shit was the first time I'd realized even a kid from a family with plenty of money could suffer from hunger and neglect. It wasn't quite enough for anyone to call Child Protective Services and risk putting him in the system, since he was surrounded by families like ours who would take him in and make sure he had what he needed, but it still sucked.
"I hate them," he growled, snuggling in closer to me for warmth. His skin was cold and prickly with goose bumps. "I hate them so fucking much."
We had an important math test tomorrow, and Parker had been over earlier that afternoon so my sister, Hazel, could help both of us with our review homework. He'd walked home right after dinner the way he usually did when he came home with me after school.
"What happened?" I asked again. I rubbed his back through his sweatshirt, trying to help him get warm. Hot tears landed on my neck, and his fingers gripped the thin cotton of my T-shirt.
"My key didn't work. I had to crawl around in the bushes to find that rock thing where we keep a hidden one, but that didn't work either." He sniffed and took a breath. "So I waited for Mom to get home, but she never came. And then I walked down to the gas station to use their phone to call her. She said she…" His hand clenched tighter, accidentally catching one of the few hairs on my chest. "She changed the locks because she didn't trust the house cleaners. But she forgot to tell me, and then… and then she left to go to Chicago with a friend at the last minute. She said not to break a window or I'd have to pay for it. But my English homework is in there, and all my clothes, and…"
I was so angry, I wanted to punch something. Parker didn't have any money. We were fourteen. Every dollar he made trying to mow people's lawns in summer and shovel snow in winter was spent on buying himself food or other things his parents neglected to provide for him, despite all the money they had.
"Did you talk to your dad?"
He shook his head. "How can he help? He's in Florida at a conference. I'm just so embarrassed. I'm sorry for coming over again. I tried to sleep on the chair on the front porch, but it's too cold without a blanket."
I pulled his face out of my neck and held him by the cheeks. "You listen to me, Parker Ellis," I hissed. "You never, ever need to sleep outside when I have a warm, safe place for you here. Okay? Don't you dare think you have to stay there alone when you can stay with me. My parents love you. They wouldn't want you to stay there by yourself, even if you had a key."
He sniffed again. "Yeah, I know. Okay."
I grumbled about his asshole parents while he nestled back against my shoulder.
"I like staying with you," Parker admitted softly a few minutes later. "Everything's better when I'm with you."
Meet Lucy Lennox Lucy Lennox is finally putting good use to that English Lit degree earned way back in the 1900s. She stays up way too late each night reading M/M romance because she is a sucker for a good story.
Connect with Lucy Facebook: https://bit.ly/3ABkjcV Instagram: https://bit.ly/3s472GI Pinterest: https://bit.ly/2VEtw4W Website: http://www.lucylennox.com Stay up to date with Lucy by joining her mailing list: https://bit.ly/3fSX6e7
March 2, 2022 | Posted in Blog Tour, Review | By Two Book Pushers
Always Meant to Be, an all-new emotional and forbidden stand-alone romance from USA Today and Wall Street Journal bestselling author Siobhan Davis is available now!
He's my eighteen-year-old son's best friend, and I'm old enough to know better.
My marriage is falling apart, and Vander's home life is tragic.
Yet, his broken parts speak to mine, and amid all the chaos, a true connection is formed.
The only peace I find is in those stolen moments when we share our darkest secrets and our deepest desires.
This thing between us has disaster written all over it.
But I'm powerless to resist the magnetic pull that draws us closer and closer.
Until lines are crossed, boundaries are broken, and everything I thought I knew about myself is undone.
This reverse age-gap romance contains mature scenes, dark themes, and situations that may push your boundaries. Reader caution is advised.
Fall in love today!
FREE in Kindle Unlimited
Amazon: https://amzn.to/3BSMlCu
Amazon Worldwide: http://mybook.to/Meanttobe
Add Always Meant to Be to Goodreads→ https://bit.ly/34DW0A7
Always Meant to Be is the newest Siobhan Davis masterpiece. I have been addicted to her books since Finding Kyler and I will never stop reading them. Ever. I love the uniqueness of her storylines. The angst. The twists. The love. The darkness even. I crave her words. Her writing is beautiful and once I start of her books I don't want to be the book down. If you follow my reviews then you know I rarely read blurbs, teasers, or anything before I start a book from authors I have read. I knew nothing about this book going in…
Kendall is in a loveless marriage. A mother of three. Vander is stuck at home full of abuse. Kendall knew it was wrong to think about Vander in any other way then her son's best friend. Vander feels a connection to West's mother like he has never felt before. It is a powerful connection and has never been any less since they day they met. He hates the way her husband treats her. She deserves to be loved. To be desired. To be adored. To be treated like a queen. He wants to give her all of that and more…
I can't really get into the story without spoilers but I can say that I absolutely loved, loved, loved this story. Obsessed from beginning to end. Age-gap books are my jam and this one is epic! It's poetic, really. I ♥️ Vander. He is more than an eighteen-year-old crushing on his best friend's mom. And Kendall is more than a woman wanting to a younger man. They are more than I even imagined when I discovered this was a reverse age-gap situation. Lol.
Overall… it fucking fantastic! It's full of beauty, angst, twists, love, family, and some darkness. I swooned, cried, laughed, got angry, and cried some more. It's an emotional roller coaster for sure. I wish I could forget it, and read it all over agin for the first time.
"He has never been worthy of you."
"You're all I see, Kendall. Even when I close my eyes."
"Whenever you change your mind, I'll be more than happy to act out my every fantasy with you."
About Siobhan
Siobhan Davis is a USA Today, Wall Street Journal and Amazon Top 10 bestselling romance author. Siobhan writes emotionally intense stories with swoon-worthy romance, complex characters, and tons of unexpected plot twists and turns that will have you flipping the pages beyond bedtime! She has sold over 1.5 million books and her titles are translated into several languages.
Prior to becoming a full-time writer, Siobhan forged a successful corporate career in human resource management.
She lives in the Garden County of Ireland with her husband and two sons.
Connect with Siobhan
Subscribe to romance newsletter:http://smarturl.it/KennedyBoysList
Amazon Author Page:http://smarturl.it/SiobhanDavisAmazon
Website:http://smarturl.it/SiobhanDavisWebsite
Goodreads:http://smarturl.it/SiobhanGoodreads
Facebook page:http://smarturl.it/SiobhanDavisFacebook
Facebook group: https://smarturl.it/SiobhanSquad
Instagram: https://smarturl.it/SiobhanInstagram
TikTok:https://www.tiktok.com/@siobhandavisauthor
BookBub:http://smarturl.it/SiobhanDavisBookbub