September 22, 2023 | Posted in Blog Tour | By Two Book Pushers
August 15, 2023 | Posted in Blog Tour, Review | By Two Book Pushers
On the 2 by Felice Stevens is available now!
About On the 2
First rule of riding the subway:
Don't talk to strangers.
Don't even look at anyone.
But what if they're grouchy and gorgeous and you're sitting right next to them?
I always did like a challenge.
I want to turn that frown upside down, but he barely looks at me.
I take a chance and poke the bear, and to my shock, he plays along and growls back.
The more we meet on the train, the more I realize he's not the uptight grump I first thought. Then one night, there he is—in my world, in my space…his tongue in my mouth.
Mind blown.
But I'm no fool. A man like Nash Roman doesn't date a guy who sells suits at Macy's.
Nash is prep school and Ivy League, and I'm night school while working two jobs to pay bills. Nash is fine wine, expensive restaurants and handmade suits, and I'm beer, corner takeout, and a lucky find at Goodwill.
What am I—street-smart Ethan Moreno—doing, playing in his world? This man is older than me, way richer than me, and has already made it clear he doesn't believe in love. I should walk away. Instead, I'm falling for him. Hard.
Nash couldn't care less if his father doesn't think I'm good enough or if people gossip because we're so different. I need to trust in him and us, but I've been burned before.
And just like the Uptown Number 2, sometimes you have to travel a different route to get to the final destination:
Forever.
On the 2 is Felice Stevens' newest standalone m/m romance and I am here for it! Felice's stories always make me laugh, cry, smile, get hot and bothered and give me hope. Ethan and Nash meet on the 2 train. Nash is older and grouchy and Ethan is young, talkative and happy. It's the perfect New York story of opposites who randomly meet on the subway. Nash doesn't want to like Ethan. He's too young, too handsome. But he can't stop thinking about him and waiting to see him the next morning. Ethan loves riling up the older man. He's just being friendly, but damn if he isn't attracted to Nash. They finally exchange names and when Fate steps in one night and they find themselves at the same bar, it is on! But then Nash is afraid what this means. He's been so used to working and being alone and Ethan makes him feel things he's never felt. He wants to be with him, but he's scared. Ethan isn't afraid to be with Nash. He wants him more than anything. They have crazy chemistry and more in common than they think. Nash doesn't care about Ethan's status or what anyone thinks, but Ethan does. He doesn't want to look like he's only with Nash for his money, because he's just not. On top of this, Nash is still struggling with his relationship with his father who broke his heart when he was a kid but wants to make it right. When Nash realizes his life is better with Ethan, he will stop at nothing to make him his. Forever. I loved these two so much! Their sexiness, their banter, their humor. Just everything. I also love Nash's friends, who are from previous books of Felice's that I haven't read, YET! This story has everything you want in a romance. Fun, sexiness, humor, friends, family, loyalty, lust and hope. Oh, and a happy ending!
Meet Felice Stevens
Felice Stevens writes romance because what is better than people falling in love? Her favorite part of a romance novel is that first kiss…sigh. She loves creating stories of hopes and dreams and happily ever afters. Her stories are character-driven, rich with the sights, sounds and flavors of New York City and filled with men who are sometimes deeply flawed but always real.
Felice writes M/M romance because she believes that everyone deserves a happily ever after. Having traveled all over the world, she can safely say that the universal language that unites people is love. Felice has written in a variety of sub-genres, including contemporary, paranormal and has a mystery series as well.
Felice is the Lambda Literary Award winner for Best Gay Romance for her book, The Ghost and Charlie Muir, and the e-Lit gold medal winner in romance for Broken Silence.
Author Links:
Newsletter: https://tiny.one/Felicenewsletter
BookBub: https://geni.us/FeliceBB
Instagram: https://www.instagram.com/felicestevens/
Facebook: https://www.facebook.com/felice.stevens.1
July 7, 2023 | Posted in Blog Tour, Review | By Two Book Pushers
May 24, 2023 | Posted in Blog Tour | By Two Book Pushers
Blog Tour & Giveaway:
Confessions: Zayne
By Ella Frank
Confessions, Book 8

Rebellion is necessary for development of character. ~ Cynthia Voight
Impatient. Impulsive. Rebellious.
Zayne Copeland's been getting in trouble for as long as he can remember.
But if trouble goes by the name Ethan Holt, he's quite okay with that.
Why wouldn't he be, when Ethan has been the one to show him what love is?
From boys to men. From school to The Office.
He and Ethan have always been inseparable.
They're possessive of one another, protective to a fault.
They had to be to survive.
But as they fall deeper for Chloé, the woman they've claimed as their own,
they realize they have to open up their lives in order to hang on to her.
Three fathers. An overprotective brother. Their relationship becoming public. It would be enough to send two weaker men running.
Lucky for Chloé, Ethan and Zayne have never been the type to back down from a challenge.
Confessions: Zayne is the continuation of Chloé, Ethan & Zayne's story and should only be read after Confessions: Ethan.
---
Enter the Giveaway:
To celebrate the release of Confessions: Zayne, Ella is giving away 2 e-copies of Confessions: Ethan!
Enter the Rafflecopter giveaway for your chance to win!
Direct Link: http://www.rafflecopter.com/rafl/display/cc0f2a57694/?
---

About the Author

Connect with Ella:
★ Website & Newsletter: www.ellafrank.com
★ Instagram: https://www.instagram.com/ellafrank1/
★ Facebook: https://www.facebook.com/ella.frank.author
★ Facebook Page: https://www.facebook.com/ella.frank.31/
★ Brooke & Ella's Reader Group: https://www.facebook.com/groups/TheBrellas
★ Bookbub: https://www.bookbub.com/profile/ella-frank
---
---
April 14, 2023 | Posted in Blog Tour, Review | By Two Book Pushers
FLUKE BY ADRIANA LOCKE
Release Date: April 10th
Genre/Tropes: Fake ex-husband / Small Town Romance / Friends to Lovers / One Bed / He Falls First
Fluke, an all-new small-town romance, by USA Today bestselling author Adriana Locke is NOW LIVE!
Grab this fake ex-husband, small-town romance TODAY!
Add to Goodreads
https://www.goodreads.com/book/show/61946841-fluke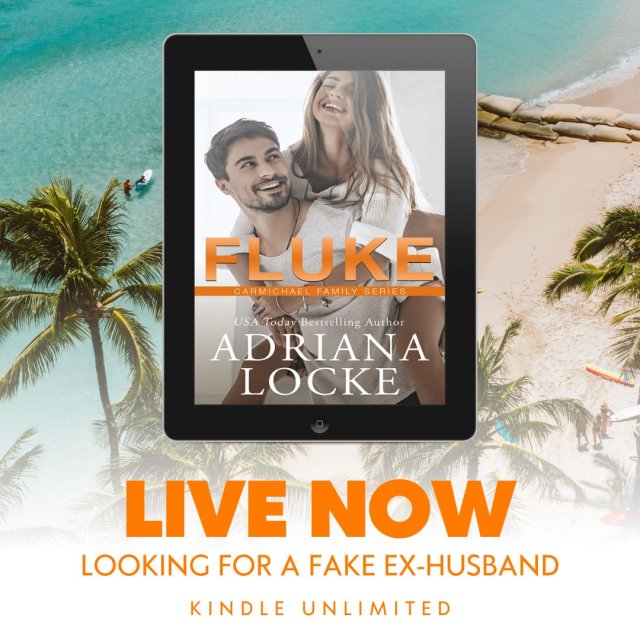 Blurb:
SEEKING AN EX-HUSBAND
I need a fake ex-husband.
Let me explain …
I may have let it slip to my new co-workers that I have an ex-husband. Now they're fascinated with the details, specifically with him.
Why wouldn't they be? He's gorgeous, has exceptional skills in the bedroom, and is determined to win me back.
But there's a problem. He doesn't exist.
The bigger problem? I have to produce him to save my job.
This is where you come in.
I'm seeking someone to play a smitten ex-husband for two weeks. You'll need to remember our love story—details matter when it comes to romance! Please be prepared to travel in-state at a moment's notice. We may be in close proximity and sharing a bed may be required.
One more thing—kisses are required for optics as necessary.
If this sounds interesting or, at the very least, entertaining, let me know.
Signed,
Your Future Ex-Wife
Buckle up for a steamy adventure between friends-turned-lovers in this new "fresh twist on a favorite trope!" take on fake dating, close proximity, and romance in the workplace from USA Today Bestselling author Adriana Locke.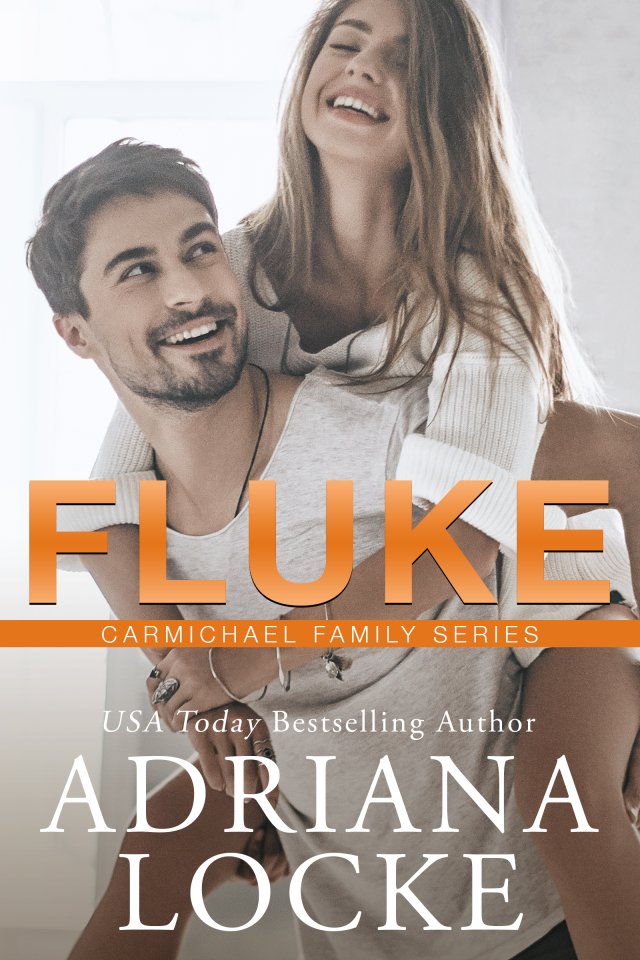 Fluke is the third book in the Carmichael Family series by Adriana Locke. Good Lord, Jess Carmichael is…everything. Like, literally the most perfect book boyfriend in the world. He's smart, handsome, funny, loves his job and his family. He's loyal and hilarious. And he's never hidden his feelings for Pippa. He's been open and honest for fifteen years about what he wants. When he finally gets his chance to prove that he's serious, he doesn't waste a single second. He's going to prove to her that he's worth the risk. That she deserves to be loved and be happy. He's not going to give up on the only woman he's ever wanted. He has to work hard to win her over, but he's no quitter. He knows what he wants and he is going to get it. I mean, his parents didn't raise no fool, well, they kinda did, but not Jess! Haha! I couldn't love Jess or this book more. I always have my favorite Adriana hero and it's usually the stoic, grumpy brother. But Jess just did it for me. Checked all my boxes and if I had time I would read it again immediately!
About the Author:
USA Today Bestselling author, Adriana Locke, writes contemporary romances about the two things she knows best—big families and small towns. Her stories are about ordinary people finding extraordinary love with the perfect combination of heart, heat, and humor.
She loves connecting with readers, fall weather, football, reading alpha heroes, everything pumpkin, and pretending to garden.
Hailing from a tiny town in the Midwest, Adriana spends her free time with her high school sweetheart (who she married over twenty-five years ago) and their four sons (who truly are her best work). Her kitchen may be a perpetual disaster, and if all else fails, there is always pizza.
Learn more at adrianalocke.com.
Connect w/Adriana:
Website: https://adrianalocke.com
Facebook: https://www.facebook.com/authoradrianalocke
Facebook Group: https://www.facebook.com/groups/booksbyadrianalocke
Twitter: https://twitter.com/authoralocke
Instagram: https://www.instagram.com/authoradrianalocke
Goodreads: https://www.goodreads.com/author/show/8379774.Adriana_Locke
Amazon: https://amzn.to/3ivy7xd
Bookbub: https://www.bookbub.com/authors/adriana-locke
Newsletter Signup: http://bit.ly/NewsletterAddy
April 7, 2023 | Posted in Blog Tour, Review | By Two Book Pushers
March 15, 2023 | Posted in Blog Tour, Review | By Two Book Pushers
Fairy Cakes in Winter
By Lane Hayes
A grumpy baker, a quirky ad man, and a recipe for forever…
Scott
So this cute guy sits next to me on the plane and proceeds to talk my ear off for hours. Not good. I don't like talking and I don't like strangers. But Theo's sweet, smart, and sexy—the perfect distraction from business woes and personal worries.
Okay, things got overly friendly, but we're adults and we know the score. I'm too old, he's too nice, and we live on different continents.
Then, out of the blue, he shows up at my bakery with that pretty smile and a list of wacky marketing ideas—like how to make fairy cakes a thing.
I don't like fairy cakes.
But I do like Theo, so…maybe?
Theo
The new me takes risks. The new me is brave and confident. The new me flirts with hunky, imposing bears on planes while traveling to a foreign country.
It's going well, thank you.
However, my plans to do some sightseeing, drink tea, and eat my weight in biscuits every day get derailed when I realize there might be a way to help Scott and prove a few things to myself.
Don't worry. I won't fall for the grumpy baker. No way. He's complicated and broody and—
Uh oh…it might be too late. Help!
Fairy Cakes in Winter is a bisexual, age-gap, grumpy/sunshine MM romance featuring a sexy baker, a sunny tourist, and a few dozen fairy cakes.
Fairy Cakes in Winter is a new fun and sexy romance from Lane Hayes. Scott and Theo are traveling to the UK on a plane, but not together. Scott just wants to put in his headphones on and not talk to anyone. Too bad the guy next to him seems to be afraid of silence. He's adorable and smells like Christmas. Theo is afraid to fly and he doesn't like the noises on the plane. His neighbor is ruggedly handsome and he can't seem to stop talking. Scott finds himself actually having a good time talking to Theo. He's cute as hell and funny. When they get to the UK, they can't seem to say goodbye. What's a few more minutes. What about sexy ones? Oh yeah! Since Theo is going to be there for a month, he goes to check out Scott's bakery, not thinking he would be there. The attraction is still sizzling and before they know it, they are talking, making plans to see each other again. And then spending all their free time together. Will Scott let Theo leave without knowing how he really feels? Of course not. Ha! I loved Scott and Theo. They are so cute together and so crazy sexy! I just wanted to read it, drink tea and eat fairy cakes!
---
Excerpt:

The flight attendant directed traffic with a smile, pointing the college-aged twentysomethings hefting giant backpacks to the far side of the plane before picking up her microphone. She gave the usual rambling speech, asking passengers not to crowd the aisles or stuff winter jackets into the overhead bins…Yadda, yadda.

I listened with half an ear for important info, like when this tin can was expected to get in the air and what time we'd land in London. Not that it mattered. I'd been on the late flight from Seattle so often, I knew I was in for a nine-and-a-half-hour ride and that I'd arrive at Heathrow sometime in the late afternoon. I also knew I'd be too disoriented to care about anything other than grabbing something to eat on my way home.

I had to admit, I was one of those weirdos who kind of liked the hum of airplane noise, and there was something vaguely comforting in the routine I'd established over the past seven years. I shrugged off my coat and made sure my headphones were within reach—along with my iPad, reading glasses, and the Ziploc bag of homemade trail mix my sister had sneaked into my carry-on bag. Then I buckled up, settled in, and hoped like hell that the seat next to mine would magically remain open.

Of course, that rarely happened. And I highly doubted my wish would come true this time around 'cause A, cross-Atlantic flights were rarely empty, and B, I didn't have that kind of luck. The best I could hope for was a quiet neighbor. I peered over at the empty window seat and sent up a quick prayer for it to stay that way before slipping my readers on to check messages on my phone.

My ten-year-old nephew informed me he'd already beat my high score on Madden, my parents asked if there was any way I might finagle a trip home in the spring, and my sister claimed she'd added more M&M's to her trail mix this year. She also asked if I was okay.

I sent an exclamation sign to Emmett, a heart symbol to my folks, and a thumbs-up to Heather. None of those messages required a wordy response. I'd learned that it was best to stick to basic communication with my family. Emmett was happy with the occasional poop or wind emoji, and my parents liked hearts. Real words got tricky. My parents knew that coming home for Christmas had been a stretch for me. I couldn't swing another trip too soon, and it was best to avoid circular arguments.

And questions that might spark conversations about an old ex and his new wife. Yep, a thumbs-up was much easier.

I added another for posterity and was about to switch my cell to airplane mode when a new message from Becca lit up my screen.

Call me when you land! I'll pick you up. Btw, I made a gorgeous lemon meringue pie I'm dying for you to try. Safe travels! xo
---
Enter the Giveaway:
To celebrate the release of Fairy Cakes in Winter, Lane is giving away the Winner's choice of an audiobook or ebook of your choice from her published works!
Enter the Rafflecopter giveaway for your chance to win!
Direct Link: http://www.rafflecopter.com/rafl/display/cc0f2a57640/?
---
About the Author:
Connect with Lane:
My Readers' Group, Lane's Lovers: https://bit.ly/3aIbMYg
My Newsletter: https://bit.ly/3cICfaK
Blog: www.lane-hayes.com
Twitter: twitter.com/LaneHayes3
FB: facebook.com/LaneHayesAuthor
Amazon Author Page: amazon.com/author/lanehayes
BookBub: bookbub.com/authors/lane-hayes
Instagram: instagram.com/lanehayes3/
Goodreads: goodreads.com/LaneHayes
Tiktok: tiktok.com/@lane_hayes
---
---
March 3, 2023 | Posted in Blog Tour | By Two Book Pushers
February 10, 2023 | Posted in Blog Tour | By Two Book Pushers
January 24, 2023 | Posted in Blog Tour, Review | By Two Book Pushers
With her signature charm and sense of humor, New York Times and USA Today bestselling author Helena Hunting creates a novel about love, family, and second chances in Make a Wish…
Ever have a defining life moment you wish you could do over? Harley Spark has one. The time she almost kissed the widowed father of the toddler she nannied for. It was so bad they moved across the state and she never saw them again.
Fast forward seven years and she's totally over it. At least she thinks she is. Until Gavin Rhodes and his adorable now nine-year-old daughter, Peyton, reappear at a princess-themed birthday party hosted by Spark House, Harley's family's event hotel. Despite trying to avoid the awkwardness of the situation, she can't help but notice how unbearably sexy he looks in a tutu.  Add to that a spontaneous hives breakout, and it's clear she's not even remotely over the mortification of her egregious error all those years ago.
Except Gavin seems oblivious to her inner turmoil. So much so that he suggests they get together for lunch. For Peyton's sake, of course. It's the perfect opportunity to heal old wounds. Or it could just reopen them. This is one of those times Harley wishes she could see the future…
AVAILABLE NOW!!
Ebook → http://bit.ly/3iZep24
Audio → https://bit.ly/mawsparkaud
Paperback → https://bit.ly/3R14SUL
Add it to Goodreads →  https://geni.us/MakeAWishGR
Website →  https://helenahunting.com/books/make-a-wish/
Make A Wish is the third and final book in the Spark House series by Helena Hunting and it's my favorite of the series! It's a single dad, second chance romance full of fun, sorrow, joy, hope, lust, love, friendship and family. Seven years ago Harley was the nanny for Peyton, a toddler who lost her mom. She almost made the mistake of almost kissing Gavin, but nothing happened. Then they moved away. Now they are back and when they run into each other Gavin wants to have lunch and catch up. Harley is thrilled to spend more time with Peyton. She's not sure what to make of the connection she and Gavin seem to have. He seems to be interested in her, but that can't be right? Can it? Gavin never forgot about Harley, but she was barely twenty years old back then. Now she's all woman and he can't deny how he feels about her. But there's Peyton to consider. The more time they spend together the more time he wants with Harley. With Peyton and all to himself. Is he ready to move on? Put the past behind him and have a future with Harley? This is such a great, emotional story! So much loss but so much hope. I thought Gavin and Harley handled things like adults. And Peyton is freaking adorable! I love her honesty and openness. I loved how Gavin talked to his best friend and got advice. How Harley and her sisters are a team. And I loved how Harley stood up for herself. She finally realized what she wanted and she asked for it. It was great to see Avery, London and their men again. I'm sad the series is over, but it ended perfectly!