July 14, 2022 | Posted in Blog Tour, Review | By Two Book Pushers
I didn't mean to say I was engaged to a hot billionaire–it just slipped out.
TEASE, an all new steamy fake engagement, small town romantic comedy from USA Today and #1 Amazon bestselling author Melanie Harlow, is now available!
I didn't mean to say I was engaged to a hot billionaire–it just slipped out.
In my defense, I'd had a really bad haircut, a really strong drink, and I was trying to save face in front of the Mean Girl at my high school reunion.
Lucky for me, I happen to know a hot billionaire. Hutton French and I have been friends forever, and even though big social gatherings are not his thing, I called him from the coat closet and begged him for a favor–show up and play my fake fiancé for the night.
Except that word of our engagement spreads like wildfire. Our families are ecstatic. We're front page news. My little food blog is launched into the stratosphere.
Of course, I offer to set the record straight right away, but Hutton wants to give it a little time–the phony engagement will keep his matrimony-mad mother and every matchmaking granny in town off his back.
He even suggests I move in with him to make the ruse more real.
And we don't stop there.
We practice kissing. Undressing each other. Saying things–and doing things–we'd never dare if we weren't pretending. Because it's all for show, right? We're just role-playing. Hutton doesn't want a real relationship, and I don't want to get hurt. But the more time we spend faking it, the more I start to wonder.
Could Hutton French and I actually be right for each other, or is it all just one big tease?
Download your copy today or read FREE on Kindle Unlimited! Amazon: https://amzn.to/3xm3ELq Amazon Worldwide: https://mybook.to/teaseMH
Add to Goodreads: https://bit.ly/3Q40TWp
Tease is the eighth book in the Cloverleigh Farms series by Melanie Harlow. You can read each book as standalone but I recommend reading the series since interconnected. And this is the third book in the second generation! It's time for Mack and Frannie's daughter, Felicity to find her happily ever after.
Felicity wasn't part of the it crowd in high school so she really wasn't looking forward to her high school reunion. She was only going since she was catering the appetizers. She knew she would be running into the mean girl but what she didn't expect out of her mouth was telling her that she was engaged to a hot billionaire. Not only a hot billionaire but her best friend, Hutton. It was time to send out the bat signal and get him to the party. The lie was only supposed to be for an hour tops but she should had known it would be all over time by morning…
Apparently, everyone knew this was going to happen. Fifteen years of friendship and never once had they crossed the line but nobody was shocked by their engagement except them. They had to go through with this. It had its benefits. It was only going to be for a month. No big deal. Some hand-holding, some kissing, some make-believe. And it was make-believe until it starting feeling too real. They had a plan. No one would get hurt. It was just some fun but could it really be more?
Holy. Hotness. It was always the quiet ones, right? Hot damn, Hutton is ridiculously nerdy hot. Felicity and Hutton always saw each other but now, it was more intense, emotional, and right. I loved these two. They are both adorable and sexy AF. They made me swoon, laugh, and cry! I can't wait for the next book.
P.S. Make sure to get the bonus scene!
"I could practice undressing you."
"I definitely think you should," she panted.
She was familiar to me, and yet she was a revelation.
"Those heels have been driving me crazy all night. I want to do such bad things to you in those heels."
About Melanie Harlow USA Today bestselling author Melanie Harlow likes her martinis dry, her heels high, and her history with the naughty bits left in. When she's not writing or reading, she gets her kicks from TV series like Ted, Lasso, Schitt's Creek, and Fleabag. She occasionally runs three miles, but only so she can have more gin and steak.
Melanie is the author of the BELLAMY CREEK series, the CLOVERLEIGH FARMS series, the ONE & ONLY series, AFTER WE FALL series, the HAPPY CRAZY LOVE series, and the FRENCHED series. She lifts her glass to romance readers and writers from her home near Detroit, MI, where she lives with her husband, two daughters, and pet rabbit.
Connect with Melanie Facebook: http://bit.ly/2RPwr51 Amazon: http://amzn.to/1NPkYKs Bookbub: http://bit.ly/36kL7yB Instagram: http://bit.ly/2NW3UtA TikTok: https://www.tiktok.com/t/ZTR1ecpH1/ Pinterest: http://bit.ly/2sVOz55 Join Melanie's Reader Group: https://bit.ly/3mYzBBo Stay up to date with new releases and sign up for Melanie's mailing list: http://bit.ly/2P7MATT Website: www.melanieharlow.com
July 8, 2022 | Posted in Blog Tour, Review | By Two Book Pushers
Make it or break it… Or maybe just break them?
The Anti-Fan and the Idol, an all-new steamy and emotional enemies-to-lovers novella set in the My Summer In Seoul world from New York Times best selling author Rachel Van Dyken 1,001 Dark Nights, is available now!
Make it or break it…
Or maybe just break them?
Ai-Ri has been training under YK Management in Korea for two years without any results. She doesn't fit the typical mold for a successful K-POP idol image, literally down to her blood type. She has six more months before college entrance exams which means she only has six months to make it as an idol before her dreams are crushed.
Things take a turn when two of the most famous male idols break away from their group and decide to form their own co-ed group, a rarity.
And wonder of all wonders, they need one more girl.
It would be the perfect opportunity, except she hates them.
They are arrogant, entitled, rich little snobs who want the world to worship the ground they walk on. To make matters worse, the only reason they came to her was because they are desperate, which means she needs to prove herself even more.
Tempers and personalities collide when she's forced to either accept the position or give up on her dream.
But what happens when you suddenly go from anti-fan and enemy number one to stuck in a love triangle between two boys you were born to hate but are somehow falling in love with? And will the group survive the heartbreak that follows when she finally makes her choice?
**Every 1001 Dark Nights novella is a standalone story. For new readers, it's an introduction to an author's world. And for fans, it's a bonus book in the author's series. We hope you'll enjoy each one as much as we do.**
Grab your copy today, exclusively on Amazon! Amazon: https://amzn.to/3spKkKH Amazon Worldwide: http://mybook.to/antifanidol Amazon Paperback: https://amzn.to/3NIWqqj Audible: https://adbl.co/3a7PRz4
Add to Goodreads: https://bit.ly/3LzFZvE
The Anti-Fan and the Idol: A My Summer In Seoul Novella from Rachel Van Dyken is a fun, emotional and quick story in the K-POP world. After reading My Summer in Seoul I knew I wanted this book! Ah-Ri is running out of time to get her big break. Too bad it comes from Ryan and Haneul, jerks from her past. They have a short time to make it big. The first co-ed band. Failure is not an option so they have to put aside their differences and work together. Dance together. Sing together. Touch on accident, touch on purpose. Turns out they don't hate each other after all, but it's risky and they can't afford to get caught. While they are practicing and getting ready, they all learn things about themselves. They laugh, they heal, they grow. And when it's their time, they shine. Together. Wow! This short story packs a full novel punch. I was sucked in from the first page and didn't want it to end. I hope we get to see these characters again!
The Anti-Fan and The Idol is a novella spin-off to Rachel's My Summer in Seoul standalone. I am not a big fan of K-POP but these books are amazing and a glimpse into the world phenomenon. These are all-new characters!! This is their last chance. Haneul and Ryan are best friends and bandmates and they need this to work. A co-ed K-pop group. They only needed one more girl to accept the challenge and their last chance was a girl who wasn't a fan. It doesn't help that they have bullied Ah-Ri. She never backs down and that is why they want her. She is different. She is no quitter and they only have a limited time till the Showcase. It's all or nothing at this point and when she accepts… it's on. What they didn't expect was to like her. To really like her and that was dangerous in their industry. I can't really get into the story anymore than that but I can say that I laughed, swooned, and cried. The book is short but it's an emotional one. It definitely packs a punch and I hope RVD writes more in this world. Quotes: "Anyone ever tell you how sexy you look when you curse?" he asks. My breath hitches. The lights suddenly go off in the dance studio. "Power outage?" I say. "Good timing," he replies. "You were a bad idea from the start." "And you were bad from the very beginning." I lift my chin. "What could you possibly want?" she asks. "A small spoon," I answer. "Like I said, NO ramyeon!"
About Rachel Van Dyken
Rachel Van Dyken is the New York Times, Wall Street Journal, and USA Today Bestselling author of regency and contemporary romances. When she's not writing you can find her drinking coffee at Starbucks and plotting her next book while watching The Bachelor.
She keeps her home in Idaho with her husband, adorable son, and two snoring boxers! She loves to hear from readers!
Connect with Rachel Facebook: https://www.facebook.com/RachelVanDyken Website: http://rachelvandykenauthor.com Newsletter: http://bit.ly/RVDNewsletter Instagram: https://www.instagram.com/rachvd Twitter: https://twitter.com/RachVD Amazon: http://amzn.to/2cNVwL9 Goodreads: http://bit.ly/RVDGR Rachel's Rockin' Readers: http://bit.ly/RachelsRockinReaders
For More information about 1,001 Dark Nights, visit Facebook: https://bit.ly/3ONzTtZ Instagram: https://bit.ly/3rTZdo3 Website: https://bit.ly/2AIIr3A Stay up to date on all 1001 Dark Nights releases, join their mailing list today! https://bit.ly/2zgxaHu
June 28, 2022 | Posted in Blog Tour, Review | By Two Book Pushers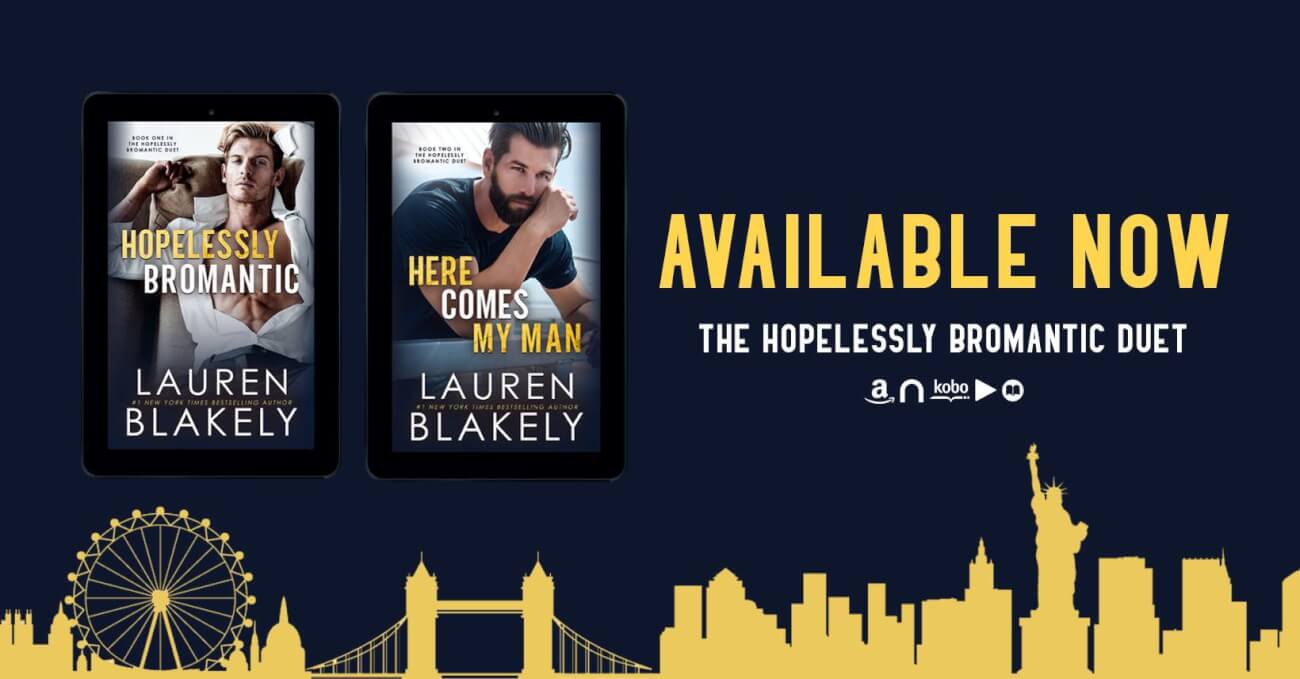 HERE COMES MY MAN
(The Hopelessly Bromantic Duet book 2) by Lauren Blakely
Release date: June 28th
From #1 NYT Bestseller Lauren Blakely comes a red-hot, enemies-to-lovers, fake boyfriend, second chance romance! HERE COMES MY MAN, the conclusion to the Hopelessly Bromantic Duet, is NOW LIVE!
AVAILABLE NOW!!
✦Amazon ➜ http://blkly.pub/AmazonMyMan
✦ Apple ➜ http://blkly.pub/AppleMyMan
✦ Google ➜ http://blkly.pub/GoogleMyMan
✦ Nook ➜ http://blkly.pub/NookMyMan
✦ Kobo ➜ http://blkly.pub/KoboMyMan
✦Audible ➜ http://blkly.pub/AudibleMyMan
Teddy Hamilton and Shane East narrate in duet with a full cast!
START THE DUET TODAY WITH HOPELESSLY BROMANTIC!!
https://laurenblakely.com/hopelesslybromantic/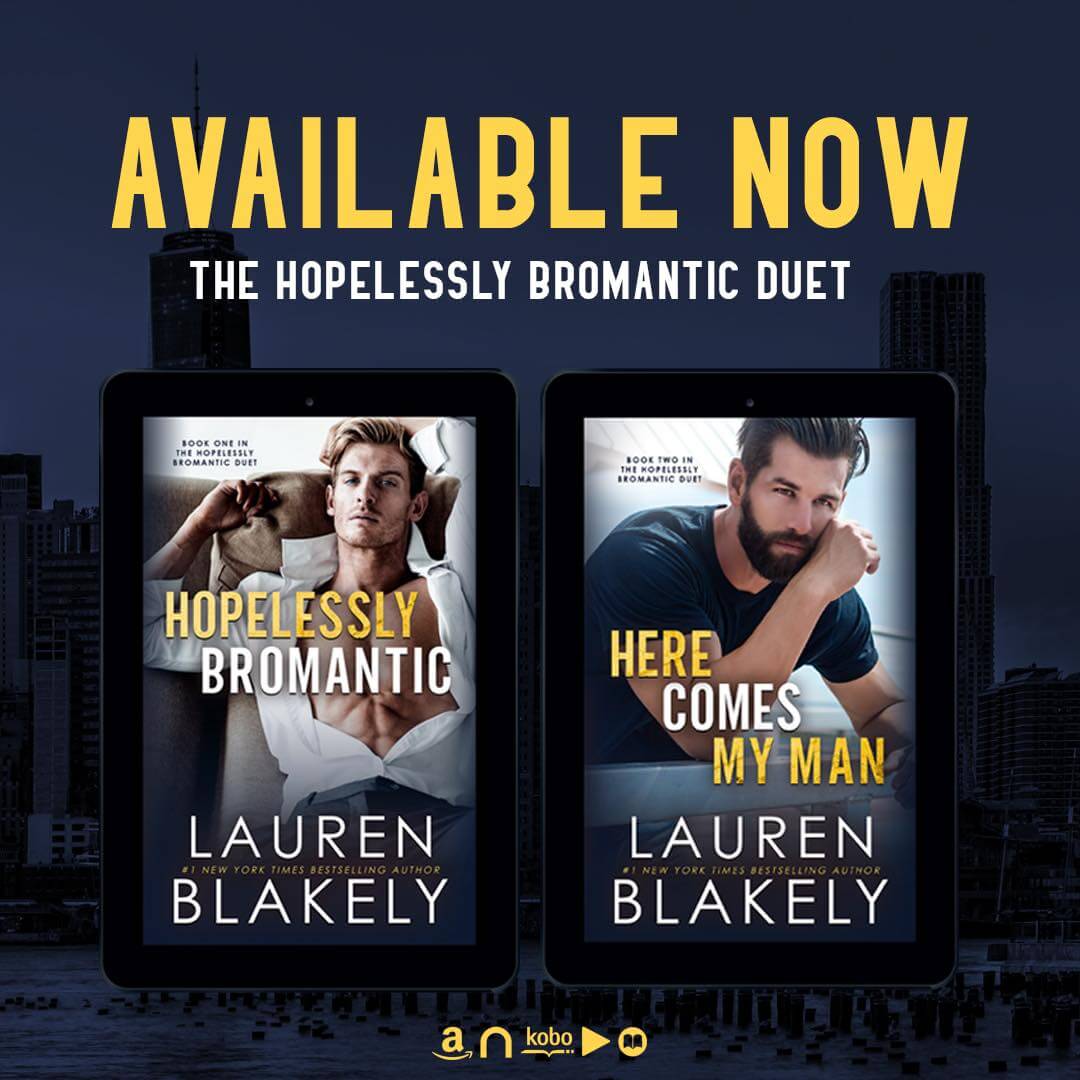 Add to Goodreads:
https://www.goodreads.com/book/show/59580810-here-comes-my-man
Blurb:
A red-hot, enemies-to-lovers, fake boyfriend, second chance romance, and the conclusion to the Hopelessly Bromantic Duet!
Let me just say this — fake dating the cocky movie star was not my idea. Especially since he's my former roomie and, gulp, my secret ex.
But my agent tells me I have no choice since I'm ridiculously overdue with turning in the next big blockbuster love story to my publisher.
Not to mention, ahem, writing it.
Falling for the smooth-talking English hottie once upon a time — fine, twice — were huge mistakes that I shouldn't repeat, but pretending to like the guy who broke my heart is my only chance at saving my job.
That is, as long as no one finds out that every date we go on, every smile we flash each other for the cameras, and every hot, desperate kiss on the streets of Manhattan is absolutely fake.
Except…it's not. At least for me.
And he can never know…
Contents Include: Snarky banter, sexy dates, hate s-e-x, seduction by a wordsmith, and two strong, stubborn, clever men determined to resist each other at all costs.
Here Comes My Man is the conclusion in the Hopelessly Bromantic duet by Lauren Blakely. My heart was broken at the end of Hopelessly Bromantic but now we get more of them!! And I am always here for more Blakely Men.
TJ hasn't been able to write a word over the last ten months. He fears he is broken. A man who writes romance needs some inspiration and his own heartbreak isn't doing it. Jude has landed himself in the tabloids and with award season he needs to clean-up his image. Their agents have come up with a plan… Fake date! Show the world how much they are in love with each other. The writer and the actor. Easy, right? Except their agents don't know about their pasts. Nobody really does. Their love was a secret…both times around. Will a third time be the charm?
Hate is a strong word. And you know what people say about the line between love and hate. TJ and Jude have gone a loooong ten months since they saw each other again. Ten months of built-up tension. Unknowns and regrets. They don't know where they stand but they have to stand together to get through until the fake breakup. Fake dates and appearances or are they? There is a fine line, will they cross it?
Of course they do and it is fire!! It is also full of emotions. I just absolutely love these two. They have been through so much. So many obstacles and years between them. This is not only a second chance but a third. It's a unique story and I loved every word. I am so happy Lauren went with a duet for their epic love story.
"TJ Hardman, you and I know how to sell a kiss. Let's fucking do this."
"Maybe I'll write a long, endless kiss," I say.
"Then you should do more fieldwork," he says, inviting me for seconds.
"Abra-cock-dabra," he says.
Here Comes My Man is the conclusion to TJ and Jude's epic love story. You need to read Hopelessly Bromantic first! It started out as a sexy, brief affair with an off the charts connection and ended in heartbreak. Now it's ten months later and Jude needs help with his image and TJ needs help finishing his book. The answer? Fake boyfriend of course. Jude and TJ are not exactly thrilled about having to see each other again and pretend to be in love. Hardy anyone knows they were involved years ago and no matter what they tell themselves, their chemistry still sizzles. They may still be mad at each other but their bodies still remember the heat. The connection. Once they finally have the conversation about what really happened. They know they need to let go of the past so they can have a real future together. Oh my Lord. This book. These men. I couldn't love them anymore if I tried! They are just so swoony and sexy and funny and smart and handsome. Just everything. I love their sexy banter and their innuendos. I love their friends and family and I hope this isn't the last we see of TJ and Jude!
About Lauren Blakely:
A #1 New York Times Bestselling, #1 Wall Street Journal Bestselling, and #1 Audible
Bestselling author, Lauren Blakely is known for her contemporary romance style that's
sexy, sweet, and witty. She also writes USA Today bestselling LGBTQ romance.
With fourteen New York Times bestsellers, her titles have appeared on the New York
Times, USA Today, and Wall Street Journal Bestseller Lists more than 100 times, with
more than 60 titles on the USA Today Bestsellers list alone. She's sold more than 4.5 million books. A Brown University graduate, Lauren likes dogs, cake and show tunes and is the vegetarian at your dinner party.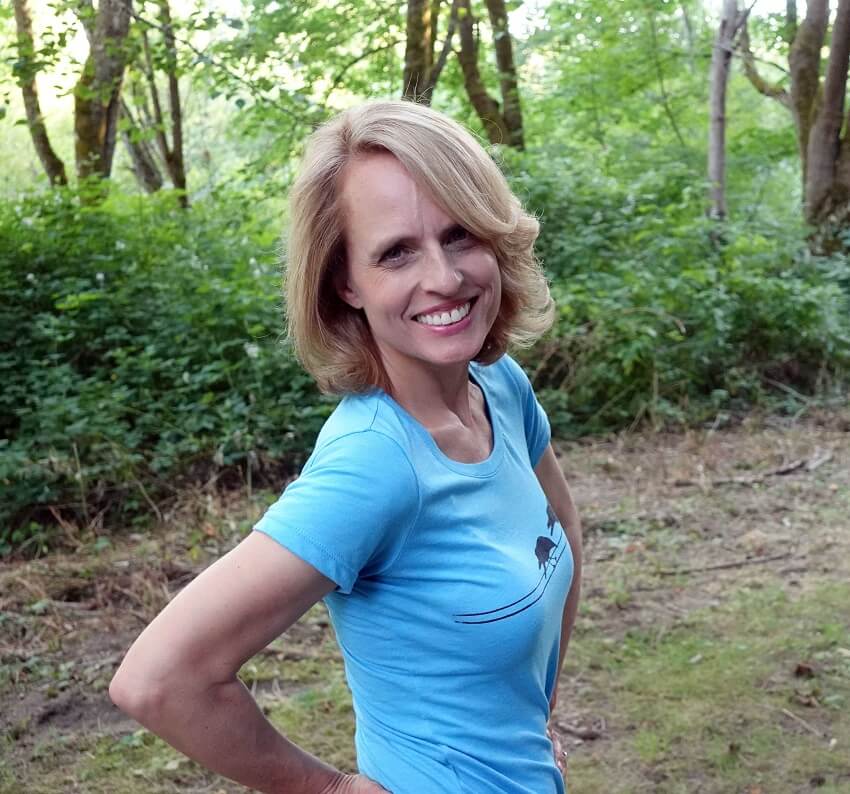 Connect w/Lauren:
Website: laurenblakely.com
NL Signup: http://laurenblakely.com/newsletter
Facebook: http://www.facebook.com/LaurenBlakelyBooks
Instagram: http://instagram.com/laurenblakelybooks
Twitter: http://twitter.com/LaurenBlakely3
June 21, 2022 | Posted in Blog Tour, Review | By Two Book Pushers
Interview with Catherine Bybee
For anyone wondering the plot of your newest release, you give a great sneak peek with the title—When it Falls Apart. What is "falling apart" in this novel?
All the threads that hold my heroine, Brooke, together are crumbling down around her. When it Falls Apart begins with Brooke's romantic relationship crashing and burning. At the same time, in a different state, her father is circling the drain in the ICU. And for the cherry on the top of her "falling apart life", Brooke has found herself demoted at work. In short, everything in Brooke's life is dissolving around her.
Like all of your books, When it Falls Apart has a beautiful romance, however, there is a rawness about Brooke's story. How was writing this novel different from your others?
If you read my notes both in the front and the back of this novel, you'll soon realize that the story was very personal to me. Rawness comes from experience. The relationship Brooke has with her father is hauntingly familiar to me and my dad. The emotions that the heroine experienced when taking care of him were easy for me to grasp onto and write about. Sadly, the love story with Luca was completely made up and I didn't have the support of a strong Italian family to help deal with the struggles, but I digress. 
Relationships with a parent who wasn't there for you growing up are messy. When that parent ages and needs their child, sometimes that help comes with a bucketload of resentment, even if the child wishes they could stop those ugly feelings from creeping up on them. And THAT is the rawness you speak of.
Books, TV shows, and movies oftentimes glamorize what it means to care for a loved one. However, in When it Falls Apart you don't sugar-coat anything about caregiving and the toll it takes on a person. How do you think readers who have been in similar situations will be affected by this story?
Justified. Validated. Accepted.
It's a hard job taking care of an elderly family member. And if there aren't other siblings to help, or won't help, it's made even more difficult. It's difficult, gritty, dirty work that only has a bad ending…eventually. What I do hope my readers take away is that they're not alone. That the struggle is very real and that if they don't find balance (which is almost impossible at times) they will burn out completely and not be fit to help at all. I hope my readers are empowered to set boundaries and balance, so they come out on the other side of caring for an elderly loved one whole themselves.
Brooke gets virtually no support from her significant other, which has her reevaluating their relationship. She realizes she has settled and has to make some hard decisions. Do you think this happens too many times to women in real life?
100% Yes! There is a song by Taylor Swift with a line that says, and I'm paraphrasing here, I can be what you want for the weekend. But often that weekend ends up being a relationship that women hold on to or are convinced they can't live without. Often it takes a huge shake-up to remove yourself from that situation. But once you're away from the day to day dysfunctional relationship, the easier it is to see the dysfunction.
After her breakup and move, Brooke is not looking for a relationship. In fact, she tells her best friend: "I haven't wiped off my smeared mascara from Marshall yet, the last thing I want is to jump into anything else." Her crying over a man lasts all about two minutes when she meets Luca. Tell us about him.
Hmmm, Luca… he is the kind of man who doesn't want a place on Brooke's dance card…he wants to rip it up.
Luca is wired to help the people in his life. Brooke becomes a part of his inner circle simply by moving into the family building where he sees her every day.
Now, if Luca had flat out asked Brooke on a date, she would have run the other way…so no, he doesn't go about it that way. He simply shows up and does not leave. Not when things get tough, or messy…or when his own past peeks its head in. Luca is a man who is right there at Brooke's side without question or censor on why she does the things she does. His support and validation of her feelings is the part she was missing. Add in the hunky Italian single father and "Mamma Mia!"
At first, Luca is not thrilled that Brooke is renting a room in his family's building. What changes his mind about her?
Her strength and vulnerability. I know that sounds contradicting, but some of the strongest women I know have a big vulnerable spot in their life that if you know them well enough, you see. The biggest smiles often hide the deepest pain. Luca sees her struggle and dedication to helping her elderly father and since family is first on Luca's list, she passes his unconscious test.
Luca's family, the D'Angelo's, are incredibly close and share everything from ownership of the family restaurant to helping care for Luca's daughter Franny. How is this different from Brooke's relationship with her family?
Brooke doesn't have that family. She has a father who abandoned her as a little girl that she carved out a relationship as an adult, and now she's charged with caring for. Even her previous romantic relationship didn't support her unconditionally the way the D'Angelo's do for each other. She's rather dumbfounded when they start treating her like family. It's a wonderful thing to watch happen.
San Diego's Little Italy plays a huge part in the story. The community, language, and food are in full display. Tell us about your own experiences in your adopted city.
I love Little Italy, the food, the pace… the people. There are many places in San Diego that are overrun with the college scene, San Diego is a college town. But Little Italy is more family friendly. Very touristy, but there isn't a day you don't see locals hanging out. I go to the farmer's market often. Pick up authentic Italian ingredients for my own home cooking. I try new restaurants and take all my friends there when they are visiting from out of town. Not to mention it was the closest thing to the "real Italy" that I could go during the travel restrictions. So why not write about it and tell the world of this small island within San Diego that shouldn't be missed?
There are two more siblings in the D'Angelo family. Where will you be taking readers next with the series?
Chloe is a yogi. Think Bali!
And Giovanni loves wine… think Tuscany, Italy.
I cannot wait to show you what I have in store for these two!
***
Excerpt
"Oh my God, Carmen. He was standing at his car first thing this morning. Like 'hop in, bella, let's get stuff done today.' Who does that?" 
Brooke had picked up the phone as soon as Luca was off in search of a dump guy. 
"We're talking about the single, hot, Italian dad, right?" 
Brooke rolled her eyes. "Yes. Luca." 
"Oy, oy, oy." 
"Stop it. I need advice. And I need it before he gets back." 
Carmen stopped teasing. "You don't need advice. You need to relax. He sounds like one of the good ones. Let it happen." 
"Let it happen," she mocked. "I don't 'let' things happen. It happens to me and it's never good." 
"You didn't used to be such a pessimist." 
"Once upon a time the glass was half full. Not these days." 
"Okay, Debbie Downer. You want my advice . . . here it is. Keep doing whatever it is you're doing." 
"I'm not doing anything. Zero effort." 
"Really?" Carmen didn't sound convinced. "Makeup . . . a nice dress?" 
Brooke hesitated. "Maybe . . . a little last night, but that was it." 
Carmen chuckled. 
"Carmen!"
"Sorry. Okay . . . any red flags?" 
Brooke thought about that. "He loved his ex-wife." 
"That's a red flag?" 
"I guess not." 
"Is he good to his mom?" 
Brooke looked back on the dinner the night before. "To the whole family. He takes being the oldest brother quite seriously." 
"And his daughter?" 
All Brooke could do was smile. "Great dad. We should all be so lucky." 
"He's Italian, does he smoke?" 
"No." 
"A lot of Italians smoke," Carmen pointed out. 
"In Italy. The San Diego variety are less in that wheelhouse." 
"That's good." Carmen sighed. "I don't know what to tell you, Brooke. How does he kiss?" 
"He hasn't kissed me," Brooke nearly yelled. 
"Now then . . . we have a problem." 
"There hasn't been . . . I don't even know if—" 
"Stop right there. He did not drive your sorry ass all the way to Upland to do grunt work all day if he wasn't interested in kissing you, bellllaaa. More than that, you want him to." 
Brooke closed her eyes, and even in her own head she couldn't convince herself that Carmen was wrong. 
"Let it happen. You deserve some happiness, Brooke." 
The van with the air conditioning repair guy pulled into the driveway. 
"I gotta go." 
"I want a kissing update the next time we talk," Carmen teased. 
"Love you," Brooke said with a laugh.
"Back at ya, boo." 
She hung up. 
Her best friend was such a dork.
***
Title: When It Falls Apart
Author: Catherine Bybee
Release Date: June 21, 2022
Publisher: Montlake 
Summary
Brooke Turner has always had a complicated relationship with her father. But when his health takes a turn for the worse, she drops everything to care for him. He's her dad, after all, and he needs her. What Brooke doesn't anticipate is the unraveling of her long-term relationship and a cross-country move to San Diego's Little Italy.
Luca D'Angelo is the oldest of three children and a single father to a young daughter. When his mother rents the top floor of their house to Brooke, he's angry. Who is this beautiful stranger with no ties to the neighborhood? Can she be trusted in such close proximity to his family?
As Luca learns of Brooke's difficult journey with her ailing father, his heart softens. And Brooke, who witnesses Luca's struggle as a single parent, develops feelings for him, too. But when it all falls apart, will love heal their wounded hearts?
Links:
When it Falls Apart is a new book in a new series by Catherine Bybee. I love it when my favorite authors write new series'. It gives me new characters to fall in love with, and I feel hard and fast for Luca, Brooke and Franny! I also love a good Italian family in my romance stories and the D'Angelos are top-notch! Brooke gives up her life to help her ailing father. She moves to a different state, needs to find a place to live and a place for her father so he can get the care he needs. They have a strained relationship, so it's tough for her to keep trying, but she does. When she randomly ends up in an Italian restaurant in San Diego, it just feels like the place she was meant to be. She meets the family who runs it and just feels like she's home. When she's offered the top floor apartment, the chef, Luca, isn't thrilled there's a stranger in his house. But the more he sees her and watches her struggle, the more he wants to care and protect her. Brooke has never had anyone truly want to help her. It's hard to accept Luca's help, but once she does and she gets to know him, she realizes she's happy. Her life might actually be falling into place. She might actually be falling in love. I loved watching Brooke and Luca fall for each other. They each fought it, but it was just meant to be. Luca's daughter Franny is freaking hilarious and I loved the relationship she had with her dad, Brooke and her family. The D'Angelos are family goals and they remind me a lot of my family! This story made me miss Italy and made me want a huge bowl of pasta! Overall, I loved the journey Brooke and Luca went on to find each other. The past leads you to where you are meant to be. It's a feel good, fun and sexy story and I'm looking forward to more in the series!
About the Author
New York Times, Wall Street Journal, and USA Today bestselling author Catherine Bybee has written twenty-eight books that have collectively sold more than five million copies and have been translated into more than eighteen languages. Raised in Washington State, Bybee moved to Southern California in the hope of becoming a movie star. After growing bored with waiting tables, she returned to school and became a registered nurse, spending most of her career in urban emergency rooms. She now writes full-time and has penned the Not Quite Series, the Weekday Brides Series, the Most Likely To Series, and the First Wives Series.
Social Media Links
Website: http://www.catherinebybee.com 
Facebook: https://www.facebook.com/AuthorCatherineBybee 
Twitter: https://twitter.com/catherinebybee 
Tik Tok: https://www.tiktok.com/@catherinebybee1 
Goodreads: https://www.goodreads.com/author/show/2905789.Catherine_Bybee  
Rafflecopter Giveaway
http://www.rafflecopter.com/rafl/display/07c2363f277 
June 3, 2022 | Posted in Blog Tour, Excerpt, Review | By Two Book Pushers
They tried to take everything from me.
But where they failed, I will succeed.
Unless he becomes my weakness.
Vengeance of a Mafia Queen, an all -new dark enemies-to-lovers mafia romance full of suspense from USA Today and Wall Street Journal bestselling author Siobhan Davis, is available now!
Losing my innocence at thirteen, in the most brutal way, changed me. My kidnapper stole my childhood and tried to break me. The knowledge my father orchestrated the entire situation hardened my heart, and instead of grieving his death, I celebrated it.
One down. Many more to go.
My burning need for revenge has only grown over the years, keeping me focused on my goals and enabling my rise to power.
Made men are weak. A pretty face and the promise of a good time easily distracts them.
Now, I'm in charge. 
Men bow before me.
Except for him—the brother of my abductor. Massimo fights me every step of the way, but I'm not about to let the explosive chemistry between us deter me from my chosen path. His family is my enemy. He is my enemy, even if he doesn't know it yet.
I won't stop until all those who wronged me are punished. 
By the time they realize I'm coming, it will be too late. 
They tried to take everything from me.
But where they failed, I will succeed.
Unless he becomes my weakness.
Grab your copy today or read FREE in Kindle Unlimited!
Amazon: https://amzn.to/3wS0Vba
Amazon Worldwide: http://mybook.to/vengeancemafiaqueen
Add to Goodreads: https://bit.ly/3rvU59D
Vengeance of a Mafia Queen is Siobhan Davis's newest addictive story. It's a standalone set in the Mazzone Mafia world. You do not have to read the Mazzone Mafia series to read this book but if you did then you will be seeing some of those badass characters. And if you didn't, you will want to read it afterwards. I don't want to spoil the story so I will try to make this short.
Catarina is out for vengeance. She was only thirteen when she was kidnapped and tortured in the most brutal of ways. She wasn't that little girl anymore, she was a fucking queen who was going to bring every man and woman involved to their knees, begging for their lives. Who she didn't expect was him. Massimo Greco, a man who tortures her in other ways. The chemistry is explosive, addictive, and she knows she needs to fight it. To fight him. He is the the enemy. His family is the enemy and they all must be taken out…
Massimo didn't expect her. A woman who he never forget. She is a complete mystery to him but at the same time, he knew her. She was a fighter. Men were terrified of her but her bite only turned him on. It fueled him. She might try to fight it, fight them but he wasn't backing down. He wants her. Only her. His queen. But will she let him in?
Wow!!! These characters kept me on the edge of my couch with their heat, banter, and explosiveness all around. I might just be in love with both of them! *swoon* I have read most of Siobhan's books (all but her sci-fi books, which I hope to read one day) and have loved them all. Each story is unique, addictive, and full of suspense, twists and turns. I am sure I drop my jaw at least once with every book. I can't wait for the Accardi Twins duet!
P.S. Make sure to read the Bonus Content! 🔥
Vengeance is a never-ending fire that refuses to extinguish.
"Stop eye fucking me. We're trying to have a serious discussion."
"I can't help it. You're fucking beautiful. It's only natural to stare."
"This is going to be fast, hard, and dirty."
Excerpt
Lust blazes in his eyes. "I will wait for you to come to me."  "You'll be waiting," I blurt, irritated when amusement skates across his face. I hate how he can obviously tell it's a lie. He can see I'm floundering. That his want is not one-sided.  "I have a hand, and my blue balls can be patient." A teasing smile spreads across his mouth, and I'm ensnared. Massimo is truly beautiful, and I only hope I'm strong enough to resist. I already suspect I'm not. "To a point," he whispers against my ear, sending warm shivers coursing along my flesh. I squirm on his lap, failing to ignore the hard, thick length pulsing underneath me.  Massimo groans, and his eyes darken with undeniable desire. "You were put on this earth to test me. I'm sure of it."  I can't smother my smile in time.  "One kiss," he says, his eyes dropping to my mouth as his tongue darts out and he wets his lips. "Would you deny your husband a kiss on his wedding night?"  "I have kissed you today."  He shakes his head as his fingers sweep back and forth across my mouth, making it harder and harder to resist temptation. "I have kissed you. You have gone along with it because it was expected."  He's as delusional as me if he truly believes that. I drive my hands into his hair without even thinking about it. "Will everything be a negotiation between us?"  His brows climb to his hairline and a devilish grin widens his lush mouth. "Do we know any other way to be?"  "One kiss. Just one kiss." The words feel like lies as I spout them.  "That is all I am asking." He closes his eyes, moaning softly as my fingers explore the thick strands of his black hair. "That feels so incredibly good."  I brush my mouth against his, and his eyes pop wide. His hands flatten against my back, pushing me in closer to his tempting body. I can indulge in one kiss. It is my wedding night after all, and my husband is one of the sexiest men alive. It's not wrong to take this one thing for myself, right? "Just one kiss," I remind him as our breaths comingle.  "Only one."  Closing my eyes, I lower my mouth to his and descend into sheer bliss. He lets me control it, at first, and I'm surprised at the potent need driving me to take everything as I prod at the seam of his lips with my tongue. He opens instantly, letting my tongue plunge inside his mouth. I reposition myself on his lap, straddling his hips, so I can properly kiss him, and it's that moment when all bets are off.  Copyright Siobhan Davis © 2022 
May 27, 2022 | Posted in Blog Tour, Review | By Two Book Pushers
Love is not just a four-letter word.
Wicked Flame, a steamy, opposites attract MM romance and the highly-anticipated conclusion to the Chicago Heat Duet, set in the beloved Chicagoverse from USA Today bestselling author Ella Frank, is now available!
Jameson Life is hard. I learned that at an early age growing up on the South Side of Chicago. I accepted it, even came to expect it. With a sister who was a constant source of worry, and a track record of losing anyone even remotely close to me, trouble seemed to follow me no matter where I turned.
Some people were born lucky. I was just born.
That's what I used to believe, anyway, until GQ. The gorgeous guy in the fancy clothes who for some reason decided to look twice at me. He gave me a place to call my own, a space to feel safe, and he made me believe in the impossible—that love was more than just a four-letter word.
Ryan Life is unexpected. I learned that just recently when I walked into a bar on the South Side and found the love of my life—Jameson Clarke.
He's everything I've always wanted, and yet somehow even better than I imagined. He's brave, brash, protective of those he loves, and under all that bravado is a vulnerability that calls to my very soul.
Jameson's a storm cloud, but he thinks I'm the sun. If that's true, then I'm determined to break through the shadows of his past and steal his heart the way he's stolen mine.
Grab your copy today! Amazon: https://amzn.to/3yntpKp Amazon Worldwide: https://mybook.to/chicagoheattwo
Add to Goodreads: https://bit.ly/3uakNF9
Start the Chicago Heat Duet now!
Amazon: https://amzn.to/3EVdTIf Amazon Worldwide: https://mybook.to/chicagoheatone
Add Wicked Heat to Goodreads: https://bit.ly/3m5yUsb
Wicked Flame is the conclusion to the Chicago Heat duet by Ella Frank. I thought I loved Ryan and Jameson in Wicked Heat, but man was I wrong. We pick up right where we left off. Jameson looking after his sister and Ryan there to support him. Jameson is finally realizing he deserves more. He deserves to be happy. He deserves to be loved. Something he never thought was possible. Ryan is going to support Jameson with whatever he needs. He's in this for the long haul. There will be obstacles and people who don't think they will make it, but they will prove them all wrong. Two of my favorite scenes are when Jameson meets Ryan's family and when they have lunch with Alexander, Sean, Gabe and Marcus. I was laughing out loud, that's how good it was. Jameson is just so sexy with is bad boy vibe, but he's also sweet and tender and loving. Ryan is so darn cute! But also sexy and so funny. Together they make the perfect pair. That ending…perfection! Overall, I loved every second of it. I laughed, cried, swooned and they are still one of my favorite couples of Ella's! I will miss these characters, but hopefully we will see them again!
Wicked Flame is the second book in Ella Frank's Chicago Heat series. You can NOT read this as standalone so go read Wicked Heat now. Seriously, you won't regret it.
Jameson still doesn't understand why Ryan isn't not only walking away from him, but running. Their lives were completely different growing up and Jameson finally got out of the South Side but he could never completely walk away from that life. It was where he grew up, where is sister was, where is father figured lived but his life would be more than his parents'. He was a fireman and a good guy but guilt ate him. He never thought he would fall in love. He never thought he would go to fancy dinners. He never even wanted those things until him…
His Lois to his Superman.
Ryan never thought going to a dive bar would change his life but it brought him the best thing in his life… Jameson. Jameson didn't think he deserved love but Ryan was determined to show him he deserved it all. Jameson might have saved Ryan from a pickpocket the night they met but Ryan saved Jameson too. But will it all be enough?
I absolutely ♥️ Ryan & Jameson! These two are fire together but it's more than that. Their story is emotional, sweet, hot, and swoony. I hope to see them again in the future!
"Hey there, GQ." My cock throbbed in response to the way my nickname sounded on his tongue.
Alexander chuckled. "You need a minute to pick your jaw up off the floor, Ryan?" Yes.
"Fine. Food first, your mouth second, your body third until I've had my fill. And GQ?"
"I'm really fucking hungry tonight." I sucked in a breath.
"If you wanted to say good morning, GQ, you could've just picked up the phone.
About Ella Frank Ella Frank is the USA Today Bestselling Author of the Temptation series, including Try, Take, and Trust and is the co-author of the fan-favorite erotic serial, Sex Addict. Her Exquisite series has been praised as "scorching hot!" and "enticingly sexy!"
A life-long fan of the romance genre, Ella writes contemporary and erotic fiction.
Some of her favorite authors include Tiffany Reisz, Kresley Cole, Riley Hart, J.R. Ward, Erika Wilde, Gena Showalter, and Carly Philips.
​
Connect with Ella Facebook: http://bit.ly/2sYAgNc Instagram: http://bit.ly/2tM6vPy Twitter: http://bit.ly/2TbuBOf Stay up to date with Ella by joining her mailing list: http://bit.ly/2FFDzeI Website: https://www.ellafrank.com
May 13, 2022 | Posted in Blog Tour | By Two Book Pushers
Charming, hilarious, and emotional, Starry-Eyed Love is Helena Hunting at her very best!
Starry-Eyed Love, an all-new hilarious and heartwarming workplace romance from New York Times bestselling author Helena Hunting is now available!
Having just broken up with her boyfriend, London Spark is not in the mood to be hit on. Especially not when she's out celebrating her single status with her sisters. So when a very attractive man pays for their drinks and then slips her his number, she passes it right back to him with a 'thanks, but no thanks'. As the business administrator for their family's event hotel, the Spark House, London has more important things to worry about, like bringing in new clientele.
As luck would have it, a multi-million-dollar company calls a few months later asking for a meeting to discuss a potential partnership, and London is eager to prove to her sisters, and herself, that she can land this deal. Just when she thinks she has nailed her presentation, the company's CEO, Jackson Holt, walks in and inserts himself into the meeting. Not only that, but he also happens to be the same guy she turned down at the bar a few months ago.
As they begin to spend more time together, their working relationship blossoms into something more. It isn't until their professional entanglements are finally over, that London and Jackson are finally ready to take the next step in their relationship. But between Jackson's secretive past and London's struggle with her sisters, London must question where she really stands – not just with Jackson, but with the Spark House, too.
Fall in love today! Amazon: https://amzn.to/3zZKhGQ Amazon Worldwide: http://mybook.to/Starry-Eye Apple Books: https://apple.co/38PiJLO Nook: https://bit.ly/3yPhWln Kobo: https://bit.ly/3E0cnEC Google Play: https://bit.ly/2WTQBkA Amazon Paperback: https://amzn.to/3tk9cCt Barnes and Noble Paperback: https://bit.ly/3yh3upD Audiobook: https://amzn.to/3MSLAOc
Add to Goodreads: https://bit.ly/3zOpO84
Starry-Eyed Love is the second book in the Spark House series by Helena Hunting. I love Helena and her books and Jackson Holt is one of my favorite heroes of hers. (And let's be serious, that's saying a lot!) The first time London meets Jackson is in a bar when he hits on her. She declines his number since she just got out of relationship. The second time she meets him, she's giving a presentation to his company and realizes he's the billionaire CEO. Yikes! All of a sudden he wants to be involved in business at a level he never has been before. Jackson never thought he'd see the gorgeous blonde again, but he can't believe his luck. Now he's working with her and helping her make business connections. He believes in her family business and wants her to succeed. Only now he can't date her until his involvement is over. It's two months of hell. But fun and exciting. He introduces her to people, spends time chatting with her, texting her and finding reasons to be in Colorado. London is having a hard time balancing the business at Spark House and doing what she loves, her Etsy store creations. And spending time with Jackson is getting to be one of her favorite things. She can't get a read on him all the time, but when he finally admits he wants to date her as soon as the auction they are working on together is over, he's not kidding. At the end of the night he asks her out and gives her the best kiss of her life. Their chemistry was off the charts before, now it's just fire! They can deal with the long distance, but when his past comes up London isn't sure she can trust him. Will Jackson be able to convince her to give him another chance? Oh boy! I really loved London and Jackson. London is so talented and funny and smart. She's doing things that don't come naturally to her for her sisters and the business but she loves them that much. Jackson is sexy and fun and swoony! He treats her as an equal and says the most meaningful and sweet things to her. Overall, I laughed, cried, cheered and smiled a lot! I enjoyed it more than the first book! I loved seeing Linc and Griffin again too! Looking forward to Harley's story.
About Helena Hunting
New York Times and USA Today bestselling author of PUCKED, Helena Hunting lives on the outskirts of Toronto with her incredibly tolerant family and two moderately intolerant cats. She writes contemporary romance ranging from new adult angst to romantic sports comedy.
Connect with Helena Instagram: http://bit.ly/2kN5wdZ Twitter: http://bit.ly/2mloUim Facebook: http://on.fb.me/Zt1xm5 Facebook Fan group: http://bit.ly/2kN5yCD Website: http://www.helenahunting.com/
Never miss an update! Subscribe to Helena's mailing list: http://bit.ly/2MlRKq6
May 3, 2022 | Posted in Blog Tour, Review | By Two Book Pushers
An Irish mobster with a brutal grudge. An Italian mafia princess with a dark secret.
Brutal Vows, an all-new steamy and powerful dark enemies-to-lovers mafia standalone romance from international bestselling author J.T. Gessinger is available now!
An Irish mobster with a brutal grudge. An Italian mafia princess with a dark secret.
Two enemy empires joined in sacred marriage vows.
Let the hating games begin.
Grab your copy today or read FREE in Kindle Unlimited! Amazon: https://amzn.to/3ARfCgi Amazon Worldwide: http://mybook.to/BrutalVows
Add to Goodreads: https://bit.ly/3KZ6zPb4
Brutal Vows is the fourth and last novel in the Queens & Monsters series by J.T. Geissinger. I have read many books by J.T but sadly when Ruthless Creatures released my schedule was too packed to add to my review list. I am so mad at myself for not just going for it! I usually don't read a series out of order but when I saw Brutal Vows and my schedule was wide-open I was like I HAVE to read it, I don't care if I didn't read the others. I did read the Beautifully Cruel duet so I there was that. Anyway…you can read it as standalone! I don't want to spoil anything about this badass story and it's characters so I will make the rest short. Lol.
Rey hates the Irishman on the spot. Spider knew she was a viper from the very beginning. And he knew then…he wanted her except he isn't the one he was there for. He was there for Lili, a sweet girl he would never love. He never expected her aunt. He heard stories about the Black Widow but those don't even do her justice. She had a forked tongue and a body made for sin. He had to stay away from her, she was not part of the contract. Plus, he didn't want to be killed with her lethal stare…
I absolutely f*cking loved this book! It is so addicting and full of twists, darkness, wit, and romance. I love mafia, arranged marriage, and enemies-to-lovers tropes and in this book you get ALL three! And characters who will make you hot and bothered, swoon, laugh with their wicked chemistry and banter. I really hope that one day we will see these characters again.
P.S. I have a lady crush on Rey. And of course a huge crush on Spider.
"You should also keep in mind that vipers are venomous…and they eat spiders for lunch."
"Fuck, it's hot when you threaten to kill me."
This is the strike of the match that lit the raging forest fire. This is dark, intense, and dangerous. This is need, not want…and I don't like it at all.
Excerpt
2
Spider
I get only a glimpse of the woman in the window before the curtains fall back into place and she disappears, but the image of her is seared onto my retinas.
Dark hair, red lips, olive skin.
A black, low-cut dress.
Acres of cleavage.
And eyes that glittered silver in the afternoon sun like the flash of coins at the bottom of a wishing well.
She can't be Liliana, the lass I'm here to meet. I've seen pictures of her. She has a sweet, innocent face. A shy, lovely smile.
The woman in the window looks like she'd only smile if she were slitting your throat.
Mindful of the armed guards, I say in Gaelic to Kieran, "I thought the lass's mother died?"
Standing beside me, he follows my gaze and looks up at the blank window.
"Aye. Why?"
"Who else lives here?"
He shrugs. "Dunno. From the size of the bloody place, probably a thousand people."
She's not a servant, that much I know. There wasn't a hint of servitude in those flashing eyes.
She looked more like a warlord about to lead an army of soldiers into battle.
"This way," says the guard nearest to me. He nods toward an arched opening in the brick wall that leads from the circular driveway into an interior courtyard.
Dismissing the thought of the mystery woman, I button my suit jacket and follow behind the guard as he leads Kieran and me away from the car. The other guard walks behind us. We're led through the lushly landscaped courtyard to a set of enormous carved oak doors, flanked on either side by towering marble columns.
The main house looms over us, three sprawling stories of beige limestone with elaborate balustrades and scrolled iron balconies, topped by a line of Roman centurion statues gazing down at us from a ledge on the red-tiled roof.
Inside the main foyer, the décor becomes even more ostentatious.
Naked cherubs frolic with hairy satyrs and woodland nymphs in colorful frescoes on the walls. Instead of one drop-crystal chandelier overhead, there are three. The floor is black marble, the carved mahogany furniture is edged in gilt, and my eyes are starting to water from the kaleidoscope glare of stained-glass windows.
Under his breath, Kieran says, "Jesus, Mary, and Joseph. Looks like Liberace hurled his lunch all over the bloody place."
He's right. It's fucking awful.
I have to force myself not to turn around and walk out.
"Ah, Mr. Quinn!"
I turn to my right. A man approaches with his hands spread open in greeting.
He's fit, of average height, and somewhere around forty. His dark hair is slicked back with pomade. Wearing a navy blue pinstripe suit I can tell is custom made, a powder blue tie with a diamond tie pin, a chunky diamond watch, and a gold pinky ring on each hand, he oozes wealth, privilege, and power.
His cologne reaches me before he does.
His smile is blinding.
I hate him on sight.
"Mr. Caruso, I presume."
He grabs one of my hands in both of his and pumps it up and down like he's a political candidate campaigning for my vote.
"It's a pleasure to finally meet you. Welcome to my home."
"Thank you. It's a pleasure to meet you as well."
He hasn't stopped grinning or shaking my hand.
Ten more seconds of this shite, and I'll break those Chiclet teeth of his.
"This is my associate, Mr. Byrne." I extract my hand from Caruso's death grip and gesture to Kieran, who inclines his head respectfully.
"Sir."
"Mr. Byrne, welcome. And please, both of you, call me Gianni. I prefer if we're all on a first name basis, don't you?"
I'd rather blind myself with acid, you wanker.
Kieran politely offers his name. I offer nothing. There's an awkward pause while Caruso waits, but he gets the hint and suggests we retire to his study to speak in private.
After what feels like a death march through miles of echoing corridors, we arrive at the study. It's probably larger than the law library at Notre Dame. We sit across from Caruso in a pair of leather chairs so uncomfortable, they had to be designed by sadists.
I haven't been here ten minutes, and I'm already regretting the fuck out of this.
Until she walks in the door.
Dark hair, red lips, olive skin.
A black, low-cut dress.
Acres of cleavage.
Not only cleavage, but long legs and an hourglass figure that would make any man stupid with lust.
If he wasn't too busy being turned to stone by the ice in her eyes, that is. I've never seen an attractive serial killer, but I bet this is exactly what she'd look like.
About J.T. Geissinger
J.T. Geissinger is a #1 internationally bestselling author of twenty-seven novels. Ranging from funny, feisty rom coms to intense, edgy suspense, her books have sold over five million copies and been translated into more than a dozen languages.
She is a three-time nominee in both contemporary and paranormal romance for the RITA® Award, the highest distinction in romance fiction from the Romance Writers of America®. She is also a recipient of the Prism Award for Best First Book and the Golden Quill Award for Best Paranormal/Urban Fantasy.
She's a Southern California native currently living in Nevada with her husband and rescue kitty, Zoe.
Connect with J.T. Geissinger Facebook: http://bit.ly/37Iv1zU Instagram: http://bit.ly/35v6fBu Pinterest: http://bit.ly/2upzIQI GoodReads: http://bit.ly/2NaBT2c BookBub: http://bit.ly/2oAkodD Reader Group: http://bit.ly/2Oj7iMg Mailing list: http://bit.ly/39KRQol Website: http://www.jtgeissinger.com
April 20, 2022 | Posted in Blog Tour, Review | By Two Book Pushers
FLIRT by Adriana Locke
Release Date: April 8th
Genre/Tropes: Contemporary Romance/Office Romance/Fake Dating/Friend to Lovers
AVAILABLE NOW!!! FREE IN KU!!!
Amazon: https://amzn.to/3L1Nefm
Amazon Universal: https://geni.us/FLIRT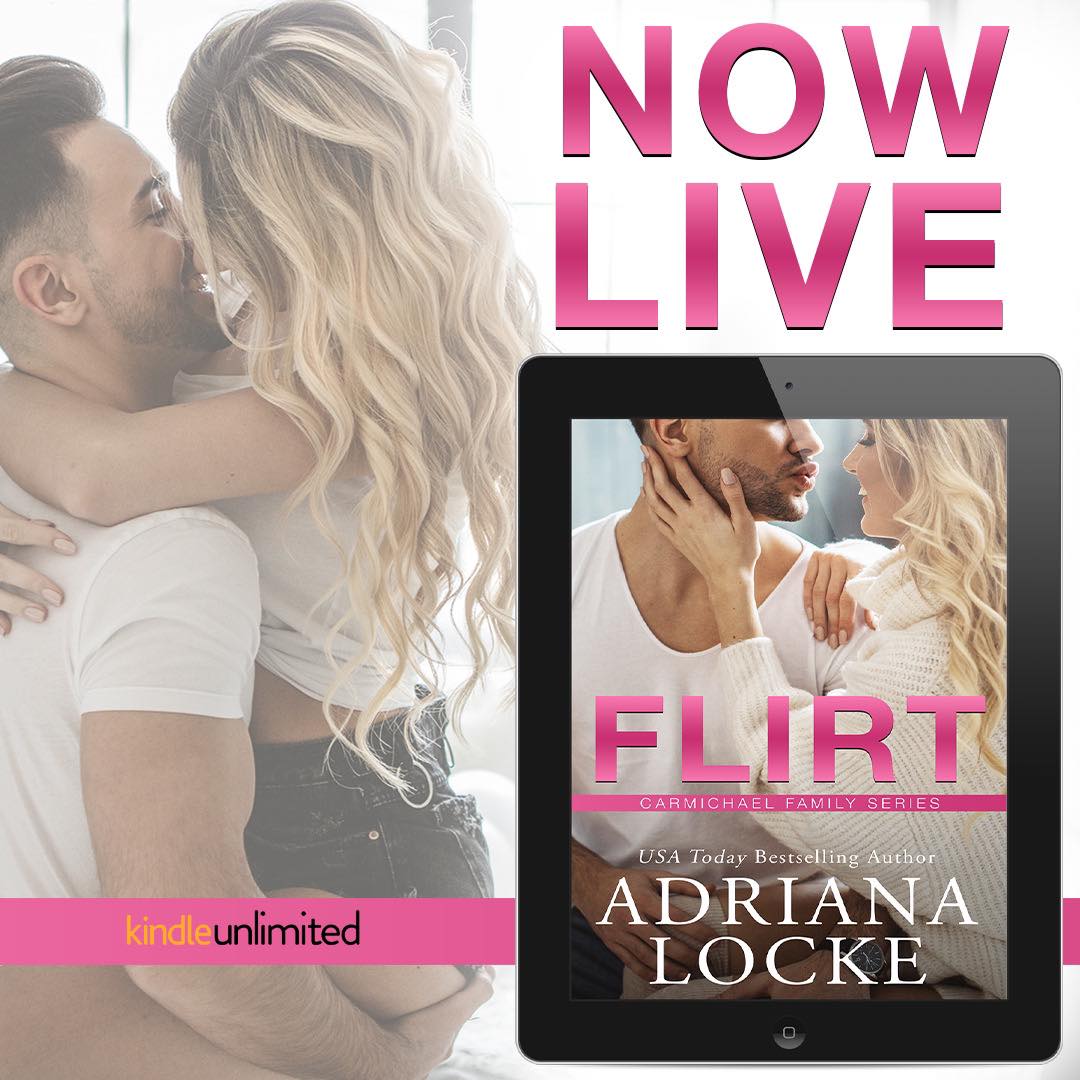 Add to Goodreads:
https://www.goodreads.com/book/show/59775481-flirt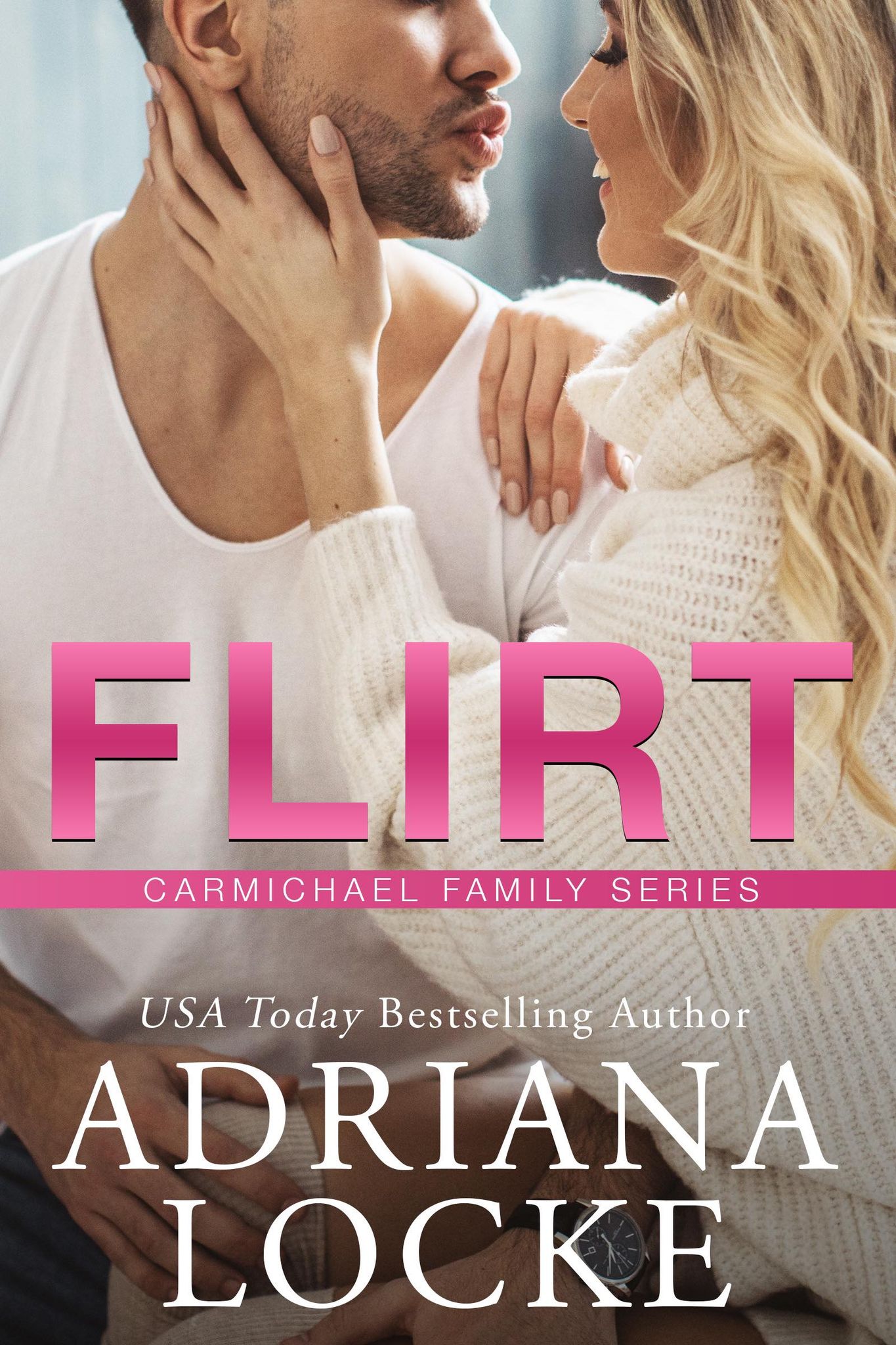 Blurb:
WANTED: A SITUATION-SHIP
I'm a single female that's tired of relationships ruining my life. However, there are times when a date would be helpful. If you're a single man, preferably mid-twenties to late-thirties, and are in a similar situation, we might be a match.
Candidate must be handsome, charming, and willing to pretend to have feelings for me (on a sliding scale, as the event requires). Ability to discuss a wide variety of topics is a plus. Must have your own transportation and a (legal) job.
This will be a symbiotic agreement. In exchange for your time, I will give you mine. Need someone to flirt with you at a football party? Go, team! Want a woman to make you look good in front of your boss? Let me find my heels. Would you love for someone to be obsessed with you in front of your ex? I'm applying my red lipstick now.
If interested, please email me. Time is of the essence.
Flirt is the first book in the Carmichael Family series by Adriana Locke. I love when one of my favorite authors starts a new series and the start of this one is AMAZING. If you read Sweet, the sixth book in the Landry Family series then you got a small glimpse into how this family works. Antics, love, and lots of laughs.
Brooke needs a date to her grandmother's birthday party. If she shows up single, she will never hear the end of it from her mother. She wouldn't even go if it wasn't for her grandmother, Honey. So, she writes out an ad for a fake date and that is when the crazy ride begins. She really didn't expect so many responses. But what truly shocked her was when Moss Carmichael volunteers for the job. The man is a flirt. A friend. Does she think he is hot? Fuck yes. Has she ever thought of him as more than a friend? Hell yeah. Does she want a relationship ever again? Hell no. Would she ever risk their amazing friendship? Hell no again. She needs a date. He needs a date for an event. It's a win-win really.
Moss loves flirting with Brooke. She is his happy place but they can never be more. No way in hell he was going to let her take a stranger home to her wacky family. He was the only man for the job. Though a few of his brothers would say they were. Ha! This will be easy even if he is hard every time he is around the woman. Has he wanted to kiss her in the last two years they have worked together? Of course. Does she scare him? Fuck yes. He knows her and she needs this. A date. So why not fake date until then? It's always fun to mess with his family so it's on.
I absolutely love these two! I do believe Moss is tied with Lincoln for my favorite Locke man. I love a shameless flirt who makes me laugh, swoon, and get hot and bothered. And Brooke is a tough cookie who knows what she wants. Together, I love their banter, sexiness, and flirt game. It's not all about good times though. It's an emotional ride and I am here for it and can't wait for the rest of the boys to find their loves.
"When I'm around you," he says softly, his eyes never leaving mine, "I think maybe my heart can be fixed someday."
She's my worst nightmare and my wettest dream.
Flirt is the first book in the Carmichael Family series by the queen of small town-family romance, Adriana Locke. I will dare say that Flirt is my favorite book of Adriana's. I got absolutely giddy when I heard the Carmichaels were getting their own series after meeting them in Sweet. I didn't expect to fall for Moss so hard and so fast though! But I don't feel bad about it for a second! He's dreamy, sweet, sexy, funny and hot! He had me swooning all over the place. The things he says when he's not even trying? Oh my! Swoon-a-licious! Brooke is strong, independent and talented. Her family leaves a lot to be desired, but the Carmichaels are like family.  Just like Moss. They have been working together for two years and each has secretly lusted after the other. But they are great friends who know a lot about each other. Who are comfortable with each other and genuinely enjoy each other's company. So when Brooke needs a fake date to a family function, Moss volunteers. It's no hardship spending more time with Brooke. After one scorching kiss, the rules of the game change. He's all in. She fights it for a while, but it's futile. They have friendship, passion, fun, sexiness and love. They both have pain and loss in their lives that needs to be buried before they can move on together. It's heartbreaking and heartwarming. Overall, I loved every second of it. If I had time, I would definitely read it again! Hmm…maybe I'll listen to it if it comes to audio. Flirt is a fantastic start to a new series and I am here for it. I don't think any of his brothers will top Moss, but I can't wait to see them try!
"You are basically my hero."
"I think I would be a heroine."
He laughs. "I don't know. You have a lot of big-dick energy."
"You're damn right I do."
"Thank you," he whispers into my ear.
"For what?"
"For sharing you with me."
About the Author:
USA Today and Washington Post bestselling author Adriana Locke lives and breathes books. After years of slightly obsessive relationships with the flawed bad boys created by other authors, Adriana has created her own.
She resides in the Midwest with her husband, sons, and two dogs. She spends a large amount of time playing with her kids, drinking coffee, and cooking. You can find her outside if the weather's nice and there's always a piece of candy in her pocket.
Connect w/Adriana:
Website: https://adrianalocke.com
Facebook: https://www.facebook.com/authoradrianalocke
Facebook Group: https://www.facebook.com/groups/booksbyadrianalocke
Twitter: https://twitter.com/authoralocke
Instagram: https://www.instagram.com/authoradrianalocke
Goodreads: https://www.goodreads.com/author/show/8379774.Adriana_Locke
Amazon: https://amzn.to/3ivy7xd
Bookbub: https://www.bookbub.com/authors/adriana-locke
Newsletter Signup: http://bit.ly/NewsletterAddy
April 19, 2022 | Posted in Blog Tour, Excerpt | By Two Book Pushers
Three powerful families. Three arranged marriages. And one beautiful stranger with a secret who changes everything.
Devil's Angel, an all-new steamy new adult standalone romance from bestselling author Julie Capulet is available now!
Cassidy They say family is something you're born with. Mine abandoned me long ago. They say true love is a myth. Mine showed up as a gorgeous devil who almost killed me. I fought back. Our bodies and our hearts knew, even if our realities would never allow it.
Knox I'm one of five heirs to the Ramsey fortune and estate, a hundred acres of tropical paradise on the island of Kauai. I'm also the chosen one—a detail that's about to ruin my life. My marriage will be arranged, to secure the alliance between families.
But when a chance encounter with a mysterious stranger literally slays me, she changes everything.
This is more than obsessive lust. It's the kind of star-crossed love worth dying for. And it's a risk I'm willing to take. Because settling for a future without her is no longer an option.
DEVIL'S ANGEL is a steamy standalone new adult arranged marriage romance set in paradise. It contains scorching hot love scenes and is intended for readers 18+
Grab your copy today or read FREE in Kindle Unlimited! Amazon: https://amzn.to/3tzTHYT Amazon Worldwide: http://mybook.to/DevilsAngel
Add Devil's Angel to Goodreads: https://bit.ly/3wAg6XV
Excerpt
I walk the six blocks to Perfection Catering to start work.
They're already loading up the vans parked out in front, so I show my ID to the driver and get into the van, where Maggie has saved a seat for me.
"I can't believe we're going to Seven Mile Beach," she gushes.
"What's Seven Mile Beach?"
"Are you kidding me? It's only the most expensive residence in the United States. We're working for the Fitzpatricks today. It's Vivi Fitzpatrick's twentieth birthday party."
"Vivi Fitzpatrick." Doesn't ring a bell. "Should I know who that is?"
Maggie rolls her eyes, like she can't believe anyone could be so obtuse. "What am I going to do with you? The Fitzpatricks are celebrities. They own the most exclusive high-end hotels in Waikiki. Their resorts are where the tourists with serious money stay." Maggie keeps up with all the latest social media gossip.
I, it has to be said, don't.
"Here, I'll show you their photos." Maggie knows I don't really have the time or the data to scroll the internet non-stop. She fills me in on all the gaps in my celebrity education.
"This is Malachi." She zooms in. "Isn't he absolutely gorgeous?"
I guess he is, in an internet-worthy sort of a way. He has black hair and white teeth. He's surrounded by beautiful women in bikinis smiling vapidly for the camera.
"Perri, Tatum and Vivi Fitzpatrick's follower numbers on Instagram are ranked one, two and three in the world." Maggie scrolls further. "Here's a photo of the three of them."
I point to the sister in the middle as she zooms in. "Is that Tatum?" I recognize her face.
"Yes. And this one's Perri. And that's Vivi on the right."
Vivi isn't smiling. Perri is wearing a lot of make-up. She has a weird sheen to her, like she could be made of plastic.
I don't get a chance to ask Maggie more questions because we're driving up to a massive gate. We come to a stop and several security guards climb aboard. The van is searched and we all have to be checked with metal detectors to make sure we're not armed. Which seems a little over the top but I guess these celebrities can't be too careful.
We finally pass the inspection and our fleet of vans gets waved through. A palm-tree lined entrance winds along a grassy slope overlooking a golden sand beach and the turquoise water.
Maggie and I are both wide-eyed as we drive into the compound. The house looks like a five-star plantation-style hotel with modern additions. There's a gigantic lanai and a glittering infinite pool surrounded by palm trees. The entire place gleams with money.
We're led inside, and put to work alongside the army of staff that are already setting up the outdoor area with the tables, decorations, an outdoor up-market tiki bar and a giant buffet.
The day goes quickly, and the limousines start pulling up just after six o'clock. Maggie and I are given trays with flutes of champagne and told to stand near the entrance so we can serve the new arrivals. From here, Maggie fills me in on who's who.
"I love this job," Maggie gushes. Then her eyes go wide. "Holy shit, that's Jagger King!" He's stepping out of a white stretch limousine. He has straw-colored blond hair that catches the early evening sun. The rolled-up sleeves of his shirt show off his gold chains, his suntan and his tattoos. "God, he's so beautiful."
"Is he a movie star too? He looks like one."
"No, he works for his family," Maggie explains. "All the Kings do. They own banks, skyscrapers and basically half the real estate and businesses in Honolulu. If the Fitzpatricks are the Hollywood of Hawaii, the Kings could be described as the Wall Street."
"He doesn't look like a banker."
"That's because he has so much money, he can look however he wants." Two other people get out of the limo. "There's Stone," Maggie whispers excitedly.
Stone is tall and lankier than his brother. He's wearing sunglasses and black clothes.
"And there's Aurora." Maggie is totally starstruck.
Aurora has dark red hair and a sexy, femme fatale look. She's wearing a red dress, if it could even be called a dress. It's more like a shred of ripped fabric that's covering only the most necessary areas.
The Kings are coming up the steps. Maggie and I watch them as they help themselves to champagne. Up close, they're even more striking. Their clothes and their obvious, glittering wealth give them a power that's hard to describe. Jagger is the most physically stunning, but all three of them have a magnetic, sparked presence, like if you touched them they might give you an electric shock.
As Jagger takes a champagne flute from my tray, his gaze lands briefly on my face. His gold hair catches the light almost theatrically but his irises are a very dark brown. As our eyes meet, something about him seems almost weirdly … familiar. But why would it? I most definitely have never met Jagger King. Maybe I've seen a photo of him somewhere before. He winks at me before sauntering off into the growing crowd.
Maggie exhales a shaky breath. "Did you see that? He looked right at you!"
There's some commotion as more people make their entrance behind us, from the interior of the house.
"It's Perri and Vivi," Maggie exclaims with hushed awe. "Vivi is the one in purple."
Both women are dark-haired and exotic-looking. They're wearing the most to-die-for outfits I've ever seen.
"Oh, look, here comes Echo Ramsey."
A valet opens the door of the next car and a young woman steps out. "Who's Echo Ramsey?" I whisper back.
Maggie gives me a look. "You seriously must be living under a rock, Cassidy. You've never heard of Echo Ramsey?"
"Uh … no."
"The Ramseys live on Kauai," Maggie explains patiently. "All three families are interconnected. There are a lot of marriages between the families and they own businesses together. The Ramseys are more reclusive than the others."
"Why?"
"They just prefer to stay out of the limelight. Their house is like a castle. It's surrounded by acres of land and high, guarded walls. I've heard it's like an absolute fortress, but inside there's this beautiful haven, with all kinds of orchards and botanical gardens. The Ramseys live like they're still on the frontier. They ride horses. They grow crops and they live almost entirely off the land."
"Wow." I imagine what that must be like. To catch your own fish or pick fruit off your very own trees.
"My friend's cousin went to a party there once. She said they all look like supermodels."
"Echo Ramsey sure looks like one."
Echo is willowy thin with dark, glossy long hair that's beautifully cut. She's almost ethereal-looking, like she could be half fairy or a nymph who just wandered in from a magical woodland. There's a quiet gravity to her. It's the groundedness of someone who belongs and who walks around every day feeling the effortless security of that. You can tell she's loved. You can tell it holds her up and shapes the way she looks at the world. I have a radar for that kind of thing because it's so absent in my own life.
"Blaise Ramsey is stunning too," Maggie says. "They all are. I've seen the occasional photo of Remington, in the city. He's the oldest. He's on the board of some of the businesses the families co-own. He's huge and built like a fighter. So are Knox and Wolf. They train in MMA, I've heard. But they hate publicity. There are a lot of cousins and extended family too, like a clan, but it's the five siblings that get talked about most."
And now I'm curious. "What about the other two? Knox. And Wolf." They have unusual names.
"Apparently Wolf is crazy and, like, armed. He's some kind of weapons expert or something. I don't know much about Knox. My friend's cousin said he was the most gorgeous of all of them. He's seriously hot and he spends most of his time swimming and hunting. He's sort of wild and outdoorsy, like a tropical island version of a hot mountain man. He's hardly ever seen. I've never seen a picture of him. But according to my friend, all the Ramsey men are absolutely lethal—I mean, I don't know why you'd describe someone you just met as lethal, but that's what she said."
"Wow," I say again. It all sounds so wildly romantic. Keeping to yourselves. Swearing loyalty to your clan.
Growing up like I have, I've always coveted the idea of a haven. What would that be like, to belong to a place that's guarded and beautiful and filled with people who know you and who care about you enough to keep you safe?
I wish I could find out.
About Julie Capulet
Julie Capulet writes contemporary romance starring sexy, obsessed alphas and the sweet & sassy women who bring them to their knees. Her stories are inspired by true love and she's married to her own real life hero. When she's not writing, she's reading, walking on the beach, drinking wine and watching rom-coms.
Connect with Julie Amazon: https://amzn.to/3qzHIIX Goodreads: https://bit.ly/3wxBEoj Facebook: https://bit.ly/380gkxx Instagram: https://bit.ly/3wFKT61 Website: https://www.juliecapulet.com/