May 18, 2022 | Posted in Cover Reveal, Excerpt, Giveaway | By Two Book Pushers
👨‍👧 👔👨‍👧👔 👨‍👧

Title: LAST ON THE LIST
Author: Amy Daws
Genre: Romantic Comedy
Release Date: June 16, 2022
Cover Designer: Amy Daws
Cover Photographer: Wander Aguiar
Cover Model: Tanner Hueter
👨‍👧 👔👨‍👧👔 👨‍👧
Only a bad nanny knows what it's like to kiss the boss.
CEO millionaire, Max Fletcher is a single dad in desperate need of a nanny.
Cozy Barlow is in the middle of her self-appointed "gap year" and doing everything she can to detach from her past.
But when her sister begs her to interview for the nanny position of a high maintenance client, she doesn't have a good enough reason to say no.
And when Max locks eyes on the twenty-something in a tie-dye sweatsuit who pitches the idea of daydreaming all summer—he prepares to give this bad nanny the boot.
One problem: Max's little girl thinks this plus-sized in body and spirit nanny might be her new bestie, so she hires her on the spot.
Now Max is stuck with this bizarre woman who hates everything he represents—corporate greed, money, status, power.
But one stormy night when the power goes out, he discovers Cozy doesn't hate him. In fact, he's the leading role in her fantasies.
Fantasies, he would very much like to make a reality.
"So that's really your proposal as the nanny to my daughter for the summer? To do nothing?" I ask dryly, hoping this Cassandra person has a backup response that she's going to pull out of her back pocket at any moment to save this horrible interview.
Cassandra nods proudly. "We'll also do a lot of sitting. I'm an expert at sitting," she deadpans.
"Okay…I think we've heard enough, Cassandra." I move to stand, but she reaches out and touches my arm, halting me in my tracks.
"I said to call me Cozy," she corrects with a wink.
The teasing look in her eyes causes my skin to tighten. I do my best to shake it off as she refocuses on my daughter to share with her the last book that made her cry. Her hand slides off my arm, and my eyes lock on the way her index finger trails off the fabric of my suit.
I'm left struggling to shake this silvery feeling her delicate touch has left on my arm, so I take a moment to inspect Cassandra a bit closer now that her focus is off me. Her facial features are round, a faint dimple appearing in her cheek as she talks animatedly to my daughter. Her alabaster skin is a stunning contrast to her nearly black hair cropped bluntly just above her shoulders. She has shockingly plump lips slathered in a pale pink gloss that thankfully doesn't match the orange jumpsuit that looks like something a teenager would wear. Her ample curves indicate she's very much not a child.
"How old are you?" I blurt out in the middle of my interview with this bizarre potential nanny. I blanch at how unprofessional of a question that is and curse under my breath. "I'm sorry, you don't have to answer that."
"I'm twenty-six, Big Daddy," Cassandra replies with another wink and then immediately dives back into conversation with my daughter.
Big Daddy? I frown at that very unpleasant label. Jesus Christ, she is so unprofessional. No fucking way…over my dead body. This will not work. I click my tongue and bring out my CEO voice. "Cassandra…I thank you for coming in, but I'm afraid—"
"You're hired!" my daughter bursts out, standing up so she's eye level with me. She thrusts her hand across my face and reaches for Cassandra's, mimicking me to a T how I've handled many successful boardroom transactions.
My mouth hangs open as I sit frozen, watching Cassandra stand in what feels like slow motion to take Everly's hand and accept the offer.
"This is so awesome!" Cassandra shakes Everly's hand so hard, she starts to giggle. "This summer is going to be GOAT!"
"Goats?" I exclaim, finally breaking free of my stunned-stupid response to my daughter taking over this meeting. How is Everly so charmed by this…this…I don't even know what to call a person like Cassandra. "No one said anything about farm animals."
Cassandra and Everly burst out laughing like they've been buddies their entire life. Everly places her slender fingers on my shoulder in a way that makes me feel like the eleven-year-old in the room. "Dad, GOAT means greatest of all time."
My shoulders slump. "Oh."
Everly leans over to Cassandra and whispers loudly, "I'm so glad this worked out. If we didn't hire someone today, my dad was totally going to get a case of his stress poops again."
"Everly!" My eyes fly wide when Cassandra turns her green gaze at me. I push a nervous hand through my hair and quickly rush out, "I don't get stress poops. I don't know what that kid's talking about."
Cassandra reaches out and pats me on the other shoulder. "Hey Mr. Fletcher, no judgment here. Maybe you should try some of that kombucha in the waiting room that you won't let your staff have? It's really good for the digestive system."
I groan and pinch the bridge of my nose. This summer is going to be a disaster.
👨‍👧 👔👨‍👧👔 👨‍👧
If you're looking for laughs…this series of waiting room meet cutes is the perfect escape. Binge these standalones in Kindle Unlimited in preparation for April 9 release!
Wait With Me
(optioned for film by Passionflix)
When romance novelist, Kate Smith, finds her long lost writing mojo in the customer waiting area of a tire store, the complimentary coffee isn't the only things that's hot. But sexy mechanic, Miles Hudson, is just up for a friendly test-drive of her new book idea. At least, that was the agreement… Read Now: https://geni.us/WaitWithMe
Next In Line
What happens when the cute mountain man you made out with in an ice fishing shack turns out to be your brother's best friend? Read Now: https://geni.us/NextInLine
One Moment Please
That awkward moment when your doctor informs you that you're pregnant…with his baby. Read Now: https://geni.us/OneMomentPlease
Take A Number
Fake dating the cute owner of a bakery Dean is an investor in sounds kind of messy…but messy can be fun. Read Now: https://geni.us/TakeANumber
👨‍👧 👔👨‍👧👔 👨‍👧
Check out Amy's Facebook page for an awesome giveaway!
👨‍👧 👔👨‍👧👔 👨‍👧
Number 1 Amazon Bestselling author Amy Daws writes spicy love stories that take place in America, as well as across the pond. She's most known for her footy-playing Harris Brothers and writing in a tire shop waiting room. When Amy is not writing, she's likely making charcuterie boards from her home in South Dakota where she lives with her daughter and husband.
Follow Amy on all social media channels, including Tik Tok under @amydawsauthor
For more of Amy's work, visit: http://www.amydawsauthor.com
👨‍👧 👔👨‍👧👔 👨‍👧
👨‍👧 👔👨‍👧👔 👨‍👧
May 13, 2022 | Posted in Cover Reveal, Excerpt | By Two Book Pushers
"Award-winning and bestselling "powerhouse" author Kennedy Ryan is at her absolute best in this compelling, scorching novel about hope and healing, and what it truly means to love for a lifetime."–USA Today  Before I Let Go, an all-new compelling second chance romance and the first book in the new Skyland Series from USA Today bestselling and RITA® Award-winning author @kennedyryan1 is coming November 15th, and we have your first look inside this epic romance!
Their love was supposed to last forever. But when life delivered blow after devastating blow, Yasmen and Josiah Wade found that love alone couldn't solve or save everything.
It couldn't save their marriage.
Yasmen wasn't prepared for how her life fell apart, but she's finally starting to find joy again. She and Josiah have found a new rhythm, co-parenting their two kids and running a thriving business together. Yet like magnets, they're always drawn back to each other, and now they're beginning to wonder if they're truly ready to let go of everything they once had.
Soon, one stolen kiss leads to another . . . and then more. It's hot. It's illicit. It's all good—until old wounds reopen. Is it too late for them to find forever? Or could they even be better, the second time around?
Reserve your copy today! Amazon: https://amzn.to/3Fk8s6I Amazon Worldwide: https://mybook.to/beforeiletgo Apple Books: https://apple.co/3seQr49 Kobo: https://bit.ly/386l5Gb Google Play: https://bit.ly/3N8XROH Nook: https://bit.ly/3Fgek0t Amazon Paperback: https://amzn.to/3LFbdBL Nook Paperback: https://bit.ly/3w2n0U9 Nook Hardback: https://bit.ly/3kGSk5K Nook Audio: https://bit.ly/3yfsk9j
Keep reading for your first look inside Before I Let Go
The dress's zipper stubbornly stays put at the middle of my back. Screw it. I'll ask the hostess to zip me up. I grab my stuff and leave the bathroom just as the outer office door opens and Josiah walks in. His glance skitters over me, starting with my hair and sliding to my bare toes. "Sorry. I didn't realize you were in here," he says. Josiah's face is interesting enough to make handsome look mundane, though the man is undeniably fine. The kind of fine that makes you lose your train of thought mid sentence and bite your lip. Gorgeous dark skin gleams, pulled taut over the high sculpted bones of his face. To be so controlled, nearly austere, there is something boundless about his presence. Standing here with him, that energy, an amalgamation of ambition and audacity and swagger, swirls around us in the office. It's like being corked into a bottle with a typhoon. His brows lift, querying. I'm staring. "Oh." I turn my back to him, as much to recover my composure as to get my zipper up. "It's stuck. Can ya help?" He doesn't answer, and his steps are so quiet I barely hear him cross the room, so the heat of his body warming my exposed skin startles me. The backs of his fingers brush over my spine as he pulls the zipper. It doesn't budge at first, so he has to tug. Even just that whisper of a touch reminds my skin how to goose-bump. I glance over my shoulder and up, my breath hitching when our eyes collide. The air around us practically crackles, charged with a familiar current I'd forgotten was even possible. He clears his throat and slides the zipper to the top. "There you go." I turn to face him and am unprepared for how close he stands. I'm barefoot and my view narrows to the broad chest and shoulders of the man in front of me. We're not alone like this often anymore, leading separate lives that only intersect at our kids and our business. Kassim and Deja are usually around, or staff, friends, coaches, teachers. It's rarely just us. We used to know each other better than anyone. Now I'm not even sure what he watches in the little free time he has away from this place, or if he even watches TV at all. "Have you seen Ozark?" I ask. The thick line of his brows dips. "Nah. Should I?" "It's one of the best shows I've seen in a really long time. The acting, directing. The writing is stellar." I'm rambling. I want to shove a sock in my mouth to make it stop running. "I'll have to, uh . . . check it out." He glances at the door. "I need to get back." "Yeah." I reach into the bottom of my suit bag to grab my green heels, bending to slip them on. "I gotta go too." He runs a thorough glance from my head to my shoes. "You look . . . nice." "Nice?" I scoop up the suit bag, now stuffed with my clothes, and speed to the door, grinning over my shoulder. "Pfftt. I look amazing." He shakes his head, allowing a small smile. "You look amazing. Have a good time." "I'll try not to be out too late. And don't let the kids stay up all night, Si. They have school tomorrow." "Like I'm the pushover parent." We both know he is, so I just stare at him until his smile broadens to that startling brightness that will snatch your breath if you let it. "Get outta here. I'll see you at the house." The house. Not home. Not the dream home we worked for and fantasized about for years. Now it's just the house where the kids and I live. Josiah's in the same neighborhood, but a few streets over. I'm not sure why my thoughts keep revisiting the past tonight when my reflection, my mindset, everything has "future" written all over it.
Add to Goodreads: https://bit.ly/3ygKmIm
Cover Art and Design by Natasha Cunningham
Check out Kennedy's interview with Entertainment Weekly >> https://bit.ly/3PgLkdS
About Kennedy Ryan
A RITA® and Audie® Award winner, USA Today bestselling author Kennedy Ryan writes for women from all walks of life, empowering them and placing them firmly at the center of each story and in charge of their own destinies. Her heroes respect, cherish, and lose their minds for the women who capture their hearts. Kennedy and her writings have been featured in Chicken Soup for the Soul, USA Today, Entertainment Weekly, Glamour, Cosmopolitan, TIME, O magazine, and many others. She is a wife to her lifetime lover and mother to an extraordinary son.
Connect with Kennedy
Text KennedyRyan to 797979 for release alerts! Subscribe to Mailing List: subscribepage.com/kennedyryan Website: http://kennedyryanwrites.com Reader Group: http://bit.ly/2GY6eyb TikTok: @kennedyryanauthor Instagram: http://bit.ly/2TaYiAi Facebook: http://bit.ly/2GUq0uF Amazon: http://amzn.to/2Fvhqiz Pinterest: http://bit.ly/2NE0cU0 BookBub: bookbub.com/authors/kennedy-ryan
March 10, 2022 | Posted in Cover Reveal | By Two Book Pushers
Make Me Your Villain
Battle Crows MC, Book 2
Lani Lynn Vale
Release Date: March 8, 2022
About the Book
Flaws—he has them.
Laws? He breaks them.
Dues? He's paid them.
Scars? He bares them proudly.
Lessons? He's learned them.
Problems? He has one.
Her name is Iris, and she's the one thing in his life that he can't control.
Purchase Links
✦ Amazon: https://amzn.to/3BGYb1G 
✦ Apple: https://apple.co/2X8l3Ie 
✦ Nook: https://bit.ly/34joizK
✦ Kobo: https://bit.ly/3GdDBaL
✦ Audio: COMING SOON
Add to your TBR: https://bit.ly/3aD6uzM
[usr=4.
Make Me Your Villain is the second book in the Battle Crows MC series. I loved Haggard's story and meeting his brothers, so I've been looking forward to getting to know more about Shine. He's the perfect mix of sweet and alpha. Iris is fun, independent and outgoing. They have an instant connection when they meet and I loved that about their relationship. They just knew it was going to be something special. Shine is a hard working man, but he doesn't want to tell Iris what he and his MC really do. Iris also  has some family baggage that she can't get away from, a crazy ex who's stalking her and parents who are total jerks. But together they are happy and their relationship is easy, sexy and fun. They are both hard workers, love to eat and know how to laugh at themselves. I loved learning more about Shine's brothers and can't wait for all of their stories. I'm a huge fan of Lani and I have read almost fifty of her books, but this one was just missing something. It felt a little rushed and didn't get me in the feels like they usually do. I did love Shine and Iris and thought they were great characters! And I'm definitely reading the rest of the series!
January 12, 2022 | Posted in Cover Reveal | By Two Book Pushers
November 18, 2021 | Posted in Cover Reveal, Excerpt | By Two Book Pushers
November 9, 2021 | Posted in Cover Reveal | By Two Book Pushers
The Rhythm Method, an all new rock star romance novella in the bestselling Stage Dive Series from New York Times bestselling author Kylie Scott and 1,001 Dark Nights, is available now!
From New York Times and USA Today bestselling author Kylie Scott comes a new story in her Stage Dive series…
It all started in Vegas…
After a wild and tumultuous beginning to their relationship, Evelyn Thomas and her rock star husband David Ferris have been happily married for years. Nothing needs to change, their life together is perfect. Which means that change in the shape of an unexpected pregnancy is bound to shake things up some. But could it be for the better?
**Every 1001 Dark Nights novella is a standalone story. For new readers, it's an introduction to an author's world. And for fans, it's a bonus book in the author's series. We hope you'll enjoy each one as much as we do.**
Grab your copy today, exclusively on Amazon! Amazon: https://amzn.to/3yghvky Amazon Worldwide: http://mybook.to/rhythmmethod
Add The Rhythm Method to Goodreads: https://bit.ly/3A4gZXi
About Kylie Scott Kylie is a New York Times and USA Today best-selling author. She was voted Australian Romance Writer of the year, 2013, 2014 & 2018, by the Australian Romance Writer's Association and her books have been translated into eleven different languages. She is a long time fan of romance, rock music, and B-grade horror films. Based in Queensland, Australia with her two children and husband, she reads, writes and never dithers around on the internet.
Connect with Kylie Amazon: https://amzn.to/2XujcZh Bookbub: http://bit.ly/2GngiQq Facebook: http://bit.ly/2OiXx3I Twitter: http://bit.ly/391pjJM Instagram: http://bit.ly/2EUrx11 Goodreads: http://bit.ly/2Imusk3 Pinterest: http://bit.ly/2S7cc32 Book+Main Bites: http://bit.ly/2ETz5RQ Stay up to date with Kylie by joining her mailing list: http://bit.ly/2TOOivT Website: https://kyliescott.com/
For More information about 1,001 Dark Nights, visit: Facebook: https://bit.ly/37fl0uT Instagram: https://bit.ly/2Y7uBQp Website: https://bit.ly/2AIIr3A Stay up to date on all 1,001 Dark Nights releases, join their mailing list today! https://bit.ly/2zgxaHu
October 26, 2021 | Posted in Cover Reveal | By Two Book Pushers
Riggs (Arizona Vengeance, Book #11)

Sawyer Bennett
Release Date: October 26, 2021
Synopsis:
Known as the team loner, Riggs Nadeau gives his all on the ice, but nothing extra off it. A beautiful stranger is about to cause chaos in his very structured world.
As a professional hockey player, people think I live a charmed life. On the surface, I do. But they don't know the horrors of my childhood, or the real reason that I have custody of my seventeen-year-old sister, Janelle. And that's exactly the way I like it. They may think I'm a prick because I don't like to share, but that's fine. They don't know me, and they don't need to.
In an effort to help Janelle get settled in Phoenix and stay out of trouble at school, I set her up with a job at Clarke's Corner, the local bookstore owned by the girlfriend of a teammate. It's there that she makes friends with Veronica Woodley, the extremely annoying, arrogant, money-hungry divorcee who I don't want anywhere near my sister. Janelle insists I'm completely wrong about Veronica, but I refuse to accept that. I have to keep reminding myself that that the gorgeous blond with legs for days is off limits.
Through a series of events, I start to see Veronica for what she really is—an amazing woman who has survived her own hell to come out even stronger. I have to admit, we're more alike than not and the attraction between us burns hot.
Maybe I was all wrong about my ability to love and commit, but when the past comes back to haunt me, can I be the man that Veronica, and Janelle, deserve?
Download Riggs (Arizona Vengeance, Book #11):
Amazon | Nook | Apple | Kobo | Google | Print
🎧 Audible (narrated by Connor Crais and Savannah Peachwood):
About the Author:
New York Times, USA Today, and Wall Street Journal Bestselling author Sawyer Bennett uses real life experience to create relatable stories that appeal to a wide array of readers. From contemporary romance, fantasy romance, and both women's and general fiction, Sawyer writes something for just about everyone.
A former trial lawyer from North Carolina, when she is not bringing fiction to life, Sawyer is a chauffeur, stylist, chef, maid, and personal assistant to her very adorable daughter, as well as full-time servant to her wonderfully naughty dogs.
If you'd like to receive a notification when Sawyer releases a new book, sign up for her newsletter (sawyerbennett.com/signup).
Connect with Sawyer:
✦ Facebook: http://bit.ly/Sawyer_FB
✦ Reader group: http://bit.ly/Sawyer_NEP
✦ Twitter: http://bit.ly/Sawyer_TW
✦ Instagram: http://bit.ly/Sawyer_IG
✦ Goodreads: http://bit.ly/Sawyer_GR
✦ BookBub: http://bit.ly/Sawyer_BB
✦ Newsletter: http://sawyerbennett.com/signup
September 30, 2021 | Posted in Cover Reveal | By Two Book Pushers
Title: The Jock Script
Series: The Script Club #3
Author: Lane Hayes
Publisher: Lane Hayes
Release Date: Sept. 24, 2021
Heat Level: 4 – Lots of Sex
Pairing: Male/Male
Length: 250
Genre: Romance, Bisexual, Jock and Nerd, Romantic Comedy, Coming Out, Humor
Synopsis
The nerd, the coach, and the hookup…
Asher-
Swipe left, swipe left, swipe left. Sure, the idea of a quick, no-strings intimate rendezvous via hookup app sounds oddly thrilling, but it's simply not me. Or maybe it is me, because it happened…and I liked it. Until I realized he looked familiar for a reason. A bad reason. Now I've made a faux pas with the sexiest man on planet Earth, and my internal karma system requires me to fix it. Help!
Blake-
I may seem like I have it together, but the truth is, I'm a hot mess. I'm so deep in the closet that I can't remember my real name some days. That's okay. The benefit of one-night stands is anonymity. Until Asher. Not a total surprise. I've always had a thing for geeks, but I've never met anyone like him. He's a pint-sized dynamo on a quest for perfection who can help me come out…if I follow his script.
Hmm. I'm in.
The Jock Script is an MM bisexual, geek/jock romance starring a bowtie wearing nerd, a sexy lacrosse coach, and a shenanigan inducing script!
Excerpt
Asher closed his mouth in a tight line and sighed. "We should change the topic. Every time I'm with you, I secure my spot in Hades."
I threw my head back and laughed. "What's with you and the guilty conscience? I admire your commitment to honesty, Ash, but I don't think it's healthy to punish yourself after the fact. Not to mention, your rules seem arbitrary. They don't make sense."
"Sure, they do."
"Hmph. You say sex is a part of nature, and you're happy to discuss it until your internal sex-o-meter overloads and you decide you've overstepped some invisible boundary. It's like you want to punish yourself for no good reason."
Asher opened and closed his mouth. "I don't do that."
I polished off my salad, pushed my plate aside, and reached for my wineglass. "Yeah, you do. You should give yourself a break once in a while."
"Says the devil incarnate."
"Who me?" I flashed a roguish grin. "I'm not so bad, and you don't have to be so good. Is this the remnants of a super religious upbringing or—"
"Oh, gosh, no. My mother is a hippie. She's not judgmental at all."
"Then why—"
"I'm just weird, Blake."
His tone was firm rather than sharp and sent a strong message that he'd prefer to drop the subject. In fact, he looked suspiciously eager to greet the waiter when he returned to clear our salad dishes and set dinner plates on the table. I observed his animated hand gestures, his starched collar, and perfectly straight bow tie, wondering what he was hiding under all that armor.
Asher wasn't weird, he was—okay, fine…he was totally weird. But I had a feeling he was compensating too. Making up for something or glossing over an unseen flaw. Sort of like a kid standing guard over a lamp he'd busted by accident. No one would notice as long as he made sure the unblemished side was never shown.
Call me crazy, but that got me. Yes, I was very attracted to him and definitely wanted to get naked and horizontal with him ASAP. But I wanted to know him too. I wanted to peel away his protective layers and study his quirks. His internal system of checks and balances fascinated me.
I twirled my fork around my pasta and smiled. "You know, I'm no devil and anyone who sucks dick like you cannot be an angel. There's got to be a good middle ground for us."
"Yes. As friends."
"Right," I agreed, shifting in my seat to adjust my cock when he hummed around a mouthful of pasta. No joke, my dick woke up at the mention of alien sex and was now stretching the seam of my zipper. I sipped my wine and willed my body to get the "friend" memo. "So, buddy…since we're supposed to be spending time together now, I think you should come to my game next weekend."
"Game," he repeated, drawing out the single syllable into two. "The one you coach? Or do you play also?"
"I play with a club team, but our season ended a couple of weeks ago. We're on a break till summer, which is fine 'cause my kids have finals and my girls' team is in the last stretch before CIFs."
"I don't understand that acronym, but I'll come to your game and maybe afterward we can do power tool…things."
"Sounds like a date. The game is at ten at Westgate. I'll text you the address."
"Okay. I have questions, like…where do I sit and what should I wear? Also, what are the rules?"
I smiled. "Sit wherever you want and wear whatever you want. The idea is to have fun. Well…and to kick OC Lutheran's ass. As for the rules…the goal is to put the ball in the net more times than our opponent. You'll be able to follow along."
He didn't look convinced. "I'll do some research. Now, what about us? Do you want me to be there and not speak or…are you going to introduce me? And if so, what will you say? I need to rehearse my lines."
"Lines? This isn't a play, Ash. We're friends."
"No, we're not. We hardly know each other."
I frowned. "Then we need to fix that 'cause I'm going to introduce you as my friend. It's less complicated that way."
"And if someone asks where we met, I'm allowed to improvise, correct?" he teased. taking a big bite of pasta.
Too big of a bite. He slurped a rogue piece of tagliatelle with wide eyes, then covered his mouth with his napkin. It was pretty freaking cute. I pointed at the sauce on his cheek.
When he swiped at the wrong side, I hooked my finger and motioned for him to lean in. I wiped his cheek with my thumb, underestimating the intimacy of the gesture. The strong current of heat and desire sizzling between us threw me off guard, rendering me speechless.
The Jock Script is the third book in The Script Club series by Lane Hayes. I'm loving these jocks and the geeks they fall for. Asher and Blake meet on a hookup app. No names just one night of fun. Blake is bisexual and not out. He's sick of living a lie and wants Asher's help to come out. Asher knows this is a bad idea, but it's in his nature to help people and once he comes up with the script, he knows he can do this. Blake has never met anyone like Asher. He's sexy, smart, fun and he really wants to be with him. He's going to follow the script and see where it leads them. Blake is nothing like Asher thought. He's smart, sexy, funny and really cares about his students. I just adored this couple! I loved Asher and all his nerdy quirks and Blake and his humor. They are so much fun together! Looking forward to the next one!
Meet the Author

Lane Hayes loves a good romance! An avid reader from an early age, she has always been drawn to well-told love story with beautifully written characters. Her debut novel was a 2013 Rainbow Award finalist and subsequent books have received Honorable Mentions, and were winners in the 2016, 2017, and 2018-2019 Rainbow Awards. She loves red wine, chocolate and travel (in no particular order). Lane lives in Southern California with her amazing husband in a not quite empty nest.
Giveaway
August 19, 2021 | Posted in Cover Reveal | By Two Book Pushers
Give Me a Reason
A Single-Dad, Enemies-to-Lovers Romance from A.L. Jackson
Coming August 30th
"Speaking of hot guys…" She angled her head in the direction of a white Porsche Panamera that pulled into the parent pick-up line on the other side of the wrought-iron fence. "There he is."
And I wondered if I was seeing things.
Hallucinating.
If this was some kind of cruel, sick joke or if I'd just done something really terrible in another life and this was my punishment.
Because there was no mistaking the smoldering eyes staring me down through the windshield where he came to a stop at the curb.
The way shock blanched his unbearably gorgeous face before his jaw clenched in what appeared hatred.
Or maybe glee.
With the man, I was sure they were one and the same.
My hand tightened on the child's.
Instinctual.
A gut reaction to protect him.
Shivers raced. This unsettled feeling that something was coming. Something I didn't understand, but something I should fear.
The man climbed from the driver's seat of the flashy car that I wouldn't have thought would fit him at all but somehow right then looked like the perfect accent piece.
He straightened to his full, menacing height.
"There he is! There he is!" The child started jumping up and down and waving his hand in the air. "Hi, Dad, hi! Over here!"
That seething intensity flashed through the air. My head spun and my knees knocked, my mouth going dry.
Trent Lawson strode toward the gate, all dark swagger and don't-give-a-shit attitude, even though there were at least fifteen signs asking parents to stay in their cars and their children would be escorted out.
I got the sense the man wasn't exactly one to follow the rules.
Because there he was, dressed a lot like he'd been last night, black jeans and a black v-neck tee and black boots that were unlaced. All that exposed, inked flesh somehow appeared obscene.
I had the urge to wrap the child up and take him into hiding. Run to the rest of the children and usher them to safety.
Emergency evacuation. 
But I just stood there.
Dumbfounded.
Finally, I mumbled, "That's your dad?"
Gage Lawson.
Of course.
This really was some cruel, sick joke, and I was the very brunt of it.
"Yep! That's him." Gage was jumping and pointing. "Tell him I got an A, Miss Murphy! He's gonna be so proud!"
Trent Lawson strode toward the gate with the clear intention of barging in.
Finally, I found my voice, calling out before he made it through the barrier. "Sir, you need to wait in your car. School isn't over for a couple minutes, and we will bring your child to you. Parents aren't allowed in this area without signing in at the office first."
With his hand on the gate latch, he paused, an arrogant smirk ticking up like a threat at the corner of that plush mouth. "That so?"
I lifted my chin, still clutching his son's hand. "Yes."
He eyed me as if I were the enemy. "So, let me get this straight. I pay an ungodly amount of money for my son to come here, and you get to tell me when I can and cannot pick him up?"
"You're paying for your child's education, Sir, not for me to order you around."
"Huh…would have been mistaken."
My chin lifted higher. "It seems you are very, very mistaken."
A war waged in the exchange. That same tension that had existed last night clear and present, his outright animosity unchanged. But there was something else lining it, too.
As if I'd gained some sort of power as we stared each other down.
"You've got to wait, Dad! I told you I got to get all the As, and you're gonna ruin it by not followin' the rules. Sheesh."
Tessa giggled beside me.
One second later, the bell rang. It jarred me out of the trance the man held me under, my entire being jolted with the sound, as if time had been set to pause and it'd begun to speed to catch back up.
Children screeched their excitement and ran to grab their bags that were lined up against the wall.
"Please remain in your car tomorrow," I called out, the words roughened shards as I reluctantly released Gage's hand.
"I'll see what I can do," he returned, just as smug and cocky and infuriating as he'd been last night.
Gage went running that way, that giant backpack bouncing all over. He glanced at me, running backward for two steps, nothing but grins and belief. "Don't worry, I'll be back to see you tomorrow, Miss Murphy!"
When the child made it to him, Trent stretched out a hand for Gage to take.
For a flash, his entire demeanor shifted when he looked down at the child and the child smiled up at him.
Soft. Kind. Protective.
I had to be seeing things.
Then he turned to leave on those ridiculous boots, but not before he tossed out from over his shoulder, "See ya soon, Kitten."
Anger rushed, my cheeks hot and my pulse wild and that irrational rage taking hold.
All mixed up with that feeling.
That impossibility.
They walked back to the Porsche, and I remained rooted to the spot as he helped Gage into the backseat and into a booster before he rounded the front of the car and slipped into the driver's seat.
The man glared at me before he tossed his car back into drive and pulled from the curb.
Fingernails curled into my upper arm. "Holy shit, Eden Jasmine Murphy," Tessa hissed. "What was that? And you better fess it up now, because I can already feel your denial coming on, and there is no denying whatever the heck that was."
She waved a turbulent hand through the air as if she could capture that feeling.
Something unattainable but real.
"That?" I let my eyes follow the car that whipped out of the drive far too fast. "That was my new boss."
GIVE ME A REASON SURPRISE RELEASE BOX – reserve yours or an individual signed paperback here: PRE-ORDER HERE
Can't wait for the release? Be sure to vote for GIVE ME A REASON as one of your most anticipated August reads on Goodreads!
"Pure, unadulterated fire. Trent and Eden have a connection that is so rough and beautiful you can feel it bleeding off the pages! You're not going to want to miss this one!"
— NYT Bestselling Author, Molly McAdams
---
Want a Signed Paperback or Give Me Release Box? PRE-ORDER HERE
---
GIVEAWAY
Signed Set of The Falling Stars Series Paperbacks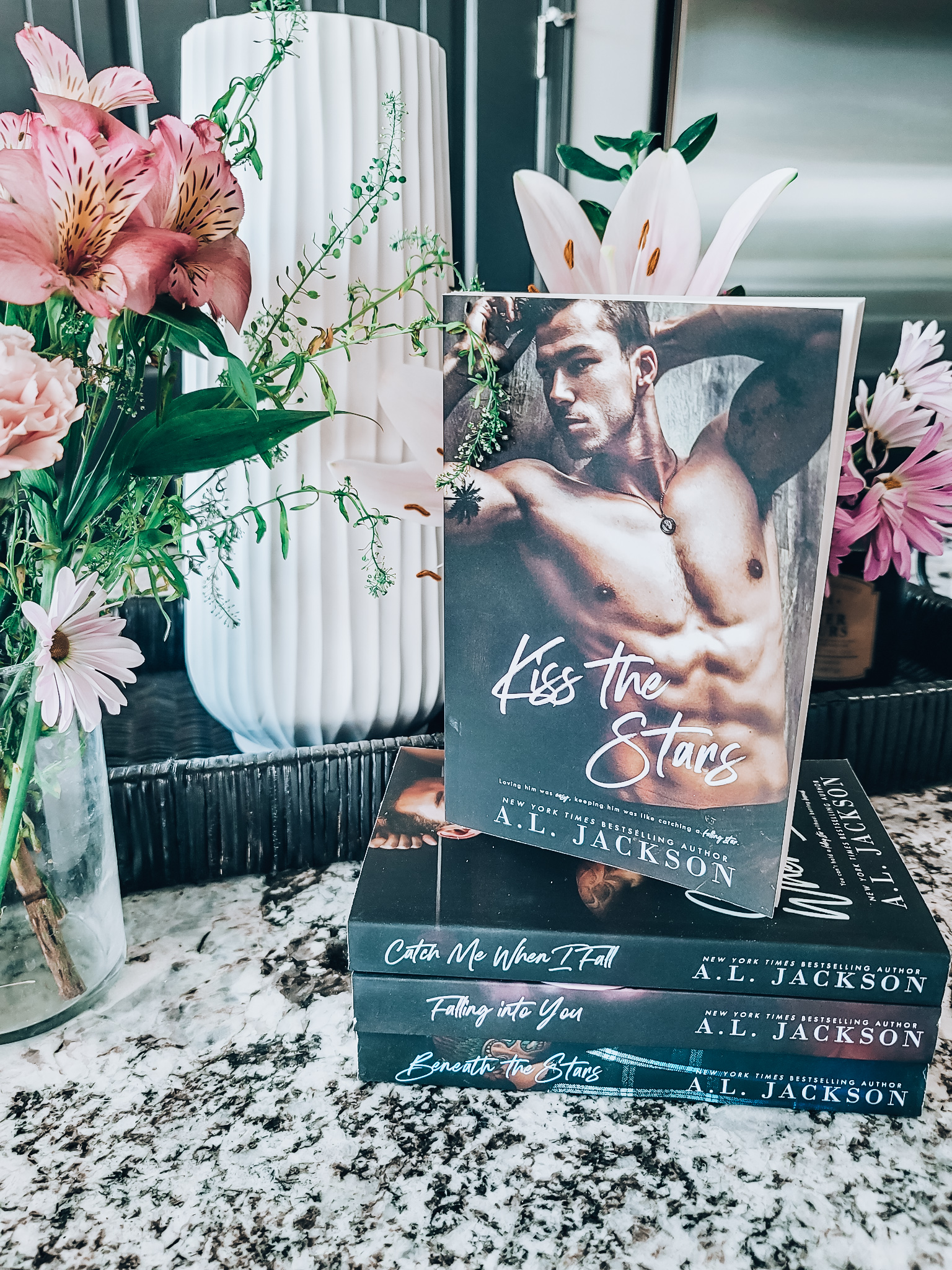 Want a Signed Paperback or Give Me Release Box? PRE-ORDER HERE
---
A.L. Jackson is the New York Times & USA Today Bestselling author of contemporary romance. She writes emotional, sexy, heart-filled stories about boys who usually like to be a little bit bad.
Her bestselling series include THE REGRET SERIES, CLOSER TO YOU, BLEEDING STARS, FIGHT FOR ME, CONFESSIONS OF THE HEART, and FALLING STARS novels. Watch out for her upcoming stand-alone, GIVE ME A REASON, releasing August 30th!
If she's not writing, you can find her hanging out by the pool with her family, sipping cocktails with her friends, or of course with her nose buried in a book.
Be sure not to miss new releases and sales from A.L. Jackson – Sign up to receive her newsletter http://smarturl.it/NewsFromALJackson or text "aljackson" to 33222 to receive short but sweet updates on all the important news.
Connect with A.L.
Newsletter: https://geni.us/ALJacksonBookClubB
Facebook: https://geni.us/ALJacksonFBB
Reader Group: https://geni.us/AmysAngelsB
Amazon: https://geni.us/ALJacksonAmznB
Bookbub: https://geni.us/ALJacksonBookBubB
Twitter: @aljacksonauthor
Instagram: @aljacksonauthor
TikTok: @aljacksonauthor
May 13, 2021 | Posted in Cover Reveal | By Two Book Pushers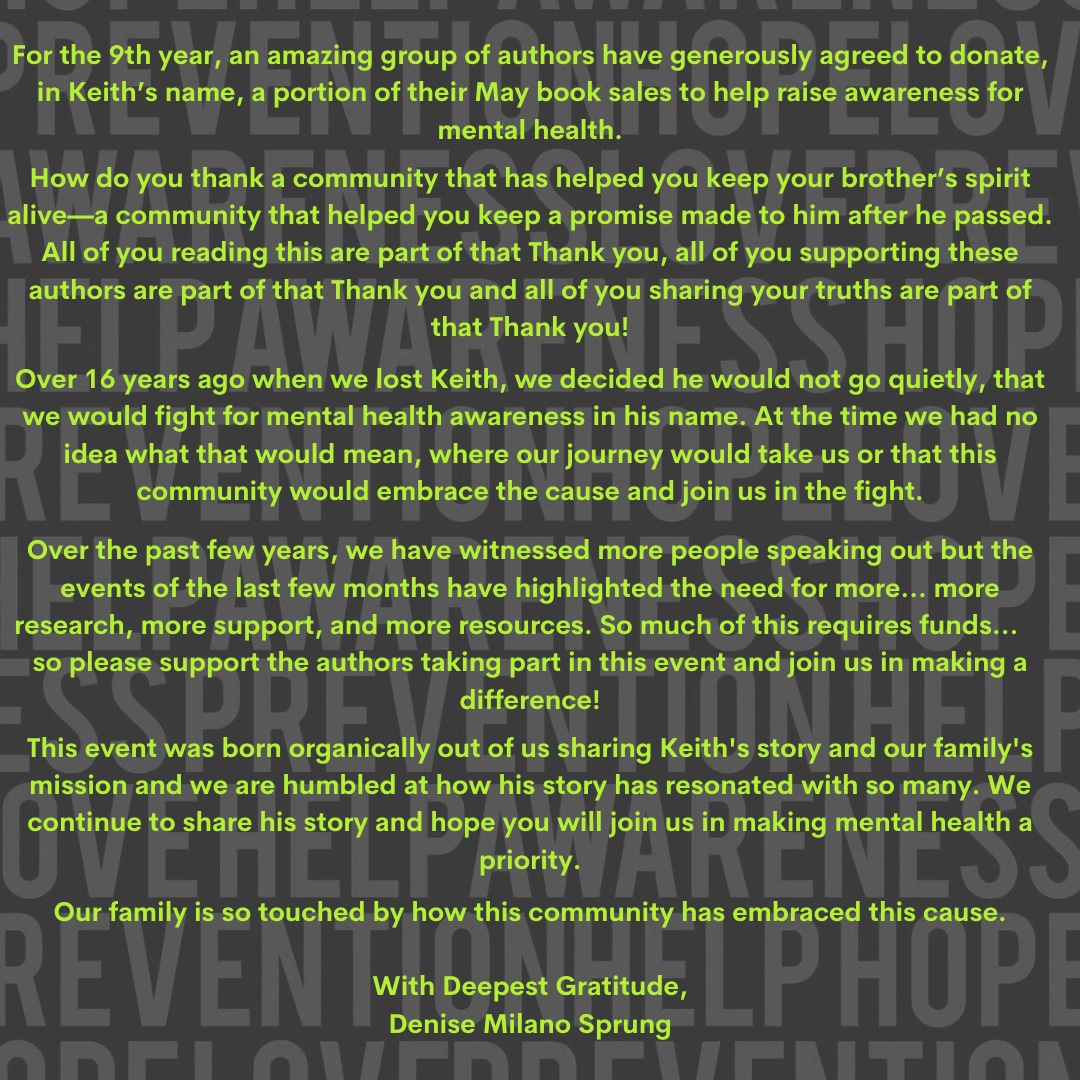 Welcome the 9th Annual Mental Health Awareness Month Book Fundraiser benefiting the Keith Milano Memorial Fund at the American Foundation for Suicide Prevention
Here is how you can help raise money and awareness for mental health
📘 Purchase a book from the amazing books listed below! We hope you will #1click4charity a number of these amazing books! The portion of sales is from ANY platform: digital, print, and audio.
📘 If you have read one of the wonderful stories included, gift a copy to a friend who might love it!
📘 Share the image below or any of the custom photos the participating authors share on social media to raise awareness and to show your support.
📘 In this digital age, COMMENTS are currency so as you see these images PLEASE Comment
📘 Make a tax-deductible donation directly to the Keith Milano Memorial Fund at AFSP.
Thank you in advance for your support as we work to bring mental illness out of the darkness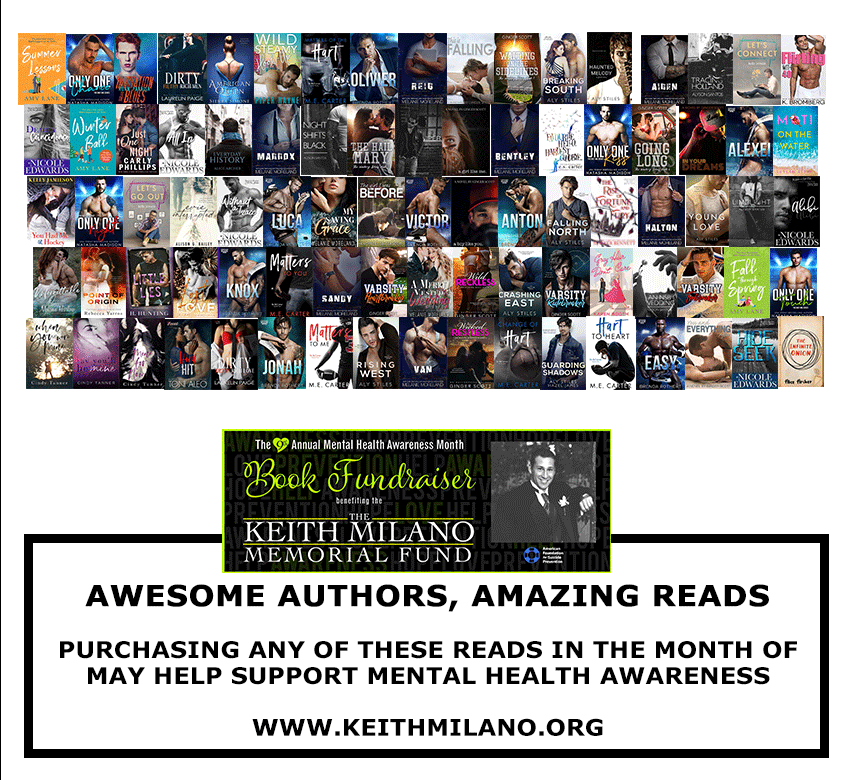 9th Annual Mental Health Awareness benefiting the Keith Milano Memorial Fund
| | | | | |
| --- | --- | --- | --- | --- |
| Author | Book | Kindle | iBooks | Audio |
| Alice Archer | Everyday History | | | |
| —- | The Infinite Onion | | | n/a |
| Alison G Bailey | Evie Interrupted | | KU – Amazon only | n/a |
| Aly Stiles | The Hold Me Series | | KU – Amazon only | |
| —- | Night Shifts Black (#1) | | KU – Amazon only | |
| —- | Tracing Holland (#2) | | KU – Amazon only | |
| —- | Viper (#3) | | KU – Amazon only | |
| —- | Limelight (#4) | | KU – Amazon only | |
| —- | An NSB Wedding (#5) | | KU – Amazon only | |
| —- | The Save Me Series | | KU – Amazon only | n/a |
| —- | Rising West (#1) | | KU – Amazon only | n/a |
| —- | Falling North (#2) | | KU – Amazon only | n/a |
| —- | Breaking South (#3) | | KU – Amazon only | n/a |
| —- | Crashing East (#4) | | KU – Amazon only | n/a |
| —- | Haunted Melody: A Ghost Story | | KU – Amazon only | n/a |
| —- | Young Love | | KU – Amazon only | n/a |
| Aly Stiles & Hazel James | Guarding Shadows (#5) | | KU – Amazon only | n/a |
| Amy Lane | Winter Ball Trilogy | | | |
| —- | Winter Ball | | | |
| —- | Summer Lessons | | | |
| — | Fall Through Spring | | | n/a |
| Brenda Rothert | Chicago Blaze series | | | |
| — | Anton | | | |
| — | Luca | | | |
| — | Victor | | | |
| — | Knox | | | n/a |
| — | Alexei | | | n/a |
| — | Easy | | | n/a |
| — | Jonah | | | n/a |
| — | Kit | | | n/a |
| — | Olivier | | | n/a |
| Carly Phillips | Just One Night | | | |
| Cindy Tanner | When you Were Mine | | KU – Amazon only | n/a |
| — | Mine for Now | | KU – Amazon only | n/a |
| —- | Say You'll Be Mine | | KU – Amazon only | n/a |
| ES Carter | Favourite Hello. Hardest Goodbye | | | n/a |
| Ginger Scott | The Waiting Series | | | |
| — | The Falling Series | | | |
| —- | The Varsity Series | | KU – Amazon only | n/a |
| — | The Harper Boys Duet | | | n/a |
| —- | The Like Us Duet | | | |
| Helena Hunting | Little Lies | | KU – Amazon only | |
| J.R. Gray | Lost Love | | KU – Amazon only | n/a |
| K Bromberg | Flirting with 40 | | | |
| Karen Booth | Grey Hair Don't Care | | | |
| Kelly Jamieson | You Had Me at Hockey | | | n/a |
| Kelly Jensen | Let's Connect | | KU – Amazon only | n/a |
| —- | Let's Go Out | | KU – Amazon only | n/a |
| Laurelin Paige | The Dirty Duet Bundle | | | |
| — | Dirty Filthy Rich Men | | | |
| —- | Dirty Filthy Rich Love | | | |
| Leylah Attar | Moti On the Water | | | |
| ME Carter | The Hart Series Box Set | | | |
| | Change of Hart | | | |
| | Hart to Heart | | | |
| | Matters of the Hart | | | |
| | Matters to Me | | | n/a |
| | Matters to You | | | n/a |
| Melanie Harlow | Unforgettable | | KU – Amazon only | |
| Melanie Moreland | Vested Interest Series | | KU – Amazon only | |
| — | Bentley | | KU – Amazon only | |
| —- | Aiden | | KU – Amazon only | |
| —— | Maddox | | KU – Amazon only | |
| —— | Reid | | KU – Amazon only | |
| —— | Van | | KU – Amazon only | |
| —- | Halton | | KU – Amazon only | |
| —- | Sandy | | KU – Amazon only | |
| —- | Vested Interest; ABC Corp | | KU – Amazon only | n/a |
| —- | Merry Vested Wedding | | KU – Amazon only | n/a |
| —- | My Saving Grace | | KU – Amazon only | n/a |
| Natasha Madison | The Only One Series | | | |
| —- | Only One Kiss | | | |
| — | Only One Chance | | | |
| —- | One One Night | | | |
| —- | Only One Touch | | | |
| Nicole Edwards | Brantley Walker: Off the Books Series | | | n/a |
| — | All In | | | n/a |
| — | Without a Trace | | | n/a |
| —- | Hide & Seek | | | n/a |
| — | Deadly Coincidence | | | |
| —- | Alibi | | | |
| Piper Rayne | Wild Steamy Hook-Up | | | |
| Rebecca Yarros | Point of Origin | | KU – Amazon only | n/a |
| Roan Parrish | Invitation to the Blues | | KU – Amazon only | |
| Sawyer Bennett | The Rise of Fortune and Fury | | | n/a |
| Sierra Simone | American Queen | | KU – Amazon only | |
| Toni Aleo | Hard Hit | | KU – Amazon only | n/a |
⭐ Keith Milano Memorial Fund ⭐
140 Adams Ave, Suite B-12
Hauppauge, NY 11788
Watch to learn more about the Milano Sprung Family's mission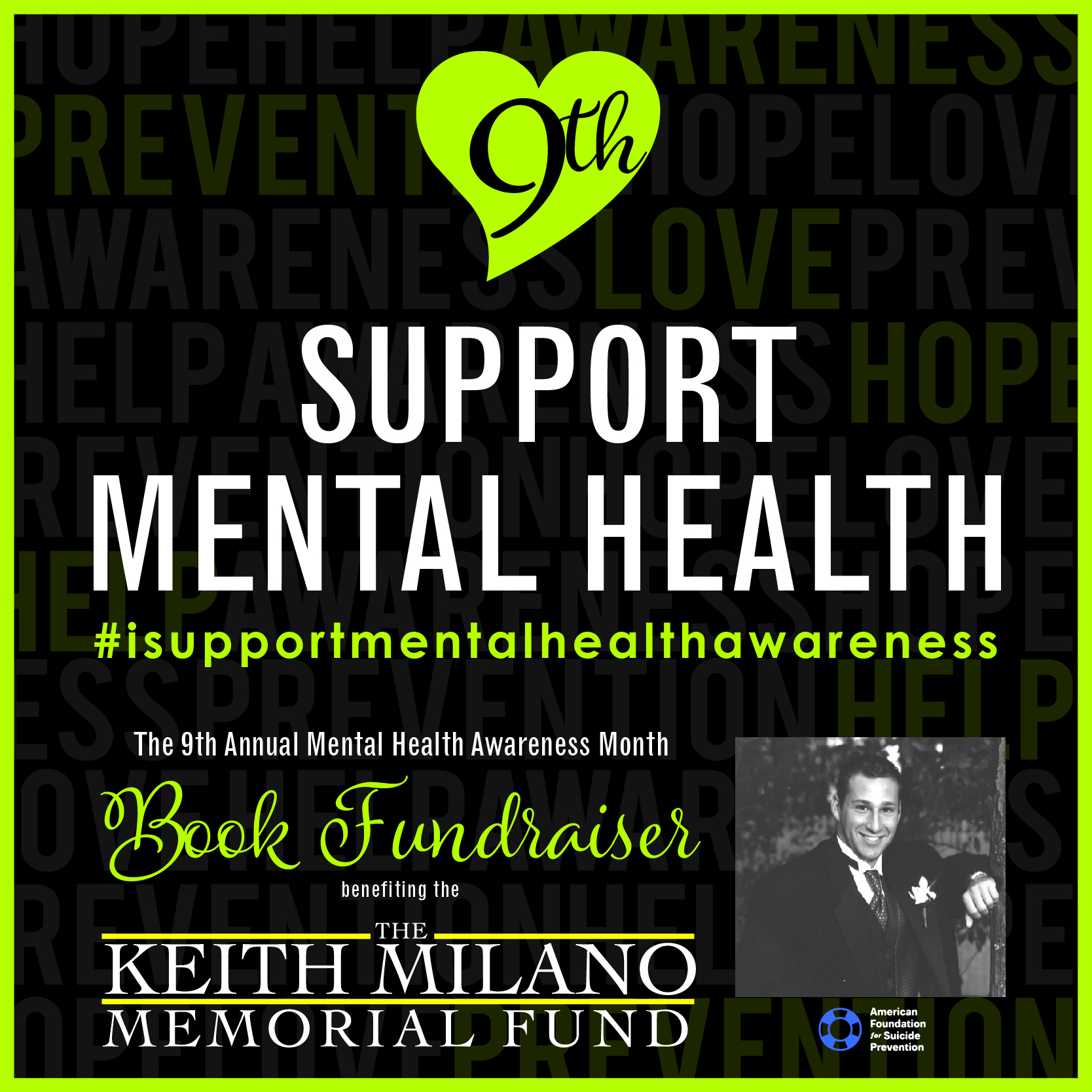 Fund Information:
The Keith Milano Memorial Fund was established to help raise awareness about the devastating and deadly disease that is mental illness. Keith's spirit and laughter are kept alive through our efforts to increase awareness about mental illness and to raise money for education and imperative research. Keith often struggled with society's perception of mental illness. Our hope is that by having the strength to say that Keith was "Bipolar" we can strip away the stigma and help others to be more open about their disease.
Watch to learn more about the Milano Sprung Family's mission
The Keith Milano Memorial Fund benefits the American Foundation for Suicide Prevention (AFSP). At the end of the event, participating authors pay AFSP directly.
AFSP is the only national not-for-profit organization exclusively dedicated to understanding and preventing suicide through research and education, and to reaching out to people with mood disorders and those affected by suicide. AFSP is a fully accredited 501(c)(3) tax-exempt organization incorporated in the state of Delaware with primary offices in New York City. Federal tax ID # is 13-3393329.