November 4, 2022 | Posted in New Release, Review | By Two Book Pushers
November 1, 2022 | Posted in New Release, Release Day Blitz, Review | By Two Book Pushers
CRYBABY (Revenge Is Sweet Series: Book One) by Monica James & Michelle Lancaster
Release date: November 1st
Genre: Dark Romance
CRYBABY, the first book in the Revenge Is Sweet series, by Monica James and Michelle Lancaster is NOW LIVE!
Grab this all-new sexy dark romance TODAY!!
NOW AVAILABLE!!!
Amazon: https://tinyurl.com/4cdkv4bz
Apple: https://tinyurl.com/3xhjmus9
Nook: https://tinyurl.com/5n787xss
Kobo: https://tinyurl.com/42x6atay
Add to Goodreads: https://tinyurl.com/ysvb2ynu
Crybaby Playlist: https://tinyurl.com/4rdkcdd6
Blurb:
My name is Rev.
I like long walks on the beach.
A neat scotch.
And I like stealing from rich losers who have no idea the town's Big Bad Wolf screwed their wives six ways to Sunday.
Such a scandal, indeed.
I have one end goal—to get out of this town.
I'm a loner. And that's by choice.
People aren't really my thing. That is…until I meet her. The little firecracker who sets more than my soul on fire.
No one has ever stuck around.
But Darcie is different. She seems to be as broken as me, and when our worlds collide, nothing but trouble looms.
Watch out, baby…down the rabbit hole we go.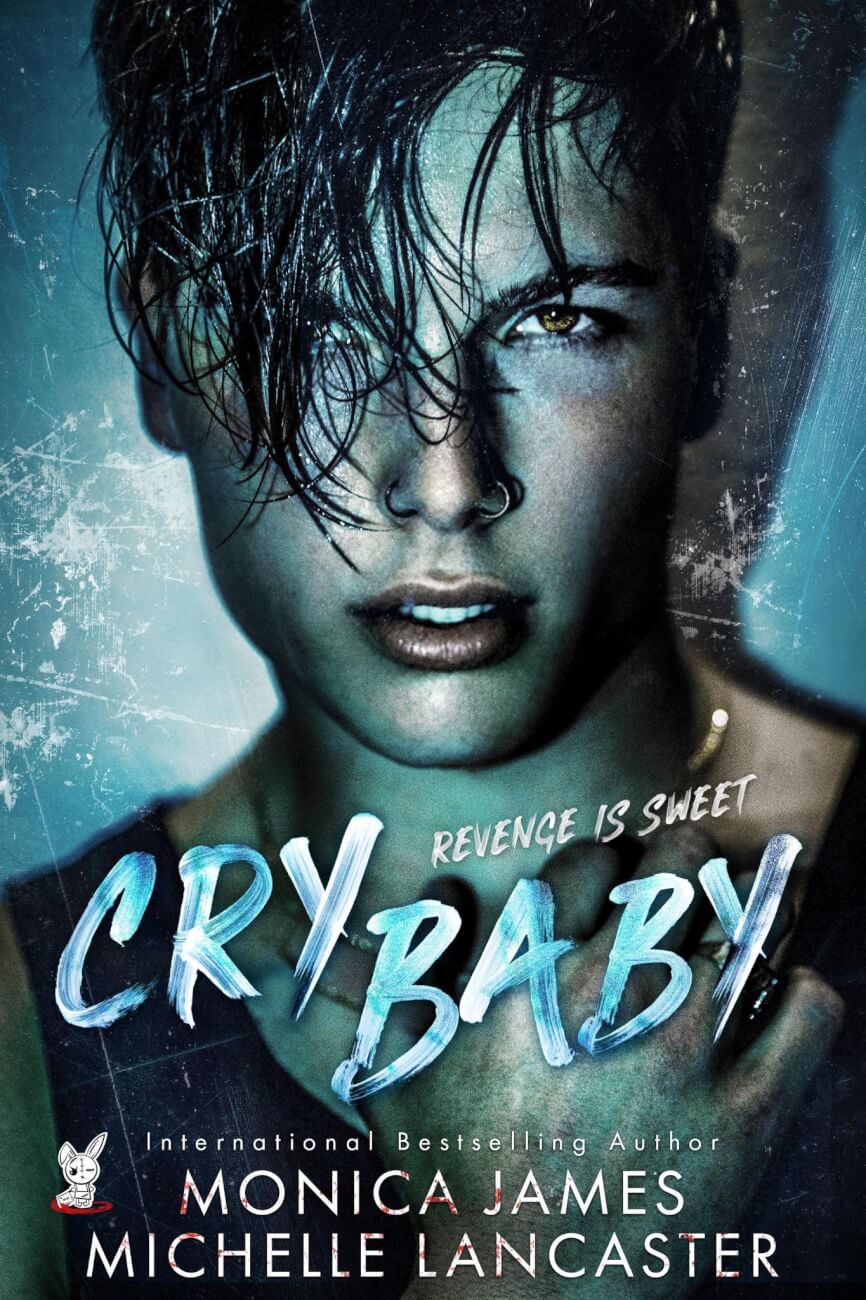 About the Authors:
Monica and Michelle are best friends who have combined their love for dark comedy, crime documentaries, and bad boys to write dark romance that will steal your heart and haunt your mind.
Follow the white rabbit…
Connect w/Monica:
Website: authormonicajames.com
Facebook: facebook.com/authormonicajames
Twitter: twitter.com/monicajames81
Goodreads: goodreads.com/MonicaJames
Instagram: @authormonicajames
TikTok: @authormonicajames
Tik Tok: @MichelleandMonicaBooks
BookBub: http://bit.ly/2E3eCIw
Amazon: https://amzn.to/2EWZSyS
Reader Group: http://bit.ly/2nUaRyi
Connect w/Michelle:
Instagram: @lanefotograf
Instagram: @lanefotograf_2
TikTok: @lanefotograf
Tik Tok: @MichelleandMonicaBooks
Website: www.michellelancaster.com
September 20, 2022 | Posted in New Release, Review | By Two Book Pushers
September 13, 2022 | Posted in New Release, Release Day Blitz, Review | By Two Book Pushers
Some men are just off-limits. Like, say, all the other football players in the league.
But I've been crushing hard on one quarterback in particular for the last year. When Jason invites me to his place the night before my first pro football game, I say yes so fast. Our white-hot time together answers a lot of questions I've had about myself.
Then life happens, and I don't show up for our second date. The worst part is that he'll never know how much it meant to me.
And when I'm traded to his cross-town rivals, I know that's not the time to serve up my secrets either. My team's PR department wants to double down on our rivalry.
And they're right. I need to focus on football, not on my interest in men. But the more time I spend doing media appearances and charity events with the generous, quick-witted, popular guy, the hungrier I am for him.
It's a bad idea to knock on his door late one night. I could lose everything. He's probably not even home.
But then the door swings open, and I have a choice to make.
Contents Include: Forbidden nights, first times, sexy athletes, nosy friends, a meddlesome cat, and two men who are arch rivals.
The Boyfriend Comeback is Lauren Blakely's new MM rivals-to-lovers, second chance football romance! I have been in love with Jason since we first met him in the Men of Summer Series (if you haven't read that, go and get it now!) Every once in a while a book will just get you in the feels! It comes into your life at the perfect time and you feel it in your heart, body and soul. Jason and Beck's romance is that book for me this year! There is just something about Jason's positive attitude, openness, loyalty and humor that draws you in. Beck's serious, but funny and his struggles made him more human! Together they complement each other perfectly. It's not easy being the starting quarterback, especially when your crush plays for the city's other team. It's also not easy being out and proud in the sports world, but Jason and Beck make it work. They have their ups and downs, but their desire to be together is bigger than all the obstacles. Lauren never ceases to amaze me with her talent for writing deep, fun, sexy characters and she's quickly become one of my favorite MM authors! Jason and Beck are two of my favorite characters of Lauren's and you know I don't say that lightly. There was just something special about these two. They are all heart and soul and their personal stories and their love story just got to me! I hope we see them again soon!
Audio: Teddy and JF were freaking amazing! I love this pairing more than I thought I would. They were the perfect Jason and Beck for me!
September 5, 2022 | Posted in New Release, Review | By Two Book Pushers
Never Look Back
An Enemies-to-Lovers, Close-Proximity, Second-Chance Romance from A.L. Jackson
Available Now on Amazon and Free with Kindle Unlimited
"The spice was on point and the romance was swoony. A total must read."
– The Boho Book Blogger
"This amazing story is dark and decadent, with the past never really being all it seems.
I loved his fierceness and his determination to make the past right again, with just enough Alpha attitude to give him a "lickable" edge."
-Mere, Sweet Reads & Treats
"Second chance romance is my absolute catnip and Never Look Back is a beautiful, angsty, and gritty addition to that trope."
– Nose Stuck in a Book Blog
Synopsis
From NYT and USA Today bestselling author A.L. Jackson comes an enemies-to-lovers, close-proximity, second-chance romance…
Logan Lawson won me in a bet.
The second I saw him sitting at the illegal card table, I knew I was in trouble.
Years ago, he sealed my fate and condemned me to a life I didn't want to lead.
Yet he's filled with untamed fury and thirsting for vengeance against the husband I hate.
Aster Costa is everything I never should have wanted.
The second she showed with her pompous, prick of a husband, I should have gotten up and walked.
But there's no looking away from the woman who wrecked me.
Worse, I can't stop myself from plotting to get her back.
I want nothing more than to be free of my husband.
I'm afraid Logan Lawson is the only one who can make that happen.
He might hate me for our past, but now it's me on my knees begging for help.
Finding each other in the middle of it wasn't supposed to be part of the bargain.
But once Logan touches me, I'm gone.
A torch is rekindled. A fire is lit.
Aster Costa has always been mine.
And this time, no matter the cost, I won't give her back…
Read Amazon or Free with Kindle Unlimited: https://geni.us/NLBAmznB
Listen to the Audio Narrated by Zachary Webber and Erin Mallon: https://geni.us/NLBAudioB
Order a Signed Paperback or Hardback: https://geni.us/ALJacksonShop
GIVEAWAY
The Ultimate Reader Pack
ENTER HERE: https://geni.us/NLBReleaseGiveaway
A.L. Jackson is the New York Times & USA Today Bestselling author of contemporary romance. She writes emotional, sexy, heart-filled stories about boys who usually like to be a little bit bad.
Her bestselling series include THE REGRET SERIES, CLOSER TO YOU, BLEEDING STARS, FIGHT FOR ME, CONFESSIONS OF THE HEART, FALLING STARS, and REDEMPTION HILLS novels. Get her latest enemies-to-lovers, second-chance romance, NEVER LOOK BACK, available now!
If she's not writing, you can find her hanging out by the pool with her family, sipping cocktails with her friends, or of course with her nose buried in a book.
Be sure not to miss new releases and sales from A.L. Jackson – Sign up to receive her newsletter https://geni.us/ALJacksonBookClubB  or text "aljackson" to 33222 to receive short but sweet updates on all the important news.
Connect with A.L.
Newsletter: https://geni.us/ALJacksonBookClubB
Facebook: https://geni.us/ALJacksonFBB 
Reader Group: https://geni.us/AmysAngelsB 
Amazon: https://geni.us/ALJacksonAmznB 
Bookbub: https://geni.us/ALJacksonBookBubB 
Twitter: @aljacksonauthor 
Instagram: @aljacksonauthor
TikTok: @aljacksonauthor
July 25, 2022 | Posted in New Release, Release Day Blitz, Review | By Two Book Pushers
Forbidden Mafia Prince is the first book in USA Today Bestselling Authors Brooke Blaine and Ella Frank's M/M mafia romance duet.
Forbidden Mafia Prince by Brooke Blaine & Ella Frank is now live!
"What are you going to do with me?" "Whatever the hell I want."
In Manhattan, tensions are rising. In a play for power, the Rossetti family has made a decisive blow, crippling their rivals—an act that has forced the Fiores to make a desperate move to maintain their supremacy. Many miles away, Luca Davis, a young medical student, has no idea his life is about to change. No idea that everything he's been told about his life has been a lie. Enter Domenico Rossetti, the ruthless Mafia prince. Powerful and unforgiving, he's a savage in a suit—and the one who holds the cards when it comes to his new captive. But when the war escalates and both are forced into seclusion, the two men are faced with a new threat: the rising sexual tension between them. You don't fall for the one person you're supposed to hate, but it's a temptation neither can resist. Because falling in love with the enemy isn't only wrong—it's forbidden. And the cost for defying everyone will be their lives.
Download today or read for FREE with Kindle Unlimited
Amazon: https://amzn.to/3mJCwA5
Amazon Worldwide: mybook.to/ForbiddenMafiaPrince
Add to Goodreads: https://bit.ly/3xFVYUC
Meet Brooke
Brooke Blaine is a USA Today Bestselling Author best known for writing romantic comedy and M/M romance. Her novels lead with humor and heart, but Brooke never shies away from throwing in something extra naughty that will scandalize her conservative Southern family for life (bless their hearts).
She's a choc-o-holic, lives for eighties bands (which means she thinks guyliner is totally underrated), believes it's always wine o'clock, and lives with the coolest cat on the planet—her Ragdoll/Maine Coon mix, Jackson Agador Spartacus.
Connect with Brooke
Website: http://www.brookeblaine.com/
Amazon: http://amzn.to/1i2g15S
Facebook: www.facebook.com/BrookeBlaine.Writer
Facebook Group: https://www.facebook.com/groups/TheBrellas
Instagram: www.instagram.com/brookeblaine1
TikTok: https://www.tiktok.com/@brookeblaine
Bookbub: https://www.bookbub.com/authors/brooke-blaine
Pinterest: https://www.pinterest.com/brookeblaine11
Verve: https://ververomance.com/app/brookeblaine
Meet Ella
Ella Frank is the USA Today Bestselling Author of the Temptation series, including Try, Take, and Trust and is the co-author of the fan-favorite Preslocke series. Her Prime Time series has been praised as "highly entertaining!" and "sexy as hell!"
A life-long fan of the romance genre, Ella writes contemporary and erotic fiction.
Some of her favorite authors include Tiffany Reisz, Kresley Cole, Riley Hart, J.R. Ward, Erika Wilde, Gena Showalter, and Carly Philips.
Connect with Ella
Website: www.ellafrank.com
Amazon: https://amzn.to/3GXTNig
Facebook: https://www.facebook.com/ella.frank.31/
Facebook Group: https://www.facebook.com/groups/TheBrellas
Instagram: https://www.instagram.com/ellafrank1/
Bookbub: https://www.bookbub.com/authors/ella-frank
Pinterest: https://www.pinterest.com/ellafrank
Newsletter signup: https://ellafrank.com/newsletter/
July 14, 2022 | Posted in New Release, Review | By Two Book Pushers
Get Tragic
Battle Crows MC, Book 5
Lani Lynn Vale
Release Date: July 12, 2022
About the Book
Usually when you find out you have a stalker, you don't fall in love with him.
But Banger Olivia Crest isn't your normal, run of the mill, everyday girl. Banger is a truck driver who just so happens to know how to sling drinks in her spare time.
She's had a bad hand dealt to her time after time, and the last thing that she wants is to go all in. At least, that's until she meets the geeky biker with his shy looks, and his surprisingly awesome fighting skills.
Easton McKennick, ex-FBI agent and newest member of the Battle Crows MC, never really intended to actually reveal that he'd been stalking Banger since his early days in the FBI. In fact, he never intended to do anything at all when it came to the woman that held his heart.
That was, until she offered to be his fake date to a police ball that just so happened to be where his own stalker would be. To sell it that he was happy and he'd moved on from his previous relationship, Banger and Easton pretend they're a couple.
All it takes is two hours for them both to realize that there's not very much pretending going on.
The only problem is, Easton's stalker put a bull's-eye on their backs, and they don't know how to fix it.
Purchase Links
✦ Amazon: https://amzn.to/2YODBOp 
✦ Apple: https://apple.co/3BI7Uoe 
✦ Nook: https://bit.ly/3MZRqgT 
✦ Kobo:  https://bit.ly/3lSocop 
✦ Audio: COMING SOON
Add to your TBR: https://bit.ly/3mVv44z 
Get Tragic is the fifth book in the Battle Crow MCs series by Lani Lynn Vale. This is Easton and Banger's story! I'm really enjoying this series and I had already fallen for Easton. We've been learning stuff about him over the last few books and I was so excited to learn more about the sexy, shy man. He's been pretty much stalking Banger for years. He's been chatting with her at the bar where she works, but never got up the courage to ask her out. Banger always thought Easton was intriguing and sexy, but when she quits and needs a place to live, she finds herself living with Easton. Now that they are spending more time together, the attraction is crazy hot. He finally admits to her that he's been stalking her and she doesn't even care. It just means she doesn't need to explain all the horrible things that have happened to her in the past. Easton has always had a thing for her and now that she's in his house, it is on. He knows once he touches her, he's never giving her up. Easton also has a stalker and now that he and Banger have been seen together she keeps showing up. Trying to get Banger in trouble and then it gets worse. Now Easton and Banger have to worry about their lives. Good thing his brother, Trouper, and his MC brothers are there to help. Along with his team (who I love and hope we see more of). It's a fast paced, fun, sexy story with some suspense and lots of laughs. Looking forward to more from the series!
July 1, 2022 | Posted in New Release, Review | By Two Book Pushers

The Callahan Family Box Set by Carrie Aarons is live!
A family engulfed in scandal, one small town, and the baseball dynasty that ties them all together. Grab these five small town, sports romances and a brand new Opening Day extended epilogue in this box set from bestselling author Carrie Aarons.
The Callahan Family Box Set includes five standalones:
Warning Track
Stealing Home
Check Swing
Control Artist
Tagging Up
PLUS: A brand new, never-before-released Opening Day extended epilogue featuring a chapter from one half of each couple! 15k of new content from your favorite family dynasty!
More about the books inside:
WARNING TRACK
Colleen Callahan is exactly where she's always dreamt of being.
Hayes Swindell would prefer hell over the place he ended up.
Fate has other plans, though. If their forbidden chemistry is found out, it could mean the end of both of their careers. Except hurtling so close to the danger zone has never felt more right.
Should they head for disaster together, risking it all, or course-correct and save themselves the ultimate price of heartbreak and scandal?
STEALING HOME
Walker Callahan has loved from afar for as long as he can remember.
Hannah Giraldi never wants to fall in love again.
Can Walker risk his own future and show her how to trust again? Or will the feelings he's kept hidden for years throw him out of the game before he can even attempt to play?
Is there a way to heal all of the broken parts, or will Hannah go down swinging while attempting one more shot at a happily ever after?
CHECK SWING
Sinclair Callahan is a trust fund baby.
Francesca Kade is an independent goal-getter.
Can he shoulder the responsibility he's always shrugged off? Or will he balk at the real-life complications and strike out completely?
Will she ever be able to trust that he'll put both her and his responsibilities before his vices? Or will their differences cost them the game?
CONTROL ARTIST
Dahlia Akana has no idea where she's going in life.
Garrett Chester has always known exactly what he wants.
When secrets, lies, and a humiliating public scandal rock their world, will she be able to stay with him? Fight for him? Or will her age-old tactic of fleeing erase any shot at a happily ever after?
Can he put the rumors to rest, piece together a career in shambles, and be the hero she needs?
TAGGING UP
All Anna Callahan wants is her independence.
Clark Nyle swore a long time ago he'd never be committed to anyone.
But, when their secret is finally discovered, it sends the already skittish bad boy running for the hills. And although she claimed to want freedom with no strings, Anna can't help but feel the sharp pull to be with him forever.
When they're found out, he's forced to choose between his demons and the disapproval of his closest friends … or her.
Download today or read for FREE with Kindle Unlimited!
http://mybook.to/Callahan_family
Goodreads: https://bit.ly/3wnYfBT
Meet Carrie Aarons
Author of romance novels such as Fool Me Twice and Love at First Fight, Carrie Aarons writes books that are just as swoon-worthy as they are sarcastic. A former journalist, she prefers the love stories of her imagination, and the athleisure dress code, much better.
When she isn't writing, Carrie is busy binging reality TV, having a love/hate relationship with cardio, and trying not to burn dinner. She lives in the suburbs of New Jersey with her husband, two children and ninety-pound rescue pup.
 
Connect with Carrie
Website | www.authorcarrieaarons.com
Goodreads | https://goodreads.com/carrieaarons
Amazon | https://amzn.to/3do0EDf
Facebook | https://facebook.com/carrieaarons
Facebook Group | https://bit.ly/2DDt1xX
Instagram | https://instagram.com/authorcarriea
Twitter | https://twitter.com/authorcarriea
Bookbub | https://bookbub.com/profile/carrie-aarons
TikTok | https://bit.ly/3fzcrkI
Newsletter | https://bit.ly/authorCAnewsletter
June 28, 2022 | Posted in New Release, Review | By Two Book Pushers
Last night I made out with a gorgeous, funny, quirky older woman. Today I learned she's the new executive chef at my restaurant. AKA my new boss.
Yep, that's the hot mess I'm in at the moment.
But the chemistry between Natalie and me is even hotter.
The problem? She's a single mom focused on helping her little girl adjust to life in the big city. Dating right now—especially a co-worker—is asking for trouble.
So, what's my next move? Seduce the hell out of the woman, of course.
I may still technically be hanging onto my V Card, but I know how to drive a woman wild in bed.
Even more importantly, I know I'm the kind of man Nat's looking for. I love hard, keep my promises, and I'll put her and her daughter first.
And then I learn the real reason she's been holding me at a distance…
Most men would be scared away. Me?
I'm even more determined to prove I can make this wounded woman's dreams come true.
AUTHOR BIO
Author of over forty novels, USA Today Bestseller Lili Valente writes everything from steamy suspense to laugh-out-loud romantic comedies. A die-hard romantic, she can't resist a story where love wins big. Because love should always win. She lives in the Northeast with her two big-hearted boy children and a dog named Pippa Jane.
Lili also writes naughty serials as Everly Stone. Learn more at www.lilivalente.com.
AUTHOR LINKS
June 23, 2022 | Posted in New Release, Review | By Two Book Pushers
HOOPS Shorts, a collection of novellas featuring two passionate and heartfelt sports romances in the award-winning HOOPS series from Wall Street Journal bestselling author Kennedy Ryan are now available exclusively on Amazon and #FREE in Kindle Unlimited!
Grab your copy today, exclusively on Amazon!
Amazon: https://amzn.to/3PYUk7E
Amazon Worldwide: https://mybook.to/hoopsshorts
Audiobook (Narrated by Mari, Jacob Morgan, Andi Arndt, Connor Crais): https://adbl.co/3Qbx7PH
Listen to an audio sample here:  https://youtu.be/18OQMMwLBDY
Paperback: https://geni.us/HOOPSShortsPB
Full-Court Press (formerly appeared in HOOPS Holiday)
Avery + Deck's Story
Single dad MacKenzie Decker was a question Avery never got to ask, much less answer.
They met when she was a young reporter fueled by ambition, and the ink on Deck's first NBA contract was barely dry. Years later, they've climbed so high and lost so much, but one thing hasn't changed. The attraction that simmered between them in a locker room before is still there. With success like theirs, everything has been possible . . . except them.
But that was then.
The only question is…what about now?
Fast Break  (formerly appeared in Team Player Anthology 2)
Quinn + Ean's Story
Quinn
I was a world-class runner once.
My dreams had wings spun from wind and speed.
Every time out of the blocks was a glorious flight.
But then I crashed and burned.
When I lost my leg, I thought it was the finish line
Little did I know, life was just beginning
Now they call me "America's Titanium Sweetheart."
(What can I say? It tested well. LOL)
The life I thought was over is moving so fast.
I have my own gym, a fitness app, a clothing line, and an endless trail of endorsements.
One thing there's never time for? Love.
One thing I don't have time for? Games.
Come real, or don't come at all. In a field full of players, I'm looking for a real one.
Otherwise, I won't stop.
Ean
I had hoops dreams. I wanted to be like Mike, jump like Magic and soar like Dr. J.
But a college injury grounded me. What I thought was game over, actually opened up a whole new world.
Fast forward to now. I'm coaching some of the NBA's best.
They call me The Machine because I'm obsessed with stats and data, and my near-photographic memory means I remember every play.
I see the court clearly. But I never saw her coming. Quinn Barrow stops me in my tracks.
Pursuing my first championship, there's been no time for love.
I'm more than willing to chase her, but will she slow down long enough to be caught?
Full-Court Press is a sports novella by Kennedy Ryan. Kennedy is one of my favorite authors! She's extremely talented and everything she writes sings to my soul. This is a novella, but it feels like a full length novel. It's full of heart, lust, angst, humor and love. Decker is a professional basketball player and Avery is a sports reporter. Decker wants her the first time he meets her, but she needed to protect her career first. When they see each other years later Decker isn't going to take no for an answer. Avery can run but she can't hide! Avery and Decker story is sexy, fun and I loved it! Decker is one of my favorite heroes of Kennedy's! AND…we get extras from Long Shot and Block Shot!
Fast Break is a sexy, fun novella in the Hoops world by the fabulous Kennedy Ryan. Fast Break is Quinn and Ean's story. Quinn is Banner's best friend and Ean is the coach of The Waves. Ean is a smart, dedicated coach. He loves his job, numbers and statistics. He's looking for someone to share his life with and he can't stop thinking about Quinn, a woman who's an inspiration to all women, people and athletes. When he gets a chance to actually meet her, he can't stop himself. He's nervous and awkward, but he's not giving up until she says yes. He wants more than one night with her. He wants it all. Quinn has been though so much in her life. Losing her leg, overcoming depression, learning to walk and live again. She can't trust men. She never knows what they want from her. When Ean keeps showing up and putting himself out there, she can't help but want more. She's afraid, but she's strong. She's a fighter. And Ean is so sexy! He's tall, broad, strong and those glasses. Yes, please! This story is fantastic. Yes, it's a sexy romance, but it's so much more. Quinn's story is emotional and inspiring. I really want to get her app! Ean pursues her, but it's not pushy. He just knows he has to have her. Their story might be short, but it packs the punch of a full length sexy romance novel. And we get to see my man, DECKER, so that was a major bonus!