May 19, 2023 | Posted in New Release, Review | By Two Book Pushers
Barrett McGuire is the grumpiest, growliest, most frustrating man on the planet.
He's also my boss, my first crush, and—three months ago—my one and only one-night-stand.
I'm pretty sure I'm already addicted to his body, but that doesn't matter. After an empowering solo trip to the other side of the world—during which Barrett made no attempt to contact me or discuss said one night stand—I've realized I have to let go of this crush and move on. I've wasted enough time pining for a man who doesn't feel the way I do.
Now that I'm home, I'm determined to keep the walls around my heart high and impenetrable.
Then Barrett adopts the world's ugliest dog because he knows how much I love animals. He also texts to say how much he missed me, then shows up at my house simply to devour my lady parts (while saying naughty things that give me a new appreciation for his bossy side).
He tells me he wants to change, to be what I need, then proves it with the most romantic "just one bed" weekend ever.
But can Barrett and I make it work in the real world?
Or will the scars on his heart ruin our second chance the way it did our first?
Welcome to Bad Dog where the men are incredible, the animals are ridiculous, and the happy ever afters are super emotional and steamy. Not Today Bossman is a Standalone Romance with Spice!
April 14, 2023 | Posted in New Release, Review | By Two Book Pushers
The Voices Are Back
Gator Bait Series 5
Lani Lynn Vale 
RELEASE: April 11, 2023
Amazon: https://amzn.to/3PTAydh
Apple: https://apple.co/3besmW9 
Nook: http://bit.ly/3U472Vi 
Kobo: https://bit.ly/3zL9M0W 
Add to your TBR: https://bit.ly/3vp7CSj 
About the Book
Her: Just a word, yet one person came to mind.
Morrigan St. Pete.
The woman that'd been hounding my every step since the day she was born. From the moment we first comforted each other in the hospital, to the day that I left her to follow her dreams, I knew that she was my one.
Through marriage, divorce, and a prison sentence, I had low expectations when it came to her ever coming around to my way of life. What kind of woman wanted a man that'd been to prison, had a child that disliked him and everything he stood for, and had zero prospects in life?
But then she popped into my life again, and that feeling of suffocation slacked off for the first time since I let her go.
***
The first time I tried to come back to Aodhan, I found him married with a kid on the way.
The second time I tried, he was heading to jail.
As one would say, the third time is the charm, right? Wrong.
The third time, he was divorced, fresh from prison, had a kid, and was again with his ex-wife.
That was the final nail in my coffin. I decided to give up.
I would do anything and everything I could to avoid him. Hiding wasn't beneath me.
I only wish he'd stuck with my plan, because the moment he sees me again, it's like he's seen the light. Avoiding him is impossible when he goes out of his way to insinuate himself into every aspect of my life.
If only life was as perfect as my dreams.
The Voices Are Back is the fifth book in the Gator Bait MC series by Lani Lynn Vale. I've been wondering about Aodhon's story since we met him. It was an interesting second chance story that had me scratching my head a few times. I enjoyed a lot about it and found it entertaining, but it wasn't my favorite of the series. I did like Aodhon and Morrigan both and felt for them that they missed out on a lot of years together. Most of which were out of their control. Once they figured it all out they could truly be happy. Then they had to deal with a few obstacles and people in their way. Loved, loved, loved the Epilogue! Looking forward to the next in the series!
February 28, 2023 | Posted in New Release | By Two Book Pushers
I'm head over heels in love with my best friend.
All of Me: The Complete Series, an angst-filled and heart-wrenching new-adult romance collection featuring Say I'm the One, Let Me Love You & Hold Me Close from USA Today & Wall Street Journal bestselling author Siobhan Davis is available now!
I'm head over heels in love with my best friend. Although, I can't pinpoint exactly when Reeve Lancaster became my entire world.
Was it when we were little kids, practically brought up together, after Reeve's mom died during childbirth and his dad subsequently fell apart? Or when I doodled his name in my school journal at age ten? Maybe it was when we became boyfriend and girlfriend at fourteen or when we shed our virginity at sixteen, pledging our forever?
I was there as his star ascended—like I'd always known it would—and there wasn't a prouder person on the planet. As the only child of Hollywood's golden couple, I've lived my life in the spotlight enough to know it wasn't what I wanted for my future. But I sacrificed my own desires, because Reeve's happiness meant everything to me.
Until he crushed my heart into itty-bitty pieces, forcing me to fly halfway around the world just to escape the gut-wrenching pain.
The opportunity to study at Trinity College Dublin came at the perfect moment, and I jumped at the chance without hesitation. If I'd known fate was meddling in my life, perhaps I would have chosen differently, but my future was cemented the instant I laid eyes on him.
Dillon O'Donoghue was Reeve's polar opposite in every way, and perhaps, that's why I felt drawn to him. He was the dark to my light. The thorn in my side, irritating me with his cold disdain, wild recklessness, and a burning rage hidden deep inside him that spoke to a silent part within me. Yet Dillon showed me what it was like to truly live, opening my eyes to endless possibilities.
What happened next was inevitable, and I only have myself to blame. He warned me, and I knew my reprieve was temporary, because there is only so far I can run.
Especially when fate hasn't finished messing with me yet.
Start reading today!
Amazon: https://amzn.to/3IkIPpt
Amazon Worldwide: https://mybook.to/AllofMeSDEbook
Learn more about Siobhan Davis and her releases by visiting her website:
February 15, 2023 | Posted in New Release, Review | By Two Book Pushers
November 4, 2022 | Posted in New Release, Review | By Two Book Pushers
November 1, 2022 | Posted in New Release, Release Day Blitz, Review | By Two Book Pushers
CRYBABY (Revenge Is Sweet Series: Book One) by Monica James & Michelle Lancaster
Release date: November 1st
Genre: Dark Romance
CRYBABY, the first book in the Revenge Is Sweet series, by Monica James and Michelle Lancaster is NOW LIVE!
Grab this all-new sexy dark romance TODAY!!
NOW AVAILABLE!!!
Amazon: https://tinyurl.com/4cdkv4bz
Apple: https://tinyurl.com/3xhjmus9
Nook: https://tinyurl.com/5n787xss
Kobo: https://tinyurl.com/42x6atay
Add to Goodreads: https://tinyurl.com/ysvb2ynu
Crybaby Playlist: https://tinyurl.com/4rdkcdd6
Blurb:
My name is Rev.
I like long walks on the beach.
A neat scotch.
And I like stealing from rich losers who have no idea the town's Big Bad Wolf screwed their wives six ways to Sunday.
Such a scandal, indeed.
I have one end goal—to get out of this town.
I'm a loner. And that's by choice.
People aren't really my thing. That is…until I meet her. The little firecracker who sets more than my soul on fire.
No one has ever stuck around.
But Darcie is different. She seems to be as broken as me, and when our worlds collide, nothing but trouble looms.
Watch out, baby…down the rabbit hole we go.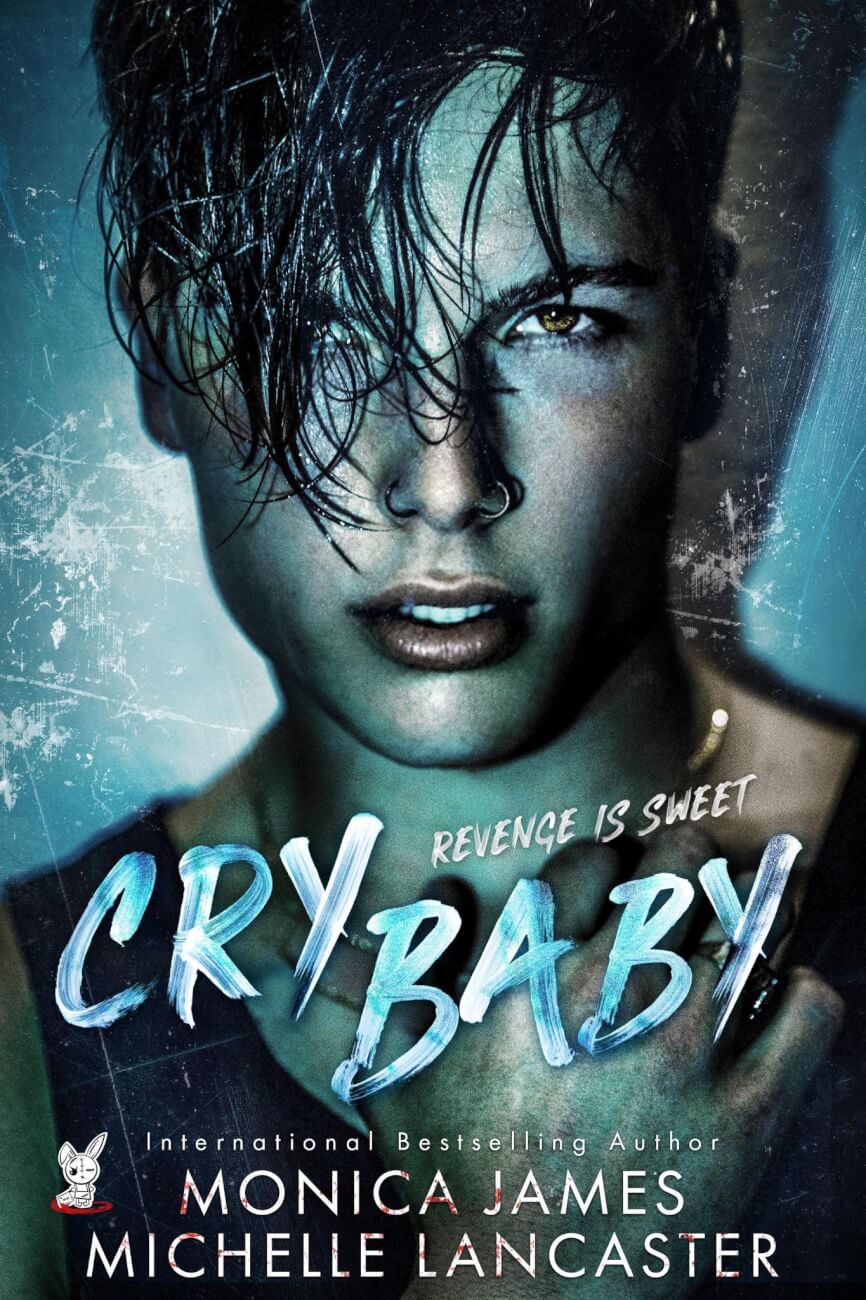 About the Authors:
Monica and Michelle are best friends who have combined their love for dark comedy, crime documentaries, and bad boys to write dark romance that will steal your heart and haunt your mind.
Follow the white rabbit…
Connect w/Monica:
Website: authormonicajames.com
Facebook: facebook.com/authormonicajames
Twitter: twitter.com/monicajames81
Goodreads: goodreads.com/MonicaJames
Instagram: @authormonicajames
TikTok: @authormonicajames
Tik Tok: @MichelleandMonicaBooks
BookBub: http://bit.ly/2E3eCIw
Amazon: https://amzn.to/2EWZSyS
Reader Group: http://bit.ly/2nUaRyi
Connect w/Michelle:
Instagram: @lanefotograf
Instagram: @lanefotograf_2
TikTok: @lanefotograf
Tik Tok: @MichelleandMonicaBooks
Website: www.michellelancaster.com
September 20, 2022 | Posted in New Release, Review | By Two Book Pushers
September 13, 2022 | Posted in New Release, Release Day Blitz, Review | By Two Book Pushers
Some men are just off-limits. Like, say, all the other football players in the league.
But I've been crushing hard on one quarterback in particular for the last year. When Jason invites me to his place the night before my first pro football game, I say yes so fast. Our white-hot time together answers a lot of questions I've had about myself.
Then life happens, and I don't show up for our second date. The worst part is that he'll never know how much it meant to me.
And when I'm traded to his cross-town rivals, I know that's not the time to serve up my secrets either. My team's PR department wants to double down on our rivalry.
And they're right. I need to focus on football, not on my interest in men. But the more time I spend doing media appearances and charity events with the generous, quick-witted, popular guy, the hungrier I am for him.
It's a bad idea to knock on his door late one night. I could lose everything. He's probably not even home.
But then the door swings open, and I have a choice to make.
Contents Include: Forbidden nights, first times, sexy athletes, nosy friends, a meddlesome cat, and two men who are arch rivals.
The Boyfriend Comeback is Lauren Blakely's new MM rivals-to-lovers, second chance football romance! I have been in love with Jason since we first met him in the Men of Summer Series (if you haven't read that, go and get it now!) Every once in a while a book will just get you in the feels! It comes into your life at the perfect time and you feel it in your heart, body and soul. Jason and Beck's romance is that book for me this year! There is just something about Jason's positive attitude, openness, loyalty and humor that draws you in. Beck's serious, but funny and his struggles made him more human! Together they complement each other perfectly. It's not easy being the starting quarterback, especially when your crush plays for the city's other team. It's also not easy being out and proud in the sports world, but Jason and Beck make it work. They have their ups and downs, but their desire to be together is bigger than all the obstacles. Lauren never ceases to amaze me with her talent for writing deep, fun, sexy characters and she's quickly become one of my favorite MM authors! Jason and Beck are two of my favorite characters of Lauren's and you know I don't say that lightly. There was just something special about these two. They are all heart and soul and their personal stories and their love story just got to me! I hope we see them again soon!
Audio: Teddy and JF were freaking amazing! I love this pairing more than I thought I would. They were the perfect Jason and Beck for me!
September 5, 2022 | Posted in New Release, Review | By Two Book Pushers
Never Look Back
An Enemies-to-Lovers, Close-Proximity, Second-Chance Romance from A.L. Jackson
Available Now on Amazon and Free with Kindle Unlimited
"The spice was on point and the romance was swoony. A total must read."
– The Boho Book Blogger
"This amazing story is dark and decadent, with the past never really being all it seems.
I loved his fierceness and his determination to make the past right again, with just enough Alpha attitude to give him a "lickable" edge."
-Mere, Sweet Reads & Treats
"Second chance romance is my absolute catnip and Never Look Back is a beautiful, angsty, and gritty addition to that trope."
– Nose Stuck in a Book Blog
Synopsis
From NYT and USA Today bestselling author A.L. Jackson comes an enemies-to-lovers, close-proximity, second-chance romance…
Logan Lawson won me in a bet.
The second I saw him sitting at the illegal card table, I knew I was in trouble.
Years ago, he sealed my fate and condemned me to a life I didn't want to lead.
Yet he's filled with untamed fury and thirsting for vengeance against the husband I hate.
Aster Costa is everything I never should have wanted.
The second she showed with her pompous, prick of a husband, I should have gotten up and walked.
But there's no looking away from the woman who wrecked me.
Worse, I can't stop myself from plotting to get her back.
I want nothing more than to be free of my husband.
I'm afraid Logan Lawson is the only one who can make that happen.
He might hate me for our past, but now it's me on my knees begging for help.
Finding each other in the middle of it wasn't supposed to be part of the bargain.
But once Logan touches me, I'm gone.
A torch is rekindled. A fire is lit.
Aster Costa has always been mine.
And this time, no matter the cost, I won't give her back…
Read Amazon or Free with Kindle Unlimited: https://geni.us/NLBAmznB
Listen to the Audio Narrated by Zachary Webber and Erin Mallon: https://geni.us/NLBAudioB
Order a Signed Paperback or Hardback: https://geni.us/ALJacksonShop
GIVEAWAY
The Ultimate Reader Pack
ENTER HERE: https://geni.us/NLBReleaseGiveaway
A.L. Jackson is the New York Times & USA Today Bestselling author of contemporary romance. She writes emotional, sexy, heart-filled stories about boys who usually like to be a little bit bad.
Her bestselling series include THE REGRET SERIES, CLOSER TO YOU, BLEEDING STARS, FIGHT FOR ME, CONFESSIONS OF THE HEART, FALLING STARS, and REDEMPTION HILLS novels. Get her latest enemies-to-lovers, second-chance romance, NEVER LOOK BACK, available now!
If she's not writing, you can find her hanging out by the pool with her family, sipping cocktails with her friends, or of course with her nose buried in a book.
Be sure not to miss new releases and sales from A.L. Jackson – Sign up to receive her newsletter https://geni.us/ALJacksonBookClubB  or text "aljackson" to 33222 to receive short but sweet updates on all the important news.
Connect with A.L.
Newsletter: https://geni.us/ALJacksonBookClubB
Facebook: https://geni.us/ALJacksonFBB 
Reader Group: https://geni.us/AmysAngelsB 
Amazon: https://geni.us/ALJacksonAmznB 
Bookbub: https://geni.us/ALJacksonBookBubB 
Twitter: @aljacksonauthor 
Instagram: @aljacksonauthor
TikTok: @aljacksonauthor
July 25, 2022 | Posted in New Release, Release Day Blitz, Review | By Two Book Pushers
Forbidden Mafia Prince is the first book in USA Today Bestselling Authors Brooke Blaine and Ella Frank's M/M mafia romance duet.
Forbidden Mafia Prince by Brooke Blaine & Ella Frank is now live!
"What are you going to do with me?" "Whatever the hell I want."
In Manhattan, tensions are rising. In a play for power, the Rossetti family has made a decisive blow, crippling their rivals—an act that has forced the Fiores to make a desperate move to maintain their supremacy. Many miles away, Luca Davis, a young medical student, has no idea his life is about to change. No idea that everything he's been told about his life has been a lie. Enter Domenico Rossetti, the ruthless Mafia prince. Powerful and unforgiving, he's a savage in a suit—and the one who holds the cards when it comes to his new captive. But when the war escalates and both are forced into seclusion, the two men are faced with a new threat: the rising sexual tension between them. You don't fall for the one person you're supposed to hate, but it's a temptation neither can resist. Because falling in love with the enemy isn't only wrong—it's forbidden. And the cost for defying everyone will be their lives.
Download today or read for FREE with Kindle Unlimited
Amazon: https://amzn.to/3mJCwA5
Amazon Worldwide: mybook.to/ForbiddenMafiaPrince
Add to Goodreads: https://bit.ly/3xFVYUC
Meet Brooke
Brooke Blaine is a USA Today Bestselling Author best known for writing romantic comedy and M/M romance. Her novels lead with humor and heart, but Brooke never shies away from throwing in something extra naughty that will scandalize her conservative Southern family for life (bless their hearts).
She's a choc-o-holic, lives for eighties bands (which means she thinks guyliner is totally underrated), believes it's always wine o'clock, and lives with the coolest cat on the planet—her Ragdoll/Maine Coon mix, Jackson Agador Spartacus.
Connect with Brooke
Website: http://www.brookeblaine.com/
Amazon: http://amzn.to/1i2g15S
Facebook: www.facebook.com/BrookeBlaine.Writer
Facebook Group: https://www.facebook.com/groups/TheBrellas
Instagram: www.instagram.com/brookeblaine1
TikTok: https://www.tiktok.com/@brookeblaine
Bookbub: https://www.bookbub.com/authors/brooke-blaine
Pinterest: https://www.pinterest.com/brookeblaine11
Verve: https://ververomance.com/app/brookeblaine
Meet Ella
Ella Frank is the USA Today Bestselling Author of the Temptation series, including Try, Take, and Trust and is the co-author of the fan-favorite Preslocke series. Her Prime Time series has been praised as "highly entertaining!" and "sexy as hell!"
A life-long fan of the romance genre, Ella writes contemporary and erotic fiction.
Some of her favorite authors include Tiffany Reisz, Kresley Cole, Riley Hart, J.R. Ward, Erika Wilde, Gena Showalter, and Carly Philips.
Connect with Ella
Website: www.ellafrank.com
Amazon: https://amzn.to/3GXTNig
Facebook: https://www.facebook.com/ella.frank.31/
Facebook Group: https://www.facebook.com/groups/TheBrellas
Instagram: https://www.instagram.com/ellafrank1/
Bookbub: https://www.bookbub.com/authors/ella-frank
Pinterest: https://www.pinterest.com/ellafrank
Newsletter signup: https://ellafrank.com/newsletter/