March 1, 2023 | Posted in Release Day Blitz, Review | By Two Book Pushers

MY SO-CALLED SEX LIFE by Lauren Blakely
Release Date: March 1st
Genre/Tropes: Enemies-to-Lovers/Forced Proximity/Broody Grump/Only One Bed
​​
MY SO-CALLED SEX LIFE by #1 NYT bestselling author Lauren Blakely is NOW LIVE!
Grab this all-new sexy, dirty-talking grump of a hero, enemies-to-lovers, rom-com standalone TODAY!!
NOW AVAILABLE! FREE IN KU!
✦ Amazon ➜http://blkly.pub/AmazonMySoCalled
✦ Audible ➜ http://blkly.pub/AudioSLife
(Narrated by Vanessa Edwin & Sebastian York)
"My So-Called Sex Life is the enemies to lovers, grumpy/sunshine story I didn't know I needed until I met Hazel and Axel…The humor, the banter, and the evolution of their enemies to friends to lovers is heartwarming and fun to experience." ~ FaveyList on Goodreads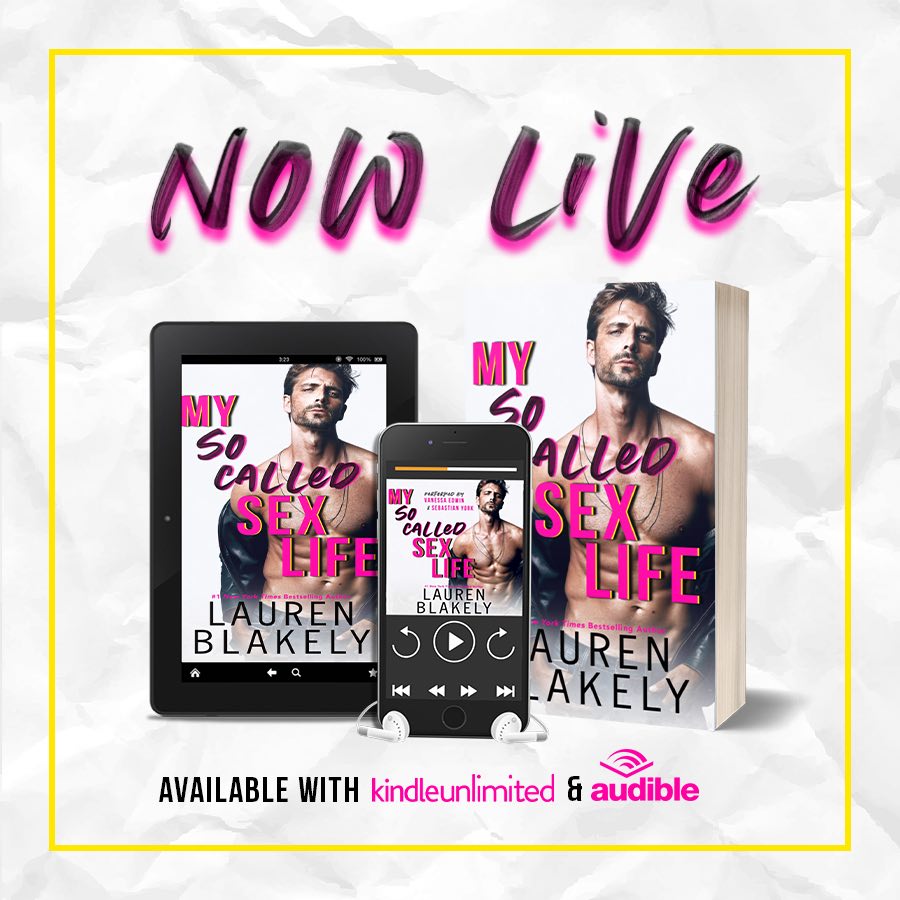 Add to Goodreads:
https://www.goodreads.com/book/show/60171498-my-so-called-sex-life
My So-Called Sex Life is the first book in the How to Date series by Lauren Blakely! It's a fan-f*cking-tastic start to a new series. In Lauren fashion we have met Axel and Hazel in previous books. I love them both individually but together… wow. Explosive.
Axel and Hazel have history. They were the best of friends, they wrote together once upon a time but then one day, it was over. That was over a year ago and now they avoid each other. Except, now they can't. Their publishing houses are sending them on a train tour across Europe with a few lucky readers. One week stuck with your nemesis on a train. What could go wrong?
They knew they had to adult to make it through without killing each other but could they go one week sharing a sleeper car without touching each other? I mean hate-sex is kinda hot, right? They do say there is fine line between love and hate and these two know it and I am here for it.
I am so in love with these Axel and Hazel. Together they are fire but that's not all they are. They story is fun, sexy, and emotional. There is more to them and I loved their emotional connection as much as their sexual connection. They just get each other. I believe this is my first train romance and it was amazing! It makes me want to book my own trip.
Seriously? Who decided that sexy jerks could be old-looking? With freshly fucked hair, and undress-me eyes, and those goddamn blak glasses that get e every time. Axel Huxley is the sexiest jerk of all.
I could get lost in this kind of attention. It's pulsing. It's a mix of midnight and starlight and fire.
It's everything I've ever written and nothing I've ever experienced.
My So Called Sex Life is the first book in the How to Date series by Lauren Blakely. I have been looking forward to Hazel and Axel's story for a long, long time!! It's even better than I imagined! This is a sexy, fun enemies-to-lovers romance and I am here for it! Axel and Hazel used to work together and then one day he just left. No explanation. Nothing. Now they have to spend a week on a train in Europe and just try not to kill each other. But while sharing only one cabin and one bed, they are feeling anything but hatred for each other. Now it's lust, attraction and could it be more? Maybe. But Axel needs to confess why he just left her. Hazel needs to let go of her past. Together they are fire and sweetness and so sexy! As in all of Lauren's books, I love the friendships, family and supportiveness. Even their new reader friends are there for them. I don't know how Lauren does it. Every. Time. Just when I think I can't possibly love a couple more than the last, bam! Axel and Hazel. I swooned, laughed, got hot and bothered and just loved every minute of it.
Audio – Oh boy, Sebastian and Vanessa brought out the big guns for this one. They were so freaking fantastic and the perfect Axel and Hazel!
BLURB:
I've got a list of people I absolutely don't ever want to be stuck with on a boat, or a plane, or a train, and it starts and ends with the broody, grumpy, too-sexy-for-my-own good Axel Huxley.
Also known as this romance novelist's number one nemesis.
The man is legendary for his mighty pen and his even mightier scowl. I tried to work together with the cocky thriller writer once upon a time, but the two of us are like vodka and good decisions. We don't play well together.
Only now, our publishers are sending us on a joint trip across Europe to mingle with our most devoted readers on an old-fashioned luxury train. And thanks to a booking snafu, we have to share a sleeper car.
You guessed it–there's only one bed.
I'm not sure I can survive the next seven days and nights with my dangerously sexy enemy and all our fiery tension.
Which explodes one night in a desperately needed hate bang.
But the bigger plot twist is this – the more time we spend together, visiting the most romantic cities in Europe by day and discovering each other at night, the more I'm forced to face our past.
To let go of the hurt.
To see the man he's become.
And when I do, I wonder if it's too late to write a new happy ending for us?
My So-Called Sex Life is a standalone MF romantic comedy!
About Lauren Blakely:
A #1 New York Times Bestselling, #1 Wall Street Journal Bestselling, and #1 Audible
Bestselling author, Lauren Blakely is known for her contemporary romance style that's
sexy, sweet, and witty. She also writes USA Today bestselling LGBTQ romance.
With fourteen New York Times bestsellers, her titles have appeared on the New York
Times, USA Today, and Wall Street Journal Bestseller Lists more than 100 times, with
more than 65 titles on the USA Today Bestsellers list alone. She's sold more than 5 million books. A Brown University graduate, Lauren likes dogs, cake and show tunes and is the vegetarian at your dinner party.
Connect w/Lauren:
Website: laurenblakely.com
NL Signup: http://laurenblakely.com/newsletter
Facebook: http://www.facebook.com/LaurenBlakelyBooks
Instagram: http://instagram.com/laurenblakelybooks
Twitter: http://twitter.com/LaurenBlakely3
Tik Tok: https://www.tiktok.com/@laurenblakelybooks
March 1, 2023 | Posted in Excerpt, Release Day Blitz, Review | By Two Book Pushers
A new male / male hockey romance from 24-time USA Today bestseller Sarina Bowen!
My name is Hudson Newgate, but my teammates call me New Guy.
That was my nickname in Chicago, too. And Vancouver. That's what happens when you keep getting traded. Brooklyn is my last chance, especially after my poor performance last season.
But I can make this work. The new guy knows to keep his head down and shoot the puck. The new guy puts the game first.
What he doesn't do is hook up with the other new guy—a hot athletic trainer who lives in my building. Gavin needs this job with my team. He's a single dad with responsibilities.
We can't be a couple. My arrogant agent–who's also my father–will lose his mind if I'm dating a dude. And my team needs me to score goals, not whip up a media circus.
Too bad Gavin and I are terrible at resisting each other…
Amazon: https://geni.us/New-Guy-Amzn
Apple Books: https://geni.us/New-Guy-Appl
Kobo: https://geni.us/New-Guy-Kobo
Nook: https://geni.us/New-Guy-BandN
Audio: https://geni.us/New-Guy-Audible
All links in one place: https://shor.by/NewGuy
ADD TO GOODREADS: https://www.goodreads.com/book/show/63355404-the-new-guy
The New Guy is the first book in the NEW series, Hockey Guys, by the fabulous Sarina Bowen. Did you hear that? A NEW m/m series. Holy hell, I'm so excited! It's a spin-off of the Brooklyn series so we get to see some of our favorites and meet new ones! There are two new guys in Brooklyn. Hudson Newgate is a new player who's been traded four times in the last five years so he knows how to be the new guy. Gavin is the new athletic trainer. There is an instant attraction between them, but Hudson isn't out and Gavin can't afford to lose his job, he has a daughter to take care of. Not only are they both new, they're neighbors! They try to stay away from each other, they really do, but their chemistry is just too strong. Oh man, when they give in, it's fire! Gavin is such a good dad and Jordyn is freaking hilarious! He's patient with Hudson who's struggling to decide to come out. They are supportive of each other, they have fun together and they are sexy as hell! I loved everything about this book. The push and pull, the weeks of foreplay, the banter, the sexiness and the laughs. I just couldn't love Hudson and Gavin more if I tried! Sarina is one of my favorite authors and her m/m romances are top-notch. Him was the first m/m I listened to in audio and I never looked back.
Audio: Teddy Hamilton and J.F. Harding were freaking fantastic! They are the perfect Gavin and Hudson.
When I win the ping pong game, he laughs. "Didn't take you too long to finish me off."
I shrug, like it's no big thing. But my heart is thumping and my face is flushed. And I realize that I don't want the night to end. It's the first time I've felt this way in a long time. 
"You're a shark. I owe you five bucks." He reaches for his wallet.
I hold up a hand. "Sorry, I don't take cash. You'll have to work it off in trade." Yup, that ridiculous line just came out of my mouth. And I don't regret it. 
His hand stills on his back pocket. "Yeah?"
"Oh yeah." My words are full of bravado. But this is a big moment for me. I haven't been with a guy since Eddie died.
Across the table, Hudson might be having his own internal battles. His handsome face is thoughtful. Maybe even troubled. He sets down his paddle and actually glances over his shoulder to make sure there's nobody nearby. There isn't, though. We're the only ones in the ping-pong room. His gaze snaps back to mine. "I don't do this."
"Oh." That could mean so many things. "You mean pickups? Or guys?"
"Well, both."
"You're not married," I whisper. "Right?"
He actually laughs. "Nope. No way." He turns his chin toward the front of the bar, and I am suddenly worried that I've killed the mood. But instead of begging off, he says, "My place is only a couple blocks from here. But I have to settle up with Pete. You want to meet me outside?"
Ah. Now I get it. He doesn't want us to walk out together, and he doesn't know how to say so. 
"Sure," I say with forced casualness. "I'll be outside. Don't take too long." I grab my jacket off the hook on the wall and stride past him, through the bar and out the door. 
February 23, 2023 | Posted in Release Day Blitz, Review | By Two Book Pushers
Sometimes you have to fall . . . to forget.
Until You by K. Bromberg is now live! 
A single dad, forced proximity, standalone romance from New York Times bestselling author K. Bromberg.

Crew Madden needs to find a place to recover.
For his twin girls. 
For himself. 
From the woman who left them without a backward glance.

Recovering from a traumatic event, a summer in the small town of Redemption Falls was the perfect solution for him. For his family. The only drawback? The rental cottage at the end of the drive. 

But then he met its tenant. 

The quiet, guarded, sexy-as-sin woman who took Crew's breath away.

—

Tennyson West moved to Redemption Falls to hide. 
From her previous world of abundance. 
From the woman she used to be. 
For a chance to start over . . . and be free.

She's settled into her new life on the outskirts of a small town, content with her solitude. Her peaceful life. 

And then she met her new landlord. 

Crew Madden—and his sweet daughters—entered her life with a bang. She learned how to laugh again, to love again, something she never thought would be possible.

It was only meant to be a summer fling, but as demons from their past knocked on the door, their relationship was tested. Was their love strong enough to keep them together or would danger drive them apart for good?
  Download today or read for FREE with Kindle Unlimited
Amazon: https://geni.us/UntilU
  Paperback: https://bit.ly/3xy0zYd
Special Edition Paperback: Coming Soon!
Audiobook: http://bit.ly/3kek6cU
Narrated by: Blake Lockheart & Samantha Brentmoor
Goodreads: https://geni.us/UntilGdRds
Until You is K. Bromberg's newest standalone. I know when I start one of her books I will not want to put it down. This one is no different… hot single dad? Sign me up! 
Crew Madden and his tween twin girls need to get away for the summer and there is no better place than Redemption Falls. Crew hasn't been there since he was ten years old so when his uncle asked him to work on his house for the summer, it was the perfect opportunity to bond with his girls in the small town. So much has happened to this little family in the last eighteen months and it was their time to relax, have fun, and just breathe with no complications. Oh, about those complications… someone lives in the cottage down the driveway. A someone who can be a complication and the best thing ever to Crew and his girls. 
Tennyson West has been in Redemption Falls for the last two years. She stays to herself with her cat and the books she edits. She isn't close to anyone, she doesn't want to get attached in case she has to pack up and leave. She was perfectly content in her little cottage and not having attachments until they showed up. The girls are easy to want to hang out with and their dad is the type of man she could easily fall for. She knows for those reasons she should stay away but it's so hard when they are so amazing. She gets them. They get her. But she doesn't want to put them in danger with her secrets…
I love small-town romance, I love single dads, and I love suspense and this has all three. This story has a different feel than Kristy's other books and I am here for it! The characters. The writing. The love. It made me laugh, cry and swoon! 
Until You is K. Bromberg's newest standalone romance and I am here for it! This is a single dad, small town romance and I loved everything about it. It's fun, sexy, sweet with a little suspense. Crew and his girls stole my heart and Tennyson was the perfect addition to their little family. Crew is one of my favorite heroes of Kristy's and I hope we get back to Redemption Falls soon so I can see him again!
Meet Kristy
New York Times Bestselling author K. Bromberg writes contemporary romance novels that contain a mixture of sweet, emotional, a whole lot of sexy, and a little bit of real. She likes to write strong heroines and damaged heroes who we love to hate but can't help to love.
A mom of three, she plots her novels in between school runs and soccer practices, more often than not with her laptop in tow and her mind scattered in too many different directions.
Since publishing her first book on a whim in 2013, Kristy has sold over one and a half million copies of her books across eighteen different countries and has landed on the New York Times, USA Today, and Wall Street Journal Bestsellers lists over thirty times. Her Driven trilogy (Driven, Fueled, and Crashed) is currently being adapted for film by the streaming platform, Passionflix, with the first movie (Driven) out now.
With her imagination always in overdrive, she is currently scheming, plotting, and swooning over her latest hero. You can find out more about him or chat with Kristy on any of her social media accounts. The easiest way to stay up to date on new releases and upcoming novels is to sign up for her newsletter (http://bit.ly/254MWtI) or follow her on Bookbub (http://smarturl.it/KBrombergBB)
Connect with Kristy
Website: www.kbromberg.com
Goodreads: http://smarturl.it/Kbromberg_GR
Amazon: http://smarturl.it/KBrombergAmz
Facebook: http://smarturl.it/KBrombergFB
Facebook Group: http://smarturl.it/DrivenFB
Instagram: http://smarturl.it/KBrombergIG
Twitter: http://smarturl.it/KBrombergTwitter
Bookbub: http://smarturl.it/KBrombergBB
Pinterest: https://www.pinterest.com/kbrombergwrites/
Other: http://smarturl.it/DrivenMoviesFB
Verve: https://ververomance.com/app/bromberg
Text Kbromberg to 77948 to stay up to date on all things Driven movies and new releases
February 21, 2023 | Posted in Release Day Blitz, Review | By Two Book Pushers
Release Blitz & Giveaway:
Confessions: Ethan
By Ella Frank
Cover Designer: Hang Le (@byhangle) Cover Photographer: Rafa Catala (@rafagcatala_13) Cover Model: Alvaro Torralbo (@whoistcttt)
Confessions, Book 7
Everything in the world is about sex except sex.
Sex is about power. ~ Oscar Wilde
Desire. Dominance. Sex.
Ethan Holt is in the business of all three.
He believes that any fantasy can be created,
and that any kink should be explored.
Why wouldn't he, when he has several of his own?
Control. Ethan has to have it.
In his job at The Office. In his relationship with Zayne.
He's very particular on who he lets in his world,
and even more so on who he lets in his bed.
After all, he's not the only one who sleeps in it.
Everything in their world is in perfect order,
just the way Ethan likes it.
Until a mysterious redhead walks into their club
and turns their world inside out.
What happens when control turns to chaos?
Do you give in to it? Or do you make chaos…submit?
Confessions: Ethan begins a new sub-series within the Chicagoverse. It is an MMF contemporary romance series that revolves around Chloé Thornton-Priestley, the wild-child daughter of the three P's. This can be read as a standalone series.
Ethan is the seventh book in the Confessions series by Ella Frank. I literally cried when she said the series was over so when I heard there was going to be a sub-series inside the Chicagoverse I almost couldn't contain my excitement. This is Ethan, Zayne and Chloé's story. Chloé is Julien, Robbie and Joel's daughter! Chloé is nineteen and a little wild. She wants to do something exciting and ends up at a sex club with her cousin. She didn't expect to have such a physical reaction to the two owners, Ethan and Zayne. She was mesmerized by their chemistry, their interaction and the woman at their feet. But she doesn't have a submissive bone in her body. Right? Ethan noticed her right away. The firecracker with red hair. He and Zayne are drawn to her and always ask for what they want. Chloé's always thought something was missing in her relationships and now she knows what. She has three fathers so she understands more than anyone, that pull to be with more than one person. What she didn't expect was to want to submit to them. She doesn't want to lose herself. Ethan has a proposition for her. One night. But after it's over, he can't stop thinking about her. Could she be the woman they have been looking for? Is she the woman who could handle him and Zayne? Hell yes, she is! Wowzas. I felt the chemistry between Ethan and Zayne the instant we met them. Add in Chloé and damn, I was all hot and bothered! It's more than the sexiness though. There's heart, heat and humor. Ella is the queen of this type of story and I am here for it!
Ethan is the suit wearing serious one. Zayne is laid back and tatted up and Chloé is sweet and sexy. The perfect pairing!
I can't wait to learn more about Ethan and Zane and to see how the three P's react when they find out! Gimme, Gimme!
---
Enter the Giveaway:
To celebrate the release of Confessions: Ethan, Ella is giving away a paperback copy of the release!
Enter the Rafflecopter giveaway for your chance to win!
Direct Link: http://www.rafflecopter.com/rafl/display/cc0f2a57648/?
---

About the Author
Ella Frank is the USA Today Bestselling Author of the Temptation series, including Try, Take, and Trust and is the co-author of the fan-favorite Preslocke series with Brooke Blaine. Her Prime Time series has been praised as "highly entertaining!" and "sexy as hell!"
A life-long fan of the romance genre, Ella writes contemporary and erotic fiction. Some of her favorite authors include Tiffany Reisz, Kresley Cole, Riley Hart, J.R. Ward, Erika Wilde, Gena Showalter, and Carly Philips.​

Connect with Ella: ★ Website & Newsletter: www.ellafrank.com ★ Instagram: https://www.instagram.com/ellafrank1/ ★ Facebook: https://www.facebook.com/ella.frank.author ★ Facebook Page: https://www.facebook.com/ella.frank.31/
★ Brooke & Ella's Reader Group: https://www.facebook.com/groups/TheBrellas ★ Bookbub: https://www.bookbub.com/profile/ella-frank
---
---
February 21, 2023 | Posted in Release Day Blitz, Review | By Two Book Pushers
HEART SICK by Monica James
Release Date: February 21st
Series: Heart Memory Transfer Duet: Book One
Genre: Dark Romance/ Gothic Horror
HEART SICK, book 1 of the Heart Memory Transfer Duet, by Monica James is NOW LIVE!
Make sure to grab this all-new gothic horror dark romance TODAY!
Kindle: https://tinyurl.com/4e84yzan
Nook: https://tinyurl.com/yurkpzzd
Kobo: https://tinyurl.com/3hjcayze
Apple: https://tinyurl.com/3jv4rph2
Add Goodreads:
Holy mindf*ck and I am here it!! My heart is still pounding from all the twists and turns. I don't even know if I can form words to write this review. I do know I can't give anything away so I won't talk about the storyline. I love going in blind and I suggest the same. I mean, damn. The characters are raw with their emotions. It's beautiful, really. They are in the middle of total chaos and trying to navigate their way. Mind, body, and soul. I am seriously obsessed with this story and I can't wait for the conclusion. Monica, you f*cking amaze me!! It's definitely a book I will never forget, just like so many of your books.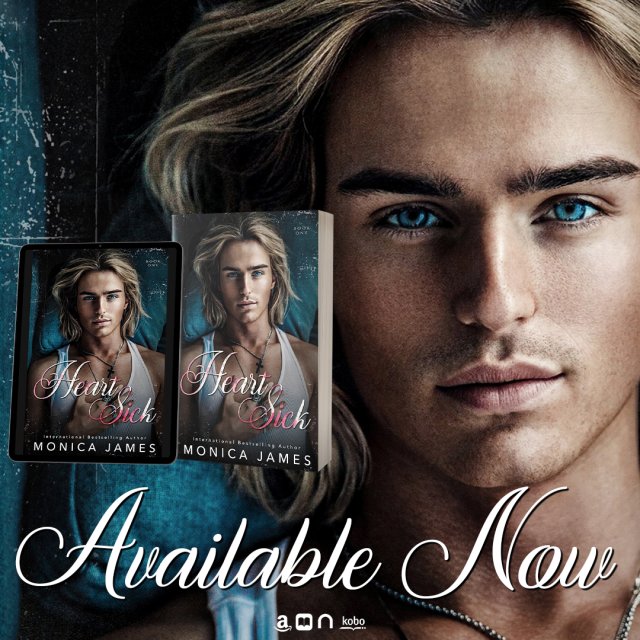 BLURB:
Piano has always been my one true love.
So when the music stops, I do whatever I can to hear it again.
But when I wake, all I hear is his heart and the memories that come with it.
This is my body.
My mind.
But not my heart.
Each beat hides a secret, and his voice now replaces the music, demanding I uncover the truth.
I'm sent to a place to get better, and that's when I meet her.
Every artist needs a muse, and Luna allows me to hear the music again. But when her secrets soon
become mine, I realize it's because I've lived this life before.
Or rather, he has.
The man whose heart beats within my chest knows Luna…and everything she's done.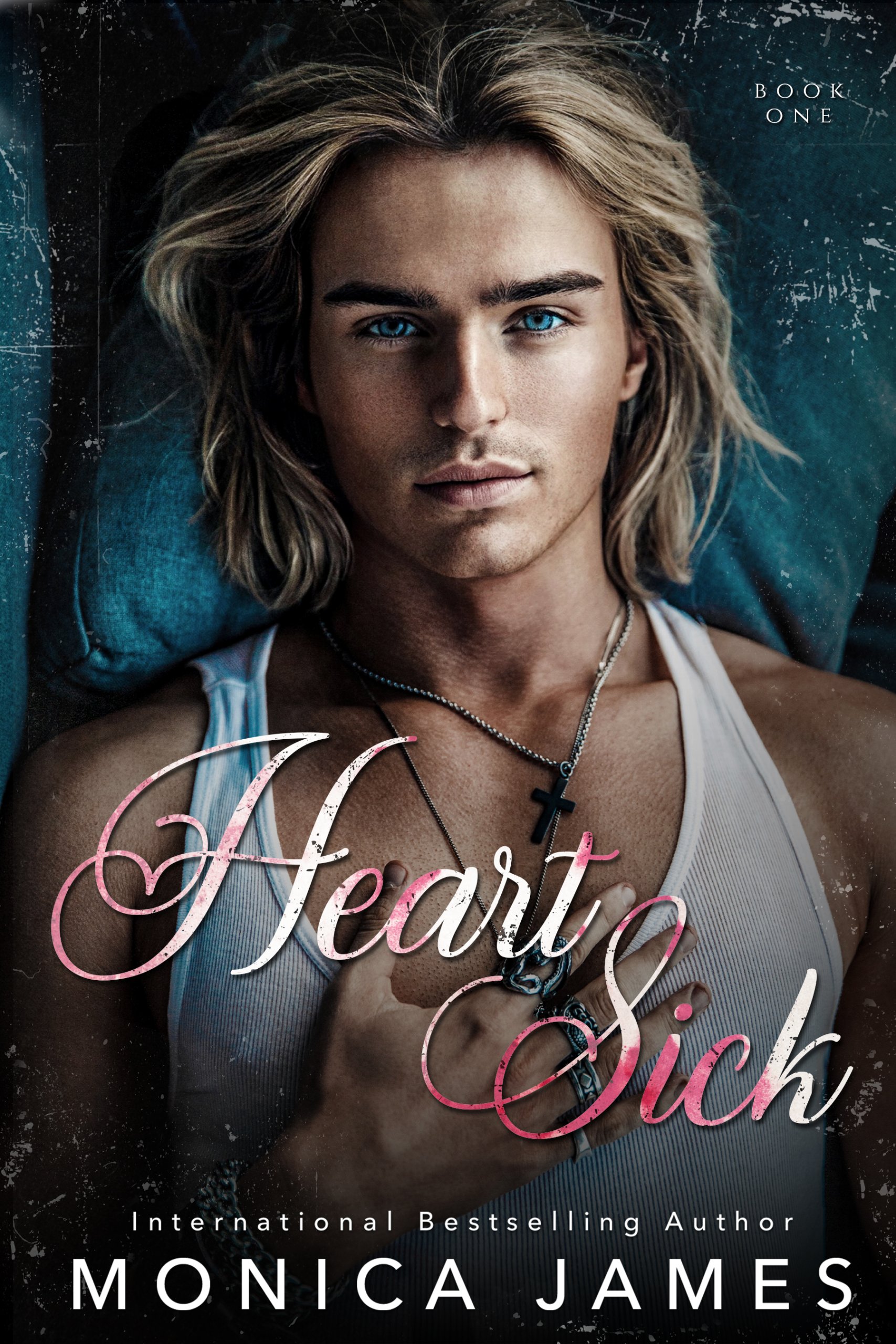 About Monica:
Monica James spent her youth devouring the works of Anne Rice, William Shakespeare, and Emily Dickinson.
When she is not writing, Monica is busy running her own business, but she always finds a balance between the two. She enjoys writing honest, heartfelt, and turbulent stories, hoping to leave an imprint on her readers. She draws her inspiration from life.
She is a bestselling author in the U.S.A., Australia, Canada, France, Germany, Israel, and the U.K.
Monica James resides in Melbourne, Australia, with her wonderful family, and menagerie of animals. She is slightly obsessed with cats, chucks, and lip gloss, and secretly wishes she was a ninja on the weekends.
Connect w/Monica:
Website: authormonicajames.com
Facebook: facebook.com/authormonicajames
Twitter: twitter.com/monicajames81
Goodreads: goodreads.com/MonicaJames
Instagram: @authormonicajames
TikTok: @authormonicajames
Tik Tok: @MichelleandMonicaBooks
BookBub: http://bit.ly/2E3eCIw
Amazon: https://amzn.to/2EWZSyS
Reader Group: http://bit.ly/2nUaRyi
February 20, 2023 | Posted in Release Day Blitz, Review | By Two Book Pushers
A mafia romance about family, loyalty, and love, Dissolution is the powerful conclusion to #1 New York Times bestselling author Rachel Van Dyken's Eagle Elite series.
"There is always a beginning—I will be their end."
For ten years the Cosa Nostra has ruled with an iron fist in Chicago—their reign is about to end, and I'll be the one to bring them down.
One more job for the Italian Americans, and I'm done.
Except this "one job" involves saving the boss's brother and sister.
When things go horribly wrong, and a price is put on all of our heads from my Family back home—I'm forced to stay in Chicago, offer not just my gun but my protective services to the young girl I saved while also making sure nobody touches her.
Myself included.
My own Family has splintered.
Half want me dead, half want me alive, and the only people willing to protect me are the very ones I hate—her included.
I'm the Grim Reaper of the Sicilian mafia, and I bow to no one, not even her, so when she asks me to teach her to fight, when she tells me she wants to be made, I give in just so I can piss off the bosses.
Only I made one mistake.
I protect her from the world.
But who protects me from her?
One more battle remains between the families in Italy and in the States.
One more battle where I'm torn between both sides.
And I'm left protecting the one girl who has the potential to wreck us all.
It all started a decade ago at Eagle Elite University—the beginning.
It will end on the streets of Chicago—with me as the end.
I, Santino Sinacore, am their end.
**This may be the end of the OG Eagle Elite, but it is NOT the end of the Eagle Elite World!**
https://geni.us/Dissolution_EE
Dissolution is the twelfth and final (No!!) book in the Eagle Elite series by the queen of the mafia, Rachel Van Dyken. You can read each book as standalone, I didn't start the series till book nine (I will get those first eight in one day!) This one I do believe is my favorite. I cried and laughed so hard! 
Santino Sinacore was out for blood. He didn't want to be in Chicago with the Five Families. He wanted out. There was two ways: death or one last job for the Italian-Americans he loathed. He thought it would be easy. Kill some assholes and save twins. In and out. He was the Grim Reaper after all. No emotions. Just kill or be killed. That was how it was his entire life. Emotions were a weakness and no one brought them out until her. A girl who didn't even know she belonged…
A woman who was off-limits. But rules were made to be broken, right? 
Katya was in a prison; broken and beaten but she was a warrior. She would survive to seek her revenge and it seems she has back-up who she never knew. A family. Five of them. She was confused and scared but a man who killed for a living was the only one she felt completely safe with. She didn't understand it but she knew he was the key to survival… but will they survive the newest mafia war? 
OMFG… I can't even. What an emotion roller coaster and I am one-thousand percent for it! I am so in love with Katya and Santino. They are fire. They are beautiful. They are just everything. And the EE OGs? My god, these men are so much fun for running the mafia world. Badasses who own cats in sweaters. I am laughing just writing that. I love them all and their wives. I know this is the end of the EE series but I have a feeling it's not the end of RVD's mafia world. Thank you, RVD! ♥️ Blood In, No Out 🩸
Chase pulled out his gun, shaking me from my thoughts. "Let's go, twinkle toes, people to kill, pot roasts to eat." 
"Pot roast?" Santino repeated. "Really?" 
"We like nice things here in Chicago."
Pieces of your life that finally fit into place, beauty out of agony and darkness, and an ending that may not be what you expected but perfect for you and your story, nonetheless.
"Girl, you're in the mafia." Alice winked. "Strap in, dear sister-in-law, strap in."
Dissolution is the twelfth and last book in the Eagle Elite series. Say it isn't so!!! I'm not sure what I'm going to do with myself now that it's over. I'm hopeful we'll see the beloved characters again and now I can add Santino to the list. He's the Grim Reaper of the Sicilian Mafia (my people!) and I just fell hard and fast for another killer. He's in Chicago, but he wants out. He just has to do one last favor for the five families. Rescue twins and then he's out. In true mafia fashion, nothing goes the way it should. He saved her and now he needs to protect her. Katya. The gorgeous blonde who's strong as hell and has no idea who she is. A threat's been made on all five families and now Santino has to do something he's never done before. Protect someone he cares about. Katya doesn't know anything about her family. She and her brother have been on their own for a long time and now she's being rescued and taken somewhere to meet the mafia. Oh joy. She's not afraid. She's not going to cower. But she's also not going to be a victim again. She just has to convince Santino to train her. Santino didn't live a normal life. You never show fear. You don't have feelings. And now this woman has turned his world upside down and he's dodging bullets from his allies. He doesn't know who to trust, but the more time he spends with Nixon, Chase, Phoenix, Andrei, Dante and Sergio, the more he understands. They are The Cosa Nostra but they aren't the bad guys. He doesn't want out, he just wants to keep Katya safe. Even if it's from himself. Holy shit! This freaking book gutted me. I pretty much cried for the second half of the story. Santino, I love you. Sergio, I love you. I love them all. What a way to end the series. It makes me sad just to type that. These men and their women have been like family to me for ten years. TEN years. I feel like I've shared meals, wine, secrets, sacrifices, life and death with them. My heart has been broken and sewed back together so many times. Santino somehow filled in all the cracks and made it whole again. I couldn't love this book more. I laughed, cried big fat tears, smiled, laughed and cried more. It was just perfection. Thank you, Rachel for giving us these families and their loved ones!
February 14, 2023 | Posted in Release Day Blitz, Review | By Two Book Pushers
Rowe Prince is a lying liar who windmills into my life in full color, claiming to be Sterling Chase, a quirky, eccentric billionaire… and founder of the company I created.
Two can play at the lying game, though, and I'm not about to let some burrito-delivering, floppy-haired virgin from Indiana best me at a game I was born to play.
So I do him one better and pretend to be Sterling Chase's new assistant. I'll teach him a lesson that will hopefully wind us both up in bed… with nothing but the truth between us.
But it turns out his shameless lies are enchanting… unintentionally hilarious… and make it all too easy to forget the truth…
Until I learn that this cutie's intent is to defraud the company I've spent years building. I have to choose: risk the company or say goodbye to the man I'm falling for. A guy who just might be…
The Prince of Lies
Amazon: https://bit.ly/3S20CFa
Prince of Lies is the newest laugh out loud, sexy, fun romance from Lucy Lennox. I love Lucy and her books and I was so excited to hear she had something new for us. Rowe Prince has one last chance to find someone to believe in something he spent the last few years creating. He doesn't realize borrowing a suit and getting into a gala is going to turn into a gigantic lie fest. He's not a good liar! He accidentally runs into Bash, a man who instantly knows he's lying because he's pretending to be someone who doesn't actually exist, Sterling Chase. Bash's company, not a person. But Rowe is too sexy, handsome and fun that he goes along with it. Better yet, he pretends to be the new assistant to "Sterling Chase." Let the fun and games begin! While they are both lying about who they are, they are having the best times of their lives. Bash is laughing and enjoying life again, Rowe feels sexy and wanted and reveals so many truths about himself. Their chemistry is crazy hot and they end up in a hotel together. Life interrupts their bubble, but Bash isn't going to let Rowe get away. He has to find a way to keep him and convince him to take a chance on him. Rowe doesn't care about money, he just wants to help people and his idea will. He won't take advantage of Bash. He's a good guy from a small town and just wants to do the right thing. Bash seems to want him and he can't understand why. He doesn't think he's special. But he's so wrong! Oh man! These two were freaking hilarious and sweet and sexy and endearing and nuts! I laughed so much and my face hurt from smiling. I fell in love with Bash and Rowe and didn't want their story to end. I'm hoping we see a lot more of them since Bash has a brotherhood of friends who don't seem to go together, but they do! And let's not forget Joey, Rowe's cousin. He's freaking hilarious and loyal! I pretty much loved everything about this book. The lies, the truths, the connection, the laughs, the sexiness, the friends. I didn't expect to shed a few tears, but I did and it was awesome! Thank you, Lucy!
January 31, 2023 | Posted in Release Day Blitz, Review | By Two Book Pushers
An all-new meet-cute sports romance from New York Times and Wall Street Journal bestselling author Kristen Proby, featuring Sophie Montgomery!
The Score by Kristen Proby is now live!
I have millions of followers on social media, and it has absolutely nothing to do with my last name. It's because I'm good at what I do. I work hard, and it has paid off. I'm not a trainer who only talks the talk, either. I walk the walk—or rather, I run the run. It was actually during one of those jogs through the park that I ran into him.
Of course, at the time, I didn't realize it was the Isaiah "Ike" Harrison, Seattle's hot new quarterback. All I knew was that I was suddenly pinned under some solid, sexy body, unable to breathe.
But even now, I keep running into Ike in the most unexpected places. And he's doing everything in his power to convince me that he's not just a player—in any form of the word. It's so much more than that. But I've been there, done that. I have the mended broken heart to prove it and have no intention of doing it again. Except the frustrating man is convincing, and my walls are quickly lowering—especially when I feel responsible for possibly upending his career.
Is letting him in a mistake? Or will it be the best thing I've ever done?
Download today on Amazon, Apple Books, Barnes & Noble, and Kobo!
Amazon: https://amzn.to/3yswcmA
Apple Books: https://apple.co/3STRTo6
Nook: https://bit.ly/3CIdg62
Kobo: https://bit.ly/3RQWypt
Audible: Coming Soon!
Add to Goodreads: https://bit.ly/3MoPI9l
The Score is the third book in the Single in Seattle series by Kristen Proby. I love, love, love second-generation books and this series is so much fun, sexy, and full of laughter, family, and love. Oh, and drunken girl nights. 
Sophie is a healthy-living influencer and a badass one at that. She is all about moderation, fun, and healthy, body and mind. One of her favorite places to run is where she runs into him, literally. The hot star quarterback for Seattle. She had no idea who he was until she sees him again in an unlikely place and she is so glad she does. She wasn't looking for a relationship of any form but he is different. Sweet, funny, handsome, flirty, and makes her feel seen and wanted. And she also suspects that he has lovely abs. But, is he is the one? Can he handle her big family and all that comes with it? 
Ike swept her off his feet, literally when they met and he wants to know more about her. He saw her sassy, witty side during their meet-cute and thought about her all day and then she was there right in front of him. He was not going to let her go again. He felt a connection from the start. One he has never felt. He has some things in his life to work on but she was already his favorite person after only a few dates. The best dates. He falls hard but is she the one? Will she be the support he needs?
These two ♥️. I love them!! It's a fast, fun, sexy read. I know when I start a Proby book that I am just going to fall in love with her characters. I love all of the family and friends connections and all the cameos!! I can't wait for the next book… I have a feeling I know who is up next and if I am right, it's going to be fire! 
"Do you play dirty when it comes to football, too?" My gaze falls to her lips. "I never play dirty. I just get the job done."
"One day, I hope I get to make love to you while you're wearing just this jersey." Her eyes widen, and I grin. "Nice guys have dirty desires, too, you know." 
"If you say nice," he says, his voice just a little harder than I've heard it before as he presses his lips to my ear, "I'll spank your perfect ass, Sophie." 
I know I'm drunk, but that makes me pause. "Well, then. Okay. Remind me to say nice when I'm sober."
Meet Kristen
Kristen Proby has published more than forty titles, many of which have hit the USA Today, New York Times and Wall Street Journal Bestsellers lists. She continues to self publish, best known for her With Me In Seattle and Boudreaux series, and is also proud to work with William Morrow, a division of HarperCollins, with the Fusion and Romancing Manhattan Series.
Kristen and her husband, John, make their home in her hometown of Whitefish, Montana with their two cats and dog.
Connect with Kristen
Website: https://www.kristenprobyauthor.com/
Goodreads: https://www.goodreads.com/author/show/6550037.Kristen_Proby
Amazon: http://amzn.to/2BD4vfq
Facebook: https://www.facebook.com/BooksByKristenProby/
Facebook Group: https://www.facebook.com/groups/684662744993031/
Instagram: https://www.instagram.com/kristenproby/
TikTok: https://www.tiktok.com/@kristenprobyauthor
Bookbub: https://www.bookbub.com/authors/kristen-proby
Pinterest: https://www.pinterest.com/handbagjunkie/
January 23, 2023 | Posted in Release Day Blitz, Review | By Two Book Pushers
Who says you can't find true love with a total stranger?
Kayley, that's who. After our fantastic night together turns into a morning meeting spent vying for the same piece of property, we're now more enemies than lovers.
While the lawyers sort it out, I have a plan–convince her to be my Valentine anyway because I've got it bad for this smart and sexy woman. Real bad.
But not bad enough to back away from the land I need to build a legacy in the mountains, no matter how much I enjoy spending time in Kayley's… hot tub.
Since she's not backing down either, this relationship is probably doomed.
Unless this bossy billionaire can learn to compromise when faced with the prospect of a lifetime of lonely Valentine's Days…and nights.
The Bossy Billionaire's Last Valentine is the third novella in the The Billionaires of Jingle Bell Junction by Lili Valentine & Erin McCarthy. I am loving these novella and the Ratcliffe brothers and the women they fall for. If you read The Naughty Billionaire's Baby Bargain then you know Kayley and Bran's meet-cute was funny and unique and now you get to see what happens next…
Bran and Kayley have an amazing first night together. Neither of them are looking for a relationship. She is busy with her business and he is just starting a new project in town. As it turns out, they want the same thing. A mountain. One they both were sold! Now, it's on to figure out who gets to keep it. Can they still have fun while fighting over a mountain they both need?
These two are not messing around. Plans are made. Plans are broken. In just the short amount of time the lawyer needs to figure out who is the rightful buyer, they go through so many emotions and of course sexy times but what will happen when the winner is announced? Will it be over?
"I happen to be a real fan of nice hipsters who are also fabulous kissers."
"I haven't kissed you yet," I say, my face already drifting closer to hers.
"But you're about to," she whispers. "And it's going to be fan-fucking-tastic."
"The only thing worse than hating your enemy is hating him and wanting to jump his bones at the same time."
This speedy explosion is all Bran and his triple attack of dirty words, G shot knowledge, and hair tugging.
The Bossy Billionaire's Last Valentine is the third and final novella in The Billionaires of Jingle Bell Junction by Lili Valente and Erin McCarthy. I really enjoyed this series of these brothers and their women. This is a fast paced novella full of fun and sexiness. Bran and Kay meet and have one amazing night together. They both want to see each other again, but something big gets in the way. Now they don't know what to do, but they can't seem to stay away from each other. Will one of them give up their dream to have love? I loved Bran and Kay! They were fun, entertaining and made me laugh!
January 17, 2023 | Posted in Release Day Blitz, Review | By Two Book Pushers
An unexpected inheritance might be the gift of a lifetime.
The Back Up Plan, an all-new second chance standalone romance in the heartwarming Sunrise Cove series from New York Times bestselling author Jill Shalvis is now available!
New York Times bestselling author Jill Shalvis returns to Sunrise Cove with a heartwarming tale of three people who are bought together when they're bequeathed an old Wild West inn that has the potential to pull their lives apart, but instead turns into the gift of a lifetime.
When Alice receives a call about an unexpected windfall, she's stunned to learn the gift is a falling-apart-at-the-seams old Wild West B&B she once considered home—and she's inherited it along with two strangers. Except they weren't always strangers. Once upon a time, they were friends. One is her ex-BFF Lauren. The other is Knox, the only guy to ever break her heart, all while never even knowing she existed.
It turns out their lives are unknowingly entangled because they once separately helped the same woman without expecting anything in return. Years later, Alice, Lauren, and Knox are broken in their own way, with their own history—and secrets— causing them to start out on the wrong foot with each other. But according to the will, they must renovate and be partners in the inn for one year or else lose their inheritance.
Stuck together, they make a list of rules to keep the peace—rules that end up doing the opposite, but by some miracle they find what they didn't even know they were looking for—acceptance, true friendship, and in a case (or two!), true love.
Fall in love today!
Amazon: https://amzn.to/3A4onnj 
Amazon Worldwide: https://mybook.to/thebackupplanJS
Apple Books: https://apple.co/3T1loVu
Nook: https://bit.ly/3c8aMDt
Kobo: https://bit.ly/3T16nmh
Google Play: https://bit.ly/3wdnhnW 
Amazon Paperback: https://amzn.to/3K8G8Xk
Nook Paperback: https://bit.ly/3ccfIXQ 
Amazon Audio: https://amzn.to/3A6Pq1f
Google Play Audio: https://bit.ly/3pwoRgY 
Nook Audio: https://bit.ly/3wfhIp3 
Add The Back Up Plan to Goodreads: https://bit.ly/3ABIJ8Q
The Backup Plan is Jill Shalvis' newest addition to the Sunrise Cove series. It's a second chance at friendship and finding love. Alice, Lauren and Knox are all given an inheritance. Each gets a third in an Inn and they only have thirty days to get it ready to re-open. Eleanor was someone important to all of them, in different ways, and she left it to them for a reason. They don't even know why until they discover emails from her. While they are fixing up the place, they learn so much about themselves. Things Eleanor was teaching them. Things they were running from. Things they should run to. It's not an easy journey, learning about yourself. Finding your strengths and weaknesses and letting people help you. Alice and Lauren were best friends and haven't spoken in years. It's time for them to fix their relationship. They are all they have left from their childhood. Knox and Alice have a history. They grew up helping Eleanor and Alice had a major crush on him. Now he sees her as an independent, sexy, fascinating woman he wants to get to know. What happens when the thirty days is up? Will they decide to stay and run the Inn? Together? This was such a fun, heartwarming story! I loved getting the three stories in one. I felt for all of them and was cheering for them! Overall, I laughed, cried and totally swooned over Knox!
About Jill Shalvis
New York Times and USA Today bestselling author Jill Shalvis writes warm, funny, sexy contemporary romances and women's fiction. An Amazon, BN & iBooks bestseller, she's also a two-time RITA winner and has more than 10 million copies of her books sold worldwide.
Jill lives with her family in a small town in the Sierras full of quirky characters (Any resemblance to the quirky characters in her books is mostly coincidental). She does most of her writing on her deck surrounded by more animals than humans. Which is quite astonishing considering she's a city girl who was plucked from the wilds of L.A. to the wilds of the Sierra's. Most of her books come from a combination of hard work, cookies, and hot guy pics, and not necessarily in that order.
Jill often travels to reader weekends & conventions where she LOVES getting to meet and hang-out with readers. The only problem being she tends to get lost in her hotels. So if you ever see NYTimes Bestselling author Jill Shalvis roaming the halls, someone please return her immediately. 
Connect with Jill
Website: http://jillshalvis.com/
Tumblr: http://jillshalvis.tumblr.com/
Facebook: https://www.facebook.com/JillShalvis/[
Instagram: https://www.instagram.com/jillshalvis/
Twitter: https://twitter.com/JillShalvis/
Newsletter: http://jillshalvis.com/faq/newsletter/