November 21, 2022 | Posted in Release Day Blitz, Review | By Two Book Pushers
CANNON by LEILA JAMES

BROTHERS OF HAWTHORNE HALL BOOK 2

Shattered trust, twisted games, and ugly truths …

A female initiate is unheard of at Hawthorne Hall, but after forcing the brotherhood's hand, they had no choice but to let me stay. My plan should have been simple: Find out what happened to my cousin and best friend in the world, Will.

But nothing is as it seems.

This brotherhood is steeped in tradition and built on loyalty, but the deeper I dig, the more I see fissures in their supposedly tight-knit group. And with the evidence I've found, every move I make seems more dangerous than the last. I no longer know who to trust.

Cannon.
Archer.
Kingston.

I don't want to believe they're guilty or that they could have harmed Will. But there's only one way to find out—immerse myself in their world and keep my mouth shut. And hope they don't break my heart along the way.

The games continue … but who is being played?
Cannon is the second book in the Brothers of Hawthorne Hall series by Leila James. This is absolutely not a standalone. You need to read the series in order so if you haven't read Kingston yet… Go now! 
Cannon starts right where Kingston left off. I can't really get into the storyline without spoilers but I can say… Holy. Hotness!! Not only that but… Holy. Twists. Cliffhanger and rawness. I am absolutely obsessed with all of it. Elliot is one badass heroine and I love that she is trying to figure out what happened to her cousin. I also love that she is discovering herself while doing so. But, can she trust Kingston, Cannon, and Archer? The might be protective when it comes to her but is there another reason for them wanting to get close to her besides the obvious? I cant wait to know what happens next in Archer! Omg…the suspense is killing me! 
"I think you'd burn the world down to protect me." 
I want to take. Possess. Claim. Make her mine. 
"I'm terrified of how much I need you," I whisper, sharing what's in my heart, despite how vulnerable it makes me feel. 
November 21, 2022 | Posted in Excerpt, Release Day Blitz | By Two Book Pushers
Title: Bastard Boss
Series: Tyler and Bella Duet #1
Author: Lisa Renee Jones
Release Date: November 21st, 2022
ABOUT BASTARD BOSS
A sexy, dirty talking alpha. The beautiful, sweet, and fiery Bella. Her boss. A contract that forces him to marry. An arrangement that will change them forever. Meet Tyler Hawk…
Tyler Hawk is a man with secrets and a dark past. A man who has known tragedy and betrayal. He wants for little, but what he wants is more power, a legacy that is his own, and not his father's. There are obstacles in his way, one of which is the scandal his father left behind and a will with certain demands.
Behind the scenes he is a man on edge, and only one woman sees the truth hidden beneath his strong will and dominant rule. Bella is somehow demanding and submissive, fiery and yet sweet. She can give him everything he wants, she just doesn't know it, not yet, but she will. If she'll just say yes and sign on the dotted line.
BUY BASTARD BOSS HERE:
Amazon: http://mybook.to/TylerBella1/opt/1
Apple: https://apple.co/3tk8Qxp
Nook: https://bit.ly/3MWAVmi
Kobo: https://bit.ly/3D5D2jn
Google: https://bit.ly/3CRPzqm 
EXCERPT
"You're going to have to share your room with me, sweetheart," he says, and he doesn't allow me time to object or even savor that endearment, not that objection is on my mind. I'm thinking of nothing but his mouth and hands on my body and this time, mine on his.
He opens the door and enters the room, maneuvering me along with him. The door slams shut behind us, and he's already kissing me again. This time when his fingers find my hair, he gives the long strands an erotic tug and drags my gaze to his. "Control in all things, Bella. It's who I am. It's what I need, not a want."
"And as you remember," I say, my fingers curling on his chest, "I don't like what I can't control, which I guess actually means I like control, too."
"And you have it with me," he promises. "Always. All you have to say is no, and we find what feels like a yes to you. You asked if I trust you. I'm asking you now, if you trust me."
I consider the complexity of the question. Do I trust him to listen when I say no? Yes. Do I trust him not to break my heart? I'm pretty sure that's signed, sealed, and delivered, so, no. Do I trust him to make tonight all about pleasure? The kind of pleasure I'll remember long after he is married off to his future fiancée. Yes. That's a brutal yes because of where this is headed, which is nowhere but right here, right now, but one I can't walk away from, either. "Yes," I say. "I trust you."
"I don't think you do, Bella," he murmurs, and the way he uses my name—it's as if he wants me to know I'm not just sex to him. Or maybe I just want to believe that—even need to believe that—to be here with him, to be this intimate with him. Because I'm still me. I'm still not the "sex is sex" kind of girl, even if he aspires to change that in me. "But I want you to trust me so damn badly it's insane," he adds roughly, an edge of frustration in him, as if this statement somehow contradicts the control he so values.
It shakes me just how much I'm pleased that I've tormented him in some way, as if it's selfish of me. I know this, but Lord also knows I'm tormented over this marriage agreement he's obviously accepted. And if I think too hard about it, I will run. I will leave.
I don't want to leave.
I press to my toes, desperate for his mouth and body, for that oblivion he's shown me once that I crave once again.
His grip tightens gently round my hair, the act both arousing and brutal, as he denies me his mouth. "I'm going to make you trust me, Bella," he declares, and then, thank you Lord, his mouth slants over my mouth, his tongue caressing my tongue. And it's a toe-curling, deep, drugging kiss that leaves me breathless when his lips part mine. "Undress, baby," he orders. "I want to watch." 
THE SERIES – Tyler and Bella Duet 
Tyler & Bella Duet is available for pre-order NOW!
Amazon: http://mybook.to/TylerBella1/opt/1
Apple: https://apple.co/3tk8Qxp
Nook: https://bit.ly/3MWAVmi
Kobo: https://bit.ly/3D5D2jn  
Google: https://bit.ly/3CRPzqm 
Sweet Sinner (book two)
Amazon: http://mybook.to/TylerBella2/opt/1
Apple: https://apple.co/3woFjV8
Nook: https://bit.ly/3CPo8NK
Kobo: https://bit.ly/361cMul 
ABOUT LISA
New York Times and USA Today bestselling author Lisa Renee Jones writes dark, edgy fiction including the highly acclaimed INSIDE OUT series and the upcoming, crime thriller The Poet. Suzanne Todd (producer of Alice in Wonderland and Bad Mom's) on the INSIDE OUT series: Lisa has created a beautiful, complicated, and sensual world that is filled with intrigue and suspense.
Prior to publishing Lisa owned a multi-state staffing agency that was recognized many times by The Austin Business Journal and also praised by the Dallas Women's Magazine. In 1998 Lisa was listed as the #7 growing women owned business in Entrepreneur Magazine. She lives in Colorado with her husband, a cat that talks too much, and a Golden Retriever who is afraid of trash bags.
CONNECT WITH LISA
Newsletter ➜ http://lisareneejones.com/newsletter-sign-up/ 
Bookbub ➜ http://bookbub.com/authors/lisa-renee-jones 
Amazon ➜ https://amzn.to/2MoWosB 
Twitter ➜ https://twitter.com/LisaReneeJones 
Instagram ➜  http://instagram.com/lisareneejones 
Goodreads ➜ https://www.goodreads.com/LisaReneeJones 
November 21, 2022 | Posted in Release Day Blitz, Review | By Two Book Pushers
You've heard the story about the wedding planner who falls for the groom?
Well, this is the one where she falls for his father.
And that groom? He's my ex.
TEMPT, an all-new scorching hot age gap, forbidden, small town romance, featuring a plus-sized heroine and her ex's irresistible dad from USA Today bestselling author Melanie Harlow, is now available!
I didn't realize who the gruff, gorgeous older man was the night he rescued me from a creep in a Manhattan hotel bar. All I knew was that a hot, bearded stranger with a protective streak showed up right when I needed a reminder that real gentlemen still exist.
(Although he left his manners behind after asking me up to his room.)
It was the hottest night of my life, but I never thought I'd see the former Navy SEAL again.
Imagine my surprise at the rehearsal dinner one week later, when my sexy one-night stand is introduced as the father of the groom. Even more surprising? That temptation we felt in New York was no fluke.
In public, we pretend there's nothing between us.
In private, we can't keep our hands off each other.
The situation is beyond complicated. Zach never even knew he'd fathered a child until recently, and he wants to earn his son's trust and respect. As for me, I'm looking for a man who wants to start a family, and Zach has made it clear he's not that man. He's fifteen years older, newly divorced, and he lives across the country.
But no matter how many times we draw the line, we keep crossing it.
Nothing so wrong should ever feel so right.
Download your copy of TEMPT today or read FREE in Kindle Unlimited! Amazon: https://harlow.pub/Tempt-amazon
Amazon Worldwide: https://mybook.to/temptMH
Paperback → https://harlow.pub/Tempt-pb Special Edition Paperback → https://harlow.pub/Tempt-specialeditionpb
Add TEMPT to Goodreads: https://bit.ly/3TCc75o
Tempt is the ninth book in the Cloverleigh Farms series by Melanie Harlow. It is also the fifth book in the second generation n the series. You can read each book as standalone but I recommend reading the series since it's so fun, sexy, and heartfelt. Tempt is an age-gap, forbidden romance with a twist. Millie was looking for a plot twist and sure found one…
It all started at a hotel bar. Millie and Zach's meet-cute is hot AF. The rest of the night they spend together is fire. It was just what Millie needed and nothing that Zach was even looking for. An unforgettable night with a complete stranger. A one-night stand with no-strings attached with someone who lives across the country, never to be seen again. Ready for that plot twist? It comes one month later at the rehearsal for a wedding she planned for her ex-boyfriend. It was time to meet the groom's father…
There you go. Yep! He was the hot AF stranger from that hotel bar who made all of her orgasm dreams come true. Now, that's a forbidden, naughty plot twist. At this point, they know they can't go forward, right? Totally but they can't seem to get enough of each other. Her curves make him weak in the knees. His demeanor makes her want him. It's not only that but there was a connection from the very start. It was wrong but felt so right. 
My. God. This. Book. Is. Everything!! Some of my favorite tropes all rolled into one hit, delicious, and sweet package. I do believe it's my favorite book in the second generation series. I do love a good age-gap story and that plot twist… I am here for it. And really, it's not just the heat, these two are beautiful inside and out and have so much to figure out. It's just fantastic and addictive. I am not sure if this is the end of the series or not but I hope not! 
P.S. Make sure to sign up for the bonus scene! 
Everything about her was sexy. That hair—it hung down beyond her shoulders in blond satin waves. That body—those curves could make a grown man cry for mercy.
"You are infuriatingly, indecently beautiful," I told her. "And I might never forgive you for making me want you so badly." 
She put a hand over my cock, which strained against the denim. "Are you going to punish me for it?" 
"I don't want to be a good man tonight. I just want to be the one in your bed."
About Melanie Harlow USA Today bestselling author Melanie Harlow likes her martinis dry, her heels high, and her history with the naughty bits left in. When she's not writing or reading, she gets her kicks from TV series like Ted, Lasso, Schitt's Creek, and Fleabag. She occasionally runs three miles, but only so she can have more gin and steak.
Melanie is the author of the BELLAMY CREEK series, the CLOVERLEIGH FARMS series, the ONE & ONLY series, AFTER WE FALL series, the HAPPY CRAZY LOVE series, and the FRENCHED series. She lifts her glass to romance readers and writers from her home near Detroit, MI, where she lives with her husband, two daughters, and pet rabbit.
Connect with Melanie
Facebook: http://bit.ly/2RPwr51
Amazon: http://amzn.to/1NPkYKs
Bookbub: http://bit.ly/36kL7yB
Instagram: http://bit.ly/2NW3UtA
TikTok: https://www.tiktok.com/t/ZTR1ecpH1/
Pinterest: http://bit.ly/2sVOz55
Join Melanie's Reader Group: https://bit.ly/3mYzBBo
Stay up to date with new releases and sign up for Melanie's mailing list: http://bit.ly/2P7MATT Website: www.melanieharlow.com
November 15, 2022 | Posted in Release Day Blitz, Review | By Two Book Pushers
Fernhill Lane by Kristen Proby is now live!
From Wall Street Journal Bestselling author Kristen Proby comes a small town, second chance romance! Fernhill Lane is the newest installment in the Huckleberry Bay series!
She didn't think she'd ever come home again.
When Sarah Bitterman left Huckleberry Bay at the tender age of nineteen, newly married to a much older man, she had every intention of coming home to visit. Sadly, she quickly learned that was out of the question.
Until her husband throws her out with only the clothes on her back and finally sets Sarah free.
Coming back to the small seaside town has been the hardest thing she's ever done. Facing those who loved her the most and think she turned her back on them is almost unbearable. But she needs her two best friends, and she's longed to make amends with her little brother.
Huckleberry Bay is like the art in her soul. And now she can put down roots and begin to heal.
Tanner Hilleman knew it was a mistake to let the love of his life go all those years ago, and he's never stopped thinking about her. Now that she's home, while he's giving her the space she needs, he's also determined to make Sarah see that they belong together.
Unfortunately, Sarah's past has followed her to Huckleberry Bay and threatens to destroy everything she loves. Will she and Tanner survive it? Or will it tear them apart for good?
Download today on Amazon, Apple Books, Audible, Barnes & Noble, and Kobo!
Amazon: https://amzn.to/3HK1kBB
Apple Books: https://apple.co/3N6zPmV
Nook: https://bit.ly/3OtWE4O
Kobo: https://bit.ly/3n2MnRy
Audible: http://bit.ly/3fWa0LO
Narrated by: Andi Arndt & Gomez Pugh
Add to Goodreads: https://bit.ly/39AMUHi
Fernhill Lane is the second book in the Huckerberry Bay series by Kristen Proby. You can read each book in the series as standalone but I recommend reading them in order since these friends are friendship goals and the men they love are their perfect matches. 
Sarah left home at nineteen in hopes of a better life with the man she loved. It all turned to hell once they were married. Isolated from family and friends. He controlled every aspect of her life until he found a replacement and kicked her out with just the clothes on her back. She wasn't sure if her friends and brother would forgive her for leaving them behind. They didn't know what her life was like without them and it was now time to tell them the truth and get her life back. After a few months, she was back in her groove and was ready to move into her own space, what she didn't expect was the perfect little spot was her high school sweetheart's guesthouse…
Tanner has never stopped loving her. He knew it was a mistake letting her go all those years ago and he has regretted it ever since. And now, she was back and he needed to give her space. To heal her wounds. To make sure she was ready for his wooing. So when she moves in just a few hundred feet from his home, hope is right there on the edge. He wants to prove to her that they belong together. That what they had was real and that they can have it again. Is she ready to give him another chance? 
Love these two!! I felt for Sarah in Lighthouse Way. I also started to fall for Tanner. I knew their story would be amazing and it totally was! It's full of heart, passion, friendship, and even suspense! I can't wait for the next book. Oh, June, you are in so much trouble…
"I don't think you're fragile, but you are precious," he says as his fingers move into my hair to brush gently. "And I don't care if that sounds cheesy." 
"Maybe only a little cheesy."
"I remember every inch of your body, but I can't wait to explore and rediscover you."
"For such a nice girl," Apollo says thoughtfully, "you sure have a lot of people who don't like you." 
Meet Kristen
Kristen Proby has published more than forty titles, many of which have hit the USA Today, New York Times and Wall Street Journal Bestsellers lists. She continues to self publish, best known for her With Me In Seattle and Boudreaux series, and is also proud to work with William Morrow, a division of HarperCollins, with the Fusion and Romancing Manhattan Series.
Kristen and her husband, John, make their home in her hometown of Whitefish, Montana with their two cats.
Connect with Kristen
Website: https://www.kristenprobyauthor.com/
Goodreads: https://www.goodreads.com/author/show/6550037.Kristen_Proby
Amazon: http://amzn.to/2BD4vfq
Facebook: https://www.facebook.com/BooksByKristenProby/
Facebook Group: https://www.facebook.com/groups/684662744993031/
Instagram: https://www.instagram.com/kristenproby/
Bookbub: https://www.bookbub.com/authors/kristen-proby
Pinterest: https://www.pinterest.com/handbagjunkie/
Verve: https://ververomance.com/app/KristenProby
November 15, 2022 | Posted in Release Day Blitz, Review | By Two Book Pushers
About When It Falls Apart 
With two protective older brothers and a traditional Catholic Italian mother, it's surprising that Chloe D'Angelo can  manage a date without someone in the family naysaying her romantic choice. And Dante Mancuso…oh, no. Her  brother's best friend is not a dating-app right swipe. 
But when they are left unsupervised on a late night in Vegas, all of that changes. Add in a Vegas wedding chapel and a  couple of "I dos" and Chloe wakes up with a ring on her finger and a hangover. Dating Dante was always a secret  desire, but marriage? The rift that this news would cause in her family has both of them keeping their nuptials to  themselves as they scramble to undo their Vegas mistake. 
Dante knew the rules: Chloe was off-limits. Only, he can't stop once his mind starts to believe she might be his forever.  Just as their attraction deepens, Chloe flees to Bali, desperate to clear her head. 
All Dante has to do is keep her brothers from killing him and convince Chloe that they are meant for each other. But  first, Dante has to find her. 
Be Your Everything is the second book in the D'Angelos series by Catherine Bybee. I really enjoyed When It Falls Apart and have been looking forward to Chloe and Dante's story! This is a brother's best friend secret wedding romance and I am here for it! Chloe has had a crush on Dante since she was young. He's only ever seen her as his best friend's little sister. He's been living in Italy for years and now they are all together and doing a bachelor/bachelorette party in Vegas. She didn't wear the red dress for him. She didn't have too much to drink and find herself in a wedding chapel and marrying her crush. Wait. She totally did. Now they have to keep it a secret until they can figure out what to do. Dante can't keep his eyes off Chloe. She's gorgeous and smart and funny and very off-limits. He knows her brothers would kill him if he touched her, but what if they were married. He didn't plan it, but when the situation arises, he jumps at his chance. Now he just has to convince her to take a chance on him. Chloe doesn't want to face Dante. She has real feelings for him but it can never work. She's already planning a trip to Bali so she'll just go early and get away. Dante isn't going to let her run from him. Not anymore. She's his wife and he wants to make her his for real. Oh boy! I freaking love Dante! He's swoony and funny and sexy and not the player everyone thinks he is. He's willing to fight for Chloe, literally! I loved their connection. They have known each other for a long time, to they have a history. The attraction has always been there and now they can act on it. What happens when their families find out? Totally chaos! Makes me miss my grandparents and my family. I loved the way Dante didn't give up on Chloe. He went after what he wanted. It was great seeing their families again. Oh Giovanni! I'm waiting for you!
"Go! I don't want to see any of you back here until Monday."
Chloe stood outside the back door of their home in Little Italy, surrounded by both her brothers and her soon-to-be sister-in-law. They all had small suitcases at their feet as the Uber van pulled up to take them to the airport.
Mari, their mother, had a hand on Francesca's shoulder as they saw the bachelor/bachelorette party off.
"Mama, are you absolutely certain?" Luca, the husband-to-be, her over-worried oldest brother, couldn't stop the concern that crossed his face anymore than he could the love he had in his eyes for the woman at his side.
He and Brooke were the real deal. Head over heels, all in . . . completely lost in each other.
Chloe couldn't be happier for them.
They needed Vega. Boy, did they need two nights in Vegas.
"I ran this restaurant before you were born and after with all three of you jumping around. I have it, Luca. Go. Just don't get married. Wait until you come back for that."
"What about babies?" Gio, the middle child and smart-ass in the family, asked.
"That you can do," Mari said with a wink.
Brooke knelt to Franny's level and gave the eight-year-old a kiss. "Listen to your nonna."
There were hugs and waves as Giovanni, or Gio, as he was more often called, shoved all the suitcases into the back of the van. 
Gio took the front seat as the rest of them climbed into the back.
"I can't believe you talked me into this," Luca said to his brother. "Busiest time of the year."
"It is not. That's in the summer," Chloe argued. It was the last week of November. The family restaurant was fully staffed and ran like a well-oiled machine, even with three of their employees out at the same time. "It's going to be nothing but family and friends, celebrations and ceremonies from here on out. This is the last chance for you two to let loose until it's all over." Chloe reminded them.
"You mean until after Christmas," Gio said.
"Right." They weren't taking their honeymoon until after Christmas. After they returned a week into the new year, then it would be Chloe's turn to get out of town. Her long-awaited tickets to Bali were burning a hole in her pocket.
This was her last opportunity to cut loose until it was all over as well.
Chloe watched their family home disappear from sight. It was a four-story building with the family restaurant on the bottom floor. The second story was the family home where they'd all grown up, and the third floor was where LUca, Brooke, and Franny now lived. On the very top was what used to be guest quarters but now was the bachelor pad that Gio took over. Secretly, Chloe was hoping Gio would find Mrs. Right and move on himself so she could occupy the upstairs apartment as her own space. She loved her mother, but living with her was getting old. As an Italian, Chloe wasn't going anywhere until she married, that's just the way things were done in her culture.
"Franny is going to be okay, right?" Brooke asked Luca as they settled in for the short ride to the airport.
Chloe rolled her eyes.
Francesca, Luca's daughter from his first unfortunate marriage, was probably already elbow-deep in gelato and milking Mari for all the attention and goodies a nonna could give her.
"She'll be fine," Luca said, kissing Brooke's forehead.
The ride to the airport took less than ten minutes, a perk when you lived in San Diego and everything was close. 
Getting through security and waiting in the airport would take longer than the actual flight to Vegas, but it beats a long drive across the California desert any day of the week.
"Thanks again for inviting Mayson to join you guys," Brooke said to Gio and Luca.
"He's a friend of yours. He's a friend of ours."
"Besides, we need even numbers," Chloe added. As she said that, she saw Salena waving them over to her side before they entered the TSA line.
"Vegas, baby!" Salena all but yelled for everyone to heard. 
Chloe tossed her arms around one of her dearest friends for a hug. They'd known each other before braces and periods. As ride-and-die friends went, Salena was someone Chloe could count on to be there.
"We could have picked you up," Gio said.
Salena, who lived in Little Italy as well, shrugged. "It's okay. I had JOey take me."
"Joey? Do I know Joey?"
She waved a hand. "Flavor of the month."
Gio narrowed his eyes. "You're worse than me."
"No one is worse than you," Chloe and Salena said in unison.
The three of them fell in line behind Luca and Brooke, who were arm in arm and whispering in each other's ears.
"They do know that we have separate rooms, right?" Chloe asked her brother.
"Yes."
"I don't think that's going to matter," Salena added.
"Divide and conquer. Once everyone arrives, we have dinner, pull straws on who is in charge for the night, and go to our separate clubs." Gio lowered his voice. "We'll give them tomorrow afternoon to knock it out."
Chloe laughed. "We may never see them again."
Salena nudged Chloe's shoulder as they inched their way up the line. "Is Dante flying directly from Italy?'
Just hearing Dante's name had Chloe standing taller. Gio's best friend, and the one boy that had always been "off-limits" for oh so many reasons, was the cause of many sleepless nights.
The man only grew more beautiful with every year that passed. 
And he knew it.
And the women knew it.
All the women!
"He's already in the States. New York, He'll be in Vegas about an hour after we land."
Salena nudged Chloe again with a grin once Gio turned around.
Stop. Chloe mouthed the word without sound.
Once they moved through security, they found their gate for the forty-five-minutes wait to board the plane.
Salena and Chloe sat with their luggage while the others went to find coffee and water for the flight.
"Are you prepared for a weekend with Dante?" Salena asked once they were alone.
Chloe shook her head. "Listen to you. It was a high school crush."
Salena laughed. "I'm pretty sure it started in fifth grade and never ended."
"He's lived in Italy for the better part of five years."
"And every time he comes home, you forget how to speak."
"That's not true."
Salena glared. 
Okay, it was a little bit true. "I did better last year." It helped that she stayed out of his orbit that time around and he was only home for a month.
"How long is he staying this time?"
"No idea," Chloe said. Her cell phone pinged, grabbing her attention.
She opened her messages inside a dating app she'd been on for a few weeks.
"Who is that?" Salena asked, looking over her shoulder.
Chloe glanced at the image on her screen, the one she'd swiped right on. He was thirty, no kids. Worked somewhere in La Jolla. "His name is Eric. We've been texting for a few days."
"He's cute."
"I thought so."
His text came through, asking what she was doing. She started typing.
"Have you met him yet?"
Chloe shook her head, finished her message about the bachelorette party in Vegas.
"Are you going to?"
Three dots indicated he was typing.
:Only if he asks." As progressive as she was, she found it necessary for the man to take the first steps.
"You know . . . if you stack the desk with dates while Dante is in town, it might be easier to be around the man."
Salena had a point.
Chloe's phone buzzed.
How about meeting for coffee when you get back? Wednesday enough time for you to sleep off the hangover?
Chloe showed the message to Salena.
"Say yes."
Her friend was right. Chloe needed all the help she could get when Dante was home. If her attention was elsewhere, maybe he'd lose his appeal.
She agreed to coffee with Eric on Wednesday and told him she'd get in touch when she returned.
"I have a feeling this weekend is going to be one for the record books," Salena said as she watched more passengers arrive for their flight.
"It's likely the one and only time I'll be in Vegas with both my brothers."
"Considering how they've helicoptered you since your papa passed, that's not a bad thing."
She'd been seventeen when their father died. Luca became the head of the family while he had a one-year-old and a failing marriage. What a crappy couple of years that had been. Now, things are looking up. For all of them.
She'd finished her college classes and earned her business degree. But instead of working for someone else, she wanted to do something on her own. She blamed her family for that. Yes, she waited tables at their restaurant and, honestly, liked the job. But what she loved more than anything was teaching yoga. Her trip to Bali was supposed to happen the year the world shut down, and it was only now that time and the world's health were giving her the opportunity to go. She knew, somehow, that the trip was going to guide her to whatever her path was going to be. Maybe she'd start her own studio or her own online channel. Brooke had a boatload of knowledge about marketing and was on board with helping her start up. Financially, Chloe had banked nearly everything she'd earned from the first day she started working and was more ready than most to begin her future.
Her father, in all his wisdom, had taken out a life insurance policy that their mother had divided and put into investment plans for each of them. Luca immediately put everything in his name to his daughter. Giovanni was itching to invest in a vineyard. The resident sommelier wanted to spend time in Tuscany as much as she wanted to spend time in Bali. So, while they did pull shifts waiting tables, doing what had to be done to make the family restaurant run, it wasn't their lifelong ambition. Well, Luca was the chef, and that was his life's choice . . . and she and Gio were thankful for it.
"They promised not to act like big brothers in Vegas," Chloe said.
"Yeah, well, they aren't going to the same strip clubs we are."
The image of her brothers holding a hand over her eyes made her smile. "Thank God for that."
*****
The Venetian Las Vegas was one of those hotels where every room was a suite. Put two of them together and everyone had their own bed with plenty of room.
Two rooms for the women, two for the men.
On different floors. Although Luca wanted to argue that arrangement when they were checking in.
"Oh, no. If we're out late, you are not going to pull that older-brother card on us," Chloe started in at the reception desk.
"How late do you plan on being out?" Luca asked.
"The real question is how early in the morning will we be walking in," Salena informed him.
Gio patted his brother's shoulder. "They're all talk."
Brooke waved her phone in the air. "Carment just landed."
Carmen was Brooke's best friend, and maid of honor, from Seattle.
"When is Mayson arriving?"
"Not until three."
"We should be good and buzzed by then," Gio pointed out.
The receptionist handed them their keys and they headed toward the elevators.
They passed the casino, and even at eleven in the morning, the people sitting in front of the slot machines appeared as if they'd been there all night.
"Do you gamble?" Salena asked Brooke.
"I don't mind giving it a whirl, but I don't see dropping a paycheck chasing odds that are stacked against me."
Gio nudged his brother. "I take it you didn't tell her about your little addiction."
Broke snapped her attention toward the two of them.
Luca pushed him away, punched his shoulder. "He's kidding."
Chloe laughed, pressed their floor when they got on the elevators.
Gio pressed two floors higher.
Luca moaned.
"Dinner at six thirty, downstairs at the steakhouse," Gio reminded Chloe.
"We'll be there."
A few moments later Chloe grabbed Brooke's free hand and dragged her out of the small space. "C'mon. Time to have fun."
They laughed as they made their way to their rooms. Inside, they opened the first of the two doors. The welcome package they'd requested–complete with chilled champagne and a basket of fruit–was in the living room portion of one of the suites.
The door between the rooms was open, and in the other room was another bottle of bubbly and a basket of cheese, crackers, and cold meats.
"Salena and I will take this room and you and Carment take the other," Chloe suggested.
"Sounds good to me," Brooke said as she pushed through and rolled her suitcase to the second room.
"This is beautiful."
The view from the massive windows looking out over the Vegas Strip was something to marvel at.
"I wonder if it's even brighter at night with Christmas lights?" Salena asked.
"Probably." Chloe turned to her friend and hanged her the champagne. "Let's get this party started."
"Wow. This bathroom is huge!" Brooke's voice called from the other room.
"Glad you like it."
The sound of the cork popping out of the bottle filled the room. "Hey yo!"
Brooke bounced back in, a smile on her face. "I heard that."
Salena poured the wine and Chloe made a toast. "To your last single weekend in Vegas."
"You make it sound like we're going out to find random men to hook up with."
"Not hook up with, but look up at," Chloe countered.
"Thunder Down Under." Salena lifted her glass high.
"Magic Mike," Chloe said.
They drank the bubble wine and turned to the food. "Pacing, food, and hydration," Brooke added.
That was the plan.
Only by the time Carmen arrived, less than an hour later, the first bottle of champagne was gone and the second was open.
*****
Dante Mancuso walked through the Vegas casino with a suitcase the size of a smart car. To anyone looking, they'd think he was moving in and not there for a weekend bachelor party. 
He bypassed the reception desk, already aware of the room he was in, and headed toward the elevators.
Music met his ears as he approached the door to the suite. He smiled, anticipating his friends.
It had been too long.
He knocked twice. "Open up, you drunk bastards."
The door swung open wide. "About time." Gio stood there, a huge smile.
God, it was great to see him.
They hugged long and hard. Strong pats on the back. "You look good."
"You do, too."
He stepped in the room, dragging his suitcase behind.
"Jesus, Dante, what do you have in there, a body?"
"Shut up. I was going to ship it from Italy, but this made more sense."
Gio stood back, lifted his voice to the room beyond the door connecting the two. "Luca, Dante is here."
Luca walked around the corner, put the glass in his hand down. "Damn, look at you."
They hugged. "Doing it again, huh?"
"Doing it right this time," Luca told him.
"I can't wait to meet her."
Luca stepped back. "We can go to their room now and I can introduce you."
Gio stepped between the two of them. "Oh, no. We just got here. They're probably tits-up in fingernail polish and facial lotion. Dinner is soon enough." Gio patted Luca's chest.
"Who is with the bachelorettes?" Dante asked, fishing for information.
"Chloe and Salena. And carmen, who you haven't met," Gio told him.
The guest list brought an instant smile to his face. "Salena, huh? That's gonna spell trouble."
"Brooke and Carmen will keep the younger girls in check," Luca told him.
Dante patted his friend on the back. "If that's what you want to believe, old man." Luca earned the title by being the oldest and cemented it ot being Mr. Responsibility from the day his father passed. "You look happy."
Luca sighed. "I love her. "
"And Franny?"
"She loved her, too."
Dante shrugged out of his coat. "What are we drinking?
"Whiskey."
"Perfect."
About the Author  
Catherine is a #1 Wall Street Journal, Amazon, and Indie Reader bestselling author. In addition, her books have also  graced The New York Times and USA Today bestsellers lists. In total she has written thirty-six beloved books that have  collectively sold more than 10 million copies and have been translated into more than twenty languages. 
Raised in Washington State, Bybee moved to Southern California in the hope of becoming a movie star. After growing  bored with waiting tables, she returned to school and became a registered nurse, spending most of her career in urban  emergency rooms. She now writes full time and has penned the Not Quite series, The Weekday Brides series, the Most  Likely To series, and the First Wives series. Learn more about Catherine and her books at www.catherinebybee.com
November 15, 2022 | Posted in Release Day Blitz | By Two Book Pushers
"Breathtaking, gut-wrenching, viscerally romantic.
I want to curl up and live in this book."
―Talia Hibbert, New York Times bestselling author
Before I Let Go, an all-new powerful, soul-gripping second chance romance filled with raw emotion and sizzling steam from USA Today bestselling author Kennedy Ryan, is now available!
Their love was supposed to last forever. But when life delivered blow after devastating blow, Yasmen and Josiah Wade found that love alone couldn't solve or save everything
It couldn't save their marriage.
Yasmen wasn't prepared for how her life fell apart, but she's is finally starting to find joy again. She and Josiah have found a new rhythm, co-parenting their two kids and running a thriving business together. Yet like magnets, they're always drawn back to each other, and now they're beginning to wonder if they're truly ready to let go of everything they once had.
Soon, one stolen kiss leads to another . . . and then more. It's hot. It's illicit. It's all good—until old wounds reopen. Is it too late for them to find forever? Or could they even be better, the second time around?
Discover the romance everyone is raving about!
Amazon: https://amzn.to/3Fk8s6I
Amazon Worldwide: https://mybook.to/beforeiletgo
Apple Books: https://apple.co/3seQr49
Kobo: https://bit.ly/386l5Gb
Google Play: https://bit.ly/3N8XROH
Nook: https://bit.ly/3Fgek0t
Paperback and Hardback
Amazon: https://amzn.to/3LFbdBL
Barnes and Noble: https://bit.ly/3w2n0U9
Book Depository: https://bit.ly/3QFPr2p
Target: https://rb.gy/lc0brm
Forever: https://bit.ly/3QKLmKv
Audio
Amazon: https://rb.gy/pxrsnv
Barnes and Noble: https://bit.ly/3yfsk9j
Add Before I Let Go to Goodreads: https://bit.ly/BILGGR
Pre-order Signed, Personalized Paperbacks! Quail Ridge (Raleigh, NC): https://bit.ly/BeforeILetGoQR Bookmarks (Winston-Salem, NC): https://bit.ly/BeforeILetGoBkmks
In addition to appearances in North Carolina, Kennedy will also be on tour in Atlanta, New York City & Los Angeles!
Find all tour details here: www.kennedyryanwrites.com
About Kennedy Ryan
A RITA® and Audie® Award winner, USA Today bestselling author Kennedy Ryan writes for women from all walks of life, empowering them and placing them firmly at the center of each story and in charge of their own destinies. Her heroes respect, cherish, and lose their minds for the women who capture their hearts. Kennedy and her writings have been featured in Chicken Soup for the Soul, USA Today, Entertainment Weekly, Glamour, Cosmopolitan, TIME, O magazine, and many others. She is a wife to her lifetime lover and mother to an extraordinary son.
Connect with Kennedy
Text KennedyRyan to 797979 for release and sales news by text!
Subscribe to Mailing List: subscribepage.com/kennedyryan
Website: http://kennedyryanwrites.com
Facebook Reader Group: http://bit.ly/2GY6eyb
TikTok: @kennedyryanauthor
Instagram: http://bit.ly/2TaYiAi
Facebook: http://bit.ly/2GUq0uF
Amazon: http://amzn.to/2Fvhqiz
Pinterest: http://bit.ly/2NE0cU0
BookBub: bookbub.com/authors/kennedy-ryan
November 8, 2022 | Posted in Release Day Blitz, Review | By Two Book Pushers

THE GOOD GUY CHALLENGE by Lauren Blakely
Release Date: November 8th
THE GOOD GUY CHALLENGE, the second standalone book in The Dating Games Series, from #1 NYT bestselling author Lauren Blakely is NOW LIVE and FREE in KU!!
Make sure to grab this all-new, fake dating, MF sports romance TODAY!!
NOW AVAILABLE! FREE IN KU!
✦ Amazon ➜ https://blkly.pub/AmazonGoodGuy
✦ Audible ➜ https://blkly.pub/AudioGoodGuy
(Narrated by Stella Hunter and Jason Clarke)
The Good Guy Challenge is the second book in the The Dating Games series by Lauren Blakely. You can read each book as standalone but I recommend reading the series since in Lauren fashion, there are always connections between characters. This is Ellie (Veronica's bestie) and Gabe's (Drew's teammate) story and it was full of surprises! 
Ellie Snow was making moves. Moving from New York to Venice Beach. Moving from actress to writer/producer. She was a boss lady and an independent woman. She was nervous and excited for her new life. She had a week before she got crazy busy with her show, The Dating Games. Her plan was to chill and hang out with old and new friends. What she didn't see coming was a challenge. To date a good guy and she just so happened to see her teenage dream the night before. He was the good guy on the block in their hometown. He was also hot as sin. A tatted football player with a big heart. A good guy. What she didn't expect was another side to him…
A filthy side. An alpha side. An adventurous side. And less than a week to explore them. That was the deal. 
These two are 🔥🔥! Holy fucking hotness, Batman!! I can't even. Lauren brought in the kink with this one and I am here for it. It's the prefect amount of fun, sweet, and sinful. It's one of my favorite Lauren books! The characters. The connection. The confessions. The heat. The love. The friendships. Everything! 
I ♥️ Gigi! I ♥️Myrtle too!! 
"Gabe, I want you to kiss me like you'll die if you don't." 
Hello, five-alarm fire! This man can go from zero to sixty in the dirty department. I'm determined to keep up. 
This woman is going to push all my buttons tonight. When Ellie role-plays, she fucking plays. She is all in. And I have to hold my own. 
The Good Guy Challenge is the second book in The Dating Games series by Lauren Blakely. I had no idea when I met Gabe in Two A Day that he was going to give us all the flirty, dirty business but I am here for it! What's better than playing a game you love, hanging out with your buddies and just being a genuinely nice guy? Running into an old friend who's all grown up and gorgeous. Now that she's not too young for him, it's ok for him to take a second look. And a third and fourth. Ellie can't believe her luck is about to change. No more bad boys for her. When she runs into an old crush, who's a good guy, she needs to accept the challenge. She doesn't expect Gabe to be a dirty talking bad boy in the bedroom, but whoa. Please and thank you! The more time they spend together, the more real it gets. Is this just a fun challenge or is it something more? Oh damn! These two almost lit my kindle on fire! Their banter was fun, their sexiness off the charts. I'm still fanning myself! Gabe is so sweet and dirty and fun and one of those book boyfriends you wish were real! Ellie is sweet, sassy and ready for anything Gabe wants. Their history gives them the extra connection and makes it all that much more! I'm loving this series and can't wait for what Lauren has next!
Blurb:
Fake real dating the one who got away? Sign me up…
There's just something about bad boys. Tattoos and leather jackets, am I right?
Trouble is, my last boyfriend was a teensy bit too bad and now he's in prison. Yikes.
When my friends challenge me to take a dip in the good guy side of the dating pool, I see their dating bet and I raise it, looking up the guy I crushed on growing up.
With a winning grin and heart of gold, Gabe Clements is now the star receiver for a pro football team.
Except, the supposed good guy turns out to be nothing like I imagined. He's better. He's growly, possessive, smoldering.
And he's determined too. At the end of the night, he asks me to be his fake real girlfriend for the rest of the week.
Sounds like my kind of dating challenge since he's a good guy by day, and a very dirty man after dark.
I'll cure my bad boy blues in no time.
Well, as long as I don't fall for Gabe's big heart too.
The Good Guy Challenge is a standalone romance in The Dating Games series! You'll also enjoy The Virgin Next Door!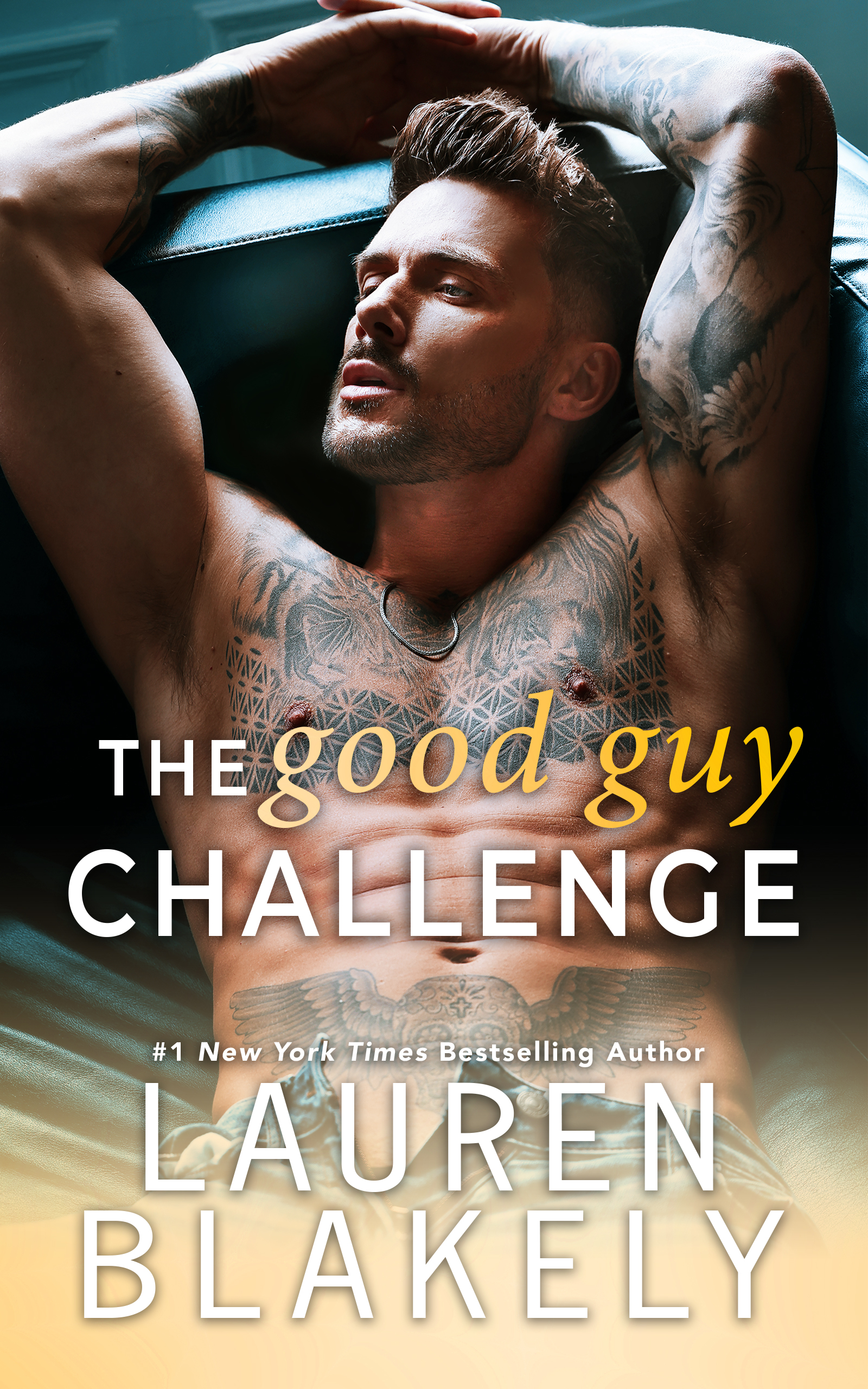 About Lauren Blakely:
A #1 New York Times Bestselling, #1 Wall Street Journal Bestselling, and #1 Audible
Bestselling author, Lauren Blakely is known for her contemporary romance style that's
sexy, sweet, and witty. She also writes USA Today bestselling LGBTQ romance.
With fourteen New York Times bestsellers, her titles have appeared on the New York
Times, USA Today, and Wall Street Journal Bestseller Lists more than 100 times, with
more than 60 titles on the USA Today Bestsellers list alone. She's sold more than 5 million books. A Brown University graduate, Lauren likes dogs, cake and show tunes and is the vegetarian at your dinner party.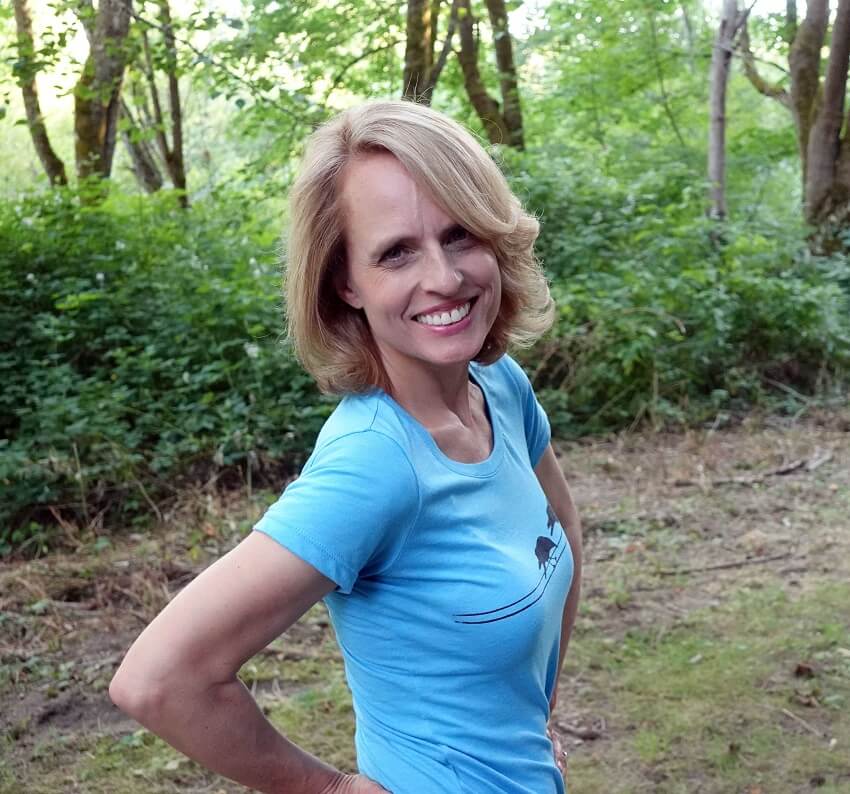 Connect w/Lauren:
Website: laurenblakely.com
NL Signup: http://laurenblakely.com/newsletter
Facebook: http://www.facebook.com/LaurenBlakelyBooks
Instagram: http://instagram.com/laurenblakelybooks
Twitter: http://twitter.com/LaurenBlakely3
Tik Tok: https://www.tiktok.com/@laurenblakelybooks
November 8, 2022 | Posted in Release Day Blitz, Review | By Two Book Pushers
When the Stage Dive crew decides to help, they do it in a big way.
Just What I Needed, a brand-new nanny meets rock star producer romance from New York Times bestselling author Kylie Scott is now available!
From New York Times and USA Today bestselling author Kylie Scott comes a new story in her Stage Dive series…
Nanny and housekeeper Jude has been going through a dry patch. Getting ready to dip her toes back into the dating pool is a little nerve racking. And the offers of assistance from her boss, David Ferris, and his band are not helping. Right up until music producer Dean Jennings arrives to work on the band's latest album.
But Dean is more than a little wary of dating anyone with anything to do with the Stage Dive crew after losing Lena to lead singer Jimmy Ferris all those years ago. Can Jude a) Convince the crew to stay out of her business and b) Woo the man of her dreams?
**Every 1001 Dark Nights novella is a standalone story. For new readers, it's an introduction to an author's world. And for fans, it's a bonus book in the author's series. We hope you'll enjoy each one as much as we do.**
Grab your copy today exclusively on Amazon!
Amazon: https://amzn.to/3zml2jf Amazon Worldwide: https://mybook.to/justwhatineeded
Add to Goodreads: https://bit.ly/3zJ3380
Just What I Needed is a novella in the Stage Dive series by Kylie Scott. I have read but not all of the series so I can say you can absolutely read this as a standalone. I can also say that it will make you want to read more in the series. 
The first time she saw him he was half-naked in her kitchen. She had no complaints except how awkward she felt in his presence. She was a hot mess with one-word answers till her friends came in to build her confidence and get the ball rolling on what could be the start of something new and exciting. Love. 
Dean and Jude's story is

so much fun! It's also flirty, sexy, and beautiful. 
There's something romantic and soulful about a man who is a musician.
"Can't believe you think we wouldn't work in bed, though. Not going to lie, Jude. That hurts." 
"So prove me wrong, Dean. Prove me wrong."
About Kylie Scott
Kylie is a New York Times and USA Today, best-selling author. She was voted Australian Romance Writer of the year in 2013, 2014 & 2018 by the Australian Romance Witer's Association and her books have been translated into eleven different languages. She is a long-time fan of romance, rock music, and B-grade horror films. Based in Queensland, Australia, with her two children and husband, she reads, writes, and never dithers around on the internet.
Connect with Kylie
Amazon: https://amzn.to/2XujcZh
Bookbub: http://bit.ly/2GngiQq
Facebook: http://bit.ly/2OiXx3I Twitter: http://bit.ly/391pjJM Instagram: http://bit.ly/2EUrx11
Goodreads: http://bit.ly/2Imusk3
Pinterest: http://bit.ly/2S7cc32
Book+Main Bites: http://bit.ly/2ETz5RQ
Stay up to date with Kylie by joining her mailing list: http://bit.ly/2TOOivT
Website: https://kyliescott.com/
For More information about 1001 Dark Nights Visit
Facebook: https://bit.ly/37fl0uT Instagram: https://bit.ly/2Y7uBQp Website: https://bit.ly/2AIIr3A
Stay up to date on all 1001 Dark Nights releases, join their mailing list today!
November 8, 2022 | Posted in Release Day Blitz, Review | By Two Book Pushers
Can this tormented prince accept love, or will he push his princess away forever?
Princess and the Player, an all-new neighbors-to-lovers romance featuring an NFL football player and a masquerade ball from Wall Street Journal bestselling author Ilsa Madden-Mills, is now available!
A masquerade ball brings together an NFL player and a penniless princess in this smart and sexy romance from Wall Street Journal bestselling author Ilsa Madden-Mills. Levelheaded Francesca Lane never thought she'd miss her own wedding. But when her fiancé betrays her, she puts on her wedding dress and ditches the altar for a masquerade ball—at an exclusive lifestyle club. There, she meets unknown-to-her NFL star Tuck Avery, dressed as a prince and hiding behind a mask—he's there to celebrate his birthday. For one night, Francesca and Tuck indulge in a wickedly incognito affair. No names. No strings. And the masks don't come off. Unfortunately, Francesca realizes quickly that her masked prince is the wealthy jock who lives in the penthouse of her apartment building. His hobbies include parties and supermodels—or so the tabloids say. Getting tangled up with a shallow jerk is the last thing Francesca needs right now, so she vows to keep Tuck from recognizing her (not that she's his type anyway). But fate has a teeny-tiny trick up her sleeve…a plus sign on a pregnancy test. Can this tormented prince accept love, or will he push his princess away forever?
Fall in love today! Amazon: https://amzn.to/3KWVJJ6 Amazon Worldwide: http://mybook.to/PrincessPlayer Amazon Paperback: https://amzn.to/3jXSR2s
Add to Goodreads: https://bit.ly/392Sim1
The Princess and the Player is the second book in the Strangers in Love series by the fabulous Ilsa Madden Mills. I knew when we met Tuck I was going to love him. His story is everything I wanted it to be and more! He's funny, sexy, a pro baller, but he's also hurting and has a past that's constantly haunting him. When he meets a beautiful stranger at a masquerade party at a sex club, it seems like the perfect night. No names, no faces and just one night. But fate had other ideas. Turns out she lives in his building and doesn't seem to want anything to do with him. Francesca never thought her one-night stand would turn out to be her rich and famous neighbor, but here we are. Now not only does she see him everywhere, she's keeping a very big secret from him. She's pregnant. What are the odds. The connection between Tuck and Francesca is too strong for either of them to ignore. For once Tuck wants to actually get to know a woman. There's just something about her that calls to him. Calms him. Makes him want to be a better man. But what happens when he finds out about the baby? Will that be the end of them or the beginning of their story? Oh man! I loved Tuck and Francesca! Their romance isn't all fun and games. They both have pasts and have a hard time accepting love. But they are destined to be together. I loved watching them fall and grow and finally give in. Overall, I laughed, cried, got hot and bothered and just loved it!
Princess and The Player is the second book in the Strangers in Love series by Ilsa Madden-Mills. I loved Tuck in Beauty and The Baller so I was so excited when Ilsa announced that he was getting his own book! It is a total standalone by the way, but I recommend reading Ronan's story since it's awesome too! 
It's Tuck's birthday. It was supposed to be Francesca's wedding day. Fate brought them to a…sex club that night. She calls him a perv and that was it, their start. Their night ended with a bang. A few of them. A one-night no-strings attached night. No names. Makes stayed on. No kissing. It was a night neither of them forgot but it was always supposed to be that one night. And when she realizes who he really is…she doesn't want more. He is an arrogant playboy who dates model after model and plays football for a living and happens to live in her building. She doesn't want him to recognize her especially after she finds out her illness is not a bug trying to kill her from the inside but a baby. She doesn't know what to do, should he feel like she trapped him? Would he be angry? Would he abandon her and their baby? She is confused and more so when she actually starts to get to know him. Maybe the prince could love the princess and live happily ever after… but wait will happen when he finds out about the heir? 
I loved this couple! They are a hot mess and that makes them even more real. From start to finish I was addicted to them. I also loved her little family of misfits and their billionaire. And of course Jasper. That man also has my heart. ♥️
"So do you ever think about that night?" I don't have to ask which night. 
"No, never." Big. Fat. Lie.
"Yeah, me neither. It really sucked. Worst ever." 
"Life sure does want you to see him," he murmurs. 
I grimace. Fate is a tenacious bitch. 
And sometimes when she doesn't get what she wants, she tries again and again.
"You undo me, Princess . . ."
About Ilsa Madden-Mills
Wall Street Journal, New York Times and USA Today best-selling author Ilsa Madden-Mills is best known for her angsty new adult romances and romantic comedies.
Eight of her eleven novels have placed in the Amazon Top 10 Best-seller List: Dirty English #1; Fake Fiancée and I Dare You #2; I Bet You, Filthy English, and Very Bad Things #6; Boyfriend Bargain #8; The Last Guy, her collaboration with Tia Louise, #4.
A former high school English teacher, she adores all things Pride and Prejudice, and of course, Mr. Darcy is her ultimate hero.
She's addicted to frothy coffee beverages, cheesy magnets, and any book featuring unicorns and sword-wielding females. Feel free to stalk her online.
Connect with Ilsa
Amazon: http://amzn.to/2nY2pxT
Instagram: http://bit.ly/35xfNfo
Stay up to day with Ilsa by joining her mailing list: http://bit.ly/2ZWaTYh
Goodreads: http://bit.ly/2EESfM9
Bookbub: http://bit.ly/2GaR6cn
Book+Main: http://bit.ly/2s4j9ci
Website: https://www.ilsamaddenmills.com
Join her Unicorn Girls Group on FB, the best way to keep up: http://bit.ly/37B6Nay
Sign up for phone alert for book releases (max of 4) Text ROMANCE to 21000
November 1, 2022 | Posted in Release Day Blitz, Review | By Two Book Pushers
NOBODY CARES UNLESS YOU'RE PRETTY by Lani Lynn Vale is OUT NOW!!!
The problem with Wake was that he was understandable. He was the type of villain that literally scared the absolute shit out of you because you knew that under the right circumstances, you could end up exactly like him.
Which, sadly, was the case for me.
I'd done the exact same thing as Wake, and now I was a murderer just like him.
Did I know that I did wrong? Hell yes.
Did I regret that? Hell no.
Did I plan on changing a thing? Also, no.
Was I falling in love with a man that should scare the shit out of me? A resounding hell yes.
GRAB YOUR COPY NOW 
✦ Amazon: https://amzn.to/3yIl8SC
✦ Apple: https://apple.co/3PMWqHp
✦ Nook: https://bit.ly/3S0rNhL
✦ Kobo: https://bit.ly/3bmWbDR
Add to your TBR: https://bit.ly/3Qqd1kf
Nobody Cared Unless You're Pretty is the first book in the Gator Bait MC series. I was downright giddy when I heard Wake was getting his own story! We met both Wake and Dutch in Never Trust the Living and now they are starting a whole new spin off series! Wake is about to be released from jail. Dutch is a psychologist. She seeks him out in prison to ask for help. Now that he's out he's going to find her. He knew he wanted her the minute he saw her. All red hair and curves. Now he just has to convince her to take a chance on him. It's not going to take all that much! Dutch wants Wake desperately but she wasn't prepared for how fast things started to move. One night turns into more, turns into something very permanent. Now she's getting to know his daughter and his sister and being brought into his family. They are stronger together and they need to be to deal with the sheriff. He's trying to catch Wake and send him back to prison, but that isn't going to happen. Wake and Dutch are so fun and hot and sexy together! I love how smart and independent she is and how laid back and fierce he is! It's the perfect start to a new series!