September 29, 2023 | Posted in Promo, Review | By Two Book Pushers
Title: The Unperfects
Series: The Perfects: a series of standalone novels
Author: Rachel Van Dyken
New Adult Romance, Angsty, Dramedy, College, Twins, Insta-Love

From the moment he landed in her lap, he knew they were meant to be. That is, until he started to see double, and doubt everything that happened. Find out if it was truly insta-love or just insta-lust in #1 New York Times bestselling author Rachel Van Dyken's steamy new adult romance, The Unperfects.
I saw her. Liked her instantly. May have slept with her twice only to… well, never mind. It gets confusing after that point.
You see, there are two of them. Identical twins.
All I wanted was a vacation from the bullshit but what I got was evil twin number one and innocent twin number two.
They say things come in threes, so help me God, if there's another.
I'm healing from past trauma but may have created more for my future.
Anyone got any sage?
A candle?
At this point, I'd take Barney.
Send help.
Love, Quinn
Get The Unperfects Today!
The Unperfects is Rachel Van Dyken's newest standalone. I do highly recommend reading The Perfects beforehand so you know Quinn's full story. 
When Chloe decided to go canoeing, she had no idea that a handsome, funny, and charming man would fall from the sky and land right between her thighs. She definitely isn't complaining about it. Quinn made her feel alive, wanted, and normal. He didn't realize after their first date about how much that meant to her. 
Quinn was in Seaside, Oregon on vacation during his gap year. He was also there to heal his heart. He wasn't looking for a woman who was his brightness in the dark. She was beautiful, witty, and fun. And after having sex, it was even more of everything including the confusion of his emotions and Chloe's ups and downs. 
I don't want to spoil anything but I will say it involves secrets, heartache, and anger. It also involves love, loyalty, and friendships. It's not my favorite RVD books but I was still hooked. I wanted to give out hugs and slaps. I did laugh too. I was all over the place with this one.
The Unperfects is the newest romance from Rachel Van Dyken. You don't really have to read The Perfects, but it will help you understand Quinn more. I wanted his story and was excited when I heard we were getting it. He's been through a lot and his heart is broken. A quick jump off a cliff literally lands him between Chloe's legs. What luck! There's an instant attraction and it's fun and easy. Then it's not. I'm not going to lie, I wanted to cut a bitch and slap everyone! Except Zane who makes a hilarious appearance. I didn't fall in love with the characters like I usually do, but it was enjoyable. I really loved seeing so many of our favorites at the end!

Rachel Van Dyken is the #1 New York Times, Wall Street Journal, and USA Today bestselling author of over 100 books ranging from new adult romance to mafia romance to paranormal & fantasy romance. With over four million copies sold, she's been featured in Forbes, US Weekly, and USA Today. Her books have been translated in more than 15 countries. She was one of the first romance authors to have a Kindle in Motion book through Amazon publishing and continues to strive to be on the cutting edge of the reader experience. She keeps her home in the Pacific Northwest with her husband, adorable sons, naked cat, and two dogs. For more information about her books and upcoming events, visit www.RachelVanDykenAuthor.com.
Website | Instagram | Twitter | TikTok
Sign Up for Rachel's Newsletter
September 28, 2023 | Posted in Release Day Blitz, Review | By Two Book Pushers
I thought I'd lost myself…
Until Sam found me. I'm back in Safe Harbor, where I haven't belonged in over twenty years. I'm unsure how I ended up here, yet I'm certain Sam is the key to finally healing.
But it's complicated.
Sam's had a crush on me since we were younger. To me, however, he was always the annoying kid tagging along. Now he's all grown-up and delightfully bossy—and sexy—as he encourages me to reclaim my health.
I enjoy pushing Sam's buttons, but one button too many leads to a scorching kiss. Soon, we're using Sam's cushy bed for way more than sleeping. But I can't imagine staying in Safe Harbor forever, and no way is Sam leaving.
Sam's given me a place to stay, a job at his nonprofit coffee shop, and a sense of purpose when I had none. But can I give him my heart? And more importantly, can I overcome my past to make Safe Harbor my future?
FIND ME WORTHY is a hurt/comfort childhood crush-to-lovers MM romance. This unexpected roommate arrangement stars two mature heroes with a minor age gap, mental health representation, and plenty of first times and sexy discoveries for everyone. Deep feels, dual point-of-view, and big fluffy HEA guaranteed.
FIND ME WORTHY is book three and the thrilling conclusion to the Safe Harbor series from acclaimed author Annabeth Albert. This small historic Oregon town has a tight friend group, memorable secondary characters, quirky businesses, and long-held secrets. Each book stands alone with a fresh couple, but the background mystery of the town's secrets ties the series together, making reading in order more fun!
Find Me Worthy is the third and final book in the Safe Harbor series by Annabeth Albert (insert tears here!) I'm sad that the series is over, but I truly loved it! I'm glad it's coming full circle back to Worth and Sam. Sam had a crush on Worth when he was young and he's never forgotten about him. Through the series and the cold case about Worth's mom, Sam has texted him just to let him know he's thinking about him. When he finds Worth on his front lawn (the house that Worth grew up in), he knows he needs help. He takes him in and cares for him. Not letting him get away. Worth has a lot to deal with now that he's back in Safe Harbor. His physical and mental health took a hit and he needs help. Sam is there for him, supporting him and reminding him that he's important and special. When Sam realizes Worth needs more than just words, he's just the man to show him the way. The closer they get, the more comfortable Worth gets, but can he stay in town after everything that's happened? Sam's dreams sound wonderful. Could they be his dreams too? I've been waiting for this book and Annabeth didn't disappoint! Worth's story was emotional and heavy in ways the others weren't. Worth's mental health and his plan to take back control of his life were spot on. Sam helped Worth in ways he didn't even know in the past and now he wants a real future with the man he's always wanted. I loved seeing Sam's friends again and I loved his parents! I loved the love and support of the entire town. I'm sad the series is over (loved the epilogue!) but it was the perfect ending!
September 26, 2023 | Posted in Release Day Blitz, Review | By Two Book Pushers
Series: Burgers and Brew Crüe #8
Genre: Contemporary Romance
Tropes: Single Dad/Second Chance/Small Town
Release Date: September 26, 2023
BLURB
I spend my days brewing beer for the popular Brew Crüe Beer Company and my nights devoted to being a dad. Raising a young child with special needs can be tough and stressful, but I wouldn't change it for the world. He's everything to me, and the reason I keep going. It's him and me against the world, and I have no intention of changing that.
Then, Kinsley McGregor walks back into my life.
Letting her go all those years ago was the hardest thing I had ever done, and having her here proves how good we are. Unfortunately, her Nashville life is calling, and I will have to let her go again.
This time, it's not just my heart I risk, but my four-year-old son's too.
Kinsley
My entire life explodes on television for the whole world to witness. After my husband's public affair throughout the course of my very first headlining tour, I retreat to my safe haven: Stewart Grove. I need a place to lick my wounds and figure out my next step, without being under the watchful eye of the paparazzi, and I find it in my hometown.
I wasn't planning to reconnect the man I left behind, along with his adorable son.
Tucker Dunn was everything I ever wanted before I went to Nashville to chase my country music dreams. Leaving him in Stewart Grove wasn't easy, but it was the path we chose together.
Now, I stare down the same choices; only this time, the decision will be harder to make.
Without You is the eighth book in the Burgers and Brew series by Lacey Black. You can read each book as standalone but I highly recommend reading the series since they are all so much fun, sweet, and sexy. The Crüe is very much together in each book so it would be good to get to know each couple. This is Kellen's (bartender) sister's and his best friend, Tucker's story.
Kinsley needed to be home. Home to Stewart Grove with her brother. It was the only place she wanted to be after watching her husband have sex on national tv before her last concert on tour. She wasn't broken, she was angry. At him. At herself. She needed her safe place and that was with Kellen. And maybe with someone else…
Tucker has never forgotten the one that walked away. He wanted her to follow her dreams in Nashville nine years ago. He knows she has visited throughout the years but he hasn't seen her. And now, she was here and he knows she needs a friend. He knows that's what it could ever be. He is a single dad and she was a star who would need to go back to the touring life. But what if?!
What if they could reconnect as more than friends? What if he dreams change? What if he can't let her walk away this time? The love is still there, maybe it never truly left. But what if it was all too much?
Wow!! This series just keeps getting better and better! Tucker is swoonworthy, sweet, hot AF, and is such an amazing dad. Kinsley is a badass boss , sweet, and just fits in his world.
ALSO AVAILABLE
Kickstart My Heart (Book 1)
is 99c for a limited time!
All free in Kindle Unlimited
AUTHOR BIO
USA Today Bestselling Author Lacey Black is a Midwestern girl with a passion for reading, writing, and shopping. She carries her e-reader with her everywhere she goes so she never misses an opportunity to read a few pages. Always looking for a happily ever after, Lacey is passionate about contemporary romance novels and enjoys it further when you mix in a little suspense. She resides in a small town in Illinois with her husband, two children, and three rowdy chickens.
AUTHOR LINKS
September 26, 2023 | Posted in New Release, Review | By Two Book Pushers
A history of running… When Rafe Sharpe was eighteen, he put Coyote Ridge, his family, and everyone he knew in his rearview in order to escape his past. When he returned three years ago, everyone thought he'd returned to face the horrors that had shaped his existence. What he didn't tell anyone was that he'd been running then, too. But settling in didn't mean settling down because that wasn't in the cards for Rafe, even if he was secretly pining for the beautiful, pure-hearted Bailey Weber. Despite being his greatest temptation, Rafe managed to keep Bailey in the friend zone, opting to be her confidante and protector, ensuring she believed her feelings for him weren't reciprocated. After all, Rafe wasn't worthy of anyone's love. Not after what he did. The past and present collide… It isn't until a handsome man from his past rolls into town that Rafe realizes what he was running from and what he's been resisting would soon come together, becoming a powerful pull on the heartstrings he didn't even know he had.
Buy Links:
https://nicoleedwards.me/by-series/the-walkers/wcr/rafe/
Rafe is the eleventh book in the Walkers of Coyote Ridge by Nicole Edwards. I love the Walkers and their extended family and I will keep reading about Coyote Ridge and all the people who live and move there until the end of time. Rafe is Rex's brother(Book 6) and he left town when he was eighteen to get away from his past. He came back home three years ago, but he still hasn't moved on. He can't seem to stay away from Bailey even though he knows he has nothing to offer her. He cares about her more than she'll ever know, but he won't ever tell her. When Holt, a man from his past, shows up in town Rafe doesn't know what it means. Holt was the only man he's ever been with and he hasn't forgotten him. Holt and Bailey have an instant connection, but Bailey can't seem to stop thinking about Rafe. And now she's thinking about Holt and Rafe. And her! Together. Whoa! Where did that come from? But once it's on her mind and in her dreams, it's not going away. Can she love two men at the same time? They wouldn't be the first throuple in town, but what does Rafe want? Holt? Holt came to town for Rafe, but once he meets Bailey he knows he's not leaving. He and Bailey get closer and closer and once he finds out Bailey thinks about him with Rafe he knows what he has to do. Get Rafe to admit his feelings about him and Bailey. They can make this work. He knows they can. They just have to convince Rafe to let go of his past and let them love him. Wow! This was such a great story! I love these characters so much and I love the multi POV so you know what everyone is thinking. Rafe is tortured, but intense and full of love. Holt is cocky, and goes after what he wants. Bailey is fierce and had me cracking up! It was sweet, hot, sexy and emotional! I loved seeing old friends and can't want for more from the series!
September 22, 2023 | Posted in Release Day Blitz, Review | By Two Book Pushers
Honeyed by Carrie Aarons is now live!
Growing up in a house full of brothers, it's not a surprise that Alana Ashton is the princess of Hope Crest.
Being the only female of the small town's founding family means that while she usually gets her way, she has to work doubly hard to earn and keep respect. Veering from her expected path to follow crazy dreams, like opening her own shop, not only isn't in the cards, it's also not taken seriously. So when her best friend, the ex-high school quarterback with a smile of gold and a traumatic past, proposes marriage out of the blue after years of Alana not-so-secretly pining after him, the answer isn't an automatic no.
Marrying him, and the fortune they'll both inherit if she specifically says I do, could be just the thing to set her vision in motion. But can she keep their decades-long relationship strictly business, or will those long unrequited feelings fool her into thinking this union will be for life?
Warren Teal is the orphan no one wanted but everyone speculated about.
After his father tragically took his mother from him, Warren's story has been broadcast in the media for years. Cue the Ashtons, who took him under their wings the first time Alana brought him home in middle school. Years later, Hope Crest's royal family offered him a job at their renowned restaurant, and Warren thought he'd found the quiet, under-the-radar life he'd always been searching for.
Until the day he received a letter leaving him a fortune. There was just one catch; he must marry to receive it. And not just anyone, but the gorgeous, stubborn woman he'd always loved in secret but never felt worthy of. Knowing he could return the favor and grant her wildest dreams, he popped the question.
But when his past comes for the future they're building, she gets caught in the crossfires of the danger and darkness meant for him. Divorce, and breaking his own heart, seem like the only options to keep her safe.
Even if doing so means he may never get to confess that their fake marriage is the realest love he's ever experienced.
Download today or read for FREE with Kindle Unlimited!
Goodreads: https://bit.ly/3rt14D4
Honeyed is the second book in the Ashton Family series by Carrie Aarons. You can read each book as standalone but I recommend reading Bittersweet to get a glimpse into Warren and Alana's friendship. You know…before they get married. 
Alana has loved her best friend since she truly knew what love was. She has tried to date other men but they are not him. They have had their shares of ups and downs throughout the years but will always be there for each other. So when Warren out of the blue asks her to marry him… she knows it will confuse her heart even more but she agrees. For him. For her. For a friend. The money can make all their dreams come true. 
Warren's adoptive father knew exactly what he was doing when he added to his will that Will had to marry Alana to get his fortune. It was forcing Warren to get his head out of his ass to finally admit that he loved his best friend. But will he? He is one loyal and stubborn man but there is always a breaking point, right? 
Carrie killed it with this one. I love Warren and Alana. I love her family even though I wanted to tell off-one of the members. In the end it's an emotional, steamy, and fun story about two best friends who would do anything for one another. 
Meet Carrie Aarons
Author of romance novels such as Fool Me Twice and Love at First Fight, Carrie Aarons writes books that are just as swoon-worthy as they are sarcastic. A former journalist, she prefers the love stories of her imagination, and the athleisure dress code, much better.
When she isn't writing, Carrie is busy binging reality TV, having a love/hate relationship with cardio, and trying not to burn dinner. She lives in the suburbs of New Jersey with her husband, two children and ninety-pound rescue pup.
Connect with Carrie
Website | www.authorcarrieaarons.com
Goodreads | https://goodreads.com/carrieaarons
Amazon | https://amzn.to/3do0EDf
Facebook | https://facebook.com/carrieaarons
Facebook Group | https://bit.ly/2DDt1xX
Instagram | https://instagram.com/authorcarriea
Bookbub | https://bookbub.com/profile/carrie-aarons
TikTok | https://bit.ly/3fzcrkI
Newsletter | https://bit.ly/authorCAnewsletter
September 21, 2023 | Posted in Release Day Blitz, Review | By Two Book Pushers

INFAMOUS PARK AVENUE PRINCE


Park Avenue Princes #1


by Ella Frank & Brooke Blaine


Release Blitz


Release Date: September 21, 2023


Cover Design:


Hang Le



Photographer:



Ren Saliba


Genre: M/M Romance Standalone


Trope: Biawakening, virgin/golden boy, playboy, bet, revenge, new guy, secret relationship

---

Synopsis

Who are we? Like you even need to ask. We're the seven richer-than-sin legacies causing debauchery at the prestigious Astor University in Manhattan.
Some call us spoiled.
Some call us trouble.
But everyone calls us the Park Avenue Princes.
Weston LaRue
"The Playboy"
I'm never one to turn down a bet. Especially not when it comes to retaliating against the dean for pulling a dick move before summer break.
So when the dean's golden child arrives at Astor for his freshman year, my fellow troublemakers throw down a wager I can't resist.
The target: the dean's son, John Thomas Hawthorne, or "JT."
The bet: corruption in any way I choose.
It should've been easy. With his mess of brown curls, pouty lips, and good-boy reputation, JT is the perfect revenge. And even better? He's straight.
Challenge accepted. I'll do whatever it takes to prove a point, no matter how reckless it might be.
Game. On.
---

Add to your TBR List!

---
Purchase Link
Infamous Park Avenue Prince is the first book in the Park Avenue Princess series by one of my favorite duos, Ella Frank and Brooke Blaine. I am soooo excited about this series especially after reading the first book. 
Weston LaRue doesn't lose and he always gets what he wants. And right now, he wants to win this bet with his friends, get revenge against the dean, and JT Hawthorne to fall. The dean's son might have been warned about his group, the Park Avenue Princes but he knew his charm would get JT in his bed. What West didn't see coming was that JT would get into his heart…
JT knew he should stay away from West and his crew but he also wanted to have a good time and he liked West. Was he arrogant? Hell yes. Was he charming? 100%. Was he hot? That was where JT was confused… he never even thought about another man in that way but he did now. There was just something about him that made him fell alive, wanted, and adored in all kinds of ways. 
These two are straight 🔥. I am in love with the start of these new series. The characters. The story. The writing. It's addictive and different. I loved it all. I am excited about the next couple! I have a feeling I know who it is going to be and if I am right, it's going to be explosive. 
There is no other feeling in the world if you are a book lover than finding out one of your favorite writing duos is starting a new series! Ella Frank and Brooke Blaine are bringing it with the Park Avenue Princes! And there are seven of them! Woohoo! Weston LaRue is one of the richest students at Astor University and when he and his friends make a bet about the dean's son as revenge, he didn't see JT coming. He thought it would be easy, he's handsome, innocent and definitely corruptible. JT was warned about West and his friends, but he wants to make his own choices. West seems nice and friendly and wants to give JT the college experience. JT has never been attracted to men before but there's something about West. He's handsome, cocky, confident and friendly. He's also flirty and keeps showing up wherever JT is. The closer they get, the more JT relaxes and just lets things happen. He's attracted to West. A lot. It seems natural and right. West didn't expect to like JT, but he does. More than he's ever liked another man. He's good, nice and makes him a better man. But that all goes up in smoke when JT finds out about the bet. He not only broke JT's heart, he broke his own. Now he needs to find a way to fix it and get JT back. JT isn't going to make it easy and that's one of the things I love about him! He might be young, but he's tough and smart! I loved these two! They are opposites, but they go together so well. They are funny, sexy and even a little sweet. They share things about their lives and are open to learning new things. I'm already addicted to these characters and I can't wait for more!
---

Giveaway

$25 Amazon Gift Card
a Rafflecopter Giveaway
---

Other Titles Within this Series


INSATIABLE PARK AVENUE PRINCE


Park Avenue Princes #2


Coming Soon


Release Date: November 9, 2023


SCANDALOUS PARK AVENUE PRINCE


Park Avenue Princes #3


Coming Soon


Release Date: February 8, 2024

---

About the Author


Ella Frank is the USA Today Bestselling author of the Temptation series, including Try, Take,Trust, Tease, Tate, and True, and is the co-author of the fan-favorite PresLocke Series. Her Exquisite series has been praised as "scorching hot!" and "enticingly sexy!"
Some of her favorite authors include Tiffany Reisz, Kresley Cole, Riley Hart, J.R. Ward, Erika Wilde, Gena Showalter, and Carly Philips.
---

Connect with Ella

Website:
Newsletter Sign Up:
Facebook Author Page:
Facebook Reader Group:
Goodreads Author Page:
Instagram:
TikTok:
Pinterest:
Amazon Author Page:
Bookbub Author Page:
---

About the Author


Brooke Blaine is a USA Today Bestselling Author best known for writing romantic comedy and M/M romance. Her novels lead with humor and heart, but Brooke never shies away from throwing in something extra naughty that will scandalize her conservative Southern family for life (bless their hearts). She's a choc-o-holic, lives for eighties bands (which means she thinks guyliner is totally underrated), believes it's always wine o'clock, and lives with the coolest cat on the planet—her Ragdoll/Maine Coon mix, Jackson Agador Spartacus.

---

Connect with Brooke

Website:
Newsletter Sign Up:
Facebook Author Page:
Facebook Reader Group:
Goodreads Author Page:
Instagram:
TikTok:
Pinterest:
Amazon Author Page:
Bookbub Author Page:
---
September 14, 2023 | Posted in Release Day Blitz, Review | By Two Book Pushers
Off the Grid by K. Bromberg is now live! 
Spencer Riggs is fighting for his place, his name, in the elite sport of Formula 1.
His ultimate dream. A future determined by his past. His legacy.
He's passionate, reckless, and unswerving in his pursuit of all things.
Including me.
Camilla Moretti was determined to never return to one thing: Formula 1.
Shadows had kept her away, but family devotion brought her back. After all, Moretti Motorsports is her legacy.
She's dynamic, intelligent, and spectacular, and someone I can't seem to stay away from. Nor want to.
I have an objective. A lifelong goal. But I might throw it all away for her.
 Download today or read FREE in Kindle Unlimited!
Special Edition Paperback: https://geni.us/OTGSpEd
Get an alert when the audio is live!
Goodreads: https://geni.us/OTGGrds
Off the Grid is the first book in the Full Throttle series by K. Bromberg. I am late to game when it comes to Kristy's racing books so I am so happy that she has started a new series! Woohoo!
Camilla Moretti walked away from the racing world six years ago. She was involved with the family's other business, olive oil. She loved being in Italy using her marketing degree but when he father asks her to move to London to help with the Formula 1 team, she goes. It's not easy for her but she knows how important it is for her father and the team. On her first day, a new racer joins the team, and she so happened to meet him a few weeks ago… Let's just say it didn't end well.
Spencer Riggs wasn't happy about the way he promoted to F1 but this was his chance to prove that it was exactly where he belong. He was tired of being compared to his father. He was his own person. Had his own racing style. He was both nervous and excited for this opportunity. Who he didn't expect to be there on his first day was the woman he couldn't forget and she was the boss's daughter…
F*ck.
They needed to keep their relationship purely professional but it was hard when they were working together. Traveling together. The tension was crazy. The push and pull of it all. Camilla didn't want him but he was the first person in years to make her feel that rush. The rush of excitement, lust, including all the tingles. But, will it jeopardize Riggs chance in F1?
Overall, it's a rush!
Meet Kristy
New York Times Bestselling author K. Bromberg writes contemporary romance novels that contain a mixture of sweet, emotional, a whole lot of sexy, and a little bit of real. She likes to write strong heroines and damaged heroes who we love to hate but can't help to love.
A mom of three, she plots her novels in between school runs and soccer practices, more often than not with her laptop in tow and her mind scattered in too many different directions.
Since publishing her first book on a whim in 2013, Kristy has sold over one and a half million copies of her books across eighteen different countries and has landed on the New York Times, USA Today, and Wall Street Journal Bestsellers lists over thirty times. Her Driven trilogy (Driven, Fueled, and Crashed) is currently being adapted for film by the streaming platform, Passionflix, with the first movie (Driven) out now.
With her imagination always in overdrive, she is currently scheming, plotting, and swooning over her latest hero. You can find out more about him or chat with Kristy on any of her social media accounts. The easiest way to stay up to date on new releases and upcoming novels is to sign up for her newsletter (http://bit.ly/254MWtI) or follow her on Bookbub (http://smarturl.it/KBrombergBB)
Connect with Kristy
Website: www.kbromberg.com
Goodreads: http://smarturl.it/Kbromberg_GR
Amazon: http://smarturl.it/KBrombergAmz
Facebook: http://smarturl.it/KBrombergFB
Facebook Group: http://smarturl.it/DrivenFB
Instagram: http://smarturl.it/KBrombergIG
Twitter: http://smarturl.it/KBrombergTwitter
Bookbub: http://smarturl.it/KBrombergBB
Pinterest: https://www.pinterest.com/kbrombergwrites/
Other: http://smarturl.it/DrivenMoviesFB
Verve: https://ververomance.com/app/bromberg
Text Kbromberg to 77948 to stay up to date on all things Driven movies and new releases
September 8, 2023 | Posted in Release Day Blitz, Review | By Two Book Pushers
Release Blitz, Excerpt & Giveaway:
You, Again
By Lane Hayes
The Elmwood Stories, Book 1
The hometown hockey hero and his best friend's brother…
Vinnie
Hockey is in my blood. I learned to skate before I learned how to ride a bike. I've been on a wild ride, playing at the highest level for some of the biggest and best teams in the league. But now it's over, and I'm not sure what to do with myself.
So I'm going home to Elmwood.
But I'll tell you what I'm not gonna do—I'm not going to coach my buddy's junior hockey league. No chance. I don't know how to deal with kids, and besides, the other coach—who happens to be my best friend's brother—hates me. With reason.
That may be old news, yet something tells me we're going to have to deal with the past.
And that's almost as scary as coaching teens.
Nolan
No, I don't hate Vinnie, but he drives me nuts.
He's cocky, goofy, selfish, and yeah…after all these years, I'm still attracted to him. But I'm a responsible adult now. I run my family's business, and with the help of my ex, I've made Elmwood Diner into a New England institution.
So maybe my life isn't particularly exciting at the moment, and maybe Vinnie isn't the worst. Nonetheless, I have no desire to rekindle a friendship with the hockey hero who no doubt will be on the first flight out of town the second he gets bored or gets a better offer.
And I'm not coaching with him. No way.
Ugh…
I can't believe I'm doing this again.
You, Again is an MM bisexual, best friend's brother, frenemies to lovers romance featuring old friends, a new quest, and a little hockey HEA!
You, Again is the first book in a new series, The Elmwood stories, by Lane Hayes. I love Lane and her books and I always get so excited when she starts a new series. This story is small town, second chance, best friend's brother romance and I loved it! Nolan is Vinnie's best friend's brother and they grew up together. They had a brief tryst when they were teenagers and then Vinnie left for college and then the NHL. Now he's coming back to town for the summer after retirement. Nolan isn't thrilled about it, but knows his brother needs Vinnie's help. Nolan just has to remember to let those old feelings die and try to get along with Vinnie. Vinnie never forgot Nolan. He went on to have a great life, hockey, women. But now that he's back all feelings he had for Nolan come rushing back. And they aren't all friendly. He always knew he wasn't as straight as he showed the world, and now that he's near Nolan again, he wants him. He just needs to get him to trust him again. Nolan isn't sure he can just be Vinnie's little secret, but he wants to be. He needs to learn to live in the moment and just enjoy their time together. When the summer is over they will part as friends. Easy peasy. Will Vinnie want to stay home? Will Nolan open up his heart again? I love Nolan and Vinnie! They are funny, sexy, sweet and I love all the history they have together. I also love that Vinnie never questioned his feelings. He didn't have a crisis, just knew that it felt right. Looking forward to the next book in the series!
---
Excerpt:

Vinnie set a twenty on the table and stood. "Thanks for the coffee."

"It's on the house," I insisted, pushing the money toward him.

"No, no. I support local businesses. Keep the change."

His over-the-top wink practically begged me to roll my eyes, but I had more to say. We had to clear the air…at least a little.

"Um…hey, even if you don't make it through summer, your presence alone is good for business for the whole town. 'NHL Hero Comes Home' and all that bullshit. If you don't mind the attention, and I'm assuming you don't—come help out at the rink. It's easy and fun. You won't regret it."

Vinnie rubbed his scruffy jaw thoughtfully. "Okay. I'll do it."

I smiled tentatively and raised my hand for a high five. "Great."

"But only if you're my assistant."

"What?" I pulled my hand away before he could slap it, furrowing my brow. "No way. Gavin is perfectly capable of—"

"Nope. It has to be you."

I frowned. "Why?"

" 'Cause…" Vinnie blew out an exasperated breath. "I want to fix this. Me and you. And I can't do that if you ignore me."

And just like that, the invisible wall between us shook in its foundation.

"We're fine," I bluffed.

Vinnie arched a brow. "You're mad at me. I know why, and I get it. We don't have to go into it now, but at the very least, we should call a truce 'cause if we're working with impressionable teens, you really oughtta be nice to me, Moore."

My mouth opened in a perfect O. "I've been perfectly civil to you. More civil than you deserve, Kiminski."

"See? That wasn't nice," he teasingly scolded. "I can't believe I'm the voice of reason here."

I fixed him with a bored sardonic stare. "You are never the voice of reason."

"I kind of am now."

"No, you aren't."

"Yes, I am."

"No, you—oh, my God." I pointed at the door. "Good-bye, Vinnie."

He snickered, flashing a lopsided devil-may-care grin my way. "Wait up. Let's seal the deal on this truce."

"Oh, brother."

"I'm serious. Let's shake hands, hug it out, kiss and make up, or all of the above."

I regarded his outstretched hand suspiciously and cautiously slid my palm against his. "Fine. Truce."

"See, that didn't sound friendly. You ruined it. Gimme a hug," he demanded, pulling me into a bear hug, squeezing me hard enough to crack a rib.

I let out an oomph of surprise and tried to wriggle out of his hold. He took the hint and loosened his grip. I knew it was all in good fun or at least meant to playfully rile me up, but when he bent to kiss my cheek, I turned my head just as he swooped in and bam! Our lips collided in an actual, honest-to-God kiss.

A fucking kiss.

I couldn't speak for Vinnie, but I was too shocked to move.

We'd been here before.

Sure, it had been almost twenty years ago, but I was positive neither of us was looking for a repeat. I certainly wasn't. Any second now, he'd back up, swipe his hand across his mouth and make some ridiculous joke to right the balance. But he didn't.

He softened his lips and molded them to mine, tilting his chin as if testing a new angle. And suddenly, this felt real.

Oh, no.

Oh…no.

I pushed out of his arms, sucking in a gulp of air.

Holy shit.

My heart beat like a drum, and my mouth was bone dry.

"I think—I think we're good now," I rasped.

Vinnie's shell-shocked expression gave way to something unreadable. He scratched his nape and stepped aside.

"Yeah. Uh…what time is practice?"

"Thursday at three."

He nodded and tried a smile that never reached his eyes. "Cool. See ya, Nol."

I froze in place as the door swung shut behind him, willing my heartbeat to calm the fuck down.

Did that happen?

It wasn't real. I knew that, but he didn't pull away. He lingered, he pressed closer, he…he kissed me.

Reality check: Vinnie was a notorious prankster. He was always doing something to push boundaries—make you laugh, make you mad, make you stop taking life so damned seriously. Silly was his fallback language. If lighthearted pranks and teasing kept some uncomfortable parts of the past at bay, I was all for it.

But I was still confused. Very confused.
---
Enter the Giveaway:
To celebrate the release of You, Again, Lane is giving away the Winner's choice of an audiobook or ebook of your choice from her published works!
Enter the Rafflecopter giveaway for your chance to win!
Direct Link: http://www.rafflecopter.com/rafl/display/cc0f2a57754/?
---
About the Author:
Lane Hayes loves a good romance! An avid reader from an early age, she has always been drawn to well-told love story with beautifully written characters. She loves wine, chocolate and travel (in no particular order). Lane lives in Southern California with her amazing husband and her fabulous pup, George.
Connect with Lane:
My Readers' Group, Lane's Lovers: https://bit.ly/3aIbMYg
My Newsletter: https://bit.ly/3cICfaK
Blog: www.lane-hayes.com
Twitter: twitter.com/LaneHayes3
FB: facebook.com/LaneHayesAuthor
Amazon Author Page: amazon.com/author/lanehayes
BookBub: bookbub.com/authors/lane-hayes
Instagram: instagram.com/lanehayes3/
Instagram: instagram.com/lanehayesauthor/
Goodreads: goodreads.com/LaneHayes
Tiktok: tiktok.com/@lane_hayes
---
---
August 30, 2023 | Posted in Release Day Blitz, Review | By Two Book Pushers
THE TEASE BY LAUREN BLAKELY
Release Date: August 30th
Genre/Tropes: Dad's Best Friend / Forbidden / Secret Identities / Age Gap / Single Dad / Possessive Hero / Role-Playing / Pleasure Dom / Falling in Love in Paris
Prepare to Be Teased, Tempted, and Captivated!
The Tease by #1 NYT bestselling author Lauren Blakely is here!
Indulge in a forbidden romance of desire and secrets that will leave you breathless. The Tease is a rollercoaster of emotions, spice, and forbidden love spanning New York and Paris! Get ready for this single-dad hero to steal your heart.
Grab your copy TODAY!
✦ Amazon ➜ http://blkly.pub/AmazonTheTease
✦ Audible ➜ http://blkly.pub/TheTeaseAudible
Narrated by Vanessa Edwin & Jason Clarke
Add to Goodreads
https://www.goodreads.com/book/show/68006521-the-tease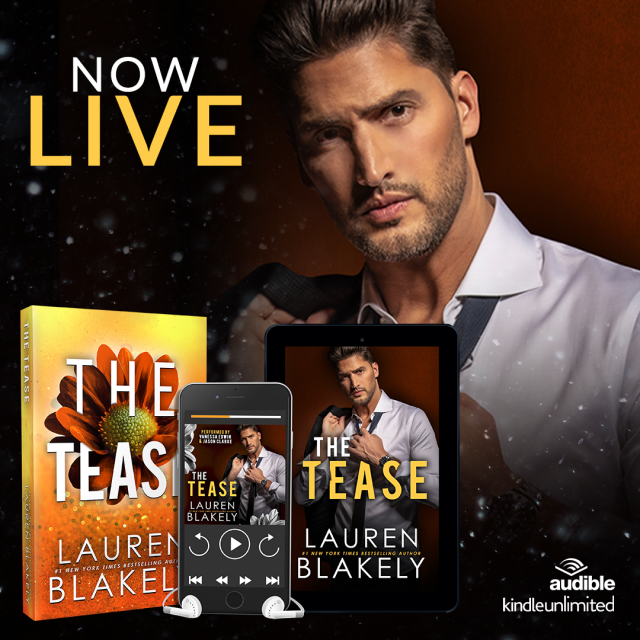 The Tease is the third book in the The Virgin Society by Lauren Blakely. I am loving this series so hard. Forbidden, age-gap, and unique! And oh, so delicious. I was so excited about this couple and damn…they blew my exceptions in every single way. 
When Jules was invited to play piano at an exclusive after-dark masquerade party she knew it would be a good time but never expected to find a man, a stranger who treated her like his every fantasy. And she wanted more…
More from a man who she wants to explore with. From a man who not only lit her up but made her explode in lust. One touch just wasn't enough. She wants it all. She has never wanted anything more than one more night with her phantom. Only, it turns out he isn't a stranger after all…he is her father's best friend.
Two words. Off-limits. Two more words. One night. That's all it can ever be. One explosive, fantasy-filled, unforgettable night. Then they need to act like it never happened except, like I mentioned, it was unforgettable. So, when they have to go away for a week together to the city of love, it's hard to resist…
I ♥️ Finn & Jules!! They not only have their filthy kinks to share but they have so much more. Finn is a single dad who loves his son fiercely. Jules is a badass who is navigating through her past so she can move on with her future. Together, they are full of fun, laughter, passion, support, love, and a true connection. They see each other like nobody else does.
The Tease is the third book in The Virgin Society by Lauren Blakely. I'm loving this series and I love this father's best friend, age-gap, single dad romance! We have known Jules for a while and now we get her full story! She likes to pretend. And when she has the opportunity to play piano at a masquerade party she's all in. She meets a sexy, older man and they have an instant connection. It's hot and sexy and then it turns out it's her father's best friend. They can't see each other again, but it's hard to stay away. Especially when they find themselves working together. In Paris. All bets are off. Now they just have to decide if they are going to fight for what they want or stop because it's forbidden? I love Jules and Finn! They are fun, sexy, sweet and perfect for each other. I loved seeing the other characters from the series!
Audio: Vanessa Edwin and Jason Clarke did a fantastic job narrating Jules and Finn. They are a few of my favorites!
Blurb:
I swear I'm a good girl.
I didn't go to the exclusive, after-hours masquerade to kiss my dad's best friend. I didn't even know who the masked man was when he touched me like I was his every fantasy.
But when I learn exactly how off-limits my new lover is, I do my best to avoid him the next time. Except, he has his sinful sights set on me, even when he discovers who I am. Just one time, he whispers. Then we'll pretend this never happened.
Seems the enigmatic, gorgeous single dad I've known by day is a very dirty man after dark.
But one night turns into a stolen weekend, giving me a taste of so much more. When it ends, we vow to stay apart.
We could never work.
He's focused on raising his young son, and I can't let my already damaged family break more. But the caring, possessive man keeps coming back to me, and these secret nights tangled up together are turning into tender moments that make my heart thunder.
And soon, this tease of a forbidden romance is making me want so much more than I can ever have…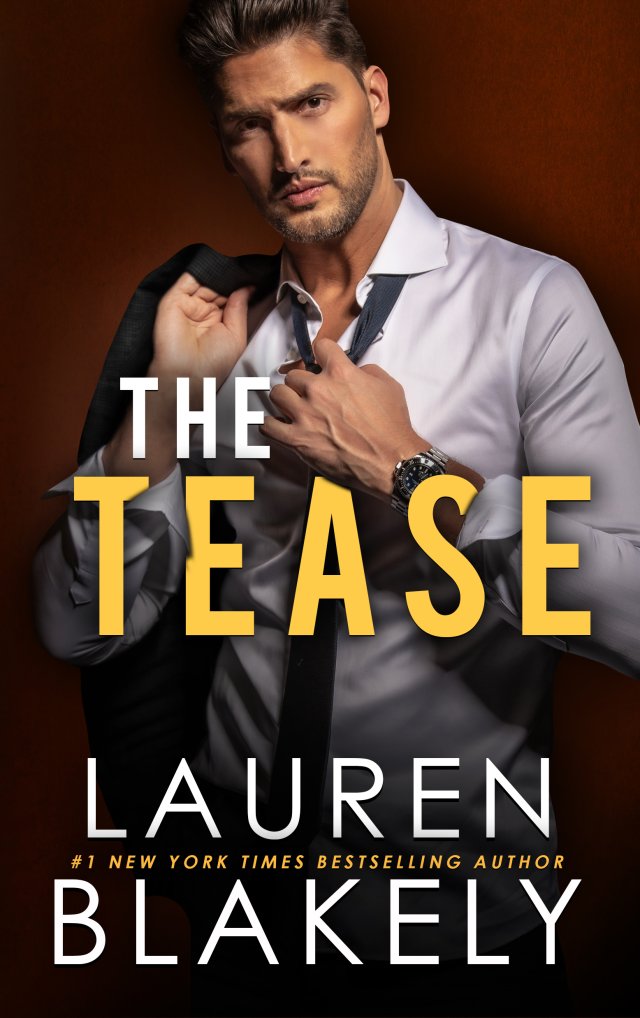 About Lauren Blakely:
You can find Lauren on TikTok at @laurenblakelybooks! A #1 New York Times Bestselling, #1 Wall Street Journal Bestselling, and #1 Audible Bestselling author, Lauren Blakely is known for her contemporary romance style that's sexy, feel-good, and witty. Lauren likes dogs, cake, and show tunes and she is the vegetarian at your dinner party.
Connect w/Lauren:
Website: laurenblakely.com
NL Signup: http://laurenblakely.com/newsletter
Facebook: http://www.facebook.com/LaurenBlakelyBooks
Instagram: http://instagram.com/laurenblakelybooks
Twitter: http://twitter.com/LaurenBlakely3
Tik Tok: https://www.tiktok.com/@laurenblakelybooks
August 28, 2023 | Posted in Release Day Blitz, Review | By Two Book Pushers
Shattered Truths 
by Helena Hunting writing as H. Hunting
Release date: August 28th
Cover Designer: Hang Le
https://www.instagram.com/byhangle/
Photographer: Michelle Lancaster 
https://www.instagram.com/lanefotograf/ 
Model: Lawrence Templar
The first time I met Winter Marks, I almost took her out with my Jeep.
To be fair, she came out of nowhere. 
I flirted with her, and she flipped me off and disappeared into the woods on her bike.
But she left me a souvenir: a single hockey skate.
Seemed to me that divine intervention shouldn't be ignored.
She was my icy Cinderella and I would be her Prince Not-So-Charming.
Winter was more than just a sassy, badass hockey-playing hottie.
She's stuck in a prison of a life. And I'm the perfect escape.
Neither of us expected to fall. 
Or for the truth to shatter us.
Amazon US → https://amzn.to/3ReSQX3
Amazon CA → https://amzn.to/3CUfDDh
Amazon UK → https://amzn.to/3ALpQz4
Amazon AU → https://amzn.to/3AGc8NQ
Amazon Universal →  https://geni.us/ShatteredTruths
Audio US → https://amzn.to/3qpYMnY
Amazon US Paperback → https://amzn.to/470y4mh
Amazon Universal Paperback → https://geni.us/ShatteredTruthsPB
Amazon US Alternate Paperback → https://amzn.to/3OG1izD
Amazon Universal Alternate Paperback → https://geni.us/ShatteredTruthsAltPB
Goodreads → https://geni.us/ShatteredTruthsGR
Website → https://helenahunting.com/books/shattered-truths/

Kara's Review
Shattered Truths is the third book in the Lies, Hearts, and Truths series by H. Hunting. I love this series to the ends of the earth. This is the second generation from the Pucked series and since Randy was my favorite, I've been waiting for his son's story. BJ, the ultimate good guy who looks like a bad boy. The fun-loving player who's a badass figure skater. A chance meeting with his car and her bike, Winter isn't thrilled to see BJ again. She has no idea who he is, but quickly learns in Pearl Lake everyone knows everyone! She didn't realize BJ would find her, convince her to join him and his friends on the ice and definitely didn't expect to actually like him. Just being who he is, he opens door for Winter that she never thought possible. BJ has never felt for anyone the way he feels for Winter. He wants to get to know her, spend time with her and yes, kiss the life out of her, but he wants to take it slow. Prove to her that he's serious. Winter's life isn't easy and BJ just wants to be there for her in whatever ways she needs. He shows up, he cares and he keeps showing her he's not going anywhere. As their relationship progresses, they learn to tell each other the truth, be open and listen. Winter is there when BJ needs her the most and she returns all the favors. She's there for him, she pushes him and she just loves him. This story. Oh. My. God. I had to sit for a few days before I could even figure out what to say and it's not even coming out right. I can't express how much I love BJ and Winter. They are wise beyond their years and so damn funny and sexy and supportive. I love how much they are there for each other and their feelings never waver. Yes, things happen, but they work it out. It's the outside forces that try to take them down. I absolutely loved seeing Randy and Lily again and all the characters I have loved over the years. This is one of my top favorites of 2023 and Helena exceeded my expectations with BJ's story!
Audio: Zachary and Andi killed it! They sounded so great together and they were the perfect BJ and Winter!
About Helena Hunting: 
NYT and USA Today bestselling author, Helena Hunting lives outside of Toronto with her amazing family and her adorable, emotional cat, who thinks the best place to sleep is her keyboard. Helena writes everything from emotional contemporary romance to romantic comedies that will have you laughing until you cry.
Website: http://www.helenahunting.com/
Amazon: http://amzn.to/1y6OBB7
BookBub: https://www.bookbub.com/authors/helena-hunting 
Facebook: https://www.facebook.com/helena.hunting69/ 
Instagram: http://instagram.com/helenahunting
TikTok: https://www.tiktok.com/@helenahunting 
Goodreads: https://www.goodreads.com/helenahunting
Newsletter:  https://app.mailerlite.com/webforms/landing/f4p1t7