May 23, 2023 | Posted in Release Day Blitz, Review | By Two Book Pushers
Special Kind of Twisted
Gator Bait Series 6
Lani Lynn Vale
RELEASE: May 23, 2023
Amazon: https://amzn.to/3Q4Wzph
Apple: https://apple.co/3cVkx8b
Nook: https://bit.ly/3OgedZi
Kobo: https://bit.ly/3Q5WAJx
Add to your TBR: https://bit.ly/3Q5WXnp
About the Book
He had a way of pulling everyone into his darkness. Then, to make matters worse, he convinced
you that you liked it there.
Kyle Davis—ex professional baseball player and current felon—loved Sara, his best friend.
Strictly platonically, of course. He'd do absolutely anything for her, even put up with Greer,
Sara's other best friend.
What she was not was Kyle's best friend. Or any friend at all, to be honest.
In fact, they couldn't stand to be in the same room with each other, let alone breathe the same air
for any length of time.
Then something happens, forcing the two of them to work together to keep Sara blissfully
unaware of the danger Greer's in.
They come up with a plan. Sara doesn't need to know.
What she doesn't know won't hurt her.
The funny thing is, Sara knows all. Sara also knows the two of them are destined to be with each
other.
She only has to convince them of it first.
Special Kind of Twisted is the sixth book in the Gator Bait MC series by Lani Lynn Vale. We finally get KD's story! Woohoo! It's a fun, sexy, hilarious enemies-to-lovers story. Kyle Davis or KD or Davis as Greer calls him, was a professional baseball player who did something to protect his sister and landed him in jail. He's been out for a while and now runs a bodyguard company. Greer is his best friend, Sara's other best friend. They have hated each other for years. Always arguing, pranking, and just being jerky. But you know what they say about love and hate. They are on a very fine line. It's like all of a sudden, they notice each other. Only to realize it wasn't sudden at all. When Greer needs a safe place to stay, Davis takes her in. One night in the same bed changes their relationship. They can have some fun and then it will be over. Except it's too fun and too right. And then they want to really try. They just have to navigate all the other relationships in their life, the danger and see if they can stop hating each other long enough to fall in love. I really enjoyed this story! It's one of my favorites of the series!
May 23, 2023 | Posted in Release Day Blitz, Review | By Two Book Pushers
May 19, 2023 | Posted in New Release, Review | By Two Book Pushers
Barrett McGuire is the grumpiest, growliest, most frustrating man on the planet.
He's also my boss, my first crush, and—three months ago—my one and only one-night-stand.
I'm pretty sure I'm already addicted to his body, but that doesn't matter. After an empowering solo trip to the other side of the world—during which Barrett made no attempt to contact me or discuss said one night stand—I've realized I have to let go of this crush and move on. I've wasted enough time pining for a man who doesn't feel the way I do.
Now that I'm home, I'm determined to keep the walls around my heart high and impenetrable.
Then Barrett adopts the world's ugliest dog because he knows how much I love animals. He also texts to say how much he missed me, then shows up at my house simply to devour my lady parts (while saying naughty things that give me a new appreciation for his bossy side).
He tells me he wants to change, to be what I need, then proves it with the most romantic "just one bed" weekend ever.
But can Barrett and I make it work in the real world?
Or will the scars on his heart ruin our second chance the way it did our first?
Welcome to Bad Dog where the men are incredible, the animals are ridiculous, and the happy ever afters are super emotional and steamy. Not Today Bossman is a Standalone Romance with Spice!
May 16, 2023 | Posted in Release Day Blitz, Review | By Two Book Pushers
Chapel Bend by Kristen Proby is now live!
From New York Times bestselling author Kristen Proby comes Chapel Bend, an enemies to lovers, small town romance in her beloved series, Huckleberry Bay!
There's a fine line between love and hate.
In Huckleberry Bay, Oregon, everyone knows that when it comes to Juniper "June" Snow – what you see is what you get. When you hire her construction company to do a job, it's done right, on time, and on budget. When she's your friend, she's a ride-or-die who will support you no matter what. And when you're her enemy…well, she can hold a grudge.
And she's never forgotten how the tall, dark, and delicious Apollo Winchester hurt her so many years ago.
In a small town, it's impossible to ignore someone who greets you with a death glare every time you meet. Apollo can't recall why June hates him, but it doesn't stop him from stirring her up every chance he gets. There's something about her stubborn, "don't mess with me" attitude that keeps him coming back for more. But June is his sister's best friend and permanently on the "off-limits" list.
June puts aside her war with Apollo and hires him to work on her most important project, the renovation of a chapel into her dream home. She wants the best…and Apollo is the best . . . on the job site and in her bed. He won't turn down the chance to spend more time with June, especially when it's clear that she wants him as much as she hates him. Proximity leads to opportunity, and opportunity leads to steamy times between the sheets.
But a mystery threatens June and Apollo will protect her and their growing connection, no matter the cost.
Download today on Amazon, Apple Books, Audible, Barnes & Noble, and Kobo!
Amazon: https://bit.ly/3vBuKfT
Apple Books: https://bit.ly/3Gfrgoe
Nook: https://bit.ly/3WKKKZ9
Kobo: https://bit.ly/3CkdNdP
Audible: https://bit.ly/3NRgxG8
Narrated by: Kit Swann & Lee Samuels
Add to Goodreads: https://bit.ly/3WKFVij
Meet Kristen
Kristen Proby has published more than forty titles, many of which have hit the USA Today, New York Times and Wall Street Journal Bestsellers lists. She continues to self publish, best known for her With Me In Seattle and Boudreaux series, and is also proud to work with William Morrow, a division of HarperCollins, with the Fusion and Romancing Manhattan Series.
Kristen and her husband, John, make their home in her hometown of Whitefish, Montana with their two cats and dog.
Connect with Kristen
Website: https://www.kristenprobyauthor.com/
Goodreads: https://www.goodreads.com/author/show/6550037.Kristen_Proby
Amazon: http://amzn.to/2BD4vfq
Facebook: https://www.facebook.com/BooksByKristenProby/
Facebook Group: https://www.facebook.com/groups/684662744993031/
Instagram: https://www.instagram.com/kristenproby/
TikTok: https://www.tiktok.com/@kristenprobyauthor
Bookbub: https://www.bookbub.com/authors/kristen-proby
Pinterest: https://www.pinterest.com/handbagjunkie/
May 4, 2023 | Posted in Release Day Blitz, Review | By Two Book Pushers
Runaway Love by Melanie Harlow is now live!
Yes, I'm a single dad who needs a nanny for the summer. But hire the stranded runaway bride who shows up on my doorstep in a wedding gown with no references, no skills, and no experience? No one is that desperate. Except within twenty-four hours, down-on-her-luck Veronica Sutton manages to charm my kids, my family, and half the population of Cherry Tree Harbor into believing she's perfect for the job.
And for me.
It's not that I can't see the appeal-those baby blue eyes? The endless legs? That mouth made for trouble? But I've got enough on my plate, raising two kids on my own and keeping the family business alive. I don't have the time or the inclination to fall for an outspoken city girl.
So I should have kept my hands to myself.
Holding her in my arms was a big mistake. Even worse? Spending the night together. She ignites a possessive fire in me that I'm finding hard to snuff out.
But the most unforgivable? Growing attached to the sound of her laugh, the scent of her skin, and the way her body wraps around mine in the dark.
At the end of the summer, she'll be gone. And if I'm not careful, she might run away with my heart.
Download today or read for FREE with Kindle Unlimited
Amazon: https://bit.ly/4069HPP
Amazon Worldwide: https://mybook.to/RunawayLove
Audible: https://bit.ly/3LpSivU
Narrated by: Sebastian York & Sophie Daniels
Add to Goodreads: http://bit.ly/3ZUcdJy
Meet Melanie
USA Today and #1 Amazon bestselling author Melanie Harlow writes sweet, sexy, feel-good romance. She likes her martinis dry, her heels high, and her history with the naughty bits left in. If she's not writing or reading, she's probably at Orangetheory or watching Schitt's Creek again. She lifts her glass to readers from her home near Detroit, MI, where she lives with her husband, two daughters, and pet rabbit.
Connect with Melanie
Website: www.melanieharlow.com
Goodreads: https://www.goodreads.com/author/show/7095467.Melanie_Harlow
Amazon: https://www.amazon.com/Melanie-Harlow/e/B00DXOYC1S
Facebook: harlow.pub/ap
Facebook Group: https://www.facebook.com/groups/351191341756563
Instagram: https://www.instagram.com/melanie_harlow/
TikTok: https://www.tiktok.com/@authormelanieharlow
Bookbub: harlow.pub/bb
May 3, 2023 | Posted in Release Day Blitz, Review | By Two Book Pushers
LIMITED EDITION HUSBAND & MANHANDLED by Lauren Blakely writing as L. Blakely
Release Date: May 3rd
Tropes: MM romance / Sports Romance / Fake Marriage / Friends-to-Lovers
NEW RELEASE AND SURPRISE RELEASE ALERT!!
Limited Edition Husband by #1 NYT bestselling author Lauren Blakely, writing as L. Blakely, is NOW LIVE and FREE in Kindle Unlimited!
ALSO!!
Lauren loves surprising her readers! MANHANDLED is NOW LIVE ALSO!! This will be Lauren's FINAL MM romance of 2023!
Make sure to grab these all-new standalone sports MM romances TODAY!!
LIMITED EDITION HUSBAND
A fake marriage, friends-to-lovers, MM romance
Grab your copy TODAY!!
Read for FREE in Kindle Unlimited!!
✦ Amazon ➜ http://blkly.pub/AmazonLimitedEdition
✦ Audible ➜ http://blkly.pub/AudibleLimitedEdition
Limited Edition Husband is the fourth book in the Winner Takes All series by Lauren Blakely. I'm loving this series so hard. Nate has had a special place in my heart since the first time I met him and I couldn't wait to get his full story! Nate's not looking for love again, he just wants to have some fun. When he meets Hunter, a sexy Brit who's recently discovered he also likes men, it's like fate has stepped in. Nate invites him to Vegas to hang with his friends and they have an epic night of gambling, drinking, dancing and laughing. And they wake up and remember they got married. Now they have to keep it quiet until they can fix the mistake. But it's already out and they need to stay married for a while. Nate knew the connection with Hunter was unlike anything he's ever experienced. He might not want to be married, but he really does want to be with him. Can you date your husband? What happens when what you thought was a mistake is actually the best decision you've ever made? Oh hell! I freaking love Nate and Hunter! They are just so sexy and fun together. They want to try new things and experiment and just have fun in the bedroom. Turns out they have fun out of it too. I couldn't love Nate and Hunter more if I tried. They are definitely one of my favorite couples of Lauren's!
Audio: I love Nate and Hunter and Teddy and James were so perfect for them! I have loved Teddy for a long time and James is still fairly new to me, but he's amazing! He's the perfect British hero!
Limited Edition Husband is the fourth book in the Winner Takes All series by Lauren Blakely. You can read each book as standalone but I also recommend to read all of Lauren's books since she is the queen of interlocking characters and series together. It's so much fun!! If you read Top Notch Boyfriends and loved Nate and Hunter then you will fall for them even more! Lauren rewrote and expanded their story and this is it…
A one-time fling four months ago was undeniably hot before Hunter had to fly back to London. He was now back in the States for just a few days for work and runs into Nate Chandler. A star receiver for the SF Hawks who is going to Sin City for one night. No way Hunter was letting the opportunity go to spend one more night with the man of his dreams. A night of no strings attached sex? Yes! Except that one night of poker, bourbon, friends, music turns into I do's!
Oops!!
This is not Nate's first rodeo when it comes to marriage. He wasn't looking for another ride. At all. Hunter was new to being in any kind of relationship with a man. They know it would be smart to get a quickie annulment but Nate's agent, Vance has other plans. Thirty days. Thirty days of marriage to keep Nate in good graces with sponsors and his fans. They really only have one week to be together when they are both in London. They can do this. Fake their real marriage. A marriage that has an end date. It's not like they will fall in love in a week or even thirty days. Nope. Never gonna happen…
Omg!! I loved them in their novella but this is so much more! Thank you, Lauren for giving us more Nate and Hunter. Yum!! I just love these guys. Their story is sexy but it's also deep and sweet. Of course fun too. It's so awesome catching up with some of the crew and can't wait for the next book!
MANHANDLED
A friends to lovers MM romance

Grab your copy TODAY!!
Read for FREE in Kindle Unlimited!!
✦ Amazon ➜ https://blkly.pub/AmazonManhandled
✦ Audible ➜ http://blkly.pub/AudibleManhandled
Pre-order the audio, it's coming on May 10th!
LIMITED EDITION HUSBAND
Blurb
A fake marriage standalone MM romance from #1 New York Times Bestselling author Lauren Blakely writing MM romance as L. Blakely…
One night with no strings was supposed to be the plan.
After barely escaping my last train wreck of a romance, I've got a new dating goal—play it cool.
I stick to that strategy when I bump into a charming Brit I met once before. He's newly out and eager for all the things he's never done, so I make the helpful suggestion we jet off to the city of sin for the night, then say goodbye.
But instead, thanks to a bet and some bourbon, we're saying I do.
And in the morning I'm asking myself what the hell have I done? But we'll just undo the holy matrimony right this stinking second.
Except, the pics of our nuptials are splashed all over the Internet–the pro football player eloped!
Great, just great.
Now, my agent says we need to stay Mister and Mister until the brouhaha blows over.
Thirty days as fake husbands with the sexy, irresistible guy who's determined to prove that he's nothing like my ex?
My bruised heart can handle that as long as I don't fall for my husband.
And I won't. When we split for real, he'll be an ocean away.
Contents include: A sarcastic, romance-phobic American football player, a charming and dirty-minded young British businessman, white-hot first times, dangerous decisions, and a sexy, witty, emotional fake marriage, first times MM standalone sports romance!
About Lauren Blakely:
A #1 New York Times Bestselling, #1 Wall Street Journal Bestselling, and #1 Audible
Bestselling author, Lauren Blakely is known for her contemporary romance style that's
sexy, sweet, and witty. She also writes USA Today bestselling LGBTQ romance.
With fourteen New York Times bestsellers, her titles have appeared on the New York
Times, USA Today, and Wall Street Journal Bestseller Lists more than 100 times, with
more than 60 titles on the USA Today Bestsellers list alone. She's sold more than 5 million books. A Brown University graduate, Lauren likes dogs, cake and show tunes and is the vegetarian at your dinner party.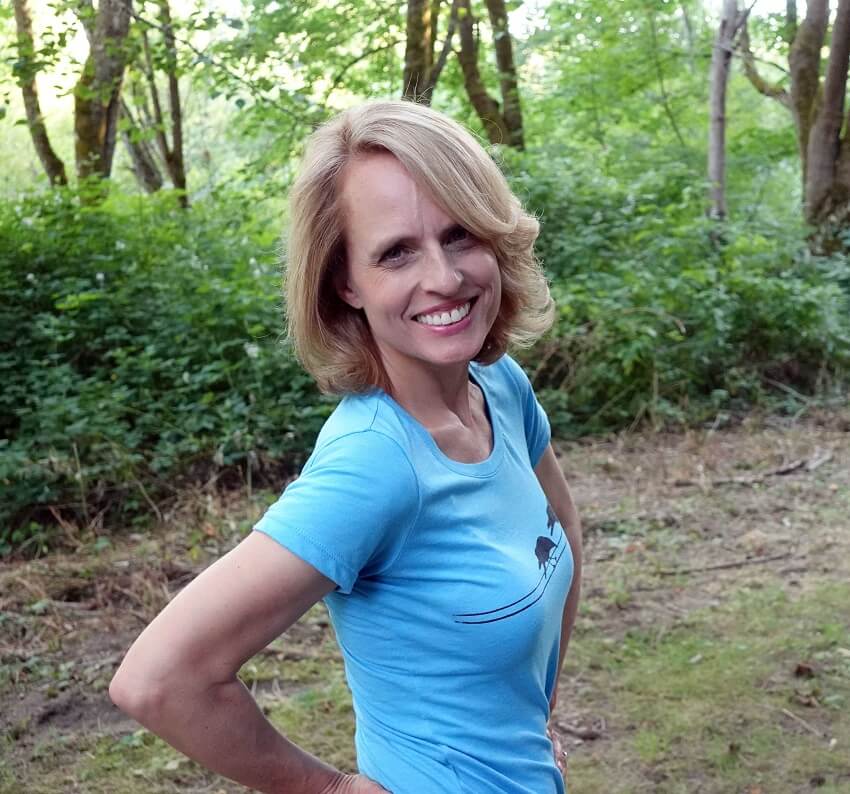 Connect w/Lauren:
Website: laurenblakely.com
NL Signup: http://laurenblakely.com/newsletter
Facebook: http://www.facebook.com/LaurenBlakelyBooks
Instagram: http://instagram.com/laurenblakelybooks
Twitter: http://twitter.com/LaurenBlakely3
Tik Tok: https://www.tiktok.com/@laurenblakelybooks
April 21, 2023 | Posted in Release Day Blitz, Review | By Two Book Pushers
 NEW AGE GAP, SINGLE FATHER ROMANCE 

Looking for a grumpy/sunshine, forced proximity, rockstar romance? Say no more! Carrie Aarons' just released Makes the Heart Grow Fouler, and it's just as steamy as it is angsty! A famous country singer is giving the first interview in his twenty year plus career to a much younger journalist and makes her move into his compound to observe him because he refuses to sit down and talk to her.

READ IT NOW IN KU: mybook.to/MtHGF

BLURB:

Never meet your hero, because they'll probably turn out to be a villain.

That thought didn't even cross my mind when the magazine I work for assigned me to do a feature article on Dane, the greatest country singer of our generation. You know, the kind of celebrity who doesn't require a last name because they're that prolific.

Along with being one of my favorite artists, the notoriously private man has never given an interview in his twenty-year career, so this piece could make mine. Unfortunately, from the minute I step foot on his massive Texas compound, Dane is determined to break it.

Between his icy stares, lewd gestures, and mocking comments, the one week time table to ask him my questions comes and goes with zero answers. But for some reason, he won't pull out of the article. And when he insists I move into his guest house in order to observe him, since he refuses to sit down one-on-one, I have no choice but to suck it up for my job.

After the year I've had, and the outside world I no longer want any part of, the seclusion is almost welcome. That is, if it didn't include a sexy recluse who seems hellbent on messing with me. Working with someone I despise wouldn't be so hard if it meant going home at the end of the day.

From his checkered past, to the rumors about his love life, to the fact that he vanished from the music scene five years ago, to the teenage daughter he's raised as a single father her entire life … there is so much to unpack in order to learn the truth about the man buried beneath the ink covering his skin.

But the real danger comes when Dane drops the curtain completely, allowing me to see every side of him. Because it makes me want to show him every damaged part of myself.

Except two such opposite, but equally broken, people can never find a happily ever after. Especially since a villain has no heart. So what do I do when the fallen hero I can't have wants to give me his?
April 14, 2023 | Posted in New Release, Review | By Two Book Pushers
The Voices Are Back
Gator Bait Series 5
Lani Lynn Vale 
RELEASE: April 11, 2023
Amazon: https://amzn.to/3PTAydh
Apple: https://apple.co/3besmW9 
Nook: http://bit.ly/3U472Vi 
Kobo: https://bit.ly/3zL9M0W 
Add to your TBR: https://bit.ly/3vp7CSj 
About the Book
Her: Just a word, yet one person came to mind.
Morrigan St. Pete.
The woman that'd been hounding my every step since the day she was born. From the moment we first comforted each other in the hospital, to the day that I left her to follow her dreams, I knew that she was my one.
Through marriage, divorce, and a prison sentence, I had low expectations when it came to her ever coming around to my way of life. What kind of woman wanted a man that'd been to prison, had a child that disliked him and everything he stood for, and had zero prospects in life?
But then she popped into my life again, and that feeling of suffocation slacked off for the first time since I let her go.
***
The first time I tried to come back to Aodhan, I found him married with a kid on the way.
The second time I tried, he was heading to jail.
As one would say, the third time is the charm, right? Wrong.
The third time, he was divorced, fresh from prison, had a kid, and was again with his ex-wife.
That was the final nail in my coffin. I decided to give up.
I would do anything and everything I could to avoid him. Hiding wasn't beneath me.
I only wish he'd stuck with my plan, because the moment he sees me again, it's like he's seen the light. Avoiding him is impossible when he goes out of his way to insinuate himself into every aspect of my life.
If only life was as perfect as my dreams.
The Voices Are Back is the fifth book in the Gator Bait MC series by Lani Lynn Vale. I've been wondering about Aodhon's story since we met him. It was an interesting second chance story that had me scratching my head a few times. I enjoyed a lot about it and found it entertaining, but it wasn't my favorite of the series. I did like Aodhon and Morrigan both and felt for them that they missed out on a lot of years together. Most of which were out of their control. Once they figured it all out they could truly be happy. Then they had to deal with a few obstacles and people in their way. Loved, loved, loved the Epilogue! Looking forward to the next in the series!
April 14, 2023 | Posted in Blog Tour, Review | By Two Book Pushers
FLUKE BY ADRIANA LOCKE
Release Date: April 10th
Genre/Tropes: Fake ex-husband / Small Town Romance / Friends to Lovers / One Bed / He Falls First
Fluke, an all-new small-town romance, by USA Today bestselling author Adriana Locke is NOW LIVE!
Grab this fake ex-husband, small-town romance TODAY!
Add to Goodreads
https://www.goodreads.com/book/show/61946841-fluke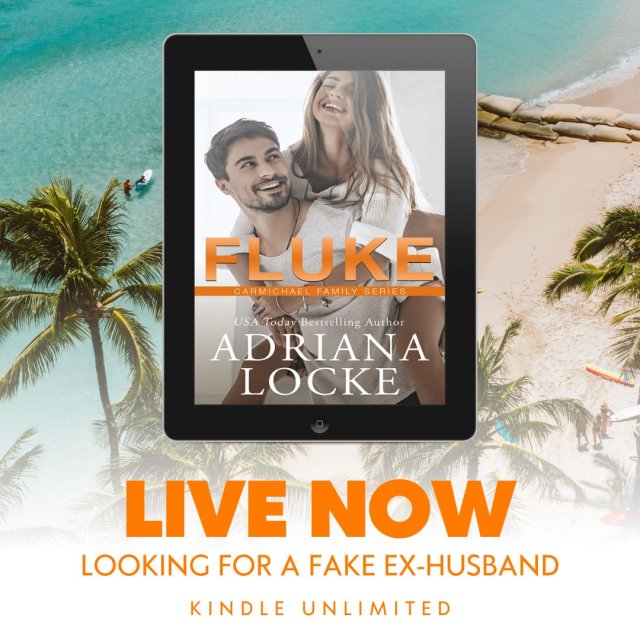 Blurb:
SEEKING AN EX-HUSBAND
I need a fake ex-husband.
Let me explain …
I may have let it slip to my new co-workers that I have an ex-husband. Now they're fascinated with the details, specifically with him.
Why wouldn't they be? He's gorgeous, has exceptional skills in the bedroom, and is determined to win me back.
But there's a problem. He doesn't exist.
The bigger problem? I have to produce him to save my job.
This is where you come in.
I'm seeking someone to play a smitten ex-husband for two weeks. You'll need to remember our love story—details matter when it comes to romance! Please be prepared to travel in-state at a moment's notice. We may be in close proximity and sharing a bed may be required.
One more thing—kisses are required for optics as necessary.
If this sounds interesting or, at the very least, entertaining, let me know.
Signed,
Your Future Ex-Wife
Buckle up for a steamy adventure between friends-turned-lovers in this new "fresh twist on a favorite trope!" take on fake dating, close proximity, and romance in the workplace from USA Today Bestselling author Adriana Locke.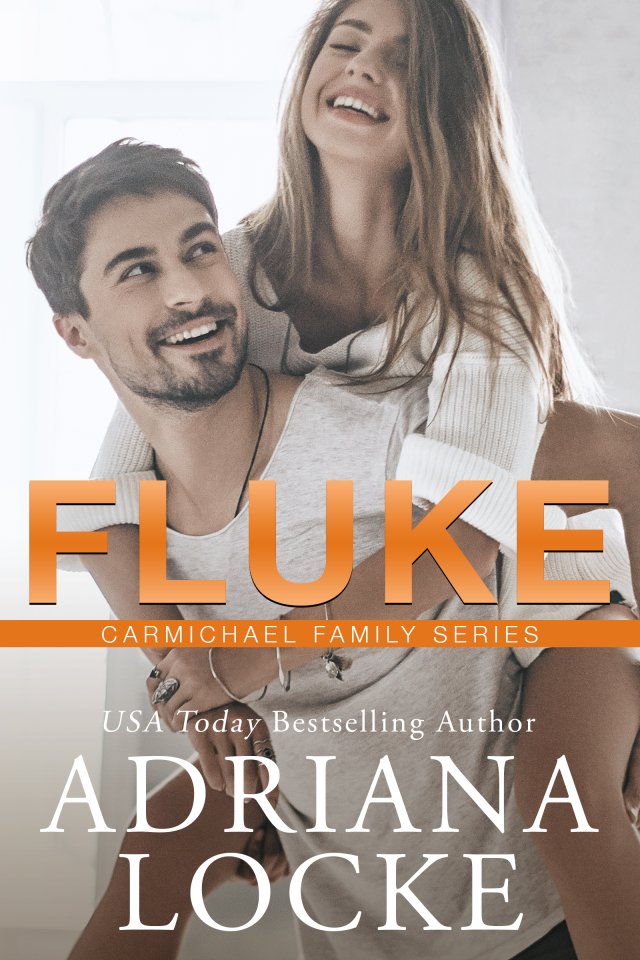 Fluke is the third book in the Carmichael Family series by Adriana Locke. Good Lord, Jess Carmichael is…everything. Like, literally the most perfect book boyfriend in the world. He's smart, handsome, funny, loves his job and his family. He's loyal and hilarious. And he's never hidden his feelings for Pippa. He's been open and honest for fifteen years about what he wants. When he finally gets his chance to prove that he's serious, he doesn't waste a single second. He's going to prove to her that he's worth the risk. That she deserves to be loved and be happy. He's not going to give up on the only woman he's ever wanted. He has to work hard to win her over, but he's no quitter. He knows what he wants and he is going to get it. I mean, his parents didn't raise no fool, well, they kinda did, but not Jess! Haha! I couldn't love Jess or this book more. I always have my favorite Adriana hero and it's usually the stoic, grumpy brother. But Jess just did it for me. Checked all my boxes and if I had time I would read it again immediately!
About the Author:
USA Today Bestselling author, Adriana Locke, writes contemporary romances about the two things she knows best—big families and small towns. Her stories are about ordinary people finding extraordinary love with the perfect combination of heart, heat, and humor.
She loves connecting with readers, fall weather, football, reading alpha heroes, everything pumpkin, and pretending to garden.
Hailing from a tiny town in the Midwest, Adriana spends her free time with her high school sweetheart (who she married over twenty-five years ago) and their four sons (who truly are her best work). Her kitchen may be a perpetual disaster, and if all else fails, there is always pizza.
Learn more at adrianalocke.com.
Connect w/Adriana:
Website: https://adrianalocke.com
Facebook: https://www.facebook.com/authoradrianalocke
Facebook Group: https://www.facebook.com/groups/booksbyadrianalocke
Twitter: https://twitter.com/authoralocke
Instagram: https://www.instagram.com/authoradrianalocke
Goodreads: https://www.goodreads.com/author/show/8379774.Adriana_Locke
Amazon: https://amzn.to/3ivy7xd
Bookbub: https://www.bookbub.com/authors/adriana-locke
Newsletter Signup: http://bit.ly/NewsletterAddy
April 7, 2023 | Posted in Blog Tour, Review | By Two Book Pushers