May 13, 2022 | Posted in Release Day Blitz, Review | By Two Book Pushers
May 10, 2022 | Posted in Release Day Blitz, Review | By Two Book Pushers
Charming, hilarious, and emotional, Starry-Eyed Love is Helena Hunting at her very best!
Starry-Eyed Love, an all-new hilarious and heartwarming workplace romance from New York Times bestselling author Helena Hunting is now available!
Having just broken up with her boyfriend, London Spark is not in the mood to be hit on. Especially not when she's out celebrating her single status with her sisters. So when a very attractive man pays for their drinks and then slips her his number, she passes it right back to him with a 'thanks, but no thanks'. As the business administrator for their family's event hotel, the Spark House, London has more important things to worry about, like bringing in new clientele.
As luck would have it, a multi-million-dollar company calls a few months later asking for a meeting to discuss a potential partnership, and London is eager to prove to her sisters, and herself, that she can land this deal. Just when she thinks she has nailed her presentation, the company's CEO, Jackson Holt, walks in and inserts himself into the meeting. Not only that, but he also happens to be the same guy she turned down at the bar a few months ago.
As they begin to spend more time together, their working relationship blossoms into something more. It isn't until their professional entanglements are finally over, that London and Jackson are finally ready to take the next step in their relationship. But between Jackson's secretive past and London's struggle with her sisters, London must question where she really stands – not just with Jackson, but with the Spark House, too.
Fall in love today! Amazon: https://amzn.to/3zZKhGQ Amazon Worldwide: http://mybook.to/Starry-Eye Apple Books: https://apple.co/38PiJLO Nook: https://bit.ly/3yPhWln Kobo: https://bit.ly/3E0cnEC Google Play: https://bit.ly/2WTQBkA Amazon Paperback: https://amzn.to/3tk9cCt Barnes and Noble Paperback: https://bit.ly/3yh3upD Audiobook: https://amzn.to/3MSLAOc
Add to Goodreads: https://bit.ly/3zOpO84
Starry-Eyed Love is the second book in the Spark House series by Helena Hunting. I love Helena and her books and Jackson Holt is one of my favorite heroes of hers. (And let's be serious, that's saying a lot!) The first time London meets Jackson is in a bar when he hits on her. She declines his number since she just got out of relationship. The second time she meets him, she's giving a presentation to his company and realizes he's the billionaire CEO. Yikes! All of a sudden he wants to be involved in business at a level he never has been before. Jackson never thought he'd see the gorgeous blonde again, but he can't believe his luck. Now he's working with her and helping her make business connections. He believes in her family business and wants her to succeed. Only now he can't date her until his involvement is over. It's two months of hell. But fun and exciting. He introduces her to people, spends time chatting with her, texting her and finding reasons to be in Colorado. London is having a hard time balancing the business at Spark House and doing what she loves, her Etsy store creations. And spending time with Jackson is getting to be one of her favorite things. She can't get a read on him all the time, but when he finally admits he wants to date her as soon as the auction they are working on together is over, he's not kidding. At the end of the night he asks her out and gives her the best kiss of her life. Their chemistry was off the charts before, now it's just fire! They can deal with the long distance, but when his past comes up London isn't sure she can trust him. Will Jackson be able to convince her to give him another chance? Oh boy! I really loved London and Jackson. London is so talented and funny and smart. She's doing things that don't come naturally to her for her sisters and the business but she loves them that much. Jackson is sexy and fun and swoony! He treats her as an equal and says the most meaningful and sweet things to her. Overall, I laughed, cried, cheered and smiled a lot! I enjoyed it more than the first book! I loved seeing Linc and Griffin again too! Looking forward to Harley's story.
About Helena Hunting
New York Times and USA Today bestselling author of PUCKED, Helena Hunting lives on the outskirts of Toronto with her incredibly tolerant family and two moderately intolerant cats. She writes contemporary romance ranging from new adult angst to romantic sports comedy.
Connect with Helena Instagram: http://bit.ly/2kN5wdZ Twitter: http://bit.ly/2mloUim Facebook: http://on.fb.me/Zt1xm5 Facebook Fan group: http://bit.ly/2kN5yCD Website: http://www.helenahunting.com/
Never miss an update! Subscribe to Helena's mailing list: http://bit.ly/2MlRKq6
May 10, 2022 | Posted in Release Day Blitz, Review | By Two Book Pushers
May 3, 2022 | Posted in Blog Tour, Review | By Two Book Pushers
An Irish mobster with a brutal grudge. An Italian mafia princess with a dark secret.
Brutal Vows, an all-new steamy and powerful dark enemies-to-lovers mafia standalone romance from international bestselling author J.T. Gessinger is available now!
An Irish mobster with a brutal grudge. An Italian mafia princess with a dark secret.
Two enemy empires joined in sacred marriage vows.
Let the hating games begin.
Grab your copy today or read FREE in Kindle Unlimited! Amazon: https://amzn.to/3ARfCgi Amazon Worldwide: http://mybook.to/BrutalVows
Add to Goodreads: https://bit.ly/3KZ6zPb4
Excerpt
2
Spider
I get only a glimpse of the woman in the window before the curtains fall back into place and she disappears, but the image of her is seared onto my retinas.
Dark hair, red lips, olive skin.
A black, low-cut dress.
Acres of cleavage.
And eyes that glittered silver in the afternoon sun like the flash of coins at the bottom of a wishing well.
She can't be Liliana, the lass I'm here to meet. I've seen pictures of her. She has a sweet, innocent face. A shy, lovely smile.
The woman in the window looks like she'd only smile if she were slitting your throat.
Mindful of the armed guards, I say in Gaelic to Kieran, "I thought the lass's mother died?"
Standing beside me, he follows my gaze and looks up at the blank window.
"Aye. Why?"
"Who else lives here?"
He shrugs. "Dunno. From the size of the bloody place, probably a thousand people."
She's not a servant, that much I know. There wasn't a hint of servitude in those flashing eyes.
She looked more like a warlord about to lead an army of soldiers into battle.
"This way," says the guard nearest to me. He nods toward an arched opening in the brick wall that leads from the circular driveway into an interior courtyard.
Dismissing the thought of the mystery woman, I button my suit jacket and follow behind the guard as he leads Kieran and me away from the car. The other guard walks behind us. We're led through the lushly landscaped courtyard to a set of enormous carved oak doors, flanked on either side by towering marble columns.
The main house looms over us, three sprawling stories of beige limestone with elaborate balustrades and scrolled iron balconies, topped by a line of Roman centurion statues gazing down at us from a ledge on the red-tiled roof.
Inside the main foyer, the décor becomes even more ostentatious.
Naked cherubs frolic with hairy satyrs and woodland nymphs in colorful frescoes on the walls. Instead of one drop-crystal chandelier overhead, there are three. The floor is black marble, the carved mahogany furniture is edged in gilt, and my eyes are starting to water from the kaleidoscope glare of stained-glass windows.
Under his breath, Kieran says, "Jesus, Mary, and Joseph. Looks like Liberace hurled his lunch all over the bloody place."
He's right. It's fucking awful.
I have to force myself not to turn around and walk out.
"Ah, Mr. Quinn!"
I turn to my right. A man approaches with his hands spread open in greeting.
He's fit, of average height, and somewhere around forty. His dark hair is slicked back with pomade. Wearing a navy blue pinstripe suit I can tell is custom made, a powder blue tie with a diamond tie pin, a chunky diamond watch, and a gold pinky ring on each hand, he oozes wealth, privilege, and power.
His cologne reaches me before he does.
His smile is blinding.
I hate him on sight.
"Mr. Caruso, I presume."
He grabs one of my hands in both of his and pumps it up and down like he's a political candidate campaigning for my vote.
"It's a pleasure to finally meet you. Welcome to my home."
"Thank you. It's a pleasure to meet you as well."
He hasn't stopped grinning or shaking my hand.
Ten more seconds of this shite, and I'll break those Chiclet teeth of his.
"This is my associate, Mr. Byrne." I extract my hand from Caruso's death grip and gesture to Kieran, who inclines his head respectfully.
"Sir."
"Mr. Byrne, welcome. And please, both of you, call me Gianni. I prefer if we're all on a first name basis, don't you?"
I'd rather blind myself with acid, you wanker.
Kieran politely offers his name. I offer nothing. There's an awkward pause while Caruso waits, but he gets the hint and suggests we retire to his study to speak in private.
After what feels like a death march through miles of echoing corridors, we arrive at the study. It's probably larger than the law library at Notre Dame. We sit across from Caruso in a pair of leather chairs so uncomfortable, they had to be designed by sadists.
I haven't been here ten minutes, and I'm already regretting the fuck out of this.
Until she walks in the door.
Dark hair, red lips, olive skin.
A black, low-cut dress.
Acres of cleavage.
Not only cleavage, but long legs and an hourglass figure that would make any man stupid with lust.
If he wasn't too busy being turned to stone by the ice in her eyes, that is. I've never seen an attractive serial killer, but I bet this is exactly what she'd look like.
About J.T. Geissinger
J.T. Geissinger is a #1 internationally bestselling author of twenty-seven novels. Ranging from funny, feisty rom coms to intense, edgy suspense, her books have sold over five million copies and been translated into more than a dozen languages.
She is a three-time nominee in both contemporary and paranormal romance for the RITA® Award, the highest distinction in romance fiction from the Romance Writers of America®. She is also a recipient of the Prism Award for Best First Book and the Golden Quill Award for Best Paranormal/Urban Fantasy.
She's a Southern California native currently living in Nevada with her husband and rescue kitty, Zoe.
Connect with J.T. Geissinger Facebook: http://bit.ly/37Iv1zU Instagram: http://bit.ly/35v6fBu Pinterest: http://bit.ly/2upzIQI GoodReads: http://bit.ly/2NaBT2c BookBub: http://bit.ly/2oAkodD Reader Group: http://bit.ly/2Oj7iMg Mailing list: http://bit.ly/39KRQol Website: http://www.jtgeissinger.com
April 20, 2022 | Posted in Release Day Blitz, Review | By Two Book Pushers
April 20, 2022 | Posted in Blog Tour, Review | By Two Book Pushers
FLIRT by Adriana Locke
Release Date: April 8th
Genre/Tropes: Contemporary Romance/Office Romance/Fake Dating/Friend to Lovers
AVAILABLE NOW!!! FREE IN KU!!!
Amazon: https://amzn.to/3L1Nefm
Amazon Universal: https://geni.us/FLIRT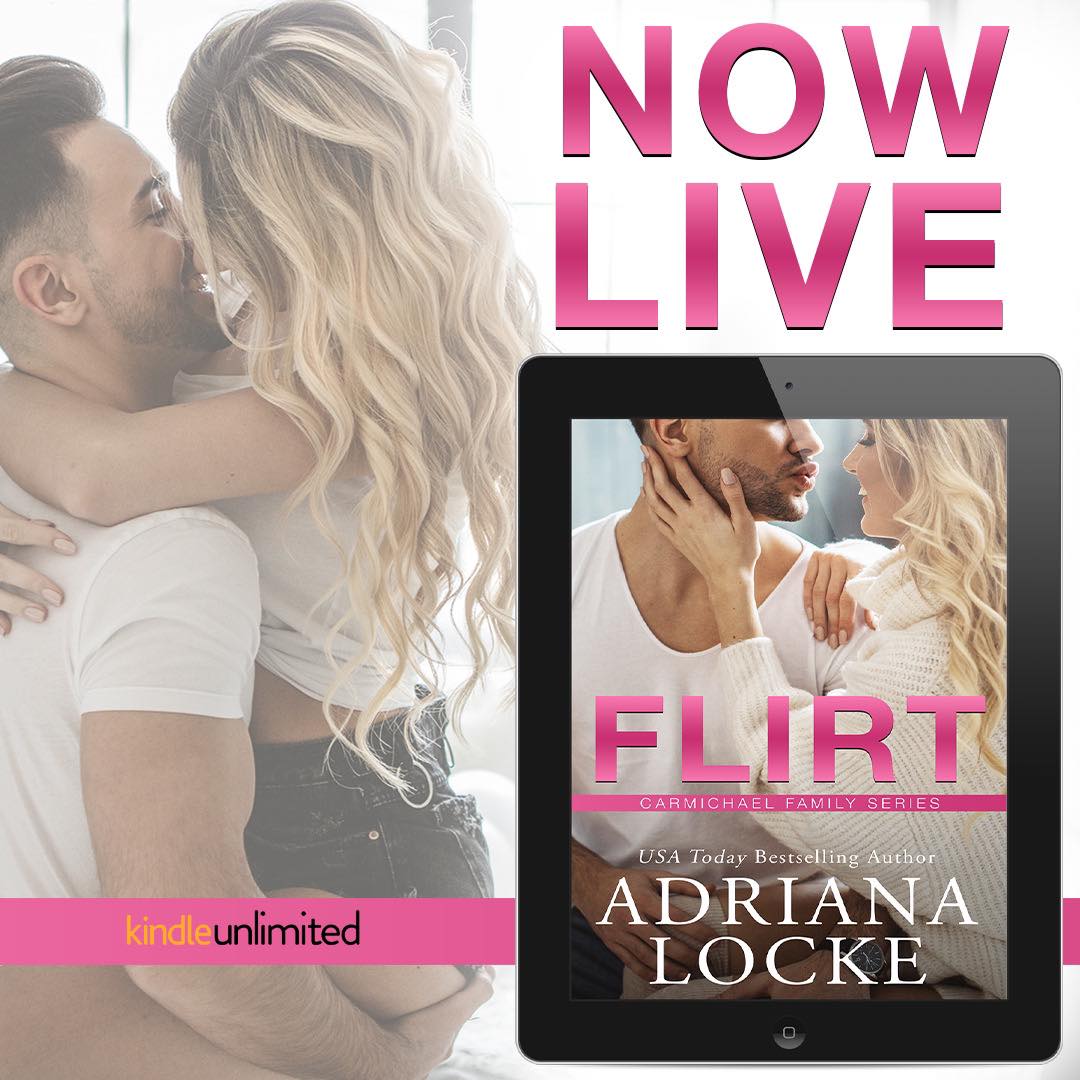 Add to Goodreads:
https://www.goodreads.com/book/show/59775481-flirt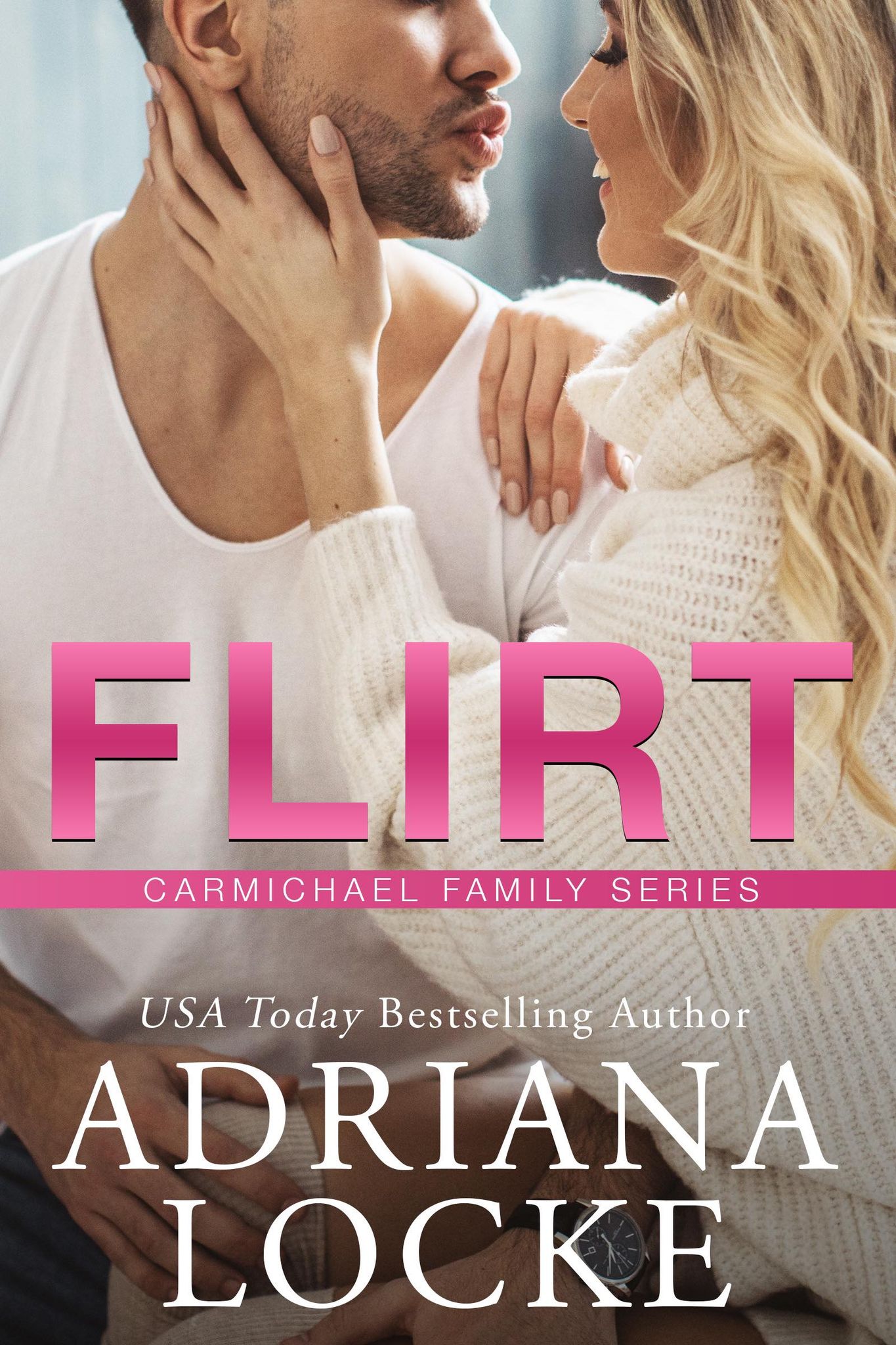 Blurb:
WANTED: A SITUATION-SHIP
I'm a single female that's tired of relationships ruining my life. However, there are times when a date would be helpful. If you're a single man, preferably mid-twenties to late-thirties, and are in a similar situation, we might be a match.
Candidate must be handsome, charming, and willing to pretend to have feelings for me (on a sliding scale, as the event requires). Ability to discuss a wide variety of topics is a plus. Must have your own transportation and a (legal) job.
This will be a symbiotic agreement. In exchange for your time, I will give you mine. Need someone to flirt with you at a football party? Go, team! Want a woman to make you look good in front of your boss? Let me find my heels. Would you love for someone to be obsessed with you in front of your ex? I'm applying my red lipstick now.
If interested, please email me. Time is of the essence.
About the Author:
USA Today and Washington Post bestselling author Adriana Locke lives and breathes books. After years of slightly obsessive relationships with the flawed bad boys created by other authors, Adriana has created her own.
She resides in the Midwest with her husband, sons, and two dogs. She spends a large amount of time playing with her kids, drinking coffee, and cooking. You can find her outside if the weather's nice and there's always a piece of candy in her pocket.
Connect w/Adriana:
Website: https://adrianalocke.com
Facebook: https://www.facebook.com/authoradrianalocke
Facebook Group: https://www.facebook.com/groups/booksbyadrianalocke
Twitter: https://twitter.com/authoralocke
Instagram: https://www.instagram.com/authoradrianalocke
Goodreads: https://www.goodreads.com/author/show/8379774.Adriana_Locke
Amazon: https://amzn.to/3ivy7xd
Bookbub: https://www.bookbub.com/authors/adriana-locke
Newsletter Signup: http://bit.ly/NewsletterAddy
April 19, 2022 | Posted in Release Day Blitz, Review | By Two Book Pushers
My best friend's older brother excels at many things—being a bossy grump, a jerk, and…this hopeless virgin's fake fiancé?
I need a guy who understands that this is all pretend, and who better than a man who can't stand me—and vice versa? Besides, Derrick is the kind of cocky, confident, successful dude bro my gram will adore.
We'll convince my ailing grandmother I'm not going to die alone, Derrick will honor that favor he owes me, and we'll part ways as enemies with NO benefits.
It's a rock-solid plan…until it isn't.
Turns out I may have made a slight miscalculation.
Now Derrick is charming my family, sweeping me off my feet, and making me want crazy things.
Suddenly, I think I might actually want him to be my first and maybe…my only?
Yeah, I'm screwed.
So bleeping screwed.
Amazon US: https://amzn.to/353c3rr
Amazon UK: https://amzn.to/3tT2xBw
Nook: https://bit.ly/3GMIVTy
Kobo: https://bit.ly/3AjgYjx
Googleplay: https://bit.ly/3tKqQBD
Apple Books: https://apple.co/3ItOzKN
April 19, 2022 | Posted in Release Day Blitz, Review | By Two Book Pushers
Code Name: Revenge (Jameson Force Security, Book 9)

Sawyer Bennett
Release Date: April 19, 2022
Synopsis:
When Kynan McGrath approached me about joining Jameson Force Security, I jumped at the chance. Just call me Dozer Burney, one half of the genius duo who keeps the team at the forefront of security technology. The move from NASA to Jameson also put me back on the east coast, closer to those who mean the most to me.
Jessica Anderson has been my best friend since college. A single mom who found herself mixed up with a dangerous man years ago, she's been living a safe, quiet life in Miami after helping police put him behind bars. We both knew her safety, and that of her daughter, was reliant on him staying locked up. So when I see an alert that he's escaped from his maximum security prison, I know where he's heading to exact his revenge.
Now it's a race against time to get to Jessica before he does.
Protecting her with my life is easy, because there's one thing I've never admitted to anyone, not even myself—I have been in love with Jessica Anderson since the day I met her. And if we both make it out alive, I'll make sure she knows it every day for the rest of our lives.
Download Code Name: Revenge (Jameson Force Security, Book #9):
Get the audio (narrated by Sean Crisden and Adenrele Ojo)
Audible | Amazon | Apple
** Digital files will be delivered via BookFunnel for reading within the BookFunnel app only **
About the Author:
New York Times, USA Today, and Wall Street Journal Bestselling author Sawyer Bennett uses real life experience to create relatable stories that appeal to a wide array of readers. From contemporary romance, fantasy romance, and both women's and general fiction, Sawyer writes something for just about everyone.
A former trial lawyer from North Carolina, when she is not bringing fiction to life, Sawyer is a chauffeur, stylist, chef, maid, and personal assistant to her very adorable daughter, as well as full-time servant to her wonderfully naughty dogs.
If you'd like to receive a notification when Sawyer releases a new book, sign up for her newsletter (sawyerbennett.com/signup).
Connect with Sawyer:
✦ Facebook: http://bit.ly/Sawyer_FB
✦ Reader group: http://bit.ly/Sawyer_NEP
✦ TikTok: https://bit.ly/Sawyer_TOK
✦ Instagram: http://bit.ly/Sawyer_IG
✦ Goodreads: http://bit.ly/Sawyer_GR
✦ BookBub: http://bit.ly/Sawyer_BB
✦ Newsletter: http://sawyerbennett.com/signup
April 15, 2022 | Posted in Release Day Blitz, Review | By Two Book Pushers
April 1, 2022 | Posted in Blog Tour, Review | By Two Book Pushers
"In this un-put-downable romance, Madden-Mills skillfully balances the emotional with the physical to produce a love story that's equal parts scorching and sweet." —Publishers Weekly
Beauty and the Baller, an all-new emotional and steamy opposites attract, fake relationship standalone romance from Wall Street Journal bestselling author Ilsa Madden-Mills is available now!
An NFL quarterback turned small-town coach gets sacked by a Texas beauty queen in this swoony, passionate romance from Wall Street Journal bestselling author Ilsa Madden-Mills.
Gorgeous, talented, and brilliant, NFL quarterback Ronan Smith has the world in his hands. But after losing his career and his fiancée in a car accident, he falls into a pit of grief and bad choices. When a mysterious girl shows up to his party, he feels drawn to her and makes her his…for one night.
Former beauty queen Nova Morgan is on a mission. Scantily clad as a princess from a galaxy far, far away, she sneaks into a high-profile party to capture the attention of her favorite quarterback. But her hopes crash after an awful one-night stand.
Fast-forward two years. Broke and desperate, Nova returns home to Blue Belle, Texas, where, by a cosmic twist of fate, her broody neighbor is none other than Ronan, the shiny new football coach everyone adores. But he has no idea who she is.
The booster club keeps shoving women at Ronan to keep him in town. His solution? He proposes fake dating to Nova. But things heat up for real under these Friday-night lights when he realizes she's the one who slipped away.
Has this jaded beauty found her forever baller, or will his past keep them apart?
Fall in love today FREE in Kindle Unlimited! Amazon: https://amzn.to/3CRMSE1 Amazon Worldwide: http://mybook.to/BeautyBaller Amazon Paperback: https://amzn.to/3CRmo5r
Add Beauty and the Baller to Goodreads→ https://bit.ly/3uhUb4F
About Ilsa Madden-Mills Wall Street Journal, New York Times and USA Today best-selling author Ilsa Madden-Mills is best known for her angsty new adult romances and romantic comedies.
Eight of her eleven novels have placed in the Amazon Top 10 Best-seller List: Dirty English #1; Fake Fiancée and I Dare You #2; I Bet You, Filthy English, and Very Bad Things #6; Boyfriend Bargain #8; The Last Guy, her collaboration with Tia Louise, #4.
A former high school English teacher, she adores all things Pride and Prejudice, and of course, Mr. Darcy is her ultimate hero.
She's addicted to frothy coffee beverages, cheesy magnets, and any book featuring unicorns and sword-wielding females. Feel free to stalk her online.
Connect with Ilsa Amazon: http://amzn.to/2nY2pxT Instagram: http://bit.ly/35xfNfo Stay up to day with Ilsa by joining her mailing list: http://bit.ly/2ZWaTYh Goodreads: http://bit.ly/2EESfM9 Bookbub: http://bit.ly/2GaR6cn Book+Main: http://bit.ly/2s4j9ci Website: https://www.ilsamaddenmills.com Join her Unicorn Girls Group on FB, the best way to keep up: http://bit.ly/37B6Nay Sign up for phone alert for book releases (max of 4) Text ROMANCE to 21000 *Text message rates apply*