November 1, 2022 | Posted in Release Day Blitz, Review | By Two Book Pushers
November 1, 2022 | Posted in New Release, Release Day Blitz, Review | By Two Book Pushers
CRYBABY (Revenge Is Sweet Series: Book One) by Monica James & Michelle Lancaster
Release date: November 1st
Genre: Dark Romance
CRYBABY, the first book in the Revenge Is Sweet series, by Monica James and Michelle Lancaster is NOW LIVE!
Grab this all-new sexy dark romance TODAY!!
NOW AVAILABLE!!!
Amazon: https://tinyurl.com/4cdkv4bz
Apple: https://tinyurl.com/3xhjmus9
Nook: https://tinyurl.com/5n787xss
Kobo: https://tinyurl.com/42x6atay
Add to Goodreads: https://tinyurl.com/ysvb2ynu
Crybaby Playlist: https://tinyurl.com/4rdkcdd6
Blurb:
My name is Rev.
I like long walks on the beach.
A neat scotch.
And I like stealing from rich losers who have no idea the town's Big Bad Wolf screwed their wives six ways to Sunday.
Such a scandal, indeed.
I have one end goal—to get out of this town.
I'm a loner. And that's by choice.
People aren't really my thing. That is…until I meet her. The little firecracker who sets more than my soul on fire.
No one has ever stuck around.
But Darcie is different. She seems to be as broken as me, and when our worlds collide, nothing but trouble looms.
Watch out, baby…down the rabbit hole we go.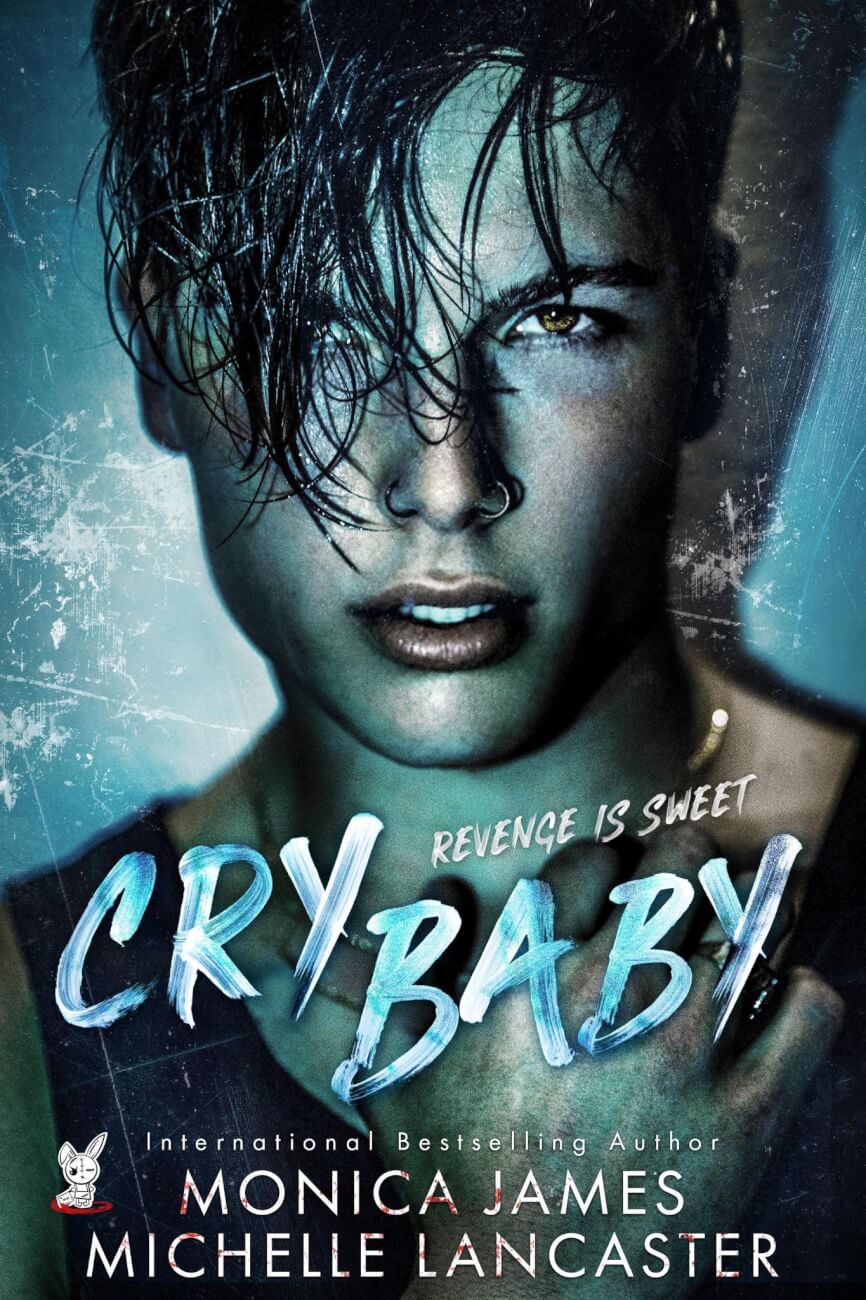 About the Authors:
Monica and Michelle are best friends who have combined their love for dark comedy, crime documentaries, and bad boys to write dark romance that will steal your heart and haunt your mind.
Follow the white rabbit…
Connect w/Monica:
Website: authormonicajames.com
Facebook: facebook.com/authormonicajames
Twitter: twitter.com/monicajames81
Goodreads: goodreads.com/MonicaJames
Instagram: @authormonicajames
TikTok: @authormonicajames
Tik Tok: @MichelleandMonicaBooks
BookBub: http://bit.ly/2E3eCIw
Amazon: https://amzn.to/2EWZSyS
Reader Group: http://bit.ly/2nUaRyi
Connect w/Michelle:
Instagram: @lanefotograf
Instagram: @lanefotograf_2
TikTok: @lanefotograf
Tik Tok: @MichelleandMonicaBooks
Website: www.michellelancaster.com
October 27, 2022 | Posted in Blog Tour, Review | By Two Book Pushers

Blog Tour, Excerpt & Giveaway:
Love And History
By Lane Hayes

The Script Club, Book 6
The sporty roommate, the professor, and a history lesson…
Holden
Ezra might be the most annoying roommate ever. He's loud, obnoxious, and full of himself. So what if he's a tall, muscular, tattooed jock? His tendency to strip to his boxers in the kitchen while helping himself to my food isn't endearing in the slightest. Nope. Ezra has to go.
However, I have to admit, he's the perfect fit to play the king for my historic reenactment event. Ezra in a royal robe…oh, this could be quite tantalizing indeed.
He won't do it, though.
Unless I trick him into a history lesson.
Ezra
Holden is the kind of dude who wears top hats and great coats while teaching astrophysics to brainiacs. Weird, right? But I gotta respect that level of commitment. And I respect him.
Sadly, Holden doesn't feel the same way about me.
I guess I can't blame him. Cranking his gears has been a highlight of my stint in geek land. I've never seen anyone get riled about yogurt like him. He makes me laugh. And think. And he makes me want things I'd never thought possible.
So yeah, I'll take that history lesson. If it leads to something more, I'm in.
Love and History is a Bi-awakening geek/jock romance featuring a messy law student, a picky professor, and a lesson neither will forget!
Love and History is the sixth and last book in The Script Club series by Lane Hayes. I never thought I would love these adorable geeks and the men they fall for as much as I do. Holden is the last of them to fall and no one is more surprised than he is when he starts to see his messy, obnoxious roommate as more than just the annoying guy who steals his food and walks around in his boxers. Ezra just loves getting under Holden's skin. He isn't making any announcements about his sexuality, but he's definitely seeing Holden as more than his geeky roommate. He thinks he's funny, brilliant and respects the hell out of him. He even loves his hats and robes. When Holden needs help from Ezra he jumps at the chance to spend more time with him. It's a bet he's going to win. Holden starts to see a new side of Ezra. The tidy, dressed kind and it makes him even more appealing. One thank you kiss leads to so much more. Ezra can't stop thinking about Holden. He's never wanted anyone the way he wants him. He's learning things from Holden and loves how smart and quirky he is. They both just want to have fun, but what happens when feelings get in the way? Oh man! I love, love, love Ezra and Holden. Ezra was rather annoying in the past, but now that we get to see what's going on in his head, I couldn't love him more. Holden is totally geeky, but so smart and handsome. They are opposites, but when they get to know each other, they realize they complement each other very well. Ezra is fun, positive and knows who he is. Holden is cautious, guarded and is comfortable in his own skin. I think this is my favorite of the series! I would love to see Ezra, Holden and the other characters again somewhere! Overall, I laughed, teared up, smiled, laughed some more and had to fan myself!
---
Excerpt:

Holden mumbled a greeting to Cole, who'd shuffled bleary-eyed to the coffee machine, then leaned toward me. "What are you doing with your spoon?"

I held up the spoon in question and shrugged. "Nothing. Why?"

"You're licking it," he whispered, adding, "suggestively."

I barked a strangled half laugh. "Spoon porn? Is that a thing?"

"Don't ask me. I don't know anything about porn."

I arched my brow dubiously. "Really?"

"Really," he assured me.

"Why not?"

"It's not interesting to me."

"Bullshit," I coughed into my hand, snickering at his outraged expression. "Don't tell me you've never imagined a 'Robin Hood getting freaky in the forest' scenario."

"What does that even mean?"

"You know…hanky-panky in tights and those weird hats with feathers on 'em." I dipped my spoon into my bowl of yogurt and licked it clean again. "I bet they got down to some kinky shenanigans in the Sherman Forest in Renaissance times."

Holden pushed his glasses to the bridge of his nose, which I'd learned months ago signaled an oncoming lecture. I was right.

"That's Sherwood Forest, not Sherman, and Robin Hood is a folktale set in medieval times, not the Renaissance."

"Same difference." I teased, rubbing my calf against his.

He narrowed his eyes. "I suspect this is tomfoolery, but I'll explain the difference nonetheless."

I set my hand on his knee and smiled. "Please do."

He blushed, then went into more detail about the difference between the medieval and the Renaissance period than my brain could process at seven a.m. But I liked it.

I polished off my yogurt, listening with half an ear as I surreptitiously studied his details—his squared shoulders, his sharp gaze, and the proud tilt of his chin. Holden was all angles and edges with smiling eyes and unconscious charisma.

When I first moved in, I'd wondered if I could handle living with a guy who spouted random bits of historic or scientific intel like an audiobook version of a dull Wikipedia entry. Funny enough, I didn't mind at all. I learned something new every day.

For example, a few months ago, he called me a "tallow-catch" when he tripped over the shoes I'd left on the landing. I didn't have a comeback. I literally had no idea what the fuck that meant, so I consulted Merriam-Webster. Turns out a "tallow-catch" was a lump of animal fat that butchers used to make candles in olden days. Hey, I'd been called worse. I actually appreciated that he never resorted to basic insults and rarely swore.

Holden was a true gentleman. I wasn't. And that might never change. However, I found myself wanting to try a little harder, and maybe use this newfound supersonic power to figure out what made him tick. 'Cause it occurred to me that his quest to soak up knowledge had a manic edge. As if he used his smarts to avoid…something.

Hell, I knew all about avoiding shit. And I knew that a couple of BJs didn't give me the right to his secrets. But I wanted them anyway.

"…the invention of the printing press changed the world forever and—" Holden paused for air and gave a self-conscious shrug. "Sorry. I get a little carried away sometimes. I didn't mean to bore you with a history lesson."

"You're not boring me. I think you're fascinating," I commented, unthinking.

He shook his head and snickered. "I don't think you're fascinated with my mind, Ezra."

He was so wrong.
---
Enter the Giveaway:
To celebrate the release of The Professor's Date, Lane is giving away the Winner's choice of an audiobook or ebook of choice from her published works!
Enter the Rafflecopter giveaway for your chance to win!
Direct Link: http://www.rafflecopter.com/rafl/display/cc0f2a57558/?
---
& go back to the beginning with Book 1
Following The Rules
---
About the Author:
Connect with Lane:
My Readers' Group, Lane's Lovers: https://bit.ly/3aIbMYg
My Newsletter: https://bit.ly/3cICfaK
Blog: www.lane-hayes.com
Twitter: twitter.com/LaneHayes3
FB: facebook.com/LaneHayesAuthor
Amazon Author Page: amazon.com/author/lanehayes
BookBub: bookbub.com/authors/lane-hayes
Instagram: instagram.com/Lanehayesauthor
Goodreads: goodreads.com/LaneHayes
---
---
October 25, 2022 | Posted in Release Day Blitz, Review | By Two Book Pushers
October 14, 2022 | Posted in Release Day Blitz, Review | By Two Book Pushers
Look, I had a rough week at work. So I put on a bikini and escape to the beach, where I wind up rescuing the city's hot new quarterback from a rogue paddle board, and then he rescues me that night from a s-e-x drought.
Hello O-Town. Nice to see you!
The charmer with the magic hands wants another date too, and I say yes so fast.
But the thing is I'm the team lawyer for The Mercenaries. And the morning after the sexiest night of my life, I find out the guy I plan to see again was just traded to our team.
Dating the brand spanking new star quarterback?
Off-limits.
Especially when my boss blindsides me with this twist – I'm in charge of managing his reputation.
I really shouldn't invite him over late tonight then.
Truly, I shouldn't.
Contents include: sex hacks, text snafus, bedroom dares, major league dirty talking, and twists you won't see coming in this sexy sports romance.
Two A Day is the first book in The Girlfriend Playbook series by Lauren Blakely. We met Drew in The Virgin Next Door and I've been excited for his story ever since! He's the starting quarterback who meets a sexy stranger on the beach. They hit it off immediately and then they can't get enough of each other. He soon finds out Brooke is the lawyer for his team. Now she's off-limits. Only she's not ever too far away since they have to work together doing press for the team. The more time they spend together, the more Drew wants. They can have a secret relationship and the team will never know. Until it becomes very real and they don't want to hide it anymore. Is it possible to work together and be involved? I loved Drew and Brooke! They were so much fun! And sexy, and flirty! Looking forward to more in the series!
Audio: I really enjoyed Jason and Rose together. I thought they were the perfect Drew and Brooke!
October 11, 2022 | Posted in Release Day Blitz, Review | By Two Book Pushers
Everything was perfect. Until it wasn't.
The Perfects by Rachel Van Dyken is now live!
Find out what happens when their perfect image breaks in #1 New York Times bestselling author Rachel Van Dyken's steamy new adult romance.
Everything was perfect.
Until it wasn't.
Until my family took on a foster girl and placed her across the hall from me. A charity case to look good and a person who should have never existed in my world.
I kissed her to get her to stop talking, and then I kissed her again because I liked the taste of her words–I liked her.
It was our secret until we got caught–that night changed everything.
We became strangers living in the same house, seeing the same ghosts of our past mistakes, but I can't stop thinking about us, about those forbidden moments.
I pretend to hate her, I tell her I'll never forgive her, and then Quinn, my ex-best friend, steps into the picture. I can't tell if he actually likes her or if he has a death wish and just likes pissing me off, but what do I say? Stay away from my foster sister?
She's mine?
I've already had her?
Saying that to him would expose what we were and ruin everything.
We're all three of us living multiple lies, and eventually, I know our ivory tower of perfection is going to come crashing down.
He knows my secrets.
I know his.
And now she knows both.
She wants.
He wants.
But I always—always get what I want.
And what I want is the girl, no matter what it may cost me.
Download today or read for FREE with Kindle Unlimited
Amazon: https://geni.us/ThePerfects_Amz
Add to Goodreads: https://geni.us/ThePerfects_GR
The Perfects is Rachel Van Dyken's newest standalone and it's different than anything I have read by her and I am here for it. It's an addictive, raw, beautiful, and heartbreaking story. 
It was senior year and everything was perfect. That's what the outside world thought anyway. The inside world was full of secrets, nightmares, and chaos. Everyone wanted what Ambrose had and all he wanted was to be free of it all. To be free like the birds. He had never felt that until she showed up. A girl with a black garbage bag in her hand. A girl who would be staying across the hall from him. A girl who set his world on fire. A girl who was forbidden. A girl he wanted and hated at the same time…
Mary-Belle was new to this perfect life. It was everything people would want. Two parents. A mansion. Food. Oh, the food. She knew she was only there as a charity case and it wouldn't last long but Ambrose made her feel safe and that was hard to come by in the foster system. She thought it was love until one night changed everything. He hated her. She was alone once again until Quinn walked in her life. A boy who knew how it was to be hated by someone so perfect. Will him being in her life be a safe haven or a mistake? 
I can't even tell you how much I enjoyed this book. From start to finish I was invested. Their relationships are complicated, beautiful, and I felt their connections on every page. Rachel killed it…
Quotes: 
"How can you be both such an asshole and such a gentleman? I don't get it." 
"The world's a confusing place, princess."
Well, apparently, Cinderella came out to play.
"I'm gonna make you my bitch." 
"Fuck yes."
The Perfects is a new standalone from the fabulous Rachel Van Dyken. I will read anything and everything Rachel writes. The Perfects is different from anything she's written, but it still has all the things we love about a Rachel romance. Fun, sexiness, heat, loyalty, pain and friendship. Ambrose is perfect. Rich, handsome, adored by all. Mary-Belle is a foster kid who ends up at his house with all her belongings in a trash bag. She's lived a very different life up until now. They click from the very start. They just see something in each other and it feels different. Ambrose doesn't feel so alone and Mary-Belle feels safe. But one night changes everything. Now they are roommates who hate each other. Belle just wants to finish school and move on with her life. Quinn comes out of nowhere and wants to be friends. But he's not just another guy at school. He's Ambrose's ex-best friend. There's a lot of history and heartache there. And no she's in the middle. But not really. The more things change the more Ambrose, Belle and Quinn realize they are all they have. They are family and they can get through anything the world throws at them. This story! Wow. I was on the edge of my seat trying to figure out what was going to happen next. At first I was happy and going with the flow and then bam! Then I was crying and shivering and wanting to cheat to the end to see what happens! But I know Rachel and she loves us and never does us dirty (ok, maybe that one time, but I forgave her). This was a story about love and friendship. Family and appearances. Expectations and deciding your own future. Overcoming the worst thing in your life and surviving. Trusting in the family you choose and letting go of the anger. Another "perfect" romance from Rachel Van Dyken!
Meet Rachel
Rachel Van Dyken is the #1 New York Times Bestselling, Wall Street Journal, and USA Today bestselling author of over 90 books ranging from contemporary romance to paranormal. With over four million copies sold, she's been featured in Forbes, US Weekly, and USA Today. Her books have been translated in more than 15 countries. She was one of the first romance authors to have a Kindle in Motion book through Amazon publishing and continues to strive to be on the cutting edge of the reader experience. She keeps her home in the Pacific Northwest with her husband, adorable sons, naked cat, and two dogs. For more information about her books and upcoming events, visit www.RachelVanDykenauthor.com
Connect with Rachel
Facebook: https://www.facebook.com/RachelVanDyken
Website: http://rachelvandykenauthor.com
Newsletter: http://bit.ly/RVDNewsletter
Instagram: https://www.instagram.com/rachvd
Twitter: https://twitter.com/RachVD
Amazon: http://amzn.to/2cNVwL9
Goodreads: http://bit.ly/RVDGR
RVD Facebook Group: https://smarturl.it/RVD_FB_Group
Pinterest: https://www.pinterest.com/rachelvandyken/
TikTok: https://www.tiktok.com/@rachvd
Verve: https://ververomance.com/app/RachVD
October 11, 2022 | Posted in Release Day Blitz, Review | By Two Book Pushers
October 6, 2022 | Posted in Release Day Blitz, Review | By Two Book Pushers
October 4, 2022 | Posted in Release Day Blitz, Review | By Two Book Pushers
How to behave when the guy who broke your heart two thousand miles away turns up in your office:
One: Don't drop your lucky coffee cup in shock, even though it's been ten years.
Two: Don't get defensive when he asks how you ended up working his family's ski mountain… and why you kept it a secret.
Three: Give him the worst room in the resort. He deserves it for suddenly waltzing back in like he owns the place. (Which he kind of does.)
Four, five, six, seven, eight and nine: Do not kiss him in the hot tub.
Ten: Try to keep your heart intact after you break all of your rules.
Because Reed is leaving again. Hate can't turn back into love. And it's a little too late…

All in one link page: https://shor.by/MadiganMtn
Amazon: https://geni.us/Little2LateAmazon
Apple Books: https://geni.us/Little2LateApple
Nook: https://geni.us/Little2LateNook
Kobo: https://geni.us/Little2LateKobo
Google: https://geni.us/Little2LateGoogle
Audio: https://geni.us/Little2LateAudio
A Little Too Late is the first book in the Madigan Mountain series by Sarina Bowen, Rebecca Yarros and Devney Perry. Sarina is up first with A Little Too Late. It's a fun, sexy, second chance romance and I loved it! Reed and Ava were colleges sweethearts and had a bad breakup. Ten years later Reed shows up to his family's ski resort to find Ava working for his father. He hasn't been back home in years and doesn't really speak to his father or his two brothers. But his father is selling the resort and he's there to help. Turns out he misses home more than he thought and after spending time with Ava he wants another chance. Now he just has to convince her to love him again. And he has to convince his father he finally wants to come home. I loved Reed and Ava! There was the perfect amount of humor and sexiness to keep me wanting more. I had the pleasure of listening to this and Sebastian York and Andi Arndt, two of my favorite narrators, were fantastic! They really brought the characters to life! The next two books in the series, A Little Too Close by Rebecca Yarros and A Little Too Wild by Devney Perry continue the story with Reed's brothers!
October 4, 2022 | Posted in Release Day Blitz, Review | By Two Book Pushers
Never Trust the Living
Battle Crows MC, Book 7
Lani Lynn Vale
Release Date: October 4, 2022
About the Book
It's not every day that someone tries to pin a murder on you and a random girl you just met. But Bram Crow isn't your average, everyday guy, either.
One second, he's hiding evidence with the girl, and the next, he has to marry her so a police detective doesn't get suspicious.
Did he mention that he had a long-term girlfriend at the time?
To say that things didn't go as planned would be an understatement.
To say that falling in love with his wife, definitely wasn't part of the plan, either.
Nor was her leaving me when I finally realized she was my world.
Purchase Links
✦ Amazon: https://amzn.to/3BxTOsb 
✦ Apple: https://apple.co/3B6ugkk 
✦ Nook: https://bit.ly/3LdfsVJ 
✦ Kobo: https://bit.ly/3U171Rp 
✦ Audio: COMING SOON
Add to your TBR: https://bit.ly/3j2zg14 
Never Trust the Living is the seventh and last book in the Battle Crow MCs series by Lani Lynn Vale. We have been waiting for details on Bram and Dory's story since the beginning of the series! Bram is a first class ass. We know this. We still like him because we know there is a big story there! Turns out it's even bigger than I thought! And his reasoning for treating his wife the way he did is solid. Could he have been better about it? Yes. Could his brothers (except Jeremiah, I love you) have been better? Absofreakinglutely. Bram loves his wife but he doesn't know what to do. How to show her. He thinks she deserves better. And he doesn't even realize it until she's gone. They say it's never too late to apologize, and I felt for Bram. And I think he did a top-notch job of showing Dory that he was wrong and he's incredibly sorry. He's going to prove to her that he loves her and he wants to be together. She just needs to open her heart one more time.
He does what's best for her. Get her out of town. Somewhere she feels safe. Learn about her. Get to know her. But they have a past that seems to be following them and it's not good. I was honestly worried what Lani was going to do. Again! I wasn't prepared for the emotion, but in the end she gave us what we need. It was the perfect way to end the series! I'm sad to see these characters go but I'm hoping we might see them again somewhere. Overall, I laughed, cried, got mad, cringed and smiled some more. Bram really is delicious and Dory is strong as hell! She never gave up and kept fighting!