August 29, 2018

Title: Out in the Deep
Series: Out in College
Author: Lane Hayes
Publisher: Lane Hayes
Release Date: August 29
Heat Level: 4 – Lots of Sex
Pairing: Male/Male
Length: 41K
Genre: Romance, New Adult, Bisexual, College romance, Water Polo, Coming out
Synopsis
Derek Vaughn is a little too serious. He's a type A control personality with a penchant for order and a love of water polo. But he's determined to enjoy his last year of college. The real world with a serious job and big expectations can wait for a few months. He's going soak up every minute on campus with his friends and teammates before he moves on. The only possible kink in his plan is the new guy on the team… also known as his nemesis.
Gabe Chadwick has big Olympic dreams. His transfer between Southern California universities has nothing to do with scholastics. The degree is his backup plan. He's not there to party or make friends. And he certainly isn't going to announce his sexuality. But he can't deny there's something special about the uptight team captain. However, when an unwitting friendship and mutual attraction collide, both will have to decide if this is the real thing or if they're about to lose it all in the deep.
Excerpt
Maybe I just needed a good night's sleep. It had been a long day. And a weird one. I could never have dreamed up a scenario featuring Gabe Chadwick in my house after this morning. But here he was.
I gave him a thorough once-over as he walked into the kitchen. And again, the first thing that crossed my mind was, "Wow, he's really fucking hot."
"Nice place."
"Thanks. Do you want some water or something?" I asked, awkwardly pointing at the fridge.
"No, thanks. I've had enough tonight," Gabe replied with a laugh.
I should have said good-bye then and escorted him to the door, but I had a strong desire to keep him talking and maybe dispel the weird admiring thoughts going through my brain. Yes, Gabe was a good-looking guy, but I shouldn't be fixating on his long eyelashes and the way the kitchen light framed him in a halo of sorts. I couldn't let him go until my brainwaves returned to normal, and he was the same annoyingly smart and talented opponent I'd played against occasionally for years. The thing was, I didn't really know him and at that moment, I wanted to.
"Where do you live?" I asked.
"About fifteen minutes away. I scored an apartment by campus. I have one roommate. Brent's a volleyball player. We might get a third to cut expenses, but I don't want to share a room, so that'll be up to him."
"Sharing a room gets old fast. Evan and I knew we wanted to live together, but I'd probably smother him in his sleep if I had to listen to him snoring every night a few feet away from me," I said in a lame-ass effort to keep him talking.
Gabe chuckled. "That would be rough. Evan seems like a cool guy. Is he as neat as you? This house is spotless."
"No, that's all me. I can't help it. I have a thing about order. Evan's a slob. You should see his room. At least he tries in shared spaces. I don't bug him about his unmade bed, scattered clothes, and random dishes he leaves on his nightstand as long as he keeps the bathroom and kitchen tidy. He's been on the receiving end of a couple of classic Vaughn meltdowns," I said with a self-deprecating shrug.
"A Vaughn meltdown," Gabe repeated. "That must be a version of what I experienced this morning when you tried to drown me."
"Fuck off." I laughed, then looked away quickly when a rush of heat flooded my cheeks. Oh, my God. Please don't let me blush. Not now. He'll know something's wrong with me.
Gabe stepped closer to me and cocked his head. "Are you blushing?"
Great.
"I don't blush."
"Whatever you say." He winked and gave me a mischievous smile that turned me inside out.
This couldn't be happening.
Purchase at Amazon
US: https://amzn.to/2Nn9ItK
UK: https://amzn.to/2NotdlR
CA: https://amzn.to/2BSj53p
AU: https://amzn.to/2wAplHl
IT: https://amzn.to/2NlHBeE
Out in the Deep is the first book in the Out in College series by Lane Hayes.  I hate to admit that this is my first book by Lane. We promote her on the blog, but the timing is never right. When I saw the release of Out in the Deep, I decided this book was going to pop my Lane cherry and I'm so happy I finally read one and so mad at myself for not reading her before now! Derek and Gabe are water polo college rivals until Gabe transfers. Now they are teammates. And they have to get along and work together. Derek doesn't like Gabe. Always found him too confident and obnoxious. Having him around gives him anxiety and he needs to focus and graduate. Gabe has watched Derek compete over the years and always had a little thing for him. When Derek gets drunk one night, things heat up between them. Hate turns into something seriously hot and unexpected. Derek always knew he might be attracted to men too, but there is something about Gabe that makes him lose his mind. Can they have a real relationship while being teammates and trying to achieve their dreams? I loved watching these two fall in love! It was sexy as sin, sweet and fun. It was all new for Derek and he was so darn cute asking questions and willing to try anything. Gabe took good care of him, let him relax and just feel. The writing is great, the story well developed and the characters wonderful! I'm looking forward to more in the series!
I kissed a boy and I liked it. And now, I was obsessed.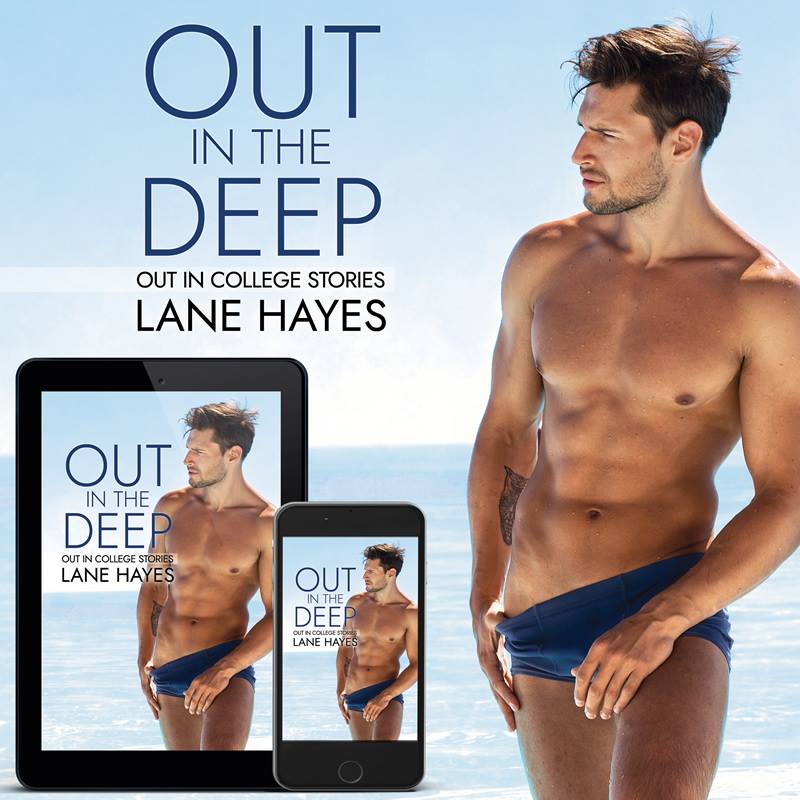 Meet the Author

Lane Hayes is finally doing what she loves best. Writing! An avid reader from an early age, Lane has always been drawn to romance novels. She truly believes there is nothing more inspiring than a well-told love story with beautifully written characters. Lane discovered the M/M genre a fews ago and was instantly hooked. She is the bestselling author of the Better Than, Right and Wrong, A Kind of Stories and Leaning Into series. Lane's novels placed first in the 2016 and 2017 Rainbow Awards. She loves travel, chocolate, and wine (in no particular order). Lane lives in Southern California with her amazing husband in an empty nest.
Giveaway