July 13, 2019

Title: Out in the Field
Series: Out in College #4
Author: Lane Hayes
Publisher: Lane Hayes
Release Date: July 11
Heat Level: 4 – Lots of Sex
Pairing: Male/Male
Length: 51K
Genre: Romance, New Adult, College, Coming Out, Baseball, New Adult, Humor, Opposites
Synopsis
Max Maldonado loves baseball. He knows playing first base at a private college probably won't get him to the big leagues, but he doesn't mind. He loves the game and his teammates. If he has to stay in the closet until he graduates, that's okay. Baseball comes first. Relationships are complicated anyway. And after his recent messy breakup, Max prefers to keep things simple.
Phoenix Bell is a fabulous theater geek. He's excited about his recent transfer to a new school with an elite liberal arts program. Life has been on hold for a while, but this opportunity feels like the fresh start he was hoping for when he moved to California. And the chance reunion with the hot closeted jock is an unexpected surprise. The two men have nothing in common and their timing couldn't be worse. However, when their unconventional alliance blossoms into friendship and perhaps something more, it may be time to make some hard decisions. And perhaps risk it all…out in the field.
Excerpt
We were quiet for a moment. We shared his drink in silence as occasional bits of conversation and laughter from the party drifted our way. We were far enough from the action that the excess noise didn't penetrate our cocoon. Just a couple of strangers in the dark again, minus the club music and lights and unrealistic hopes from the first time. I didn't know about Phoenix, but this felt cathartic somehow. Like a fresh start.
"What else is going on? You look sad. It's not me, is it?" I asked with a comedic expression.
He chuckled. "No. This is nice. I just—I tend to get a little blue on the night of the final performance. The anticlimactic feeling sucks, but it's the nature of the beast. The cycle of slowly learning lines and getting to know your castmates is followed by long rehearsals where everything starts to gel. The excitement builds before the shows and everyone gets better and better and then…<em>boom</em>! It's over. All that momentum and all the joy that comes from being part of something special disappears overnight. I'm gonna wake up in the morning back at square one."
"That's depressing."
"Thus the vodka." Phoenix raised his cup and took a sip. He set it between us before flashing a lopsided smile my way. "It's just part of the process. I've been doing some version of this for years. You'd think I'd be better at transitioning from high to low."
"Hmm. It's kinda the same in baseball. When we start in January, most of the guys are out of shape and out of sync. We have to get used to a new crew and figure out how to work together. By the time our season ends in May, we're a well-oiled machine. I'm not always sad when it's over. Sometimes I really need the break. But by June, I miss it. The best thing to do is to stay in the game as much as possible. Play, watch, read stats. There's probably a theater equivalent."
"Sure. It's called 'get a new part.' I'm already memorizing the script for the spring production at the Arts Center. They're doing <em>Chicago</em>. God, I love that show. So many juicy roles. 'And all that jazz,' " he sang that last line, then took another drink and handed his cup to me for no particular reason.
I widened my legs and propped my elbows on my knees. His gaze dipped briefly to my crotch before he licked his lips and glanced away.
"Who do you want to be?" I asked. "I mean…in the play."
"In a perfect world, I'd be Roxie. But…I have a dick, so I'll have to audition for Billy and pretend not to be crushed when they give me the role of prison guard or mafia henchman number two."
"Why can't you be Billy?" I asked before draining the vodka cocktail.
"I don't have the right look. You'd actually be a perfect Billy. Have you ever thought about acting?"
"Me?" I pointed at my chest incredulously. "Fuck, no."
"Why so adamant? It's fun."
"Theater stuff just isn't my thing. I play baseball."
"You can't do both?"
"Nope. Not me. And I'm not interested anyway."
He sighed dramatically. "Well…you were a good fantasy while you lasted."
"What's that supposed to mean?" I asked with a faux scowl.
"Just what you think it means. I know close to nothing about you except that you're a decent kisser and—"
"Decent?" Now the scowl was real.
"Okay, better than decent. You were amazing. A real-life Prince Charming. But we can be friends now and—"
"I don't want to be your friend," I intercepted.
"Why not?"
" 'Cause I like you."
"That makes no sense."
"Yeah, it does. I—" I hesitated for half a second before crashing my mouth over his.
And damn, kissing Phoenix was better than I remembered. I caressed his jaw tenderly before tilting my head to deepen the connection. I didn't want to overwhelm him, but damn, it took everything I had not to put my hands all over him. I licked the corner of his mouth and groaned. He tasted sweet—like cherries or something. That had to be his lip gloss, I mused before driving my tongue inside.
Phoenix didn't seem to mind. He moaned when I cupped his neck and tilted my head slightly to soften the connection. I flicked my tongue at the corner of his mouth before biting his bottom lip and pulling away. The kiss was sweet but much too short. And yeah, I was incredibly impressed with my restraint, but I couldn't afford to start something we'd both regret later. Phoenix wasn't a stranger anymore. He was a fellow student who knew my biggest secret. I should have been more concerned with resetting boundaries and moving on. But it didn't feel that simple.
Out in the Field is the fourth book in the Out in College series by the fabulous and talented Lane Hayes. I'm a huge fan of Lane's and this series! We've known Max for a while, and honestly, I wasn't sure I was going to love him. But I do! So much! He's so much more than a closeted jock. He comes from a good home with loving family. Baseball is his life, but he's lonely. He's living a lie and he thinks if he just hides until college is over he'll be ok. But he's not ok. He's lonely and sad and doesn't like hiding who he is. When he sees Phoenix again, he can't stop thinking he was the one who got away. They had a brief encounter in a bar months ago, but he remembers everything about him. And now he's here in all his glory. Phoenix loves the theater. He's out and proud and is confident in his own skin. Max loves that about him. He wants to spend more time with him. Phoenix has been with the jock who's hiding in the closet and he can't do that again. His heart can't take it. So, when they decide to just try. Keep it easy and light they both end up falling. Hard. And I fell right along with them. Max was scared to be who he is. Phoenix isn't afraid of anything. Together, they are the perfect pair. They show each other it's ok to let go. Be free. Love. Max learns about Shakespeare and Phoenix googles everything about baseball! I loved this story. It's more emotional than I expected and I love when Lane surprises me that way! Overall, I laughed, got hot and bothered, teared up and smiled at the end!
"What do you want?"
"Everything."
"Everything?"
"Yeah, I still do. But if you just want to be friends, that's okay. For now."
"Are you fucking with me?"
"No. I'm trying to be a gentleman."
"Well, don't. I like it better when you're nasty."
"How nasty?"
"Very. Bring it, baby. I'm up for anything."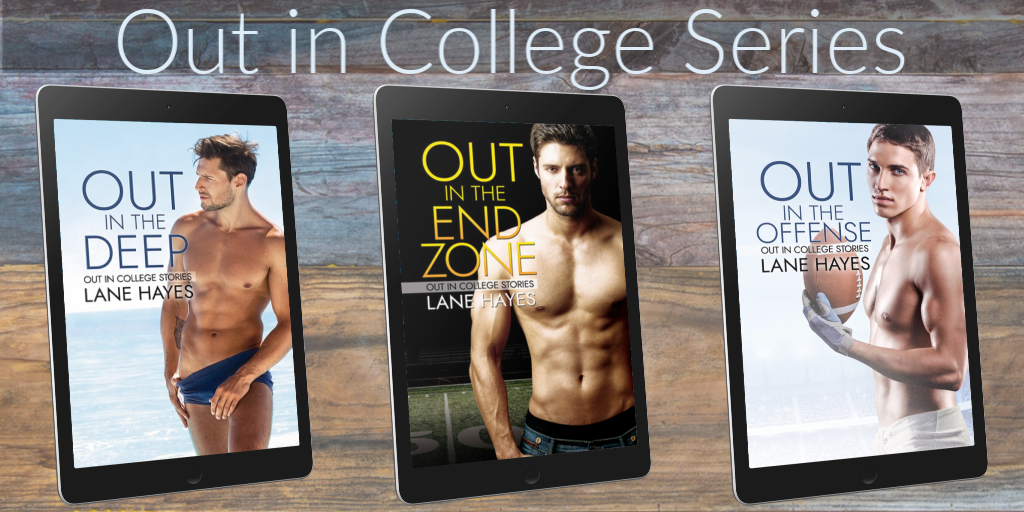 Meet the Author

Lane Hayes is grateful to finally be doing what she loves best. Writing full-time! It's no secret Lane loves a good romance novel. An avid reader from an early age, she has always been drawn to well-told love story with beautifully written characters. These days she prefers the leading roles to both be men. Lane discovered the M/M genre a few years ago and was instantly hooked. Her debut novel was a 2013 Rainbow Award finalist and subsequent books have received Honorable Mentions, and were First Place winners in the 2016 and 2017 Rainbow Awards. She loves red wine, chocolate and travel (in no particular order). Lane lives in Southern California with her amazing husband in a newly empty nest.
Giveaway