March 1, 2023 | Posted in:Release Day Blitz, Review

MY SO-CALLED SEX LIFE by Lauren Blakely
Release Date: March 1st
Genre/Tropes: Enemies-to-Lovers/Forced Proximity/Broody Grump/Only One Bed
​​
MY SO-CALLED SEX LIFE by #1 NYT bestselling author Lauren Blakely is NOW LIVE!
Grab this all-new sexy, dirty-talking grump of a hero, enemies-to-lovers, rom-com standalone TODAY!!
NOW AVAILABLE! FREE IN KU!
✦ Amazon ➜http://blkly.pub/AmazonMySoCalled
✦ Audible ➜ http://blkly.pub/AudioSLife
(Narrated by Vanessa Edwin & Sebastian York)
"My So-Called Sex Life is the enemies to lovers, grumpy/sunshine story I didn't know I needed until I met Hazel and Axel…The humor, the banter, and the evolution of their enemies to friends to lovers is heartwarming and fun to experience." ~ FaveyList on Goodreads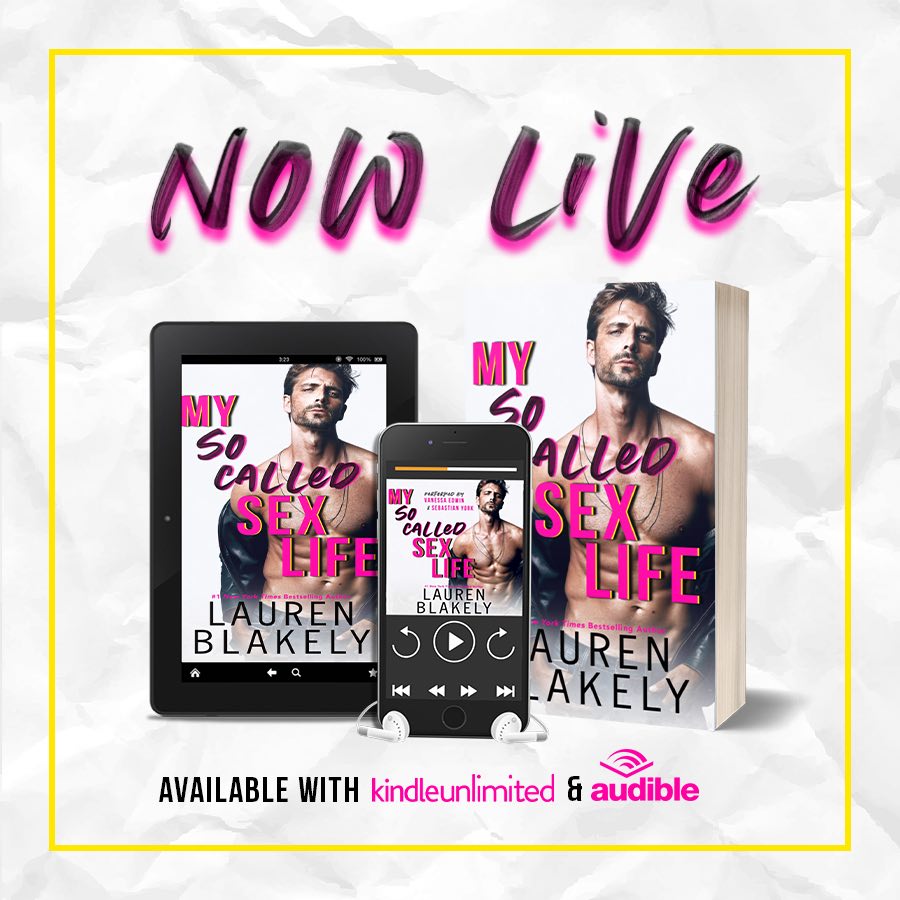 Add to Goodreads:
https://www.goodreads.com/book/show/60171498-my-so-called-sex-life
My So-Called Sex Life is the first book in the How to Date series by Lauren Blakely! It's a fan-f*cking-tastic start to a new series. In Lauren fashion we have met Axel and Hazel in previous books. I love them both individually but together… wow. Explosive.
Axel and Hazel have history. They were the best of friends, they wrote together once upon a time but then one day, it was over. That was over a year ago and now they avoid each other. Except, now they can't. Their publishing houses are sending them on a train tour across Europe with a few lucky readers. One week stuck with your nemesis on a train. What could go wrong?
They knew they had to adult to make it through without killing each other but could they go one week sharing a sleeper car without touching each other? I mean hate-sex is kinda hot, right? They do say there is fine line between love and hate and these two know it and I am here for it.
I am so in love with these Axel and Hazel. Together they are fire but that's not all they are. They story is fun, sexy, and emotional. There is more to them and I loved their emotional connection as much as their sexual connection. They just get each other. I believe this is my first train romance and it was amazing! It makes me want to book my own trip.
Seriously? Who decided that sexy jerks could be old-looking? With freshly fucked hair, and undress-me eyes, and those goddamn blak glasses that get e every time. Axel Huxley is the sexiest jerk of all.
I could get lost in this kind of attention. It's pulsing. It's a mix of midnight and starlight and fire.
It's everything I've ever written and nothing I've ever experienced.
My So Called Sex Life is the first book in the How to Date series by Lauren Blakely. I have been looking forward to Hazel and Axel's story for a long, long time!! It's even better than I imagined! This is a sexy, fun enemies-to-lovers romance and I am here for it! Axel and Hazel used to work together and then one day he just left. No explanation. Nothing. Now they have to spend a week on a train in Europe and just try not to kill each other. But while sharing only one cabin and one bed, they are feeling anything but hatred for each other. Now it's lust, attraction and could it be more? Maybe. But Axel needs to confess why he just left her. Hazel needs to let go of her past. Together they are fire and sweetness and so sexy! As in all of Lauren's books, I love the friendships, family and supportiveness. Even their new reader friends are there for them. I don't know how Lauren does it. Every. Time. Just when I think I can't possibly love a couple more than the last, bam! Axel and Hazel. I swooned, laughed, got hot and bothered and just loved every minute of it.
Audio – Oh boy, Sebastian and Vanessa brought out the big guns for this one. They were so freaking fantastic and the perfect Axel and Hazel!
BLURB:
I've got a list of people I absolutely don't ever want to be stuck with on a boat, or a plane, or a train, and it starts and ends with the broody, grumpy, too-sexy-for-my-own good Axel Huxley.
Also known as this romance novelist's number one nemesis.
The man is legendary for his mighty pen and his even mightier scowl. I tried to work together with the cocky thriller writer once upon a time, but the two of us are like vodka and good decisions. We don't play well together.
Only now, our publishers are sending us on a joint trip across Europe to mingle with our most devoted readers on an old-fashioned luxury train. And thanks to a booking snafu, we have to share a sleeper car.
You guessed it–there's only one bed.
I'm not sure I can survive the next seven days and nights with my dangerously sexy enemy and all our fiery tension.
Which explodes one night in a desperately needed hate bang.
But the bigger plot twist is this – the more time we spend together, visiting the most romantic cities in Europe by day and discovering each other at night, the more I'm forced to face our past.
To let go of the hurt.
To see the man he's become.
And when I do, I wonder if it's too late to write a new happy ending for us?
My So-Called Sex Life is a standalone MF romantic comedy!
About Lauren Blakely:
A #1 New York Times Bestselling, #1 Wall Street Journal Bestselling, and #1 Audible
Bestselling author, Lauren Blakely is known for her contemporary romance style that's
sexy, sweet, and witty. She also writes USA Today bestselling LGBTQ romance.
With fourteen New York Times bestsellers, her titles have appeared on the New York
Times, USA Today, and Wall Street Journal Bestseller Lists more than 100 times, with
more than 65 titles on the USA Today Bestsellers list alone. She's sold more than 5 million books. A Brown University graduate, Lauren likes dogs, cake and show tunes and is the vegetarian at your dinner party.
Connect w/Lauren:
Website: laurenblakely.com
NL Signup: http://laurenblakely.com/newsletter
Facebook: http://www.facebook.com/LaurenBlakelyBooks
Instagram: http://instagram.com/laurenblakelybooks
Twitter: http://twitter.com/LaurenBlakely3
Tik Tok: https://www.tiktok.com/@laurenblakelybooks