October 9, 2023 | Posted in:Release Day Blitz, Review

PUCK YES BY LAUREN BLAKELY
Release Date: October 9th
Genre/Tropes: MFM / Fake Marriage / Hockey Romance / Why Choose Style / Rom Com
Complete standalone!
PUCK YES BY LAUREN BLAKELY IS NOW LIVE!
Get Ready to Say Puck Yes to a Hockey Romance Like No Other!
From #1 NYT bestselling author Lauren Blakely comes a sizzling-hot romance about a woman falling for both her hockey-playing fake husband and her hockey-playing secret boyfriend as they share her!
MFM Romance ✅
Fake Marriage ✅
Hockey Romance ✅
Why Choose Style ✅
Rom Com Vibes ✅
This book checks all the boxes for a steamy, hilarious, and utterly addictive read!
"My ex didn't want to 'settle' with me…so I got a glow-up and married the hot new hockey player. But I'm not settling for just one—his team captain wants me too."
Now available in Kindle Unlimited!
The audiobook is performed in duet by Samantha Brentmoor, Jacob Morgan, and Teddy Hamilton
Puck Yes is the second book in the My Hockey Romance series by Lauren Blakely. It can be read as standalone but I do recommend reading Double Pucked since it is hot AF. 
Ivy needed a wedding date. Stat. To her ex-boyfriend and recently ex-boss's wedding. Crazy, right? What is even crazier is that her new neighbor and flirty stranger, Hayes, volunteers to be her plus-one. She knew the man was hot, what she didn't know was that he was the new hotshot hockey player on the team she was the new mascot for. It wasn't the only unexpected thing to happen on her first day…
Stefan, the team's captain, hits on her. A man she has known for years. She has never had two men look at her the way they did. With want. Lust. Need. Adornment. She was in a sexy twilight zone and didn't know what to do about it until one dare changes everything. She marries Hayes in Vegas and both men take the bride to bed. Together. 
This is where the fake relationship while really married comes in… they just need to get through two events. Easy. What's not easy is not falling in love with her husband and secret boyfriend. 
Puck yes, this book is straight fire!! 🏒💋🏒 Ivy and her men are not only hot in the bedroom but so much fun out of it. Even if it has to be on the down-low. What would people think of the new mascot not only being married to the team's new player but also being with it's team captain? 
Lauren absolutely killed it with this throuple! It's fun, sexy, swoony, sweet, naughty and emotional.
Puck Yes is the second book in the My Hockey Romance series by Lauren Blakely. I'm loving this series of sexy hockey players and the women they fall for. Puck Yes is Ivy's story! We met and loved Ivy in Double Pucked (Ryker's sister) and I was excited that we were getting her story. Ivy meets, Hayes, a sexy stranger at the perfect time. She needs a plus one to a wedding and he's there for her. She never expects to see him again at work, but he's the new hockey star on the team she works for. Then after a dare, she's married to him! But that's only the beginning. She also wants his teammate, Stefan. She never thought her wedding night would be with both Hayes and Stefan. Now she has a husband and a secret boyfriend. Temporarily. But what if it could be forever? Could they really make this throuple work? Hell yes they can! And it's hot and sexy and sweet and fun! I loved the banter in and out of the bedroom and hope we see these characters again!
Audio: Teddy, Jacob and Samantha killed this one! They sounded so good together! These narrators and Lauren's words are pure bliss for my ears!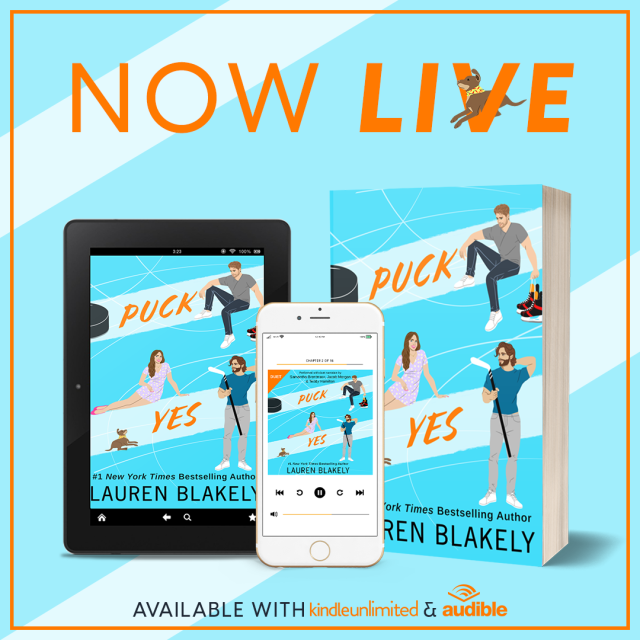 Add to your TBR:
https://www.goodreads.com/book/show/175366269-puck-yes
Blurb
The hotshot new hockey player, the veteran team captain, and the woman they fall for when she becomes the new team mascot in a fake marriage hockey rom com!
When my ex trades me out for a better model—my boss—I don't take getting screwed over lying down.
Instead, I get a glow up, not only landing a new job with the hockey team but also scoring the city's hot new hockey player as my plus one to my ex's wedding. Then, the sexy team captain starts flirting with me, too.
But one night after a win, I accidentally marry that intense new guy after the captain dares us to say I do. One dare leads to another, and I'm experiencing double the pleasure as I say puck yes to both players sharing me on my wedding night.
In the morning, when hubby and I are on our way to get an annulment, the team owner spots our rings and invites the new it couple to attend her upcoming charity golf tournament.
Looks like I have to fake it as Mrs. Hockey for the hockey season and the wedding season. There's only one problem.
We're not just a couple. Both guys want more of me.
And pretty soon I've got a bigger problem – I'm falling for my fake husband and my secret boyfriend at the same time.
Puck Yes is a standalone hockey, fake marriage, spicy workplace MFM romance with a guaranteed why-choose style HEA! No swords cross. The two guys are all about HER all throughout! This story is perfect for fans of spicy hockey romance!
About Lauren Blakely:
A #1 New York Times Bestselling, #1 Wall Street Journal Bestselling, and #1 Audible Bestselling author, Lauren Blakely is known for her contemporary romance style that's cut but spicy. Lauren likes dogs, cake, and show tunes and is the vegetarian at your dinner party.
Connect w/Lauren:
Website: laurenblakely.com
NL Signup: http://laurenblakely.com/newsletter
Facebook: http://www.facebook.com/LaurenBlakelyBooks
Instagram: http://instagram.com/laurenblakelybooks
Twitter: http://twitter.com/LaurenBlakely3
Tik Tok: https://www.tiktok.com/@laurenblakelybooks