June 5, 2023 | Posted in:Release Day Blitz, Review

DOUBLE PUCKED BY LAUREN BLAKELY
Release Date: June 5th
Genre/Tropes: MFM / Roommates to Lovers / Fake Dating / Hockey Romance / Why Choose Style / Rom Com
Complete standalone!
DOUBLE PUCKED by #1 NYT bestselling author Lauren Blakely, is NOW AVAILABLE!
Make sure to grab this all-new Hockey MFM Roommates to Lovers romance TODAY!!
http://blkly.pub/AmazonDoublePucked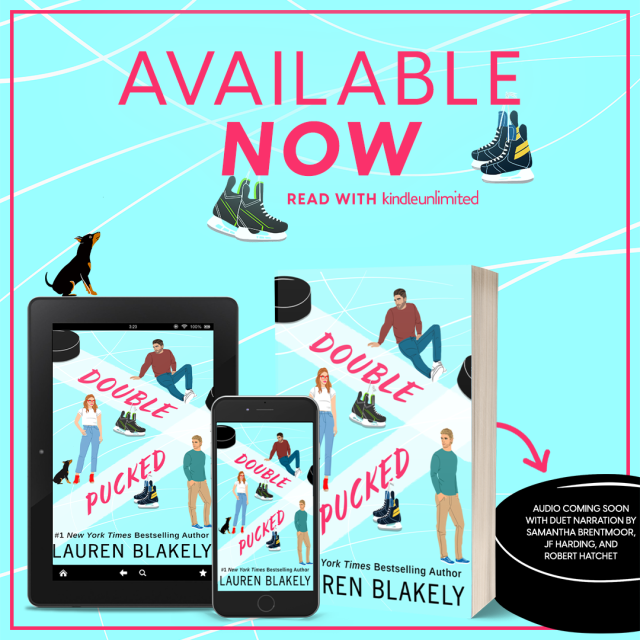 Double Pucked is Free in KU!
The spicy hockey rom-com of your dreams!! 🌶
http://blkly.pub/AmazonDoublePucked
Double Pucked is the first book in the My Hockey Romance series by Lauren Blakely. It is a roomies-to-lovers hockey rom com and it's MFM!! Holy hotness, right? Damn, right.
It all started with a pair of panties. That pair of panties led Trina to leaving her no-good hockey-loving cheating boyfriend so the next logical step was to swipe the VIP tickets to meet his favorite players. Trina never wanted to watch a sporting event but she knew the revenge would be sweet. What she didn't expect was to get the full VIP experience with both men. Then move in with them the next day…
One week. Ok, nine days. They had nine days and nights to explore each other. In and out of the bedroom. She never expected this. It wasn't exactly on her bingo card. Days filled with fun and laughter, discovering who each other really are. Nights filled with hot, toe-curling, mind-blowing sex. Checking off to-do list with not one but two sexy, sweet, and alpha men. They treat her like a queen in all the best ways. Too bad it all has to end.
The VIP experience started out as sweet, sweet revenge. It's end with the best thing to ever happen to them. It's unexpected. It's life-charging. It's complicated. It's everything.
I ♥️ this story!! It has the perfect blend of heat and emotions. Laughter and tears. It's so a fun book! I loved the way Trina, Chase, and Ryker are there for each other. They just click even when they don't agree. Chase and Ryker are friendship goals. I can't wait for the next book!!
Double Pucked is Lauren Blakely's newest romance. Not only is it new, it's the first in a NEW HOCKEY SERIES! I have read every word Lauren has written and I am here to tell you it's the hottest book yet! It's deliciously dirty and oh so flirty. I mean, what's better than two hockey stars who are also best friends meeting and falling for the same woman? Nothing, I tell you! Trina's ex is toast and on her way out the door she grabs the VIP hockey tickets he won. She's taking those tickets, meeting his idols and going to that game. She didn't expect Ryker and Chase to be so nice, and broody and handsome and sexy. Whoa. She's also didn't expect to go home with them. Both! Wowzas. Now she needs a temporary place to live and is invited to stay with not only Chase, but him and Ryker. Things heat up in the bedroom, but they also have fun together making breakfast, walking her fabulous dog, Nacho, and just being with each other. But all good things come to an end right? What if they could make this thing between them work. Ryker and Chase already trust each other and they are best friends. Trina brings out the best in them and makes them want to be better. I absolutely adored this story! It has all the things I love about romance. Fun, sexiness, friendship, hockey, witty banter, laughs and love. I can't wait to see who's next and I'm really excited to see Ryker, Chase and Trina again!
BLURB:
A jilted book nerd, a plan for sweet revenge, and the two hockey stars who volunteer as her tributes…

When I discover my boyfriend is cheating on me, I move out right away taking what I love most – my dog. As I fly out the door, I make sure to swipe the thing my ex loves best. The VIP tickets he won to a hockey game, complete with the chance to spend an evening with the city's two biggest NHL stars.
I can't wait to snap selfies with my ex's idols and rub it in his face.
Except, when I head out with the two hockey studs, they have something else in mind besides sweet revenge. Would I like to spend the night…with both of them?
Talk about the VIP experience. That's what I get for one knee-weakening, sheet-grabbing night. In the morning, I plan to return to my bestie's house to crash on her couch with my dog.
But when they learn what happened with my awful ex, they ask me to be their temporary roomie for the week. Oh, and one of them needs my help with his grumpy reputation. The other? Well, he wants me to be his fake date at an upcoming wedding.
Looks like I'm about to get double pucked. Again.
Double Pucked is a roomies to lovers, fake dating, image makeover, super spicy hockey rom com with a guaranteed why-choose style HEA! No swords cross. The two guys are all about HER all throughout! This story is perfect for fans of Lily Gold and Emily Rath!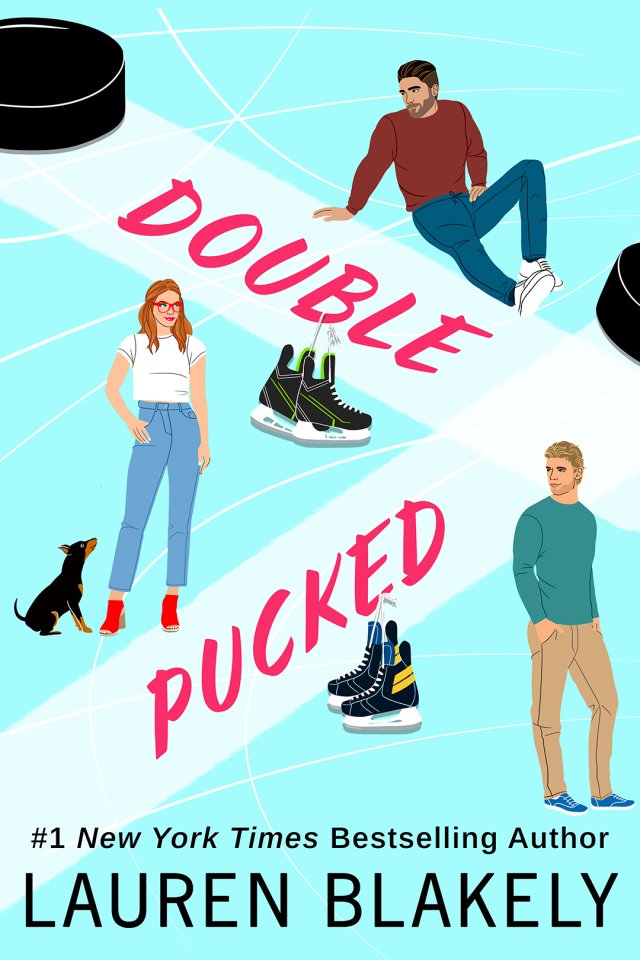 About Lauren Blakely:
A #1 New York Times Bestselling, #1 Wall Street Journal Bestselling, and #1 Audible Bestselling author, Lauren Blakely is known for her contemporary romance style that's sexy, sweet, and witty. She also writes USA Today bestselling LGBTQ romance.
With fourteen New York Times bestsellers, her titles have appeared on the New York Times, USA Today, and Wall Street Journal Bestseller Lists more than 100 times, with more than 65 titles on the USA Today Bestsellers list alone. She's sold more than 5 million books. A Brown University graduate, Lauren likes dogs, cake and show tunes and is the vegetarian at your dinner party.
Connect w/Lauren:
Website: laurenblakely.com
NL Signup: http://laurenblakely.com/newsletter
Facebook: http://www.facebook.com/LaurenBlakelyBooks
Instagram: http://instagram.com/laurenblakelybooks
Twitter: http://twitter.com/LaurenBlakely3
Tik Tok: https://www.tiktok.com/@laurenblakelybooks