November 16, 2018 By Two Book Pushers

Title: Leaning Into a Wish
Series: Leaning Into #5
Author: Lane Hayes
Publisher: Lane Hayes
Original Release Date: November 22, 2017
Heat Level: 4 – Lots of Sex
Pairing: Male/Male
Length: 3 Hours, 29 Minutes
Genre: Romance, Holiday, Bisexual, Humor, Winery, Working Relationship
Synopsis
Ryan Haskell loves everything about the wine business. He's fortunate to work at one of the most prestigious wineries in Napa Valley doing something he enjoys with the people who are like family to him. But he could do without the good-natured intern slash former jock with the wicked grin who always seems to be in the way. Ryan isn't sure why the new guy is under his skin when everyone else loves him. Thankfully he'll be gone after the holidays.
Danny Meyers can't believe his luck when he lands an internship at Conrad Winery. It's the perfect temporary gig to wrap up his graduate studies. He's left his dreams of tennis stardom on the court to focus on a new career and a new life. However, he didn't count on the spark of attraction he feels for his prickly co-worker. When their tentative friendship blossoms into something more than either man counted on, they may have to change direction and lean into a holiday wish.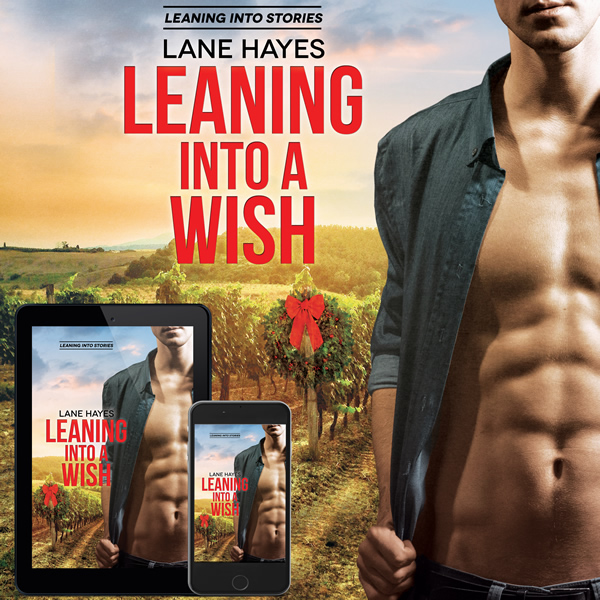 Excerpt
A vacuum-like static rang in my ears. It wasn't until Danny nudged my arm that the typical raucous bar noises filtered through again. And when he scooted his barstool back a foot or two and raised his hand to flag down a server, everything seemed to return to normal. Sort of.
"Gin and tonic for my friend and I'll have another martini, please. Thanks." Danny tipped back the last of his drink then handed it over before twisting to face me. "So other than being out twenty-five bucks and possibly having an awkward conversation at work on Monday, that didn't go so bad."
"I—I don't get it. What just happened?"
"We agreed to let Geordie win the bet, remember?"
"Sure, but how did I get stuck here with you?"
Danny snorted. "We've already established that you like me. Stop being an uptight fuddy-duddy."
"A fuddy—? You're…" I gritted my teeth and tried to think of a stinging insult to fit the situation. "Annoying."
Lame. And the "That's the best you've got?" twinkle in Danny's eye told me he agreed with me. I was about to let him have it when the waiter stopped to deliver our drinks. When we were alone again, I leaned into him and kicked his shin for good measure.
"Ow. Relax, Ry. I still want to kiss you, you know." He popped the speared olive from his martini into his mouth. "With tongue."
"You're reading way too much into a stick of spearmint gum, honey. Don't flatter yourself. It was a joke," I huffed derisively.
"It doesn't have to be."
"Are you fucking nuts? I'm not kissing you," I announced primly.
"You want to though. Admit it," he teased.
I blew out an exaggerated breath, sucked down half my cocktail, and slid off my barstool. "I'm outta here. See you Monday."
Danny grabbed my belt loop and yanked me to his side. "You didn't let me finish. I was about to say…"
"Yes?" I prompted with a rolling hand gesture.
"I want it too."
We stared at each other for a heated moment. I had no clue what he was thinking, but it seemed weird to ask for clarification. When the growing tension went on a beat too long, I wanted out. "See ya, Danny boy."
I pushed my way through the crowd and gulped for air when I finally reached the sidewalk. I didn't dare stop to enjoy the refreshing autumn breeze. If I wanted to avoid any further confrontation, I had to boogie. Danny was the type of guy who liked having the last word, and that wasn't happening on my watch. I fished my keys from my pocket and power-walked toward the parking lot behind the bar.
"Ryan!"
I ignored him and picked up my pace. I spotted my car and clicked my fob to unlock the door. Danny called my name again. I could tell from the sound of his footsteps behind me that he was closing in quickly. I had to hurry or—
Too late. A hand on my elbow yanked me sideways.
"What the fuck is your problem?" I fumed, pushing his chest to no avail.
He moved into my space until his nose was less than an inch from mine. He was too big and imposing, and the look in his eyes was straight-up dangerous.
My dick twitched in my jeans. Of course it did. I had a bad habit of coveting what I couldn't have and getting turned on by the chase. My past was littered with embarrassing short-term affairs or crushes on guys like Wes and Finn. Men I admired but never had a real shot with. I didn't want to add Danny to that list because against my better judgment…I liked him. Really liked him.
Leaning Into A Wish is the fifth book in the Leaning Into series by the fabulous Lane Hayes. I had the pleasure of listening to this book on audio and I enjoyed the hell out of it. It has some of my favorite things: sexy men, wine, and wishes. Ryan loves his job at the Napa Valley winery. But he doesn't love the sexy new intern, Danny. He's too nice, too good looking and everyone else loves him. But when it seems that Danny won't take no for an answer and wants to hang out and be friends, Ryan starts to melt a little. But Danny is straight and he can't start to fall for him. That would be very bad. Until Danny starts to sit closer, touch him more and then kisses him. Ok, maybe he's not straight. Danny just can't seem to stay away from the prickly Ryan. There's something about him that makes him want to be around him all the time. He's not the first man he's been with, but it's more than just attraction. Danny is just an intern and is supposed to be leaving after the holidays. So, what harm could a few wishes and some fun do? I really enjoyed this fast paced, sexy and fun romance. Nick J. Russo did a great job narrating it. He is great at multiple voices and I love this breathy thing he does. I will definitely be reading more from Lane Hayes and listening to more from Nick Russo!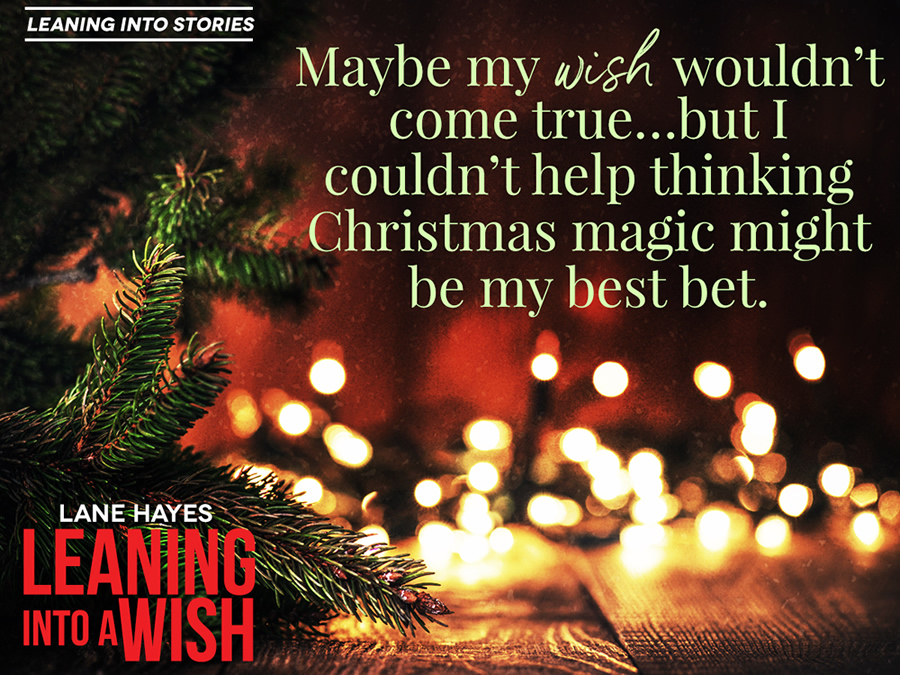 Meet the Author

Lane Hayes is grateful to finally be doing what she loves best. Writing full-time! It's no secret Lane loves a good romance novel. An avid reader from an early age, she has always been drawn to well-told love story with beautifully written characters. These days she prefers the leading roles to both be men. Lane discovered the M/M genre a few years ago and was instantly hooked. Her debut novel was a 2013 Rainbow Award finalist and subsequent books have received Honorable Mentions, and were winners in the 2016 Rainbow Awards. She loves red wine, chocolate and travel (in no particular order). Lane lives in Southern California with her amazing husband in a newly empty nest.
Meet the Narrator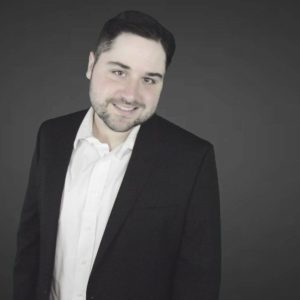 Nick is an award winning narrator with a fan following for his work in fiction, specifically in the romance genre. His performances in two of Amy Lane's books, Beneath the Stain and Christmas Kitsch, made him the recipient of Sinfully M/M Book Review's Narrator of the Year – 2015. When he's not in the booth, Nick enjoys spending time with his wife, Jessica, and kids, (aka their beagle Frank and cat Stella), drumming in his cover band, exploring rural back roads with his wife on his motorcycle, or being enthralled in a tabletop role playing game with his friends.
Giveaway
October 10, 2018 By Two Book Pushers

Title: Out in the End Zone
Series: Out in College #2
Author: Lane Hayes
Publisher: Lane Hayes
Release Date: October 10
Heat Level: 4 – Lots of Sex
Pairing: Male/Male
Length: 44000
Genre: Romance, New Adult, Bisexual, College romance, Football, Coming out
Synopsis
Evan di Angelo is an upbeat, good-natured goofball who loves his friends and family… and football. A traumatic accident may have ended his hopes of playing professionally, but he's made the most of his four years on the field at a small Southern California college. He's learned the hard way to embrace change, take chances and try things outside of his comfort zone…like agreeing to play fake boyfriends for someone else's senior project.
Mitch Peterson knows that being his authentic self is the path to true happiness. He's grown from a shy, quiet kid from a broken home to an out and proud budding internet sensation bound for grad school. An awesome senior project is the key. It's unlikely anyone will believe the hunky, straight athlete is Mitch's new lover, but it's worth a shot. However, as their tentative friendship blossoms into unexpected attraction, the lines between reality and fiction blur for both men. Evan is forced to face old demons and decide if he has the courage to take the next step and come out in the end zone.
Excerpt
Mitch scoffed. "Cooperate, please. This is your intro. Maybe you should put your arm around me and kiss my cheek."
"Now?"
"Yes. This is a rehearsal, so…go for it."
I moved to his side, slipped my arm around his waist, and kissed his cheek. His scruff threw me off stride. It wasn't noticeable because his facial hair was blond, but I could feel it. He smelled and felt different from anyone I'd ever kissed before. Sure, I'd kissed male relatives. I was part Italian. No one in my family shied from physical contact. But a hug and kiss on each cheek from my Uncle Gianni was different from kissing an attractive man. I caressed his cheek impulsively and then leaned in to sniff him the way I'd wanted to since the party. "Mmm."
"What are you doing?" he asked.
"You smell good. I've never kissed a guy I wasn't related to who had a five o'clock shadow."
Mitch gave me a funny look. "You kissed me yesterday at lunch."
"Yeah, but you haven't shaved since this morning, right? The texture is like sandpaper but in a good way. I like it," I assured him.
He looked flustered for a second but recovered quickly. "Well, that'll make the real kiss easier then."
"Right. When do we kiss, and what's the intensity level supposed to be? G, PG, PG-13? Or are we going straight to the nasty?" I teased.
"Ha. G is peck on the cheek, which we just covered. PG is peck on the lips. So somewhere in between that and PG-13 works."
"Got it. Maybe we should practice first," I said.
"Um…sure." Mitch turned around and gestured toward the bar stools at the island. "We can sit there, and I'll set up the tripod a foot or so from where you're standing now."
"We don't have to be in exact position. I just need to get used to touching you. It would be the same with anyone. Guy or girl."
Okay, fine. I wanted to do it again. I'd thought about him nonstop since the party last weekend. And that throwaway kiss yesterday at the restaurant had opened a Pandora's box. I was consumed now. I didn't want to practice kissing him. I had to or I'd go crazy.
"Maybe you're right. Um…okay. You can kiss me," he said in a low voice.
"Well, you have to participate," I chided as I stepped into his space.
"I'm…yes. Do you want to go first? Like…" Mitch set his hand on my hip and inched closer still. "This?"
I lifted my right hand and hovered it above his ear for a moment before threading my fingers through his hair. He suddenly looked nervous, which somehow worked in my favor. I held his gaze, then moved forward and gently pressed my lips to his. And fuck, it felt amazing to be here again. I tilted my head slightly, loving the intoxicating contrast of his soft lips and scratchy chin. Mitch closed his eyes and hooked his arms around my neck so we stood toe to toe and chest to chest. All the ways this felt different no longer applied. I knew what to do here. I was practically a fucking expert.
Out in the End Zone is the second book in the Out in College series by the fabulous Lane Hayes. I'm a newish fan of Lane's and I'm so happy I discovered her. I've been looking forward to this story since the end of Out in the Deep! Evan is Derek's roommate. He's handsome, a little silly, funny, tells it like it is and better at relationships than he thinks. And he's Italian and I always have a soft spot for my fellow Italians. Mitch is Derek's friend and they don't really know each other too well until one night at a party. There has always been something about Mitch that calls to Evan. Mitch is pretty and fun and out. Evan is bi and not quite forthcoming about his status. But he knows love is love and he's comfortable with who he is. This story takes place at the same time as Derek and Gabe's and I loved how the same thing was going on with Evan and Derek. Mitch needs help with his senior project and Evan is the perfect person. Who would believe the straight, sexy football player is gay? But as Evan and Mitch pretend for the cameras their attraction becomes real. Mitch doesn't want to force Evan to do something he's not comfortable with, Evan needs to do it on his own. They both have painful pasts when it comes to love and trust. Can they put the past behind them and try to move forward together? I loved  this story! Evan is just so perfect. He's adorkable, sexy, and actually romantic. I love how open he is with his feelings and how he shows Mitch that he wants him.  Mitch is hilarious! I love how free he is. He knows who he is and he doesn't care what people think. Evan and tall and dark and Mitch is smaller and light. They are opposites who fit perfectly together! Overall, I laughed, teared up, swooned, got hot and bothered and laughed some more. I loved the ending and I can't wait for more on this series!
"Yes, a dance."
"I don't dance."
"Of course you do! Football players are great dancers. You'll be awesome."
"No, thanks. I'm awesome enough as is."
"What do you want, Evan?"
"To be with you. That's all."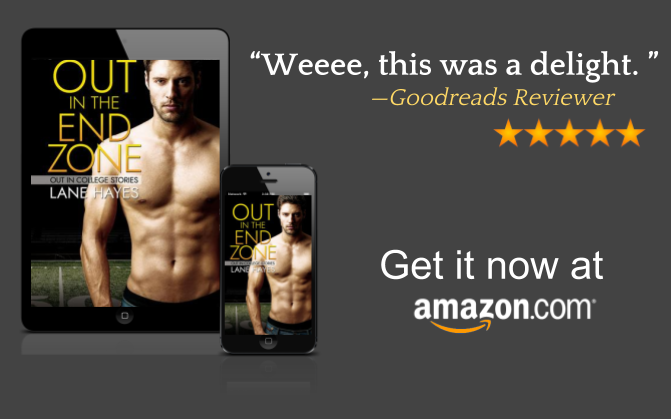 Meet the Author

Lane Hayes is grateful to finally be doing what she loves best. Writing full-time! It's no secret Lane loves a good romance novel. An avid reader from an early age, she has always been drawn to well-told love story with beautifully written characters. These days she prefers the leading roles to both be men. Lane discovered the M/M genre a few years ago and was instantly hooked. Her debut novel was a 2013 Rainbow Award finalist and subsequent books have received Honorable Mentions, and won First Prize in the 2016 and 2017 Rainbow Awards. She loves red wine, chocolate and travel (in no particular order). Lane lives in Southern California with her amazing husband in a newly empty nest.
Giveaway
September 10, 2018 By Two Book Pushers
Synopsis
Recovered from a life-threatening accident, Kyle Beaumont is a powerhouse who is eager to show Elliott Judd just how far he can push his hotter than ever physique. Their physical and emotional exploits are driven to a depth neither has ever experienced with anyone else.
As a racing driver superstar, Elliott loves handling power, and he's geared up for taking everything Kyle throws his way. In fact, he craves it. But, when the past smashes into their lives, is the couple prepared to handle possibly devastating disruptions?
Set in a world of fast cars, intense love, and a burning desire to win at all costs, this is a love story brimming with unbridled lust. Join Elliott and Kyle as they race their demons to the finish line in hopes of taking home the ultimate prize-their undying love.
Excerpt
Opening the throttle and bracing against the g-force as the power hits, we're riding the crest of exhilaration, holding ourselves upright as the power of the machines sitting between our legs roar to life with the twist of a wrist.
That kiss transports us to another world, where reality is unimportant, replacing it only with the realism of the moment.
The press are like an oil spill, slick and dangerous, spreading.
I'm no longer swimming in concrete. The stresses I didn't realize were affecting me have lifted and I've come up for air. It's like I can see the glow of the world again as the Singapore harbor twinkles below against the backdrop of the ebony night.
I didn't want anything in return today. It wasn't that kind of day. I wanted to show Elliott how much I love and appreciate his devotion by giving.
But, my shaft is rigid and now that he's spent I need some relief.
I stand in front of him and jack off slowly to his gorgeous face. I peel back my foreskin, revealing the head and enjoy the sensation of the cool air as it trickles over.
I'm horny as hell and my orgasm builds as soon as my hand hits my stiff surface. I pull it back and forth, rotating around my head as I push the loose skin over it, lightly twisting and stimulating the thin piece of oh so sensitive nerves which flow from my foreskin to my head.
I'm on fire, and as I stand apart from Elliott not touching him with any part of my body, performing my act of self-pleasure in response to his own, it's one of the sexiest things I've ever experienced. Instinctively he gets it, no fondling, and instead he rubs his cock between his fist, still hard from coming down my throat.
The sight of his hand on his length, still firm from my touch crunches my balls up high. I'm ready to expel in a jet of appreciation and my hand drives fast, my tense bicep working my forearm in long, tight strokes.
A fire pools in my lower abdomen, and as the pulsing between my legs turns into a flood, the earth spins. Lightning grips my palm and strikes electricity from my length. Explosions thunder around my head, my ears ring with the pleasure of being on display in my most basic form for this man whom I love.
Time slows as I pant in air, my body spasming, struggling to relax after such a thundering orgasm.
I collapse against Elliott, our breaths mingling in a kiss before I rest my forehead on his shoulder.
The clock ticks in the background.
Meet the Author

Karen Botha was born in Lincolnshire England where her father was in the royal air force. As a young girl she always had a passion for reading and writing. 
Working most of her adult life in digital marketing didn't leave her much time to pursue her passion for stories. at the age of 36 She retrained for a reflexologist and started working for herself. This helped her free up more than enough time to enjoy a re-found passion for writing.
Her first novel was inspired by true life experiences and tales from clients. But don't believe everything you read.
She enjoys traveling rugby and motor sport, this gives her inspiration and ideas for her books.
The first in the new lgbt series is a mm romance novel about a race car driver and his mechanic.
She currently lives in London with her Husband and rescue dog called Shadow.
Giveaway
August 29, 2018 By Two Book Pushers

Title: Out in the Deep
Series: Out in College
Author: Lane Hayes
Publisher: Lane Hayes
Release Date: August 29
Heat Level: 4 – Lots of Sex
Pairing: Male/Male
Length: 41K
Genre: Romance, New Adult, Bisexual, College romance, Water Polo, Coming out
Synopsis
Derek Vaughn is a little too serious. He's a type A control personality with a penchant for order and a love of water polo. But he's determined to enjoy his last year of college. The real world with a serious job and big expectations can wait for a few months. He's going soak up every minute on campus with his friends and teammates before he moves on. The only possible kink in his plan is the new guy on the team… also known as his nemesis.
Gabe Chadwick has big Olympic dreams. His transfer between Southern California universities has nothing to do with scholastics. The degree is his backup plan. He's not there to party or make friends. And he certainly isn't going to announce his sexuality. But he can't deny there's something special about the uptight team captain. However, when an unwitting friendship and mutual attraction collide, both will have to decide if this is the real thing or if they're about to lose it all in the deep.
Excerpt
Maybe I just needed a good night's sleep. It had been a long day. And a weird one. I could never have dreamed up a scenario featuring Gabe Chadwick in my house after this morning. But here he was.
I gave him a thorough once-over as he walked into the kitchen. And again, the first thing that crossed my mind was, "Wow, he's really fucking hot."
"Nice place."
"Thanks. Do you want some water or something?" I asked, awkwardly pointing at the fridge.
"No, thanks. I've had enough tonight," Gabe replied with a laugh.
I should have said good-bye then and escorted him to the door, but I had a strong desire to keep him talking and maybe dispel the weird admiring thoughts going through my brain. Yes, Gabe was a good-looking guy, but I shouldn't be fixating on his long eyelashes and the way the kitchen light framed him in a halo of sorts. I couldn't let him go until my brainwaves returned to normal, and he was the same annoyingly smart and talented opponent I'd played against occasionally for years. The thing was, I didn't really know him and at that moment, I wanted to.
"Where do you live?" I asked.
"About fifteen minutes away. I scored an apartment by campus. I have one roommate. Brent's a volleyball player. We might get a third to cut expenses, but I don't want to share a room, so that'll be up to him."
"Sharing a room gets old fast. Evan and I knew we wanted to live together, but I'd probably smother him in his sleep if I had to listen to him snoring every night a few feet away from me," I said in a lame-ass effort to keep him talking.
Gabe chuckled. "That would be rough. Evan seems like a cool guy. Is he as neat as you? This house is spotless."
"No, that's all me. I can't help it. I have a thing about order. Evan's a slob. You should see his room. At least he tries in shared spaces. I don't bug him about his unmade bed, scattered clothes, and random dishes he leaves on his nightstand as long as he keeps the bathroom and kitchen tidy. He's been on the receiving end of a couple of classic Vaughn meltdowns," I said with a self-deprecating shrug.
"A Vaughn meltdown," Gabe repeated. "That must be a version of what I experienced this morning when you tried to drown me."
"Fuck off." I laughed, then looked away quickly when a rush of heat flooded my cheeks. Oh, my God. Please don't let me blush. Not now. He'll know something's wrong with me.
Gabe stepped closer to me and cocked his head. "Are you blushing?"
Great.
"I don't blush."
"Whatever you say." He winked and gave me a mischievous smile that turned me inside out.
This couldn't be happening.
Purchase at Amazon
US: https://amzn.to/2Nn9ItK
UK: https://amzn.to/2NotdlR
CA: https://amzn.to/2BSj53p
AU: https://amzn.to/2wAplHl
IT: https://amzn.to/2NlHBeE
Out in the Deep is the first book in the Out in College series by Lane Hayes.  I hate to admit that this is my first book by Lane. We promote her on the blog, but the timing is never right. When I saw the release of Out in the Deep, I decided this book was going to pop my Lane cherry and I'm so happy I finally read one and so mad at myself for not reading her before now! Derek and Gabe are water polo college rivals until Gabe transfers. Now they are teammates. And they have to get along and work together. Derek doesn't like Gabe. Always found him too confident and obnoxious. Having him around gives him anxiety and he needs to focus and graduate. Gabe has watched Derek compete over the years and always had a little thing for him. When Derek gets drunk one night, things heat up between them. Hate turns into something seriously hot and unexpected. Derek always knew he might be attracted to men too, but there is something about Gabe that makes him lose his mind. Can they have a real relationship while being teammates and trying to achieve their dreams? I loved watching these two fall in love! It was sexy as sin, sweet and fun. It was all new for Derek and he was so darn cute asking questions and willing to try anything. Gabe took good care of him, let him relax and just feel. The writing is great, the story well developed and the characters wonderful! I'm looking forward to more in the series!
I kissed a boy and I liked it. And now, I was obsessed.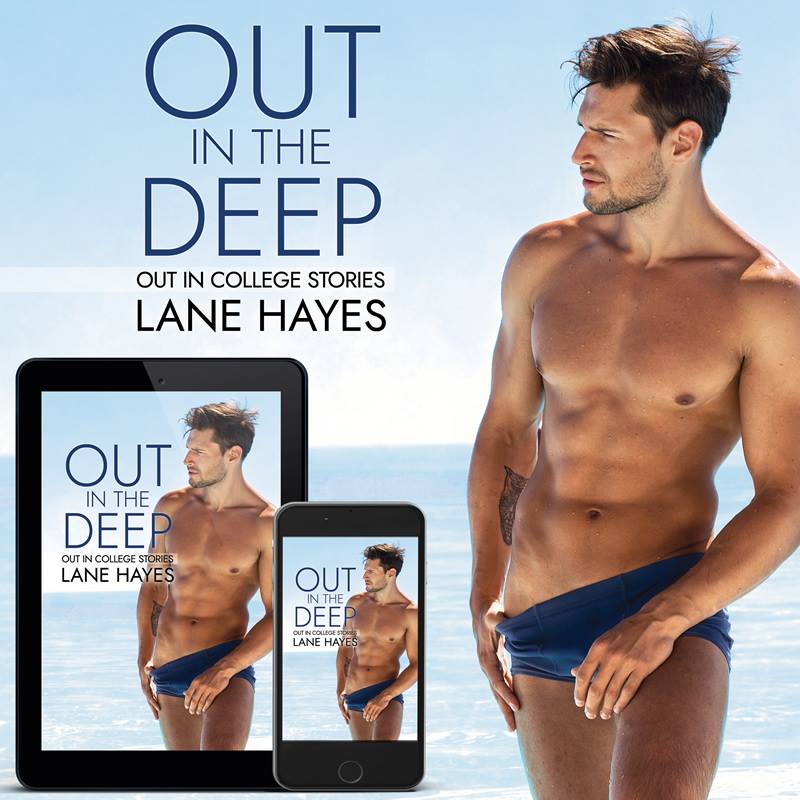 Meet the Author

Lane Hayes is finally doing what she loves best. Writing! An avid reader from an early age, Lane has always been drawn to romance novels. She truly believes there is nothing more inspiring than a well-told love story with beautifully written characters. Lane discovered the M/M genre a fews ago and was instantly hooked. She is the bestselling author of the Better Than, Right and Wrong, A Kind of Stories and Leaning Into series. Lane's novels placed first in the 2016 and 2017 Rainbow Awards. She loves travel, chocolate, and wine (in no particular order). Lane lives in Southern California with her amazing husband in an empty nest.
Giveaway
May 17, 2018 By Two Book Pushers
Synopsis
Excerpt
Level Up by the fabulous Annabeth Albert was originally in the Exposed Anthology. It's a short, sexy, fun book that packs all the feels we've come to love from Annabeth. Smart, sexy heroes who have to overcome their pasts and find happiness with the person meant for them. Landon reluctantly agreed to post naked for a calendar. He chatted online with the photographer before the shoot, but when he meets Bailey in person, he's not who he expected. But the big, burly man is soft spoken and helps put Landon at ease about taking off his clothes. There's a mutual attraction, but neither of them is sure what will come of it. Landon has demons from his past that he can't seem to extinguish. He really wants to be friend with Bailey and when he finds out he's a Space Villager fan the thinks that's the perfect common ground. Bailey had been looking forward to meeting Landon and taking pictures of him. His sexy hair and shyness are such a turn on. But when Landon says they can only be friends, he's crushed. But he's willing to take whatever he can get. They talk, they play games together. They get closer. Can Landon get past his fears and try to be with Bailey? Will Bailey take a leap of faith? I loved this story! It was sexy and full of emotions and I didn't want it to end. I loved the vulnerability of these two men and how they dealt with their issues. I also loved the secondary characters. I hope to see more of Landon and Bailey!
"I'd say you should give lessons on how to do that, but I'm not sure I'd want the competition."
"Dork."
Meet the Author

Giveaway
January 18, 2018 By Two Book Pushers
Title:  A Way with You
Series: A Way With, Book 2
Author: Lane Hayes
Publisher: Amazon
Release Date: January 18, 2018
Heat Level: 4 – Lots of Sex
Pairing: Male/Male
Length: 30K
Genre: Romance, Bisexual, Humor, Office Romance, New York City
Synopsis
Excerpt
Yeah, this was my idea but I wasn't prepared to be this close to Leo again. His mere presence overwhelmed me. He smelled so good. I wanted to bury my nose in the collar of his button-down shirt and just…breathe. I told myself Leo was a regular guy like every other guy here, but truthfully, he wasn't the least bit ordinary. Even in executive chic, Leo turned more heads than the shirtless bartenders. And when he smiled at the young man next to me who offered him his stool, he added another admirer to his list.
I'd never been around anyone who changed the temperature in a room simply by entering it the way he did. It wasn't his appearance either. His height and sharp sense of style might garner a second glance, but his true appeal was innate. It was in the way he spoke and moved. He didn't mince words or waste time. He was concise and direct and acted with purpose. I got the impression Leo Rodriguez had a reason for everything he did, including wanting to meet with me.
Leo perched on the vacated stool and then hooked his thumb at me when I didn't reply. "He'll have a martini too."
"No. I mean, yes. But with olives, please. No onions." I thanked the bartender then swiveled to face Leo, accidentally bumping his knee.
I muttered a quick apology and cautioned myself to pull it together. Leo wasn't my boss anymore, for fuck's sake. I just wished he didn't make me so anxious.
Commence the nervous chatter.
"Onions? No one orders onions," I snorted. "And vodka-soaked onions are especially gross."
Leo's lip curled on one side like a pirate. "When was the last time you had a vodka-soaked onion?"
"Uh…well, never," I admitted with a frown. "But it sounds gross."
"Chocolate covered scorpions and braised frog legs are gross. Onions aren't in the same zip code."
I made a face and shivered. "Have you actually eaten those things?"
"Yeah, and actually, they're not so bad. Chocolate hides the taste of anything, even insects, and frog legs taste like chicken. But you never know unless you try."
"No thanks."
Leo tsked playfully. "You have big opinions, a big mouth, and a hot temper, Nelson. No wonder I like you." He nodded his thanks when the bartender delivered our cocktails then raised his glass in a mock toast. "To onions."
"Onions?"
"We sure as fuck ain't drinkin' to olives," he quipped.
I chuckled at his comedic expression then sipped my martini while I wracked my brain for a non-confrontational topic of conversation to stall the inevitable one.
"What do you have against olives?" Weak. But it was better than nothing, and Leo seemed willing to play along.
"Nothing. It's a texture thing. I don't eat them if I can help it but I love olive oil. And tapenade is cool as long as those little suckers are chopped really fine. Otherwise, olives are a hard pass for me. Everyone has a food like that. What's yours?"
"Kidney beans," I replied quickly. "I like them in chili but not in salad. I have a great recipe for spicy chili that requires multiple glasses of water on standby. My grandmother made it when we were kids and"—I stopped to take a gulp of my drink before braving a look his way—"I'm sorry. You make me nervous."
"Why, Reeve?" he purred, leaning into his elbow on the bar next to mine. "Is it because of last night?"
Meet the Author

Lane Hayes is grateful to finally be doing what she loves best. Writing full-time! It's no secret Lane loves a good romance novel. An avid reader from an early age, she has always been drawn to well-told love story with beautifully written characters. These days she prefers the leading roles to both be men. Lane discovered the M/M genre a few years ago and was instantly hooked. Her debut novel was a 2013 Rainbow Award finalist and subsequent books have received Honorable Mentions, and won first prize in the 2016 and 2017 Rainbow Awards. She loves red wine, chocolate and travel (in no particular order). Lane lives in Southern California with her amazing husband in a newly empty nest.
Giveaway
January 12, 2018 By Two Book Pushers
Life is good for Eric Schuster. He owns a highly successful tech company, has a great group of buddies, and he's about to marry his best friend, the man of his dreams. Eric is pleasantly surprised to find the transition from friends to lovers has been easier than he thought. But after running into an overly friendly ex-boyfriend on an impromptu trip to their shared hometown, Eric realizes things are about to get complicated.
Zane Richards is a quintessential California surfer dude turned professional sailor. His laid-back approach has helped him navigate difficult times in his life. Eric may not share his easy-going mindset but Zane knows without a doubt Eric is the one. However, carving a future together may require confronting a piece of the past Zane thought he'd left far behind. Both men will have to decide if they're willing to risk what they know for a chance to lean into always.
Audible: http://amzn.to/2ms0AJ4
Isaac Dalton is the guitarist for Spiral, arguably the biggest rock band in the world. The band's meteoric rise to super-stardom has its perks, but fame and fortune aren't all they're cracked up to be. Nonstop touring and performing exhaust Isaac, and when an overzealous fan makes it imperative that he travel with a clingy bodyguard, he is ready for a break from the madness. More so when his newly single first crush shows up on his doorstep. Adam is strictly off-limits. He's a memory from a place Isaac would rather leave behind. And he's straight.
Fun-loving former athlete slash construction worker Adam McBride desperately needs a new beginning. And New York City is the perfect place to start over and think about how to rebuild his life. A short stint as roommates with his brother's best friend from high school seems like a mutually beneficial arrangement. However, when friendship gives way to fierce attraction, both men find themselves in uncharted and possibly dangerous territory. Isaac has to decide if he's willing to take the ultimate risk for a kind of love and a kind of home he never dreamed possible.
Audible: http://amzn.to/2DlrqtD
November 17, 2017 By Two Book Pushers
Biography:
Social Media Links:
November 10, 2017 By Two Book Pushers
Title:  A Bolt of Blue
Series: Angel's, Book 1
Author: Nicky Spencer
Publisher:  Self-published
Release Date: November 10
Heat Level: 3 – Some Sex
Pairing: Male/Male Menage
Length: 90,000 words
Genre: Romance
Synopsis
Ian Golinski has been in love with his best friend since he was fourteen years old. When he finally decides to confess his feelings, he finds that his perpetually single friend isn't so single anymore. What's a boy to do when he has to share the love of his life with someone else? Especially someone so damn hot?
Dusty Smith has finally found The One. The only problem is The One clearly has feelings for someone else, even if he doesn't realize it. Dusty has to convince his lover that they're meant to be. But how does he do that when the other man turns out to be perfect for them both?
Mitch Becker likes things nice and simple. But as his relationship with his boyfriend heats up, he starts developing feelings for his best friend. Suddenly his life is one big complication. How can he choose between two soul mates?
Find out what happens when three men ask the question: What if we don't have to choose?
A Bolt of Blue is an m/m/m contemporary romance with a happy ending and no cliff-hanger. It is approximately 90,000 words and is a stand-alone.
Excerpt
I'm not sure I heard him right. Even if I did, I need to make sure I'm really clear on what he's saying. "What do you mean?" I ask.
Ian sighs into my ear. "I mean, what if it was the three of us? Together?"
"All three of us?" I'm like a parrot.
"Yeah."
"And how would that work?" I know how it would work sexually. I've seen plenty of porn, and there are a lot of really creative possibilities when you get three guys together. Just thinking about it is getting me hard.
But I don't think that's what Ian means. At least, that's not all he means.
"Well, I don't know exactly. It's not like I've ever done it before. But I think…I mean, you have feelings for me, right?"
He sounds so timid asking, and I wish he was here so I could show him how much he doesn't need to worry about that.
"You know I do."
"And I think Mitch does too. I hope he does. And I know how you guys feel about each other. So if we all feel that way, then why can't we be together? There wouldn't be anything to be jealous of. We would all be in it together."
I have to admit, it sounds appealing. Like really, really appealing.
But it won't work.
"Mitch would never go for it. He's way too traditional. He wants the white picket fence, the kids, the dog. The whole domestic bliss thing. He wants to get married. You can't be married to two people."
"Not legally, no. I know it's crazy. I'm just thinking out loud, mostly. But I can't stop thinking about it. It's the only way we all get what we want. Why can't we all have what we want?"
"Because that's not how life works."
"Well, it should."
Yeah, it should.
"It would be nice," I say.
"Can you picture it?" Ian asks. "Will you think about it with me for a minute?"
"Okay."
"So imagine you and me. It's a Sunday morning, and we sleep in late and then get up and make breakfast. Are you imagining it?"
I nod, and then remember he can't see me. "Yeah," I say.
"Imagine we spend the whole day just hanging out. Like we did that one day, remember? Only we don't have to keep our distance. We can touch each other. I can brush your arm with my hand when I walk by you in the kitchen. You can kiss me in the bathroom when we're brushing our teeth." The picture makes me smile.
"And then imagine that Mitch comes home. He was on a road trip, and he's tired. And you've made dinner for him, and we all eat together. And then we sit on the couch, and I rub Mitch's feet and you play with his hair. We're watching some dumb movie on Netflix. Can you see it?"
"Yes, I can see it." I can, too. And it's so sweet it makes my chest ache. I can practically smell Mitch's hair, and hear him purr at Ian's touch. He loves to have his feet rubbed.
"And then the movie ends, and we all go to bed. Together."
I smile at that. "Who's in the middle?" I ask.
"Me," Ian says without hesitation.
I imagine myself spooned around him, my hands brushing along his stomach while he pushes his ass into my groin. And all the while I'm looking into Mitch's eyes. He's on his side facing us, reaching out to touch Ian's face, but he's looking at me. He's so content and happy. He's in love.
I see him kissing Ian. Softly at first, but then with more intensity. I see my own hand running up and down Mitch's arm while he presses his body against Ian's. I hear the soft, wet sounds of their mouths moving together, and I reach out with my own tongue to trace the shell of Ian's ear.
"Dusty? Can you see it?" Ian asks, breaking into my reverie.
"Yes," I breathe.
"Is it beautiful?"
"It's perfect."
"Tell me again why we can't have that?" Ian asks.
I think about what Erik said to me the other night, about how I always play it safe. And where has it gotten me? He wasn't just talking about my career. Maybe it's time I took a risk for love. Honestly, at this point, I have nothing to lose.
"Maybe we can," I say.
A Bolt of Blue by Nicky Spencer is an entertaining, well written story of love between three men. It's a slow burn with ups and downs. Sexiness and friendship and a lot of laughs. Mitch and Ian have been best friends for years and Ian is finally ready to tell Mitch how he feels about him. He likes him way more than a friend. But, Mitch also has some news. He has a boyfriend, Dusty. Ian is crushed, but happy for his friend. He instantly dislikes Dusty, but over time they become friendly. Mitch wants his boyfriend and his best friend to like each other. When a few friendly outings for Ian and Dusty turn crazy hot, they have no idea what to do. Mitch feels betrayed and heartbroken. Dusty feels guilty. But Ian realizes he has feelings for both Mitch and Dusty and he proposes they try to make it work with all three of them. He wants to be in the middle! Can he convince them to take a chance? Ian doesn't want to lose the men he loves? This story is really great. Ian is my favorite by far and I enjoyed his time with Dusty a lot. They have amazing chemistry and witty banter. I didn't really feel the sparks between Dusty and Mitch as much, although I did enjoy them together. Overall, I enjoyed the three of them immensely and love Ian! I will definitely be reading the next in the series.
"So we can start kind of simple. We don't need to do anything that's like… Advanced Placement Ménage. We can start with Intro to Poly, right?
Meet the Author

Nicky Spencer is a romance writer of all pairings. Nicky is a firm believer that love conquers all–that's why her favorite theme is forbidden love. If two (or three!) people shouldn't be together, Nicky will find a way to get them there. When you love someone, nothing else matters.
Nicky live in Salt Lake City, Utah with no husband, no kids and a part-time dog. She loves to read, write, listen to podcasts, watch baseball and waste time on the internet. She is firmly anti-oxford comma.
Giveaway
Save
Save
Save
Save
Save
Save
October 16, 2017 By Two Book Pushers
Title:  In Over Our Heads
Series: Stories from the Shore
Author: CJane Elliott
Publisher: Dreamspinner Press
Release Date: October 16, 2017
Heat Level: 3 – Some Sex
Pairing: Male/Male
Length: 67,000
Genre: Romance, Second Chances, Vacation
Synopsis
Anthony Vallen is the life of any party. Full of energy and fun, Anthony adores romance and enjoys playing matchmaker for his friends while dancing the night away with a series of Mr. Right Nows. But he's given up on his own happy ending. A bad breakup years ago made him a secret cynic about love… until he runs into Walter Elkins—the boy who broke his teenaged heart—on a scuba-diving vacation in Key West. Suddenly, Anthony's reasons for shunning romance no longer hold much water. Being with Walter again forces Anthony to get serious—about himself, his worth, and his heart's desires.
Brilliant and self-contained, scientist Walter Elkins prefers deep thoughts to other people. He's a good boss and a model citizen, but Walter doesn't let anyone get close. After a tragedy drove him out of his science career, Walter landed in Key West and became owner of a dive shop and a bar. Things are fine until Anthony Vallen—the only person who ever penetrated his defenses—shows up, and Walter's calm, controlled life capsizes. He and Anthony have a second chance for love, but Walter must confront the old fears that threaten to torpedo their happiness.
Excerpt
The door burst open, and Sophia sailed in with my morning cappuccino. She was humming under her breath and had that telltale postsex glow about her. I tried not to hate her too much.
"What're you doing in here with me, doll? Don't you have a sexy dive instructor to entertain?"
"She had to leave early." Sophia handed me the mug. "She's taking her group out on the ocean dive too, and she had to go to Back Bay to get the boat ready."
I took a restorative sip of cappuccino. "Ahh. Well, I hope you didn't tire her out too much last night. Or vice versa." I winked at her, even though I didn't feel very winky.
"Guilty on both our parts, I'm afraid." Sophia smirked, then perched on the side of my bed. "Can we talk more about what's going on with you and Walter?"
"Going on?" I blinked and buried my nose in the cup. "I mean, I told you guys last night. What more do you need to know?"
"Whatever it'll take to help you and him figure yourselves out, because second chances like this don't come around often."
"God, not you too. You and Jonny need to start a group for incurable romantics."
She straightened, her dark eyes snapping with intensity. "Caro! You're the one who talks about destiny. This is your destiny!"
I sighed. She was so over the top sometimes. Must be her Italian blood. "Maybe my destiny is to be reminded to never let a guy walk over me the way Walter did."
"I…. Look, Marco has a good point, and I agree with him that Walter needs to apologize. It was awful of him to drop out of sight. You so don't deserve to be treated that way."
"Right." I put down my cup, having lost my taste for the cappuccino.
"But you two were barely out of high school. So young! People change. It certainly doesn't seem in character with how he is now."
"Doesn't it?"
"Well, I mean, Walter seems so conscientious and thoughtful. Yes, a little gruff, but not someone who would knowingly hurt you. But maybe… safety seems to be a huge concern to him. And maybe he couldn't stand that you almost drowned, and he couldn't face you after that? Did he ever explain it to you?"
"No. I begged him to tell me why, and all he would say is 'I'm not good for you. I don't want to hurt you anymore.' I guess the safety thing is the most plausible explanation. Because other than that, it's bizarre that he would walk away and throw away a great thing. We were…." I paused, hit by an unexpected wave of grief. "Damn it, Soph, we were really good together. Yes, we were young, but we complemented each other so well. Like, I brought him out of his shell, and he calmed me down. And he took me seriously. He listened to me in a way no one but Jonny ever had before." My eyes betrayed me by welling up.
"Oh, Anthony. That's lovely. I can tell he still does. Take you seriously, I mean. He hasn't been able to stop staring at you the whole time we've been around him. It's obvious he still cares."
Sophia's words threw little daggers at my silly heart. Jonathan had said essentially the same thing. If they both thought Walter still cared for me, maybe it was true. And God, if it was true, I was in deep waters. I knew I should stiffen my backbone and armor myself with outrage. But I couldn't. Still hung up on Walter Elkins? Guilty as charged. Convicted. Lock me up and throw away the key, because I had no hope of rehabilitation. I put my face in my hands for a moment. What a hopeless sentimental fool!
Luckily for my humiliation factor, Marco came barging in with a brilliant grin. "All right, darlings! Today's the day! Scuba diving or bust! Get ready for the adventure of your lives." He stopped short and peered at me. "You okay?"
Pulling myself together, I returned his smile. "Fabulous, doll! Off to the reefs we go to swim with the fishies!"
Purchase
Celebrate the release of In Over Our Heads with a special sale: All the Way to Shore is on sale for 99 cents at Amazon through 

October 24

 with that price matched at the Dreamspinner Press store 

October 16-24

.
Meet the Author

After years of hearing characters chatting away in her head, CJane Elliott finally decided to put them on paper and hasn't looked back since. A psychotherapist by training, CJane enjoys writing sexy, passionate stories that also explore the human psyche. CJane has traveled all over North America for work and her characters are travelers, too, traveling down into their own depths to find what they need to get to the happy ending.
CJane is an ardent supporter of LGBTQ equality and is particularly fond of coming out stories. In her spare time, CJane can be found dancing, listening to music, or watching old movies. Her husband and son support her writing habit by staying out of the way when they see her hunched over, staring intensely at her laptop.
CJane is the author of the award-winning Serpentine Series, New Adult contemporary novels set at the University of Virginia. Serpentine Walls was a 2014 Rainbow Awards finalist, Aidan's Journey was a 2015 EPIC Awards finalist, and Sex, Love, and Videogames won first place in the New Adult category in the 2016 Swirl Awards and first place in Contemporary Fiction in the 2017 EPIC eBook Awards.
Giveaway
Save
Save
Save
Save
Save
Save