October 29, 2019 By Two Book Pushers
October 16, 2019 By Two Book Pushers
August 15, 2019 By Two Book Pushers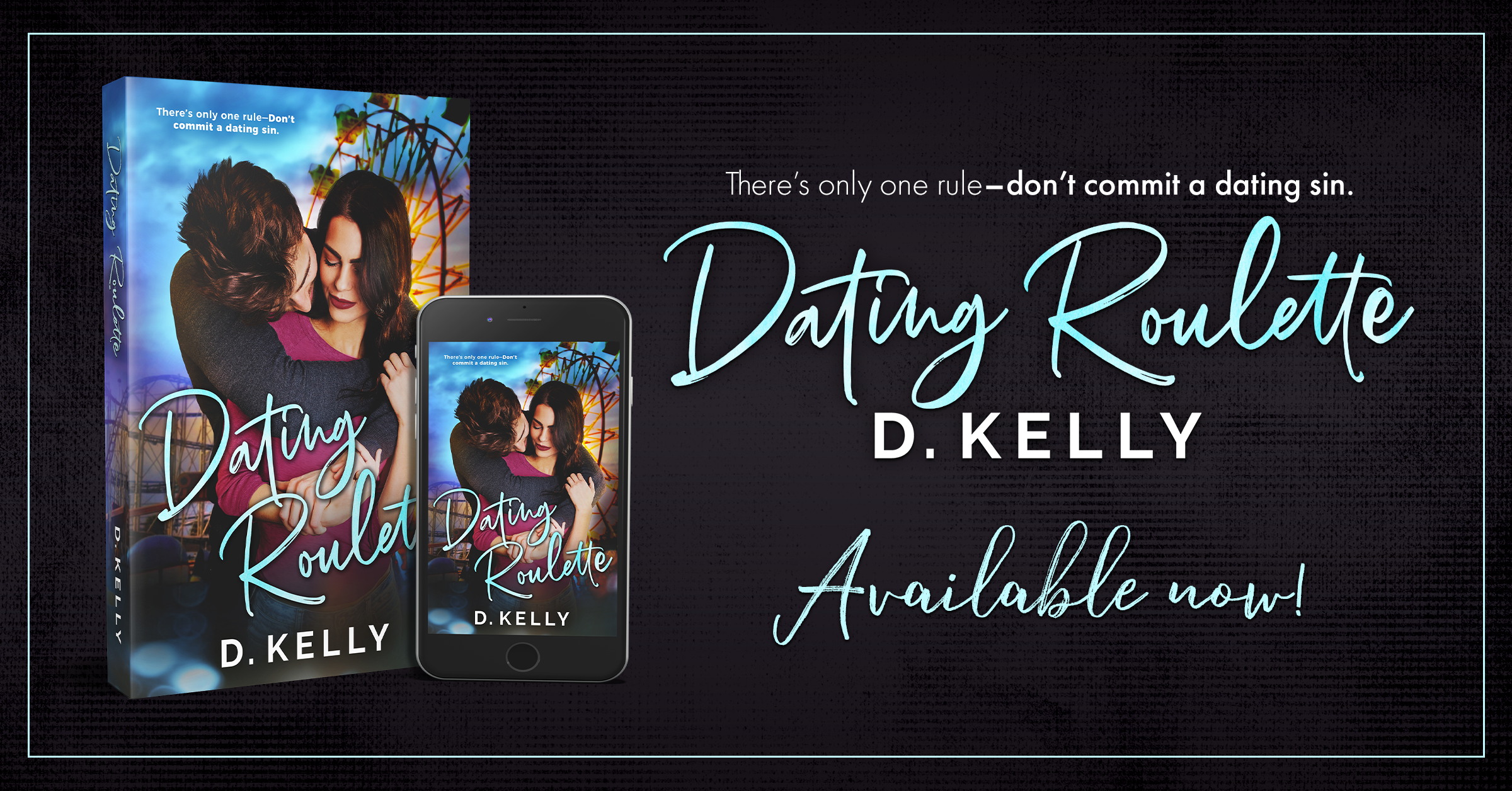 🔥 DON'T MISS THE SUMMER'S HOTTEST BEST FRIEND ROMANCE!! D. KELLY'S DATING ROULETTE IS AVAILABLE NOW! 🔥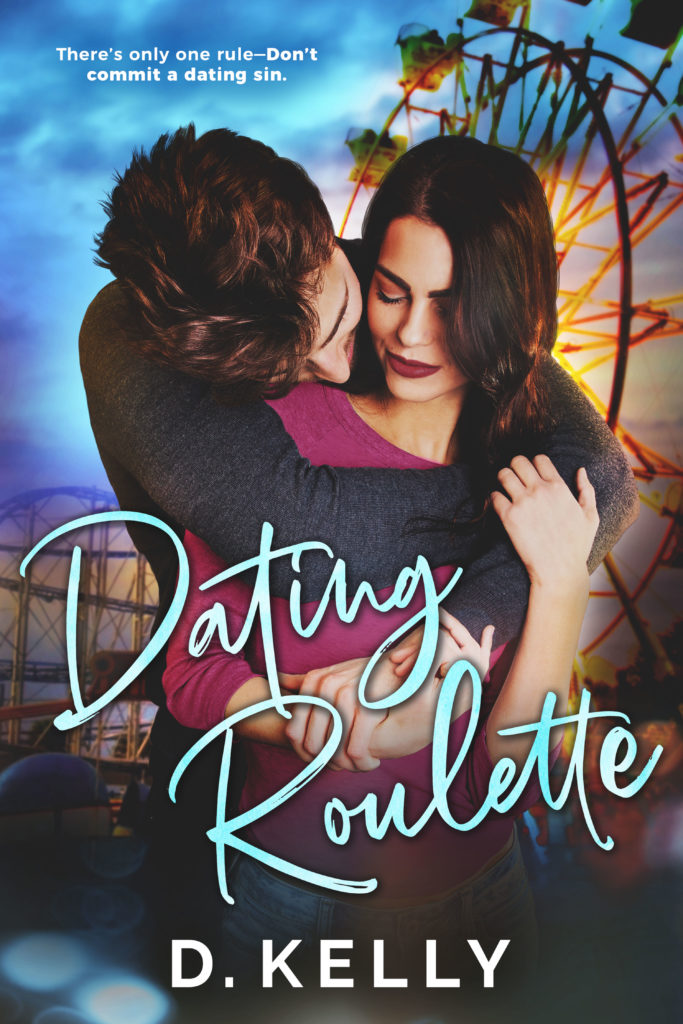 There's only one rule – Don't commit a dating sin.
Bexley
Seven Dates.
Seven chances to win my heart.
It's not hard –
Don't put ketchup on your eggs.
Don't wear tasseled loafers.
For the love of all that's Holy, don't ogle the waitress.
See? Simple…
Yet no one can get it right.
Tristan
Dating Roulette.
It's Bexley's game.
Correction – it's her life.
A constant rotation of dates.
You might get one; you might get seven.
No one has ever gotten to eight.
There's only one rule –
Don't commit a dating sin.
I've watched for years and bided my time.
Now, it's my turn to play.
And I play to win.

START READING DATING ROULETTE TODAY!
Amazon US: https://amzn.to/2MinvoA
Apple Books: https://apple.co/2xzkSFy
Nook: http://bit.ly/2LINzs6
Kobo: http://bit.ly/2YLdR3A
Google Play: http://bit.ly/2L2W5SY
Amazon UK: https://amzn.to/32gkiL2
Amazon CA: https://amzn.to/2XwpDKI
Amazon AU: https://amzn.to/2Jpm8As
WHAT READER'S ARE SAYING:
"This story is one of the most romantic I have read in a long time!" –Words We Love By Blog
"I can't even with this book. Talk about swooning from start to finish."–OMGReads Blog
"It's sooo sweet, perfect, romantic as hell, intimate and the swoon-worthy anticipation of what might happen is everything you could want in a friends to more romance." –B.C. Booklover

Bexley,
You're out of town, but our date is tomorrow. Adam came over tonight and asked me if I'd marry you. Typical random, out-of-the-blue Adam BS. It got me thinking, though, about you and me, and what we're doing.
We're taking a huge risk with our friendship, and I can't help but think that means something greater than either of us are considering. Would we have jumped into this if we weren't ready for more? After a night full of reflection, I can honestly tell you . . . I wouldn't have. My feelings for you have been growing for the last ten years. I know we're not there yet, not at that place in our relationship, or as the case may be, non-relationship since we're still working through these dates. But I wanted you to know that someday, when the time is right, I will absolutely marry you. In fact, there's nothing I'd like more.
After date seven, you have to make a choice. To keep seeing me or to move on and start seeing someone else. I'm hoping it will be to keep going, but maybe I'll have a better understanding of what you want after the third date. After all, that seems to be the defining date in most of your dating cycles.
How about I make you a promise?
Don't break my heart, and I will never break yours.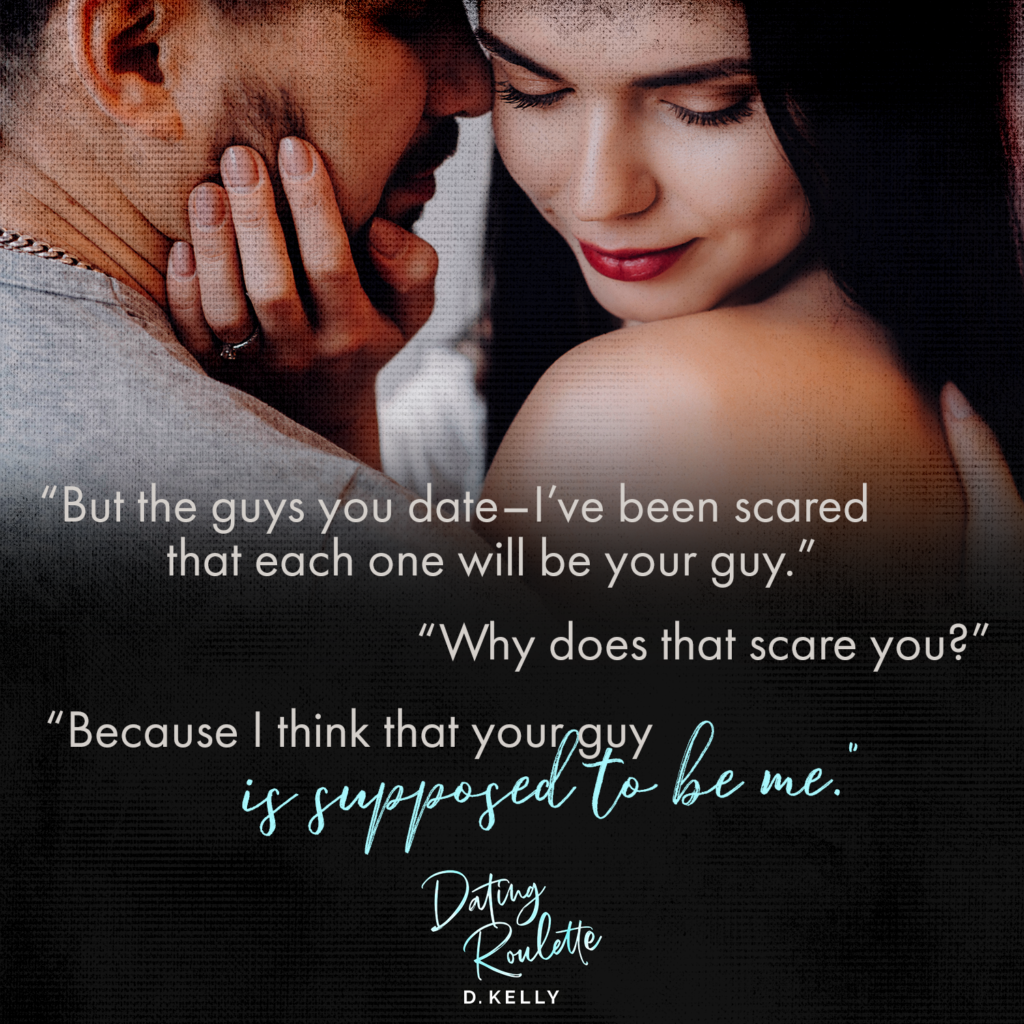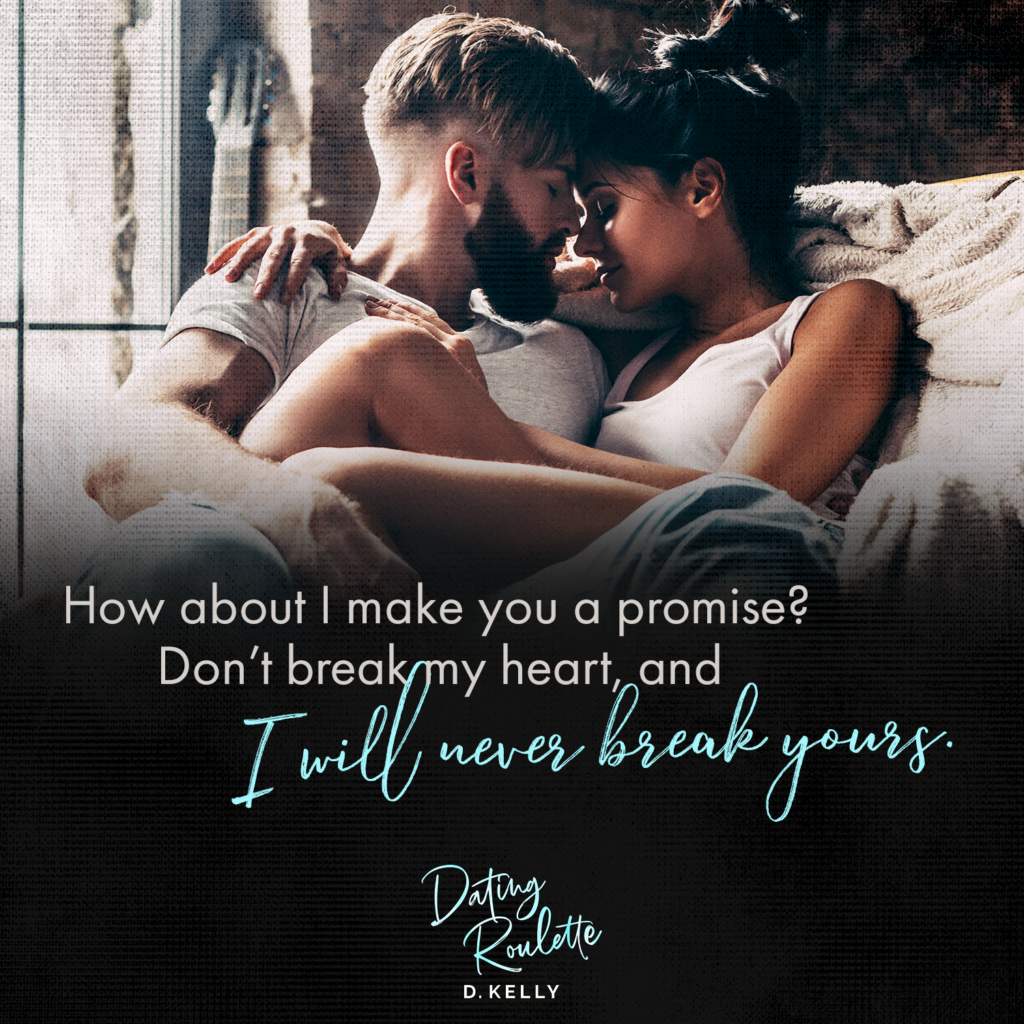 D. Kelly, author of The Acceptance Series, The Illusion Series, and standalone companion novels Chasing Cassidy and Sharing Rylee, was born and raised in Southern California. She's a wife, mom, dog lover, taxi, problem fixer, and extreme multi-tasker. She married her high school sweetheart and is her kids' biggest fan.
Kelly has been writing since she was young and took joy in spinning stories to her childhood friends. Margaritas and sarcasm make her smile, she loves the beach but hates the sand, and she believes Starbucks makes any day better.
A contemporary romance writer, D. Kelly's stories revolve around friendship and the bond it creates, strengthening the love of the people who share it. For all things D. Kelly, you can visit her website: http://www.dkellyauthor.com.
FOLLOW D. KELLY:
Facebook Reader Group: https://www.facebook.com/groups/239952459522719/
Facebook: https://www.facebook.com/dkellyauthor
Twitter: https://twitter.com/dkellyauthor
Pinterest: https://www.pinterest.com/deekellyauthor/
Amazon: https://www.amazon.com/D.-Kelly/e/B00J8QGIVC
Instagram: https://www.instagram.com/d_kelly_author/
Goodreads: https://www.goodreads.com/author/show/7492436.D_Kelly
Newsletter: http://www.dkellyauthor.com/mailing-list/
Bookbub: https://www.bookbub.com/authors/d-kelly
Book and Main: https://bookandmainbites.com/users/8035

The author will be giving away a $50 Amazon Gift Card on her FB author page. Please go here to enter —> https://www.facebook.com/dkellyauthor
August 6, 2019 By Two Book Pushers
July 2, 2019 By Two Book Pushers
It Wasn't Me is the second book in the KDP Motorcycle Patrol series by the hilariously talented Lani Lynn Vale. I don't know how she does it, but Lani's books always make me laugh out loud. I usually finish them in one sitting and can't seem to get enough of her characters or her stories. I haven't had the pleasure of reading about the Mackenzies so I didn't know Piper. But I instantly loved her. I started laughing at their meet cute and didn't stop laughing until I hit The End. It was that good! Jonah is an ahole. Of epic proportions. But not really. He just tells it like he sees it and doesn't care what people think of him. He's cynical, big, a little scary and old enough to know who he is and what he wants. And as soon as he sees Piper he wants her. After their first meeting, Fate keeps putting them in the same place. There was an instant attraction and they don't even try to fight it. I loved that part. They  just gave in and when they ended up in bed together and married, they didn't even think about not trying to make it work. They are complete opposites, but they are perfect for each other. Jonah doesn't like anyone except Piper. He's a different person when she's around. He never understood what all the fuss was about, but now he does and he's not going to lose her. Accidents keep happening, they seem to be in danger, surprises pop up and they just go with it all. They join their lives seamlessly and neither one of them got scared or tried to run. That was a breath of fresh air for a romance novel! Jonah was something special with his sexiness, snark, tattoos and I loved that he was in his forties. Piper is so cute, and funny and silly and I just loved her. They weren't bothered by their age difference or what anyone else thought about them being together.
I love the secondary characters and the KDP guys. I can't wait for more from this series!
I was in my early forties, and nothing to show for it by a goddamn nice body.
"It's not normally my go-to-thing – getting married – when I've been drinking. Needless to say, my go-to thing when I've been drinking is taking naps."
I was highly attracted to my husband.
I craved order.
And, I was finding out, I loved getting orders from my husband.
"Because from where I'm at, you're absolutely perfect. I've wanted to fuck you since I saw you walking past me on the tarmac in Germany."
"You love her."
"Of course I fuckin' love her."
"It's just surprising. You're the biggest asshole at the station. You don't like anybody…not even your brother. But her? You love her."
"I do."
Lani Lynn Vale is a
USA Today Bestselling Author of over thirty titles. She is married with three
children, two dogs, two cats, a donkey, and a couple (a couple also meaning
over twenty) chickens.
 
Website | Facebook | Twitter | Instagram | Goodreads | BookBub
June 14, 2019 By Two Book Pushers
June 11, 2019 By Two Book Pushers
May 10, 2019 By Two Book Pushers
April 24, 2019 By Two Book Pushers
April 23, 2019 By Two Book Pushers
Poor judgment: knowing better yet doing it anyway.
Flint Stone is a professional in every way.
He's a police officer with the K-9 unit and works at Gun Barrel High as the school resource officer. In his spare time, he's working his heart out to create a successful gym from the ground up.
He's loved by every single person he ever encounters—student, faculty, and employees—Everyone but Camryn Elvis Presley.
The only thing they have in common is their mothers' poor excuses for names.
Period. The end.
So why is it every time she crosses his path that he has the urge to mess up her perfectly curled hair? Or unbutton a few of her prim and proper buttons?
He knows he should stay away, yet like the high schoolers he's around every day, he has no choice but to react first and think about the consequences later.
Side note—bad decisions are made, leading to lapses in judgment that threaten both of their jobs. Yet when the time comes, neither one can seem to find the wherewithal to care. Why? Because being bad feels so good.
PURCHASE NOW
Lord Have Mercy is the second book in the Southern Gentleman series by the talented and hilarious Lani Lynn Vale. I'm a new fan of Lani's and I've officially committed to reading everything she writes from now on! She knows how to write funny, sexy characters who you can't help but love. The little angst and suspense that you need to keep flipping pages. And the handsome strong leading men and the beautiful sassy women they want. We met both Flint and Camryn in Hissy Fit and I knew there story was going to be hilarious! They had amazing chemistry even if it was more hate than love. But in Lord Have Mercy they really took it up a notch! Flint never really hated Camryn. He actually wanted her badly, but didn't think she liked him. Camryn always noticed Flint and his sexiness in his uniform, but he was annoying. Annoyingly hot! When her best friend Raleigh drags her to a CrossFit class taught by the sexy cop, she can't stop her attraction anymore. Flint can't believe his luck. He gets to have Camryn in her tight spandex and sports bras in his class and he gets to see her at school. Win. Win. He's done pretending and he's going to show Camryn they should date. He's not giving up and he isn't deterred by the smart mouth and bad eating habits. When their relationship is put to the test, will they step up and go all in? I loved this story! I didn't want it to end! Flint is so…sexy, funny, sweet, jerky, dedicated, smart, and more sexy. Camryn is hilarious, smart, fun and gives as good as she gets! Their fun, snarky banter was perfection. Their nicknames for each other were awesome! Overall, I loved every word! I laughed, cried, got really hot and bothered, laughed more and smiled the entire time!
"I can see the entire outline of your dick.  Not that I'm complaining, but I hope you didn't go out like that."
"You can't see my dick. Take a picture." 
"Well, look at that. You can."
"I like them. But you should be aware that you might cause minor motor vehicle accidents if you cross the road in those.
Lani Lynn Vale is a USA Today Bestselling Author of over thirty titles. She is married with three children, two dogs, two cats, a donkey, and a couple (a couple also meaning over twenty) chickens. When she's not writing, you can find her curled up in her favorite chair reading. Lani is married with three children and lives in the Great State of Texas.
ebsite | Facebook | Twitter | Instagram | Goodreads | BookBub